Mallorca car rental without credit card and deposit. Spain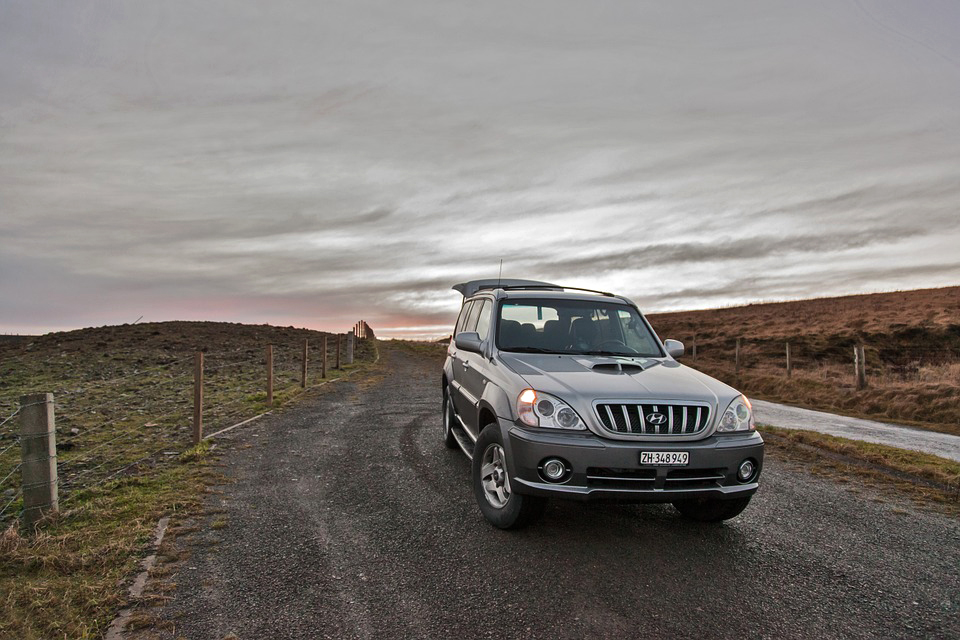 You do not need to convince anyone that renting a car without having to block the deposit on your credit card is a very convenient thing.
What is the deposit?
For those who do not know what is going on, for example, they have not yet rented a car in four words I explain.
The standard behavior of a car rental company is that they require a credit card when renting. In order to protect themselves against the possible effects of damage associated with a rented car, they assume the so-called deposit, that is, they block a certain amount of money on this card, which remains at their disposal until the return of the car. This does not mean, of course, that they can handle the amount of the deposit during this time because they cannot, but during this time the funds equal to the amount of the deposit are blocked and we also cannot use them.
So if you have 5000 PLN on the card for holidays and you go to the car rental, most often you will find one where a deposit of e.g. 1000 EUR will be required when renting. When renting, the rental employee will ask for an identity document, driving license and credit card. He punches the data into the computer, prints the contract, gives the keys and you can go. On your card, however, a deposit will appear blocking funds in the amount of EUR 1000 (i.e. approximately PLN 4400) and these funds will not be able to be moved until the car is returned (and sometimes even a little longer). 600 PLN will be at your disposal… for a holiday it's not much. When paying for a hotel or dinner at a restaurant, you may be surprised when the message persists: no funds on the card!
And the translation that you have that money on the grate will not help 🙂
There are places where renting a car without a deposit is not possible, or even if it is possible, the rental price per night is very high. Majorca, fortunately, is not such a place. In Majorca, you can do it at an attractive price rent a car WITHOUT DEPOSIT on a credit card. As if that wasn't enough, you can do it completely online and pick up the keys at the machine, without queues.
Do you need a car in another part of Spain? Read:
Malaga - Spain: car hire without a credit card and a deposit. Car rentals - reviews, ranking, offers comparison.
Alicante - car rental without a credit card and a deposit. Car rental with full insurance.
### important fragment of the text added in 2021, during the pandemic ###
Beware of pandemic car rental prices !!!
The COVID-19 pandemic has turned car rental prices upside down. The increase in car rental prices is huge. Official announcements say that the price increase is due to the need to maintain high sanitary standards. In my opinion, the strict sanitary requirements do not justify such an increase in the cost of car rental. What kind of growth are we dealing with? The 5-day rental I did during my trip just before the pandemic cost me less than EUR 70 (with full insurance). Today, for exactly the same rent, I see prices in the range of 400 - 450 EUR. Horror! Why is it like that? I am convinced that the rental companies compensate for a smaller number of customers with a higher price. One rental must now "compensate" for the reduced demand.
Is there a way to get high prices during COVID-19?
I have re-analyzed the offers of a dozen of the best car rentals and a few of the best price comparison websites. I found one common denominator. In fact, the prices are very high all the time, but
drastically falling (by 50% or even more)
just before the planned departure. The lowest prices are more or less
5-10 days before the planned departure
and they drop to around 50 EUR for one day of rental,
with full insurance option
. Any price at this level or lower should now (especially in the summer season) be considered attractive (of course if
applies to rental with full insurance
). Advance booking 1-5 days is very risky and prices in such short notice often (although not everywhere) increase again.
Such price behavior in 2021 does not guarantee that the situation will repeat itself in 2022 and in the following years. So let's observe price changes yourself and choose the best time to book.
The offer of the rental company I chose and described below is still the best, but unfortunately it is more expensive than it was.
From comparison websites, I recommend that you look for two:
Discover Cars - [click]
and
Rentalcars - [click]
. They have wide offers, and at the same time have signed contracts with various groups of rental companies. Thanks to this, you check various offers from different groups. A particularly interesting alternative is here
Discover Cars - [click]
because it has contracts with many local, small rental companies. It is possible that some local promotion can be scored. The other comparison engines are practically a copy of what you will find in
Rentalcars - [click]
.
All the other comments and advice that I have included later in this post still apply, so
it is obligatory to read the rest
. You will find my complaints there that 50 EUR a day is expensive, but I would like to remind you that this was related to the situation before COVID-19. We currently have a different situation.
### end of the fragment added in 2021 ###
Where to rent a car in Mallorca?
I will not recommend several rentals. I will recommend one that I checked myself. The decision was, of course, preceded by searching the web, reading forums, reports, opinions, etc. Finally, the choice fell on local rentals WIBER and proved to be accurate. The scope of insurance, no need for a card and zero deposits, plus great rental prices decided on the choice.
Today I can recommend this rental with a clear conscience. Positive feedback has been confirmed.
There was a slight problem during the pickup of the car (for a moment it even crossed my mind that I wonder if positive feedback from the Internet about this rental would be confirmed in this situation).
The problem was that I use my navigation while driving GARMIN, which is powered from the cigarette lighter socket. Always when picking up the car, so I check if there is voltage in the cigarette lighter socket. It turned out that the car lighter socket prepared for me is damaged and I do not have power for navigation. I went to reception to report a problem. And what? The lady (a Polish woman working in a rental company) settled the matter in 60 seconds. Changing the keys, changing the car and after the case. Even her brow didn't pop. Revelation.
Rental of course does not block and does not require any collateral or deposits.
What else is worth knowing?
In the case of Wibera it is not possible to collect the keys at the airport. They just don't have their position there. Probably due to the high cost of maintaining such a position in the airport terminal. The key and car pickup point is about 5km from the airport. However, this is not a special difficulty, because there is a free bus with a logo every 15 minutes between the airport and the rental company Wiber, which takes newcomers renting a car from the airport to the rental company and takes people passing the car from the rental company to the airport. Fast and convenient.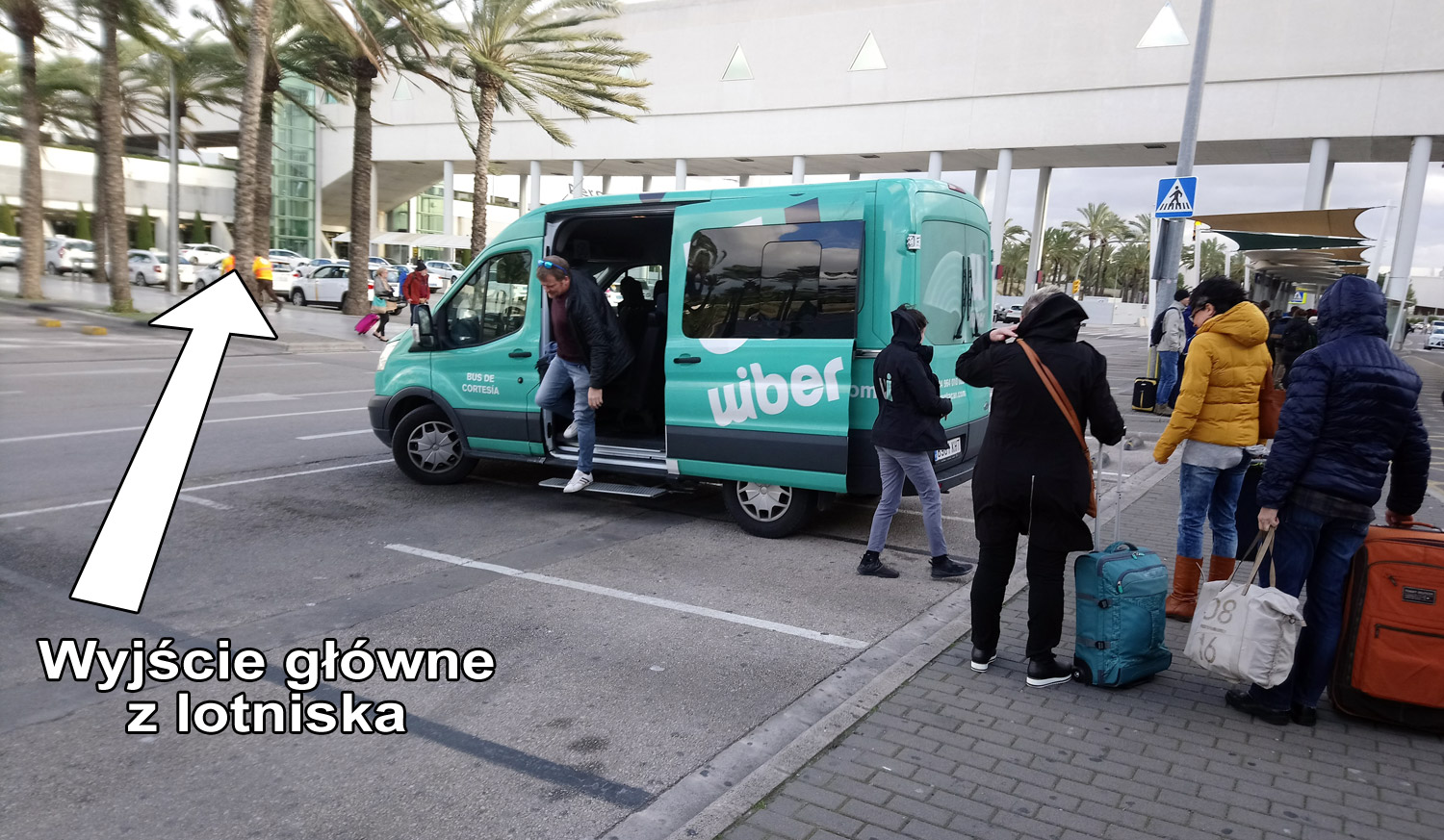 Rental prices
Wiber proposes 2 car rental options. With basic insurance (BASIC - in short, it is bodywork insurance without a chassis, windows, mirrors and tires) and with full insurance (ALL INCLUSIVE - with full insurance, assistance and a zero contribution in the event of an accident).
ATTENTION !!!
Remember that none of the insurance works if you break a car under the influence of alcohol or drugs.
I rented a car whose size is defined by the definition: medium (as in the picture below):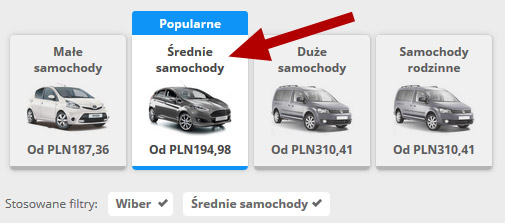 I received a Ford Fiesta with mileage of 18 thousand thousand (which is almost new).
Rental prices are not constant throughout the year. The cheapest is winter. That's when I rented a car (February).
In winter, the BASIC option cost 7 EUR / day, and for the price of ALL INCLUSIVE was 17 EUR / day.
At the time in other rentals for 17 EUR you could get a similar car but with basic insurance, and for this you would need a credit card on which a deposit from 500 to 1000 Euro would be created.
Of course I chose without hesitation WIBER-a in version ALL INCLUSIVE, which cost me around PLN 73 a day and guaranteed complete peace.
At the time of writing, I checked the prices for March (between 18 and 23 March 2019). BASIC costs around EUR 9,5 / day, while ALL INCUSIVE costs around EUR 27 / day. In the summer it will be even more expensive.
W Rentalcars the ALL INCLUSIVE option is highlighted by an additional description as I marked in the picture below.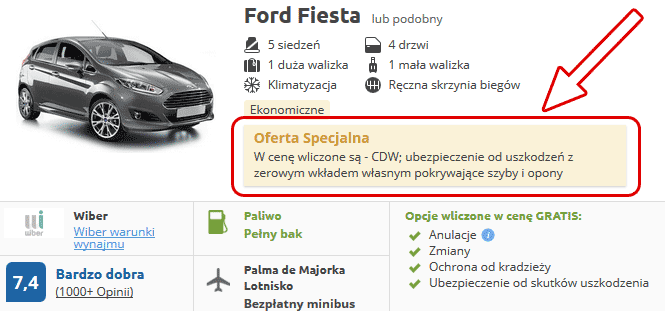 How to rent a car?
Car in Wiberze you can rent in 2 ways. Directly on the website Wibera, or through the global car search engine Rentalcars.com (Wiber has a contract with them).
Oczywiście it's cheaper at… Rentalcars.com (!!!).
Below, for comparison, screenshots of prices from Wiber and Rentalcars.com.
In both cases, I chose the same car model and the same rental date: from 18 to 23 March 2019 year.
Prices on Renatalcars.com total for 5 days of rent:
- BASIC = PLN 194,98
- ALL INCLISIVE = PLN 567,23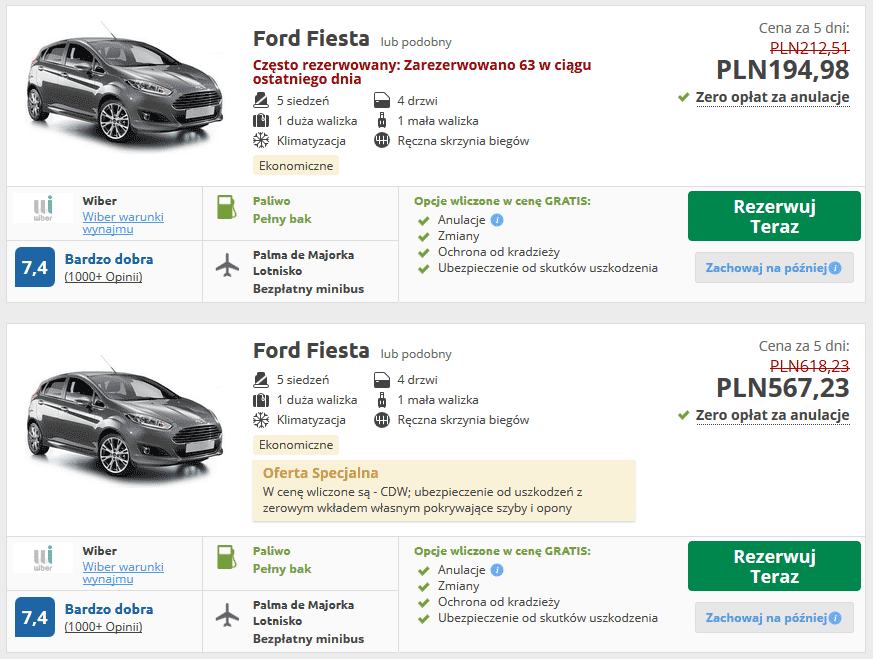 Prices on Wiber site total for 5 rental days (converted into PLN at 1EUR = 4,3PLN):
- BASIC = PLN 204,77 (more expensive by PLN 9,79)
- ALL INCLISIVE = PLN 599,98 (more expensive by PLN 32,75)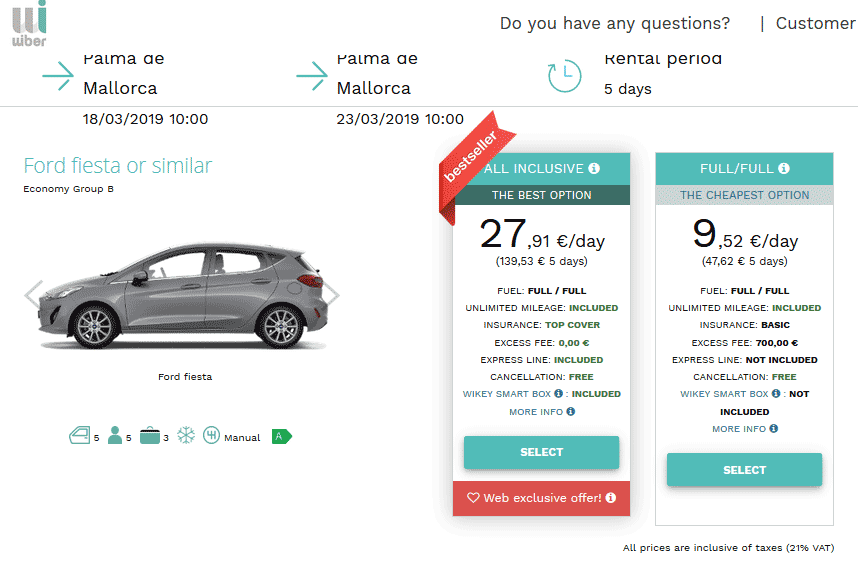 How do I search for Wiber on Rentalcars.com?
Due to the huge car rental database, search results on Rentalcars there will be plenty, and their ranking not necessarily as expected by us. To make your life easier, use a filter. The easiest way to do it is in this order:
1. You go to the site Rentalcars.com - [click]
2. You enter in the form on the main page: place (Palma de Mallorca), date of pick-up and return of the car (as below) and press the button "Search"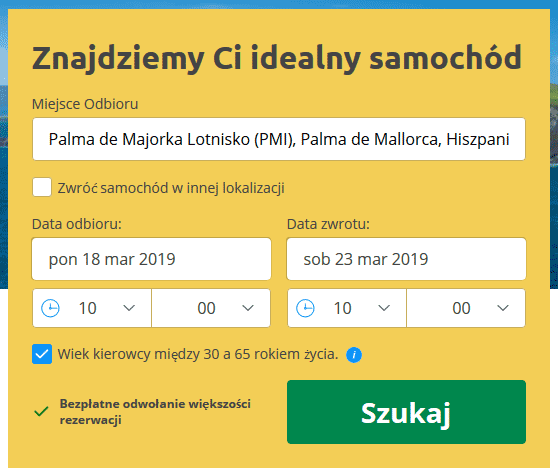 3. You are waiting for the results to appear and in the left panel, in the "Provider name" section, check the box next to Wiber (of course, it is good to look at the results beforehand, maybe there will be a more attractive offer at the time of search. However, I remind you to make sure the company whose offer looks attractive puts a deposit on the card and in what amount.)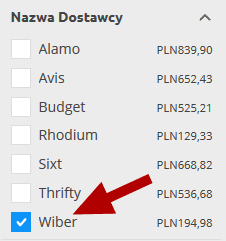 4. This way you have other offers filtered out and you can only see the cars from the Wiber offer (the car supplier's logo is visible in the bottom left corner of the offer as in the picture below). Now you must select the All Inclusive offer. It is marked with an additional description on the offer card (Special Offer). Additional description has been marked in the picture below. Only choosing an offer with this description will allow you to collect your car without a credit card and deposit. All that remains is to decide on the size of the car and proceed to the next steps by pressing the "Book now" button.

WARNING!!!
The list also includes a cheaper Wiber offer for the same car and date, but it does not contain an additional description "Special offer". This is not an All Inclusive offer but a basic offer. If you choose an offer without additional description (Special offer), you will need a credit card and a deposit will be created. Pay attention to this when booking so that there would be no unpleasant surprise afterwards.
Even if you choose a regular offer by mistake, Rentalcars will offer you its own insurance. This is a signal that you must take a step back and choose the All Inclusive offer.
With the correct selection of the All Inclusive offer, Rentalcars will not offer additional insurance because it is already included in the price of the chosen offer.
5. In the next steps you will need driver details (documents) necessary to rent a car. So prepare your documents. This process is basically identical for all suppliers. You will receive car rental confirmations and necessary information by email.
I have a car rental. What to do after arriving at the airport?
After arriving and picking up your luggage, you are directed to the main exit from the airport. Going out through the main exit, you have a flyover connecting the airport building with the car park, and the multi-storey car park in front of you. You go 100m straight ahead towards the car park building and after 100m you come to a sidewalk with a row of bus stops. Turn right and walk along 50m along the bus stops. Bus Wibera it stops at these stops and either stands there or it will arrive in a few minutes.
The access path is shown in the photo below, and at the beginning of the article I posted the appearance of the bus.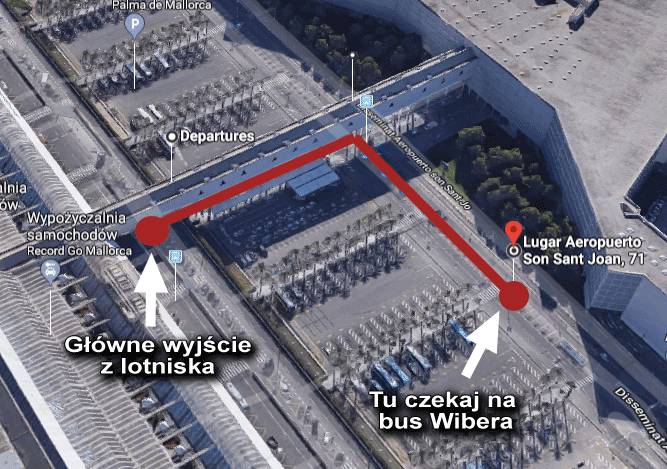 Attractions in Majorca
Based on my own experience, I have prepared road trip plans for Majorca's most interesting attractions. I recommend reading them in the entry: Majorca - attractions, sightseeing, car rental, practical information. Guide.
Have a nice trip around the island and many unforgettable experiences!
Important to me!
Give the article a good rating
(5 stars welcome 😀)!
It's free, a
for me it is very important!
The blog lives on visits and thus has a chance to develop.
Please do it
and ... thank you in advance!
I also post
link to Facebook profile - [click]
. Come in and press "
Follow
"then you will not miss new, inspiring posts.
Unless you prefer
Instagram
. I'm not a social media demon, but you can always count on something nice to look at on
my instagram profile - [click]
. The profile has just been created, so
for now he is starving
, due to the lack of followers. He is happy to receive any observer who feeds him with his love.
I make the content I create available free of charge with copyright, and the blog survives from advertising and affiliate cooperation. So, automatic ads will be displayed in the content of the articles, and some links are affiliate links. This has no effect on the final price of the service or product, but I may earn a commission for displaying ads or following certain links. I only recommend services and products that I find good and helpful. Since the beginning of the blog's existence, I have not published any sponsored article.
Some of the readers who found the information here very helpful, sometimes ask me how you can support the blog? I do not run fundraisers or support programs (type: patronite, zrzutka or "buy coffee"). The best way is to use links.
It costs you nothing, and support for the blog is self-generating.
Pozdrawiam