Uroczysko Mosty - the Bukowa Forest
Uroczysko Mosty ... it's hard to think of a better name for this place. I can guarantee you will leave this place in love. The place is beautiful, strange and intriguing. It's even more fun when you find yourself here unaware of what you will see.
100% satisfaction!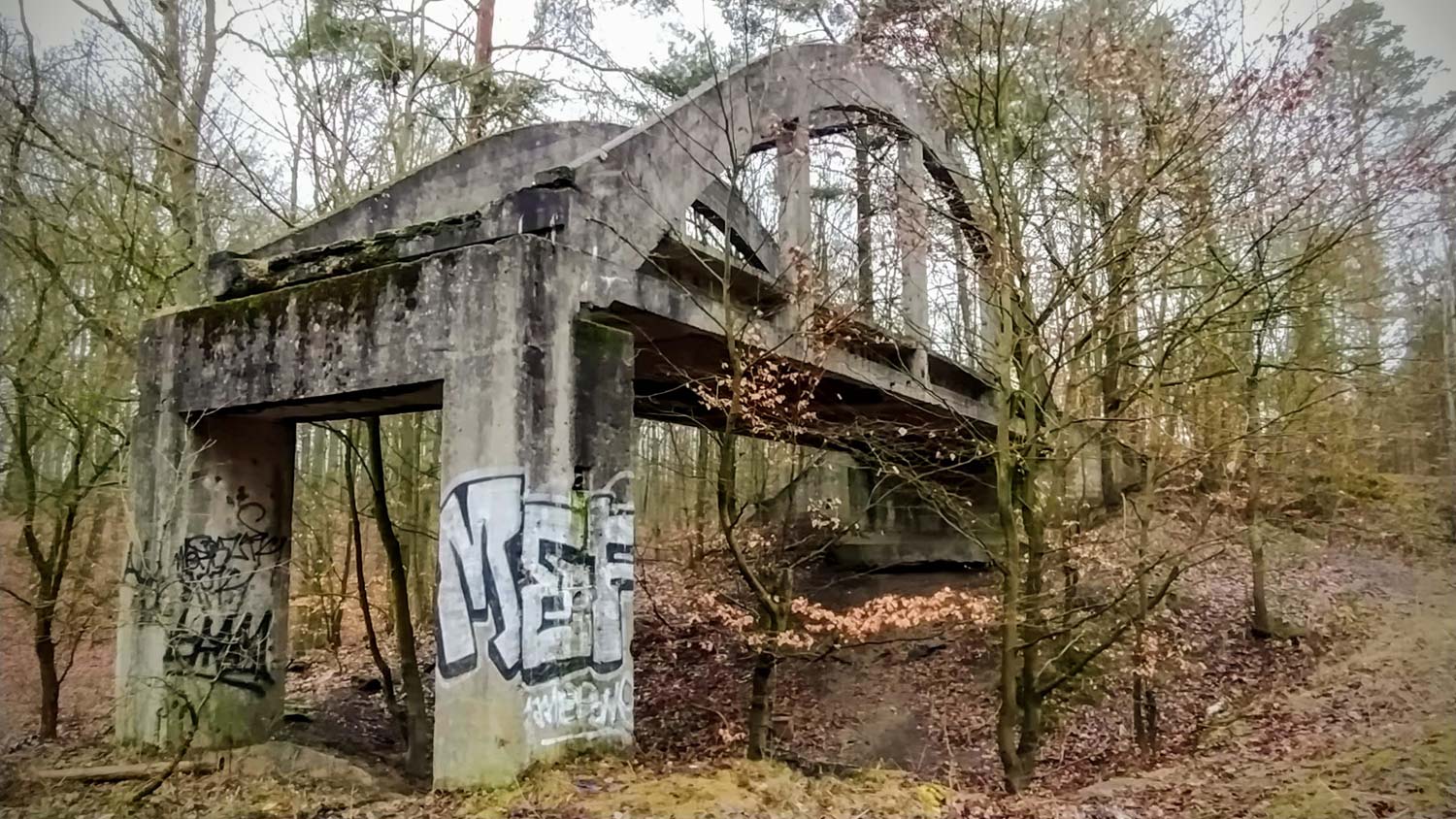 To read or not to read?
... unfortunately, while reading this post, you will lose the element of surprise, but the satisfaction with visiting this place will still be great. You have the chance to surprise your family and friends. Exploration of Uroczysko will ignite their senses to red. Everyone will wonder what was here and why. They will speculate, guess, create legends ... Surprise with what they will see is certain!
On the other hand, I came to the conclusion that I would arrange this entry so as not to take away from you the pleasure of discovering the secret. I will explain what this place really was in one of the paragraphs below, under the photos. Additionally, I will post a clear warning in front of him. If you do not want to know the explanation in advance, then do not read the passage before which there will be a warning 🙂
You will come back to it later and see if you managed to get close to the real explanation. For now, however, you can safely continue reading.
I read it first and then I went. I must admit that no description could convey the atmosphere of this place, even though the authors really tried. I've been back here several times and I'll definitely come back here again. The Mosty Uroczysko attracts like a magnet and encourages you to discover more secrets of the Beech Forest.
What is Uroczysko Mosty?
... I don't explain anything here yet, go ahead!
Try to imagine that you are walking through a beautiful and old forest. There is nothing around, no civilization. Only the forest. The terrain is undulating (and here comes the first surprise). After all, you are right next to Szczecin and it should be flat! Is not! The whole creates a Bieszczady rather than Pomeranian climate. It gets interesting right away, and it hasn't even started yet ... so you are walking through the forest and suddenly, in the middle of the forest, you see a reinforced concrete viaduct in front of you, in fact a half (!!!) of the viaduct.
You think: who needs a viaduct in the middle of the forest?
An old joke about Wąchock immediately comes to mind:
- Why are there four bridges in Wąchock?
- Because only the fourth time they hit the river ...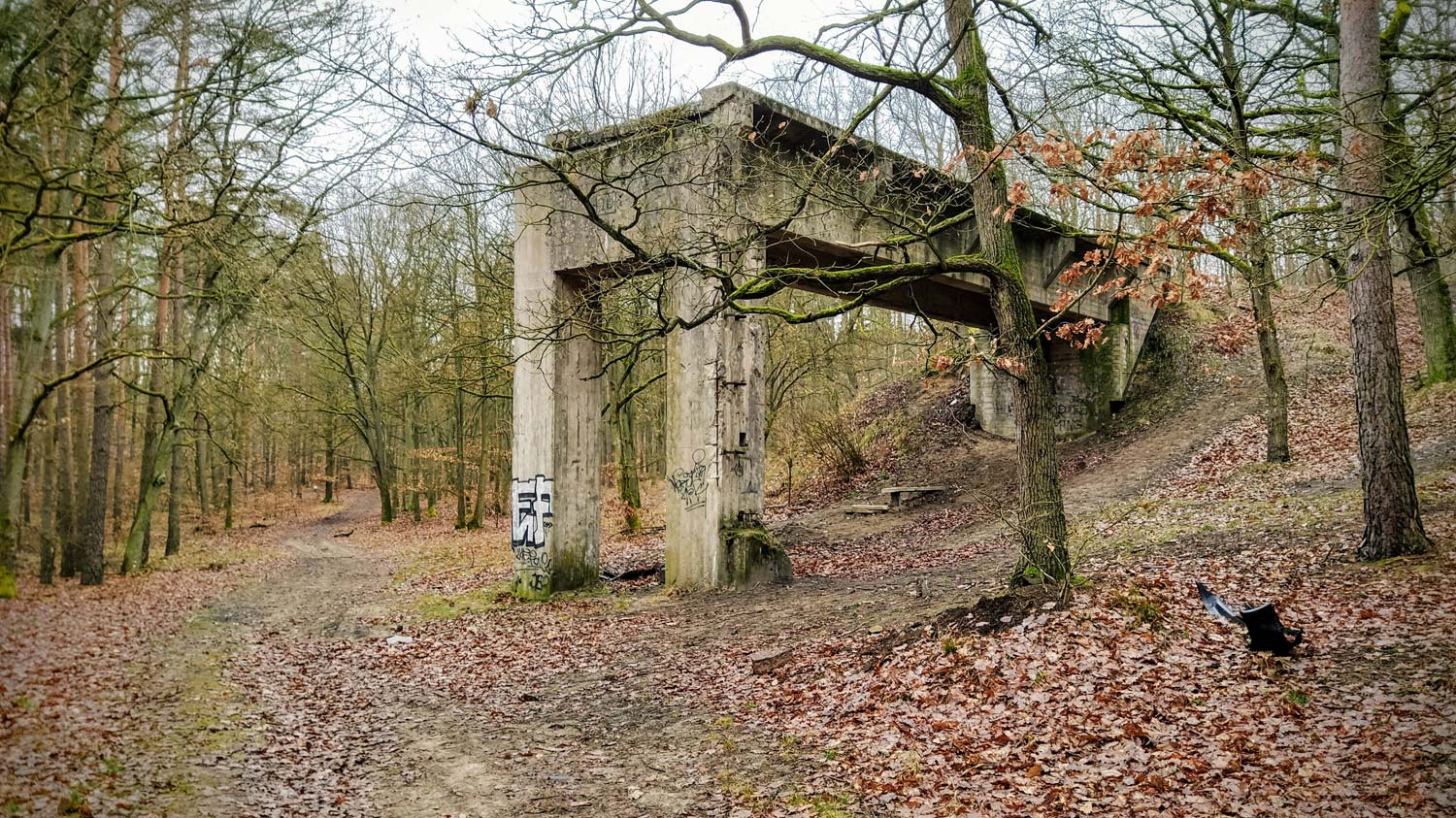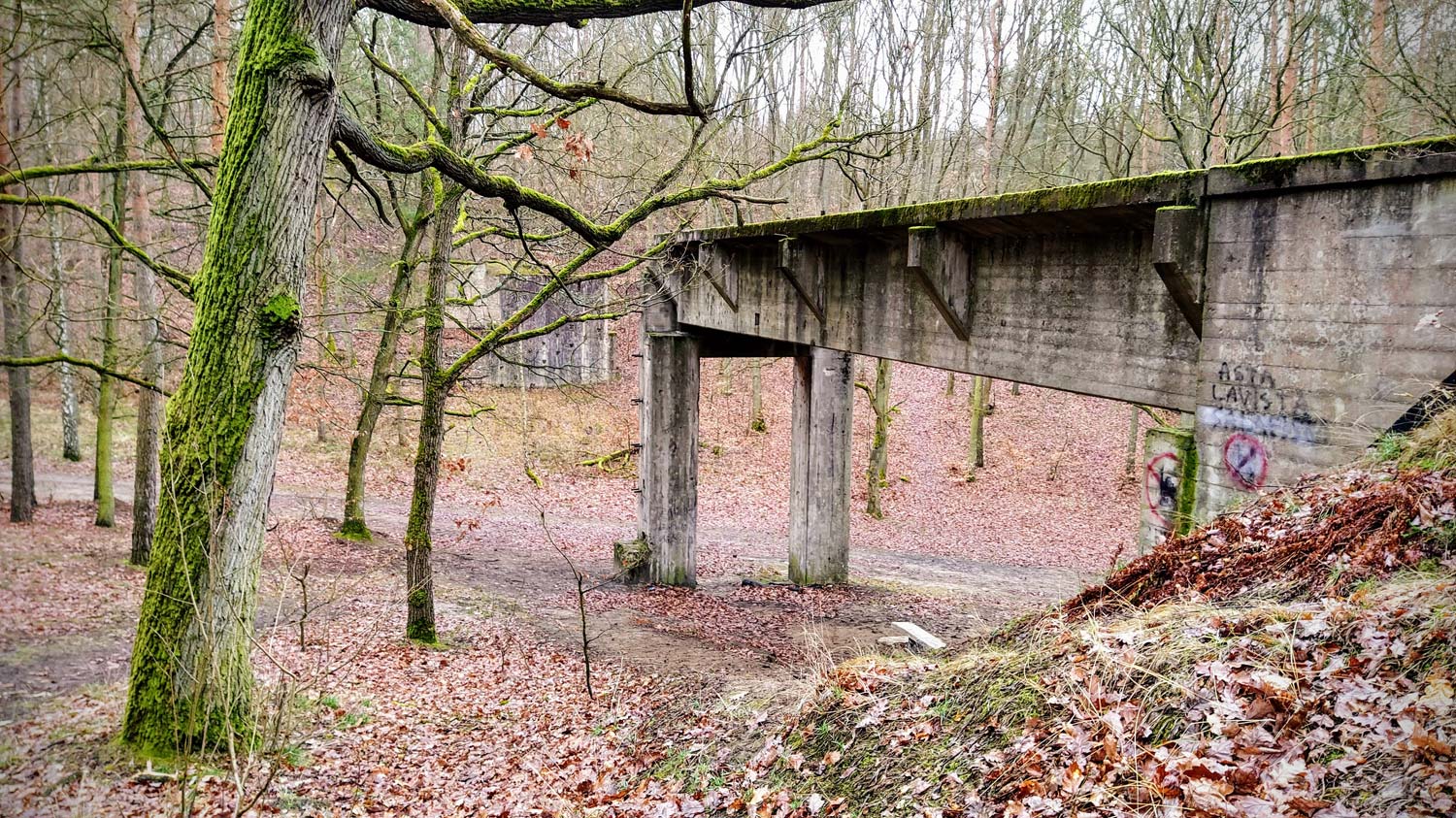 The viaduct leads nowhere to nowhere. There are no traces of any road ever reaching the viaduct, no railroad tracks, or anything ... There has never been a river underneath either… write it out, paint it like a joke about Wąchock!
It's getting weird.
And it gets even stranger when you meet another bridge a few dozen meters away. Not matching the first. Located even more nonsensically and only built halfway…. and then you see another bridge. Completely different than the previous two and completely just as pointlessly located.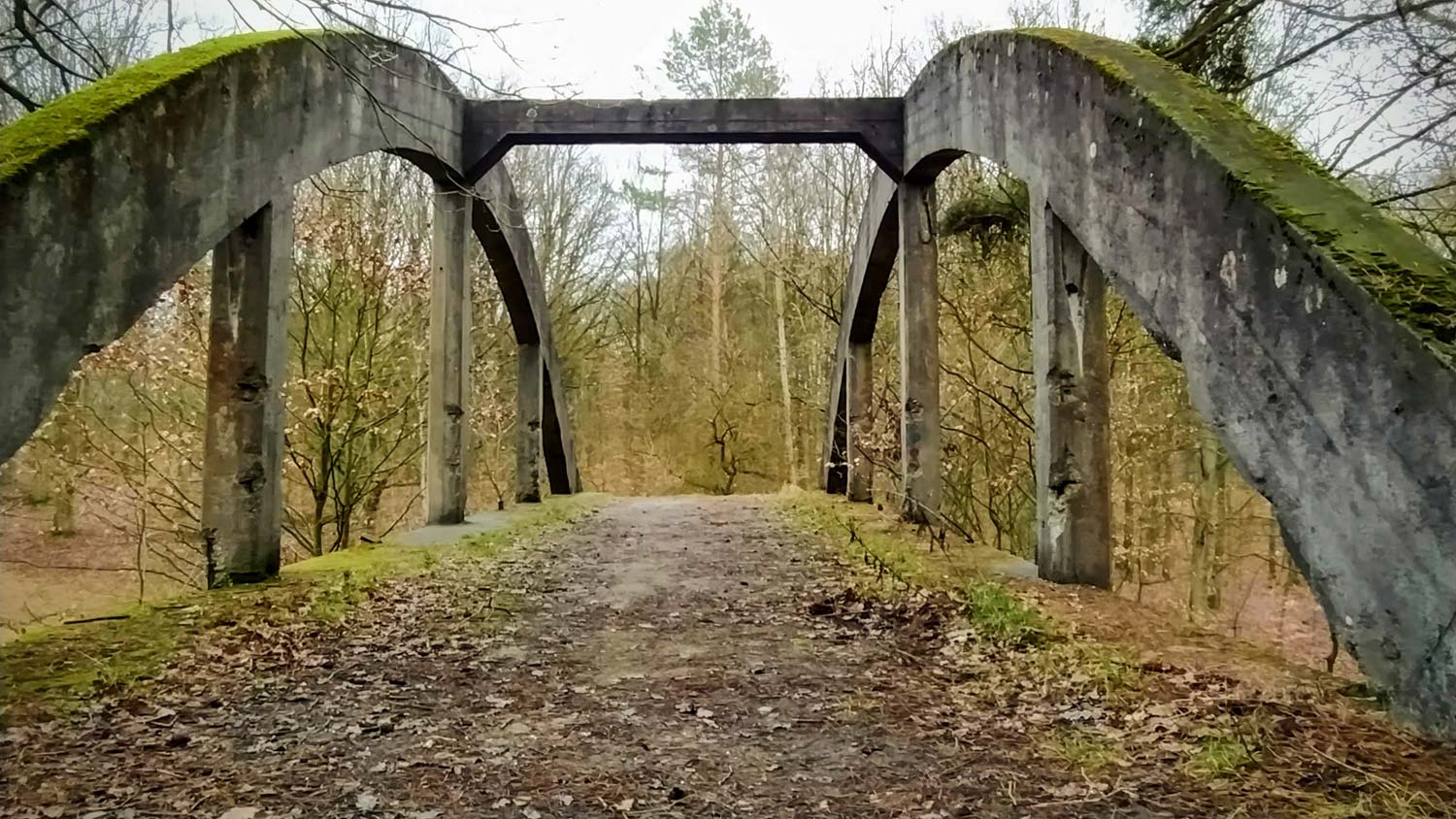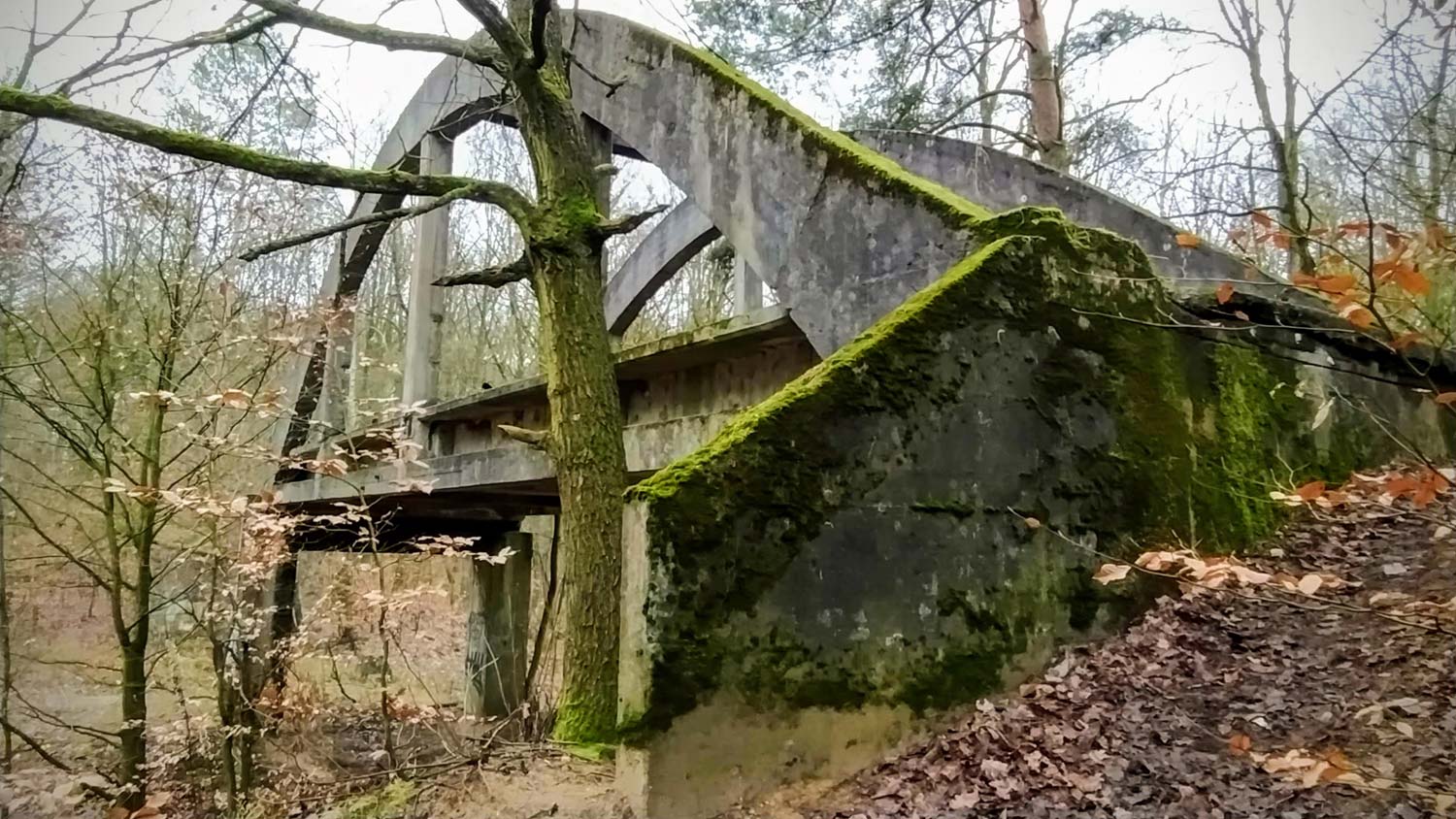 Everyone, but really everyone, is immediately drawn by a spiral of speculation and reflection: what, why, why ... Someone started building a bridge and did not finish it, and then started building another one. You start walking from bridge to bridge, looking in more detail, looking in, discovering foundations hidden by forest litter, invisible at first glance, scattered around the bridges. You notice that part of the bridge is made of reinforced concrete, and part of the bridge is made of brick. That the elements of the same bridge differ in shape, do not maintain symmetry ... etc.
I don't want to spoil your fun. You will surely find many strange peculiarities that will only raise additional questions instead of giving answers.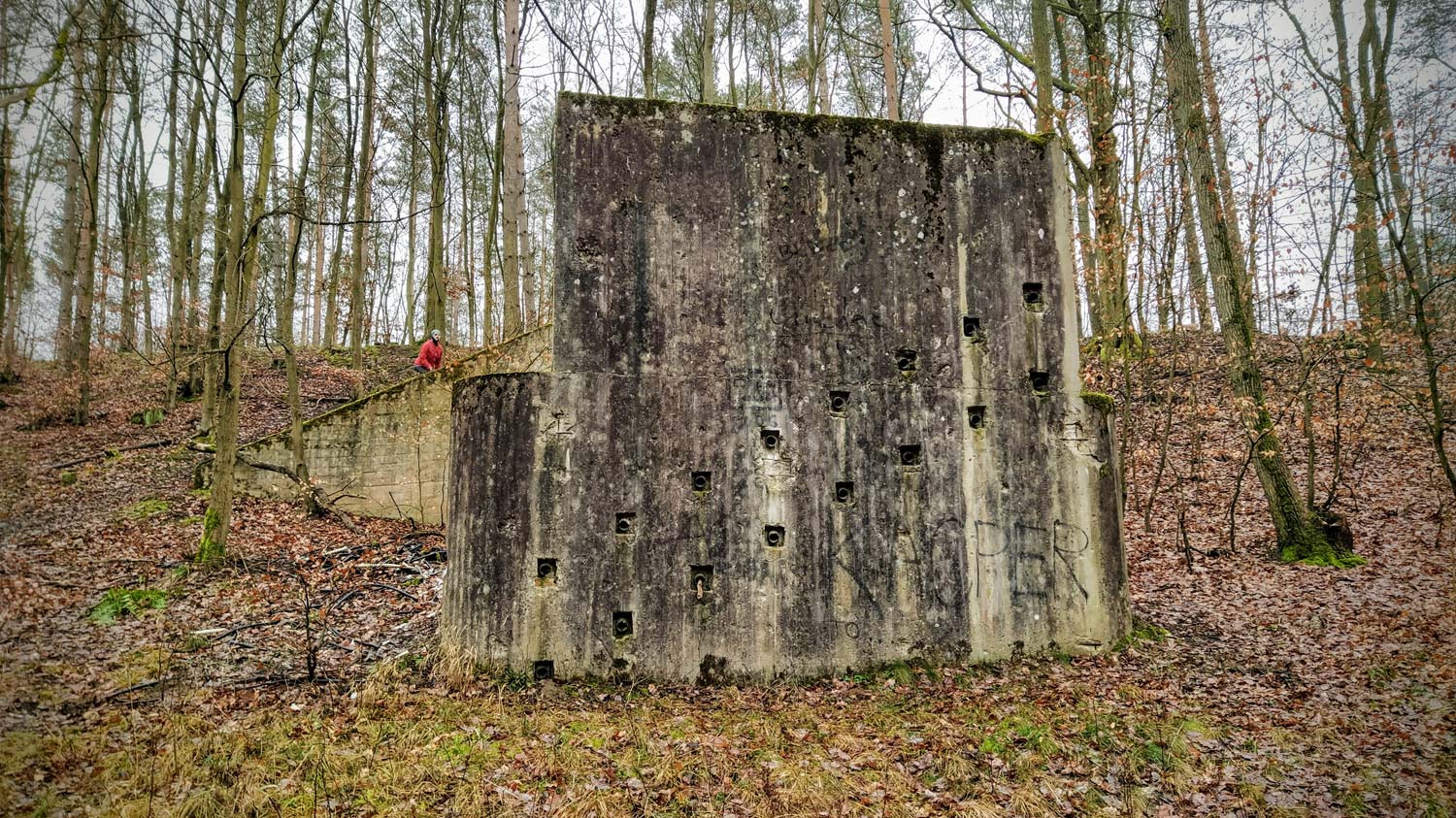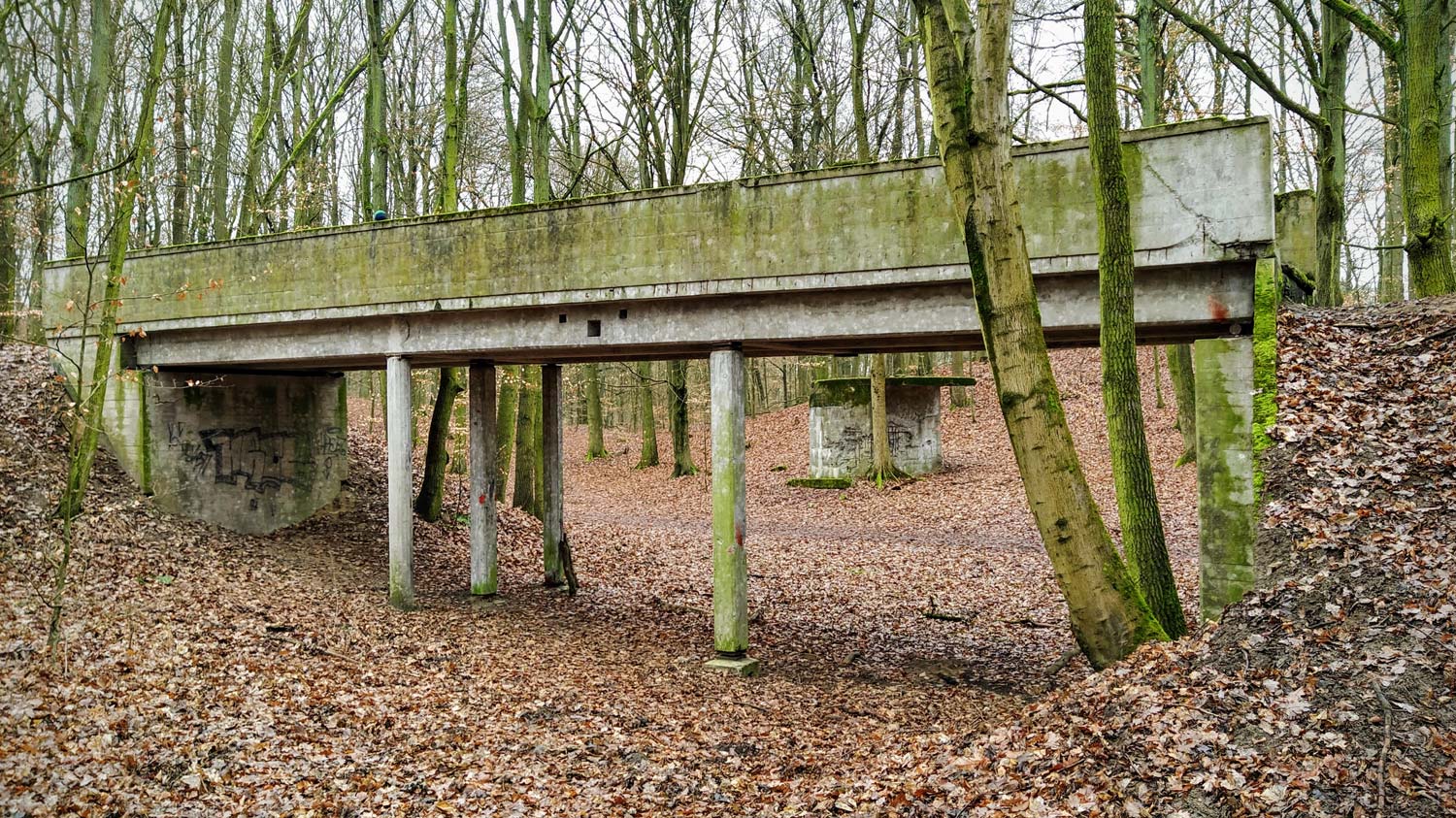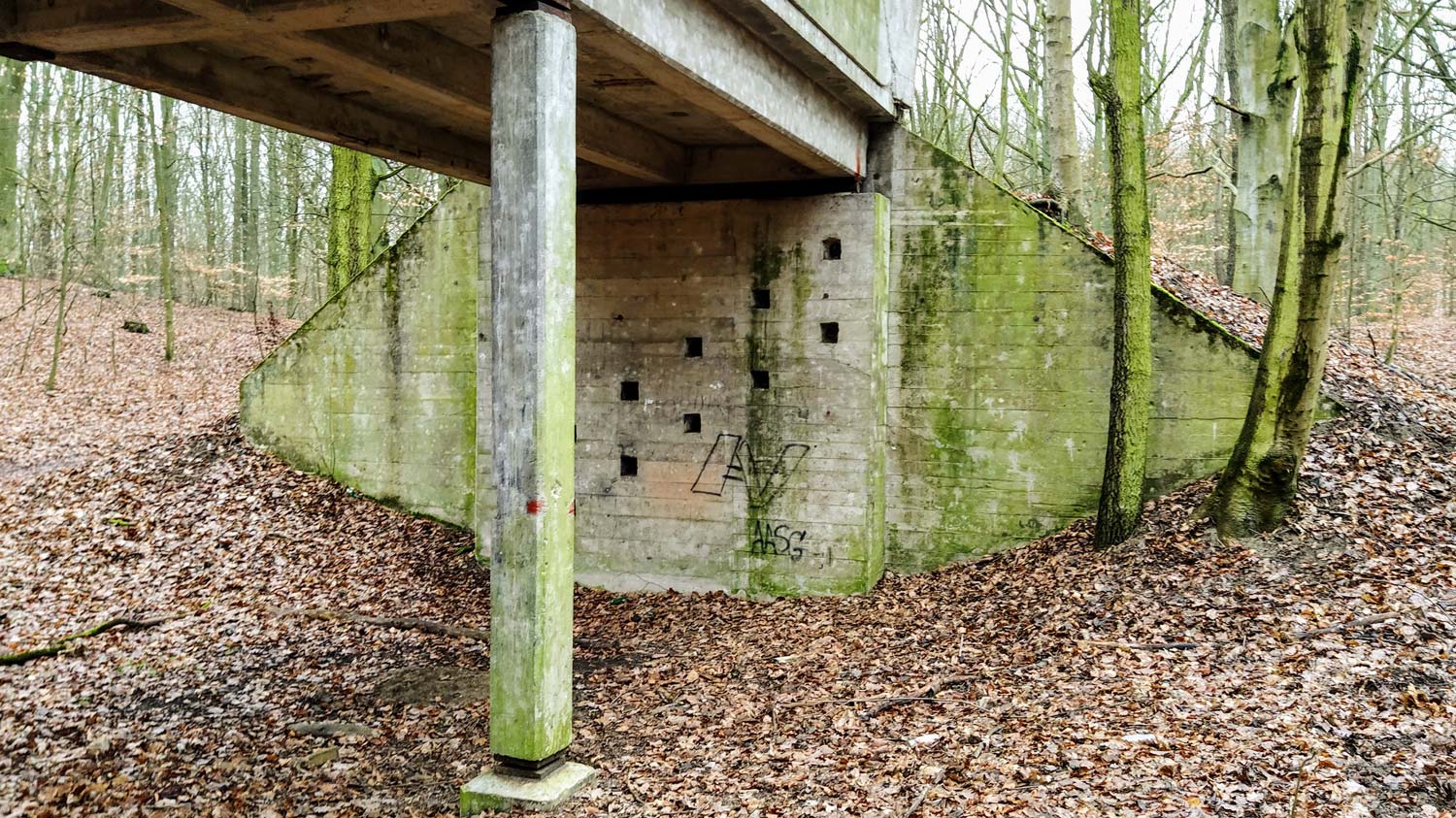 What was really here?
WARNING! Here I am explaining the mystery of Uroczysko Mosty. If you don't want to get to know it before visiting it, then don't read this paragraph. Go straight to the next one with information on how to get to Uroczysko.
There was a lot of theory and for many years it was not certain what the true purpose of these structures was. It makes no sense to quote those that turned out to be untrue (and people did not lack creativity). Ultimately, the matter was clarified. In the area of ​​Uroczysko Mosty was located a secret training ground of the German army, where sappers were trained.
Trainings on the methods of blowing up and destroying bridge structures of various types were conducted here. Hence, several different shapes and sizes of bridges, different types and shapes of supporting elements even in one bridge. This also justifies the construction of one bridge from different materials with different structural properties.
The "Chudy" bridge is completely absurd, because in one row it has three supporting legs, and in the other one it has only one asymmetrically positioned bridge (you can see it in the photo above).
German sappers were educated very comprehensively, so that nothing could surprise them.
The structures are clearly visible holes prepared for explosives, and in some places even traces of explosions. Next to one of the bridges ("Chudy") there is a reinforced concrete block in the form of a cube, on which the traces of an explosion are clearly visible. behavior of material reinforced with thick steel bars.
Everything is still almost perfect.
The training ground was established more or less in the 30s and operated almost until the end of World War II. I found out that after the war Polish troops also used the charms of the training ground for some time, but I am not 100% sure about it.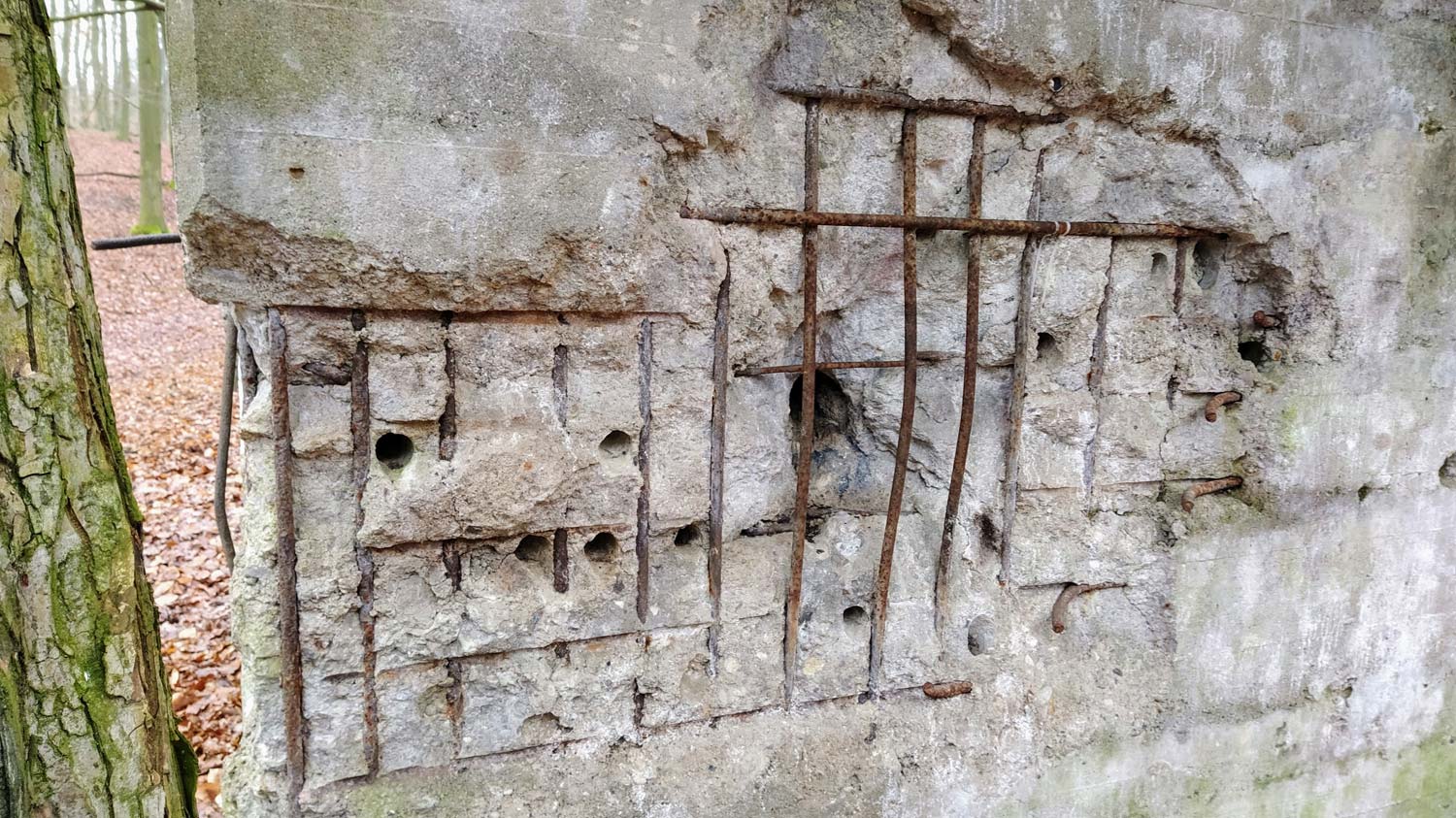 How to get to Uroczysko Mosty?
Near Uroczysko Mosta (about 800m) there is a military shooting range, which is still in use today. There is a car park next to the shooting range, where it is best to leave your car. Navigation in the car or phone, regardless of the direction from which you come, will lead you through Smoczą Street (made of cobblestones), and then through the forest along a dirt road, to the military shooting range.
The distance from the parking lot to the bridges (about 800m) must be covered on foot. There are unpaved roads leading from the parking lot to the bridges, which theoretically can be driven by a car, but don't do it! Please! Take these few steps on your feet. The roads are narrow and are not adapted to such traffic. Too many cars will ruin this beautiful place. A few minutes walk through the forest will allow you to get into the atmosphere of Uroczysko.
There are three bridges there. They are all close together. You will find them for sure!
The location of the car park near the military shooting range, the path to the bridges and the location of the bridges are presented on the map below.
Below the map you will find the GPS coordinates of the most important points.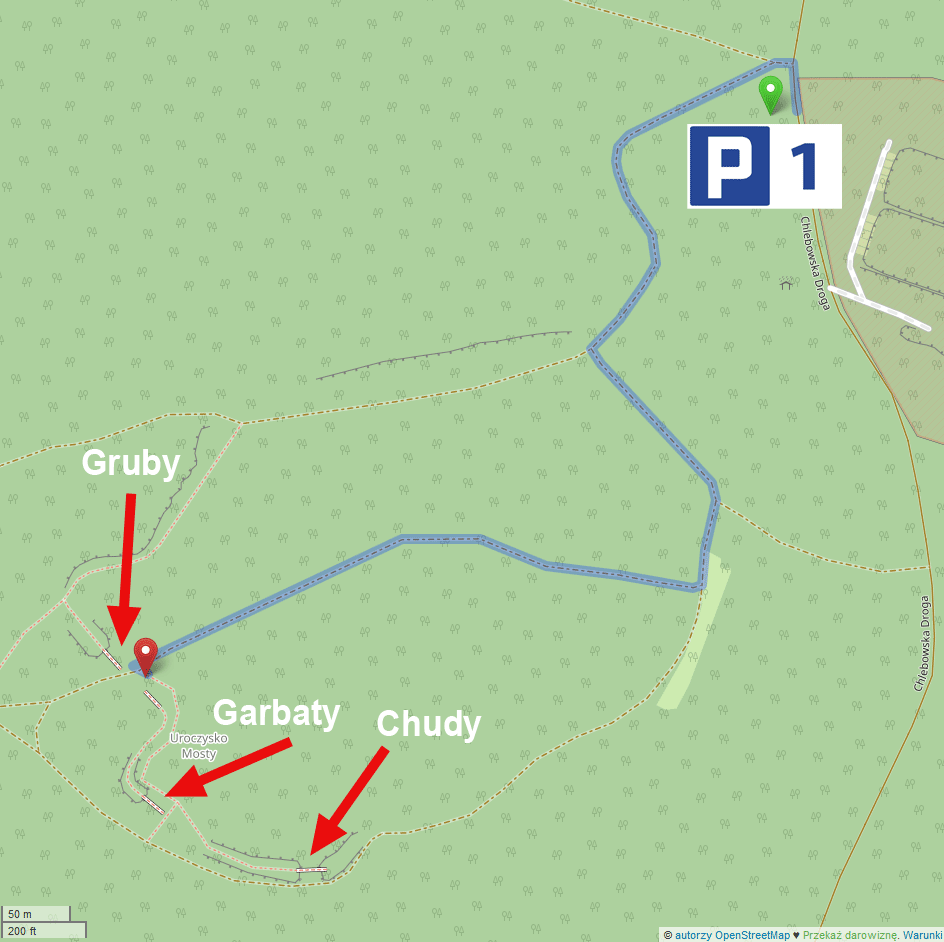 Useful GPS coordinates
Unfortunately, the bridges don't have any names. To make it easier to tell them apart, I gave them my names. It will be easy to tell them apart because they have a certain relationship with their appearance.
Parking at the military shooting range, GPS:
53°20'43.0″N 14°36'21.9″E
53.345279, 14.606088 - click and route
The Fat Bridge, GPS:
53°20'29.9″N 14°35'56.2″E
53.341630, 14.598930 - click and route
The Garbaty, GPS:
53°20'26.5″N 14°35'57.7″E
53.340680, 14.599350 - click and route
"Chudy" Bridge, GPS:
53°20'24.9″N 14°36'03.9″E
53.340240, 14.601090 - click and route
Important to me!
Give the article a good rating
(5 stars welcome 😀)!
It's free, a
for me it is very important!
The blog lives on visits and thus has a chance to develop.
Please do it
and ... thank you in advance!
I also post
link to Facebook profile - [click]
. Come in and press "
Follow
"then you will not miss new, inspiring posts.
Unless you prefer
Instagram
. I'm not a social media demon, but you can always count on something nice to look at on
my instagram profile - [click]
. The profile has just been created, so
for now he is starving
, due to the lack of followers. He is happy to receive any observer who feeds him with his love.
I make the content I create available free of charge with copyright, and the blog survives from advertising and affiliate cooperation. So, automatic ads will be displayed in the content of the articles, and some links are affiliate links. This has no effect on the final price of the service or product, but I may earn a commission for displaying ads or following certain links. I only recommend services and products that I find good and helpful. Since the beginning of the blog's existence, I have not published any sponsored article.
Some of the readers who found the information here very helpful, sometimes ask me how you can support the blog? I do not run fundraisers or support programs (type: patronite, zrzutka or "buy coffee"). The best way is to use links.
It costs you nothing, and support for the blog is self-generating.
Pozdrawiam