How to organize a trip to Majorca yourself and how much does it cost? Majorca on your own: [GUIDE]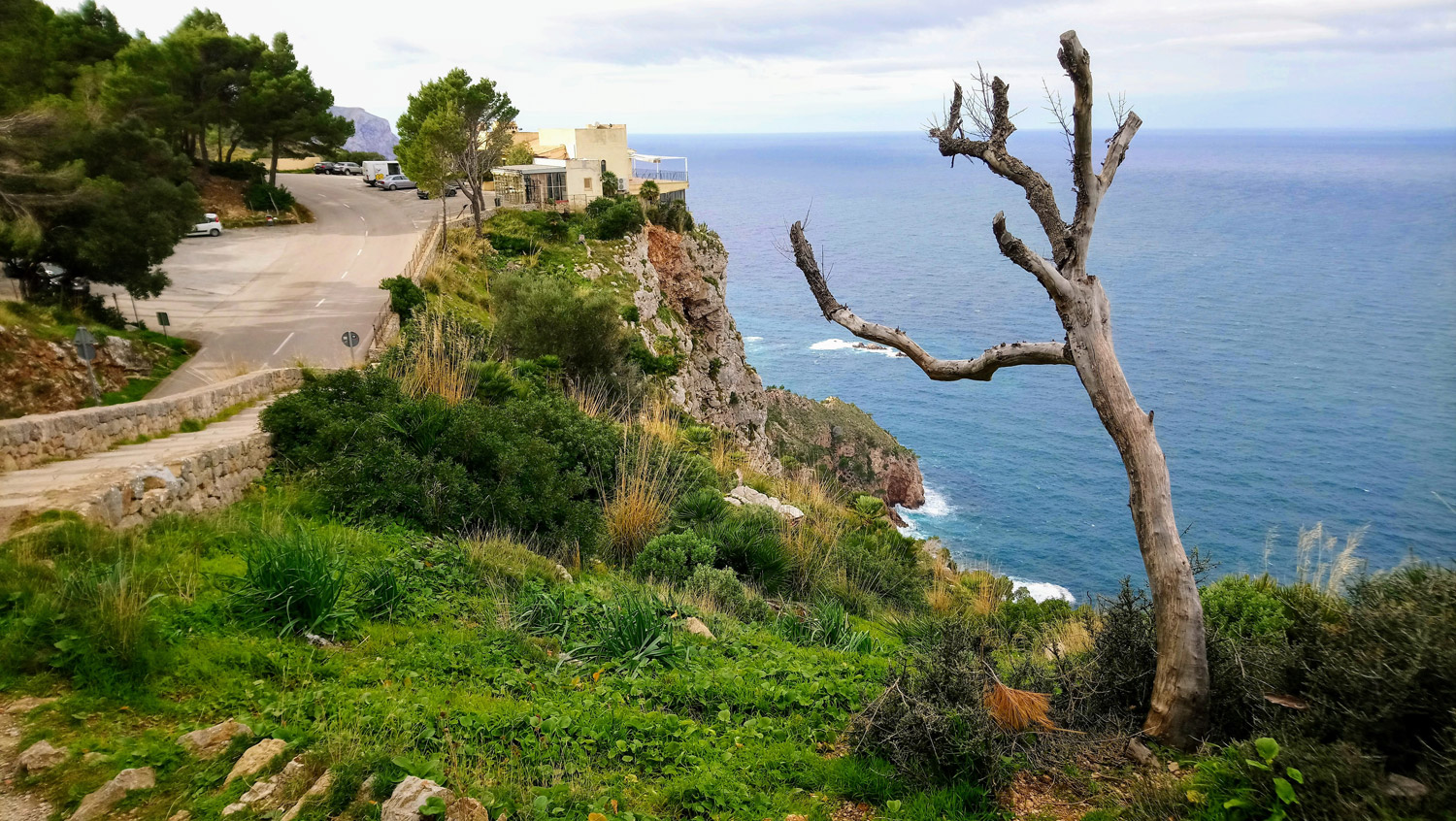 Majorca on your own? It's easy!
The interest in going to Majorca has been growing regularly in recent years. From year to year, more and more Poles visit this island, and many fall in love with this place and return to Majorca regularly. It is hardly surprising. The flight to Majorca is short, and the weather and natural circumstances guarantee a heavenly holiday. The island is so big and interesting that you can spend many unforgettable holidays here without getting bored.
Many visitors to Majorca visit the island organizing their trip on their own, without the mediation of travel agencies. Anyone who has been to Majorca knows that it is quite simple at the moment, and at the same time it can cost cheaper.
However, if you are going there for the first time or you have never organized a trip on your own from start to finish, not everything may be clear and simple.
In this post, we will try to organize such an independent trip step by step, and we will also check how much it will cost. We will compare it with ready offers from travel agencies and see which version of the trip turns out to be more interesting.
Those who have not been to Majorca will surely use the information contained here to organize their own independent trip at an attractive price. Those who have already been to Majorca and are planning their next trip may find a solution that will help them save a few zlotys and organize the trip even cheaper.
I divided the organization of the trip into steps, the sequence of which is not accidental. Following the suggested order will save you a lot of time and work in finding the best deals.
Step one - departure date
The date of departure is usually determined by the weather. The weather is the main parameter on the basis of which we decide on the date of departure. Due to its location, Majorca allows you to travel comfortably throughout the year. The most rainy in Majorca is October (average 4 rainy days per month), and the most windy are January and February (sometimes it blows really strong). Regardless of this, each of these months offers great conditions for relaxation.
I was in Majorca in February (the photos you see on the blog were taken in February). The weather for exploring the island was pretty good all the time. The sometimes strong wind, some places even added charm. We had a chance to admire the high waves rumbling against the rocky shore ... an unforgettable impression.
A detailed description of the weather in Majorca throughout the year is included in the entry Majorca - long-term weather: air and water temperature, climate, holiday weather, when on vacation?.
If you have doubts whether the time of the year in which you plan to visit the island is definitely the right one for you, check this post. There you will find answers to your questions, along with the annual chart of air temperature, sea water temperature and forecasts for rainy days.
For the purposes of our guide, I decided to choose the date around April and the May weekend.
Springtime in Mallorca is fantastic. The air temperature is then around 25 degrees Celsius and it is the most beautiful part of summer with us. It is also not crowded yet.
Of course, the workflow for any other term will be the same.
When I was in Majorca in February, I took a break from winter weariness and caught a lot of sun. It was fantastic!
Unfortunately, there are no direct air connections from Poland in February. So I flew from Berlin. If you live up to 300 km from Berlin (3 hours by car), this option is worth considering. The next step shows why you should consider Berlin and other German airports.
Step two - plane tickets
Air connections are the element on which the most depends. The number of flights is usually limited and planes only fly on selected days of the week. Especially if we want a cheap airline. Then the choice narrows even more. You have to be flexible and be prepared that the date of departure will have to be adapted to the date of flights. You may have to postpone your trip one way or the other for a few days to buy a really cheap ticket. Of course, it is often possible to fly on the exact day we want, but it can cost much more.
Let's check it on our example. I would like to remind you that I planned a trip around the May weekend.
In this post, I will not describe in detail how to search for the cheapest flight offers. I have already described all the tricks that will allow you to find the cheapest flights in the entry: Cheap flights. How to search for cheap flights and cheap flights? [GUIDE].
Here I will only present the effect of these searches.
So I go to the cheap flights search engine Skyscanner - [click] and here's what i found: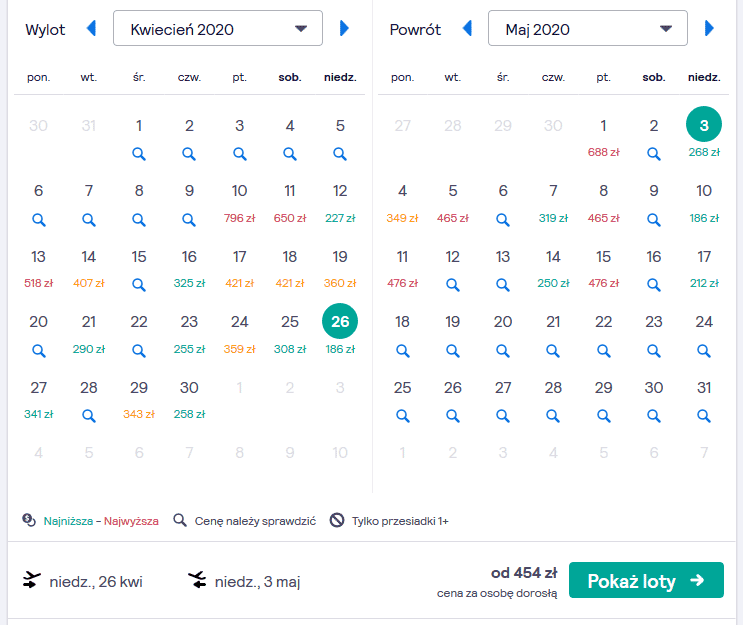 I can fly from Poland to Majorca for PLN 454. This is the total price for one person return (!!!) way tickets.
Departure on April 26, return on May 3.
If you decide to fly from one of the German airports (e.g. from Berlin), the cost would drop to PLN 241 for one person both ways. Cheaper by PLN 213 per person. At the same time, the vacation date would slightly change to one in which air connections are more advantageous.
Departure April 21, return April 28.
A screenshot with prices from Berlin is attached below.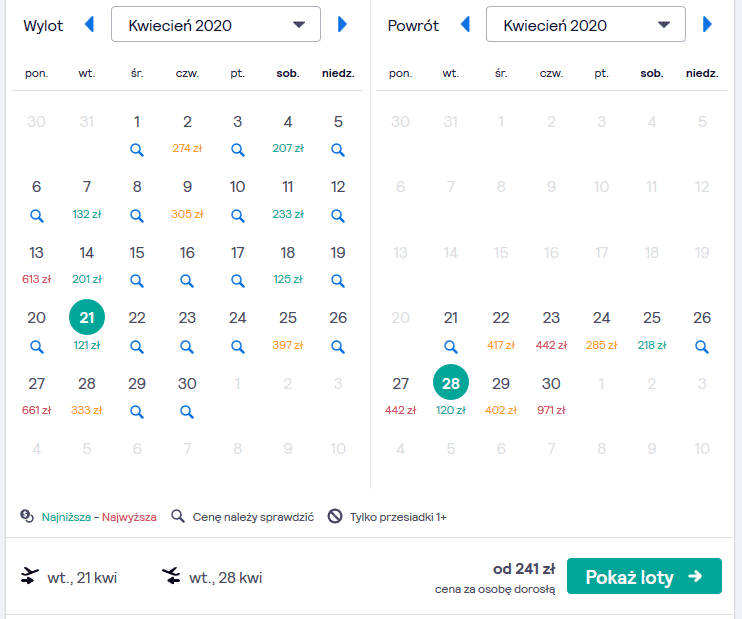 Do you think it is already very cheap? Then I'll surprise you!
If you choose the date of departure in February, it would be from Germany you can fly both ways for 87 PLN (!!!). Yes! This is not a bug! A one-way ticket is PLN 44, and a return ticket is PLN 43. It can't be cheaper anymore!
It's cheaper than leaving Poland for PLN 367 per person !!!
For this exact amount I flew to Majorca from Berlin in February 🙂
Below is an eye-catching screenshot.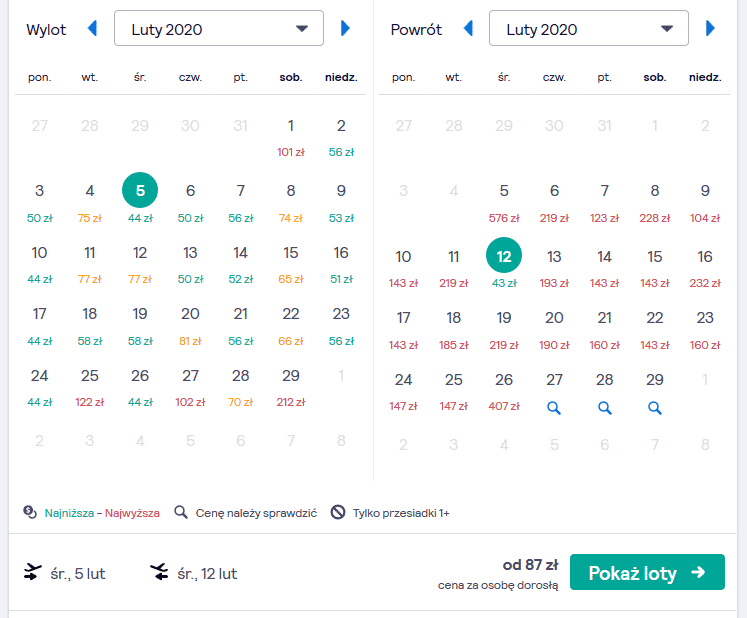 Sometimes it's worth burying the flight search engine database Skyscanner - [click], because the effects can be surprising. And I would like to remind you that I showed the methods of searching for really cheap offers in detail in the post: Cheap flights. How to search for cheap flights and cheap flights? [GUIDE]
Step two and a half - cheap parking at the airport
I bet blindly that most travelers do not remember it, and certainly not when initially planning their trip. And it's worth it! Even it's very worth it!
A simple example from life (unfortunately painful and my own) makes it easy to realize the scale of the phenomenon. More than 5 years have passed since then, but I remember the situation clearly.
We departed from Berlin Tegel airport and had not booked parking in advance. We were in a hurry, so I just pulled into a free parking lot, collecting a ticket at the entrance (typical long-term parking lot at the airport). We came back after two weeks. I took the card out of my pocket and snip! The machine swallowed a piece of paper, purred and appeared on the display amount to be paid: EUR 180 (!!!). I thought that I would pass out ...
... and if I booked the parking at least one month in advance, I would pay a maximum of EUR 50. Pulp.
To this day, we sometimes joke about how clever I was then.
To book car parks at airports, it is worth using an effective tool, which is the website Parking Leader - [click].
An example parking price in the immediate vicinity of the Chopin airport in Warsaw is about PLN 70 for 8 days !!!
For the amount I paid at the Tegel airport in Berlin, I could park there for the whole year 😀
The price can be seen in the picture below: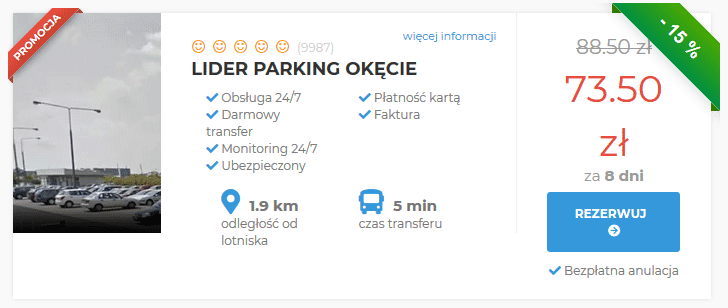 To book a car park outside Poland, use the website ParkVia - [click]. It works in Polish and allows you to book parking lots in over 50 countries and 400 locations around the world.
Step three - booking accommodation
When it comes to booking a hotel, it is a bit easier and more difficult at the same time… such a paradox. The reason is simple: everyone prefers different conditions of rest, so it is much harder for me, as the author of the post, to deal with something universal. On the other hand, the ease is that we already know the place and time. All you need to do is enter the relevant data into the world's largest search engine for accommodation and hotel offers Booking - [click] and ready? Yes, as long as you know how to search for the best deals, which is not so obvious, although it seems easy at first glance.
Fortunately, I have already described the ready set of tricks in a separate entry: Cheap hotels on Booking? Of course! Check how to find comfortable and cheap accommodation! Barcelona, ​​Rome, Paris ... wherever you want!
It is really worth getting acquainted with its content. It is not only a description of search methods, but also a description of how not to be manipulated and how to skillfully choose only the best offers.
When making a reservation, it is worth remembering one important issue in Majorca. Outside the summer season, it is worth booking a hotel in larger towns or in one of the districts of Palma de Mallorca. The reason is prosaic. Many restaurants and shops are closed in low season. In small towns, where there is no tourism then, it may be difficult to find a restaurant that suits you. This problem does not exist in Palma and its surrounding districts. There will always be something.
We spent the night in Can Pastilla. It is a town directly adjacent to Palma de Mallorca, and in fact connected with Palma. It has a direct bus connection to Palma and the airport. Very convenient location.
We spent the night in a hotel Roc Leo - [click]. It is a very comfortable 4 **** hotel. In the comments, almost everyone says that he has great breakfasts and it must be said that this is true. The abundance and selection of what they offer for breakfast is dizzying. In winter, the hotel usually makes a great promotion and a week's stay costs PLN 1737 for two people. It is almost PLN 870 per person per week, or PLN 125 per day for a 4 **** hotel with a mega breakfast. Pretty good.
An additional advantage is that next to the hotel, on the street, there are free parking spaces and out of season there is no problem with free parking.

Unfortunately, in the period considered by us, from April 21 to 28, the hotel is slightly more expensive. The price for a week's stay for two people is 1912 PLN, or 956 PLN per person. This is PLN 137 per person per day. If this price is acceptable for you then I sincerely recommend this hotel.

Just for the sake of curiosity, let me add that the Roc Leo Hotel is quite expensive in the summer season. A week for two people costs 3 220 PLN and in July most of the dates are already sold (as of this writing it is December).
Below are some hotel offers that are worth being interested in when considering organizing a trip to Majorca on your own.
Hotel Roc Linda [click] - a very affordable accommodation offer with a rich breakfast. If you want good quality at a really low price, this will be a good choice. Guests of the hotel emphasize the great location, which is close to everything (beach, sea, communication to Palma and the airport).

Apartamentos Embat [click] - studio apartment with a sea view ... who wouldn't? A bedroom and a room with a kitchenette. Cysto and comfortable. Free parking available for hotel guests.

Nautic Hotel & Spa [click] - a comfortable hotel at a very affordable price. Who likes a little more comfort and modernity will be pleased. For this convenient location (close to everything).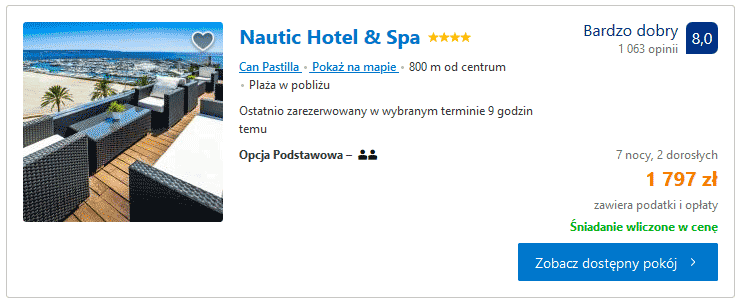 Of course, the above list does not exhaust the interesting hotel offer in the Palma de Mallorca area. I encourage you to browse and search for your dream accommodation. Below I present the Booking search engine interface. All you need to do is set the dates you are interested in and start searching the largest accommodation database in the world.
Step four - car rental
Of all the steps, this one is the most difficult in my opinion, especially for someone who has never rented a car before. Finding a good rental car deal is like walking through a minefield. The trap can be anywhere. Good advice from someone who has experience in this topic is perhaps the most valuable.
The choice of rental companies is very wide. All you need to do is enter the world's largest car rental comparison engine: Rentalcars - [click]. Each of them has different borrowing rules and a different method of calculating basic and additional fees. If you started to analyze them all, this entry would turn into an indigestible and endless tapeworm.
Fortunately, one of my favorite rental shops operates in Majorca. It has short, clear rules. Safe for the rental company and for you as a customer, and great prices. I offer rental in a package with full insurance (All Inclusive), thanks to which your liability for any damage drops to zero and will be fully covered by insurance. No credit card is needed to rent a car and no deposit is required. You are fully comfortable and you don't have to worry about anything. For renting a car in Wiberze (because I'm writing about this rental shop), off-season I paid 17 EUR / day. I have described everything in detail in a separate entry, which You have to read before borrowing: Majorca - rent a car without a credit card and a deposit. Spain.
I have described step by step everything you need to know so that you do not have to worry about anything during your trip and at the same time not get robbed of the money at other rental service providers.
If you prefer to borrow via Rentalcars - [click], the same Wiber offer is even a few euros cheaper there (moreover, everything is described in detail in the above-mentioned entry).
In this simple way, you managed to save a few hours that would have to be spent on analyzing (in several languages) contracts with attachments, dozens of car rental offices ... and at the end you would not be sure if something was overlooked.
On the departure date adopted by us, between April 21 and April 28, the prices are unfortunately higher, and the daily cost of renting a car is 33,70 EUR.
In high season, the rental price rises to over 43 EUR / day, but then it is expensive everywhere.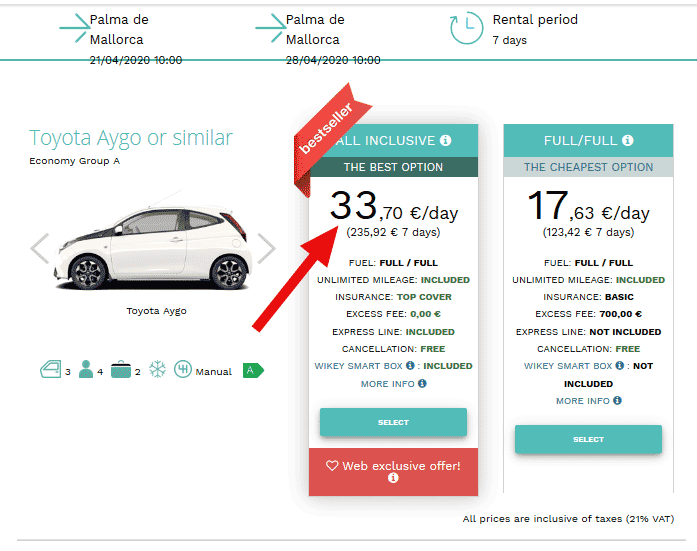 Step five - sightseeing plan
I like this part of the organization of the trip the most. I look for interesting places, read about them and put them all on a map, and then I wait impatiently for the trip.
So I created my own itinerary of Majorca, a detailed description of which can be found in the entry: Majorca - attractions, sightseeing, practical information. Guide..
There you will find a list of the most interesting places on the island, arranged in four neat one-day trips. Perhaps their layout will suit you, or you will create your own plan based on them.
It is possible that the information about the next attractions, which I present below in step six, will help you to modify the plan.
Step six - other attractions and pleasures
Below I present a few suggestions from the booking portal, where you can find offers of attractions and trips posted directly by their organizers (without intermediaries). I have selected a few unusual proposals to show you that the possibilities of making your trip more attractive are almost endless.
You can read more about the functioning and possibilities of this portal in the post: Tickets to attractions! Skip the line, buy online, quickly and conveniently wherever you are !!!
Reservations are made online, and most attractions can be canceled at no cost if you change your plans. You will get a detailed description after clicking on a specific attraction.
Mallorca: Scuba Diving in a Nature Reserve
Feel light as you go scuba diving and admire the tranquil world beneath the ocean's surface. Discover the magic of safe diving in the company of qualified instructors. See the unknown world of marine fauna and flora.
Mallorca: XNUMX-hour hot air balloon flight
Get a bird's eye view of Mallorca at sunrise or sunset on a XNUMX-hour hot air balloon flight. Be amazed by the amazing panorama of the island's hilly coast and the Tramuntana Mountains. Keep an album full of amazing photos as a souvenir.
Mallorca: Quad Bike Offroad Tour
Experience a Mallorca adventure and explore the Palma de Mallorca area on an exciting quad bike ride. Drive over rough terrain and enjoy cliff jumping, diving and swimming. Finally, enjoy a refreshing drink.
Mallorca: sunrise dolphin watching cruise
Admire the coast of Majorca at sunrise on a 2,5-hour cruise from Alcudia. Take advantage of the unique opportunity to see dolphins in their natural environment and be amazed by the unique play of colors created on the sea surface by the rising sun.
Mallorca: North Coast Cruise with Lunch
Discover Mallorca's picturesque north coast on a 5-hour catamaran cruise from the Port of d'Alcudia. Sail past charming bays and stop in secluded coves where you can enjoy kayak and snorkeling gear and have lunch.
From Palma de Mallorca: 5-Hour Catamaran Cruise
Sail along Majorca's spectacular south coast aboard a catamaran. Once anchored in Portals Vells or Cala Vella, swim and snorkel in the turquoise waters while waiting for a delicious BBQ meal.
Palma de Mallorca: 24 or 48 hour hop-on hop-off tour
Explore Palma de Mallorca at your own pace with a 24 or 48-hour hop-on hop-off ticket. Discover the city's main attractions by disembarking at any of the 20 stops along the route. Listen to an audio guide in 8 languages.
Mallorca: Skip-the-Line Entry Ticket for Palma Cathedral
In high season it can be difficult to buy an admission ticket to visit the cathedral (huge queue or no tickets at all). This purchase option allows you to work around the problem.
Explore Palma de Mallorca's stunning La Seu Cathedral with a skip-the-line entry ticket to the most famous building in Majorca's capital.
Compare the cost of the trip
Now let's try to quickly summarize what came out. I propose to do this not for one but two terms. The first should be the date adopted by us for analysis, i.e. April 21-28, and the second should be the date around the winter break (February).
Deadline April 21-28
Summary of basic costs:
- plane: PLN 241 / person
- hotel with breakfast: I choose 4 **** Nautic Hotel & Spa - [click] for 1743 PLN / two people, or per person: 817 PLN.
- daily food: 15 EUR / person (in low season, you can eat a good dinner in most restaurants in this amount). The cost for 7 days is: PLN 450 / person
Total cost:
241 + 817 + 450 = PLN 1 per person
The cheapest trip (analyzing the offers of several dozen travel agencies in the price comparison website) that was available at the time of writing the article (December) on a similar date, with an overnight stay in a 4 **** hotel, was PLN 1.
You save at least PLN 421 per person on self-organization. A lot!
You can check the current price under the link to the list of current offers in the travel agency's comparison website: check current prices - [click]

Winter break dates (February)
Summary of basic costs:
- plane: PLN 87 / person
- hotel with breakfast: I choose 4 **** Aparthotel Fontanellas Playa - [click] with very high ratings from hotel guests, for PLN 1407 for two people, i.e. PLN 704 per person.
- daily food: 15 EUR / person. The cost for 7 days is: PLN 450 / person
Total cost:
87 + 704 + 450 = 1 PLN / person
In the travel agency's search engine, the selection of offers for February is not impressive, but there are some interesting proposals. The cheapest one is PLN 2 / person.
You save PLN 907 per person on your own trip organization in February. A mountain of money!
The list of current offers for the date in February can be found at: check current prices - [click]

The cost of sightseeing
Here it is enough to compare the prices of visiting the island in two variants: by self-rented car and in the form of optional excursions.
However, it should be remembered that during the basic optional trips you will not see all the places that you will see while driving alone. Driving alone gives you more freedom and possibilities.
How does it look specifically in costs?
Self-rental car
The daily rental cost is EUR 34 in April (EUR 19 in February).
We rent a car for at least 4 days. So it comes to a cost of € 136 in April (€ 76 in February).
During the trips you will burn about 40 liters of fuel, 1,5 EUR / liter each. The total cost of fuel is EUR 60.
Entrance tickets: approximately EUR 60 for 2 people
Total costs of trips when visiting the island:
- 256 EUR in April (for 2 people)
- 196 EUR in February (for 2 people)
Facultative trips
I have searched several pages for suggestions for trips and the prices are generally similar. Sometimes they vary by +/- 10 EUR, due to minor program differences. In order not to artificially inflate the costs, I assumed the cost of the cheaper versions.
If you want to get closer to what you will see driving alone, you would have to go on 4 trips:
1. Round trip around the island (mainly Sierra de Tramuntana, Soller, Sa Calobra) - cost about 50 EUR per person
2. Valldemosa (Chopin) - cost approximately EUR 40 per person
3. Drach Caves - approx. EUR 50 per person
4. Cape Formentor - cost approximately EUR 30 per person
The total cost of optional trips is: 2 × 50 + 2 × 40 + 2 × 50 + 2 × 35 = 350 EUR for 2 people.
Visiting the island on your own is EUR 94 cheaper in April and EUR 154 cheaper in February.
Two extreme models of rest and sightseeing
As a summary, let's try to combine two extremely different ways of sightseeing. Compare a trip in April with a travel agency and sightseeing in the form of optional trips with independent departure in February and sightseeing on your own by a rented car.
Departure in April: travel agency + optional trips
Stay, cost: PLN 1 per person
Tours: 175 EUR / person = 770 PLN
Total: PLN 2 699 per person
Departure in February: self-organization + self-guided tour by rented car
Stay, cost: PLN 1 per person
Tours: 98 EUR / person = 430 PLN
Total: PLN 1 671 per person
The difference in costs is PLN 1 per person.
Everyone can easily draw conclusions for himself.
Important to me!
Give the article a good rating
(5 stars welcome 😀)!
It's free, a
for me it is very important!
The blog lives on visits and thus has a chance to develop.
Please do it
and ... thank you in advance!
I also post
link to Facebook profile - [click]
. Come in and press "
Follow
"then you will not miss new, inspiring posts.
Unless you prefer
Instagram
. I'm not a social media demon, but you can always count on something nice to look at on
my instagram profile - [click]
. The profile has just been created, so
for now he is starving
, due to the lack of followers. He is happy to receive any observer who feeds him with his love.
I make the content I create available free of charge with copyright, and the blog survives from advertising and affiliate cooperation. So, automatic ads will be displayed in the content of the articles, and some links are affiliate links. This has no effect on the final price of the service or product, but I may earn a commission for displaying ads or following certain links. I only recommend services and products that I find good and helpful. Since the beginning of the blog's existence, I have not published any sponsored article.
Some of the readers who found the information here very helpful, sometimes ask me how you can support the blog? I do not run fundraisers or support programs (type: patronite, zrzutka or "buy coffee"). The best way is to use links.
It costs you nothing, and support for the blog is self-generating.
Pozdrawiam