Errant Rocks - tickets, parking, access, opening hours, weather, interesting facts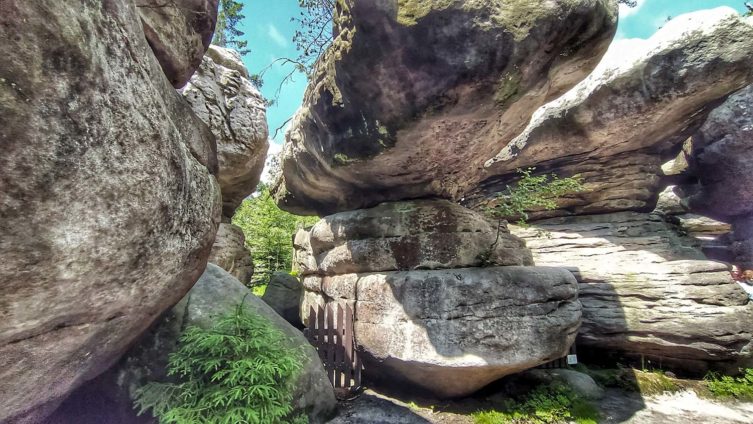 The Rock Labyrinth in the Stołowe Mountains
Exactly! Errant Rocks is a delightful creation of nature, in the form of fancifully shaped rock blocks, creating a complex labyrinth with narrow passages, passes and chambers. A place that can be described for a long time, but it is much better to see it in photos, and of course live!
I have marked the location of Errant Rocks on the map of Poland in the picture below.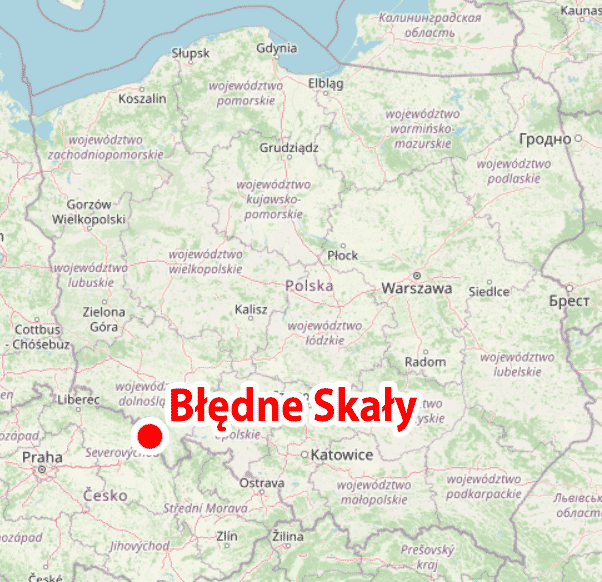 If you are going to Lower Silesia and you are looking for a unique attraction it Errant Rocks will be a good choice. Similar in climate, but in fact a bit different, is the one next door (a few kilometers away) Szczeliniec - [click]. Both attractions are definitely worth seeing!
Sometimes I hear conversations about where it is best to go: na Szczeliniec or Errant Rocks? After visiting both places, I think that such a choice is pointless. You shouldn't skip any of these places.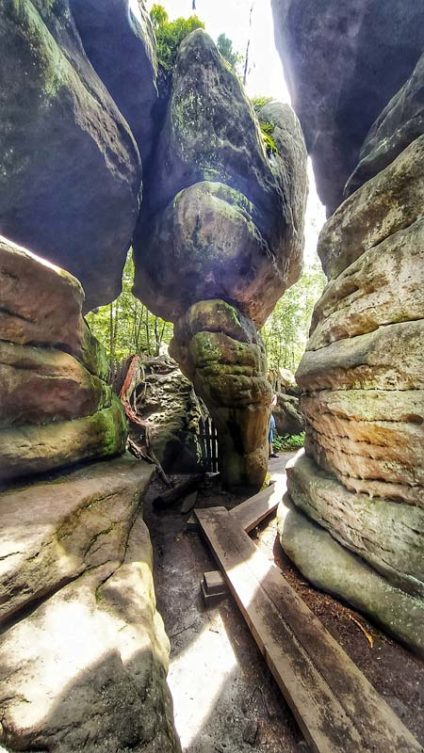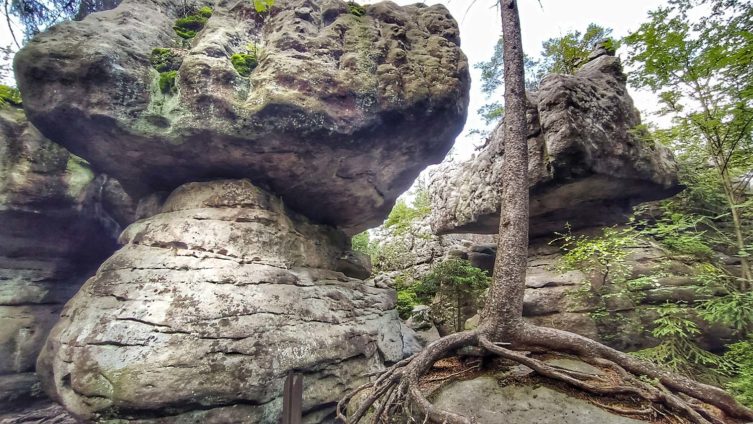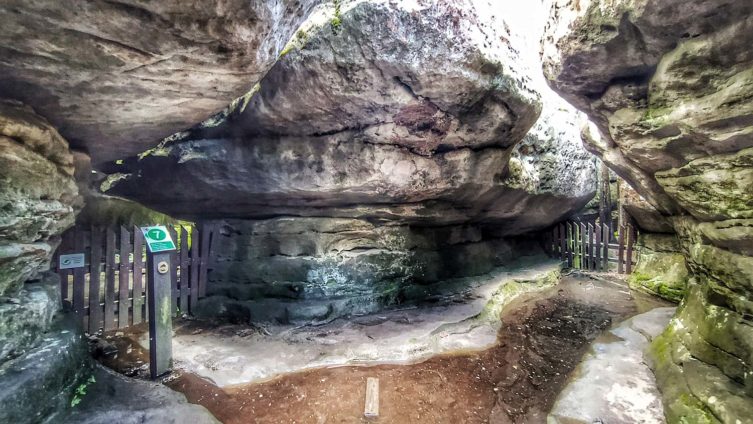 Parking, access and parking tickets
On your way to Errant Rocks, you will have to defeat the known one Hundred Curves Road. Who likes to drive a car, balancing once to the left and to the right will be delighted. The road meanders incessantly, sometimes rising, sometimes slightly sloping. It does not even give a moment of respite. The driver will have something to do, regardless of whether he is going from Kodowa-Zdrój or Dusznik-Zdrój (here most of the route does not go along the Hundred Curves Road, but the access road is just as winding). If a passenger has motion sickness, it is very likely to manifest itself.
When you successfully reach the area of ​​Błędne Skały, you will have two parking lots to choose from:
- lower parking (free) - is called YMCA clearing and is located approx 3,5 km. The blue trail leads from the lower car park to Błędne Skały. It will take approximately 75 minutes to complete this episode. You come back faster (about 60 minutes), because on the way back you go downhill. The difference in height between the lower car park and Błędne Skały is about 230 m.
Errant Rocks parking lot, GPS coordinates:
50°27'39.5″N 16°18'33.9″E
50.460978, 16.309427 - click and route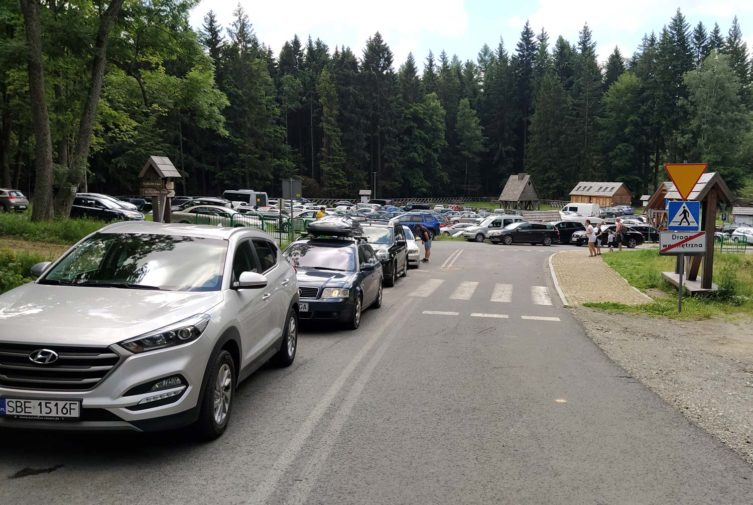 - overhead parking (payable, price from July 2021 is PLN 30 per passenger car) - located in the immediate vicinity of the entrance to the Błędne Skały area. There is maybe 300 m to go. Access to the upper car park is possible only at certain times and only for 15 minutes (at the moment it is full hours). Likewise, going back down from the top parking lot. You can leave it only at certain times (currently, these are half hours) and also only for 15 minutes.
You can see the detailed timetable of the hours of going up and back down in the photos below.
WARNING!
Ticket for the upper parking lot at Błędne Skały must be purchased online at a specific time. Choose the appropriate time of entry, coordinated with the time of entry to the Błędne Skały area! Information on what time to choose can be found directly on the website where they are sold tickets to enter the Błędne Skały car park - [click]
Upper parking lot Errant Rocks, GPS coordinates:
50°28'40.5″N 16°17'10.6″E
50.477926, 16.286276 - click and route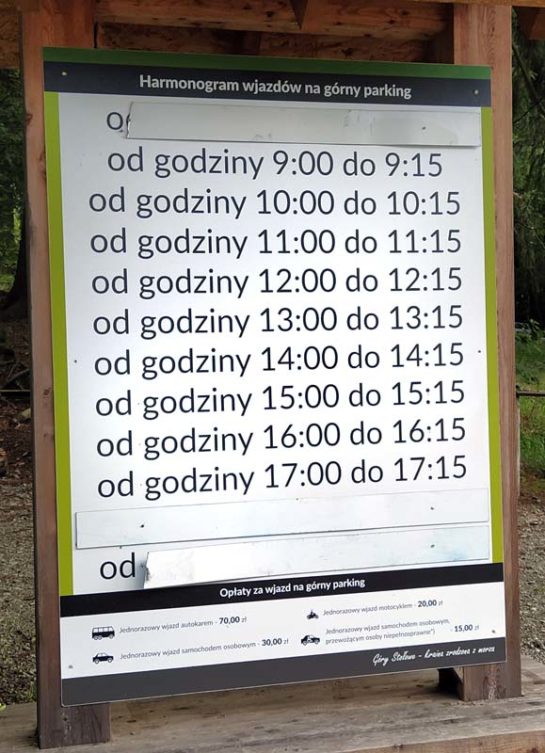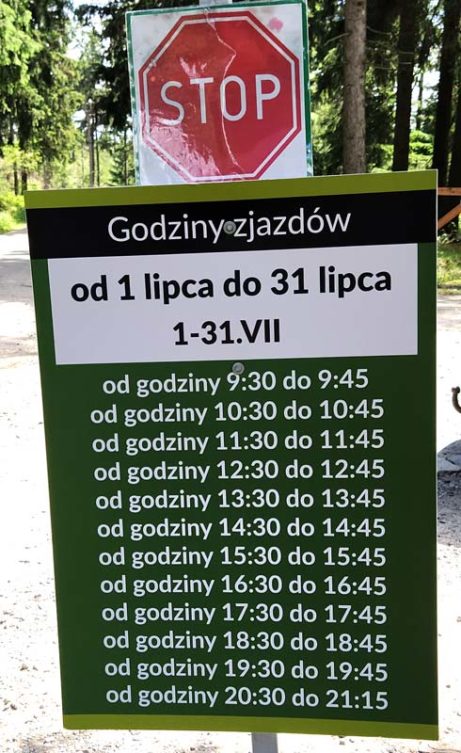 Errant Rocks - opening hours
Access to visiting Errant Rocks is closely related to the length of the day and depends on the season in which you intend to visit it.
Before you go to Errant Rocks, be sure to check their opening hours. Here they are:
- in the period from April 20 to May 31 from 9.00 a.m. to 19.00 all days of the week;
- in the period from June 1 to June 14 from 9.00 a.m. to 19.00 all days of the week;
- in the period from June 15 to June 30 from 8.00 a.m. to 20.00 all days of the week;
- in the period from July 1 to July 31 from 8.00 a.m. to 20.00 all days of the week;
- in the period from August 1 to August 31 from 8.00 a.m. to 19.00 all days of the week;
- in the period from September 1 to September 30 from 9.00 a.m. to 19.00 all days of the week;
- in the period from October 1 to October 31 from 9.00 a.m. to 16.00 on all days of the week.
Is it possible to visit Błędne Skały outside the above-mentioned schedule for visiting, i.e. in winter? Of course yes, but you have to be aware of a few difficulties.
It is not possible to reach the upper parking lot outside the official opening period (the barrier on the access road is closed). You have to walk from the lower parking lot, and the trail leading through the erroneous rocks is not cleared of snow in any way, additionally marked, etc. The gaps that you have to squeeze through can be completely covered with snow or "covered" with ice, not to mention that the snow cap may fall on our head at any time. Visiting in winter is therefore risky and very dangerous.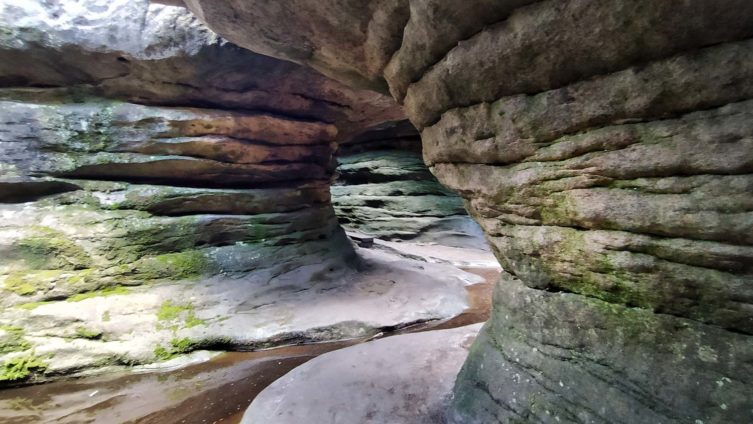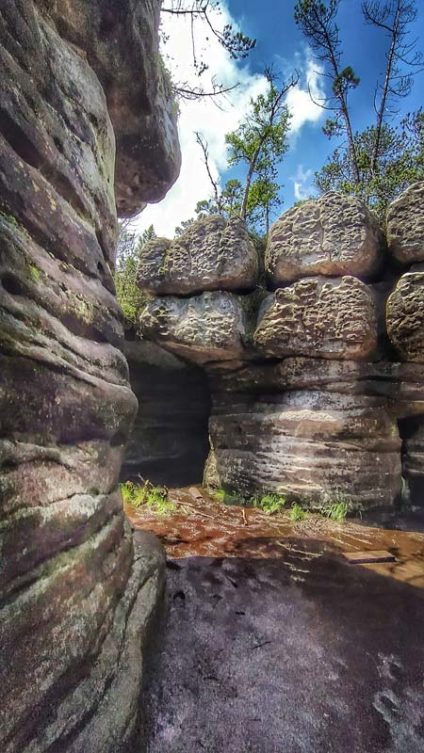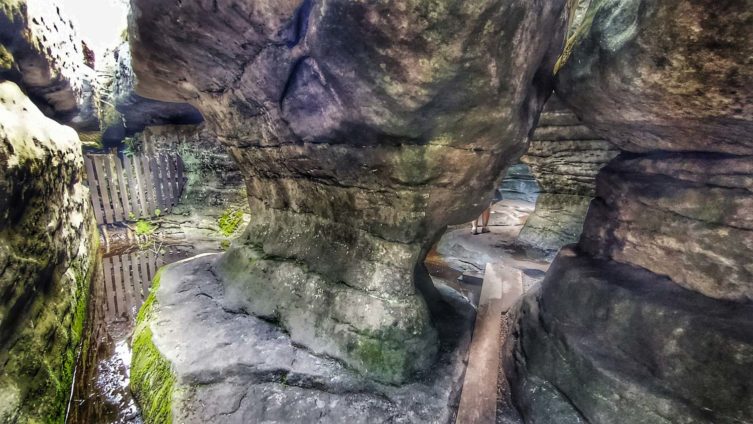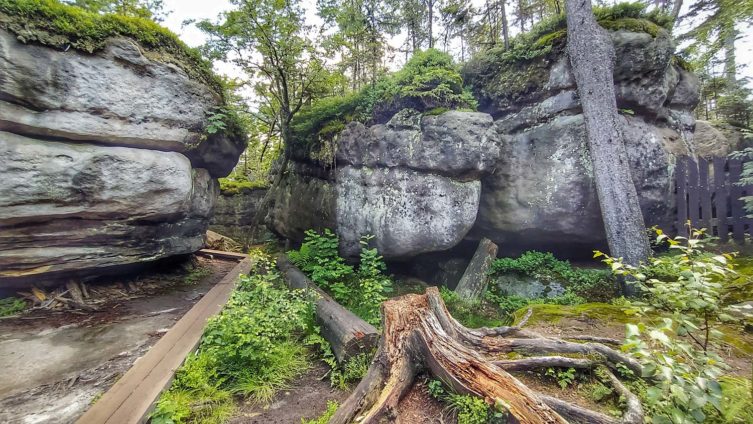 Entrance tickets to Błędne Skały
There is usually a long queue at the entrance to Błędne Skały. However, you can avoid standing in it because it is possible to purchase a ticket online in advance, on Polish National Parks website - [click]
WARNING!
From 2022, limits were introduced to enter the Błędne Skały area (up to 400 people per hour), and the preferred form of purchasing tickets to Błędne Skały is online purchase - [click]. Only leftovers from online sales for a given hour will be sold in the booth at the entrance to the trail. During the high season, it should be expected that there will be no chance to buy tickets on the spot, as they will all probably sell out earlier via the Internet.
Admission prices:
- normal ticket - PLN 12
- reduced ticket - PLN 6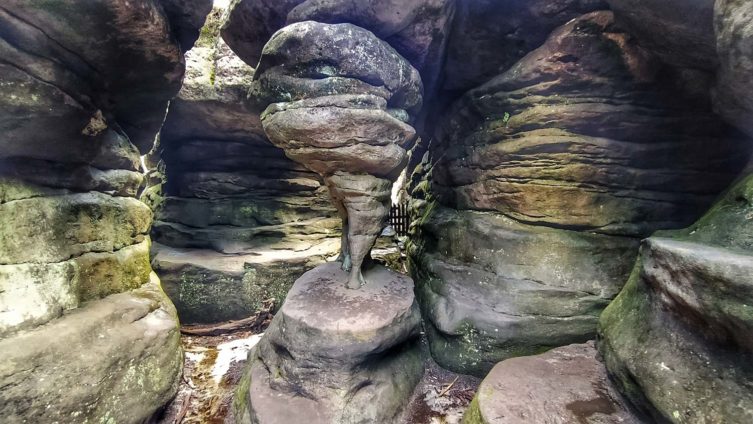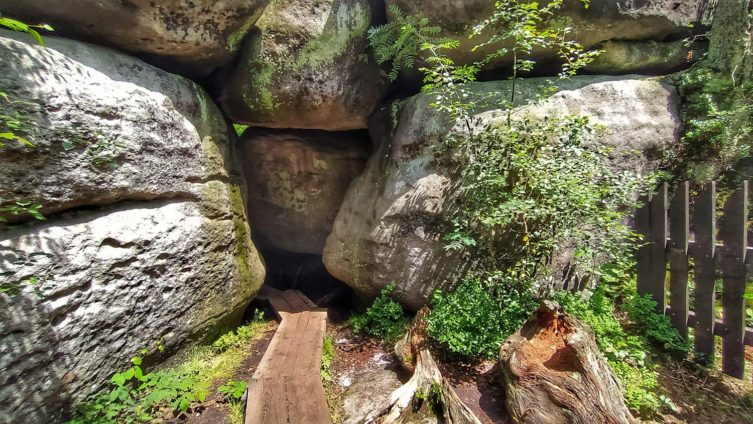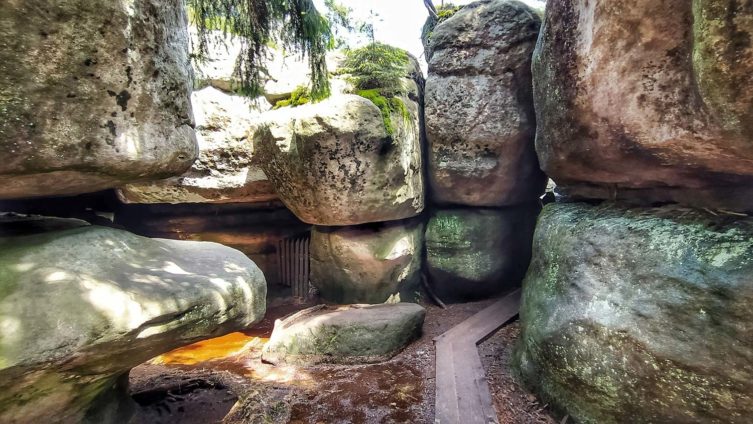 Visiting the Errant Rocks
It will take you from 40 to 60 minutes to complete the Errant Rocks. This time largely depends on the number of people visiting the rock labyrinth and on whether you come across a guided tour on your way. On the trail, passages are often so tight that it is impossible to overtake anyone and sometimes you just have to stand for a while and wait for the whole trip to take a photo of itself in a narrow passage. When planning a trip to Błędne Skały, it is worth planning the visit in such a way as to avoid the biggest crowds. In the summer season, the peak of visitors is between 11.00 and 15.00.
The trail you will walk does not require any physical preparation. It is short (about 1200 m long) and completely flat. Here, the biggest challenge, and at the same time a big attraction, is squeezing through narrow gaps (people with more body will have to pull in the abdomen sharply) and the need to bend the neck low when the ceiling temporarily lowers to the navel.
You can see it well at the very beginning of the video below, when I got stuck in one of the gaps through a small backpack
Vicious Rocks with the kids
Children have a lot of fun on the trail. While the parents pull their bellies in, panting heavily, the kids sneak in all directions, lovingly squeezing into every crack. Unfortunately, by the way, I have bad news for people with children who are so young that they are not yet independent. It is impossible to cross the trail with a pram or a baby carrier. These gear just won't fit in some aisles. A walk with a baby in a sling will also be very difficult and not necessarily nice and safe for the baby.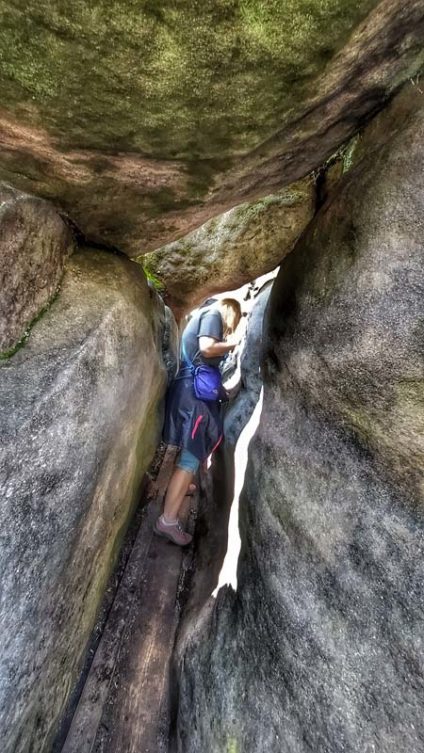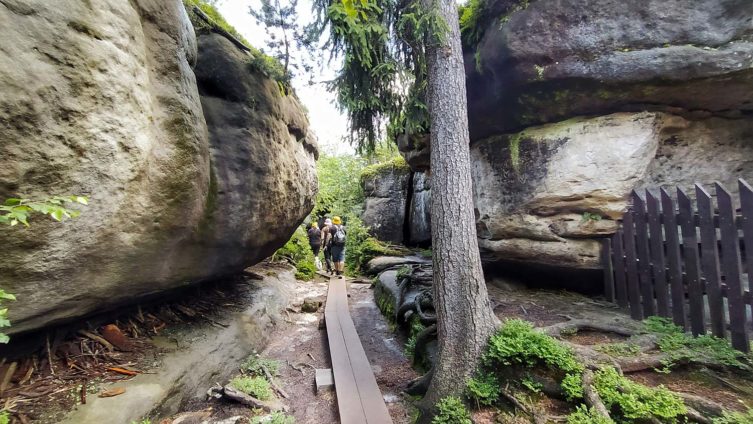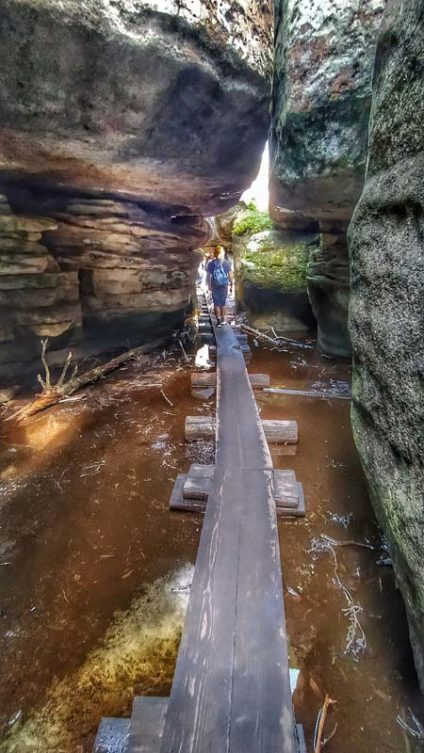 Map of Błędnych Skały
Many of the passing rocks have their name and are described on special boards next to the trail. A detailed map of the trail made available by the Stołowe Mountains National Park, with the most interesting rock formations, is provided below.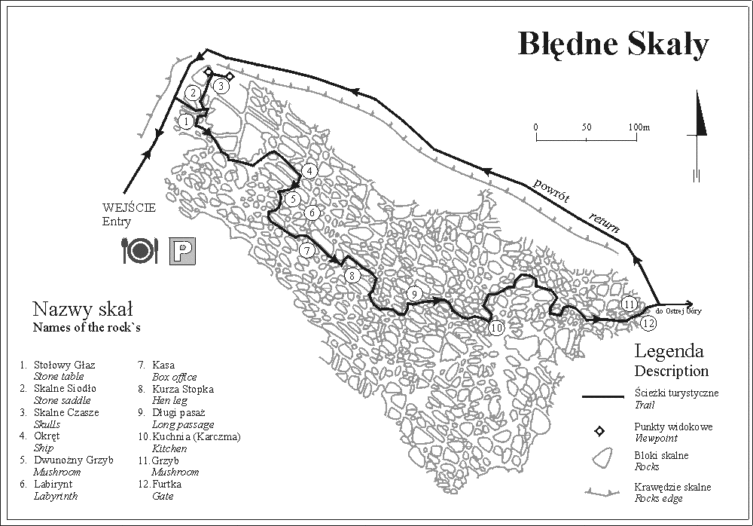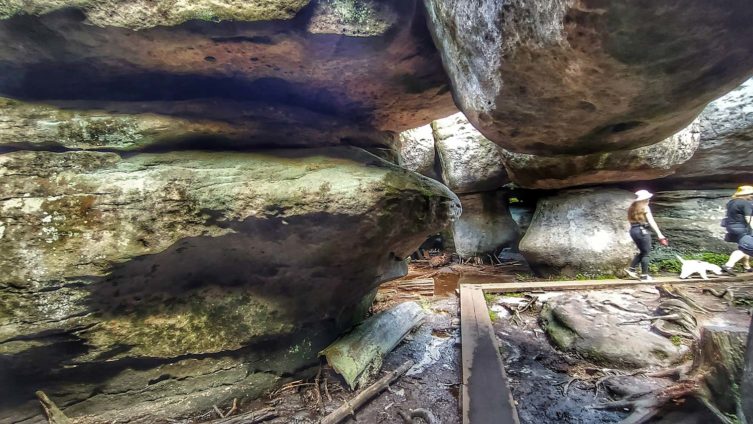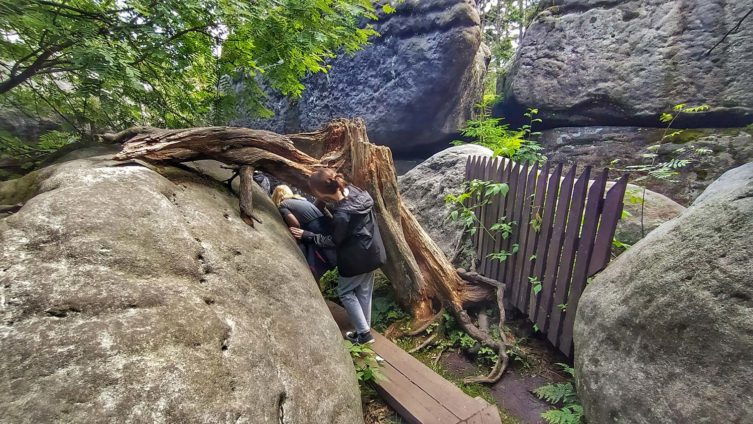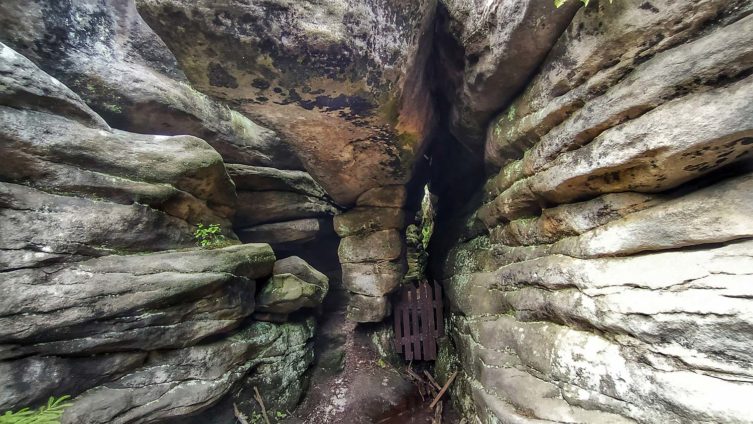 Accommodation in the vicinity of Błędne Skały
Errant Rocks are located in the vicinity of two very famous holiday resorts. These are Kudowa Zdrój and Duszniki Zdrój. In both places you will find several other interesting attractions (eg the Chapel of Skulls in Kudowa Zdrój - Czermna).
Below are some interesting accommodation options. In addition, I provide a link that has been prepared so that after clicking on it, the search results are automatically filtered and only the accommodations from the area of ​​Błędne Skały - [click].



Weather vicious rocks
At the end, probably the most important information, i.e. the weather. Below you will find the current weather for the next 7 days. The data is updated automatically, so whenever you enter it, it will be up-to-date.
Important to me!
Give the article a good rating
(5 stars welcome 😀)!
It's free, a
for me it is very important!
The blog lives on visits and thus has a chance to develop.
Please do it
and ... thank you in advance!
I also post
link to Facebook profile - [click]
. Come in and press "
Follow
"then you will not miss new, inspiring posts.
Unless you prefer
Instagram
. I'm not a social media demon, but you can always count on something nice to look at on
my instagram profile - [click]
. The profile has just been created, so
for now he is starving
, due to the lack of followers. He is happy to receive any observer who feeds him with his love.
I make the content I create available free of charge with copyright, and the blog survives from advertising and affiliate cooperation. So, automatic ads will be displayed in the content of the articles, and some links are affiliate links. This has no effect on the final price of the service or product, but I may earn a commission for displaying ads or following certain links. I only recommend services and products that I find good and helpful. Since the beginning of the blog's existence, I have not published any sponsored article.
Some of the readers who found the information here very helpful, sometimes ask me how you can support the blog? I do not run fundraisers or support programs (type: patronite, zrzutka or "buy coffee"). The best way is to use links.
It costs you nothing, and support for the blog is self-generating.
Pozdrawiam