2021 days off, or how to make 26 days off from 62 days off!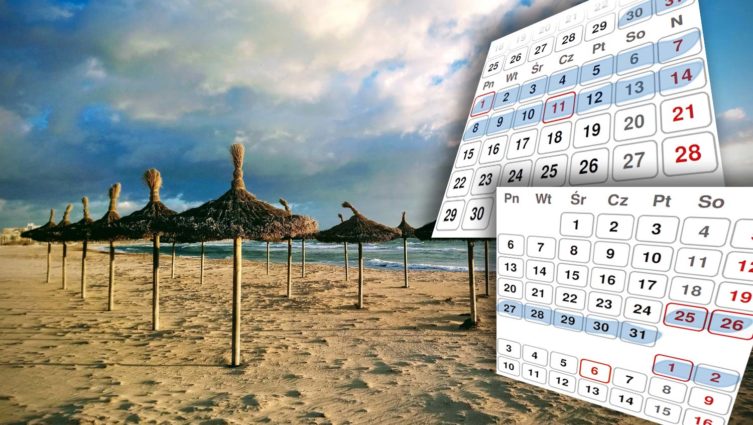 Calendar of holidays for 2021
I am no exception. Often - like many other people - I am looking for a way to combine holidays with public holidays, statutory holidays. It has been known for a long time that one or two days of vacation, taken occasionally to relax a bit, really do not help. It is impossible to rest quickly. It takes some time to relax, cut yourself off, take some distance, charge the battery. The combination of these two days of vacation with a weekend and, additionally, some holiday can turn into 5 days off, and that makes a difference.
I prepared a little lower for such a circumstance and posted a calendar with such occasions marked for a long vacation, at the cost of a small number of vacation days.
It seems that: this year's calendar is not kind to leisure lovers and specialists in the multiplication of days off. Many public holidays are non-working days, so they do not become extra days off.
Saturday is an exception. People who have a contract of employment, in a situation where the holiday falls on Saturday, have the right to take one day off for that day.
Worse if the holiday falls on a Sunday. Unfortunately, this rule does not apply to Sunday.
In 2021, there are two holidays on Saturday: Labor Day (May 1) and Christmas - the first day (December 25). In exchange for these days, you will be able to take a day off.
There will be four public holidays on Sunday. The first two are Easter (April 4), followed by Whitsun (May 23). This shouldn't be a surprise to anyone, because Easter is always on Sunday and Pentecost 7 weeks later, so always on Sunday. Other holidays that fall on Sunday are: Assumption of the Blessed Virgin Mary (August 15) and the second day of Christmas. Unfortunately, these days off are gone.
Below you will find a list of all public holidays, together with the information on which day of the week they fall. Below the list, I put monthly calendars with marked dates when it is worth taking a vacation.
Holidays and non-working days in 2021
January 1 - New Year's Day (Friday)
January 6 - Epiphany (Wednesday)
April 4 - Easter (Sunday)
April 5 - Easter Monday (Monday)
May 1 - Labor Day (Saturday)
May 3 - Constitution Day (Monday)
May 23 - Pentecost (Sunday)
June 3 - Corpus Christi (Thursday)
August 15 - Assumption of the Blessed Virgin Mary (Sunday)
November 1 - All Saints (Monday)
November 11 - Independence Day (Thursday)
December 25 - Christmas - first day (Saturday)
December 26 - Christmas - second day (Sunday)
Vacation calendar
January
New Years Eve falls on Friday and Epiphany on Wednesday. Taking 4 days off, you get 10 days off!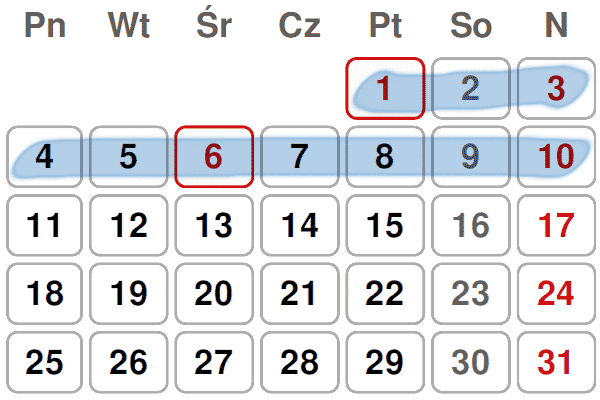 Kwiecień
In April, as a standard, we have a day off on Monday after Easter. If you take 4 days off, you get 9 days off.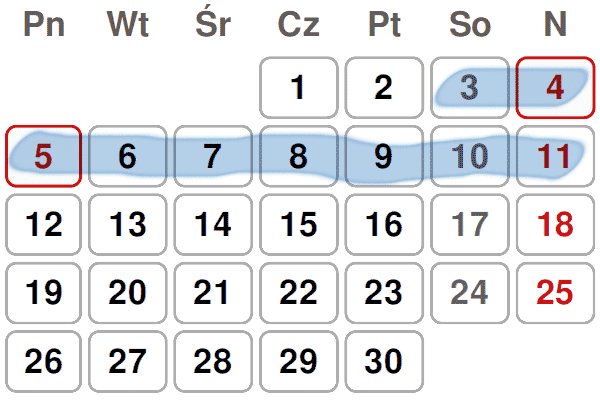 May
The days off in May are a bit unlucky at first glance. May 4st is Saturday. However, we remember that for a Saturday holiday, people working under a contract of employment can pick up a day off. If you take this day off, e.g. on May 3, only 9 days of vacation are enough to have XNUMX days off.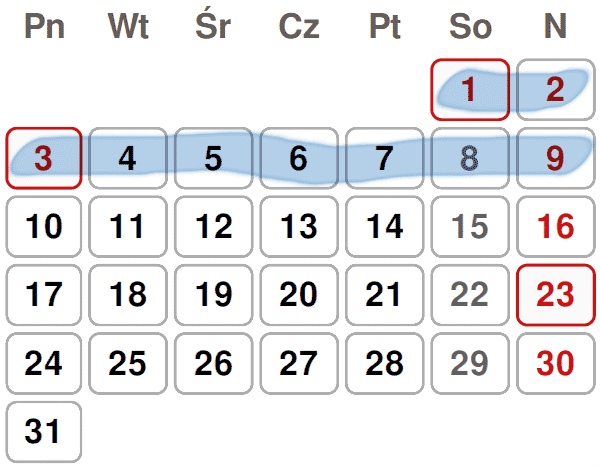 Czerwiec
There is one holiday in June that always falls on Thursday: Corpus Christi. So the calculation is simple: 4 days off turns into 9 days off.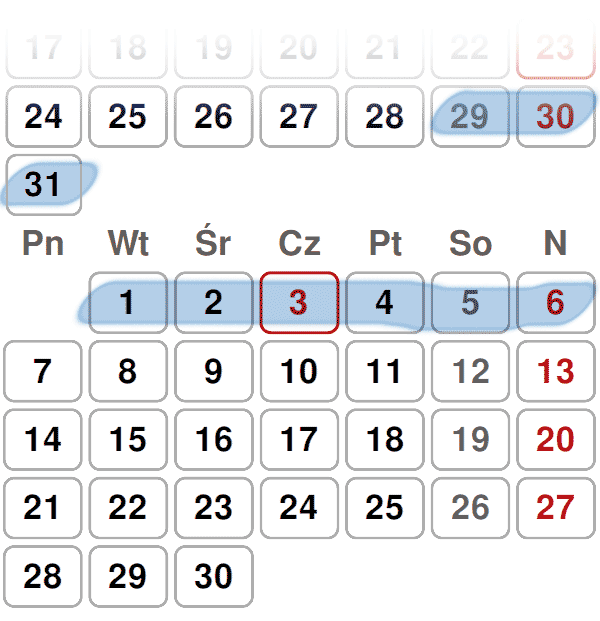 November
In November, we can combine two holidays on November 1 and 11 into one long holiday. By taking 8 days off, you will get 16 uninterrupted days off.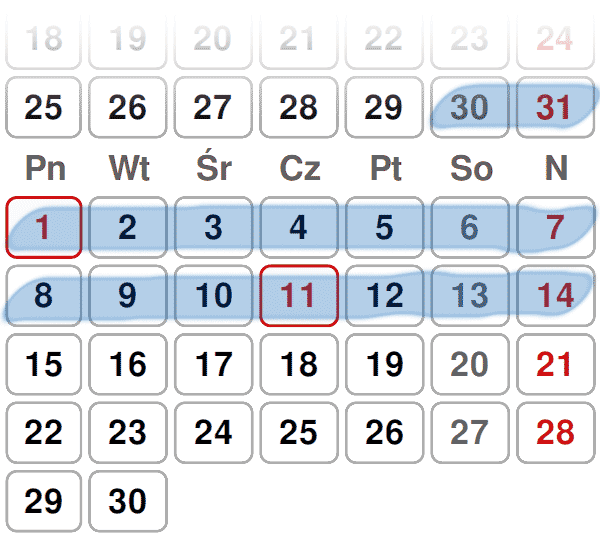 December
December's Christmas holidays are Saturday and Sunday. For the Saturday (December 25) holiday, you can pick up a different day (e.g. December 27). Combining it with the New Year, which also falls on Saturday (we pick up a day off, e.g. on December 31), we get a lot of uninterrupted time off. By investing 3 days off (28, 29, 30 December) you get 9 days off!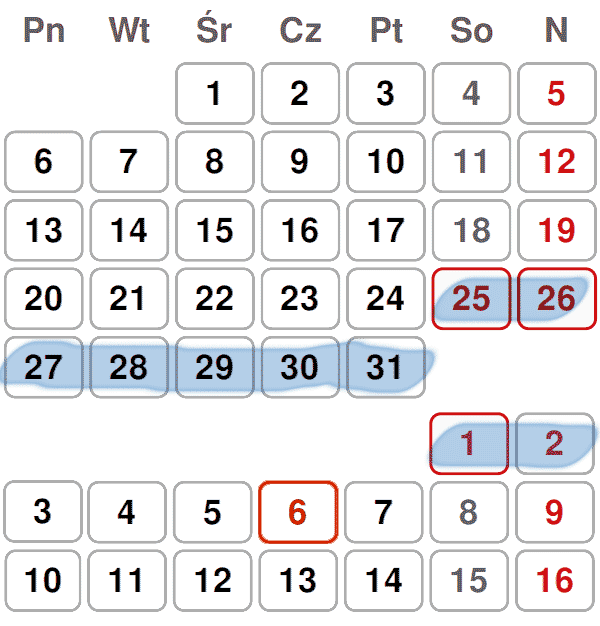 Important to me!
Give the article a good rating
(5 stars welcome 😀)!
It's free, a
for me it is very important!
The blog lives on visits and thus has a chance to develop.
Please do it
and ... thank you in advance!
I also post
link to Facebook profile - [click]
. Come in and press "
Follow
"then you will not miss new, inspiring posts.
Unless you prefer
Instagram
. I'm not a social media demon, but you can always count on something nice to look at on
my instagram profile - [click]
. The profile has just been created, so
for now he is starving
, due to the lack of followers. He is happy to receive any observer who feeds him with his love.
I make the content I create available free of charge with copyright, and the blog survives from advertising and affiliate cooperation. So, automatic ads will be displayed in the content of the articles, and some links are affiliate links. This has no effect on the final price of the service or product, but I may earn a commission for displaying ads or following certain links. I only recommend services and products that I find good and helpful. Since the beginning of the blog's existence, I have not published any sponsored article.
Some of the readers who found the information here very helpful, sometimes ask me how you can support the blog? I do not run fundraisers or support programs (type: patronite, zrzutka or "buy coffee"). The best way is to use links.
It costs you nothing, and support for the blog is self-generating.
Pozdrawiam