Montmartre and Pigalle in Paris - attractions, curiosities and sightseeing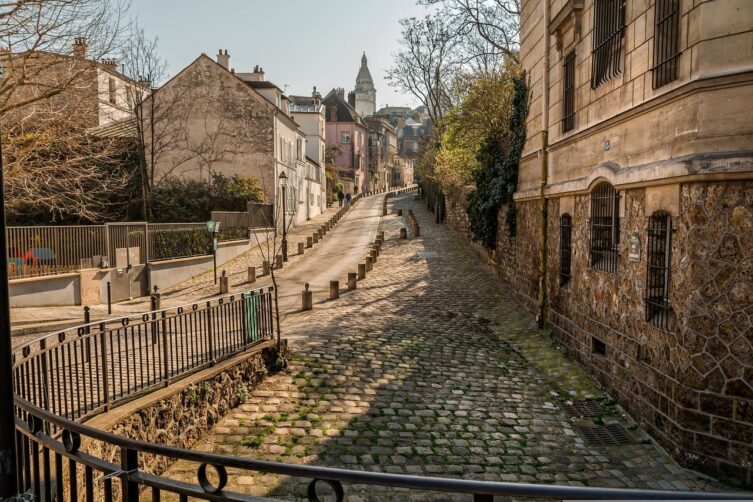 A periphery with a climate
The Montmartre hill, and in fact the Montmartre district, did not become part of Paris until the end of the XNUMXth century. It was then that its rapid urbanization began. Previously, as an area located outside the strict city, Montmartre grew at its own pace and its own style, slowly building a specific, suburban character, preserved to this day. Small tenement houses, narrow, narrow and winding streets, steep stairs and narrow passages disappearing sharply around the corner, were adjacent to the still common windmills (one of them still stands in the neighboring district, it is red and is called the Moulin Rouge). Sooner or later, such a picturesque place, additionally located very close to the city center, must have attracted someone's attention.
In the mists of art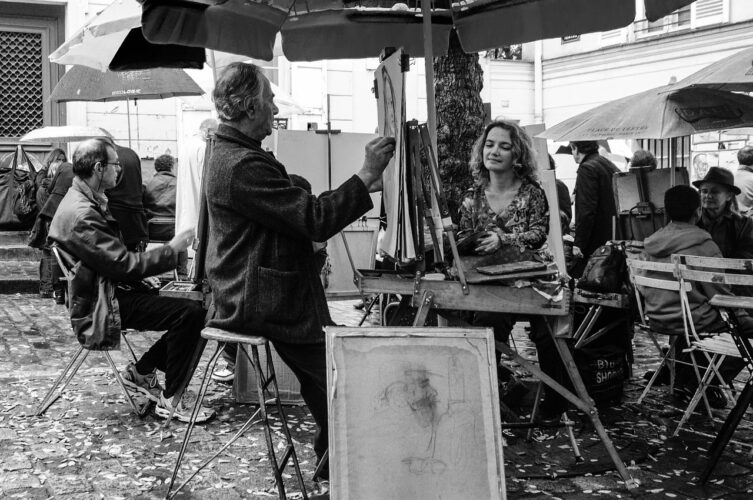 In the mid-nineteenth century, or about fifty years before Montmartre joined Paris, artists appeared here, and with them a slightly more relaxed lifestyle. The boundary of pleasure moved much further, and this in turn favored unrestricted creativity and attracted more artists.
Montmartre became an artistic center, attracting the greatest artistic names like a magnet. The following people lived and worked here: Fryderyk Chopin, Hector Berlioz, Vincent van Gogh, Pablo Picasso, Edgar Degas, Auguste Renoir, Henri de Toulouse-Lautrec.
Here, in the mists of art, more and more new ideas were born, more and more new works. The small cafes that provided Parisians with their favorite pastime of sitting at a table and watching passersby for a long time were popping up like mushrooms. The fumes of art began to mix with the fumes of good alcohol and the smoke of tobacco. Montmartre created its own parallel world, which followed its own path, at its own pace and in a direction unknown to anyone… which was the most satisfying for the artists.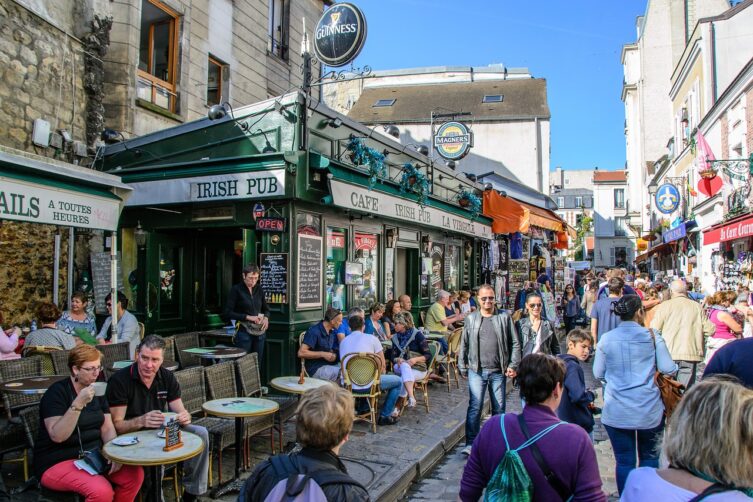 The Loosening of Morals and Belle Epoque
Moral freedom appeared, and with it the need to satisfy it. In the neighboring district (Pigalle), located at the foot of Montmartre hill, establishments began to appear, which, apart from the possibility of satisfying the pleasures of the body, offered something more. They combined eroticism with art, theater and dance. More or less sophisticated brothels were adjacent to adult cinemas and hidden performances, where the viewer could observe an erotic performance performed live through a "keyhole" while maintaining anonymity.
New artistic forms combining nudity with art (e.g. burlesque) have gained popularity. Then a new dance (cancan) was created, in which topless dancers, with their multi-colored skirt raised high, swing their legs to the rhythm of dynamic music, in front of the enslaved view of the audience.
La Belle Epoque, the Parisian Beautiful Era, was in full bloom.
An exodus of people, but not of the spirit!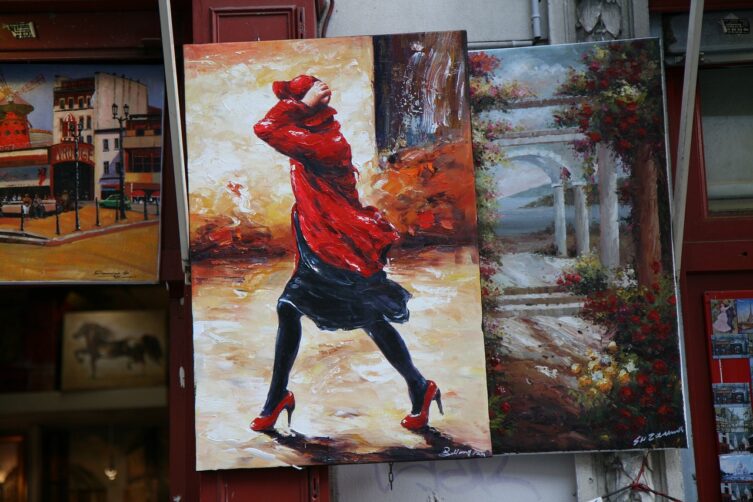 Just before the First World War, the artists left Montmartre. They moved to another neighborhood in Paris: Montparnasse. More than 100 years have passed since then, and the artist spirit is still alive in Montmartre and the neighborhood is still considered artistic. Today, however, the functioning of the district relies on tourists and it is with them in mind that the high rates on Tertre Square are painted live portraits of various quality. It is for tourists that the district is under architectural protection. And finally, for tourists, good-quality museums have been created that present the works of artists who live and work on the hill.
You can complain that there are no real artists in Montmartre anymore, but you can't say that their spirit remains here for me. Anyone who focuses on the colorful history of this place and leaves a modern commercial buzz next to it, will find the true atmosphere of this place.
Itinerary for Montmartre and Pigalle
Please see the map below for the full itinerary of Montmartre Hill and Pigalle. The description for the map can be found under it, and the GPS coordinates of all key points in the further part of the entry.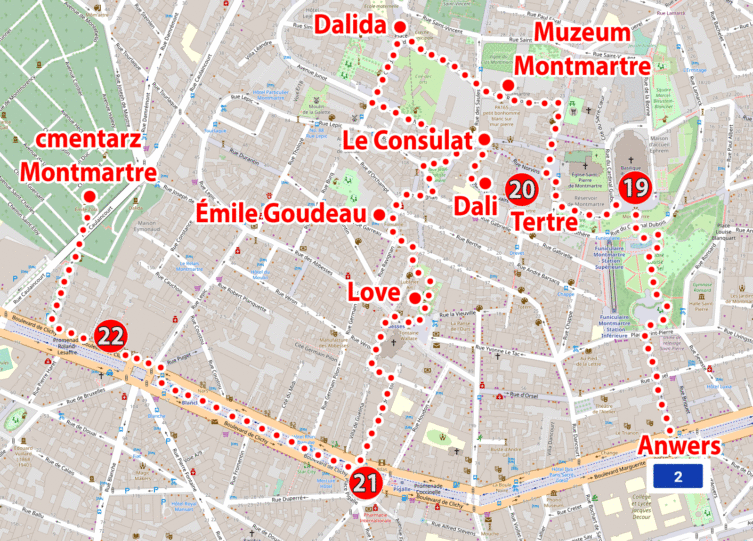 The tour of Montmartre starts at Sacre Coeur basilica. From here, it is worth going to the nearby Tertre Square (20). In the square you will meet painters sitting behind the easel. Some people kill their free time by painting what they want (then they put up their works for sale), but most of them usually have clients who paint their portraits "live". You can choose from a variety of styles and techniques. It can be an ordinary portrait or a caricature. Family or solo portrait, charcoal, pencil, crayons, pastels ... All portraits have one thing in common: it is not cheap. For curiosity, it is worth asking about the price. Who knows? Maybe there is a weaker day and there will be a promotion?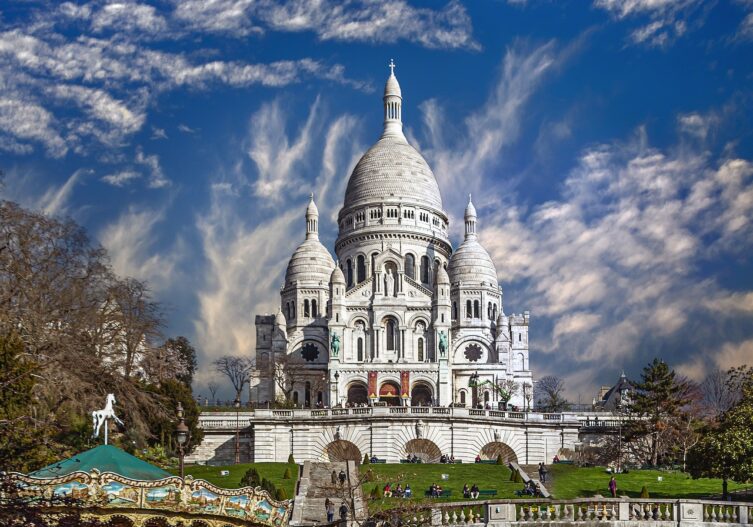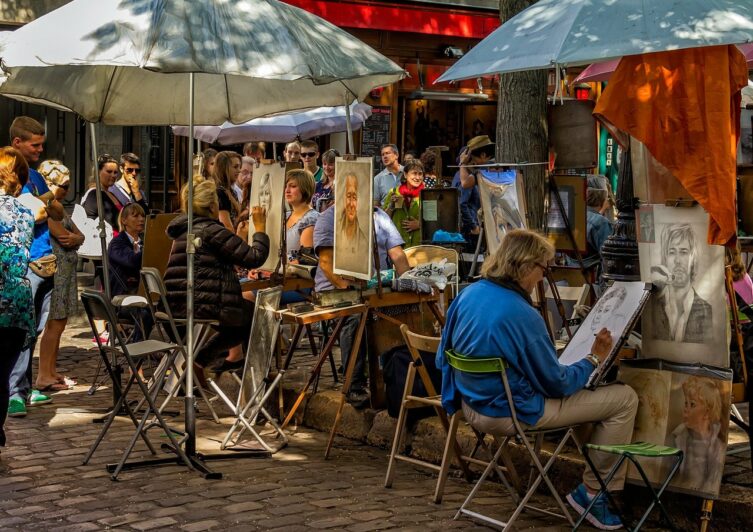 Then the trail I suggest leads along typical streets next to the Montmartre Museum (worth visiting), to the square where Dalida has her monument (a famous singer also lived in Montmartre). Then we head back towards Tertre Square, passing the restaurant "Le Consulat" on the way, which in the XNUMXth century was often visited by Picasso, Sisley, Van Gogh, Toulouse-Lautrec, Monet and many other artists. A few steps from the restaurant there is another interesting museum showcasing the work of Salvatore Dali.
Following the path I have proposed, you will find the paved Emile Goudeau Square, where Pablo Picasso had his studio. The next point of the walk is the Wall of Love, on which "I love you" is written in over 200 languages ​​of the world. An extremely popular place and willingly visited.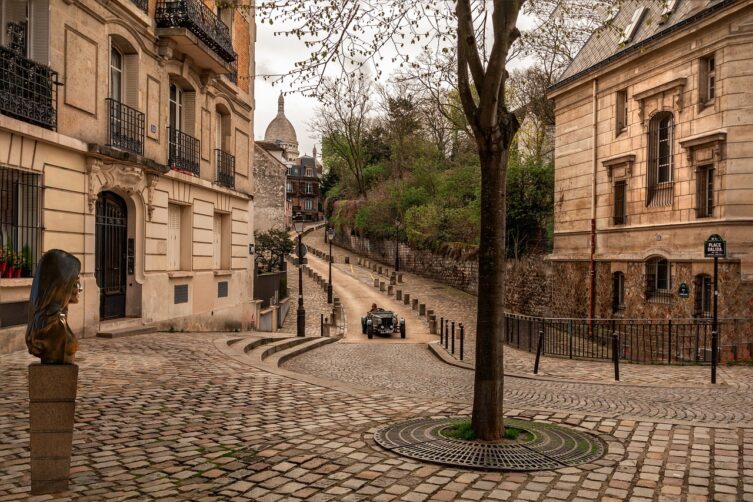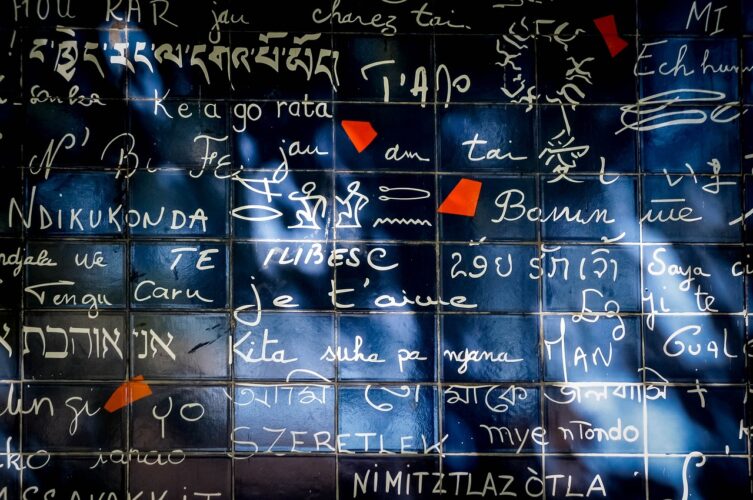 Next, we go to the Pigalle district, specifically Pigalle (21), at the Moulin Rouge cabaret.
If you still have the strength and desire, you can still visit the Montmartre cemetery, which was the first burial place of Juliusz Słowacki (the tomb still exists). Currently, among others, Dalida, Edgar Degas, Alexandre Dumas, Emile Zola, Hector Berlioz are buried here.
Useful data
Tertre Square on the hill of Montmartre, GPS coordinates:
48°53'11.8″N 2°20'27.1″E
48.886609, 2.340850 - click and route
Montmartre Museum, GPS coordinates:
48°53'15.7″N 2°20'26.4″E
48.887699, 2.340671 - click and route
Dalida - a monument and a tiny square, GPS coordinates:
48°53'18.7″N 2°20'17.1″E
48.888534, 2.338094 - click and route
Restaurant "Le Consulat", GPS coordinates:
48°53'13.4″N 2°20'23.2″E
48.887066, 2.339766 - click and route
Salvador Dali Museum, GPS coordinates:
48°53'11.1″N 2°20'23.5″E
48.886419, 2.339858 - click and route
Emile Goudeau square, GPS coordinates:
48°53'09.5″N 2°20'16.5″E
48.885969, 2.337926 - click and route
Wall of Love, GPS coordinates:
48°53'05.3″N 2°20'18.8″E
48.884810, 2.338559 - click and route
Montmartre, the nearest metro station:
Abbesses - Line No.12
Paris sightseeing itinerary
This post is part of a very detailed itinerary for Paris that I have developed. The plan is available for free and you can see it on the website:
Paris sightseeing plan - map, tickets, attractions, monuments, accommodation, interesting facts
Accommodation in Paris
Below are links to some interesting accommodation in Paris. I tried to make them attractive in terms of price (for Paris) and to be as close as possible to Montmartre.
The link has been prepared so that clicking on the proposed accommodation will take you to the details of the accommodation, but will also allow you to see other, similar offers. Therefore, it is worth treating the hotels I have selected as a starting point for my own research. Hotels often make temporary price cuts. So it is possible that by clicking on one of my offers, you will immediately find another, better-priced offer. It's worth clicking and looking.



Important to me!
Give the article a good rating
(5 stars welcome 😀)!
It's free, a
for me it is very important!
The blog lives on visits and thus has a chance to develop.
Please do it
and ... thank you in advance!
I also post
link to Facebook profile - [click]
. Come in and press "
Follow
"then you will not miss new, inspiring posts.
Unless you prefer
Instagram
. I'm not a social media demon, but you can always count on something nice to look at on
my instagram profile - [click]
. The profile has just been created, so
for now he is starving
, due to the lack of followers. He is happy to receive any observer who feeds him with his love.
I make the content I create available free of charge with copyright, and the blog survives from advertising and affiliate cooperation. So, automatic ads will be displayed in the content of the articles, and some links are affiliate links. This has no effect on the final price of the service or product, but I may earn a commission for displaying ads or following certain links. I only recommend services and products that I find good and helpful. Since the beginning of the blog's existence, I have not published any sponsored article.
Some of the readers who found the information here very helpful, sometimes ask me how you can support the blog? I do not run fundraisers or support programs (type: patronite, zrzutka or "buy coffee"). The best way is to use links.
It costs you nothing, and support for the blog is self-generating.
Pozdrawiam