Pseudokraters Skutustadagigar - map, parking, access, sightseeing, interesting facts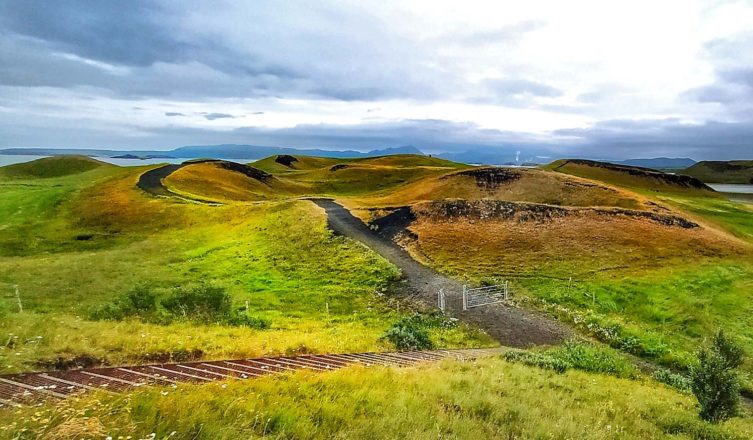 Real or pseudo?
Absolutely true, but created in a specific way.
Imagine lava flowing out of the volcano. It flows calmly and covers subsequent areas with its extremely hot coat. If there is any water on the way of such lava, for example a lake, then the water covered with a hot layer of lava begins to boil, evaporates and… there is nowhere to escape. A huge bubble of water vapor forms under the lava layer. The pressure of the accumulated vapor continues to rise and eventually reaches such a value that it bursts the surface of the lava and comes to the surface with a large splash, creating a volcanic cone, or crater. Sometimes such a process (before the lava cools down and stops intensely heating the water) is repeated in one place many times and the resulting cone becomes quite large.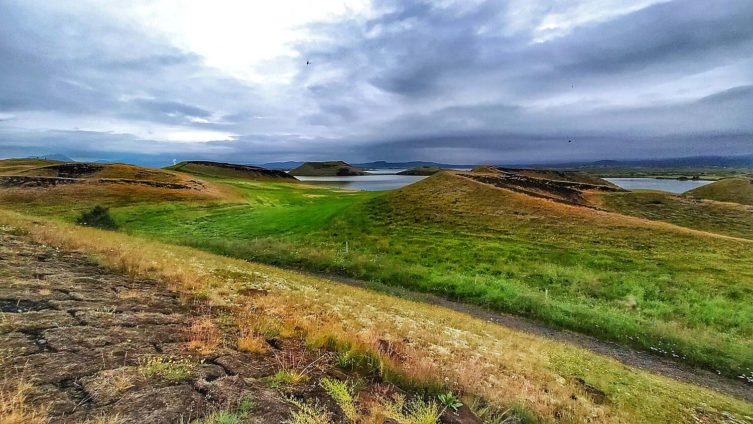 The crater formed in this way is almost identical to the one formed by a typical volcanic eruption, in which magma (not water vapor) from the interior of the earth is thrown upwards. As they were created without access to magma, they gained the name "rootless cone", That is in the translation of"cones without roots", or simply pseudokraters.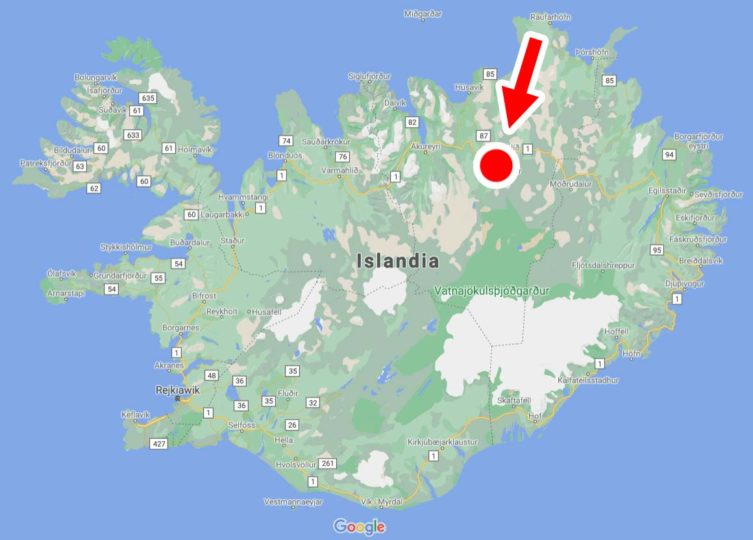 Is there anything to admire?
It is easy to guess that due to the way pseudocraters are formed, which have a chance to form only in specific conditions, there are really few places where you can see them. The most famous of them is in Iceland, and a little in Hawaii. Some sources also mention the Central Massif in France.
Recently it turned out that quite a lot of them are on ... Mars.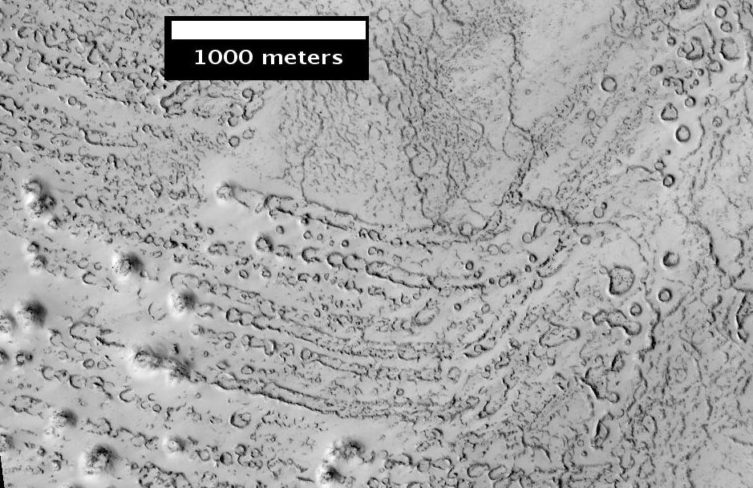 The Martian pseudo-craters were formed by the flow of lava that covered the ice layer, which of course is significant evidence that there was once water on Mars.
Beautiful photos from Mars showing incl. you can see this phenomenon on the website The University of Arizona - [click]. The above photo from Mars is only a small fragment of the data available there.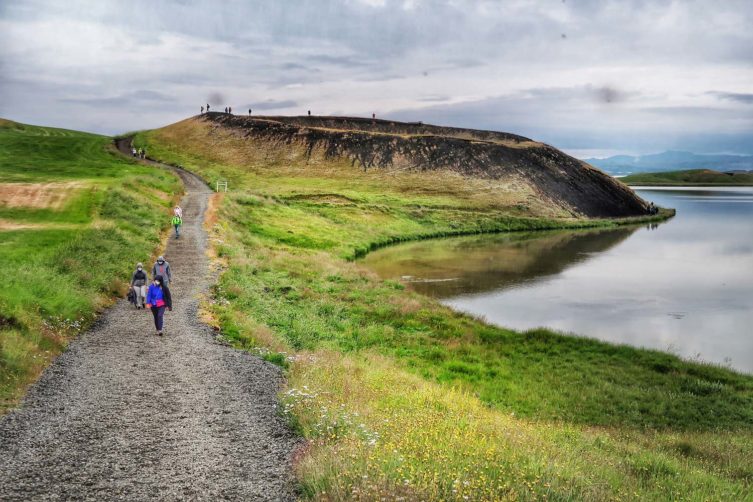 Map, parking and sightseeing
On Lake Myvatn, in the Skutustadagigar area, you can take an almost Martian walk, strolling among a dozen pseudokraters. You can even climb some of them!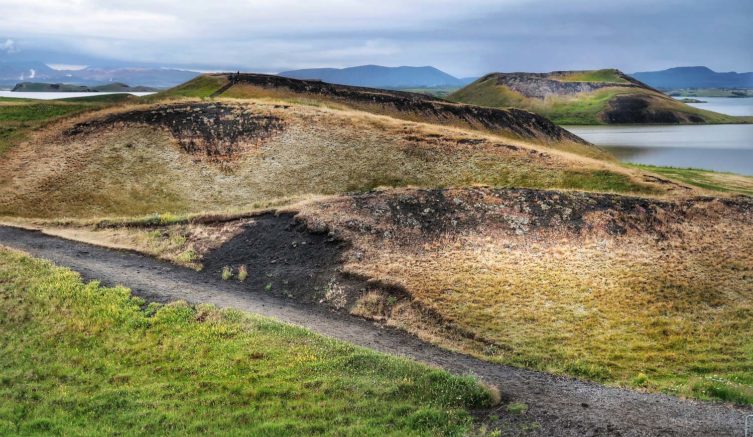 Two walking paths have been marked out: longer and shorter.
The short path will take you approximately 30 minutes and the longer path approximately 1,5 hours.
The short path focuses mainly on pseudo-craters. The longer one leads through areas where you can observe natural colonies of birds living near the lake.
Below is a situational map prepared on the basis of a satellite image from Google maps. I marked the location of the car park and the course of walking paths on it.
Admission to the pseudo-craters is free.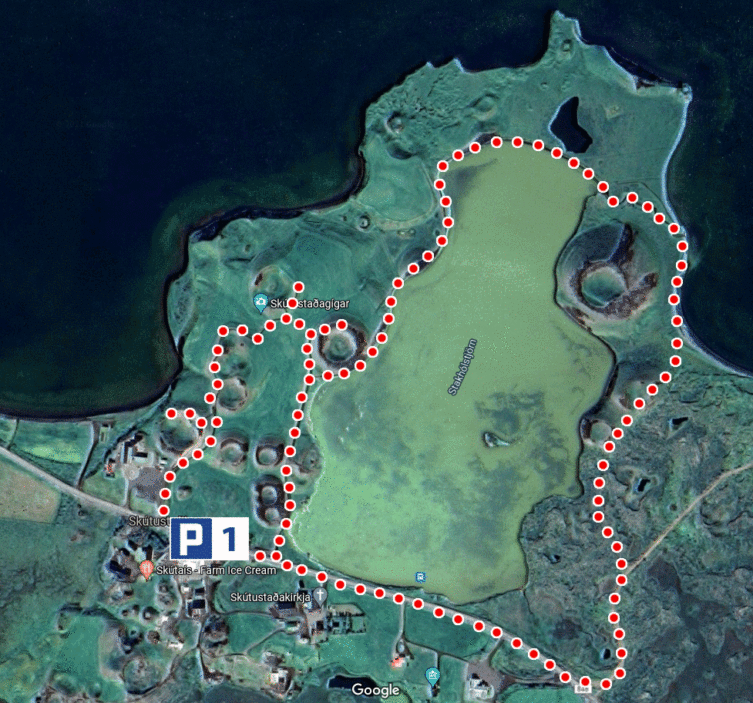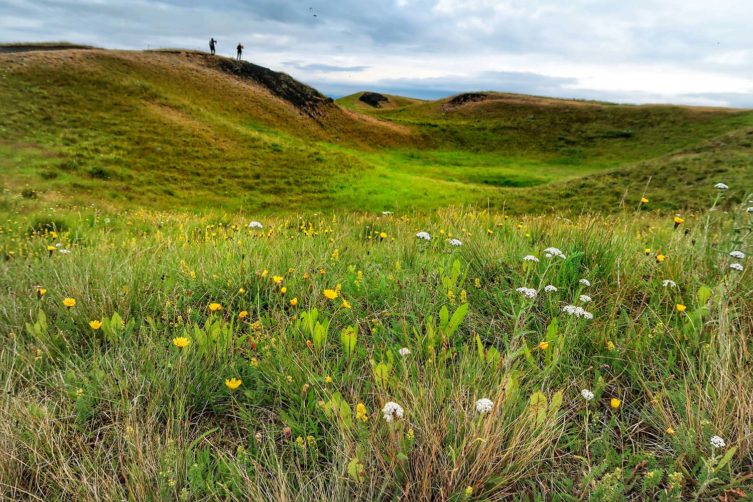 Useful GPS coordinates
Parking at the Skutustadagigar pseudo-craters, GPS coordinates:
65°34'03.4″N 17°02'10.3″W
65.567613, -17.036194 - click and route
Accommodation and hotels near pseudokraters
The Skutustadagigar pseudo-craters are just one interesting place located nearby lakes Myvatn - [click] (follow this link for more information about other attractions). So you may need an accommodation in the area. The prepared link filters the accommodation so that the closest ones are on the top of the list. Look: accommodation near Myvatn - [click]
In addition, below I present a few selected proposals.



Iceland sightseeing itinerary
The entry you are reading is an element prepared by me
Iceland sightseeing plan
. Most likely, everything you need to prepare for your trip to Iceland can be found in this entry. Weather, accommodation, car rentals, tourist attractions and a map of a trip around Iceland ... all in one place:
Iceland - map and sightseeing plan, tourist attractions, excursions, the most beautiful places - [click]
.
Be sure to read!
Important to me!
Give the article a good rating
(5 stars welcome 😀)!
It's free, a
for me it is very important!
The blog lives on visits and thus has a chance to develop.
Please do it
and ... thank you in advance!
I also post
link to Facebook profile - [click]
. Come in and press "
Follow
"then you will not miss new, inspiring posts.
Unless you prefer
Instagram
. I'm not a social media demon, but you can always count on something nice to look at on
my instagram profile - [click]
. The profile has just been created, so
for now he is starving
, due to the lack of followers. He is happy to receive any observer who feeds him with his love.
I make the content I create available free of charge with copyright, and the blog survives from advertising and affiliate cooperation. So, automatic ads will be displayed in the content of the articles, and some links are affiliate links. This has no effect on the final price of the service or product, but I may earn a commission for displaying ads or following certain links. I only recommend services and products that I find good and helpful. Since the beginning of the blog's existence, I have not published any sponsored article.
Some of the readers who found the information here very helpful, sometimes ask me how you can support the blog? I do not run fundraisers or support programs (type: patronite, zrzutka or "buy coffee"). The best way is to use links.
It costs you nothing, and support for the blog is self-generating.
Pozdrawiam