Changes, changes, changes ...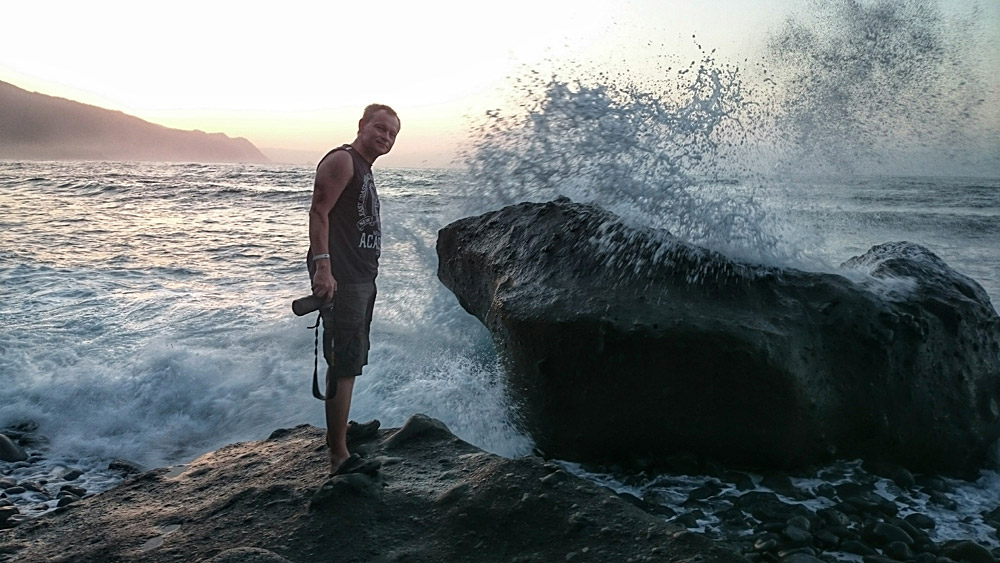 What happened here?
Hi! Jack! What is?
Some massacre, a catastrophe ...
Something is hoarse ...
Such signals began to reach me when suddenly my private website disappeared from the web, and in its replacement appeared a gray rectangle.
Nothing broke
Exactly! A change was needed. Radical! So there was a sharp cut and… a gray rectangle.
Why such a decision? The reason is prosaic and simple: disastrously low visits to the site.
I will not color here that "something had to be refreshed" because "I got bored" or that "for the sake of the highest quality of services" ... etc.
Traffic to the site completely disappeared and maintaining this state of affairs was pointless. Having a site that almost no one looks at from having no site is practically no different, so?
There was a cut and then a search for a new idea.
Examination of conscience
Well, you have to say clearly that the site with the photographs alone is unlikely to attract a crowd of viewers, especially when there are still the same photos. I like taking photos, I like photos, but I don't remember myself when I last walked around, to view photos. One, two, five, but not the whole page !!!
Finally, I realized that it makes no sense!
Nobody will come back to one side over and over again to revel in (even the most beautiful) photos, since he has seen them so many times that… blah. This reason one and most important.
Second reason, it's a rigid form. I know that the photographer likes it when there is only his picture on the screen and nothing that could distract the viewer ... but who locks up in a dark room to watch a photo from the Internet in peace and quiet on the screen? 60% of website traffic is generated by phone calls (a person rides a tram and is bored, he watches something). Even when he is watching something at home, he usually has a laptop on his lap, the dog barks, the wife says something, there is a match on the TV and CR7 would score a goal by a hair ... there is life, there is movement.
I know myself that when I go to a page and see the MENU, and in it the links: Gallery, About me, Achievements and Contact, I don't like it anymore.
Reason three. The previous page (maybe nice) was written by myself. Whole code. Letter by letter. Adding each photo required proper preparation and some work. The effect was that when I wanted to add something, I felt like it.
A few years passed and apart from the laborious addition (for several years I was not able to force myself to add something new), other problems arose. We access most sites from the search engine. Positioning a page without content, with pictures only, is like shooting from a slingshot to the moon. The chance of hitting her is similar. No visitors guaranteed!
The change has arrived
Everything became clear when I started blogging Money Under Control. With him, I met WordPress. A tool for easy creation and updating of website content. Flexibility and easy operation. Writing and publishing made fun. Tens of thousands of visits thanks to the content that Google indexes instantly. Thought that made sense. I decided to break with the rigid gallery and give myself more freedom. Post whatever you want, I thought, and that's just the beginning.
What's next? I do not know. I don't even care. What will be, it will be. Photos, texts, need a moment and share something. We'll see.
It's better to have a living page than a dead gallery!
I'll try.
Meanwhile, that's all.
Jacek
Important to me!
Give the article a good rating
(5 stars welcome 😀)!
It's free, a
for me it is very important!
The blog lives on visits and thus has a chance to develop.
Please do it
and ... thank you in advance!
I also post
link to Facebook profile - [click]
. Come in and press "
Follow
"then you will not miss new, inspiring posts.
Unless you prefer
Instagram
. I'm not a social media demon, but you can always count on something nice to look at on
my instagram profile - [click]
. The profile has just been created, so
for now he is starving
, due to the lack of followers. He is happy to receive any observer who feeds him with his love.
I make the content I create available free of charge with copyright, and the blog survives from advertising and affiliate cooperation. So, automatic ads will be displayed in the content of the articles, and some links are affiliate links. This has no effect on the final price of the service or product, but I may earn a commission for displaying ads or following certain links. I only recommend services and products that I find good and helpful. Since the beginning of the blog's existence, I have not published any sponsored article.
Some of the readers who found the information here very helpful, sometimes ask me how you can support the blog? I do not run fundraisers or support programs (type: patronite, zrzutka or "buy coffee"). The best way is to use links.
It costs you nothing, and support for the blog is self-generating.
Pozdrawiam