Current travel rules and travel restrictions in Europe - all in one place. COVID-19 Coronavirus
Rules for traveling in Europe
Planning even the simplest trip outside Poland is now much more complicated than it was until recently, before the coronavirus pandemic.
You need to know the rules of crossing borders, the related consequences (quarantine, etc.), check the rules related to the possibility of accommodation, meals, freedom of movement, hygiene rules in public places, public transport, medical certificates, etc. Lots of questions to answer before you hit the road.
Until now, in order to check it, you had to dig through dozens of pages with press releases, additionally verifying whether the information was still up-to-date or whether something else had changed in the meantime. In the end, you couldn't be sure if you had missed something somewhere. Torment!
If we add the fact that the situation is constantly changing dynamically (from time to time new coronavirus outbreaks appear and local, temporary restrictions are introduced), obtaining reliable and up-to-date information becomes extremely difficult.
Fortunately, everything has simplified recently.
Reopen EU
I came across this page by accident. A link to it was shared on Facebook by my friend. I entered out of curiosity and it turned out to be a great, specially prepared tool, and in addition guided and supplemented on the official website of the European Union. So the source of the data is perhaps the most reliable there can be.
On the official servers of the European Union, we have a special application at our disposal, thanks to which you can check everything you need to plan a trip, transfer, accommodation options, range of gastronomy availability ... etc. With just a few clicks.
As the website itself says:
"This interactive tool provides you with the information you need to confidently plan your travels and vacations in Europe while staying healthy and safe. Information is frequently updated and available in 24 languages ​​for your convenience. "
Of course, there is also a relevant disclaimer on the website:
Disclaimer: The information on this website is not exhaustive. They are based on the latest available data provided by EU Member States and collected from other publicly available and reliable national sources. The Commission endeavors to keep the information up-to-date, but accepts no responsibility, express or implied, for the completeness or accuracy of the information contained on this site, or for individual decisions made based on it. Currently, this tool relies partly on automatic machine translations. The content of the website will be checked by authorized translators in the coming days. We apologize for any inconvenience this may have caused you and please be assured that we strive to continuously improve your user experience. "
…. but there is no doubt that it is currently the best and most reliable source of up-to-date data on rules, restrictions and restrictions in all European Union countries.
The site also works well directly on mobile phones.
How it works?
To use the application, you must go to the website Re-open EU - [click]. The website will automatically start in your default language (if it has not happened, you can change the language yourself in the upper right corner of the page).
In the first step, select the name of the country you are going to and press the "Hit the road!".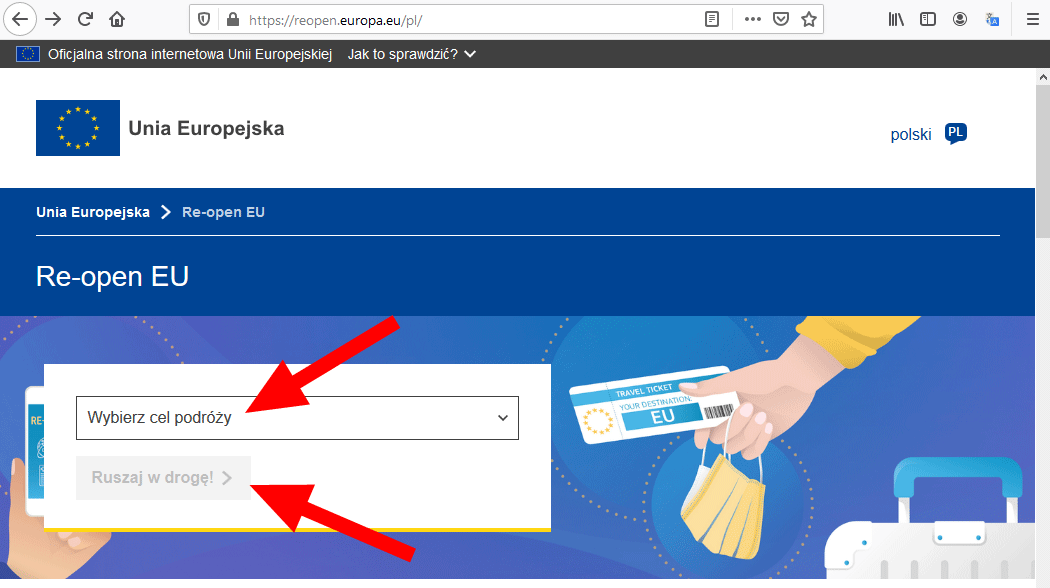 For example, I chose Portugal and got this picture.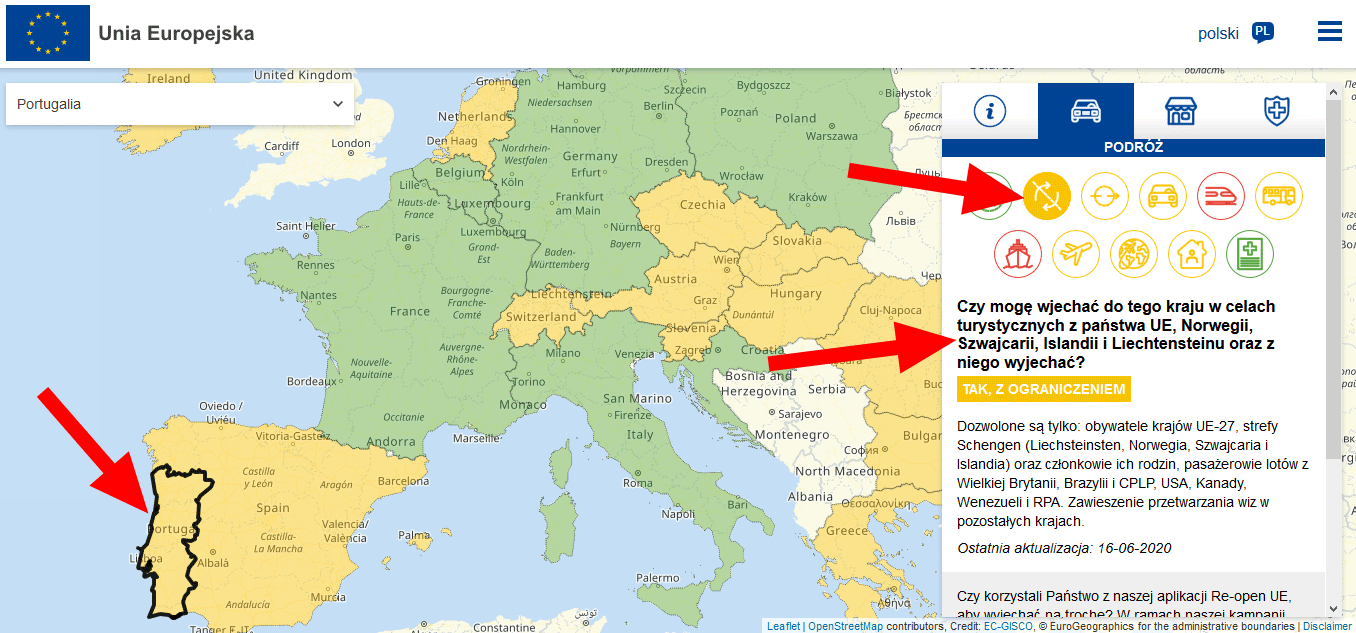 Portugal is marked on the screen and a colored map of Europe is visible. Colors, of course, matter:
- zielony: means no significant restrictions,
- yellow: partial restrictions,
- red: significant or complete restriction.
…. but ATTENTION !!!
The colors are about specific information! In this case, it is information about: Can I enter this country for tourism… and leave it?
There is much, much more data in the application!
Information menu
On the right side of the page you will find a very handy menu with topic-based information. Switching between them changes the colors on the map according to the currently selected information.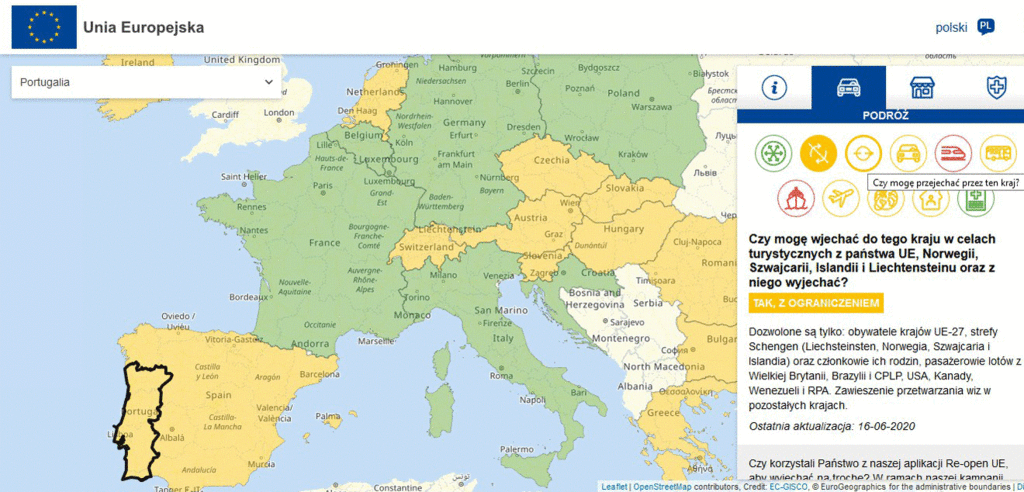 The data available in the application is divided into four areas.
area: information


is a collection of background information on data sources, national coronavirus and tourism information pages, relevant telephone contact numbers, useful information for tourists and regional information
area: journey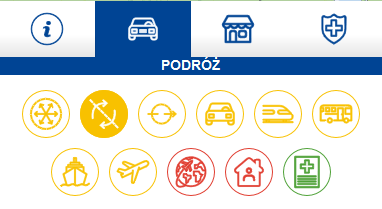 contains detailed information on the possibility of tourist entry, freedom of movement, restrictions on movement by various means of transport, quarantine or the need to have health certificates
area: services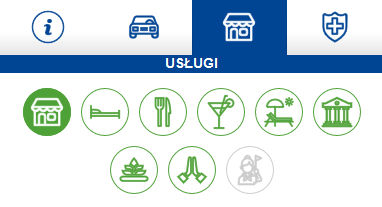 contains information on whether shops, hotels, restaurants, bars, cafes, beaches, recreational areas, museums, etc. are open.
area: health and safety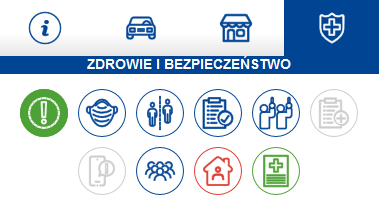 is a set of information on requirements related to, inter alia, with wearing a mask, keeping social distance, safety rules in public transport, gatherings, etc.
Using the Re-open EU application
Let me give you a simple example. Suppose I want to drive to Portugal of my choice.
I chose Portugal and I see it is yellow.
So I read in the frame under the menu on the right what restrictions apply:
"Only EU-27 citizens, Schengen area citizens (Liechsteinsten, Norway, Switzerland and Iceland) and their family members, passengers on flights from Great Britain, Brazil and CPLP, USA, Canada, Venezuela and South Africa are allowed. Suspension of visa processing in other countries. "
So I can enter Poland for tourist purposes without any problems, but this is not the end. I have to check that I can drive the car without restrictions through all intermediate countries.
So, by clicking on the appropriate icon, under which there is information about the freedom to travel through the country (as I marked in the picture below) and the colors on the map change.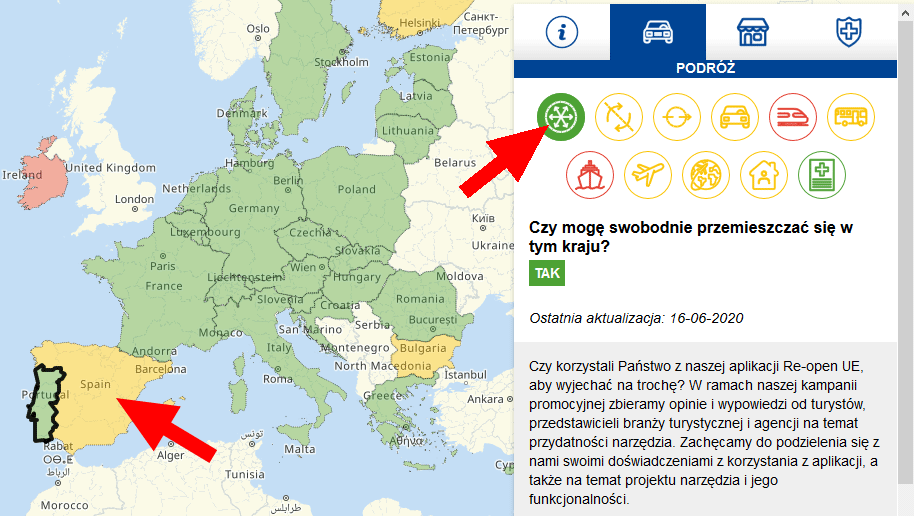 It's getting green everywhere, but on the way there is Spain glowing yellow.
So I click on Spain!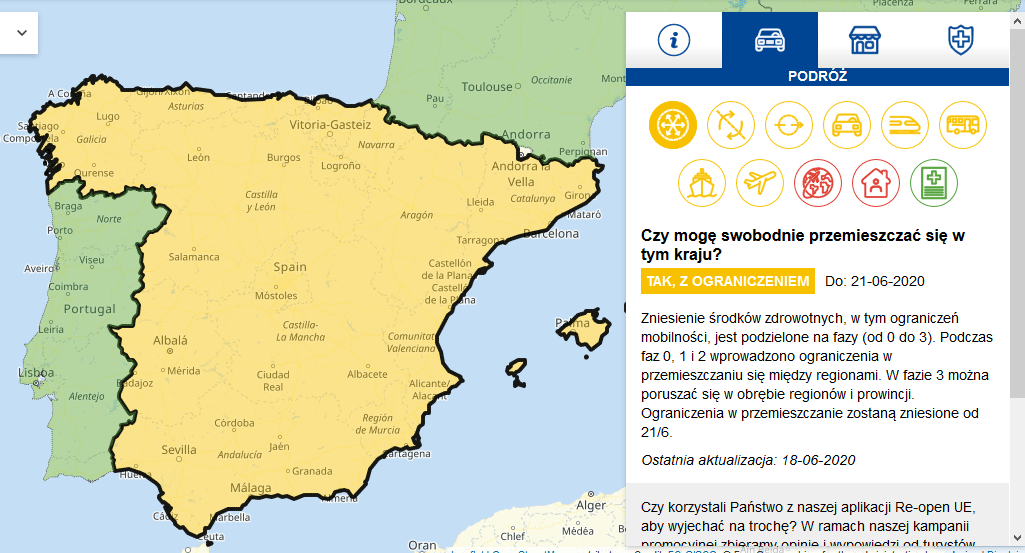 From the information on the right, I learn:
Can I move freely in this country?
Yes, with a restriction.
Lifting health measures, including restrictions on mobility, is divided into phases (0 to 3). Movement between regions was restricted during phases 0, 1, and 2. In phase 3, you can move within regions and provinces. Movement restrictions will be lifted from 21/6. "
And all clear!
When I saw this application, I jumped with excitement and joy. A really fantastic facility!
Perhaps now (when I am writing this it is June 2020) we are not thinking intensively about the trips yet, but in a few or a dozen weeks, when I hope everything will calm down, such a tool will fulfill its role fantastically. When you start thinking about a trip, you will always be able to enter here and check whether the direction in which you are pulling is still safe and whether you need to prepare for any restrictions.
Important to me!
Give the article a good rating
(5 stars welcome 😀)!
It's free, a
for me it is very important!
The blog lives on visits and thus has a chance to develop.
Please do it
and ... thank you in advance!
I also post
link to Facebook profile - [click]
. Come in and press "
Follow
"then you will not miss new, inspiring posts.
Unless you prefer
Instagram
. I'm not a social media demon, but you can always count on something nice to look at on
my instagram profile - [click]
. The profile has just been created, so
for now he is starving
, due to the lack of followers. He is happy to receive any observer who feeds him with his love.
I make the content I create available free of charge with copyright, and the blog survives from advertising and affiliate cooperation. So, automatic ads will be displayed in the content of the articles, and some links are affiliate links. This has no effect on the final price of the service or product, but I may earn a commission for displaying ads or following certain links. I only recommend services and products that I find good and helpful. Since the beginning of the blog's existence, I have not published any sponsored article.
Some of the readers who found the information here very helpful, sometimes ask me how you can support the blog? I do not run fundraisers or support programs (type: patronite, zrzutka or "buy coffee"). The best way is to use links.
It costs you nothing, and support for the blog is self-generating.
Pozdrawiam