Hverir - a geothermal area like from another planet: sightseeing, parking, access, interesting facts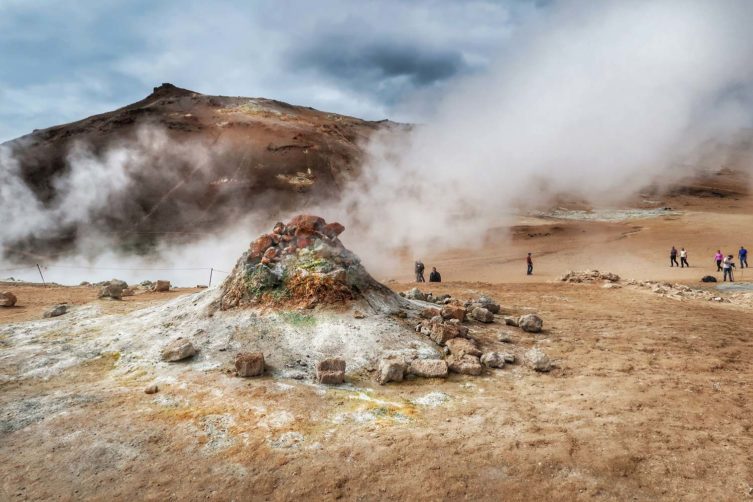 Fumaroles, solfatars and mofets
The geological nomenclature is fun. I learned most of these strange-sounding words only while wandering around Iceland, when I wanted to understand what I was really looking at. If someone had asked me what I associate mofets or solfatars with, the first association would be some fairy-tale characters.
I imagine Eeyore telling Krzysie a bedtime story, where it's unruly Mofets i Solfatars they invent some silly fun, and thus quickly get into trouble, from which they must be rescued by prudent, good and wise Fumaroles : )
In fact, they are just like that holes in the groundwhich emit various more or less unpleasant fumes to the surface. The very phenomenon of escaping fumes to the outside is exhalation (as opposed to commonly known to all from childhood inhalationwhere the fumes are drawn in).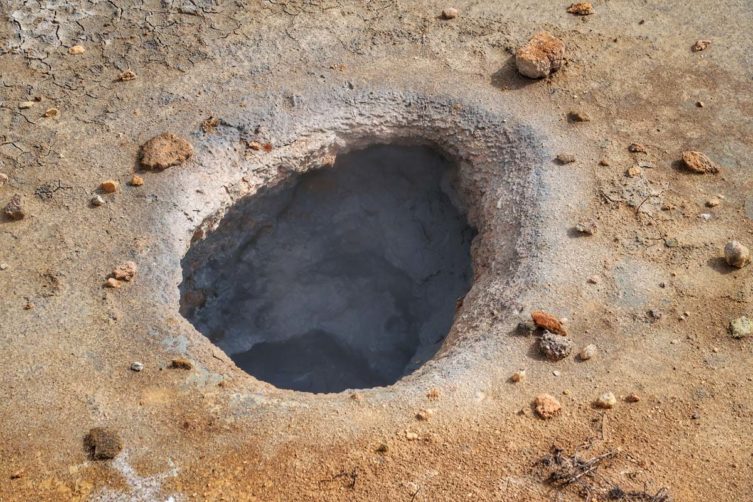 The name of the hole depends mainly on the exhaust temperature.
Fumaroles
These are the holes from which the most hot fumes come out. Their temperature exceeds 300 degrees Celsiusand maybe even 1000 (!!!) degrees.
Usually they are close to some eruption. The main components of the fumes are hydrogen chloride, sulfur dioxide and water vapor.
Solfatars
They let out gases at a temperature from 100 to 300 degrees Celsius. The fumes are mainly composed of superheated steam, carbon dioxide and hydrogen sulfide. Due to the smell of hydrogen sulphide, solfataras are especially strongly associated with the omnipresent aroma of rotten eggs. While visiting Hverir, you will have an opportunity to experience it.
Mofets
This is the most peaceful variety. They emit cool air at a temperature below 100 degrees Celsius, mainly composed of carbon dioxide.
Mofets can also be found in Poland. The largest is located in Jastrzębik (Lesser Poland Voivodeship) and it is not very attractive ... but out of curiosity you can see the biggest Polish mofeta on a short movie here - [click]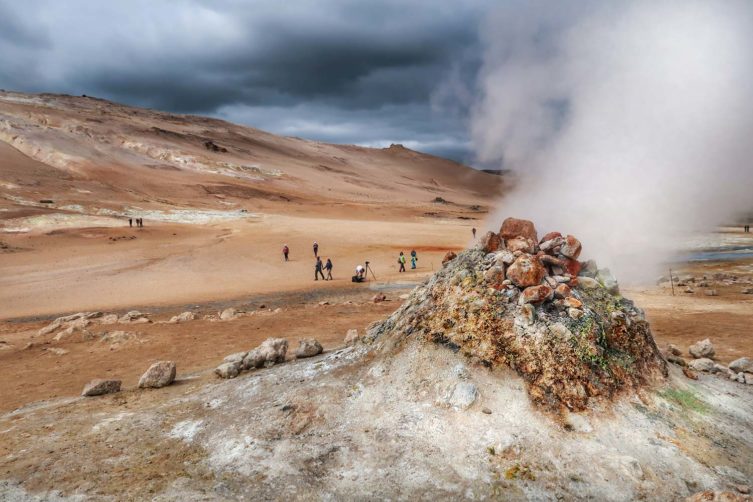 Boiling mud, hissing cracks
Walking around the Hverir geothermal area is like taking a quick trip to another planet. The earth, which here is red-orange in color, naturally brings to mind Mars. Clouds of hydrogen sulphide stinking mist, carried by the movement of air, constantly sweep through the entire area, dragging with them the characteristic, hellish stench.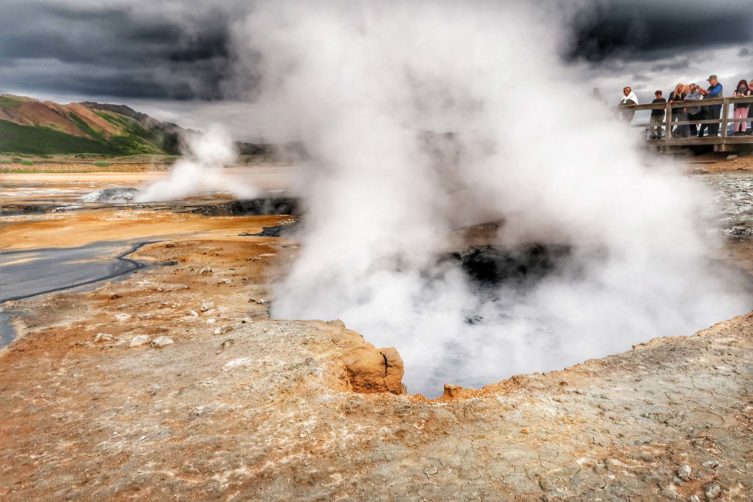 Thrown through bottlenecks, straight from the depths of the earth, hot, overheated water flows in lazy streams and leaves behind colorful, mineral blooms. It soaks the orange-red soil with its moisture, which becomes spongy, soft and sometimes even slightly muddy. With each step you feel the ground bending under the weight of the steps you take.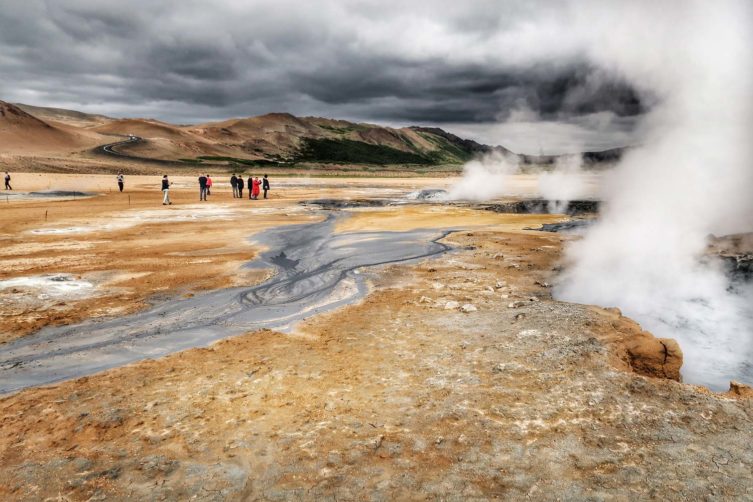 All around are bubbling gray bathtubs of boiling mud, thick as jelly. Splashing the constantly overheated slime, they heaped up high collars around them, the steel gray of which contrasts unnaturally with the colorful surroundings.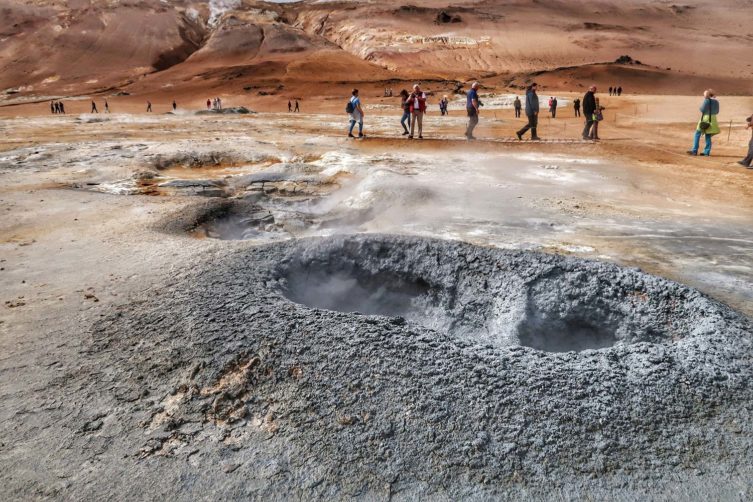 The furiously hissing crevices and smoking high-stone and mineral mounds seem to warn you that immense strength lies beneath your feet. Exhalations are like a safety valve. They vent excess energy and keep this crucible in a brittle state of equilibrium, preventing a large, uncontrolled explosion.
You quickly fall into a state of increased vigilance, weigh each step, and the labyrinth turns into a natural seismograph mode. Your feet are like sensors. They are constantly checking whether something underneath them suddenly begins to wake up and tremble ... or if the, after all, inevitable moment of eruption is not approaching.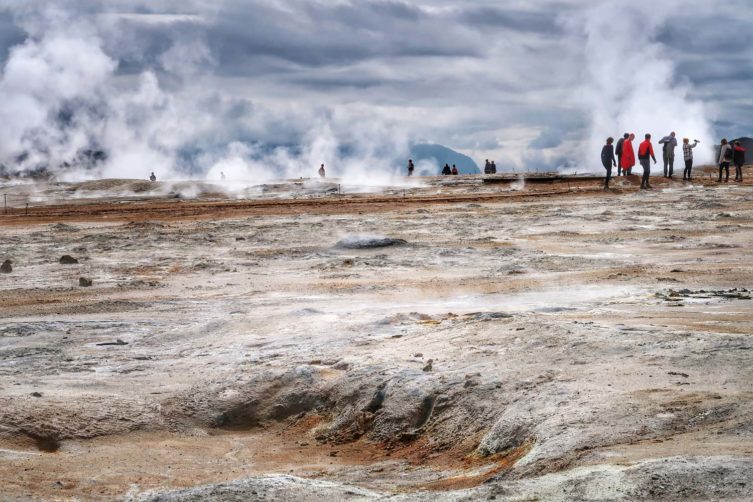 Visiting Hverir
A walk through the geothermal area is truly thrilling and delightful. Right next to the parking lot there is a specially built viewing platform from which you can observe the entire area.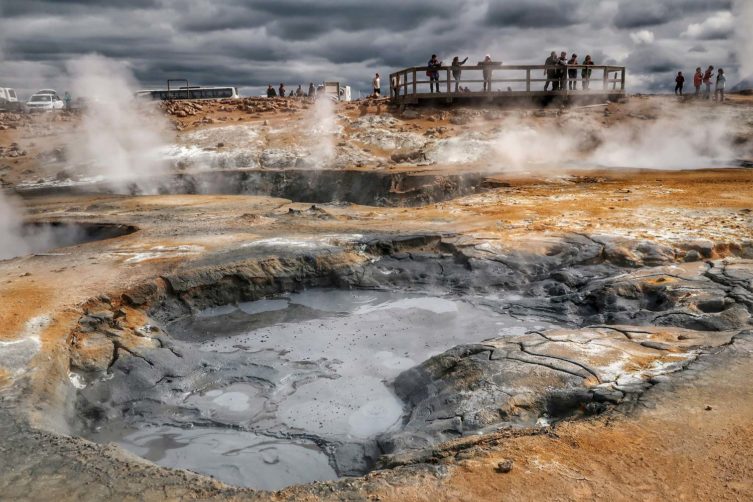 The most pleasant is, of course, to enter the geothermal area directly. There are no specific paths marked out here, but most of the dangerous outflows are fenced off with a thin string. Most… but not all. Hverir is an active, living area and it is constantly changing. So it may happen that you end up in a dangerous place that is not secured. So keep your eyes around your head, watch your feet and control where you take your next steps. Do not try to check the temperature of the blows, do not put your hands in the water and do not try to check the temperature of the mud. Any such attempt may result in severe burns.
Under no circumstances should you exceed the area marked by the string restrictions. The ground here is wet and very slippery, even though it may appear otherwise. It's easy to lose your balance. He doesn't even want to think what could happen if he falls into boiling mud, the temperature of which is significantly higher than 100 degrees Celsius.
It will take you approximately 45 minutes to walk around the entire area.
Paradoxically, Hverir is probably one of the smeliest places in Iceland ... which I would love to come back to! For it is also one of the most peculiar, interesting and delightful!
Access and parking
Getting to Hverir is very easy. The most important and most famous road number 1 in Iceland is right next to it. Just go down a few meters and you will immediately find a large, free parking lot.
Parking at the Hverir geothermal area, GPS coordinates:
65°38'30.2″N 16°48'25.4″W
65.641709, -16.807062 - click and route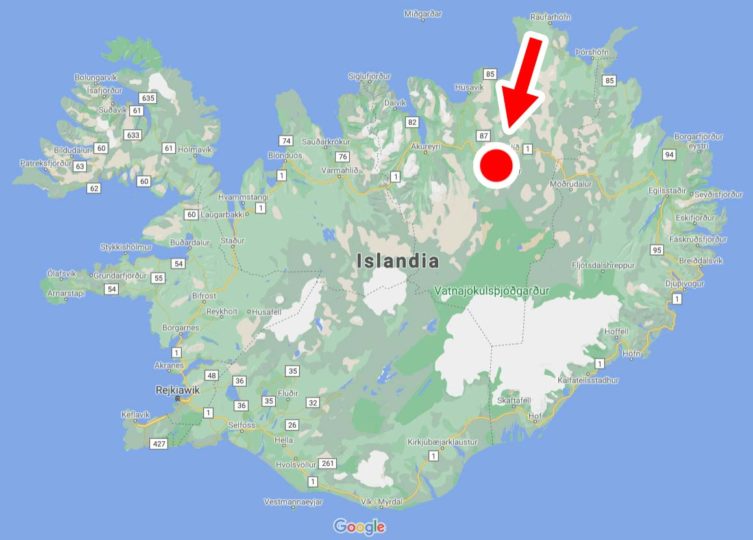 Accommodation and hotels nearby Hverir
Hverir is just one of the interesting places nearby lakes Myvatn - [click] (follow this link for more information about other attractions). So you may need accommodation in the area. The prepared link filters the accommodation so that the closest ones are on the top of the list. Look: accommodation near Myvatn - [click]
In addition, below I present a few selected proposals.



Iceland sightseeing itinerary
The entry you are reading is an element prepared by me
Iceland sightseeing plan
. Most likely, everything you need to prepare for your trip to Iceland can be found in this entry. Weather, accommodation, car rentals, tourist attractions and a map of a trip around Iceland ... all in one place:
Iceland - map and sightseeing plan, tourist attractions, excursions, the most beautiful places - [click]
.
Be sure to read!
Important to me!
Give the article a good rating
(5 stars welcome 😀)!
It's free, a
for me it is very important!
The blog lives on visits and thus has a chance to develop.
Please do it
and ... thank you in advance!
I also post
link to Facebook profile - [click]
. Come in and press "
Follow
"then you will not miss new, inspiring posts.
Unless you prefer
Instagram
. I'm not a social media demon, but you can always count on something nice to look at on
my instagram profile - [click]
. The profile has just been created, so
for now he is starving
, due to the lack of followers. He is happy to receive any observer who feeds him with his love.
I make the content I create available free of charge with copyright, and the blog survives from advertising and affiliate cooperation. So, automatic ads will be displayed in the content of the articles, and some links are affiliate links. This has no effect on the final price of the service or product, but I may earn a commission for displaying ads or following certain links. I only recommend services and products that I find good and helpful. Since the beginning of the blog's existence, I have not published any sponsored article.
Some of the readers who found the information here very helpful, sometimes ask me how you can support the blog? I do not run fundraisers or support programs (type: patronite, zrzutka or "buy coffee"). The best way is to use links.
It costs you nothing, and support for the blog is self-generating.
Pozdrawiam