Sa Calobra (Majorca) - bay, beach, port and more
Cala de Sa Calobra (or Sa Calobra Bay) has a very fortunate location and is doomed to success… or extinction.
Circumstances of the bay of Sa Calobra
Some basic facts will clearly highlight the matter. Sa Calobra lies at the end of undoubtedly the most attractive and picturesque road on the whole island. This road MA-2141 about which I wrote in a separate entry: Road to Port de Sa Calobra (MA-2141) - crazy design of a genius engineer, inspired by spaghetti and tie knot?
This route is probably recommended by everyone who has been to Majorca. Inevitably, following this road you will eventually reach Sa Calobra, so even if it was ugly here, tourist traffic would flourish anyway. Ugly, however, is not the opposite. Its nice. There are steep banks surrounding the cove, there is a beach, a small port sandwiched between rocks and there are wooden walkways. There is fabulously colorful water with a sapphire color that it's hard to believe your eyes. As if that was not enough, right next to it has its largest island on the island Torrent de Pareis Gorge, which is reached from the port of Sa Calobra carved out of rock tunnels. It's fair to say that all roads lead to Sa Calobra.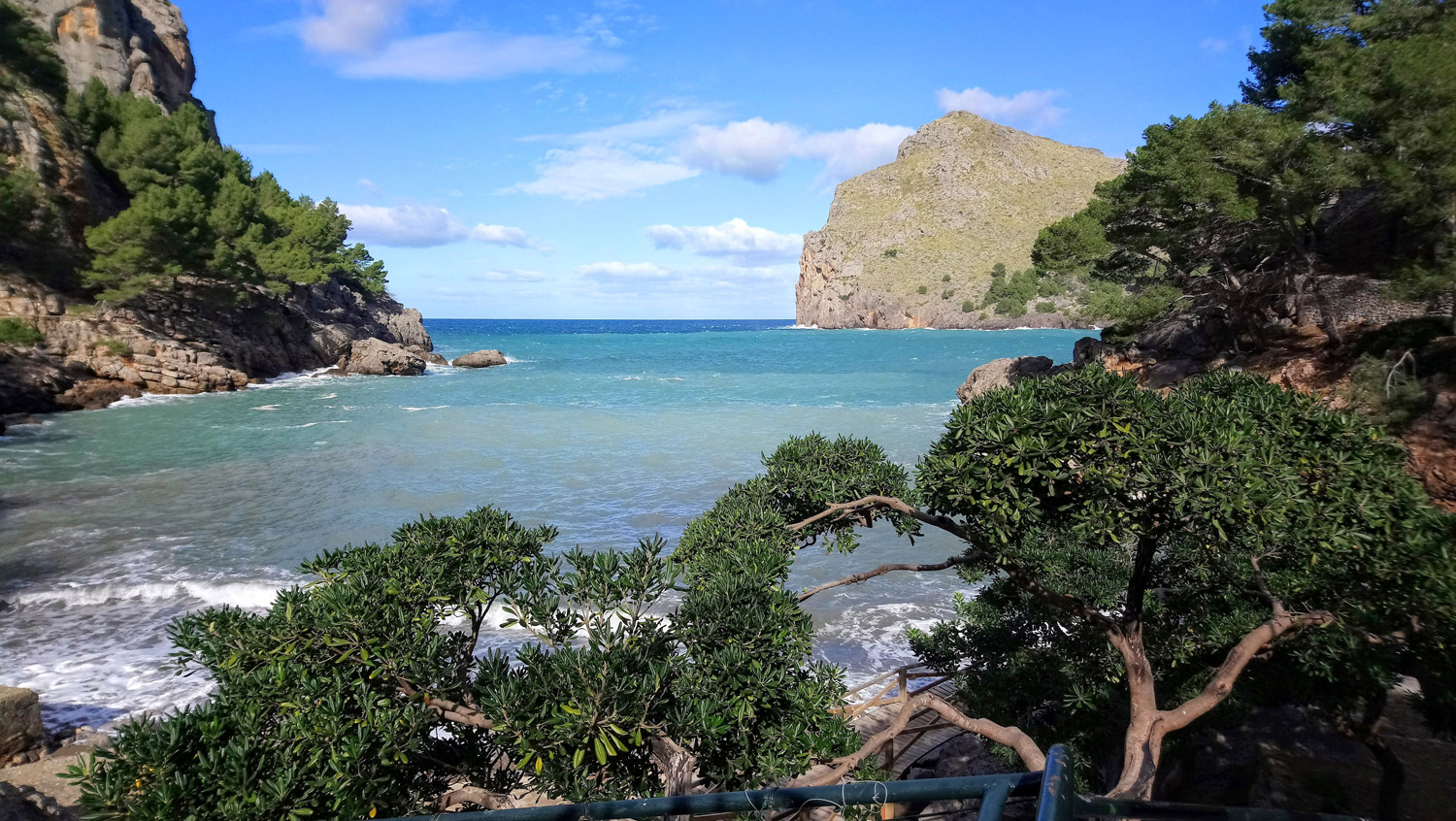 Due to its location in Sa Calobra, the road ends. It is impossible to go any further. You have to drive, park, visit and turn back. For this reason, there are barriers and a large parking lot at the end of the road in the town. In winter, it is almost empty, the barriers are raised, and the automatic machines that charge for parking are turned off. Parking is comfortable and free. Dozens of parking spaces prepared for coaches are empty. However, you can imagine what will happen here in the summer, when dozens of coaches park in the parking lot, and in the part for passenger cars there will be a crowd like at the opening of a shopping mall. I imagine how "wonderful" it is then here. And it is this popularity that can be treated as a success or a doom. After all, tourists have trampled many beautiful places.
So if you come here in winter, you will taste this place in peace and quiet.
Get ready for much more noise and crowds in the summer. You will find it harder for intimacy. A good way to get around the biggest crowd is to arrive early in the morning before the summit begins.
It will be much more peaceful on the beach located a few kilometers away Cala Tuent. You can find more about it in the entry: Cala Tuent - Majorca - a beach that looks like paradise even in winter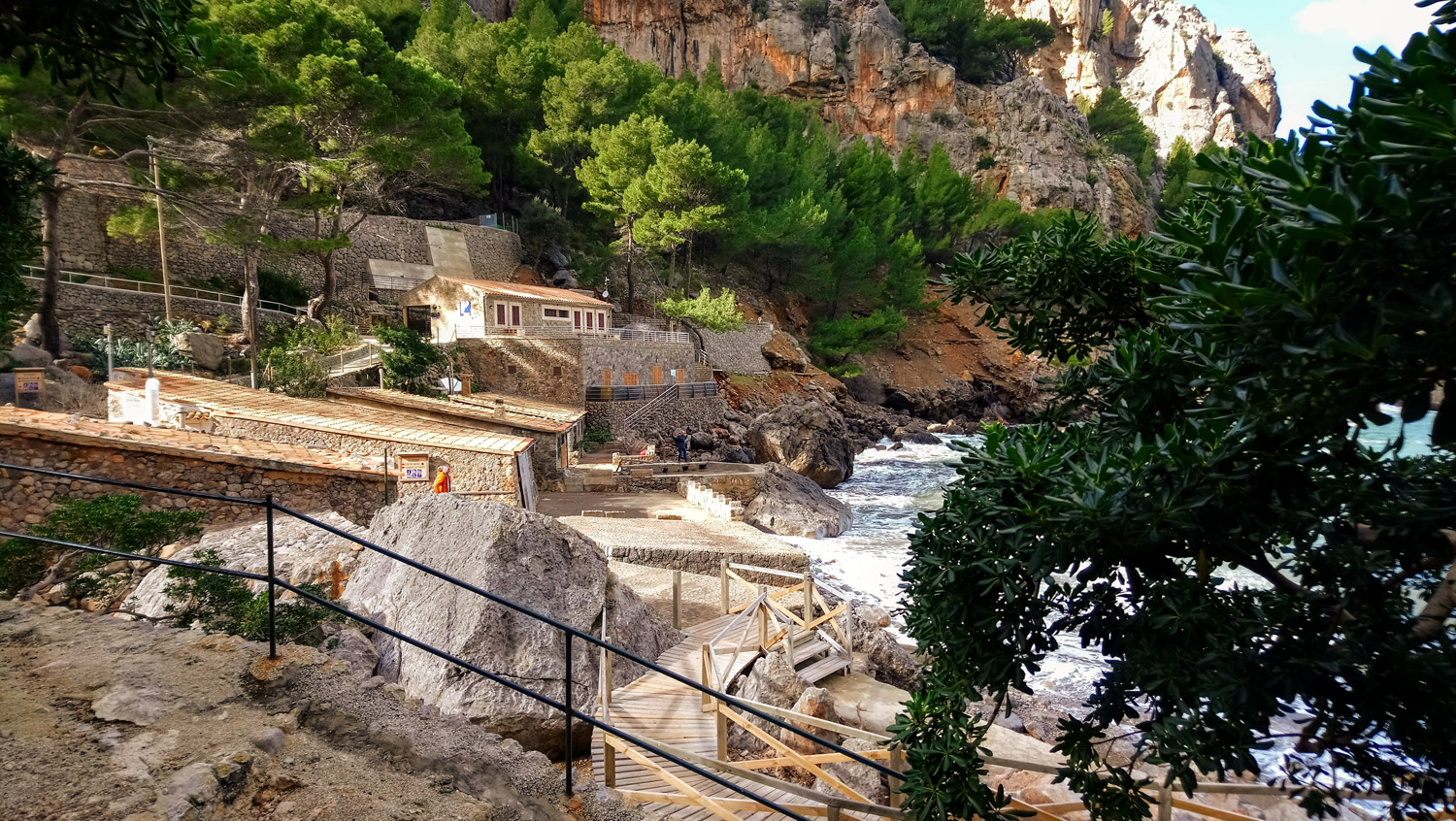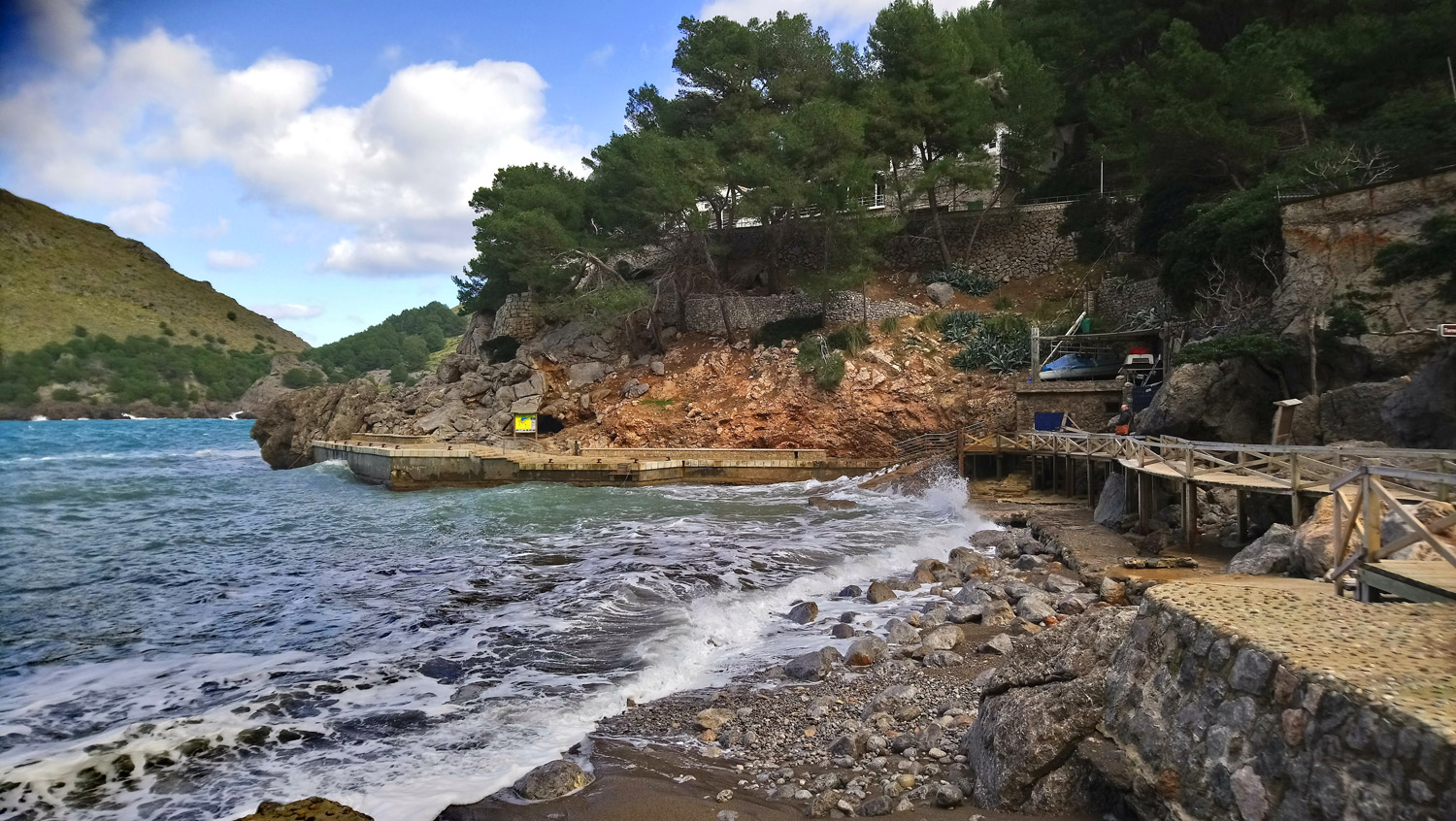 Sa Calobra is so small that basically there is nowhere to walk. It is worth going down to the beach for a moment, taking a few steps along the piers and going to the Torrent de Pareis gorge. The road to the gorge begins at a series of restaurants and shops, which are closed in winter. If you go right, along the pedestrianized shopping street, you will come to a tunnel carved in the rock at its end. Reaching the tunnel means you're on the right track. Enter the tunnel and go straight ahead. The road will lead you straight to the Torrent de Pareis ravine ... but that's the topic for the next post.
Flights from Port de Sa Calobra to Port de Soller
Cruise ships run between Sa Caloba and Port de Soller, from which cliffs invisible from the mainland can be admired. We did not swim but people who sailed the ships say that the views are worth it. The cruise lasts about 50 minutes one way. A return ticket for an adult is EUR 30. You can check the current prices or buy tickets, e.g. at: Boat Trip to Sa Calobra from Soller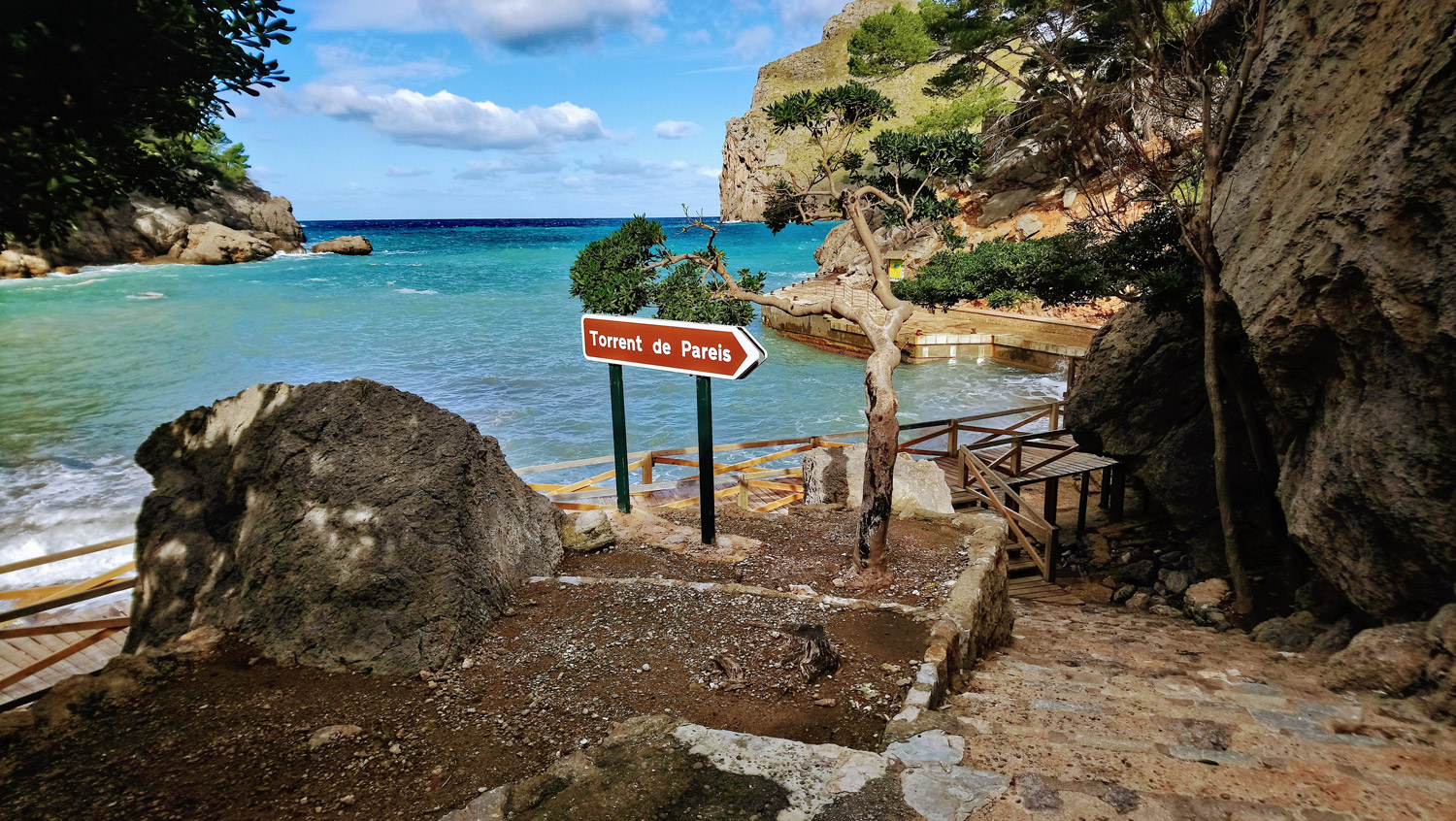 Sa Calobra is one of the points of my Majorca trip plan that is worth getting acquainted with: Majorca - attractions, sightseeing, car rental, practical information. Guide. - [click]
Useful GPS data
Parking in Sa Calobra, GPS: 39 ° 50'51.8 ″ N 2 ° 47'54.5 ″ E or 39.847722, 2.798464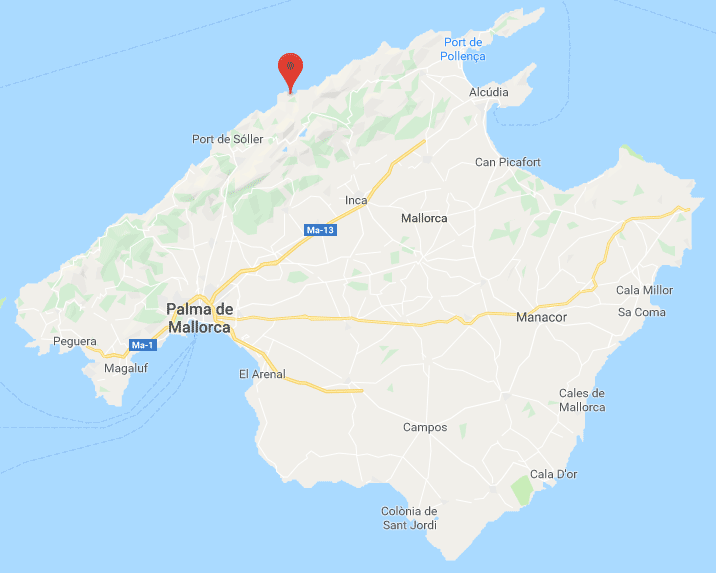 Important to me!
Give the article a good rating
(5 stars welcome 😀)!
It's free, a
for me it is very important!
The blog lives on visits and thus has a chance to develop.
Please do it
and ... thank you in advance!
I also post
link to Facebook profile - [click]
. Come in and press "
Follow
"then you will not miss new, inspiring posts.
Unless you prefer
Instagram
. I'm not a social media demon, but you can always count on something nice to look at on
my instagram profile - [click]
. The profile has just been created, so
for now he is starving
, due to the lack of followers. He is happy to receive any observer who feeds him with his love.
I make the content I create available free of charge with copyright, and the blog survives from advertising and affiliate cooperation. So, automatic ads will be displayed in the content of the articles, and some links are affiliate links. This has no effect on the final price of the service or product, but I may earn a commission for displaying ads or following certain links. I only recommend services and products that I find good and helpful. Since the beginning of the blog's existence, I have not published any sponsored article.
Some of the readers who found the information here very helpful, sometimes ask me how you can support the blog? I do not run fundraisers or support programs (type: patronite, zrzutka or "buy coffee"). The best way is to use links.
It costs you nothing, and support for the blog is self-generating.
Pozdrawiam