Majorca - attractions, sightseeing, car rental, practical information. Guide.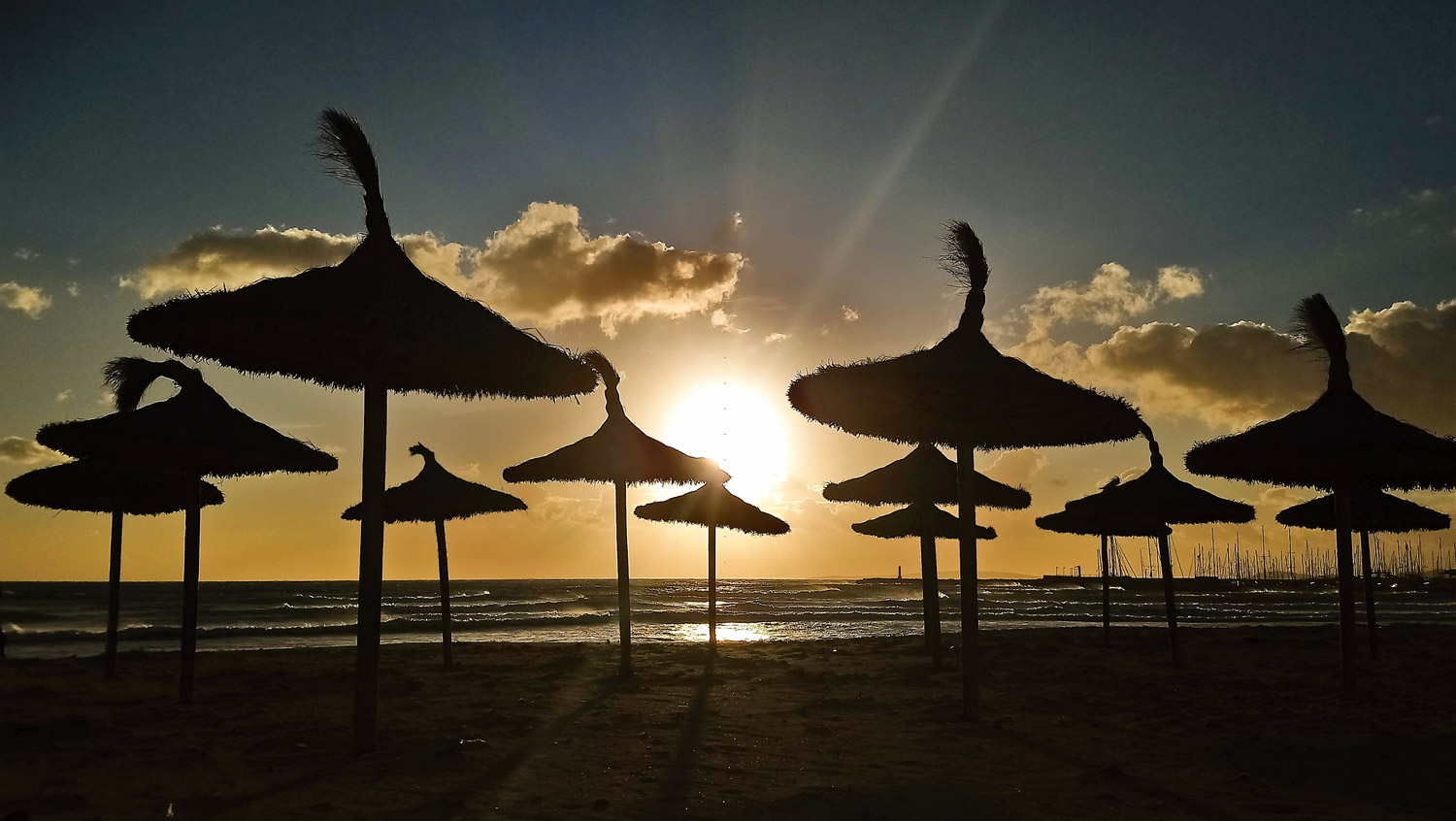 Majorca - a sea of ​​attractions
I like to prepare well for the trip. It is an essential part of my journey for me. I sit down, look, read, plan, take notes… I dig into the subject and see myself in these places through the eyes of my imagination. It's like I'm on the road before I even get up from the couch. A visit to the destination is the culmination of the sum of previous searches and impatient waiting for the trip. Final touch". This is always the climax. What I often read many months before suddenly comes to my eyes. I like these emotions.
Majorca is a small island, so the preparations went smoothly (I gathered the necessary information in this post, so it will be even easier for you). I was ready to go and knew what I expected. Started! From the very beginning to the end, everything went according to plan, but very quickly (because on the second day) it turned out that no pictures and descriptions I came across earlier match what we saw. I quickly realized that we would get more on this island than we could have expected. Much more. And I have no illusions. My photos and descriptions will not reflect the charm of this island in 100. You have to go there! And don't be afraid! What you see in the pictures and what you read in the descriptions is just the beginning. Expect more! Much more!
Tour of Majorca
Let's start sightseeing without unnecessary introductions. I will try to include all additional practical information and helpful links discretely in the text.
It is best to visit Majorca rented car and this is basically the only form of getting around the island that I can recommend. Bus communication is well developed, but the attractions that are worth seeing are highly dispersed, often located in the mountains, and the best views are from the viewpoints at which the buses do not stop. I wrote about a proven and cheap car rental company in a separate post: Car hire without credit card and deposit - Spain, Majorca.
There are those who claim that Majorca is an excellent place for cycling. Well, if you plan to win the mountains classification in the most difficult cycling races in the world, then yes, you can try to explore Majorca by bike. It is better, however, go to the training camp in the Alps before, because visiting Majorca by bike may surprise you 🙂 I do not recommend.
The average bicycle user will be happy to go on a recreational promenade ride along the coast in Palma de Mallorca. A long, flat and comfortable bicycle path leads there. I would recommend.
Visiting the island by rail is basically impossible. The railway is mainly a tourist attraction.
From a practical point of view, it is best to live in the immediate vicinity of Palma de Mallorca or in Palma de Mallorca itself. The reason is simple. The whole island is best connected to this city. All major roads lead from or to this city. Getting to any point on the island from here is the best. Technical commuting to any attraction will be the fastest and easiest, thanks to which we will have more time to explore. Living in another part of the island is obviously not a bad idea, but you need to be prepared for a bit more onerous commuting.
Majorca by car: Majorca tour routes
I have prepared plans for four trips with the starting point in Palma de Mallorca or somewhere nearby.
1 trip - northwest Mallorca and the western part of the Serra de Tramuntana mountain range
2 trip - North and North-East Majorca, Serra de Tramuntana range, Cape Formentor
3 trip - eastern Majorca, Drach Caves
4 trip - Palma de Mallorca
Each is different and the attractions do not repeat. Every day you watch something different, new. I recommend completing all four because the attractions in each of them are unique. The duration of trips and the length of trips are selected so as not to chase your neck. Take your time to implement any of them. Calmly go, watch, stop, take pictures, explore. Coffee in a cafe, a meal in a restaurant. You have enough time for everything, even when you decide to go to Majorca in the winter, when the days are the shortest.
I built the plans in the following way:
- I searched books, guides, websites in search of attractions in Majorca
- for each selected place, I checked the actual photos on Google maps and the Google photo database to confirm the attractiveness of the place
- I found the attractions selected after the analysis and marked their location on the map of the island
- I have arranged the routes so that the tour is the most convenient, taking into account the opening hours of attractions (such as museums, castles, viewpoints with regulated admission, etc.), as well as the duration of travels and visits
- for selected attractions, I found the closest parking lots that allow you to stop safely, as close as possible. Some attractions require you to stop somewhere on the street, so you need to find somewhere near the GPS location you entered.
In practice, all trips have been completed and checked. The following trip plans, for the sake of clarity, contain only basic information about the proposed attractions. Wider descriptions of attractions and more photos can be found in separate entries dedicated to a given attraction, to which direct links from trip plans lead (if there is no link, it means that a broader description of the attractions is just being created).
1 trip - northwest Mallorca and the western part of the Serra de Tramuntana mountain range
Location of the trip route on the island map: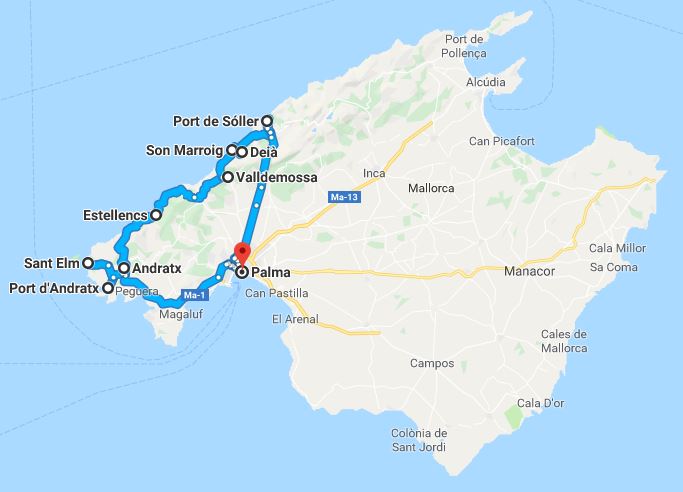 Detailed route of the trip:
All the attractions listed below are arranged in order of visiting them on the tour route. If for some reason you do not want or cannot visit one of them, just go to the next one.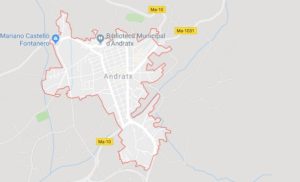 Andratx
A city with ancient roots, located in the valley of the western Serra de Tramuntana mountain range.
Main attractions:
Castell de Son Mas - XNUMXth century palace, now the town hall.
Parking in front of the palace, GPS: 39 ° 34'36.6 ″ N 2 ° 25'28.3 ″ E or 39.576827, 2.424523
Santa Maria de Andrach (the name Parroquia Santa Maria is also used) - a church built in 1248.
Street parking at the church, GPS: 39 ° 34'38.5 ″ N 2 ° 25'17.1 ″ E or 39.577365, 2.421429
Port d'Andratx
Beautifully situated, surrounded by mountains, a picturesque town, fishing port and marina with luxury yachts, beautiful beaches and restaurants.
Parking on the street in places marked with white lines, GPS: 39 ° 32'37.7 ″ N 2 ° 23'13.5 ″ E or 39.543818, 2.387079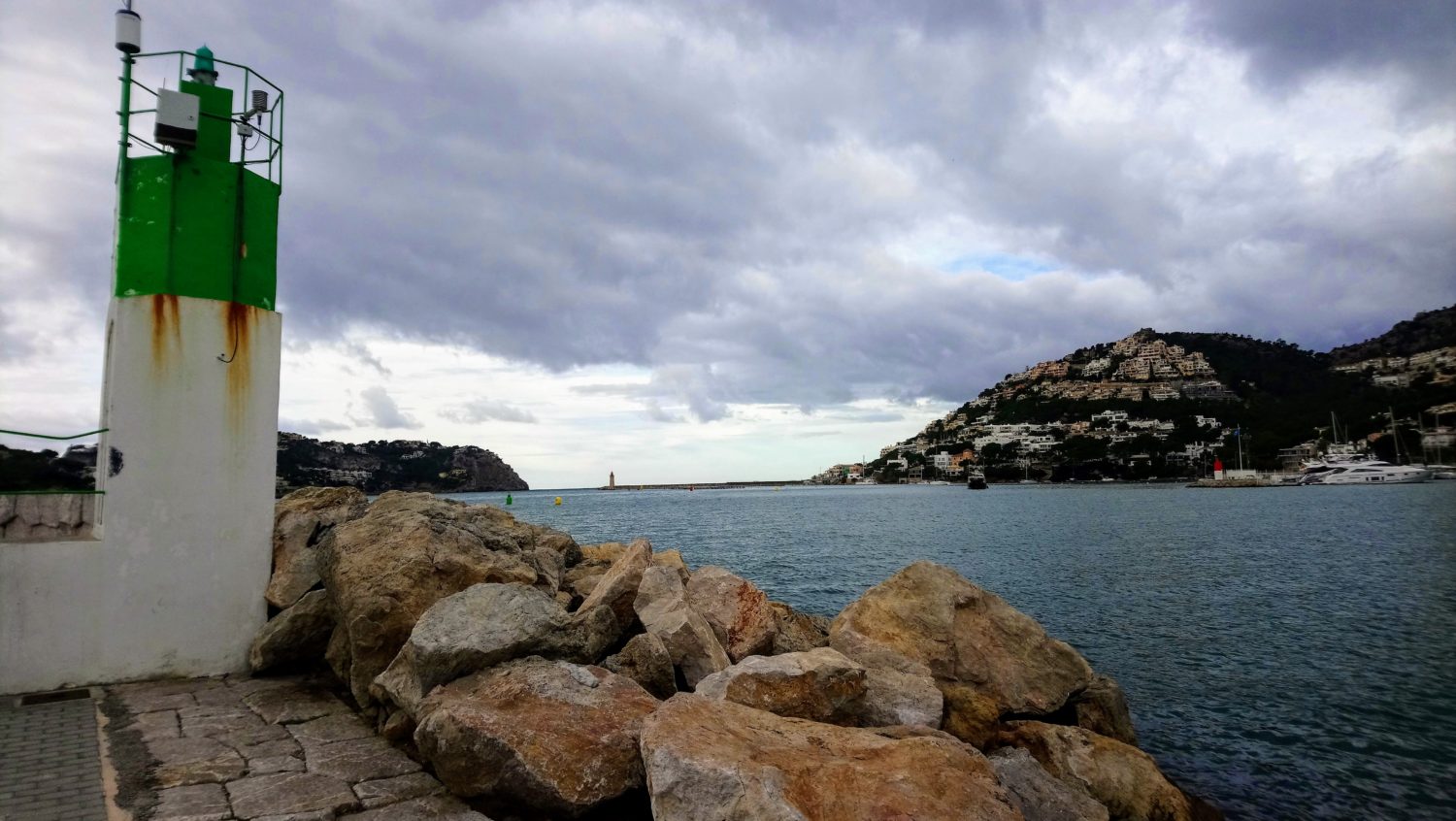 A small fishing village situated on a cliff. Calm, quiet, with nice views and the beach.
Parking on the street, GPS: 39 ° 34'47.3 ″ N 2 ° 21'02.3 ″ E or 39.579791, 2.350650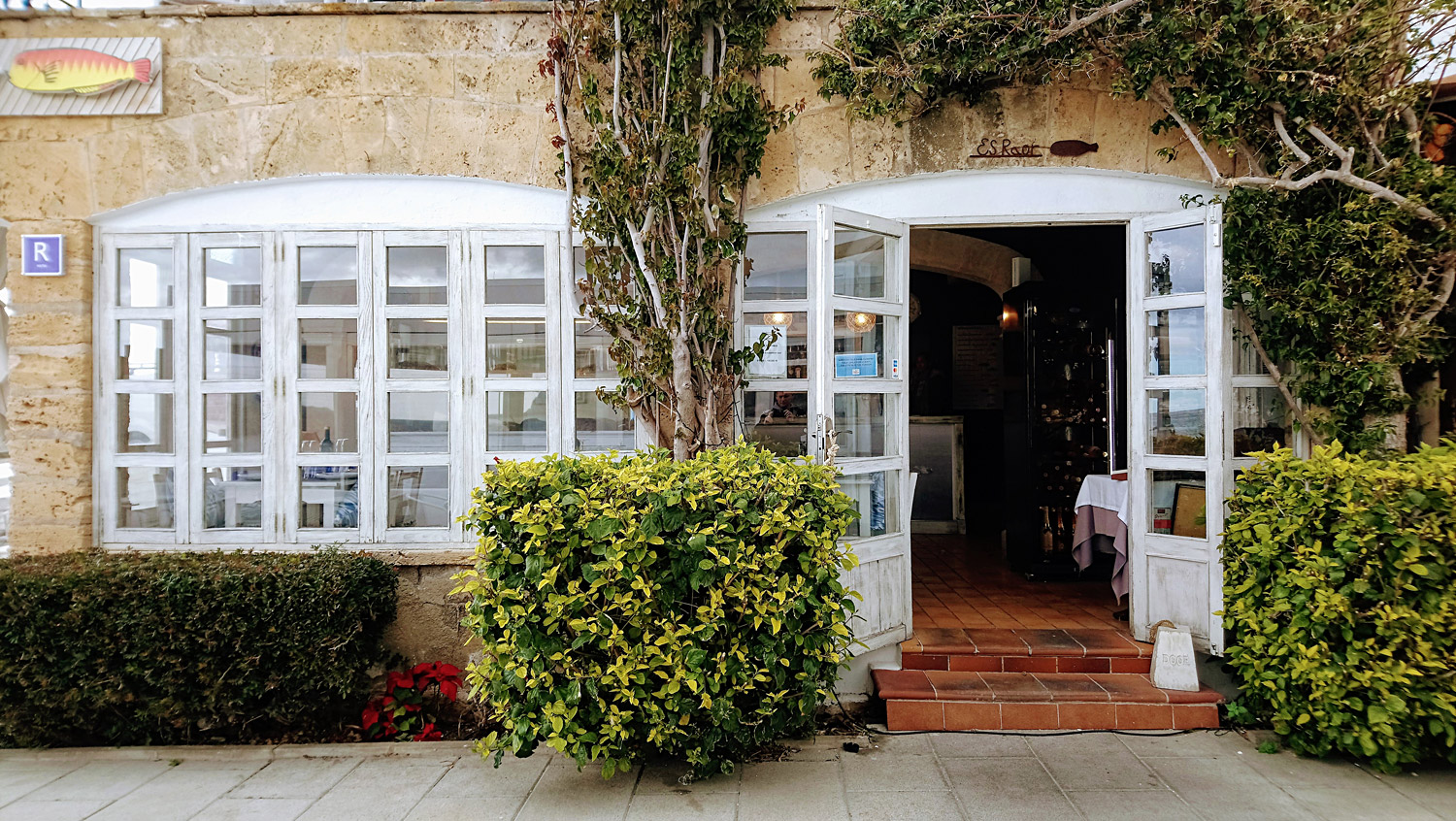 Lookout with a view incl. to the bay and the beach of Cala d 'Estellencs.
Parking by the viewpoint, GPS: 39 ° 38'42.7 ″ N 2 ° 27'03.7 ″ E or 39.645181, 2.451023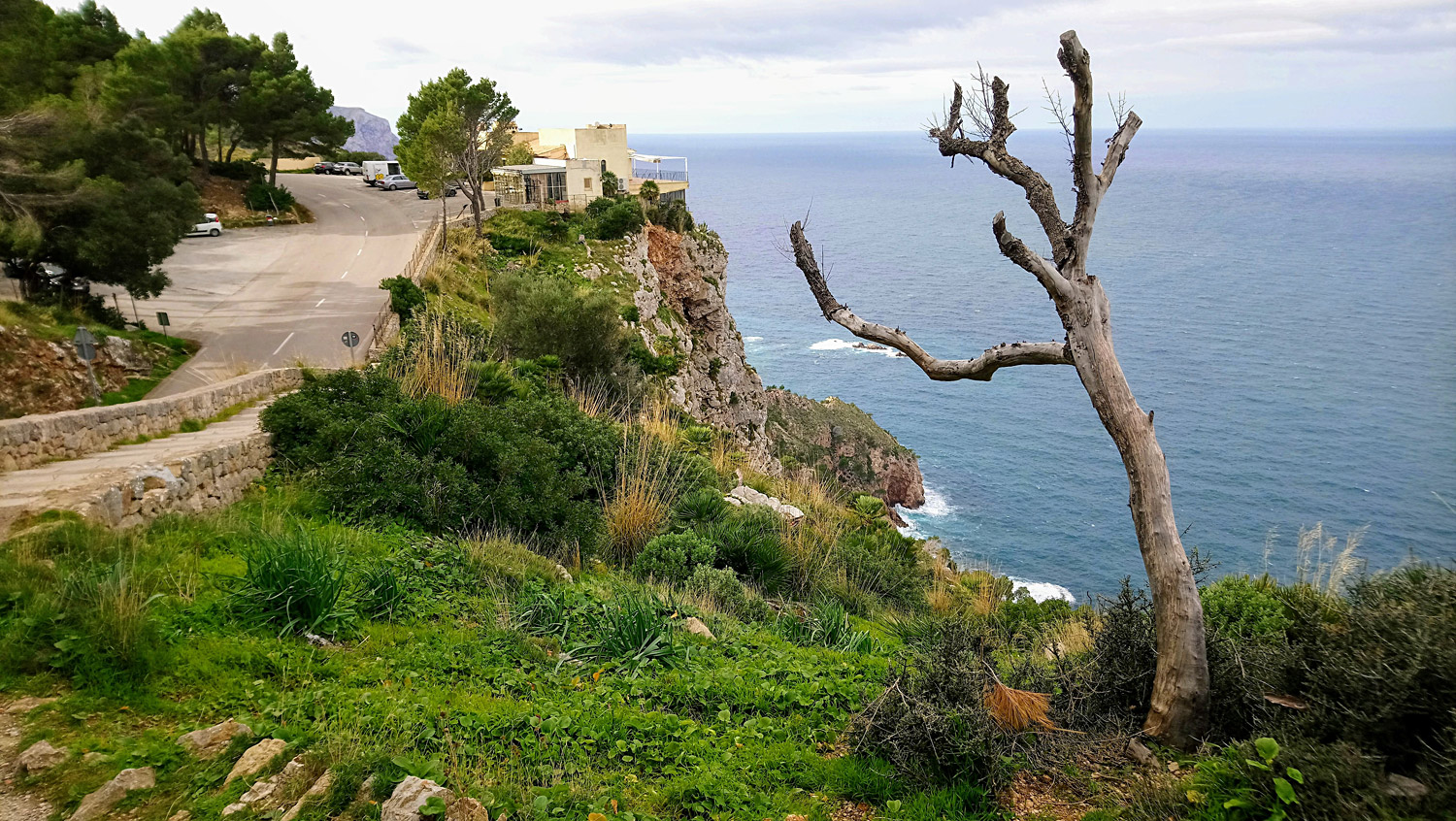 A small, stone town, glued to the slopes of the mountain. Steep and narrow streets.
Parking on the street, GPS: 39 ° 39'12.3 ″ N 2 ° 28'54.7 ″ E or 39.653429, 2.481849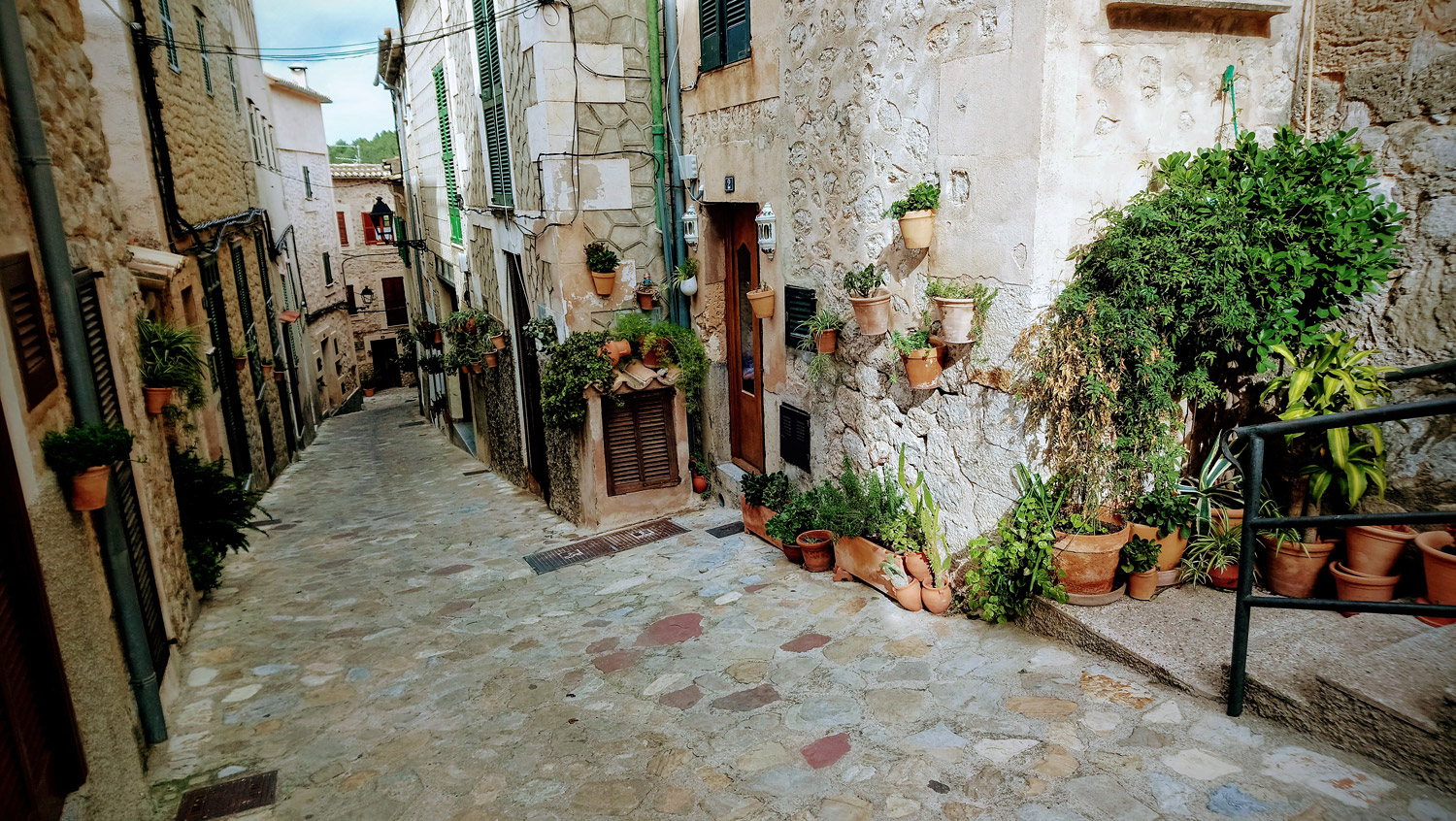 Viewing point with the XNUMXth-century defensive tower Torre del Verger.
Parking by the tower: 39 ° 40'59.9 ″ N 2 ° 30'01.3 ″ E or 39.683317, 2.500360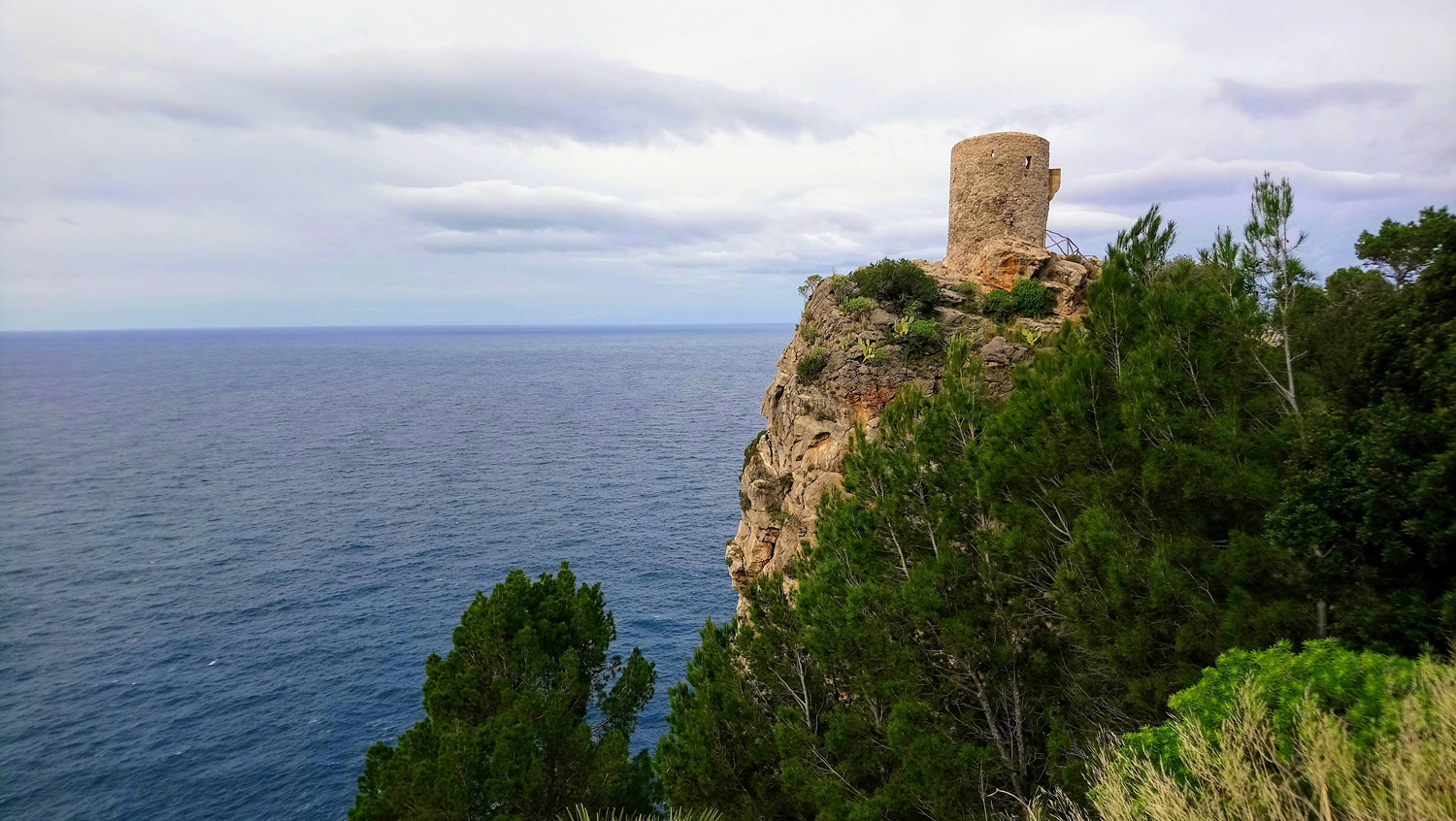 The town is located among about 2000 thousands of cultivated terraces created in the 10th century by the Moors on the slopes of the mountains surrounding the city.
Parks on the street (for a short while), GPS: 39 ° 41'11.9 ″ N 2 ° 30'46.5 ″ E or 39.686647, 2.512903
Parking for a longer stop (a few steps need to go to the town center), GPS: 39 ° 41'12.9 ″ N 2 ° 30'38.2 ″ E or 39.686915, 2.510603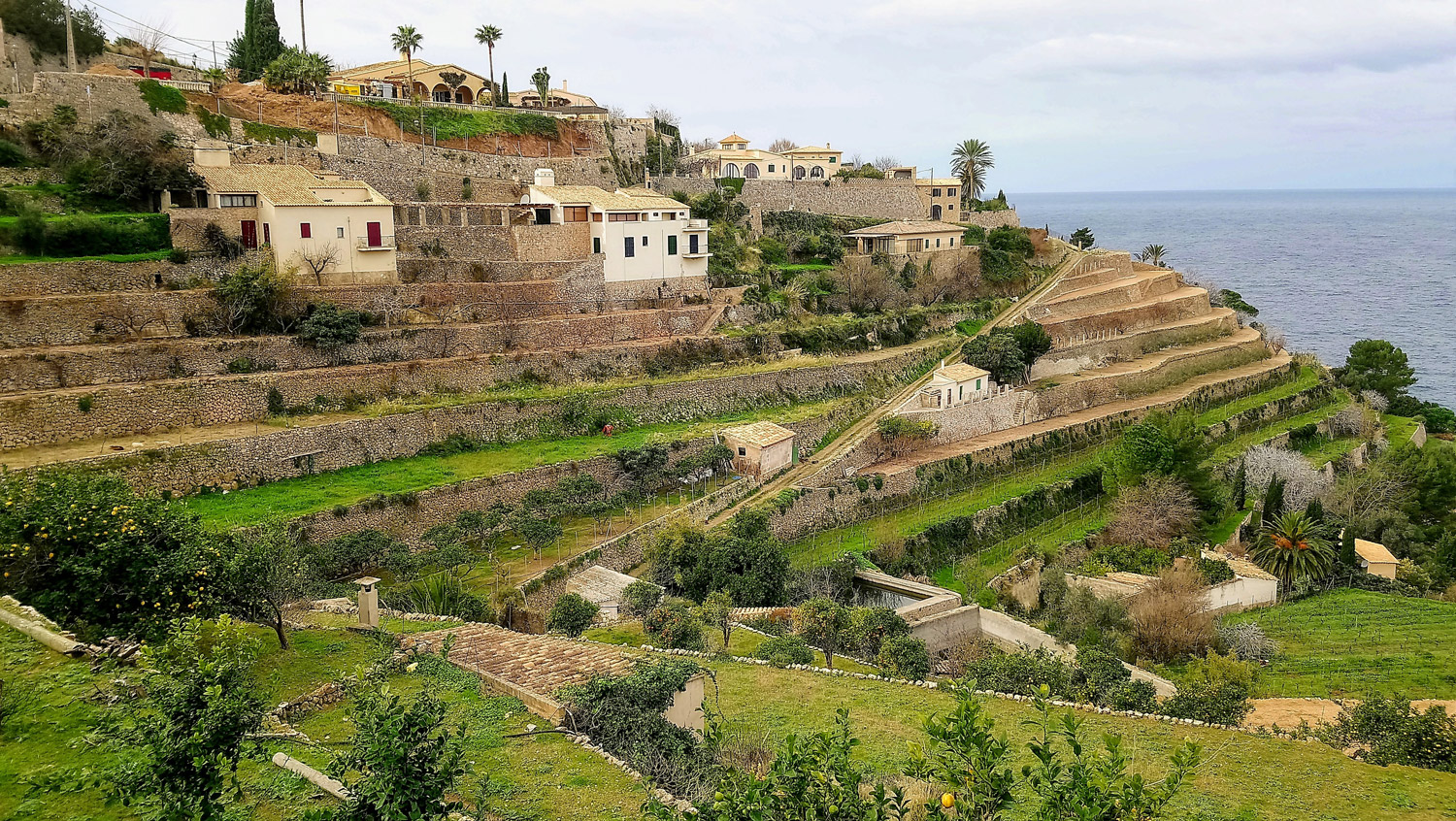 A beautiful town where Fryderyk Chopin lived and composed. In the monastery cell in which Chopin lived, there is his museum.
Parking, GPS: 39 ° 42'39.4 ″ N 2 ° 37'16.3 ″ E or 39.710949, 2.621181
Monastery with Chopin's cell, GPS: 39 ° 42'33.7 ″ N 2 ° 37'21.1 ″ E or 39.709350, 2.622530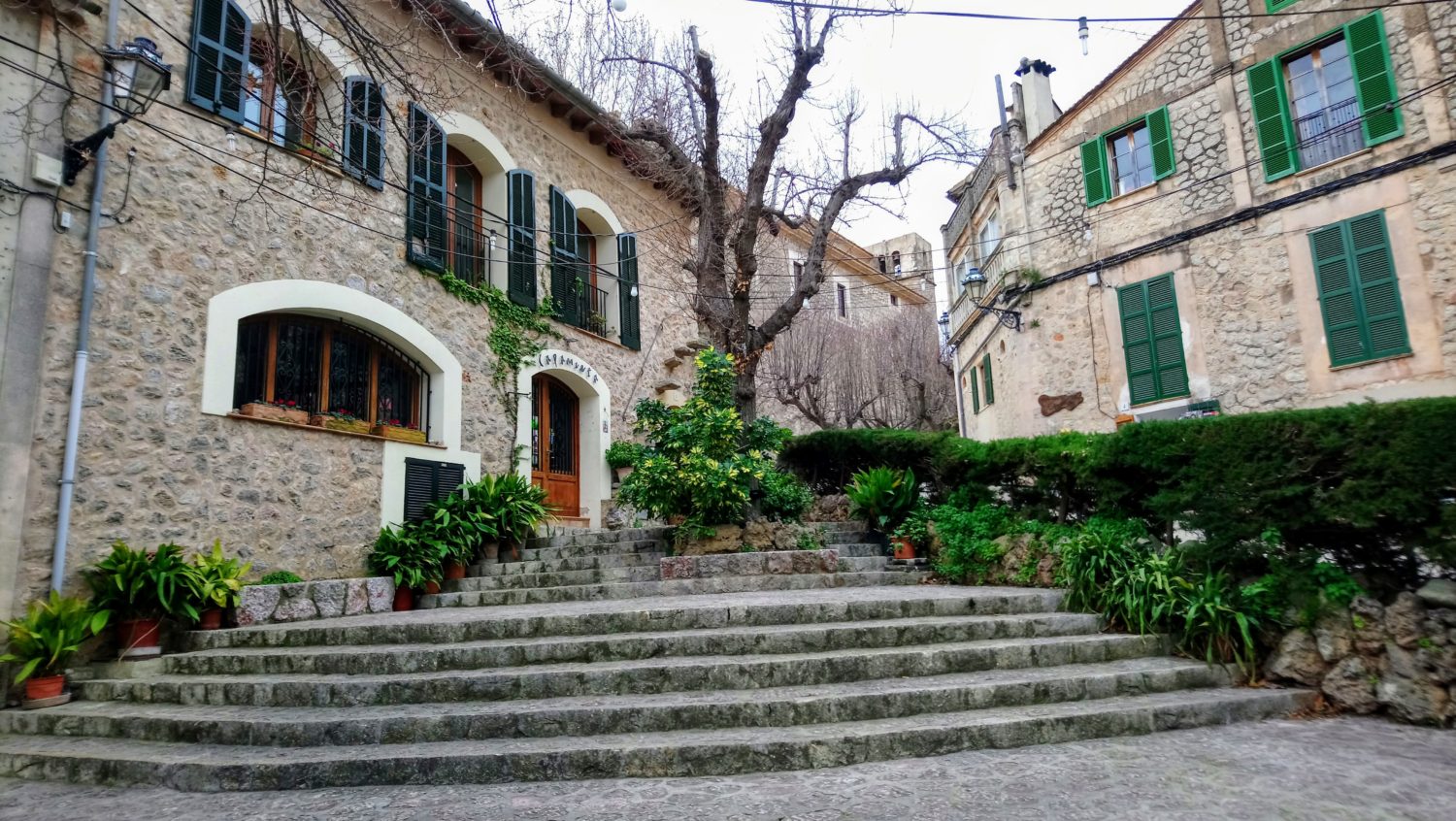 House of the Austrian Archduke Ludwig Salvator with a viewpoint and a marble rotunda. To reach the rotunda you have to go through the archduke's house.
Parking, GPS: 39 ° 45'04.8 ″ N 2 ° 37'45.4 ″ E or 39.751329, 2.629290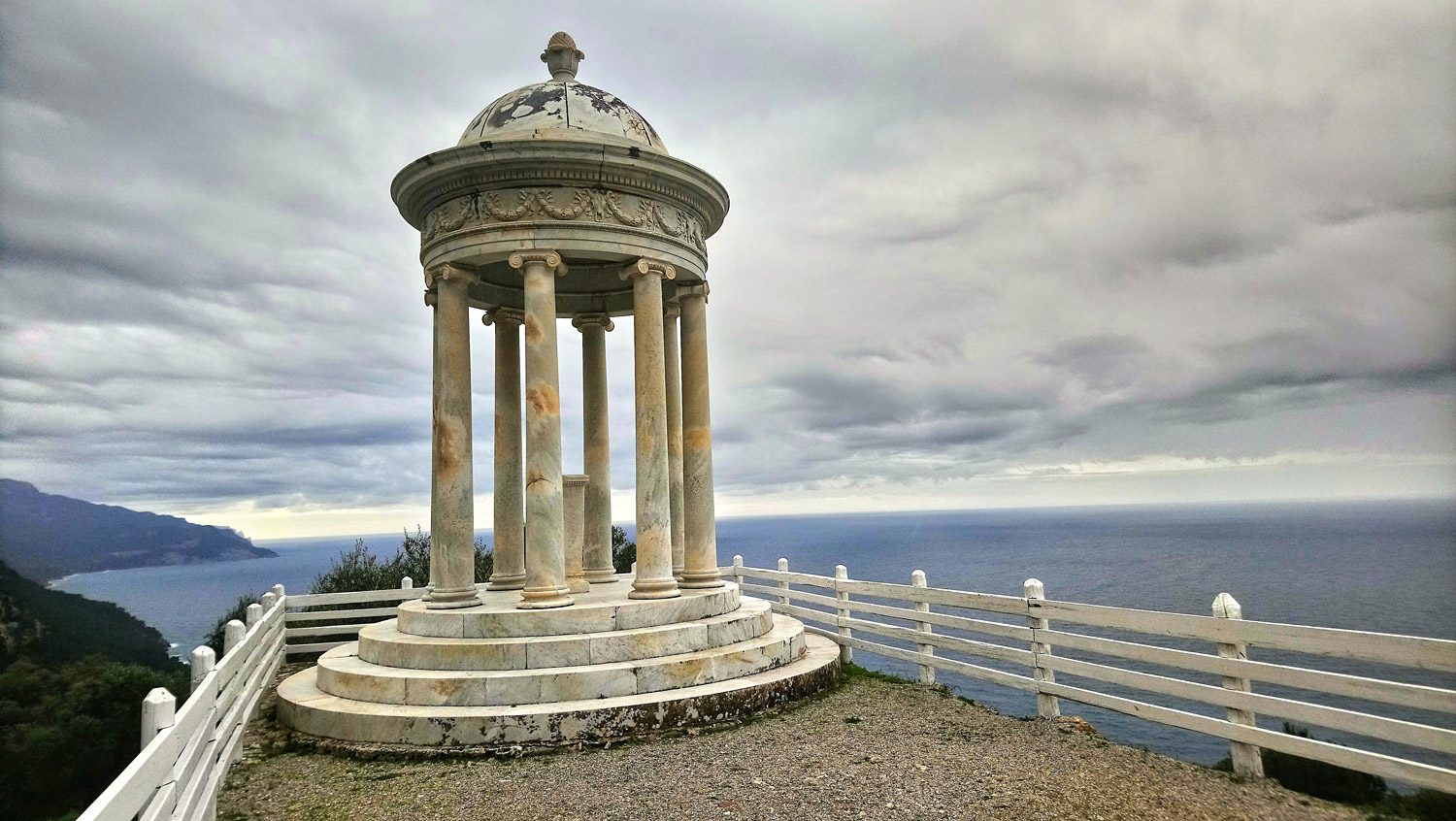 Deia
A small village, in the 60 of the 20th century was considered the place of artists who visited this place in great numbers in search of inspiration.
Parking, GPS: 39 ° 44'54.4 ″ N 2 ° 38'55.9 ″ E or 39.748453, 2.648859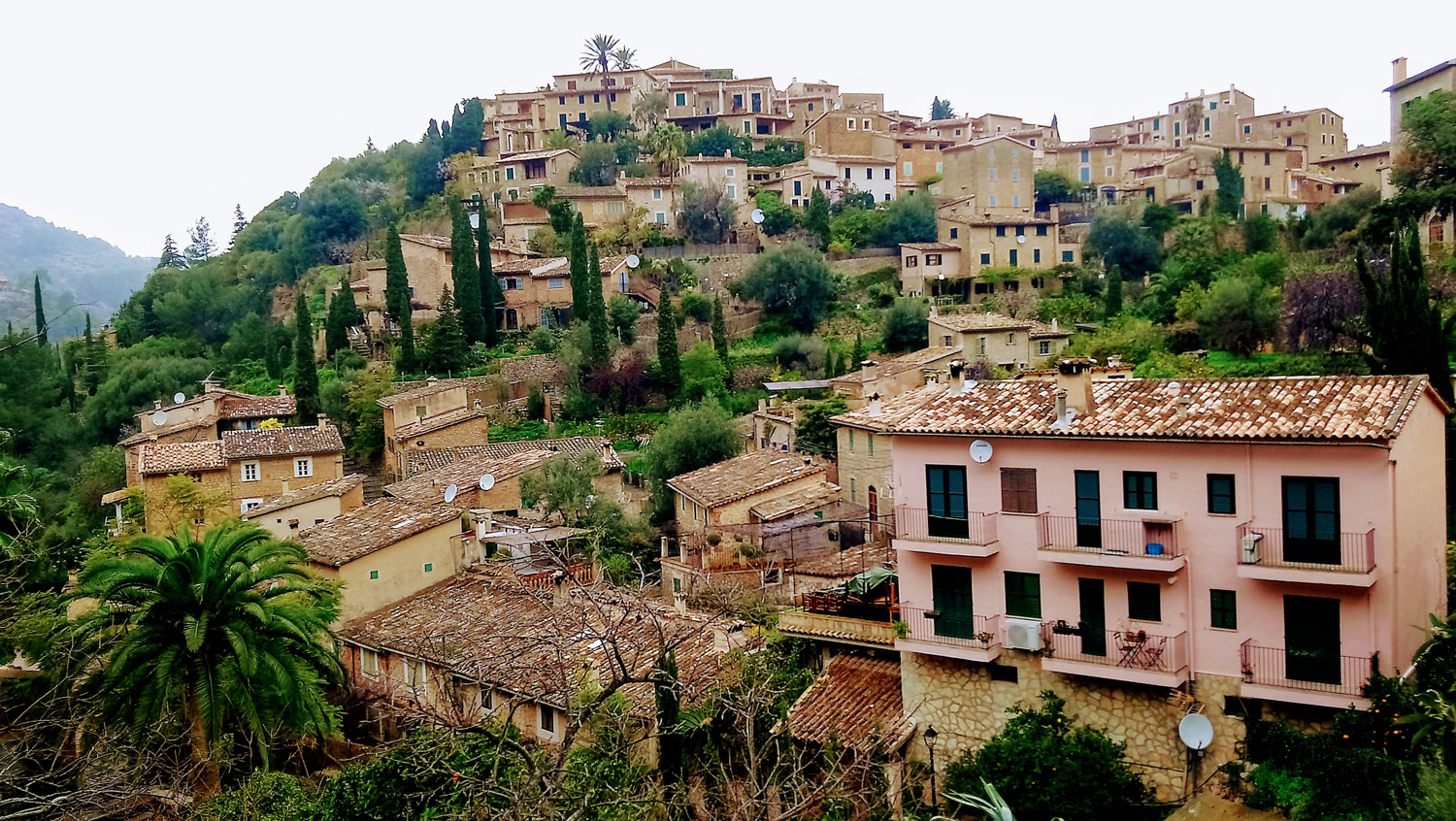 Port de Soller
A very nice port, located among the surrounding mountains. Lots of bars and restaurants with delicious seafood. A great place to sit and relax over coffee.
Parking, GPS: 39 ° 47'44.2 ″ N 2 ° 41'55.1 ″ E or 39.795621, 2.698635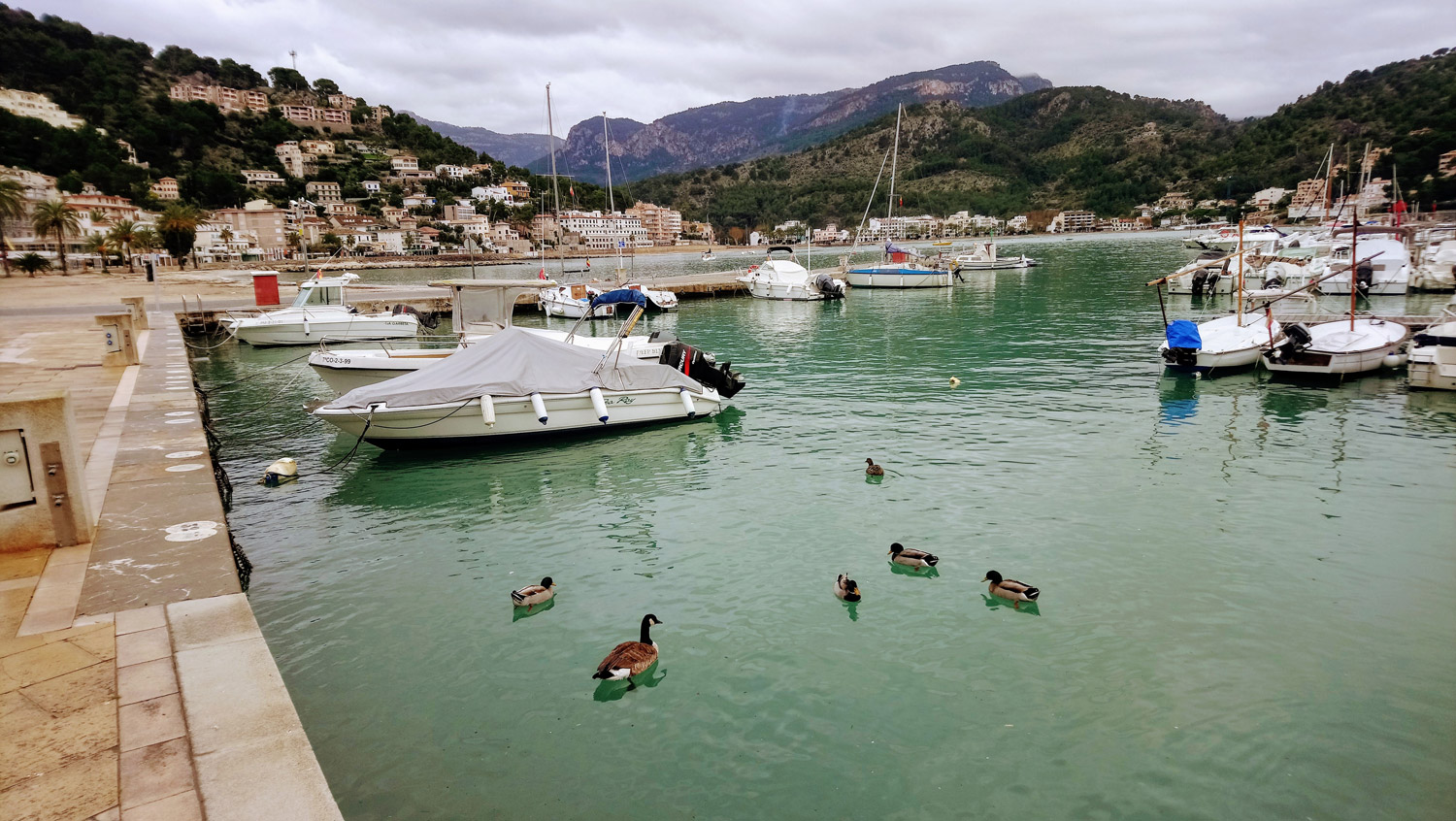 Soler is often called the Orange Valley. The city is surrounded by orange groves, and in the city itself orange trees can be found everywhere.
Parking, GPS: 39 ° 46'06.3 ″ N 2 ° 42'53.2 ″ E or 39.768412, 2.714774
Market (Placa de sa Constitucio) with parking 300m on foot, GPS: 39 ° 45'58.9 ″ N 2 ° 42'54.9 ″ E or 39.766355, 2.715235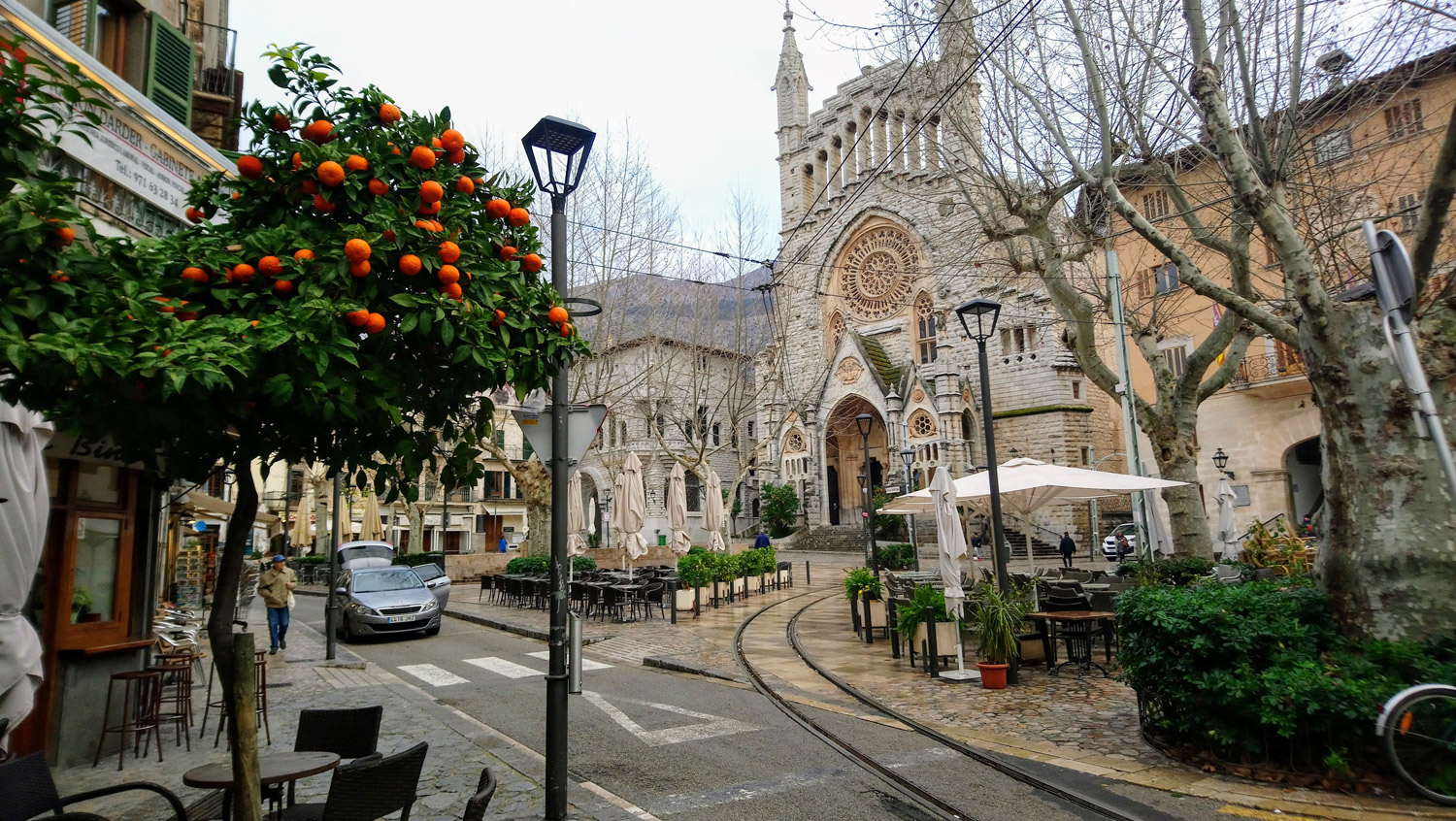 2 trip - North and North-East Majorca, Serra de Tramuntana range, Cape Formentor
Location of the trip route on the island map: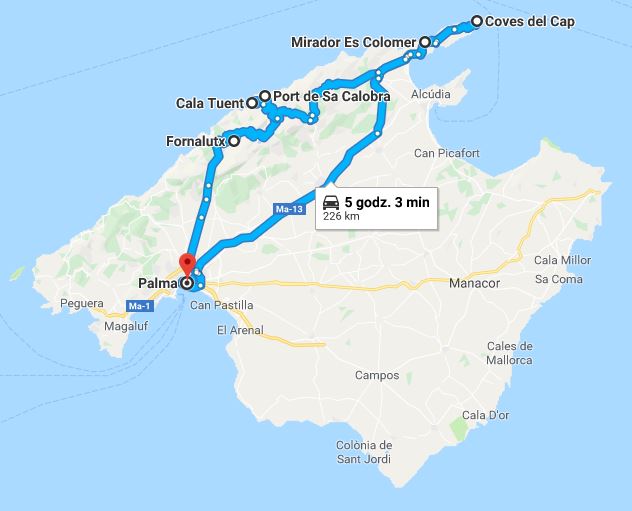 Detailed route of the trip:
All the attractions listed below are arranged in order of visiting them on the tour route. If for some reason you do not want or cannot visit one of them, just go to the next one.
This small village is an almost full-time winner of beauty contests for villages and towns. This is one of the best preserved and most beautiful villages in Spain.
Parking, GPS: 39 ° 46'52.5 ″ N 2 ° 44'25.6 ″ E or 39.781241, 2.740456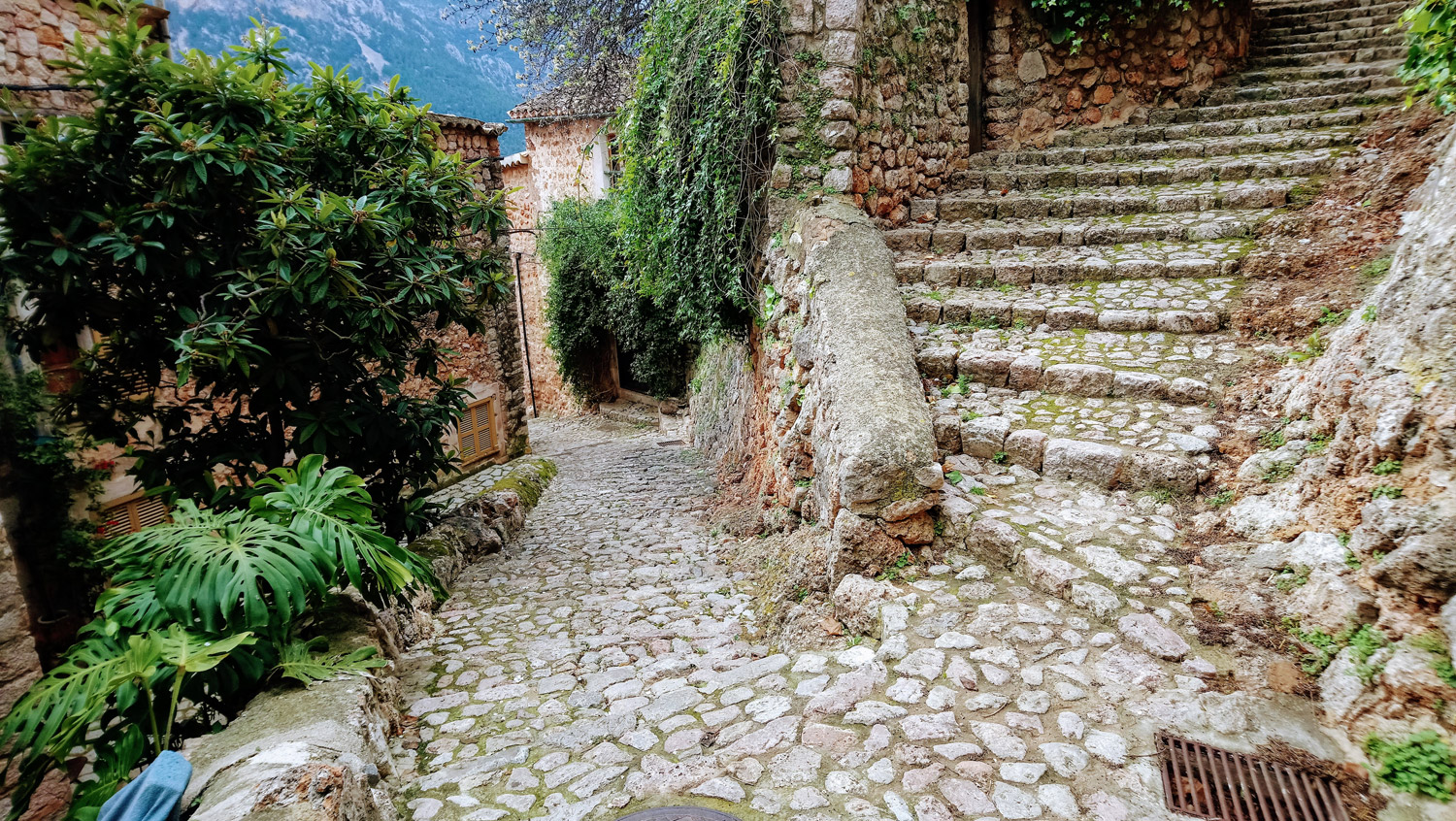 One of the craziest, spectacular, yet public roads in the world. This is 13 km of unforgettable driving and experience for the driver and passengers. Wonder!
300 bend (Nudo de la Corbata, i.e. tie node), parking: 39 ° 49'55.5 ″ N 2 ° 48'57.6 ″ E or 39.832087, 2.816003
Isthmus in the rock - parking lot, GPS: 39 ° 50'42.8 ″ N 2 ° 47'58.6 ″ E or 39.845234, 2.799604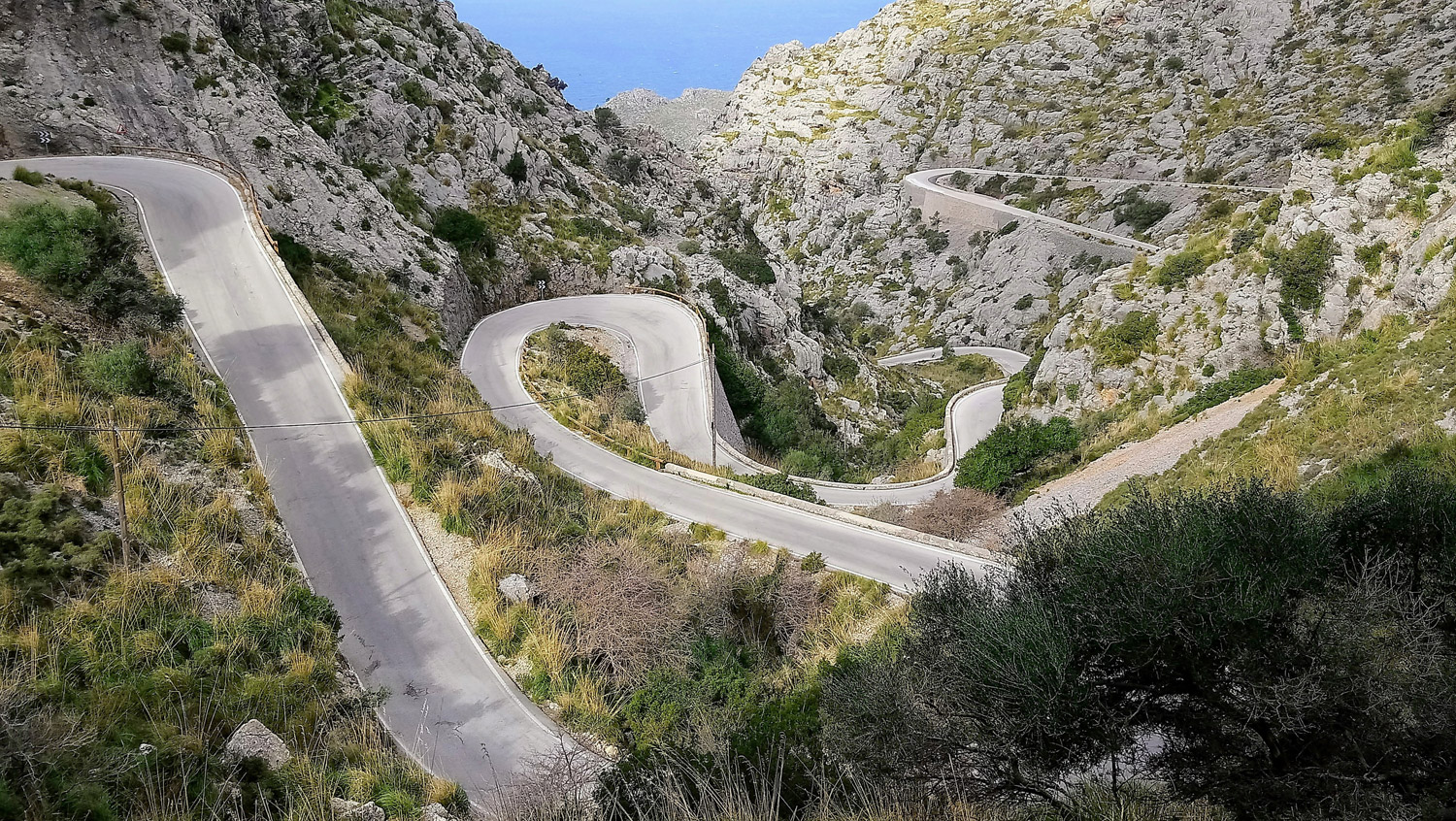 A small village with a small, quiet and fabulously beautiful beach. After crossing the road MA-2141 is a balm for the troubled nerves of the driver and passenger. A unique and definitely underestimated place. A fantastic point to relax and have a meal that you have to bring with you because there are no shops here.
Parking, GPS: 39 ° 50'27.0 ″ N 2 ° 46'35.8 ″ E or 39.840834, 2.776601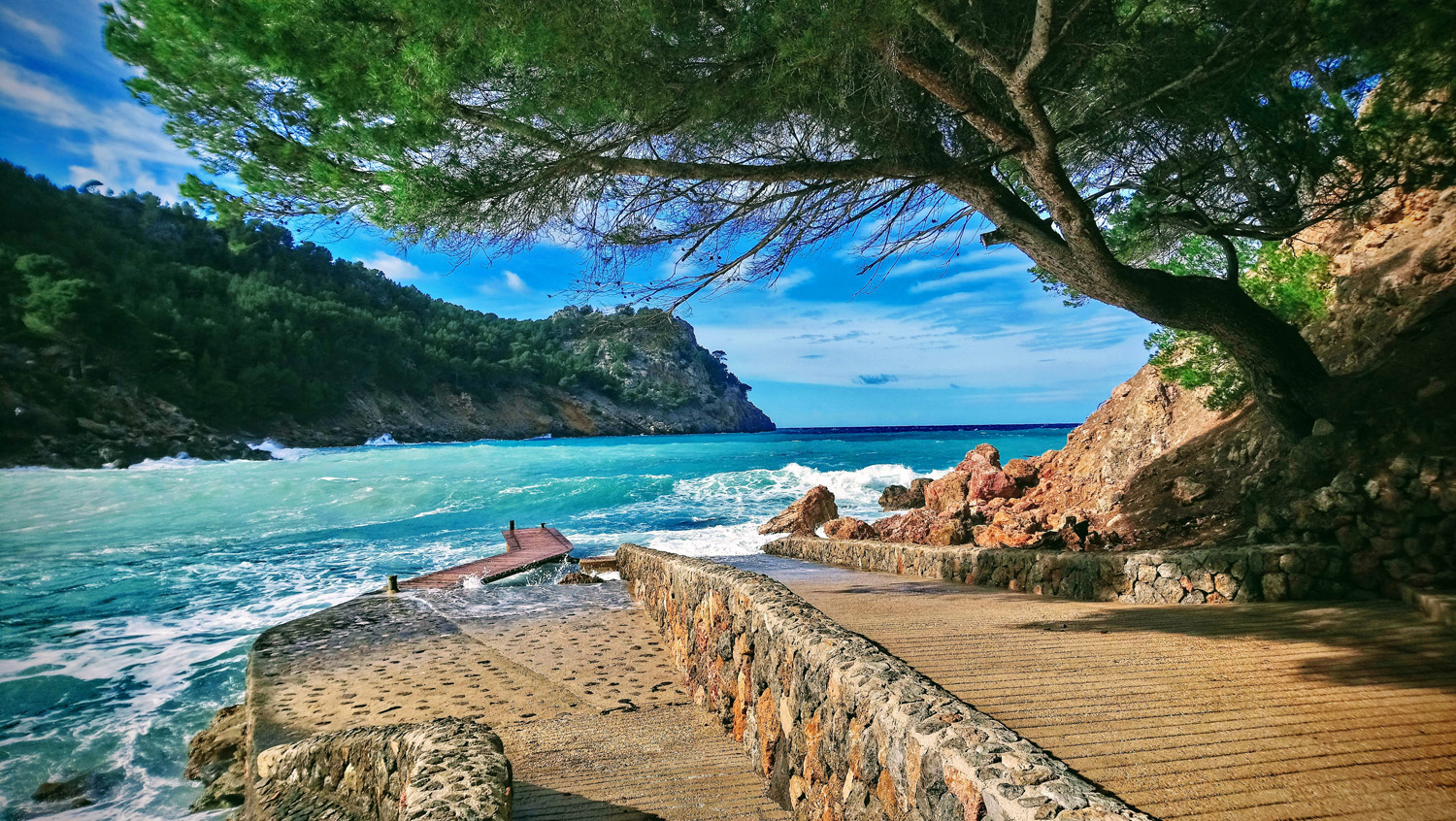 The bay, with water of an extremely intense, sapphire color, hidden among the steep, impressive slopes of the mountains.
Parking, GPS: 39 ° 50'51.8 ″ N 2 ° 47'54.5 ″ E or 39.847722, 2.798464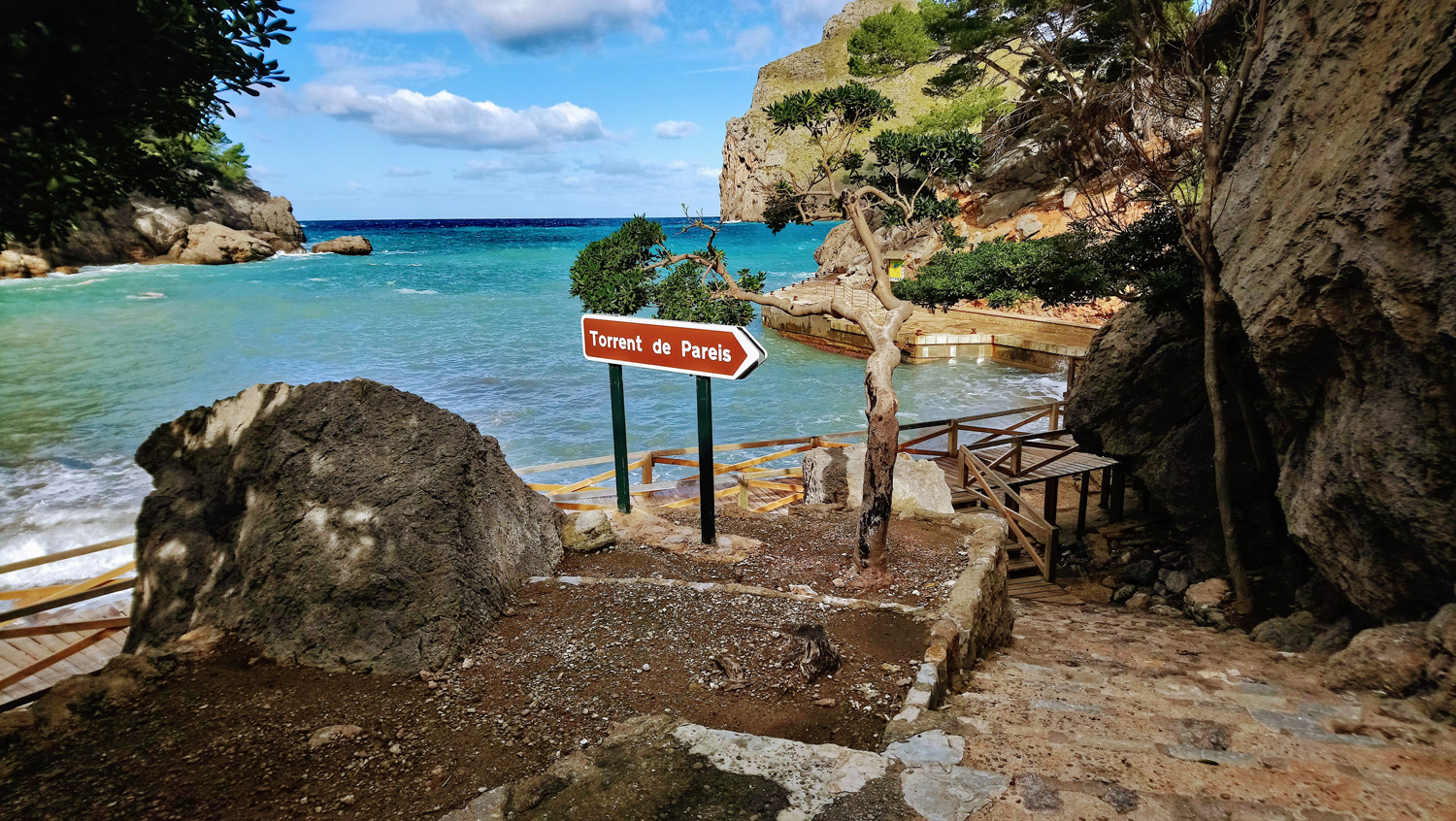 Torrent de Pareis
The largest gorge in Majorca with a huge, rocky gate to the sea. There is a beach at the mouth of the gorge. Be careful because of the often huge and dangerous waves crashing against the walls of the entrance gate to the ravine. You reach the gorge from Port de Sa Calobra, walking along the promenade (to the right) a few hundred meters along shops and restaurants, and then through tunnels carved in the rock.
Gorge mouth (access on foot): 39 ° 51'05.4 ″ N 2 ° 48'24.1 ″ E or 39.851509, 2.806705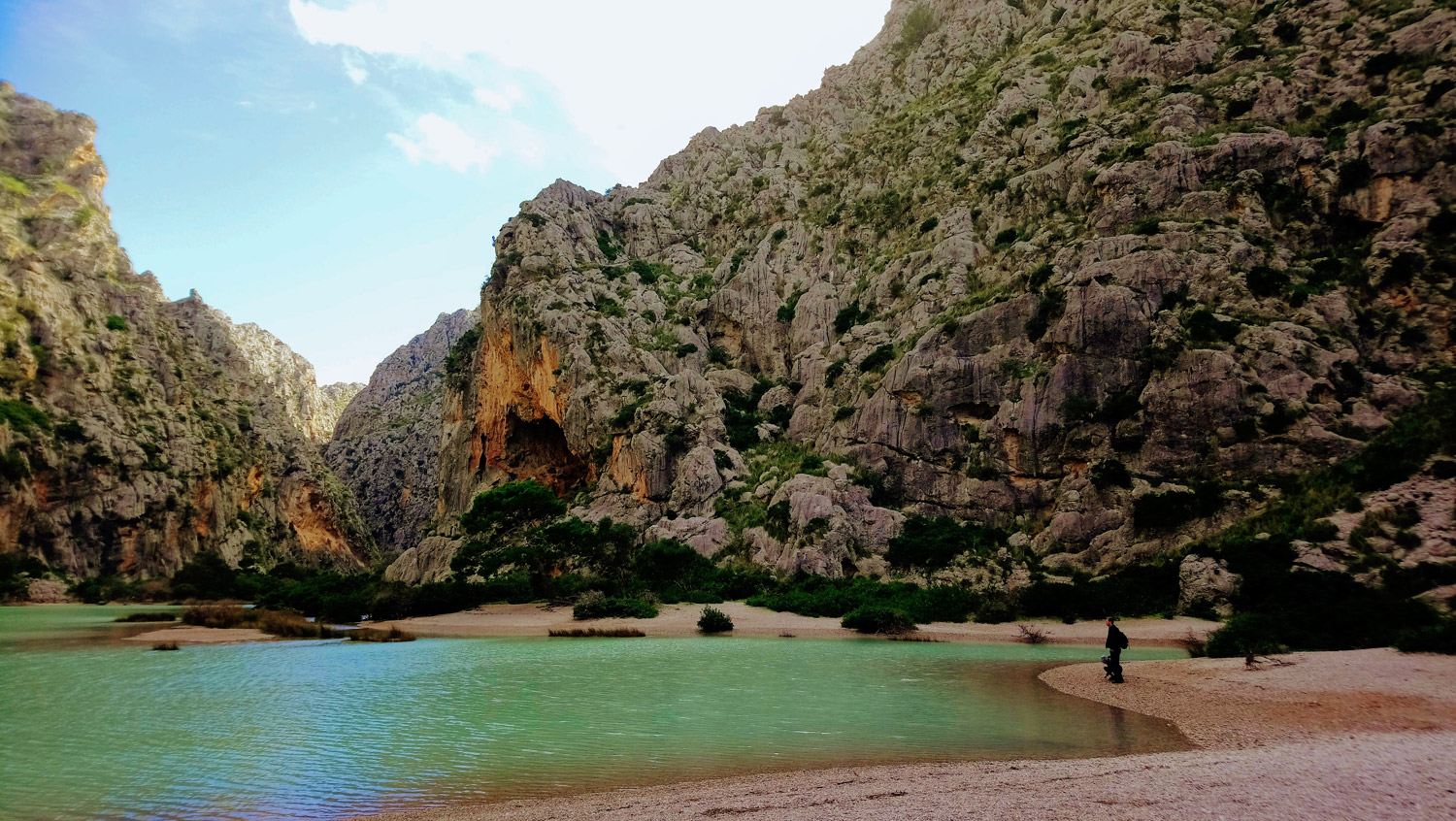 A huge vantage point several hundred meters long, with a huge number of unique vantage points. Located on a long ridge of rock more than 200 meter high. Fantastic views. Watch out for people with fear of heights!
Parking, GPS: 39 ° 55'44.3 ″ N 3 ° 06'38.1 ″ E or 39.928971, 3.110590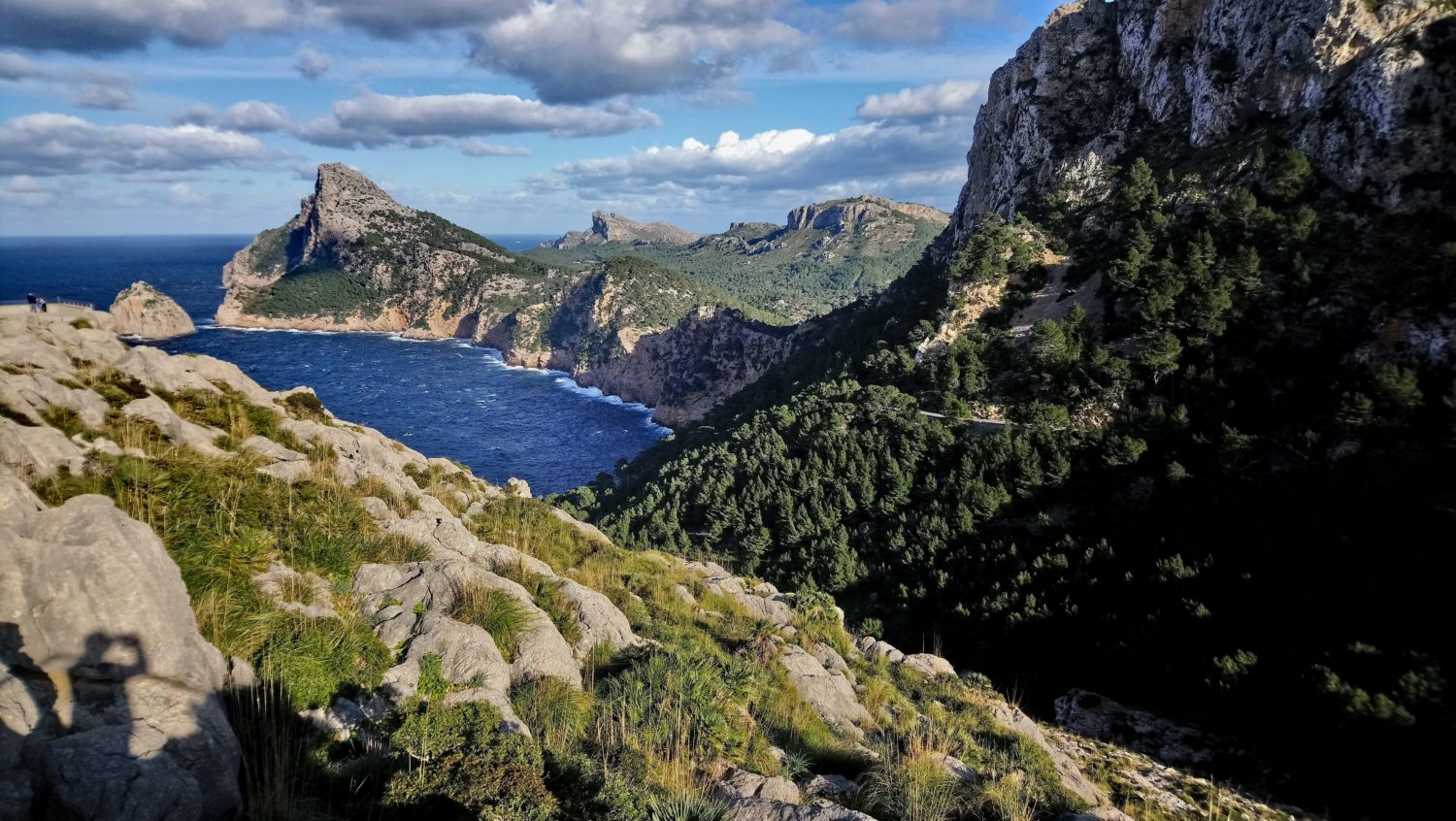 Lighthouse at the end of the Formentor peninsula. Picturesque access road. The views from the terrace under the lighthouse are best observed just before or in the setting sun.
Parking, GPS: 39 ° 57'40.8 ″ N 3 ° 12'43.2 ″ E or 39.961326, 3.211989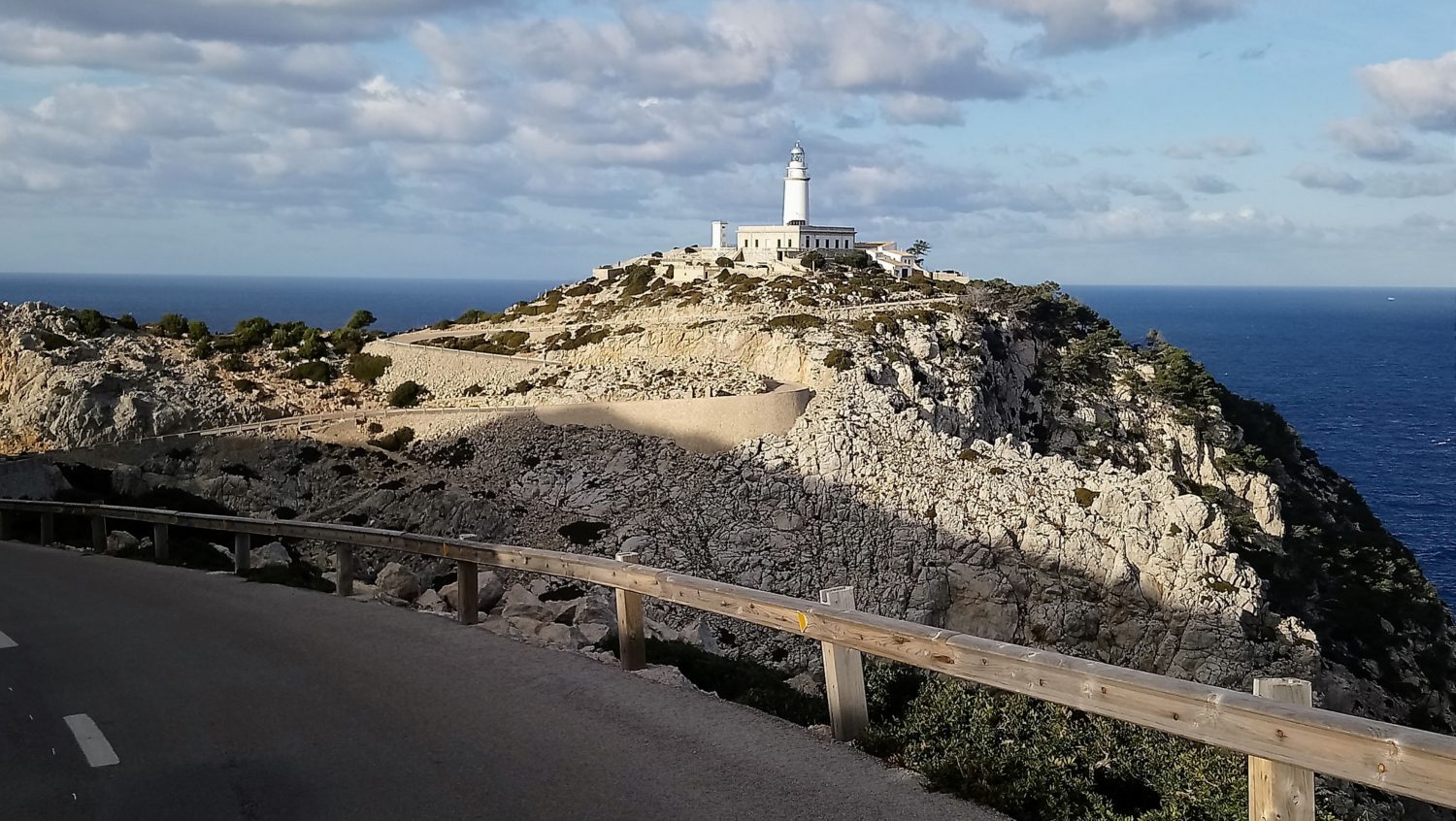 3 trip - eastern Majorca, Drach Caves
Location of the trip route on the island map: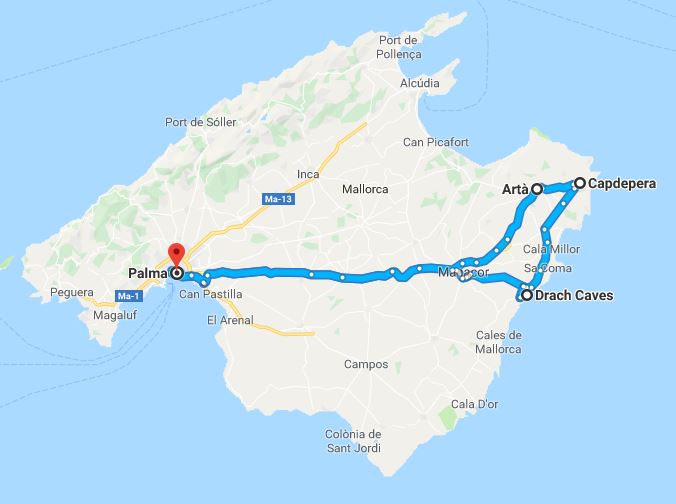 Drach Caves
Huge caves (consist of 4 connected caves and one of the world's largest underground lakes). Magical rock formations, especially highlighted to emphasize fantastic shapes, make a great impression.
Parking, GPS: 39 ° 32'09.0 ″ N 3 ° 19'51.0 ″ E or 39.535843, 3.330819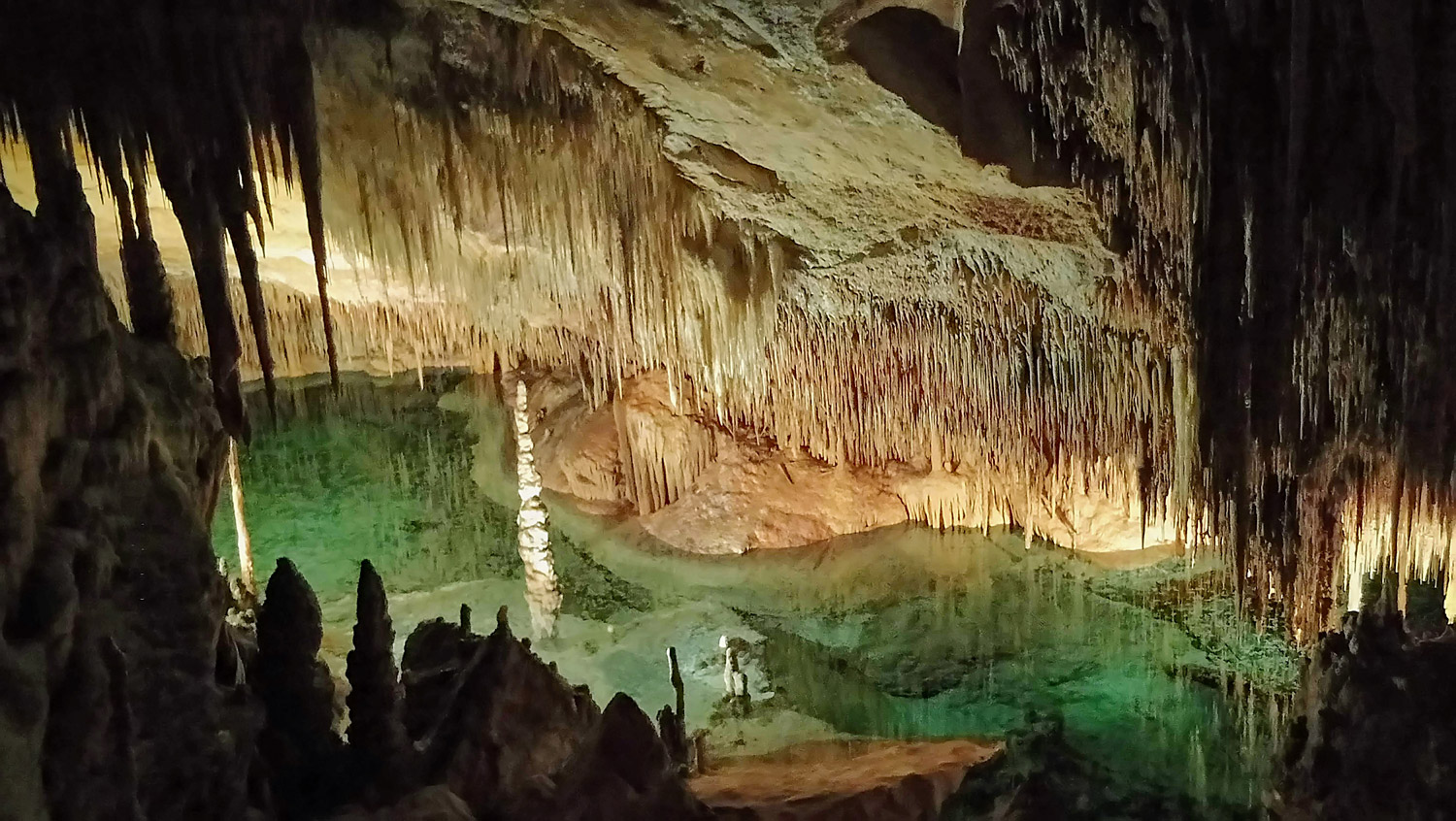 Capdepera
A fortified city with a picturesque castle. The highest point in the area is the terrace at the Chapel of Capilla de Nuestra Senora de la Esperanza. From the terrace you can admire the panorama of the coast and Minorca.
Parking, GPS: 39 ° 42'05.0 ″ N 3 ° 26'02.4 ″ E or 39.701385, 3.434008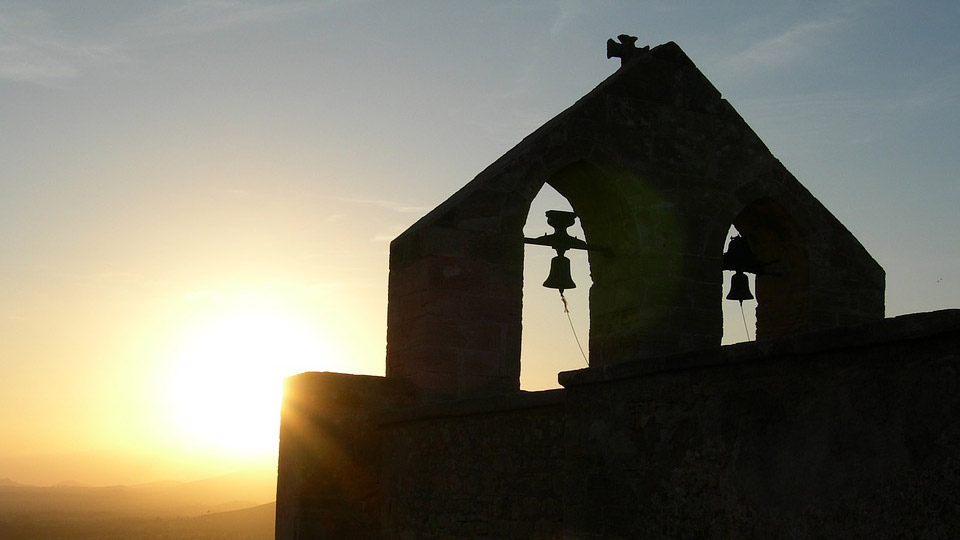 Arta
Medieval fortress and sanctuary (Santuari de Sant Salvador) with fortified walls that you can walk on. The walls offer views of the surrounding hills and the city.
Parking, GPS: 39 ° 41'46.8 ″ N 3 ° 21'10.6 ″ E or 39.696319, 3.352932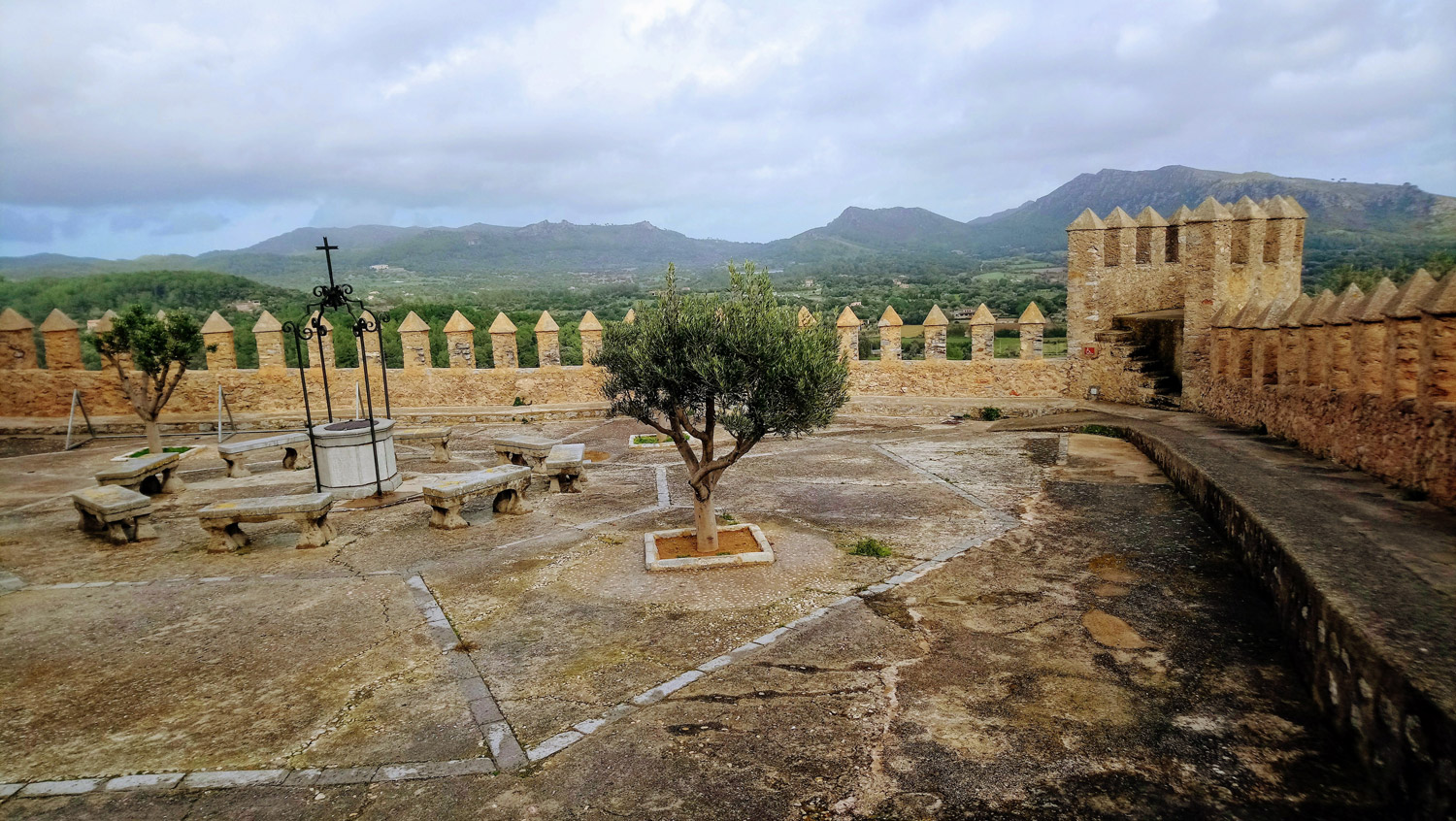 4 trip - Palma de Mallorca
In the case of Palma de Mallorca, it is possible to explore the city with a special hop-on hop-off bus. The bus runs every 20 - 25 minutes in a circle along a route that passes all the major attractions in the city. It stops near them and you can get on and off as many times as you want, while visiting attractions located nearby.
The route currently includes 18 stops:
1. Antoni Maura
2. Mercaca Square
3. Ramblas
4. Plaza de España
5. Avenida Alexandre Rosselló
6. Porta des Camp
7. Paseo Maritimo - El Molino
8. Spanish village
9. Bellver Castle
10. Plaza Gomila
11. Valparaiso
12. Miró Foundation
12-B. Marivent
13. Porto Pi (shopping center)
14. Estación Marítima (port)
14-B. Avenida de Gabriel Roca
15. Auditorium
16. Es Baluard
17. Jaime III
18. Muelle Comercia
You can buy a bus ticket for a specific day earlier via the Internet: Palma de Mallorca: Hop-On Hop-Off Bus Tour [Click]. The ticket is valid for 24 hours.
Museum with a gallery of paintings and sculptures by Joan Miro. The studio was designed especially for him and the house where the artist worked and lived until his death. Everything in one place.
Parking, GPS: 39 ° 33'18.9 ″ N 2 ° 36'37.0 ″ E or 39.555241, 2.610271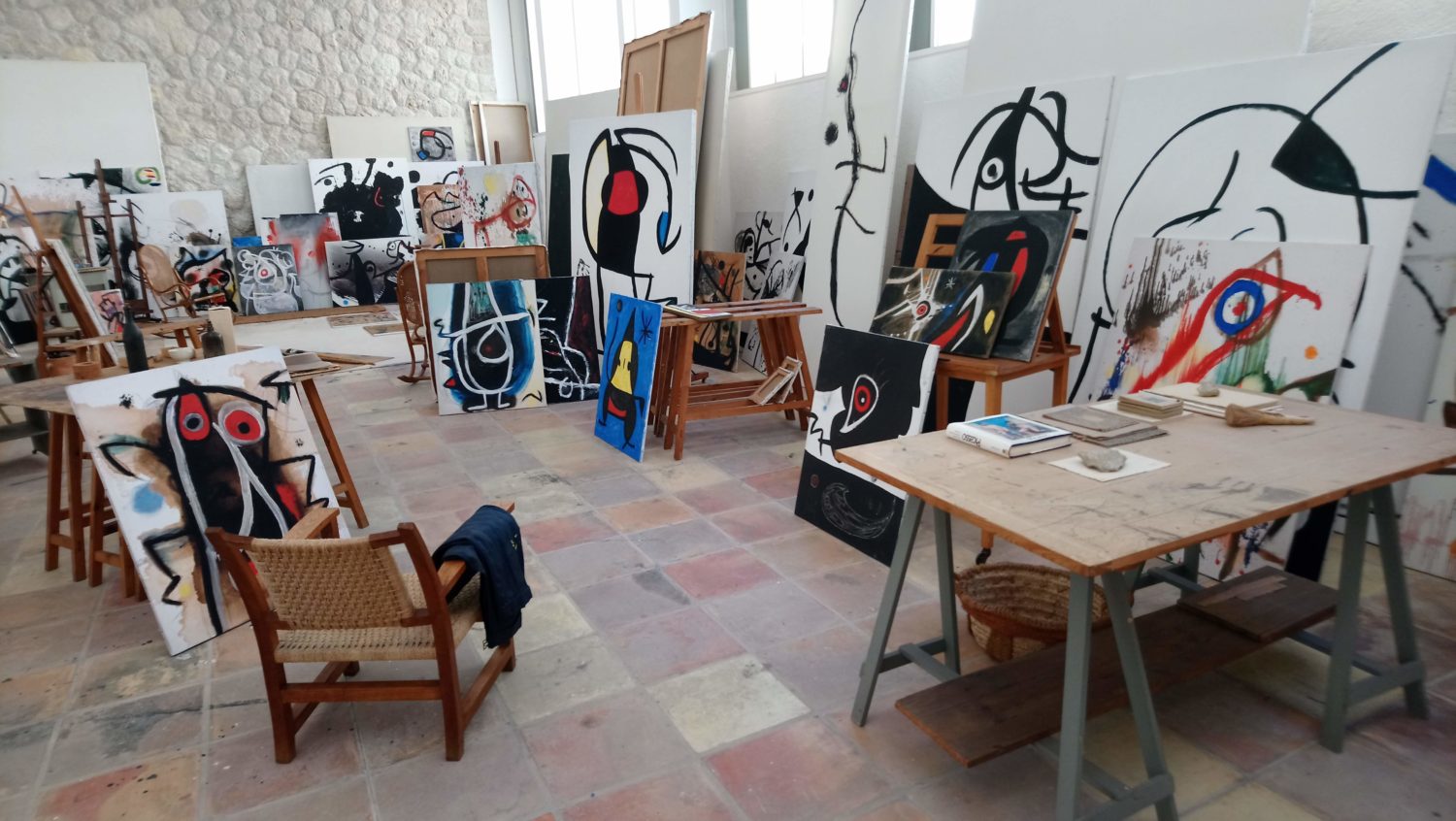 Former residence and royal fortress of round shape unique in Spain. Built almost 700 years ago, it is in great condition today. For many centuries used as a prison.
Parking, GPS: 39 ° 33'46.4 ″ N 2 ° 37'11.3 ″ E or 39.562886, 2.619801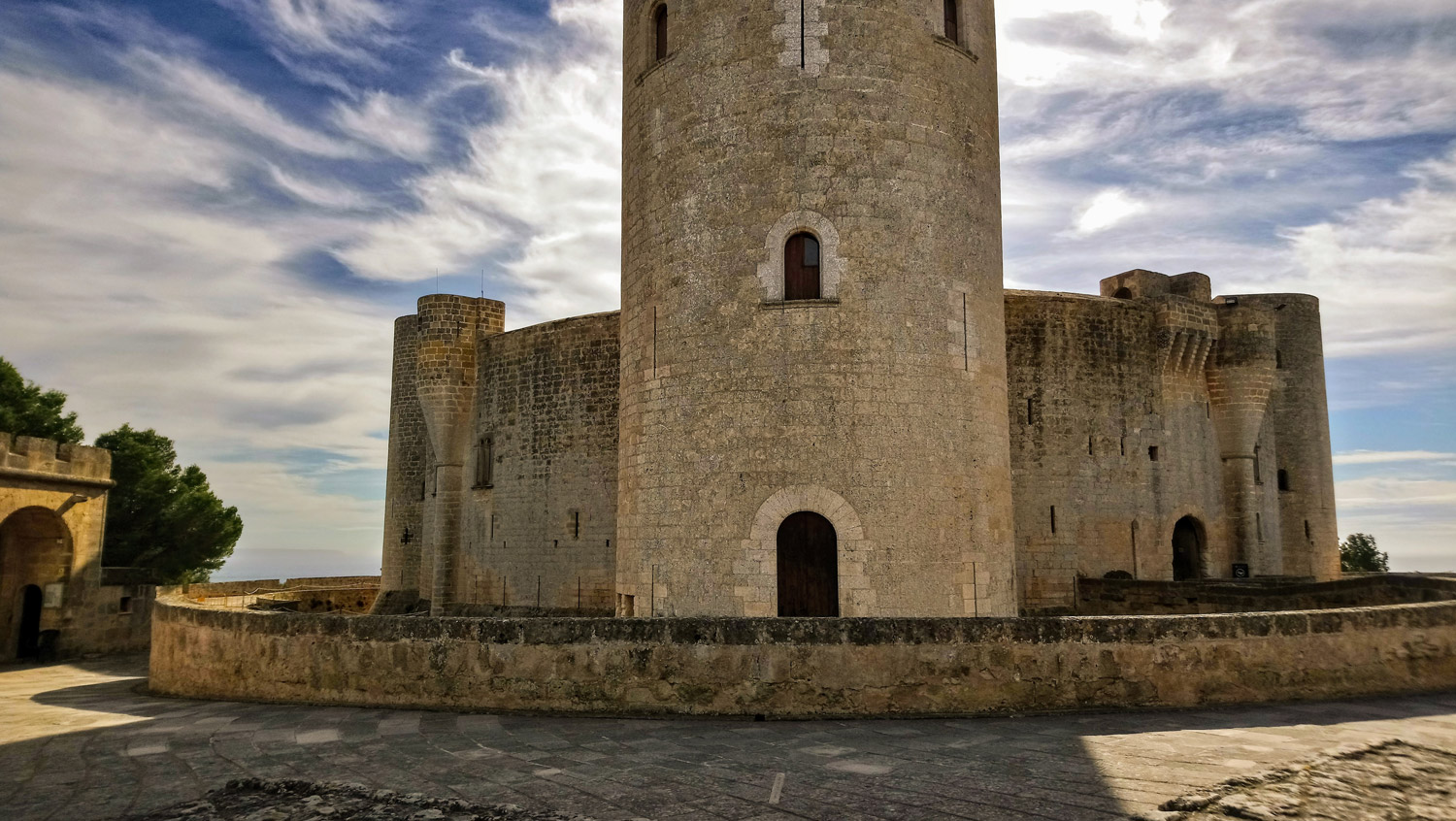 Catedral de Mallorca
A huge, gothic cathedral, classified as one of the most magnificent churches, thanks to the unique stained glass rosettes that create a unique atmosphere inside the cathedral. Twice a year, during important Catholic holidays (February 2 - Candlemas Mother of God and October 11 - Saint Martin), the sun's rays that fall through the stained glass window of one of the side aisles create an apparent image of another under the main rosette.
Underground parking at the cathedral, GPS: 39 ° 33'55.2 ″ N 2 ° 38'51.8 ″ E or 39.565334, 2.647732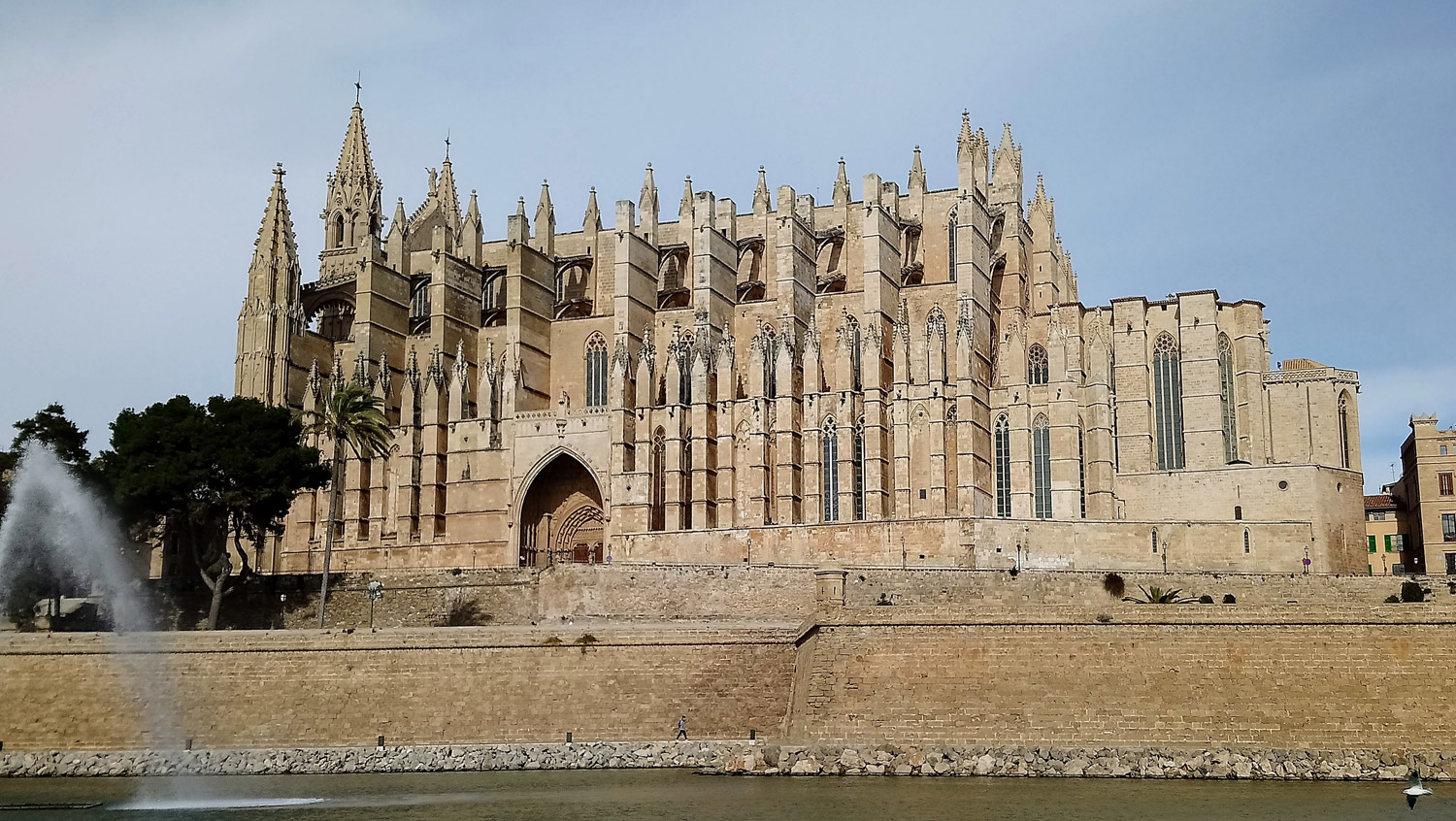 Plaza Mayor
The main square (along with the surrounding buildings) is the most important landmark of the capital of Majorca. Earlier, the old convent of San Felipe Neri operated here, and later the famous Spanish Inquisition until 1823. For centuries it was the center of urban life. Currently there are numerous cafes and restaurants, and in the basement under the square a shopping arcade. It's best to go to the square on foot, leaving your car in the parking lot near Catedral de Mallorca (GPS bearing above).
Square location, GPS: 39 ° 34'17.0 ″ N 2 ° 39'06.3 ″ E or 39.571391, 2.651760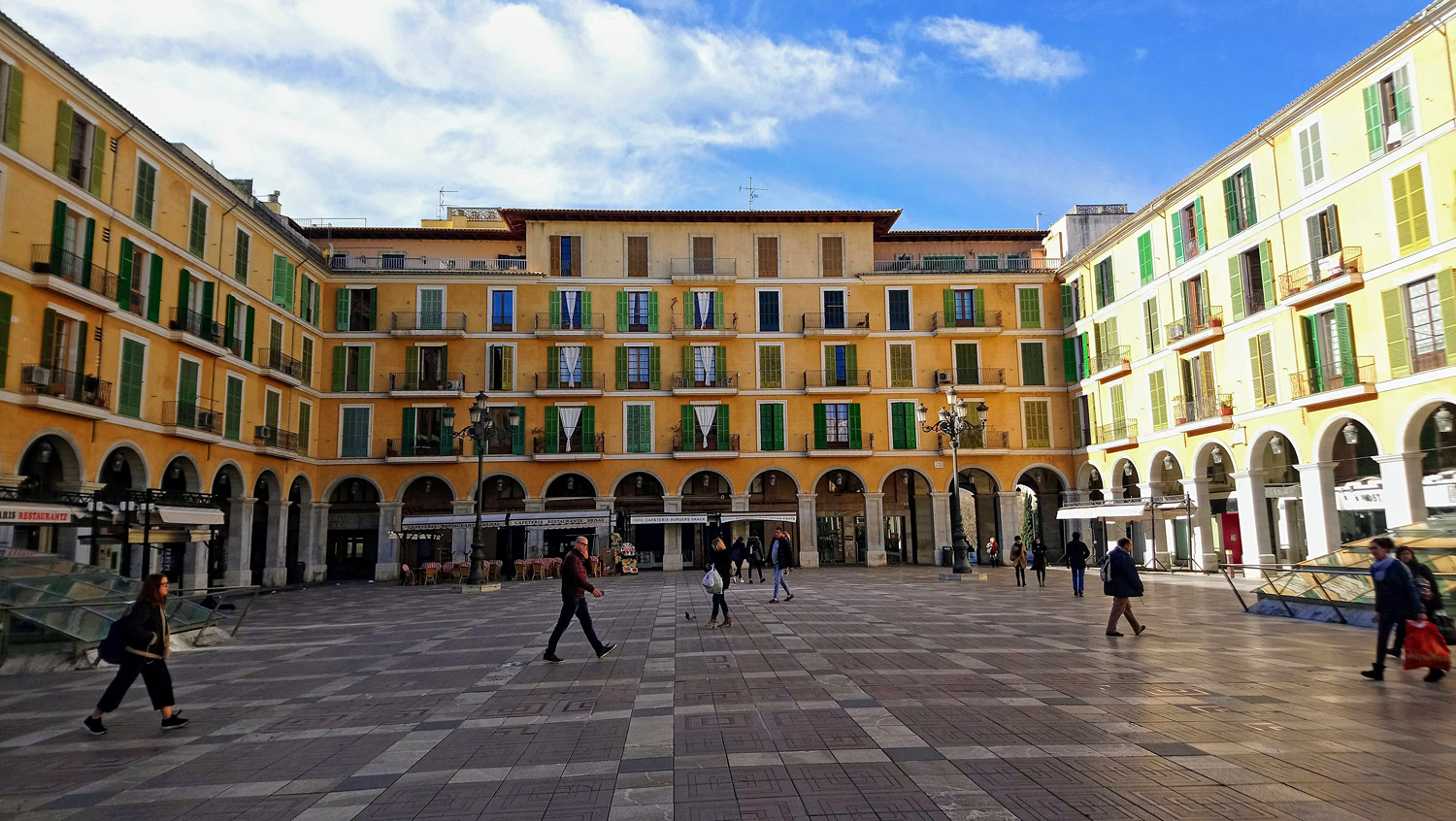 Winter or summer? When to visit Majorca?
If you care about sightseeing comfort, without a huge crowd, queues for everything and everywhere. If you do not like crowded coaches and cars narrow mountain roads. If the lack of parking spaces and the inability to stop at the viewing point is annoying (because the parking lot can no longer be stuck). If the prices of hotels, car rentals and other services are more than twice as high, go to Majorca in the winter.
Winter is the best time to visit the island in a pleasant and cheap way. The temperature in Palma de Mallorca is maintained at 12-18 degrees. To explore perfectly. In the mountains, the temperature sometimes drops to + 5 degrees, but there we usually move by car and spend time admiring the views from the viewpoints. After several minutes we are in the car again and it is warm again.
Detailed long-term weather forecasts and information on the island's climate throughout the year can be found in a separate entry: Weather - Majorca: air and water temperature, climate, vacation weather, when on vacation? Long-term weather forecast.
A four-star hotel in winter for two people costs about PLN 1000 per week (i.e. PLN 500 per person). At this price, we were able to book a hotel with a rich breakfast. The same hotel in the summer season costs over PLN 3000, for 2 persons, per week.
Renting a car in winter with full insurance costs 17-19 EUR / day. The same car in July in the same option with insurance is 34 EUR / day.
Car parks in winter are mostly empty and free. Tourist traffic on them is so small that it is not profitable to employ a man to collect payments. In summer, parking in many places is a few EUR for parking.
The situation is similar with the prices of airline tickets. In winter, a return trip costs around EUR 30 per person. In summer, this price is unreachable. There are many examples.
How to get to Majorca?
Majorca is a favorite destination for tourists from Nieniec. Even out of season, there are several daily flights this day in the winter. For this reason, prices from flights from German airports are so far unrivaled. Ticket prices from Polish airports will most often be much higher. Perhaps this relationship will change over time, but for now the price relationships are just that. So if you have the option of flying from one of the German airports, this will be the cheapest option.
Cheap flights search engine, which I use myself and some nice tips thanks to which you can really catch the lowest prices of air tickets in the entry: How to search for cheap flights and cheap flights? [GUIDE].
If you do not have a rental car on arrival from Majorca from the first day, you can get to Palma de Mallorca and the other way to Arenal by bus. The airport is only 8 km from the city center, and Arenal is a bit further away. Bus 1 goes to Palma de Mallorca and bus 21 to Arenal. Buses run every 15-20 minutes and cost the same regardless of direction: 5 EUR.
Car rent
I would definitely recommend local rentals. They are significantly cheaper than popular chain stores, for the price they offer insurance in the form of All Inclusive (i.e. you do not take any risk in the event of damage to the car, unless you were drunk). In addition, they do not block any credit card deposits.
I checked the rental personally WIBER - [click]on which you will find a lot of positive opinions on Polish forums. You will find the same rental in the car rental price comparison site www.rentalcars.pl - [click], and by the way you compare it with other offers, maybe at a given moment another offer will come out cheaper. It doesn't hurt to check and compare, the more so Rentalcars this is probably the largest car rental comparison website in the world at the moment.
The car park from which the rented car is picked up is located approximately 4 km from the airport. Every 15 minutes between the airport and the car park there is a free shuttle bus with a logo WIBER, driving customers rental services both ways. So there are no problems with the pickup of the car, and with reaching the airport after returning the car.
All the details about renting a car were described in: Car rental without credit card and deposit - Spain, Mallorca - [click]
Hotel location and meals
When choosing a hotel location, a lot depends on your preferences. However, if something can be advised, then in the summer the farther from Palma da Mallorca the smaller the crowds, of course. In winter, however, even in Palma de Mallorca it is rather calm.
A winter apartment outside Palma de Mallorca can be a bit embarrassing. Most of the restaurants off the beaten track are simply closed during the off-season. Therefore, there may be a problem with access to food. In Palma and its surroundings, regardless of the season, the choice of restaurants is large. Due to the popularity of this direction in Germany, a large part of the restaurant is German-speaking and serves typical German dishes that are very similar to a typical Polish dinner (meat, potatoes or fries, and salad). Seafood lovers will feel like they are in Majorca. The seafood is perfect here. There are also restaurants with cuisine from other parts of the world.
Below I am placing a search engine for accommodation and hotels in Majorca, which contains the current price offers. The list is dynamically variable and updates each time you press the "Search". The default search result is usually not what we expected, so you will need to modify it a bit after it displays.
The way the search result is displayed should be set as described in the entry: Cheap hotels on Booking? Of course! Check how to find comfortable and cheap accommodation! Barcelona, ​​Rome, Paris ... wherever you want!, then you can find really good offers!
Cheap holidays in Majorca
Most often I choose the independent organization of the trip because I manage to do it cheaper, but it happened that somewhere a nice offer from the tourist office appeared, including e.g. flight, hotel and breakfast at a great price. Then of course I grab the opportunity and if it's cheaper I take such a package. The option with breakfast alone gives me the freedom to explore all day, exactly the same as organizing a trip myself. All that remains is to rent a car and leave ready.
Also, you may not want to organize everything yourself.
Of course, I do not have time to follow the offers of all travel agencies and it would be absurd, which is why I use comparisons of travel agency offers (lata.pl) - [click]. One click is enough to see if there is something interesting. Exactly one click on the link will only show you offers on Majorca (hotel + flight), arranged ascending from the lowest price: Mallorca - price comparison of travel agencies - [click].
The link generates a live summary, so clicking on it will always give the current result.
The sample offers from the list generated at the time of this writing looked interesting. 7 days in the hotel with breakfast and flight for about 1 PLN per person… tempting 🙂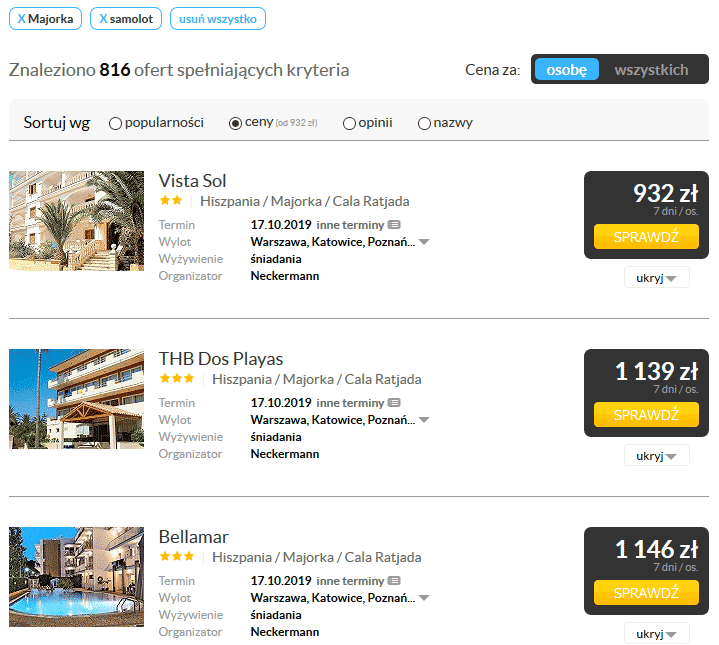 Recreation
In addition to all the above-mentioned attractions, it is worth recommending bike rentals in Palma de Mallorca and the surrounding area (closed in winter). The cost of renting a bike for 4 hours is EUR 5. Along the coast there is a bike path along the promenade, ideal for a relaxing trip.
Other attractions can be found on the list below. The statement is dynamic and changes, so at your next visit you may find other suggestions here:
After clicking the icon of any attraction you will receive more information about it, and a few additional suggestions for making your vacation more attractive.
So if you run out of ideas for further attractions, you will find help under one of these icons.
Important to me!
Give the article a good rating
(5 stars welcome 😀)!
It's free, a
for me it is very important!
The blog lives on visits and thus has a chance to develop.
Please do it
and ... thank you in advance!
I also post
link to Facebook profile - [click]
. Come in and press "
Follow
"then you will not miss new, inspiring posts.
Unless you prefer
Instagram
. I'm not a social media demon, but you can always count on something nice to look at on
my instagram profile - [click]
. The profile has just been created, so
for now he is starving
, due to the lack of followers. He is happy to receive any observer who feeds him with his love.
I make the content I create available free of charge with copyright, and the blog survives from advertising and affiliate cooperation. So, automatic ads will be displayed in the content of the articles, and some links are affiliate links. This has no effect on the final price of the service or product, but I may earn a commission for displaying ads or following certain links. I only recommend services and products that I find good and helpful. Since the beginning of the blog's existence, I have not published any sponsored article.
Some of the readers who found the information here very helpful, sometimes ask me how you can support the blog? I do not run fundraisers or support programs (type: patronite, zrzutka or "buy coffee"). The best way is to use links.
It costs you nothing, and support for the blog is self-generating.
Pozdrawiam