Soller - mountains, sea, oranges and ... cold lemonade
A city that smells of citrus
Do you need something more?
If so, not much (maybe a cold beer instead of lemonade from time to time). Soller has it all.
The city is located among the mountains (the central part of the Sierra Tramuntana), in the Velle de los Naranjos valley (which in translation means: the valley of oranges), surrounded by orange and lemon groves from everywhere. 6 km further on is the Port de Soller. Everything at your fingertips.
Oranges and lemons can be found everywhere in the city: on a piece of free land, square, greenery ... literally everywhere. Soller breathes the aroma of oranges and lemons.
The tradition of growing oranges here dates back to the 10th century. It was thanks to the cultivation of citrus that the city developed and enriched for centuries. Today, they are inhabited by about 14 thousands of people and have kept their intimate mood.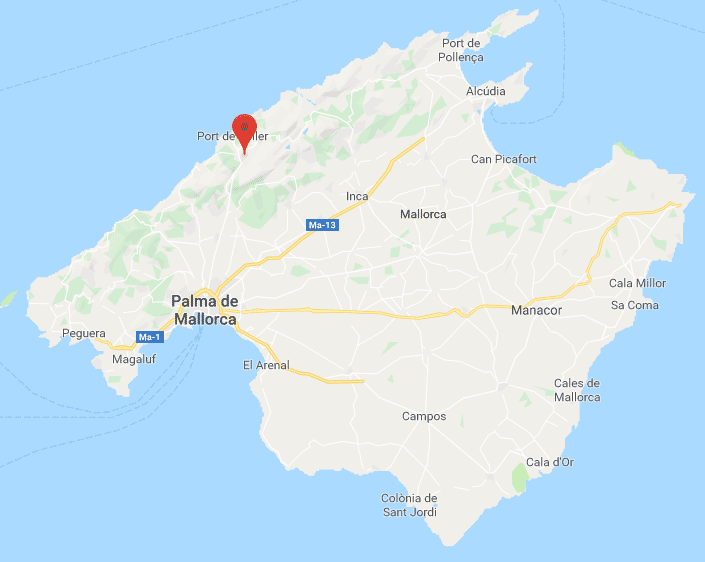 Rail from Palma de Mallorca to Soller and tram to Port de Soller
Palma de Mallorca is connected to Soller by rail. Once used mainly for transport, today it is a tourist attraction and transports mainly tourists. Wooden, stylized wagons create a climate from a different age, and picturesque landscapes scroll through the window. If you have all day time, you can go from Palma de Mallorca to Soler by this train (one way ticket 18 EUR, round trip 25 EUR), and then if you want, from the same station in Soller on the historic tram to Port de Soller ( one-way ticket 7 EUR). A perfect trip for families with children.
Pablo Picasso and Joan Miro
It is worth not to miss the tiny museum, which is located in the building of the train station in Soller. The museum exhibits works Pablo Picasso and Joana Miro. There are also commemorative photos documenting the meeting of these two outstanding artists in Majorca. Admission is free. I would definitely recommend.
Visiting Soller
The main point of the town is the constitution square (Plaça Constitució). A unique place, tightly surrounded by tenements, where there are shops and restaurants with gardens, through which ... a tram passes. Yes Yes! The tables in the garden by the restaurant were arranged so that the historic tram was practically between them. I was shocked and no one was surprised here. The tram rolls smoothly, dignified, slowly, lazy pace ... you can hear the joyful ringing. The guests at the tables greet tourists on the tram, and tourists from the tram look at the restaurant guests to the plate ... Beautiful! Simply beautiful! The banana smile did not leave my face for a long time. I honestly and strongly recommend.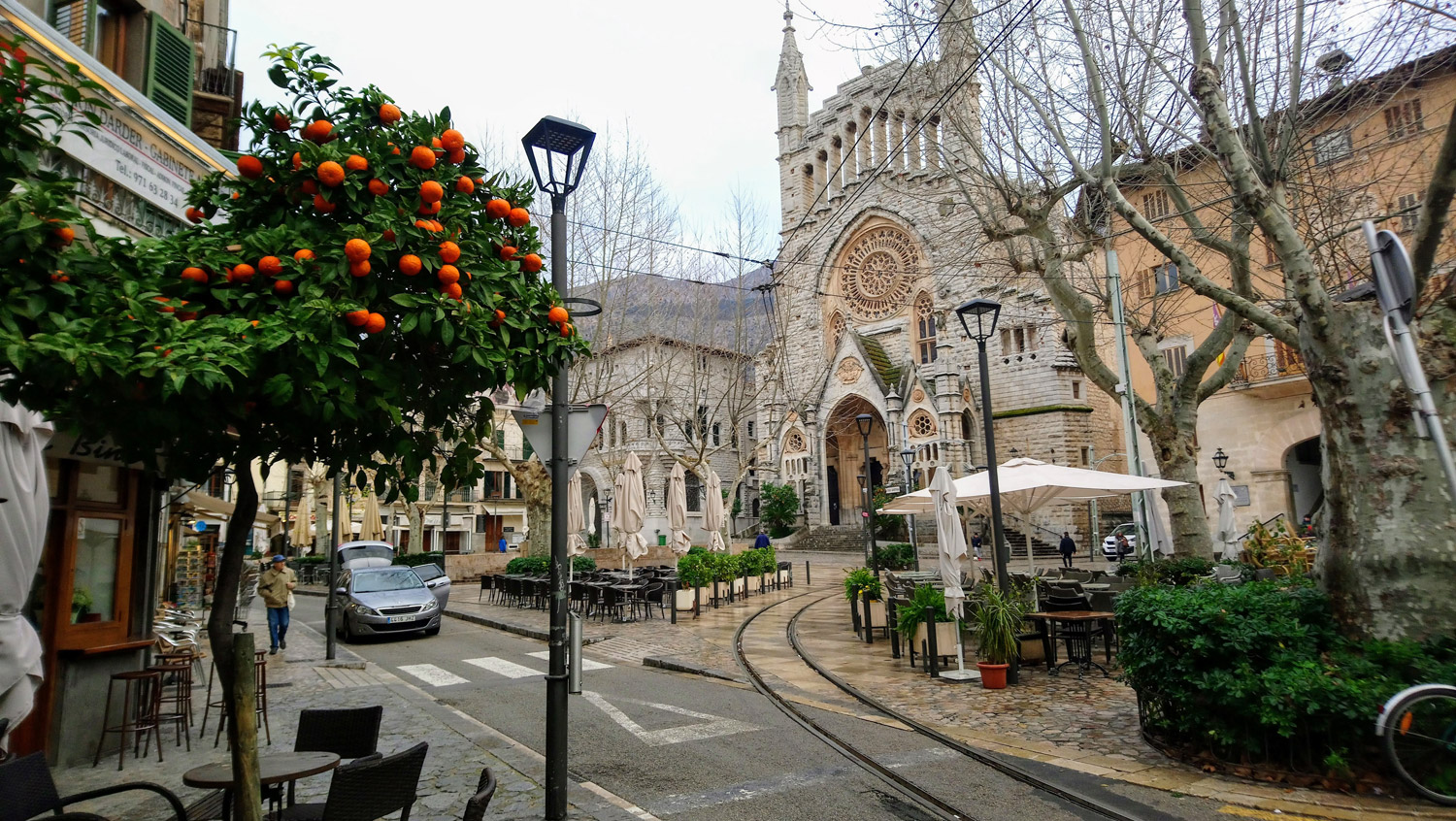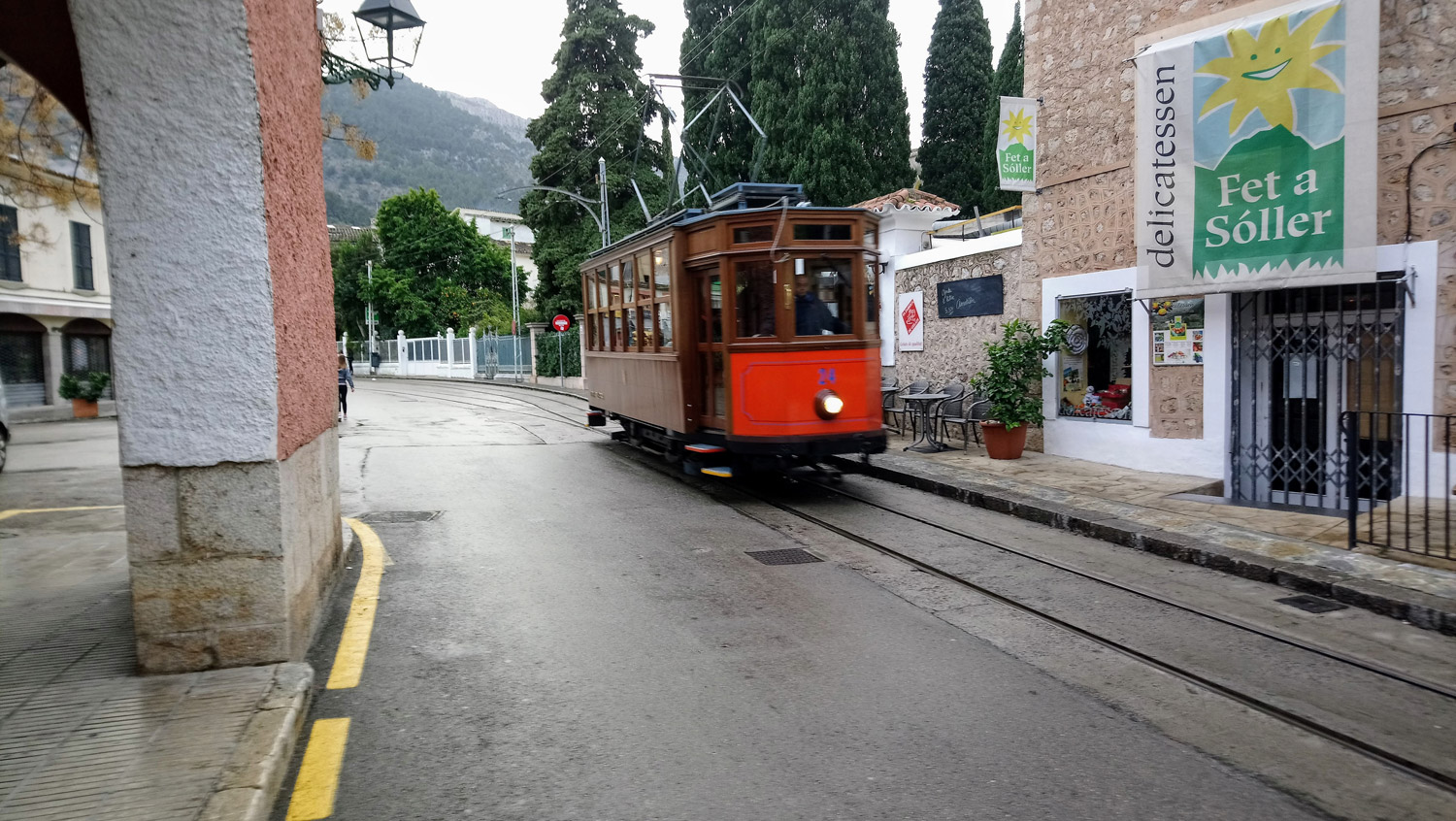 At Constitution Square there is also one of the most important and the most beautiful buildings in the city, the 13th-century church of Església de Sant Bartomeu. The rest of the square is filled with fountains and a bit of space to walk. Narrow streets depart from the square, which you should take a walk on.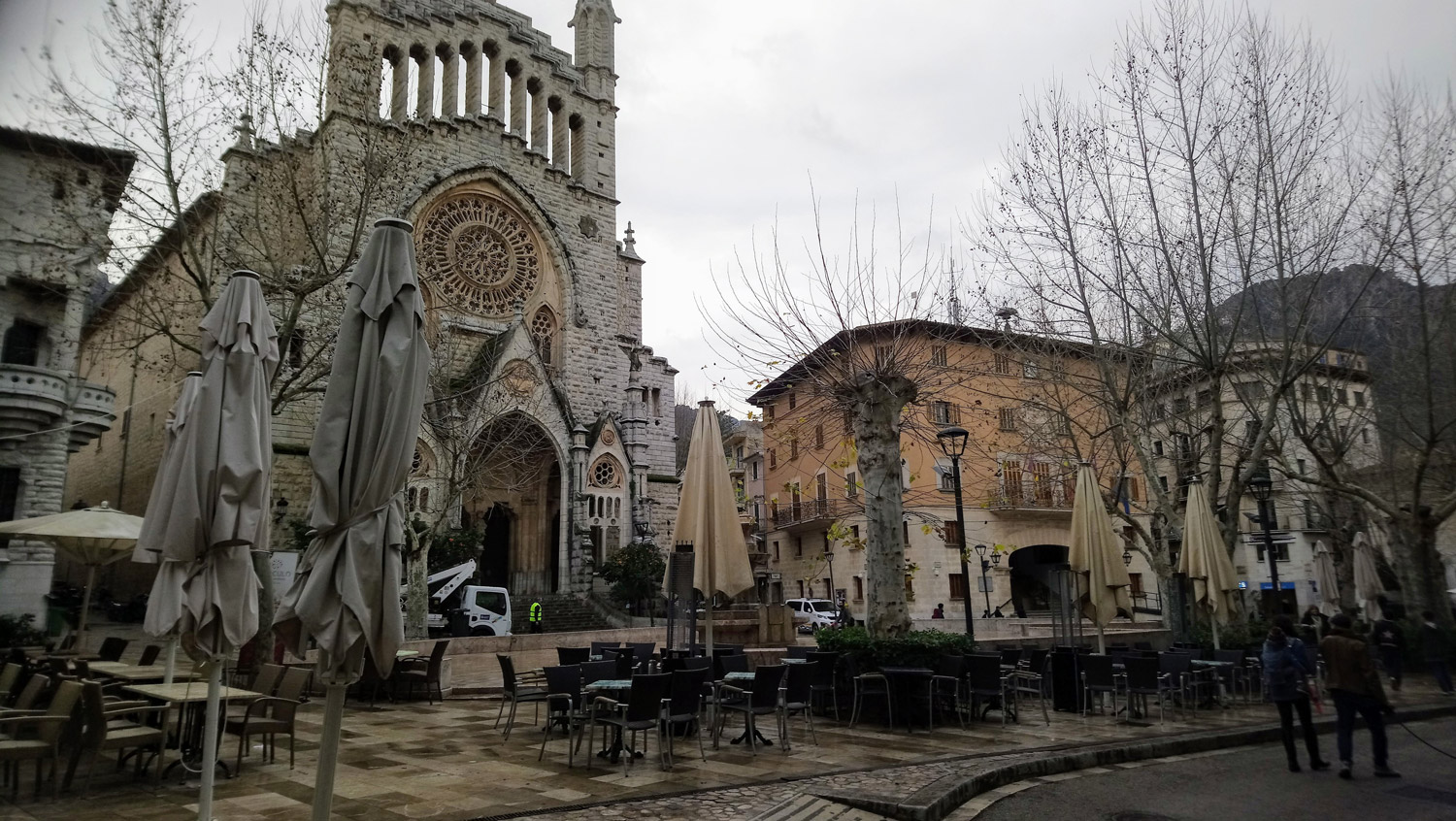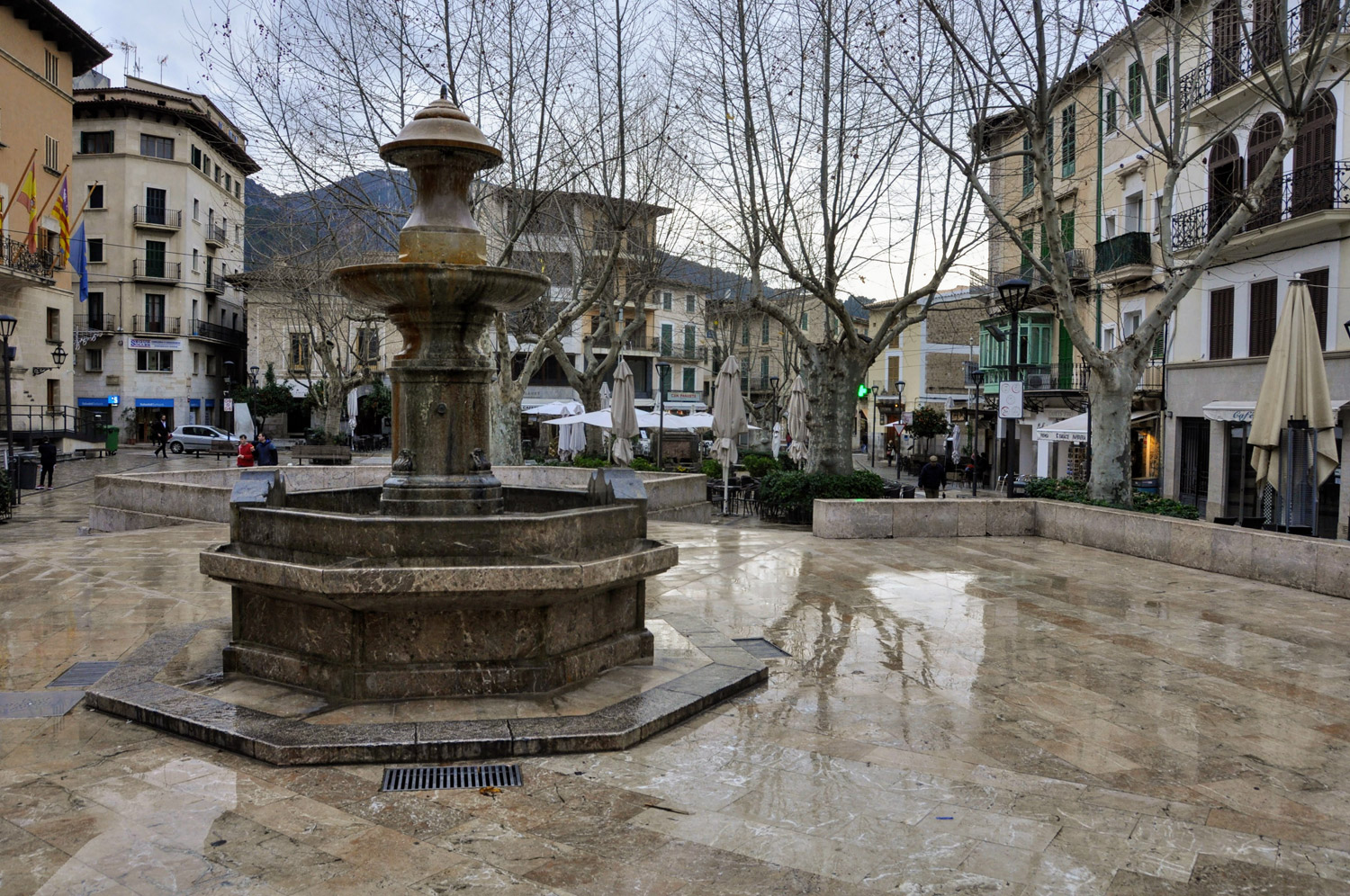 Soller by car
Unfortunately, there is very little parking space in Soller. In the entire trip to Majorca, the biggest parking problems were right here. We drove around the center two or three times before parking was found. I note that we visited Majorca in the winter, when there are very few tourists. In the summer it is better to settle down that you have to park a few steps further and go a bit on your feet.
Soller is one of the points developed by me Majorca trip planworth reading about: Majorca - attractions, sightseeing, car rental, practical information. Guide. - [click]
Useful GPS coordinates
Public parking, GPS:
39 ° 46'06.3 ″ N 2 ° 42'53.2 ″ E or 39.768412, 2.714774 - click and get directions
Market (Placa de sa Constitucio) with parking 300m on foot, GPS:
39 ° 45'58.9 ″ N 2 ° 42'54.9 ″ E or 39.766355, 2.715235 - click and set the route
Overnight in Soller
Overnight in Soller can be a good alternative to Palma de Mallorca, mainly due to its location directly in the Serra de Tramuntana mountains. Accommodation in Soller is large. It is worth searching current offers.
Link to offers at Soller: check current prices of accommodation in Soller - [click]
Important to me!
Give the article a good rating
(5 stars welcome 😀)!
It's free, a
for me it is very important!
The blog lives on visits and thus has a chance to develop.
Please do it
and ... thank you in advance!
I also post
link to Facebook profile - [click]
. Come in and press "
Follow
"then you will not miss new, inspiring posts.
Unless you prefer
Instagram
. I'm not a social media demon, but you can always count on something nice to look at on
my instagram profile - [click]
. The profile has just been created, so
for now he is starving
, due to the lack of followers. He is happy to receive any observer who feeds him with his love.
I make the content I create available free of charge with copyright, and the blog survives from advertising and affiliate cooperation. So, automatic ads will be displayed in the content of the articles, and some links are affiliate links. This has no effect on the final price of the service or product, but I may earn a commission for displaying ads or following certain links. I only recommend services and products that I find good and helpful. Since the beginning of the blog's existence, I have not published any sponsored article.
Some of the readers who found the information here very helpful, sometimes ask me how you can support the blog? I do not run fundraisers or support programs (type: patronite, zrzutka or "buy coffee"). The best way is to use links.
It costs you nothing, and support for the blog is self-generating.
Pozdrawiam