Selfoss waterfall - access, parking, sightseeing, interesting facts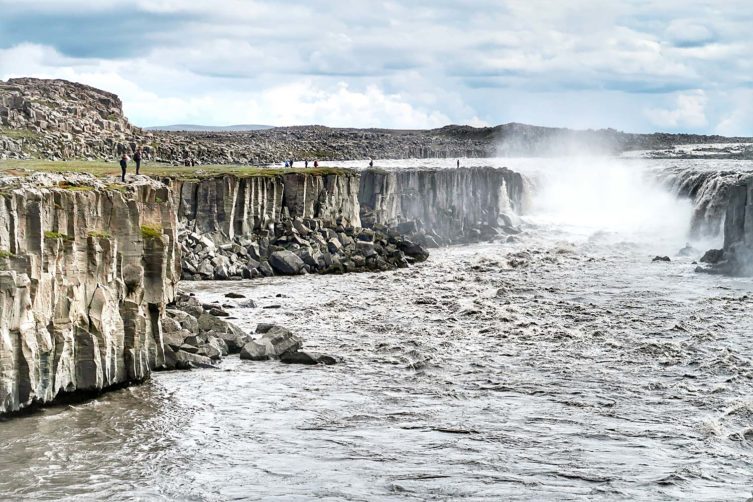 Where is the waterfall?
Let me start with the thing that could save you almost 600km of one way driving. In Iceland, under the name Selfoss there are two places. One thing is waterfall located in the northern part of the islandabout which I am writing today. The second is a small town located about 60 km from Reykjavik. Some tourists go to the town of Selfoss in search of a waterfall, which is 400 km away in a straight line (almost 600 km along the roads). The inhabitants of Selfoss are often accosted by helpless tourists who ask for directions to the waterfall:
"The Lord will go here… behind the church. That's where the seals come to raise their little ones. "
On the spot, it turns out that ... what is behind the church can be called a waterfall, only stretching the reality and sharply straining your imagination.
It is immediately clear that this was not the case.
So I warn you and remind you: Selfoss waterfall is in the north of the countryas shown in the map below.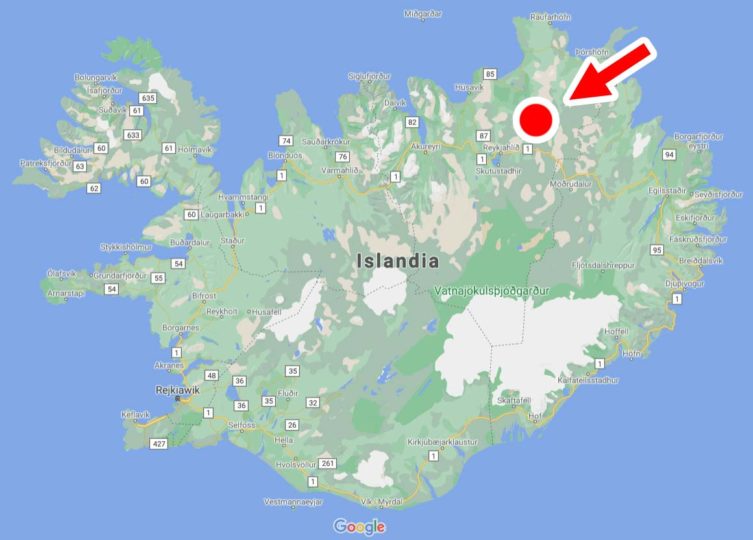 Victim of Dettifoss
Selfoss is a typical victim of a mighty waterfall one kilometer away Dettifoss. Both waterfalls are visited together, the paths lead from the same, shared parking lot for tourists.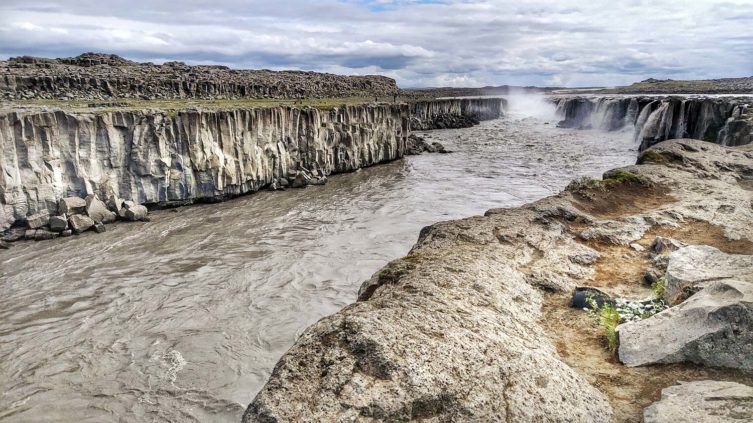 Selfoss is beautiful, vast, picturesque, nestled in a wonderful rocky canyon. It creates a fairytale scenery of a quietly falling waterfall stretching several hundred meters. Divided into several dozen threads, creating a few dozen separate smaller waterfalls, it gives the impression of a small waterfall land. The rocky canyon that drains the waterfall has a structure of rough, regular rock blocks forming a vertical cliff ... the scenery is amazing!
But what if it roars next door Dettifoss - the most powerful waterfall in Europe - which steals everyone's hearts? Selfoss, despite the fact that it is phenomenally beautiful, is faced with the unbridled Dettifoss undeservedly pales.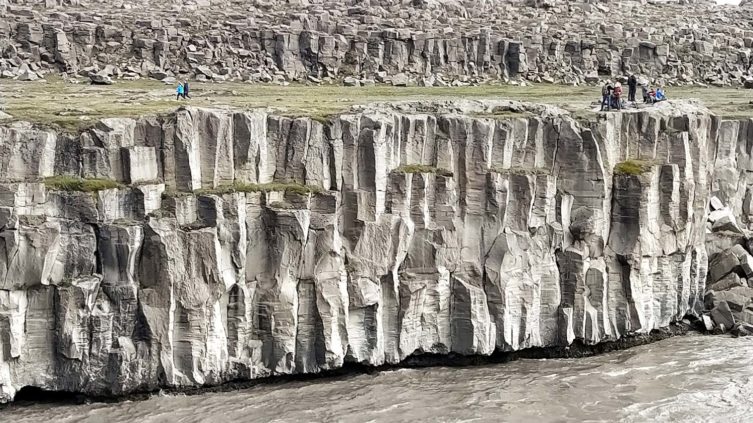 I know it myself. I went to Selfoss second, very feverish with what I saw on Dettifoss. First I found Selfoss less interesting, but then came to my senses and looked at Selfoss as if it wasn't adjacent to Dettifoss. I gave myself a little time to cool down, and after a while, as if after "clearing my taste buds" after consuming Dettifoss, I felt the subtle and delicate flavor of Selfoss.
I recommend doing the same. Take time to breathe after Dettifoss and look at Selfoss as a completely different natural wonder, or go to Selfoss first.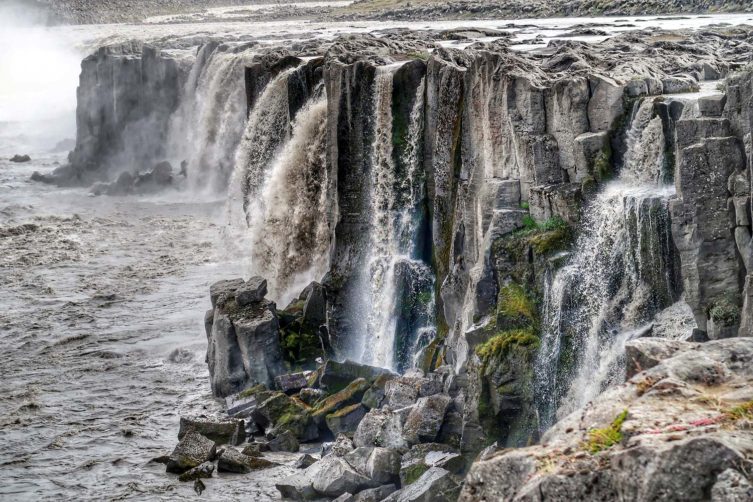 Drive
You can reach the waterfall from two sides: from the west (road number 862) and from the east (road number 864). In my opinion, the views are nicer from the west, and by the way, the access road is easier (even tour buses can handle it easily). If someone wants to, he can see the waterfall from both sides. On the map below, I have marked the location of parking lots on both sides of the waterfall and two alternative routes between them. The time in both directions is similar and theoretically is about 1 hour. In practice, you have to take a little more, because both access roads are so difficult that you cannot drive on them at the maximum permissible speed. In winter, access road 864 to the eastern car park is closed.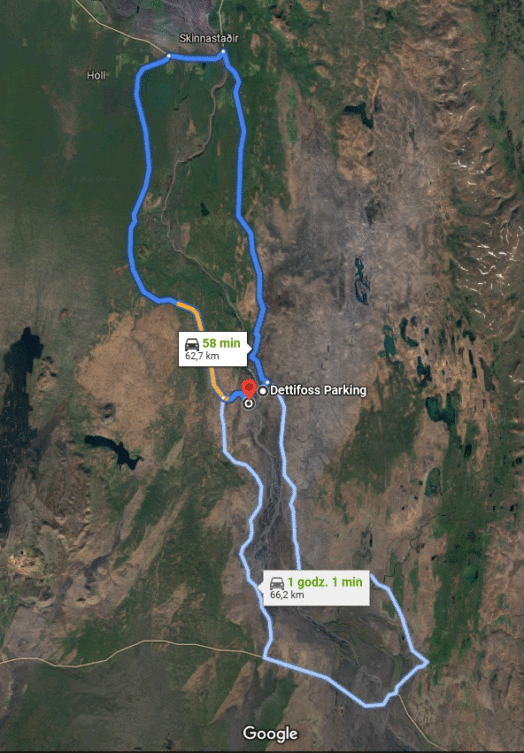 Parking lots and sightseeing
Visiting Selfoss waterfall always involves visiting another waterfall: Dettifoss. Both waterfalls are about a kilometer apart. Although they are on the same river, Selfoss is definitely calmer, and Dettifoss is wild and crazy.
Well-marked walking paths lead from the parking lot. A detailed map showing the location of parking lots and the course of walking paths is provided below.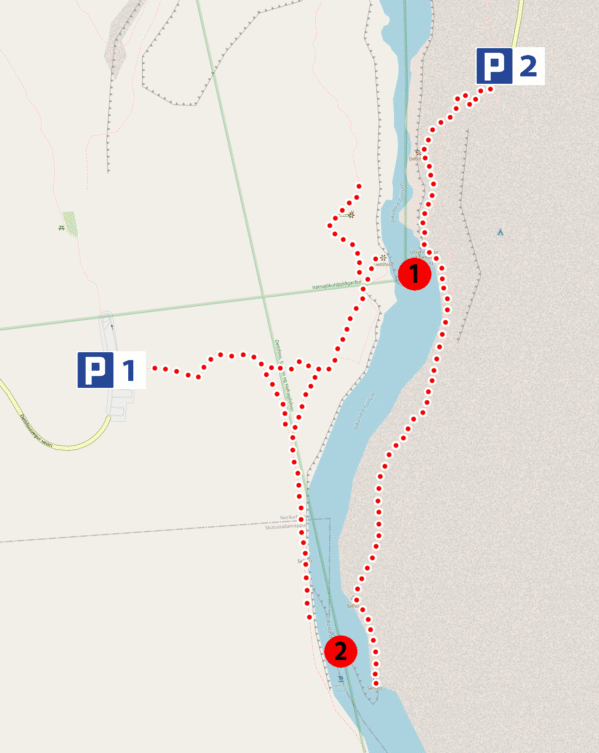 Sightseeing from the west car park - P1
The length of the sightseeing route from the western parking lot (if you decide to see both waterfalls) is about 3 km. The walk should not take more than 1,5 hours.
Western car park P1, GPS coordinates:
65°48'40.9″N 16°24'01.3″W
65.811369, -16.400368 - click and route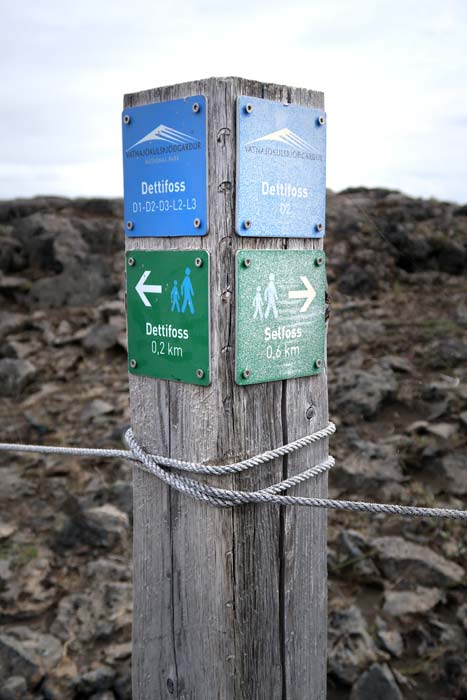 Sightseeing from the eastern parking lot - P2
The longer variant of the breed, i.e. Dettifoss and Selfoss, is approximately 3 km long, both ways in total. Reserve about 1,5 hours for this.
The undoubted advantage of the viewpoint on the eastern side of Dettifoss (if you choose to see both waterfalls) is that you can walk right up to the edge of the waterfall, where the water overflows over the threshold and begins to fall down. However, I do not recommend getting too close. There are no safeguards and barriers here. Rocks can be very slippery, and an unexpected gust of wind (remember that this is an open area) can easily throw you off balance.
Eastern car park P2, GPS coordinates:
65°49'08.8″N 16°22'44.7″W
65.819108, -16.379088 - click and route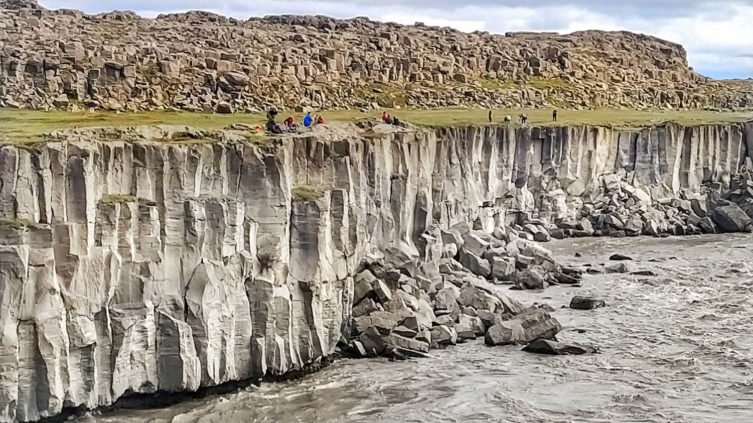 Hotels nearby Selfoss
There are no hotels directly at the waterfall. What is the closest you need to drive over 20 km. You will receive a list of the closest hotels by clicking on the link: hotels near Selfoss- [Klik].
In addition, below are some other suggestions that you may find interesting.


Iceland sightseeing itinerary
The entry you are reading is an element prepared by me
Iceland sightseeing plan
. Most likely, everything you need to prepare for your trip to Iceland can be found in this entry. Weather, accommodation, car rentals, tourist attractions and a map of a trip around Iceland ... all in one place:
Iceland - map and sightseeing plan, tourist attractions, excursions, the most beautiful places - [click]
.
Be sure to read!
Important to me!
Give the article a good rating
(5 stars welcome 😀)!
It's free, a
for me it is very important!
The blog lives on visits and thus has a chance to develop.
Please do it
and ... thank you in advance!
I also post
link to Facebook profile - [click]
. Come in and press "
Follow
"then you will not miss new, inspiring posts.
Unless you prefer
Instagram
. I'm not a social media demon, but you can always count on something nice to look at on
my instagram profile - [click]
. The profile has just been created, so
for now he is starving
, due to the lack of followers. He is happy to receive any observer who feeds him with his love.
I make the content I create available free of charge with copyright, and the blog survives from advertising and affiliate cooperation. So, automatic ads will be displayed in the content of the articles, and some links are affiliate links. This has no effect on the final price of the service or product, but I may earn a commission for displaying ads or following certain links. I only recommend services and products that I find good and helpful. Since the beginning of the blog's existence, I have not published any sponsored article.
Some of the readers who found the information here very helpful, sometimes ask me how you can support the blog? I do not run fundraisers or support programs (type: patronite, zrzutka or "buy coffee"). The best way is to use links.
It costs you nothing, and support for the blog is self-generating.
Pozdrawiam