Black beach Fauskasandur - access, parking, sightseeing, interesting facts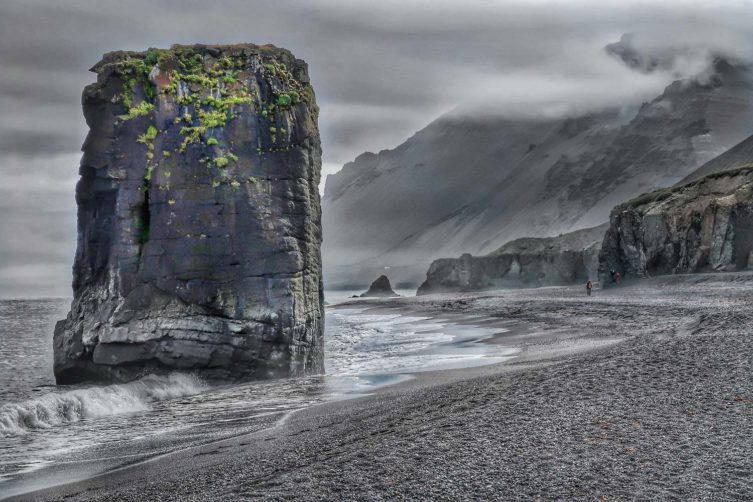 Black bread and black beach ...
Once on the beach Fauskasandur I was unwrapping my "sandwich" from the breakfast paper, made of only a slice of brown bread and loose sausage, I thought: why not? If black bread, why not a black beach? All in all, it even turned out nicely.
Consumption went quickly and I was able to start researching the black sand. Looking at it from a distance, from the top of the cliff surrounding the beach it felt a bit slushy and muddy, but when I went downstairs it felt surprisingly pleasantly dry and very light.
Deprived of moisture, it took on a slightly faded, gray appearance. On the other hand, the one with a slightly wet surface had a deep, beautiful black color, but still felt dry to the touch.
The smallest grains were the coolest. Not much larger than poppy seeds, about the size of a pinhead ...
Regular black beads rolled over my hand, arousing admiration for how nature stubbornly can form such precise shapes for hundreds of years.
Genesis
Black beaches (in short) are mainly made of basalt, andesite and volcanic glaze. Their formation is associated with the eruption of the volcano in the past.
Material ejected by the volcano freezes to the ground. It erodes over the years, crumbling and breaking up into smaller fragments. Flowing surface waters (streams, rivers) take this material with them and carry it towards its mouth into the sea. The sea throws it ashore, rolling it back and forth again and again. This process takes tens or rather hundreds of years. The result of the constant rolling and mutual friction of rock particles against each other is their spherical shape, which they acquire with time. Over time, they also become smaller and smaller ...
Another, more dramatic way of creating black beaches is when the heated lava flows directly into the sea. Then it rapidly cools down, quickly solidifies, and at the same time, due to rapid temperature changes, it suddenly breaks and breaks down into smaller pieces. In this way, a large amount of rock material appears in a short time, over which the sea can carry out its favorite activity: rolling. Over time, larger rocks break down into smaller ones, the water stubbornly forms them and throws them ashore ... and we have a black beach 🙂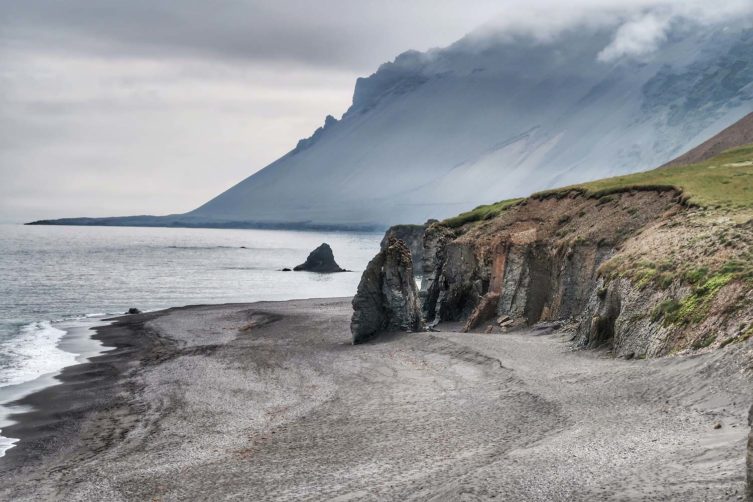 The peculiarity of Fauskasandur
The black beach itself is already a nice attraction, but Fauskasandur has something else. At the beach there is a completely unsuitable, gigantic, natural rock monolith. His character is so detached from everything that surrounds him that it is difficult not to say: wow!
This almost rectangular rock, standing right next to the sea shore, adds an additional flavor to the whole (already amazing scenery). Everyone wants to come as close as possible, touch.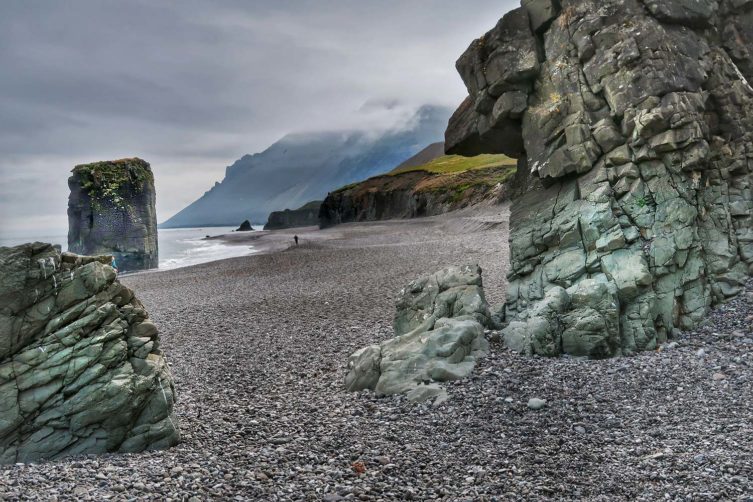 Access and sightseeing
Getting from Fauskasandur beach is very easy, because it is located directly on the road No. 1, which you will be driving anyway.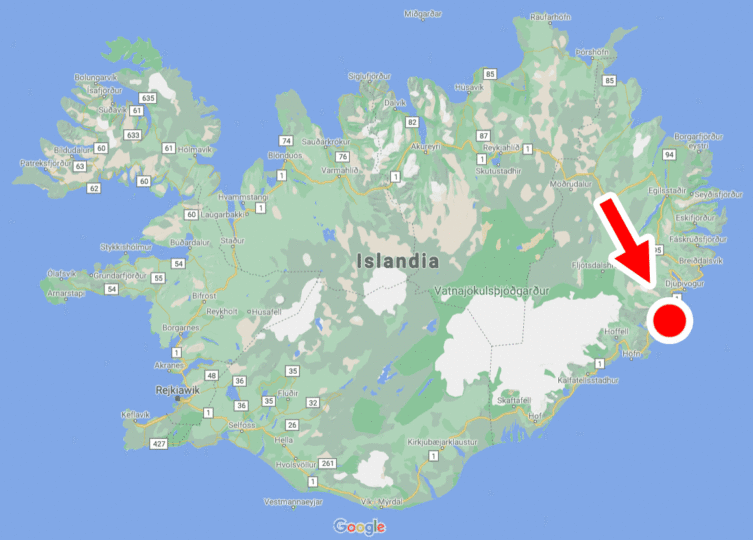 The only question is finding a safe place to park. However, this is also not a problem, because there is a small exit here, where there is a place to park several cars.
Most tourists realize that there is a nice place here only after they pass this exit, so the effect is that what they see from the car window they will see and that's it. They keep going. Wrong. It is worth stopping and stretching your bones by taking a short walk along the beach.
The descent to the beaches is right next to the parking lot. However, this is not the typical descent you would expect. Rather, it is just a slightly gentler part of the shore, along which you have to carefully descend to the beach and then climb back up.
Due to the above difficulties, the beach is rarely crowded and it is easy to take a picture that is completely devoid of people.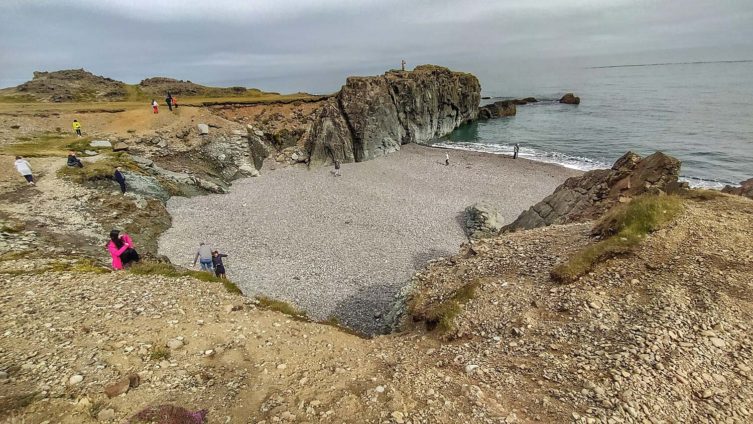 Parking at the black beach of Fauskasandur, GPS coordinates:
64°28'35.5″N 14°29'33.9″W
64.476524, -14.492755 - click and route
Accommodation and hotels near the beach
The nearest accommodations near the beach of Fauskasandur are in a small town about 30 minutes' drive away Djupivogur.
Here you'll find link to accommodation in Djupivogur - [click}. Below, I also present a few selected offers of specific accommodation.
Interesting accommodation in barrel-shaped houses 🙂


Iceland sightseeing itinerary
The entry you are reading is an element prepared by me
Iceland sightseeing plan
. Most likely, everything you need to prepare for your trip to Iceland can be found in this entry. Weather, accommodation, car rentals, tourist attractions and a map of a trip around Iceland ... all in one place:
Iceland - map and sightseeing plan, tourist attractions, excursions, the most beautiful places - [click]
.
Be sure to read!
Important to me!
Give the article a good rating
(5 stars welcome 😀)!
It's free, a
for me it is very important!
The blog lives on visits and thus has a chance to develop.
Please do it
and ... thank you in advance!
I also post
link to Facebook profile - [click]
. Come in and press "
Follow
"then you will not miss new, inspiring posts.
Unless you prefer
Instagram
. I'm not a social media demon, but you can always count on something nice to look at on
my instagram profile - [click]
. The profile has just been created, so
for now he is starving
, due to the lack of followers. He is happy to receive any observer who feeds him with his love.
I make the content I create available free of charge with copyright, and the blog survives from advertising and affiliate cooperation. So, automatic ads will be displayed in the content of the articles, and some links are affiliate links. This has no effect on the final price of the service or product, but I may earn a commission for displaying ads or following certain links. I only recommend services and products that I find good and helpful. Since the beginning of the blog's existence, I have not published any sponsored article.
Some of the readers who found the information here very helpful, sometimes ask me how you can support the blog? I do not run fundraisers or support programs (type: patronite, zrzutka or "buy coffee"). The best way is to use links.
It costs you nothing, and support for the blog is self-generating.
Pozdrawiam