Malaga - Rent a car without a credit card and deposit. Car rentals - reviews, ranking, comparison of offers. Spain, Andalusia.
Malaga - weather for holidays, holidays ... all year round!
Malaga is lucky with everything. Beautiful location, a multitude of tourist attractions, a huge hotel base, excellent food, delicious wine, affordable prices, cheap air connections and the weather, which encourages you to come basically all year round. Has everything.
It is no wonder that Malaga is visited by millions of tourists every year, and many of them (thanks to cheap airlines) come here from Poland. I wrote in a separate article about how to buy a really cheap ticket, e.g. to Malaga, in a smart way: How to search for cheap flights and cheap flights? [GUIDE]).
Today is the time for the next step: renting a car. It will be necessary if you want to take advantage of what Malaga offers and the region in which it lies, namely Andalusia.
I can't imagine being in Malaga and not wanting to see such magical places as: Cordoba, Seville, Grenada, Ronda with their monuments, or even Gibraltar, the Path of the Kings ... and many more.
You will need a car for this!
Roads and car driving in Malaga and Andalusia
You can drive safely around Malaga and Andalusia. Some sections are on motorways and some are on regular two-way roads. The roads are in very good condition. Drivers move rather calmly and respect the traffic rules. It is worth adopting a similar attitude, especially since the fines are high even for slight speeding (this applies to all of Spain).
I once became a happy beneficiary of the speeding ticket by 2 km / h (!!!). Instead of allowed 110 km / h, I rode 112 km / h, which cost me 100 EUR. The mandate came to me by post to my home address, after returning to Poland. Police asked the car rental company who drove their car on a given day, and they are required to provide relevant information to the Spanish police. After about 4 weeks after returning from departure, a surprise awaited me in my mailbox in the form of a kind request to pay 100 EUR to a bank account in Spain. However, let me not be too sad, the Spanish police has prepared a promotional offer for me: if I pay within 7 days from the date of receipt of the mandate, its amount drops to EUR 50.
I accepted the promotion with joy and after a few minutes the transfer was on its way to Spain.
Therefore, it is worth driving even slightly slower than on the border of speed limit.
Speed ​​cameras often mounted behind signs and information boards above the road and do not look you in the eye from the opposite direction, just look at your back as you move away from them. Then they also measure speed. Such attachment of the speed camera makes you unable to see it because it is obstructed by an information board from the front. It is enough, however, to look in the rearview mirrors in the car to know whether a speed camera was behind the given sign or not. Speed ​​cameras that are designed to catch drivers in the opposite lane are clearly visible. Then you can see the back of the information board and the speed camera hidden behind it.
### important fragment of the text added in 2021, during the pandemic ###
Beware of pandemic car rental prices !!!
The COVID-19 pandemic has turned car rental prices upside down. The increase in car rental prices is huge. Official announcements say that the price increase is due to the need to maintain high sanitary standards. In my opinion, the strict sanitary requirements do not justify such an increase in the cost of car rental. What kind of growth are we dealing with? The 5-day rental I did during my trip just before the pandemic cost me less than EUR 70 (with full insurance). Today, for exactly the same rent, I see prices in the range of 400 - 450 EUR. Horror! Why is it like that? I am convinced that the rental companies compensate for a smaller number of customers with a higher price. One rental must now "compensate" for the reduced demand.
Is there a way to get high prices during COVID-19?
I have re-analyzed the offers of a dozen of the best car rentals and a few of the best price comparison websites. I found one common denominator. In fact, the prices are very high all the time, but
drastically falling (by 50% or even more)
just before the planned departure. The lowest prices are more or less
5-10 days before the planned departure
and they drop to around 50 EUR for one day of rental,
with full insurance option
. Any price at this level or lower should now (especially in the summer season) be considered attractive (of course if
applies to rental with full insurance
). Advance booking 1-5 days is very risky and prices in such short notice often (although not everywhere) increase again.
Such price behavior in 2021 does not guarantee that the situation will repeat itself in 2022 and in the following years. So let's observe price changes yourself and choose the best time to book.
The offer of the rental company I chose and described below is still the best, but unfortunately it is more expensive than it was.
From comparison websites, I recommend that you look for two:
Discover Cars - [click]
and
Rentalcars - [click]
. They have wide offers, and at the same time have signed contracts with various groups of rental companies. Thanks to this, you check various offers from different groups. A particularly interesting alternative is here
Discover Cars - [click]
because it has contracts with many local, small rental companies. It is possible that some local promotion can be scored. The other comparison engines are practically a copy of what you will find in
Rentalcars - [click]
.
All the other comments and advice that I have included later in this post still apply, so
it is obligatory to read the rest
. You will find my complaints there that 50 EUR a day is expensive, but I would like to remind you that this was related to the situation before COVID-19. We currently have a different situation.
### end of the fragment added in 2021 ###
Malaga - car rental
Thanks to the large tourist traffic in Malaga, we have access to a wide range of car rental companies throughout the year. Most of the visitors willingly use the rental to see the nearby attractions. Rental competition is large. This is mainly seen out of season when rental prices are falling. A radical drop in prices is visible already at the beginning of September. Off-peak prices are lower than at peak even by over 50% (40% is practically standard).
The price peak is in July and August.
Below are two versions of car rental in Malaga:
- no need for a credit card and no deposit required
- with credit card and credit card deposit
Why rent a car with a deposit and card if you can without it?
The reason is simple and prosaic. In the season, it may happen that at the time you need, there will be no more cars available at the rental company that offers rentals without a credit card and a deposit. Due to the high popularity of renting without cards and no deposit, the cars available there rent first and disappear the fastest. If this happens, there is no tragedy, provided that you know which of the other rental companies has the most interesting offer in this respect (some offer rent with a very low deposit, e.g. EUR 100).
In this post I will present a list of several rental companies taking into account these requirements.
Thanks to this, when you face such a choice, it will be easy for you to get out of the embarrassing situation.
Rent a car without a credit card and a deposit
Large network rentals generally do not offer this type of rental. This rental option is most often offered by small, local rental companies, which somehow have to compete with network giants.
Bruno's Car - first cats for fences
When I was in Malaga a few years ago I used the rental offer Bruno's Car. I ordered a car via the form on the website (it has not changed until today) and received confirmation by email. At the agreed time, the guy was waiting for me in the airport parking lot, on the parking lot with the previously agreed number. He checked the ID and ID details, one signature and on his way.
Returning the car was even simpler. We were just supposed to leave the car in the same place, with the door open and the keys in the driver's side door pocket. And that's it. He took it from himself when it suited him. No problems. The car was fully insured against all events, including theft, so there was no stress. No credit card or other card was needed.
Currently, however, there are rentals that, operating on similar principles, offer a much better price than Bruno's Car.
Below is a screenshot with the price for renting for 5 days at Bruno's Car, within 22-27 July 2019 (peak season). For comparison, next rental companies will place screenshots with prices for renting at the same time. As you can see, renting for 5 days would cost 212,19 EUR (around PLN 912,42, I adopted the EUR exchange rate = 4,3)

Malaga U Drive - no credit card, no deposit and Polish
And what if it was possible to rent a car in Malaga without a credit card, no deposit and speaking Polish in addition? That's exactly what you can do in
Malaga U Drive
.
The rental is run by Poles and on their own
website
provide a car booking form in Polish. Regulations and all other information are also in Polish! What's more, if you call the rental contact number in any case, you'll do everything in Polish. If communication in Spanish or English is uncomfortable for you, it will be a great solution.
The rental shop does not have an office in the airport terminal but the pick-up and drop-off method has been arranged so that this is not a problem. After arrival, please contact the rental company and the driver takes our car directly to the terminal. The return is done similarly. Drive to the agreed place near the terminal, where the person collecting the vehicle from us is waiting and after picking up, he will take you to the terminal door. Simple, convenient and effective. The rental prices are as shown in the picture below:
195 EUR
. This is the price for the same period as before, i.e. on 5 days, 22-27 July 2019 (peak season).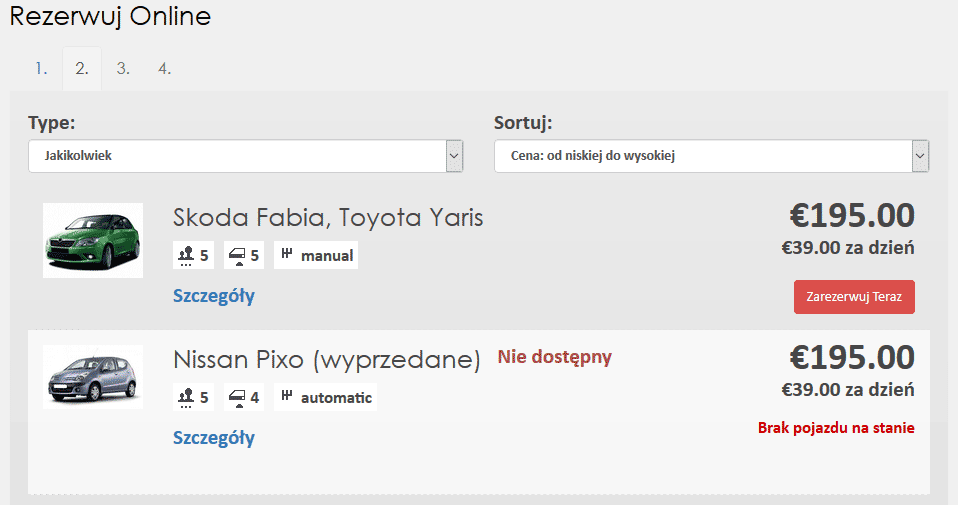 Malaga U Drive - rent a 5 car% cheaper than everyone else
While writing the article, I came up with the idea to take advantage of the situation that our compatriots are the owners of the rental shop. After a telephone conversation with the rental owner and a short exchange of e-mails, I was able to agree that every person who entered the address of my page in the field of the booking form,
www.gancarczyk.com
will receive extra
5%
car rental discount. Thanks to this, you have the opportunity to rent a car a little cheaper, the owner of the rental company has an additional promotion,
and I?
I hope that you will pass this code on to each other and more people will reach my blog. The website address must be entered in the "Comments or questions" field in the booking form on the website
Malaga U Drive
. It should look like the picture below: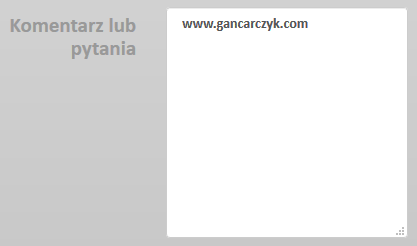 Wiber - known, proven and unbeatable in price!
Wiber - [click] is a rental company with which I have very good experience. Now is definitely the cheapest (price for the same 5 rental period is only EUR 157,84) of the has a clear, simple, legible offer. They offer rental in two variants: basic and All Inclusive. Variant selection All Inclusive that's exactly the option in which no credit card or deposit needed. All you need is your ID card and driving license. Nothing more. No cards, deposits, collateral. The rental company operates in a small area of ​​Spain (locations of car rental offices: Mallorca, Malaga, Alicante). I described my experience with renting a car in Mallorca in a separate entry: Car hire without credit card and deposit - Majorca, Spain). Under this entry is also a lot of opinions from people from Polandthat rented a car from Wiber-a. It's worth reading them.
Rental in Málaga looks similar to that of Mallorca. The company has no office in the airport terminal, but right next to the airport (basically just across the street). It is impossible to cross the street on your feet, because it is the main communication route to the airport, so Wiber He provides his clients with a special bus that runs over and over, every few minutes between the airport terminal and the office. The journey takes about 3 minutes (maximum 5 minutes if there is heavy traffic and crowds under the terminal)
With the car you have previously booked, exit the terminal and head right past the terminal building (towards T1 Terminal). After about 150m you get to the place where you are waiting or soon the bus with the logo will arrive Wibera.
Access path and bus appearance Wibera you can see on the map and the picture below.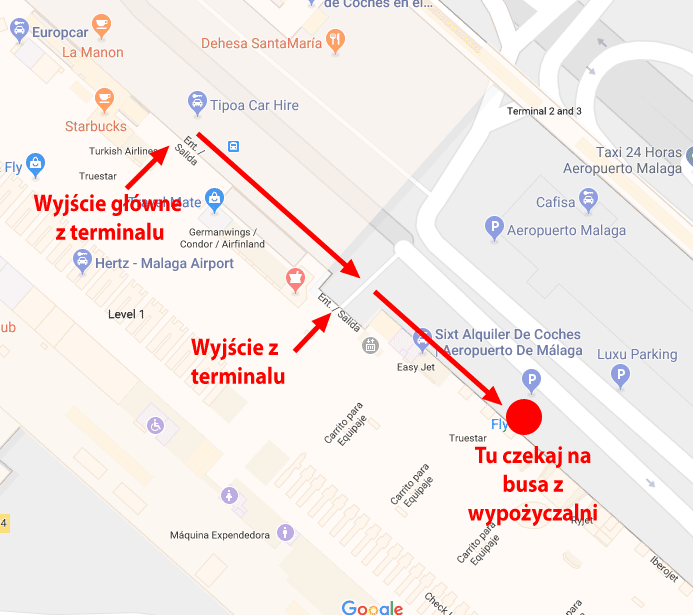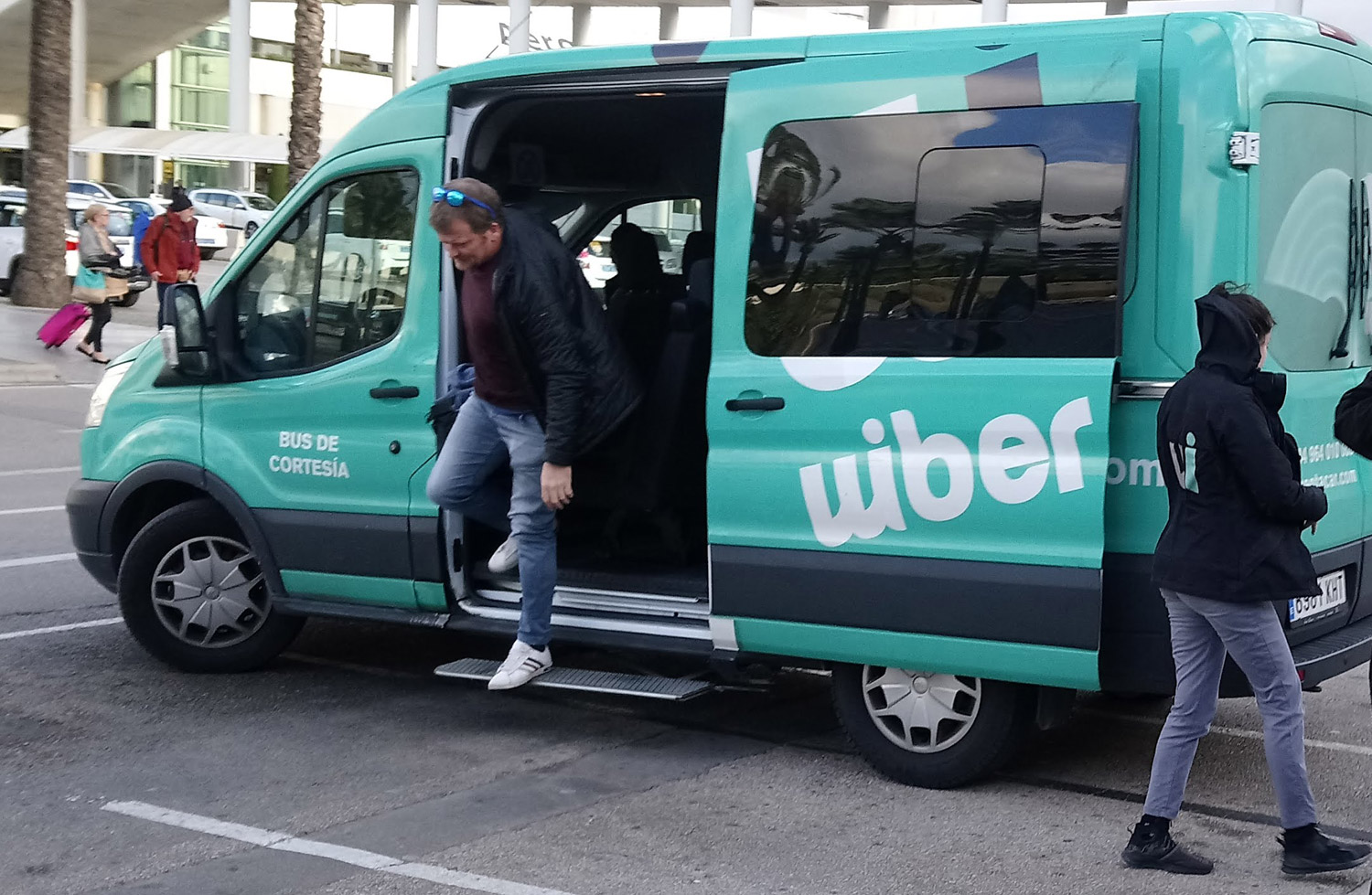 How to book a car in Wiber?
Car reservations can be made directly on Wiber's website - [click] or via price comparison Rentalcars. Of course, it is cheaper on the price comparison site Rentalcars. This is the standard practice of all offices that make their offer available via a comparison tool. Prices on the comparison website must be lower than directly on the rental website, otherwise the existence of a comparison website would not make sense.
So I suggest you make a reservation through Rentalcars. It will simply be cheaper (though Wiber sometimes has promotions, so for sure it's worth checking out too his website - [click])
Below are screenshots with rental prices for 5 days, in the same period as before: 22-27 July 2019.
Price on the site Wibera to: 157,84 EUR (around: 678,71 PLN, adopted EUR exchange rate = 4,3).
On page Rentalcars is cheaper: 662,80 PLN.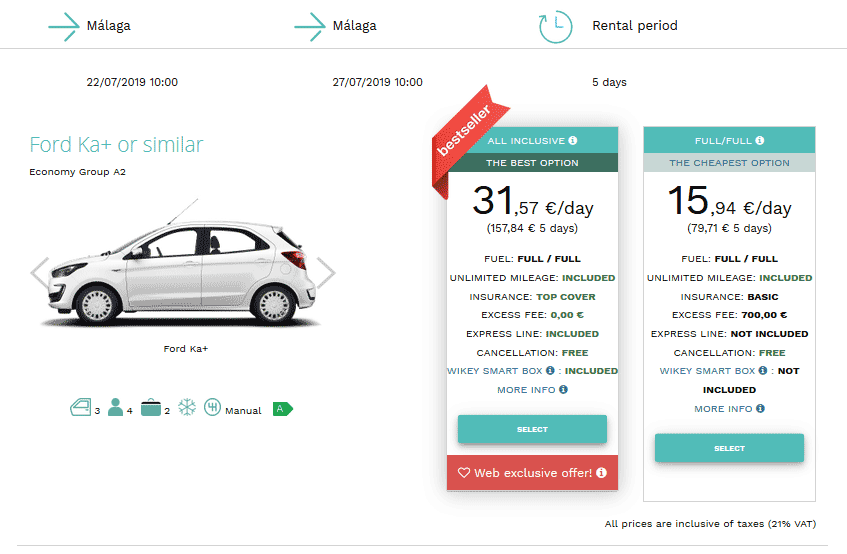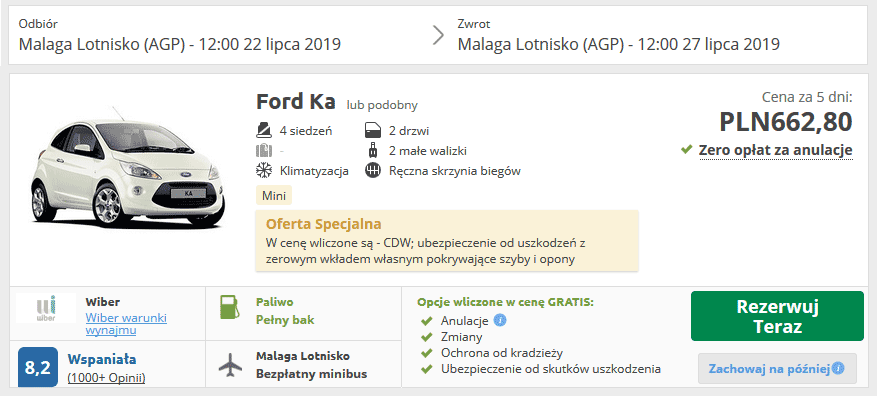 Booking through Rentalcars
Rentalcars it's a huge comparison. Contains thousands of different offers. During the search, there could be a problem finding the right offer. However, you can make your life easier.
Wiber's offer is easiest to find by following the scheme below:
1. go to the website Rentalcars.com - [click] and enter the required data into the search box as below and click "Search":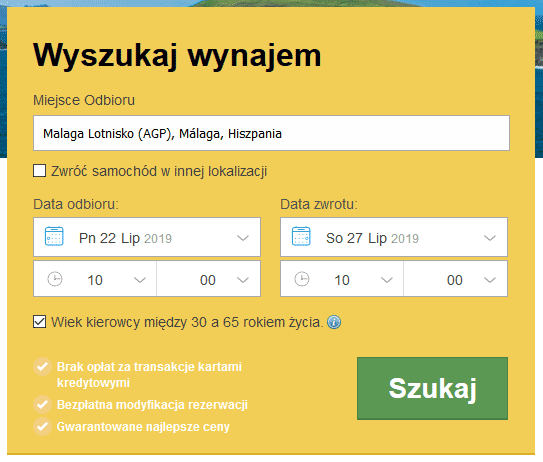 2. After a while, you will receive a search result from all possible rental companies. Of course, you can have fun browsing all offers, but after a while you will have a headache, especially if you start analyzing the details of each company's contracts ... and then, you can easily narrow the search result only to Wiber offers. On the left you will find the panel described as "Supplier's name". In this panel, find the name Wiber and click on it to select only Wiber, as in the figure below (Note: this filter is not available on the phone version, so it's easier to make reservations on your computer):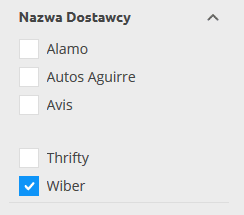 3. After choosing Wiber, you can only see the cars from his offer. Now you must choose an offer All Inclusive. It is marked with an additional description on the offer card. Additional description has been marked in the picture below. Only choosing an offer with this description will allow you to collect your car without a credit card and deposit.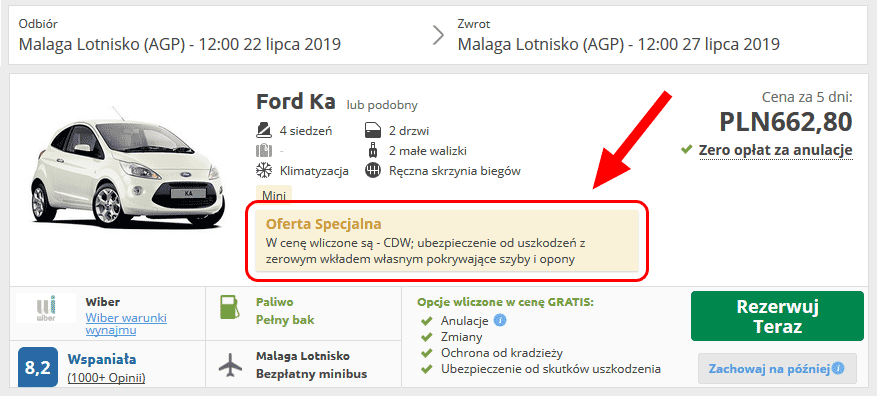 In the statement you will also find a cheaper Wiber offer for the same car and date, but it does not contain an additional description. This is not an All Inclusive offer, only a basic offer. If you choose this offer, you will need a credit card and a deposit will be created. Pay attention to this when booking so that there would be no unpleasant surprise afterwards.

4. After finding the offer you are interested in, click on "Book Now". In the next steps you will see confirmation of the selected offer and you will be able to choose additional equipment. Then you will need the basic driver details and finally the payment.
Autos Aguirre - lifebuoy
Rental Aguirre Autos I also offer a rental with no credit card and no deposit. Unfortunately, most often it is a little more expensive than Wibera. However, it can be an interesting alternative if there was a problem of accessibility. Searching and booking is exactly the same as in the case of Wibera, so it makes no sense to describe this process again. All you have to do is narrow down your search results Aguirre Autos as in the picture below: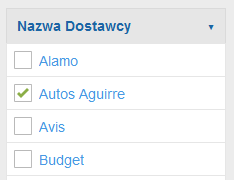 The price of renting a car in the same period as the previously presented car rentals (5 days in the period 22-27 July 2019) is PLN 907,18. In the picture below I have marked an additional description on the offer, saying that it is an offer with full insurance:

Pickup of a car at Autos Aguirre is carried out on similar principles as in Wiberze. From the airport terminal, customers take a bus with the logo Aguirre Autos and chassis to the office, where the car is picked up. The ride takes about 6 minutes.
On arrival, leave the terminal and head right behind the terminal building (towards T1 Terminal). The Autos Aguirre and Wiber stands are close together.
Returning the car is simple. You must enter the paid parking lot (Parking No. 1) at the airport by taking a parking ticket at the entrance and leave the car on the 1 or 2 floor of the parking lot. The keys and parking ticket should be left in the trunk. That's all.
You can start booking on the website Rentalcars - [click].
Rentals with a low deposit on your credit card
For a rainy day I'll give you some rental names that require low deposits and may be useful in an emergency. It may also turn out that their offer is so attractive that it will pay off to accept the disadvantage of a credit card deposit.
The table indicates the amount of the deposit established by the rental company on the credit card and the amount of the own contribution in the event of theft or damage to the car.
If you do not know what a deposit and own contribution is, below the table you will find an explanation of all the basic concepts.
What is a credit card deposit?
deposit is the amount that the rental company blocks on the credit card. This amount does not disappear from your card. It's still there, but is not usable.
Example:
Suppose you have a credit card with a PLN 3000 limit. You rent a car from the rental company, and in the conditions of the rental there is information about the deposit in the amount of 500 EUR. You pick up the car and the rental company will deposit a deposit on the card, in accordance with the EUR 500 contract. Your card still has 3000 PLN but 500 EUR * 4,3 = 2 100 PLN is blocked and as long as the blockade is not removed, you cannot use these funds. PLN 900 is available to you.
If you had a plan to pay with the same card for a hotel that costs PLN 1500, for example will not succeed. The deposit will be removed at the earliest about 24 hours after the return of the car, and often it takes even more than a week. It is worth remembering and it is best to pay for other obligations to have a different (debit) penalty or a correspondingly higher limit on your credit card.
What is the deposit on the credit card for?
In this way, rental companies protect themselves against dishonest customers. If the customer does not fulfill the terms of the contract, the costs associated with it rental deducts from the deposit. Suppose you are 8 hours late with returning the car. The agreement provides for an additional fee. The rental company may charge a fee from the deposit regardless of your will.
Another example: you picked up the car with a full tank of gas and returned it with an empty one. The rental charges the value of full refueling and the additional service cost. It now comes out more or less as if a liter of fuel cost 2 EUR. So e.g. the 50 L * 2 EUR / L = 100 EUR fuel tank. That much more or less disappears from the deposit. Examples can be multiplied (scratches on the car, broken mirror, broken glass, damaged upholstery, etc.).
Own contribution and car insurance
In addition to the deposit, which is blocked directly on your credit card, renting a car involves taking on yourself liabilities with so-called own contribution.
Own contribution applies to:
- destruction or damage to the car
- car theft
Each rental has its own amount of own contribution. Separately for destruction and separately for car theft.
This is the cost that you agree to pay the maximum if one of the above events occurs.
The assumption is that if the costs resulting from the removal of damage are greater than the own contribution you assumed in the contract, you are only liable up to the amount of your own contribution, and the remaining costs are covered by insurance.
Currently, practically all rentals include the cost of this insurance in basic vehicle price (the cheapest one you see on the throne). This insurance is mandatory and applies to all rented vehicles.
Vehicle damage insurance - CDW
This is it basic insuranceto which the vehicle is covered (often on the website of the rental company is called Full Insurance, which can be misleading, I feel allergic, it is common practice). The practice of calling basic insurance full is probably intended to suggest to the customer that at a similar price he is purchasing a better insurance package. Then the offer seems more attractive, but in fact it is not. So let's check if the insurance called full insurance is insurance CDW or actually full (SCDW - about which I will write a little below).
I did not find an offer where the insurance would be subject to a surcharge. Everywhere it was at the basic price of the vehicle.
CDW is an abbreviation of the English name Collision Damage Waiver. Having this insurance limits your liability for damage to the amount of your own contribution.
However, if it wasn't too colorful, it would be from this insurance are off the most common: windows, tires and chassis. There may be more exclusions. This means that if, for example, during a collision the damage touched the elements that are excluded from insurance, then for their repair you will pay extra.
Of course, if the event was not your fault and you have a police report for it, then the rental company he has no right to deduct any money. Then the offender pays.
IMPORTANT!
If you have been driving under the influence of alcohol or drugs, no insurance works. You pay the full amount of repair costs.
Theft insurance - TP
It is an insurance which in the event of the theft of a vehicle limits your financial liability to the amount of your own contribution.
The name of the insurance is short for the English version Theft Waiver.
The cost of this insurance is included in basic vehicle rental price.
I did not find an offer where the insurance would be subject to a surcharge. Everywhere it was at the basic price of the vehicle.
Full damage insurance - SCDW
This type of insurance totally or partially bear your responsibility for car damage and that is real full damage insurance.
The name comes from the English version: Super Collision Damage Waiver.
In most cases, your liability after purchasing this insurance is reduced to zero, less often to a symbolic amount of around 100 - 500 EUR (depending on the brand and price of the new vehicle).
Rentals, which basic insurance is called incorrectly (or intentionally) full, are called this type of insurance: All Inclisive, Super, All Protection ... etc.
When booking on the site Rentalcars, you can buy full insurance with every rental SCDW. However, you should be aware that this is the insurance you buy in Rentalcars, not at the target rental company. What does it mean? This means that if there is damage or theft to the car, the rental will download from your account the amount up to the amount of own contribution, and for the return of this amount within the possessed you must apply to Rentalcars.
If you want to take out full insurance SCDW directly in the rental, you have to do it on site, when renting. You will then avoid any possible withdrawal of your own deposit from your account and claiming a refund from the insurer. Unfortunately, most rental companies even on their own websites do not allow you to buy this insurance online and you have to do it on the spot when picking up the car. For this rental prices through Rentalcars are lower than directly on the rental site, so anyway it's profitable make a basic booking through Rentalcars.
I checked the cost of buying full SCDW insurance at several rental companies. On average, it is EUR 30 / day for basic car models.
Travel Insurance - PAI
Often, when renting, insurance for people traveling with a rented car is also offered. It has nothing to do with the car itself, it only applies to people. If you buy insurance for yourself before traveling, you do not need it.
The abbreviation comes from the English name: Personal Accident Insurance.
This insurance is often included in the package with SCDW.
Important to me!
Give the article a good rating
(5 stars welcome 😀)!
It's free, a
for me it is very important!
The blog lives on visits and thus has a chance to develop.
Please do it
and ... thank you in advance!
I also post
link to Facebook profile - [click]
. Come in and press "
Follow
"then you will not miss new, inspiring posts.
Unless you prefer
Instagram
. I'm not a social media demon, but you can always count on something nice to look at on
my instagram profile - [click]
. The profile has just been created, so
for now he is starving
, due to the lack of followers. He is happy to receive any observer who feeds him with his love.
Pozdrawiam