Ronda - Spain: attractions, sightseeing, monuments, access, parking, accommodation, car rental. Guide.
Ronda impresses!
Just take a look at a few photos to want to see this place live.
The city looks as if one day it just cracked in two halves. The rocky and steep gorge is like a deep wound separating the two halves of the city. When I stood on the bridge Puente Nuevo over the gorge El Tajo I couldn't resist such an impression. It seemed to me that if I listened well, I would hear the echo of a loud crack.
The bridge spanning two halves of the city is monumental. Huge, powerful and heavy. He holds the two edges together as if only he could stop the earth from breaking finally. The impression is amazing.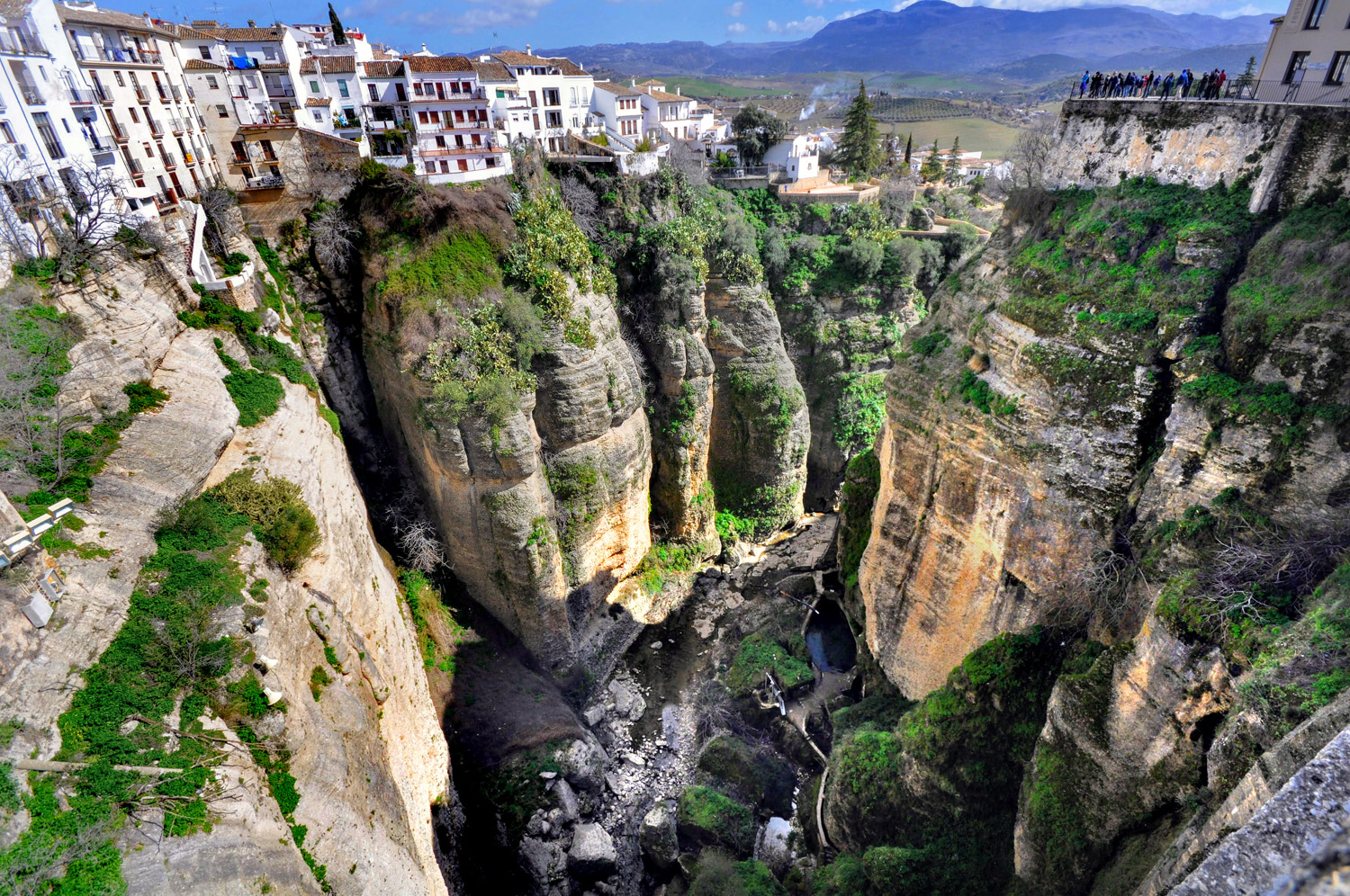 A long story in four words
Ronda's story is long, but I will not elaborate on its details. Suffice to say it is one of the oldest cities in Spain. In the city and its surroundings you can come across traces of prehistoric, ancient, medieval (Moorish) and slightly more modern Christian monuments. The fate of the city turned out so that today on the southern side of the gorge there is the older part of the city (La Ciudad), with Moorish origin. On the northern side (i.e. the one on which the bullfighting arena is located) we can see a slightly younger, Christian part of the city: El Mercadillo.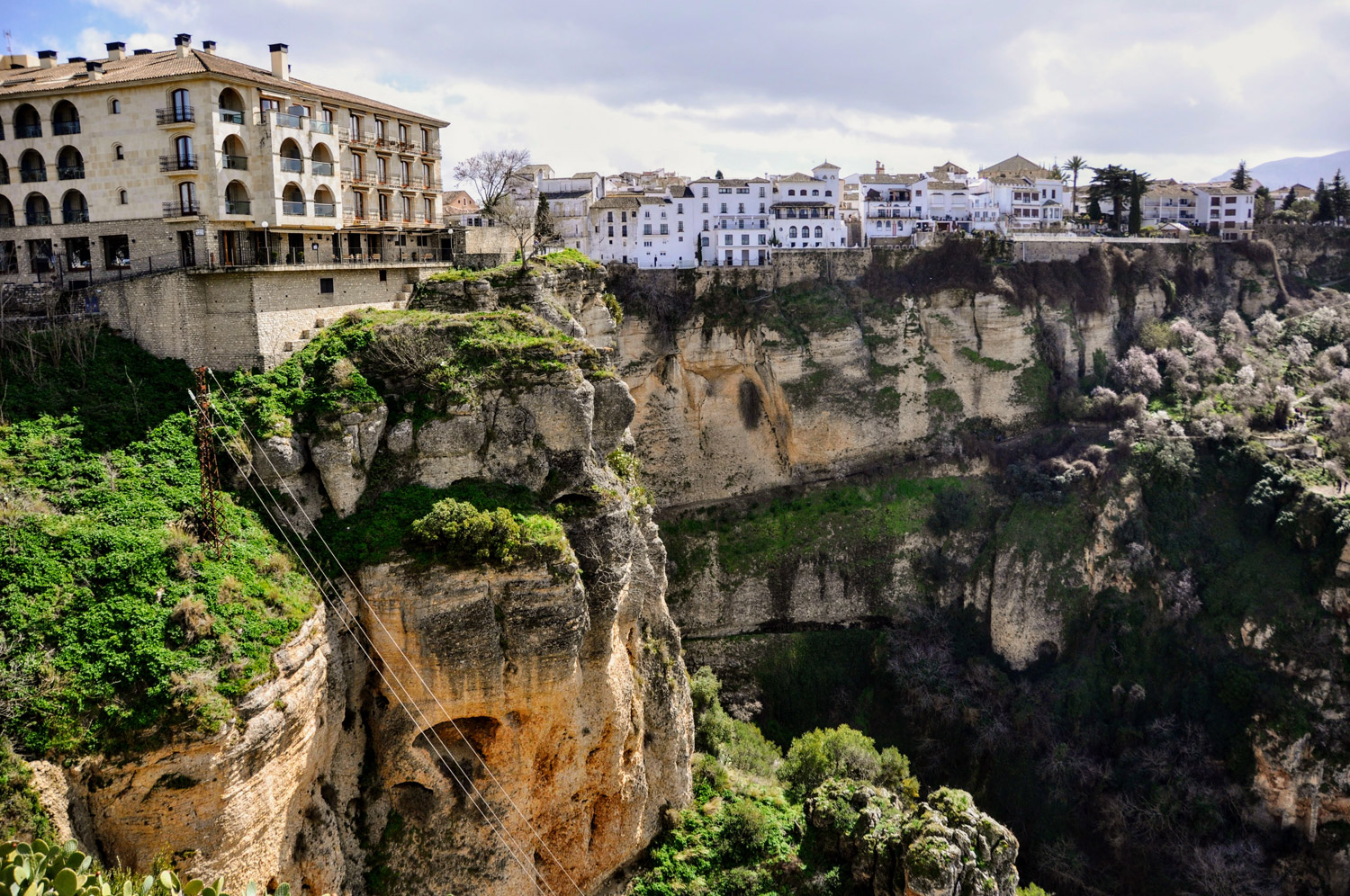 Ronda - sightseeing, monuments, viewpoints
It is worth preparing comfortable footwear for visiting Ronda. The city suspended on the edge, on both sides of the abyss will require walking up and down. You will probably be able to gasp slightly, but do not be afraid! It is not worth hurrying. Every few steps it is worth stopping to relax (although this will not be the main reason for frequent stops).
You will stop involuntarily many times, because before further march you will be stopped by magical views that appear almost every step. So reserve yourself a lot of time. Enjoy this beautiful place, and it's best to plan your accommodation here. The roundabout in the warm rays of the setting sun captivates even more.
To make my life easier and not to worry about unnecessary details during the sightseeing, I prepared a ready plan for visiting Ronda. This is a minimum plan that you can extend yourself by looking at other interesting alleys depending on the amount of free time. The sightseeing path I suggest will lead past almost all places of interest. The map shows that the walking route is about 3 km, and the march takes 43 minutes. In practice the tour will take much longer. In the optimistic version, I would reserve at least 2 hours + time to relax on a bench on one or two viewpoints, and coffee or something cold to drink. It is really worth giving yourself time.
Ronda - map and description of sightseeing points
Below is a map of Ronda with a marked path (blue dots) and key points (red dots with numbers). Under the map you will find a bit more information about the marked points and photos from the places described. The numbers on the map match the numbers next to the descriptions below.
You can also open the route in form active map on Google Maps - [click] and freely modify for your own needs.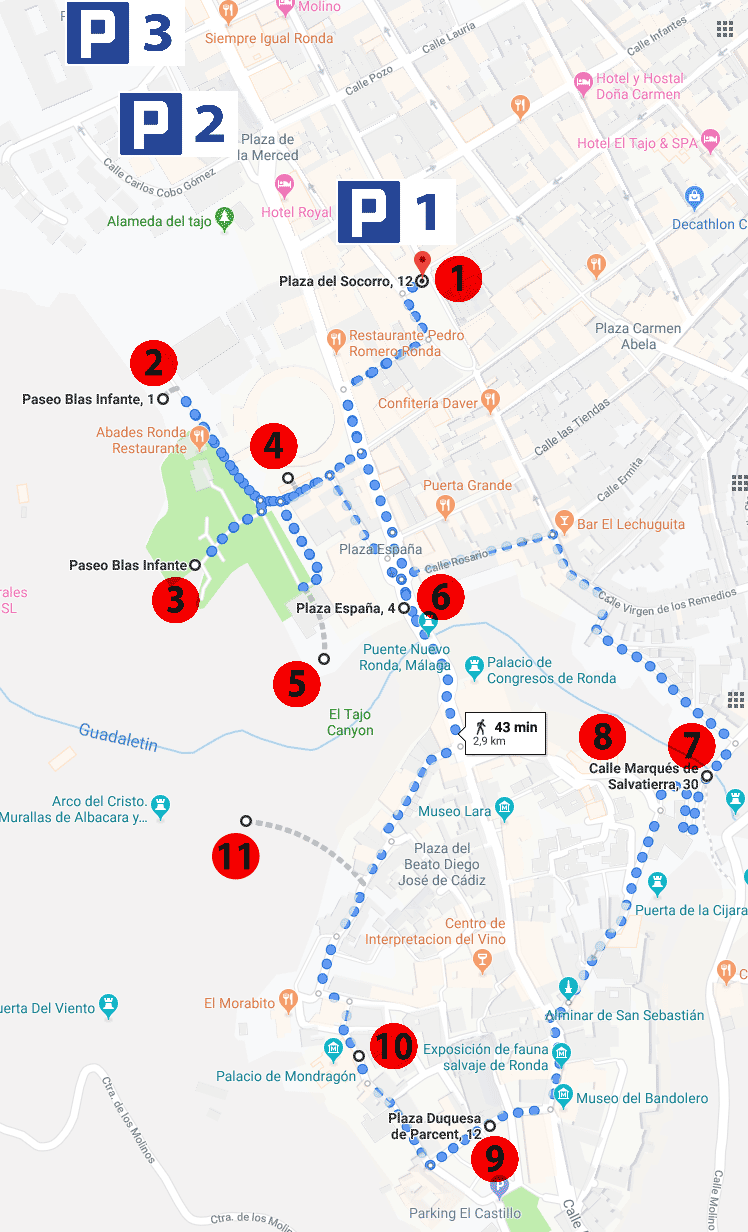 1. Parking at the Plaza Del Socorro
GPS coordinates:
36°44'36.0″N 5°09'57.4″W lub
36.743320, -5.165932 - click and route
It is public, underground and paid parking. It is located under a beautiful square Plaza Del Socorro. For Andalusians, it is a very important place associated with the latest history of Andalusia, which is commemorated by a fountain. In the center of the fountain is Hercules with two lions, and behind him are two columns. Looking even further, we will see a building with red letters CA.
It's in this building (Circulo de Artistas) at the time Ronda's assembly in 1918, on the balcony on the first floor Blas Infante developed the flag and symbols of Andalusia, thereby announcing the adoption of the project Federal Constitution of Andalusia. As a consequence, Andalusia was recognized as one of the national communities of Spain, guaranteeing the Parliament of Andalusia much more autonomy than other regions of Spain.
See: panoramic photo of the square - [click]
2. The promenade on the cliff
GPS coordinates:
36°44'32.9″N 5°10'05.6″W lub
36.742478, -5.168233 - click and route
A long and wide promenade with beautiful, extensive panoramic views of the surrounding area.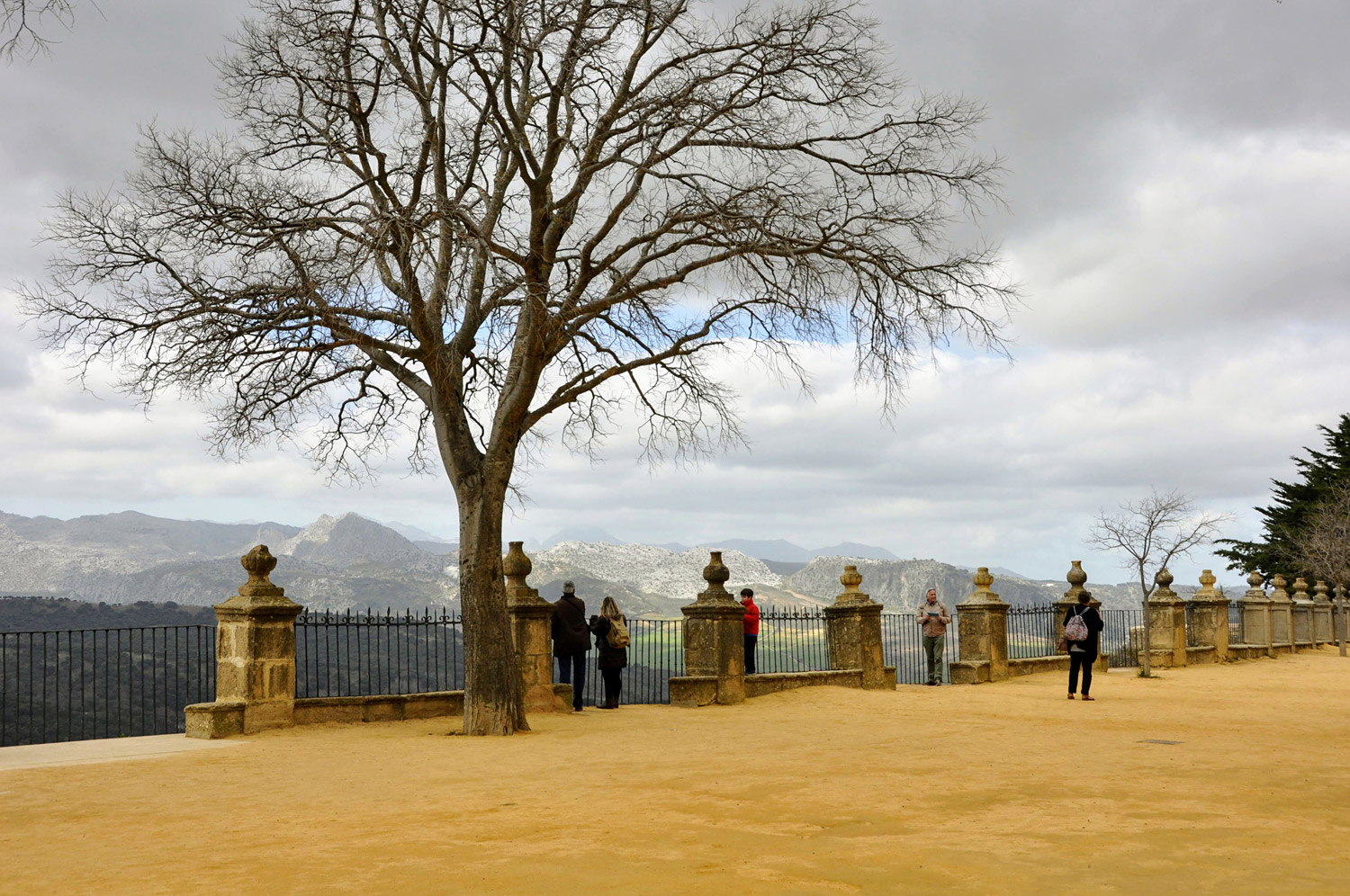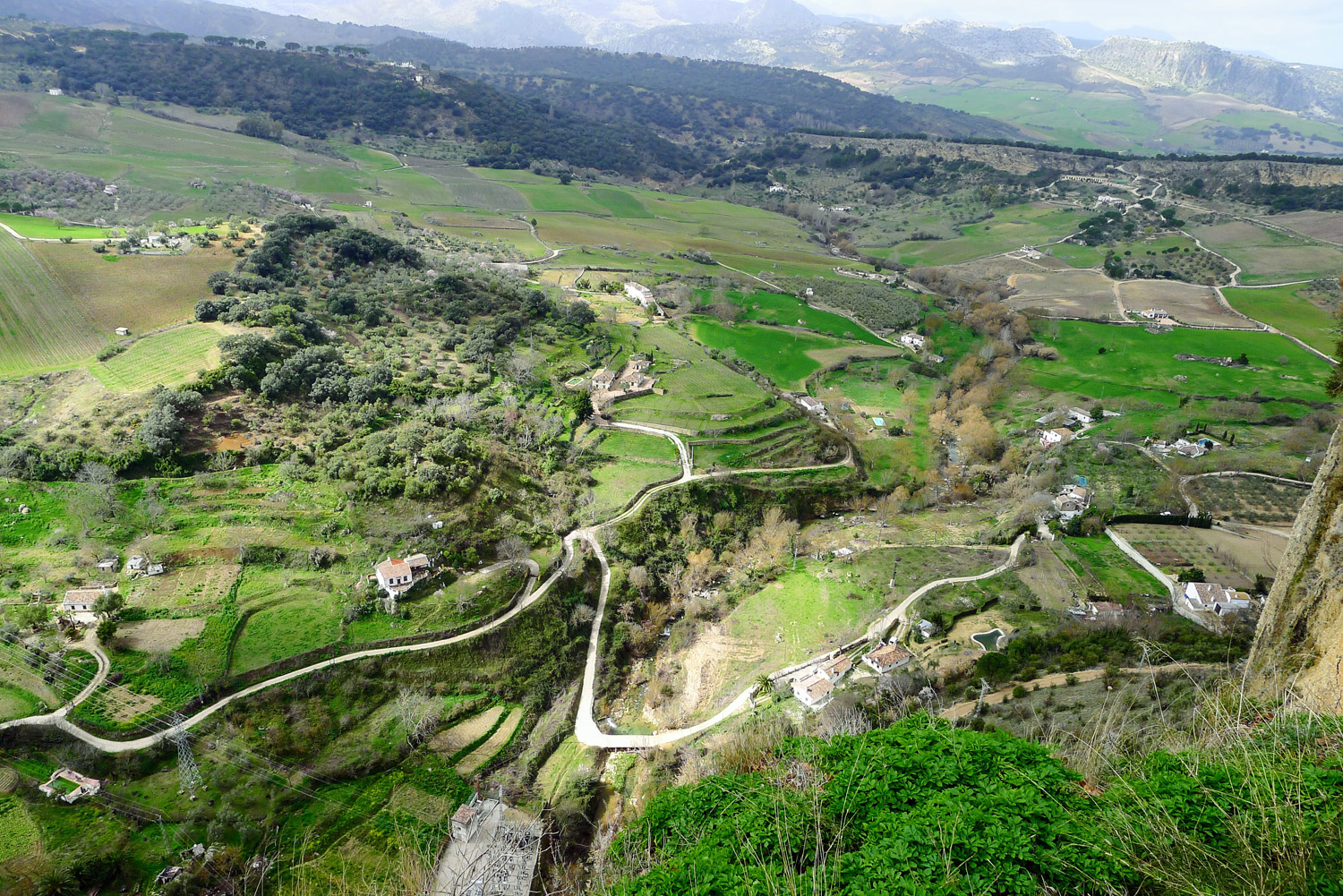 3. Mirador de Ronda viewpoint
GPS coordinates:
36°44'28.6″N 5°10'04.6″W lub
36.741273, -5.167943 - click and route
A spectacular viewpoint with a bridge extending beyond the edge of the abyss. A place where many people like to take a picture of themselves.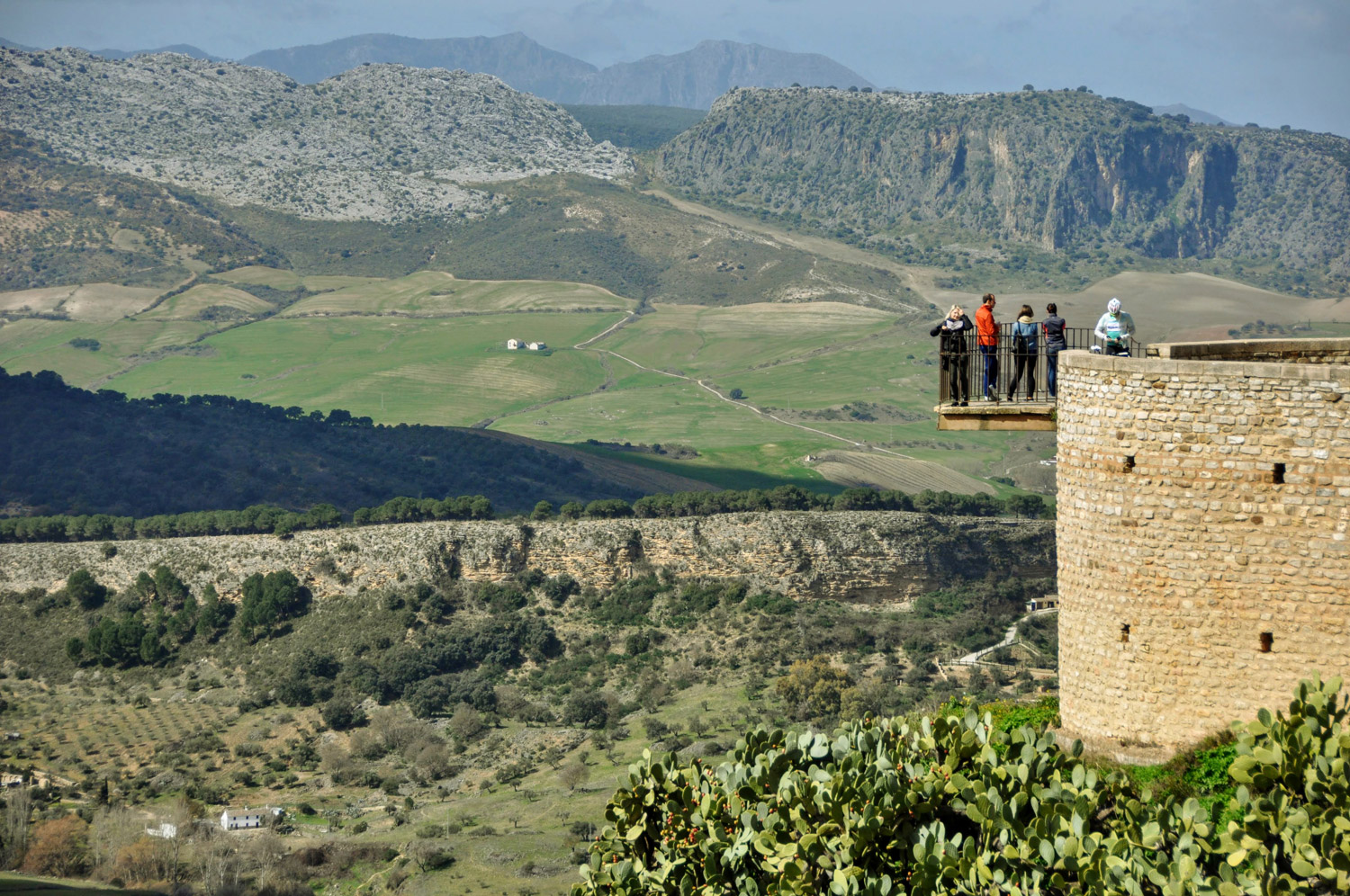 4. Bullfight arena
GPS coordinates:
36°44'30.8″N 5°10'01.6″W lub
36.741901, -5.167102 - click and route
The Arena in Rondo, which is the largest in the diameter of the sandy battlefield, is the largest in Spain. It is 66 meters in diameter and is 6 meters larger than the second queue arena in Madrid.
Ronda is one of the most important cities in the history of the corrida. Two great families (Romero and Ordonez) associated with bullfighting come from here. Francisco Romero he is widely known as the creator moleto, or the red sheet, and as the author of revolutionary changes in the corrida, consisting in replacing horse riders with pedestrian matadors. Sam was the first of them. It was in Rondo that he was the first to kill a bull with a sword while standing on the ground. In subsequent years, presenting this style of fighting in other arenas, he led to the revolution.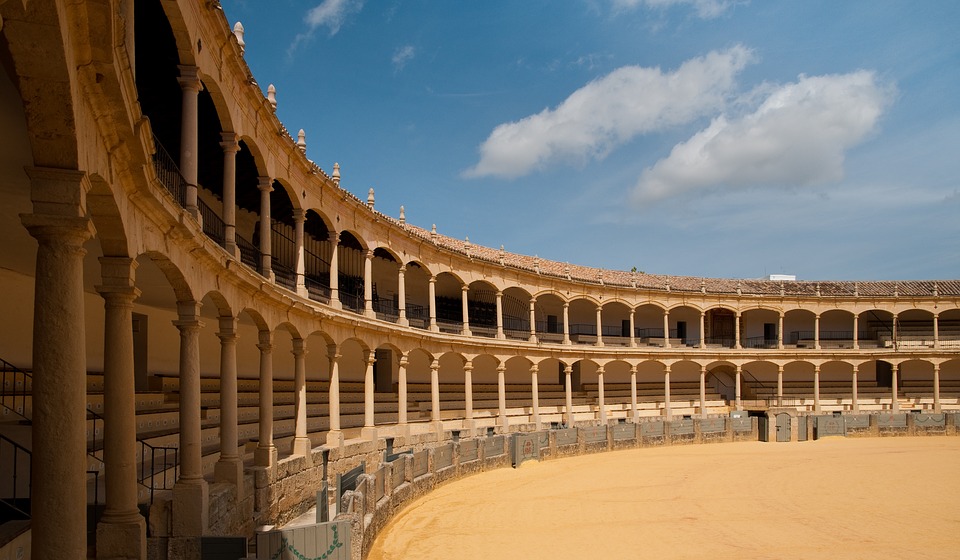 5. Viewpoint on the bridge and on Mirador de Ronda
GPS coordinates:
36°44'26.1″N 5°10'00.4″W lub
36.740592, -5.166779 - click and route
Viewpoint on the bridge and on the Mirador de Ronda viewpoint. It is from here that with the right zoom you can take a picture that I put in the 3 point and below.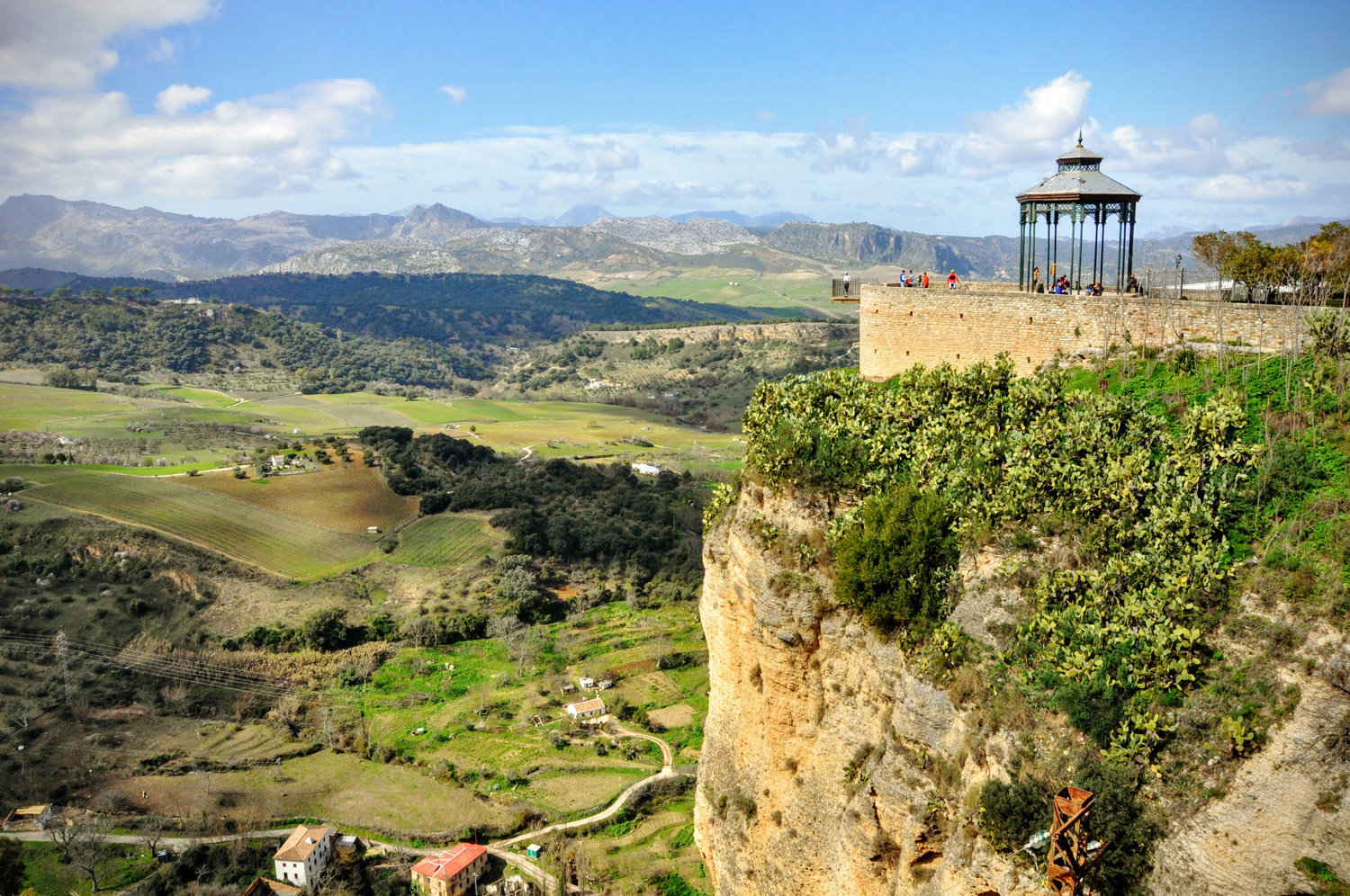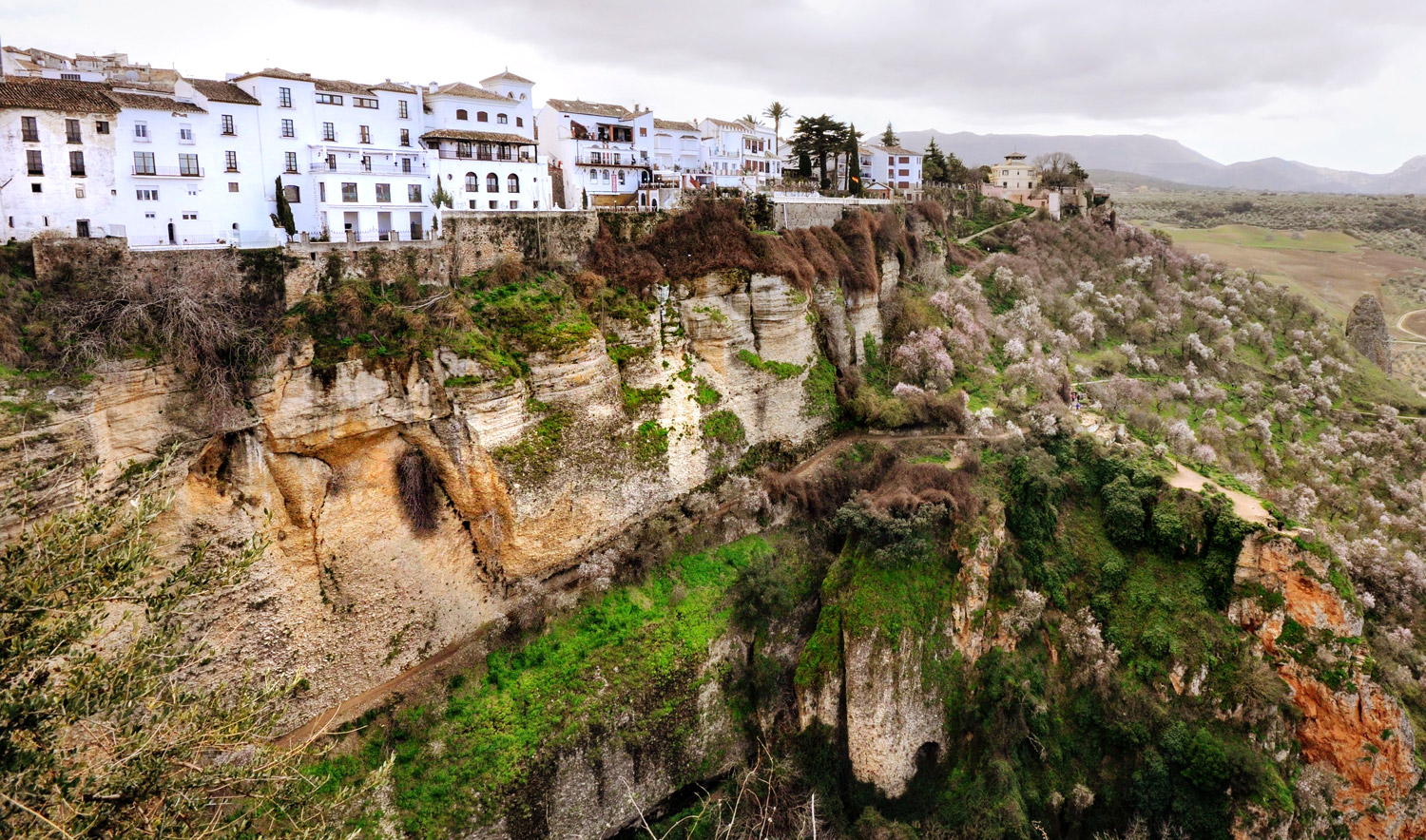 6. Plaza Espana and Puente Nuevo bridge over the El Tajo Gorge
GPS coordinates:
36°44'27.5″N 5°09'57.8″W lub
36.740963, -5.166054 - click and route
When standing on the Puente Nuevo bridge or observing it from another viewpoint, it is worth paying attention to the small window located above the central arch of the bridge. The room inside the bridge was used as a prison.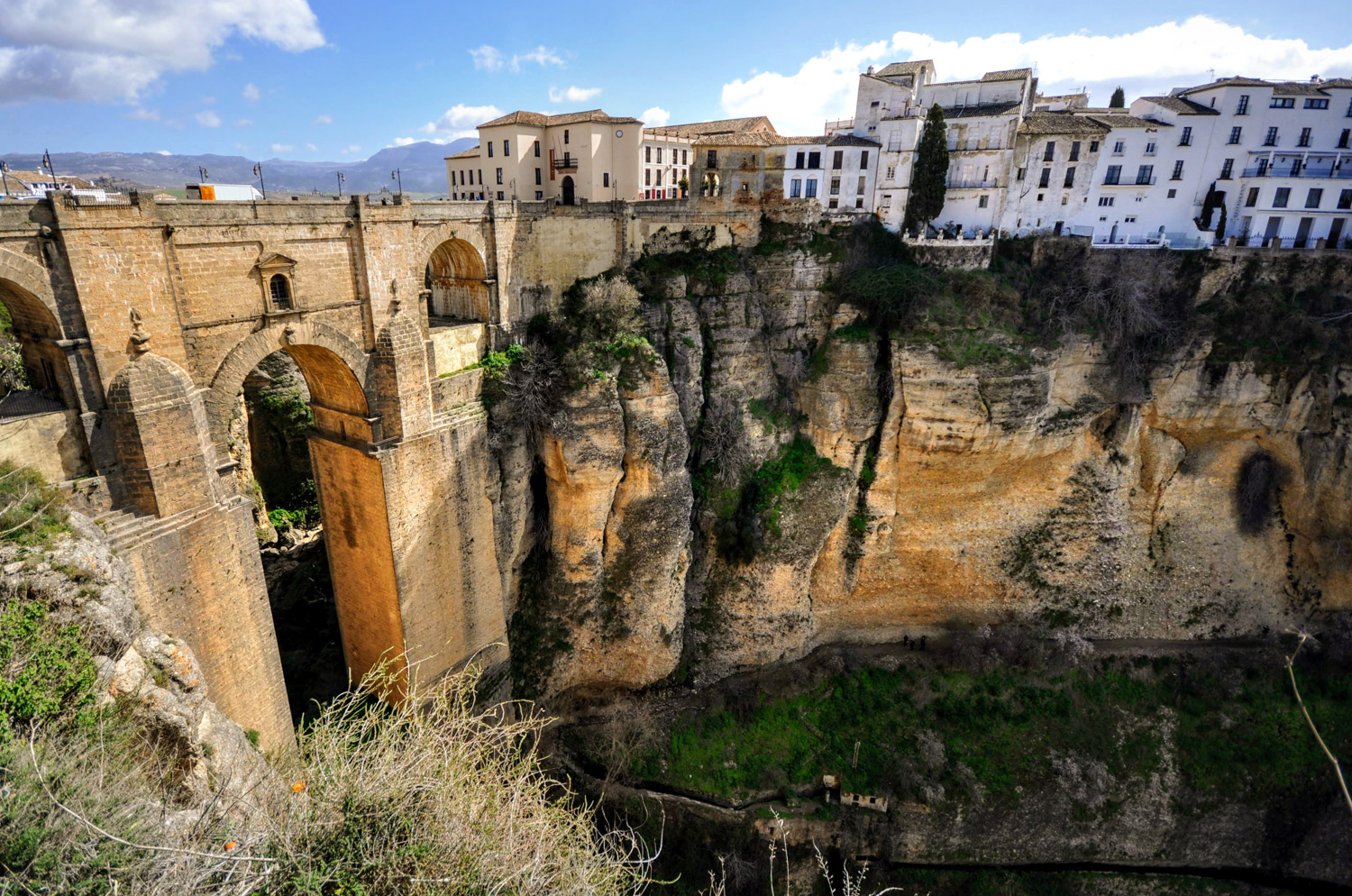 7. Bridges: Puente Viejo and Puente San Miguel
GPS coordinates:
36°44'23.1″N 5°09'48.0″W lub
36.739746, -5.163325 - click and route
These are the two oldest bridges in Rondo. The road leading to them runs strongly down, which means that then you will have to climb a little. Of course, from the bridge located further and lower (Puente San Miguel) the view is nicer.
View from the Puente Viejo bridge: 360 degrees panorama - [click]
View from the Puente San Miguel bridge: 360 degrees panorama - [click]
8. Casa del Rey Moro (House of the Arab King)
GPS coordinates:
36°44'23.5″N 5°09'51.6″W lub
36.739846, -5.164335 - click and route
Casa del Rey Moro was built in the 18th century and (to make it fun) he was never the seat of any Moorish king. Such a surprise!
As if that was not enough, the gardens belonging to the building imitate Moorish gardens but were designed by a French gardener in the 20th century. 🙂
Walking there with this awareness, it's even more interesting to watch.
Zobacz view of the House of the Arab King from the street - [click]
View from the Casa del Rey Moro terrace: 360 degrees panorama - [click]
9. Plaza Duquesa de Parcent
GPS coordinates:
36°44'14.0″N 5°09'55.0″W lub
36.737222, -5.165279 - click and route
A beautiful square surrounded by historic buildings, of which the church stands out Iglesia de Santa Maria del Mayor, built on the ruins of a mosque. Inside you can see the remains of some Moorish details (part of the mihrab and prayer niche). The longest (extremely long) building on the finger next to the church is the town hall.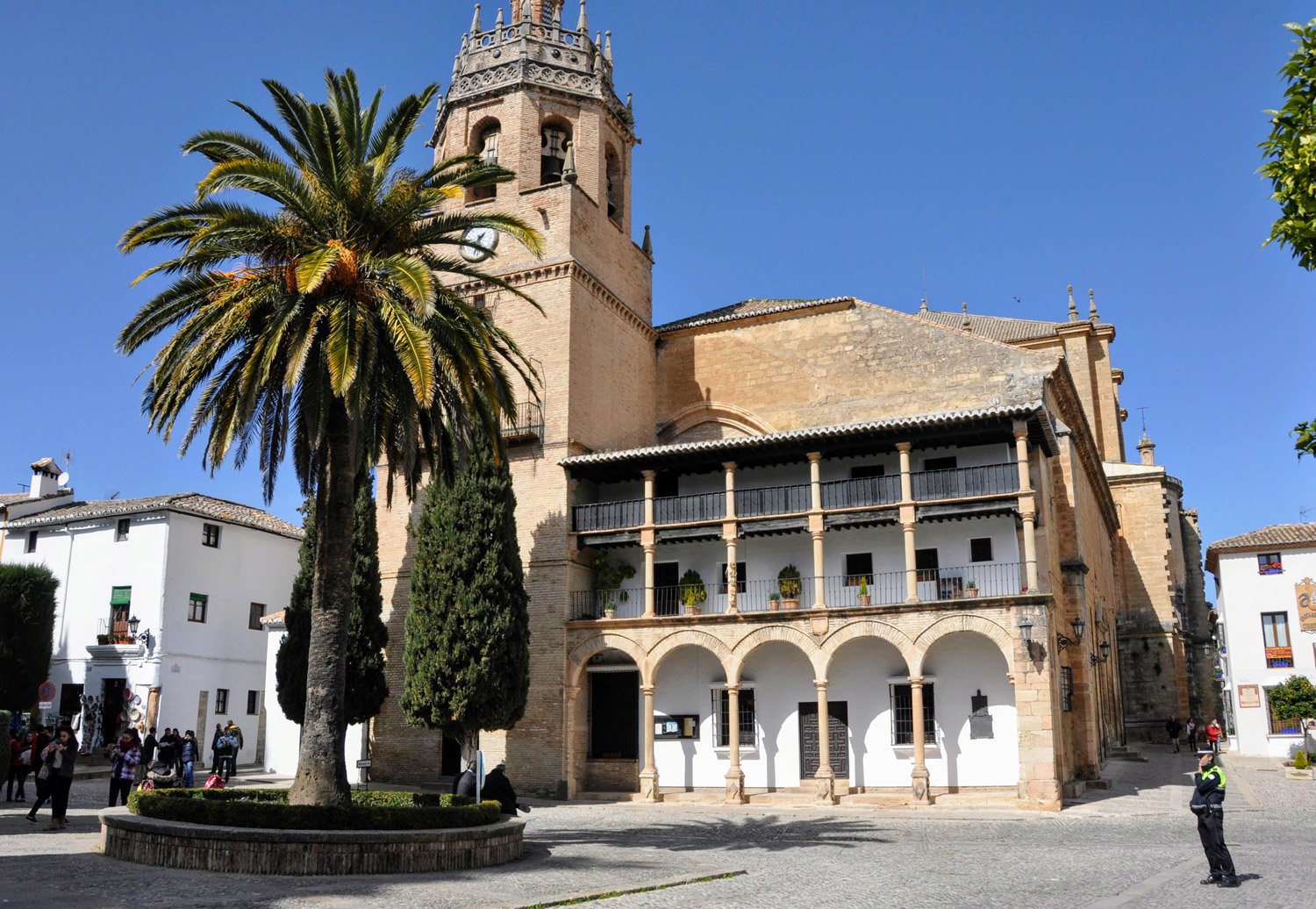 10. Palacio de Mondragon
GPS coordinates:
36°44'15.8″N 5°09'59.3″W lub
36.737729, -5.166477 - click and route
This is the Moorish palace of the ruler of Ronda. A small, well-preserved building with elements of Arabic architecture: ceilings, tiles, courtyards with sculptures and balconies, and the greatest attraction - gardens on the edge of the cliff.
Palace courtyard: 360 degrees panorama - [click]
11. Viewpoint from the path to the gorge to the Puente Nuevo bridge
GPS coordinates:
36°44'21.9″N 5°10'02.9″W lub
36.739422, -5.167483 - click and route
When exploring Ronda, it is worth going out of the city on the path leading down to the El Tajo Gorge. This is probably the best vantage point on the gorge and a monumental bridge towering over it.
View from the viewpoint to the Puente Nuevo bridge: 360 degrees panorama - [click]
The second viewpoint from the gorge to the bridge is slightly lower and if you still have strength then it's worth taking a walk. From this point, you can go back to the city the same way.
GPS coordinates:
36°44'21.8″N 5°10'05.6″W lub
36.739401, -5.168227 - click and route
View from the second viewpoint on the Puente Nuevo bridge: 360 degrees panorama - [click]
If there was a problem with finding the beginning of the path to the gorge, below I give the coordinates of the place where the path begins.
GPS coordinates:
36°44'17.5″N 5°10'01.8″W lub
36.738186, -5.167152 - click and route
How to get to Ronda?
The most convenient way is by car. Most people come here from Malaga due to cheap flights. Renting a car in Malaga and this part of Spain is not a problem. There are many offers and are attractive prices. You can rent a car even without a credit card and no deposit required. Details about cheap and safe car rental can be found in a separate entry: Malaga - Spain: car hire without a credit card and a deposit. Car rentals - reviews, ranking, offers comparison..
The road from Malaga to Ronda is already an attraction in itself. The views can be unique. It is worth stopping and taking a picture.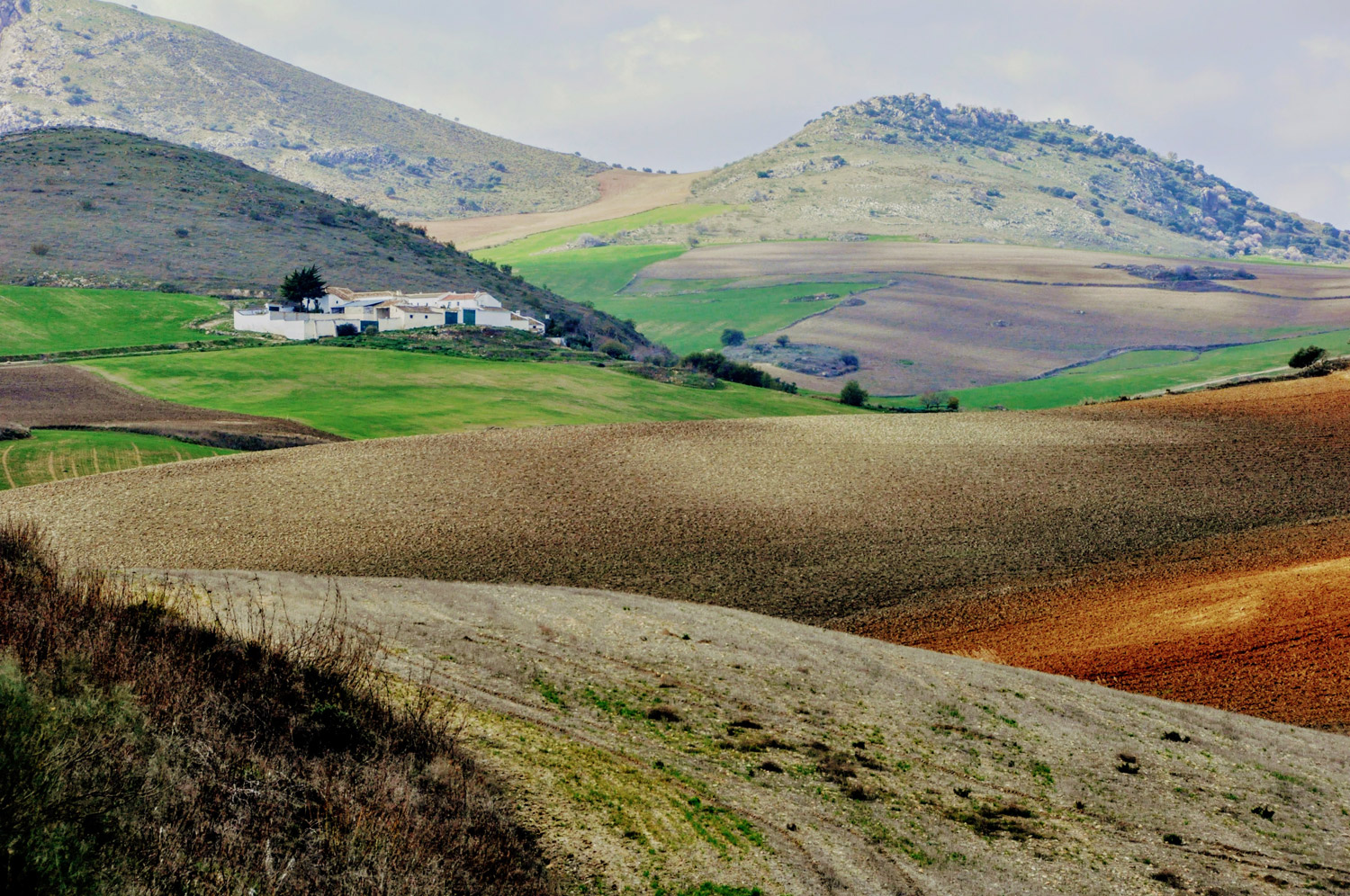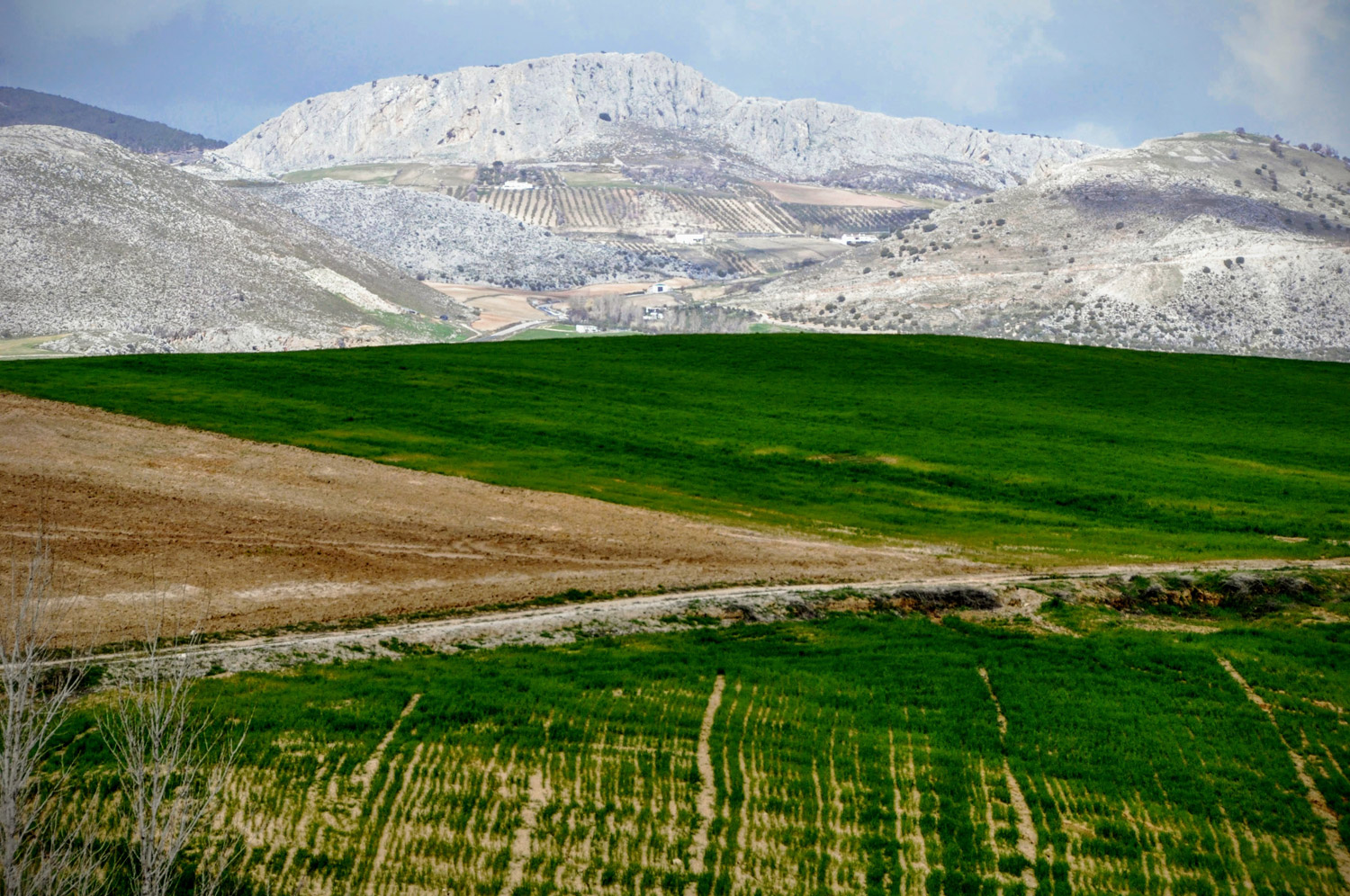 Ronda can also be reached by train, and tickets can be bought in advance online. The price is the same as in the ticket office at the station. You can check train connections and ticket prices directly at rail and bus connections search engine - [click].
Ronda - parking lots
I have marked three parking lots P1, P2 and P3 on the map of the city earlier, where you can park your car safely. These are paid parking lots. Parking number 1 is closest to the center and number 3 is furthest, all of them are generally quite close together and going from any of them is not troublesome or tiring.
Below are the precise coordinates of the places where there are entries to each of them.
1 car park - Plaza del Socorro
36°44'36.0″N 5°09'57.2″W lub
36.743325, -5.165889 - click and route
2 car park - Calle Carlos Cobo Gómez
36°44'38.9″N 5°10'04.0″W lub
36.744132, -5.167770 - click and route
3 car park - Av. The poet Rilke
36°44'42.2″N 5°10'05.2″W lub
36.745056, -5.168099 - click and route
Ronda - accommodation
Ronda has so much charm that accommodation in this city and beautiful photos by the setting sun are worth spending at least one night in Rondo. Accommodation here is rich, prices are moderate, and sometimes they are even very attractive. I really don't regret taking this opportunity.
Personally, I recommend four places. See for yourself:
Perfectly located in the historic center, but slightly out of the way. Very high standard, and at the same time very attractive price make it heavily crowded and very often unavailable. So you need to book well in advance.
Below is a screenshot from booking.com from the day I wrote this entry. 220 PLN for an apartment with an area of ​​90m2 with parking included in the price is probably a pretty good offer, right? 🙂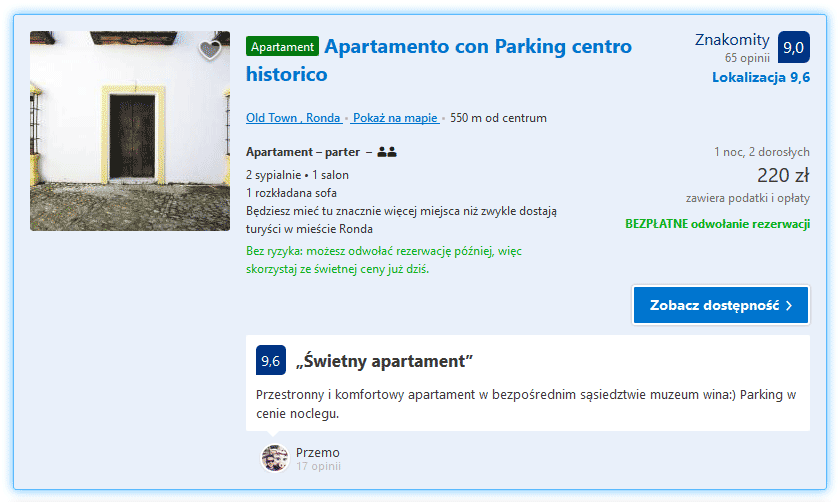 Located literally next to the Puente Nuevo bridge, a four-star hotel where you can sometimes catch a room for just over PLN 200 for two people / night. Very highly rated and appreciated by guests. Rooms with unique equipment perfectly build the atmosphere of the stay. I would recommend.
Located in a quieter part of Ronda, 200m from the town hall and the church of Iglesia de Santa María la Mayor. A very affordable offer with all comforts and breakfast. It's hard to choose better.

Another place worth recommending. Located around 700m from the Puente Nuevo bridge. It has a shared terrace with lying mattresses, from where you can enjoy the surrounding views in the evenings. Purchase of a bottle of wine and something small to eat for an evening admiring the landscape is a must! Do you need something more?

Important to me!
Give the article a good rating
(5 stars welcome 😀)!
It's free, a
for me it is very important!
The blog lives on visits and thus has a chance to develop.
Please do it
and ... thank you in advance!
I also post
link to Facebook profile - [click]
. Come in and press "
Follow
"then you will not miss new, inspiring posts.
Unless you prefer
Instagram
. I'm not a social media demon, but you can always count on something nice to look at on
my instagram profile - [click]
. The profile has just been created, so
for now he is starving
, due to the lack of followers. He is happy to receive any observer who feeds him with his love.
I make the content I create available free of charge with copyright, and the blog survives from advertising and affiliate cooperation. So, automatic ads will be displayed in the content of the articles, and some links are affiliate links. This has no effect on the final price of the service or product, but I may earn a commission for displaying ads or following certain links. I only recommend services and products that I find good and helpful. Since the beginning of the blog's existence, I have not published any sponsored article.
Some of the readers who found the information here very helpful, sometimes ask me how you can support the blog? I do not run fundraisers or support programs (type: patronite, zrzutka or "buy coffee"). The best way is to use links.
It costs you nothing, and support for the blog is self-generating.
Pozdrawiam