Cheap hotels on Booking? Of course! Check how to find comfortable and cheap accommodation! Barcelona, ​​Rome, Paris ... wherever you want!
There is nothing simpler?
Theoretically, there is nothing simpler than searching for accommodation in Booking - [click]. You go to the site, fill in the 3 frames (destination, arrival date, departure date), press "Enter" and it's ready.

A trivial matter. There is a result.
The search is simple and pleasant. So it is advertised by the service provider. However, the question arises whether following this simple path will find the best offer? Of course not!
Booking in my opinion is currently the best booking portal. It has the widest offer, great prices etc. Like all business activities, however, it aims to maximize profits and uses various methods to achieve this. He puts pressure on the buyer to provoke him to make a quick buying decision. I suggest offers based on the key that is most beneficial for the company, but not necessarily for the buyer. Of course at Booking easily You will find great accommodation and hotel offers with which most similar sites are not able to compete, but you must do it consciously.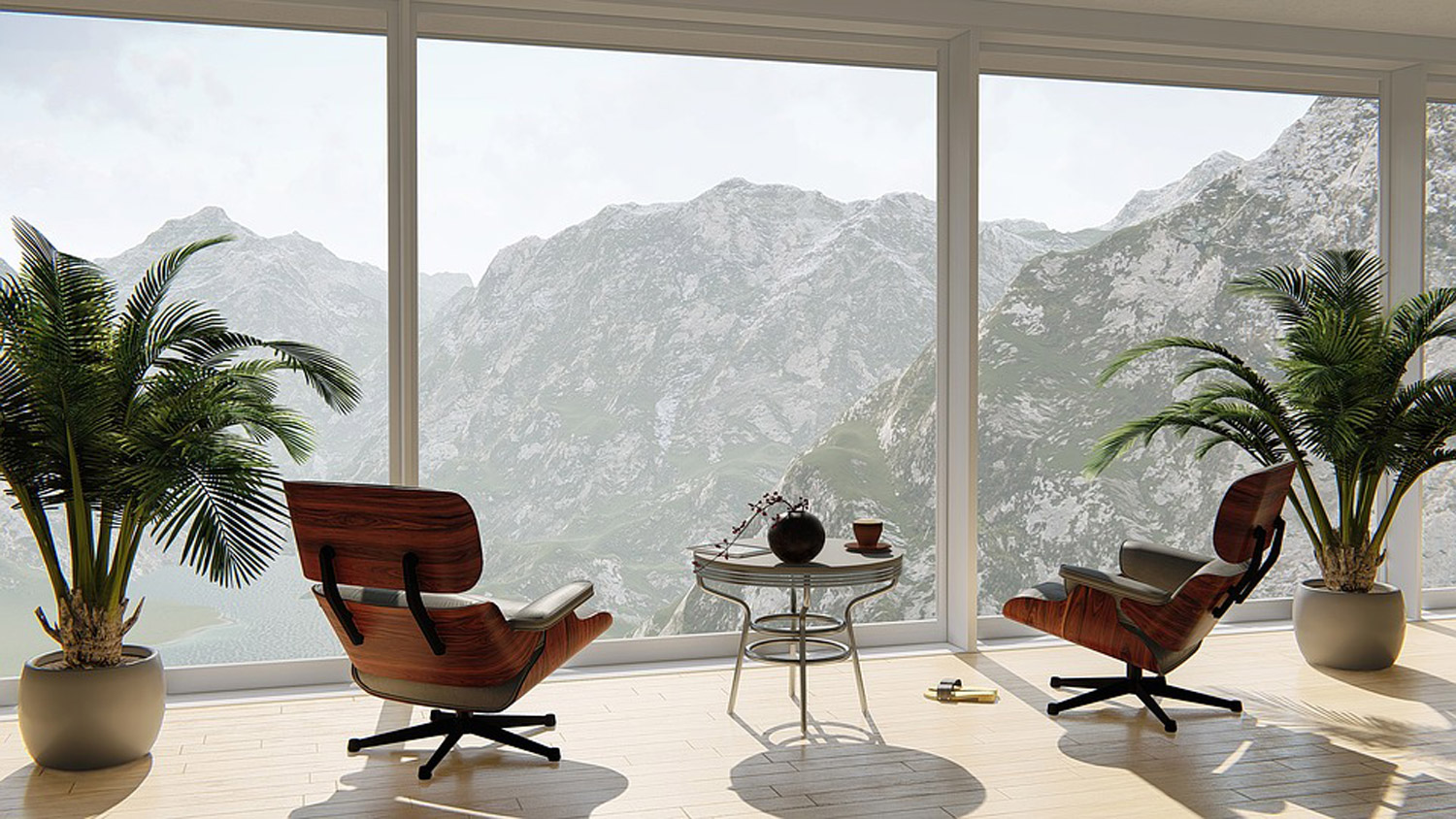 How to find the best offer and price of accommodation on Booking?
The principle is simple: you must be aware of the actions that booking portals use (so that it is clear similar tricks are used by all portals, not only Booking ). By acting consciously, you'll be able to get the best price possible from the Booking hotel database. Sometimes it may not be as low as your expectations, but it will definitely be the best possible at the moment. It often happens that you get a price even better than expected.
Let's take a look at the entire hotel search process and see where the traps are hidden and how to avoid them.
Hotel search results
We will trace everything on the first example from the edge, choosing a popular direction and not too distant date of departure.
So I suggest you conduct a test search with the following parameters:
- we are looking for a hotel in Rome (popular destination)
- we will need a room the next week (I assumed the date of arrival 10 days from the time I write this article and it turned out that it will be August 19)
- we will stay for 4 nights, for two people
I go on booking.com - [click], I enter data and I have the result. Let's analyze the search result piece by piece. There are several pieces of information lurking in various parts of the site, which are designed to properly profile us and direct us to specific actions.
Pressure on the user
Already on a good morning at the top of the search results we get information that is supposed to put a certain pressure on you.
It looks like:

We learn from her that 80% of objects are already reserved by this date. Red adds horror. Is it getting nervous?
In practice, there is nothing to stress. Since all previous reservations from around the world, often made several months earlier, have exhausted only 80% of the offer, and 10 days are left to travel, what is the probability that another 20% will be sold out in such a short time? Few people book accommodation so little in advance. There is still a lot of space, but this information presented in this form exerts pressure on us to make a quick decision.
Slightly below we are shown accommodation offers.
The first is the offer at the price of 2 327 PLN (for 4 nights, for 2 persons).

This offer again has additional red information that: Only 2 rooms are left on our site! Another pressure.
It's easy to think that there will be a lack of rooms!
In addition, the next queue offer is for 4 814 PLN !!! Of course, this offer falls, and the pressure rises.

So let's see what offer is in third place.

Nice offer, interesting proposition, pleasing to the eye, but the message on the offer is:
You didn't miss a lot!
This is a popular date - we don't have any rooms available in this house! Check out the others below.
Pressure is rising ... the third offer in turn in search results and again the box!
4 on-site offer costs 2 631 PLN. Terribly expensive!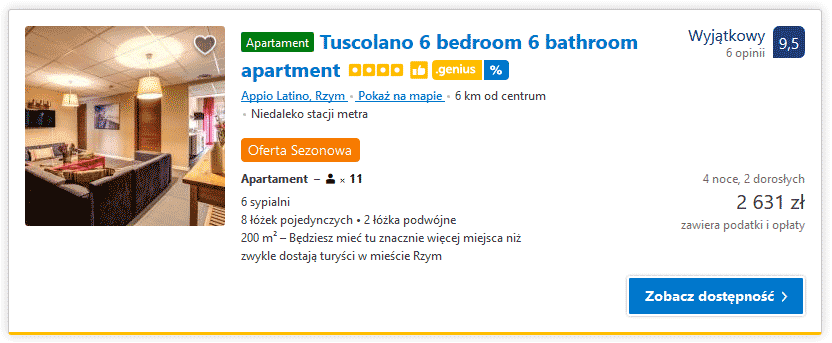 I am slowly beginning to become convinced that it will be hard with this accommodation. I scroll the search results below and offers appearing around PLN 1 300. There is a slight relief. Practically, each offer has red warnings, like: 3 booked in the last 6 times, only 1 room left!, Only two rooms left, you didn't run short ...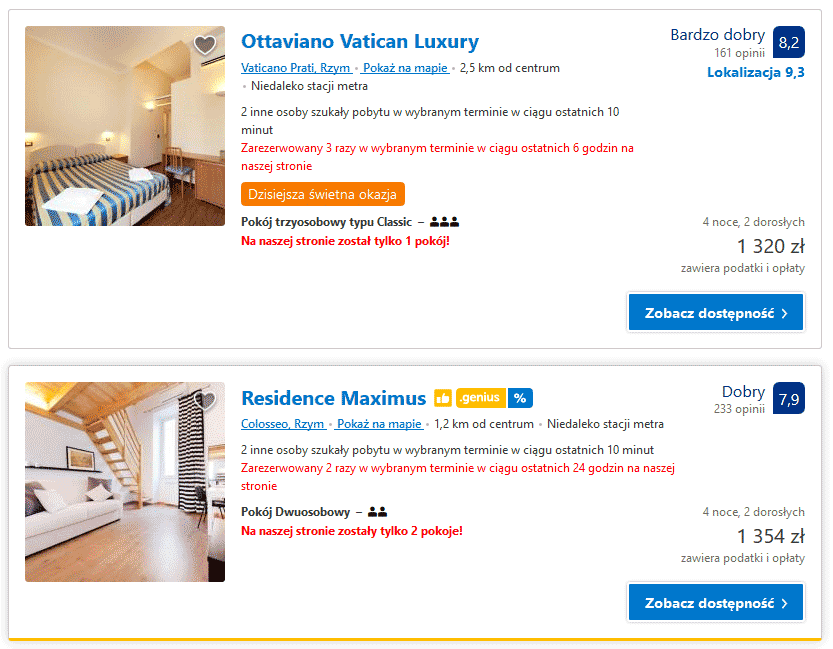 The next offers in the queue are more expensive.
In these circumstances, the offer for 1 PLN 300 looks attractive. We have been successfully profiled by the search engine and it seems that this offer looks good.
So we click on the offer, look inside, and there ... we are subjected to another pressure. Just look at the screenshot with the details of the offer: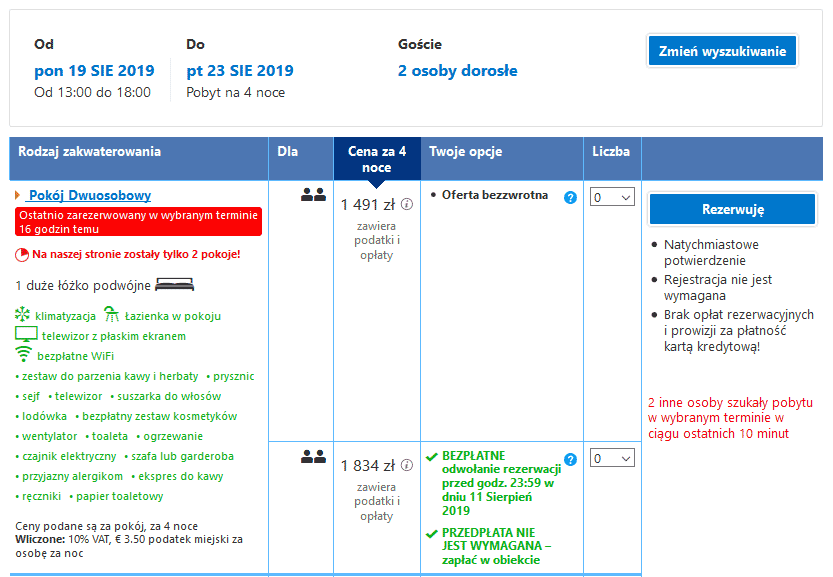 At the room we are interested in, there is information on a red background:

that is, someone recently booked an identical room. Damn, no kidding! You have to hurry!
... and moreover

and

I did one more experiment
I waited 12 hours and repeated the search according to the same criteria. I got the same result and the same warnings 🙂
... so take it easy!
Are you wondering what it's all about? Is this information and website sharpening false?
Nothing similar. The warnings are real! Please note that no hotel provides at your disposal Booking all their rooms. They give several or even single (1 or 2) pieces. Information that only 1 or 2 rooms are available on the site therefore applies to those rooms that were put at the disposal of the website, and not the entire hotel. So it's real. If the room is sold, the owner of the object gets information about this fact and if he has free more rooms available another available to the search engine. In the search engine this room appears and is again visible as the last available.
The search engine giving its availability warning is based on the rooms available in it. There is no knowledge about the condition of all rooms in the hotel, but only about those that the hotel has made available for sale online.
Or maybe search your own way?
We are looking for cheaper and good accommodation in Booking
As I wrote before Booking is a powerful and great search engine, but the default search result is better to ignore. You will find the best deals by searching according to your own criteria and it is not complicated.
The best results are most often obtained by searching according to the increasing price criterion while narrowing the search criteria to a group of objects of interest to us.
Example:
Let's once again search Rome according to the same criteria as before, but after receiving the default search result let's make some simple changes.
1. We set the criterion of increasing price
To do this, click on the "Price (from the lowest)" button as in the picture below.

2. We narrow the search results
I assume that you may very rarely be interested in sleeping in 28 personal (or slightly smaller) rooms. It is worth limiting the search result to objects of interest to you.
On the left side of the page there is a vertical bar with additional filters that you can apply to the search result. Discussing everyone makes no sense, because you quickly orient yourself in their functioning. In our example, I applied the following filter: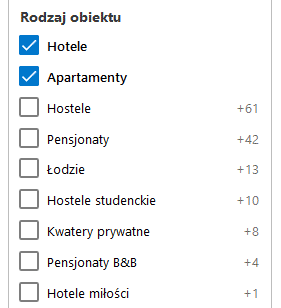 I have marked that they only appear in search results hotels and apartments. I gave up the guesthouses, because ordinary hostels are often connected under the guesthouses, which due to multi-bed rooms and low standard do not suit me.
The result of this simple search has the following effect:



This simple change in the search method has already helped us find interesting offers in the range PLN 606 to PLN 626 for the hotel 3 *** (for 4 nights, for 2 people). This means that we have found a better standard and 700 PLN cheaper offer from the offer in default results. That's less than half the price compared to the most interesting offers from the default search result. We have an offer for PLN 613 with breakfast included in price. On average, it comes out about PLN 150 for two people per night with breakfast! You won't spend the night so cheaply even in November at the Polish seaside, and we're talking about accommodation at the peak of the summer season in the center of Rome. Booking really can do it!
Price for a room is not everything
When analyzing the attractiveness of the offer, it's always worth checking to see if there is any in the description provisions for additional fees. In Germany, for example, downloading is a common practice in Rügen additional fee for final cleaning, towels, bed linen for the stay.
Almost all offers contain such an additional subscription, and in some cases they are quite significant.
An example of such an offer is provided below (a fee of EUR 15 per stay will be added):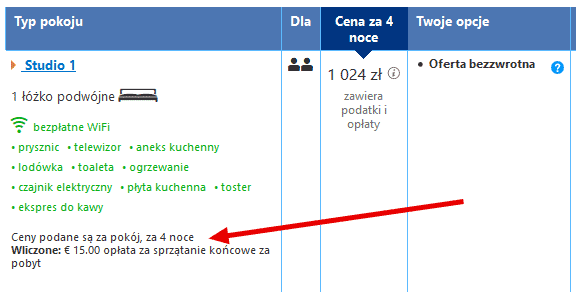 An even more vivid example of this type of offer comes from Romania, where for some time you could find offers for a stay of several euros a day, but the content of the offer added a cleaning surcharge of several dozen euros per person for each day of stay.
I have not found such offers at the moment. Most likely Booking he did it well, but it's always worth being vigilant.
Credibility and quick evaluation of the offer - customer reviews
W Booking jest powerful and often underestimated mechanism for assessing the credibility of the offers. These are customer reviews. Opinions consist of several partial assessments. Customers rate: location, staff, cleanliness, value for money, comfort, amenities, free Wi-Fi. The average rating is created from these ratings, and the average rating from all customers.
By positioning the cursor over the field indicated by the upper arrow in the image below, the window with component ratings (the lower arrow indicates it) expands.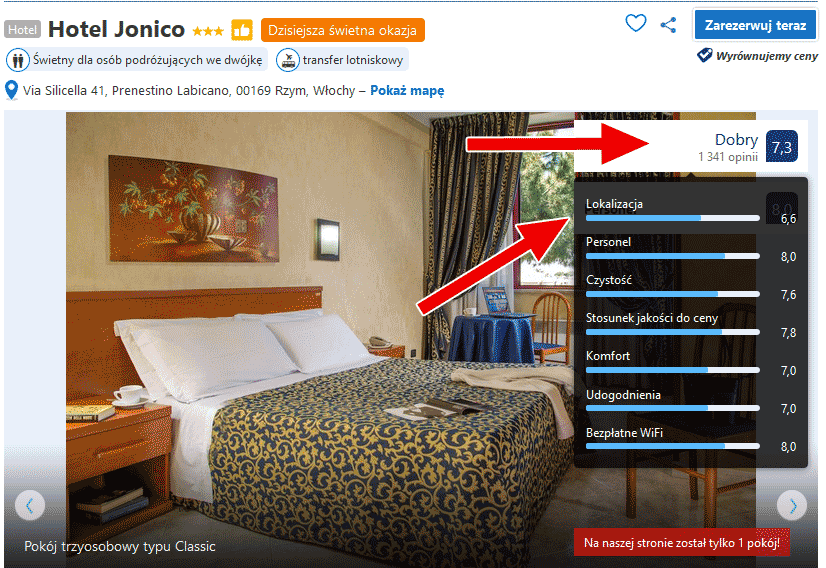 In my practice, that nights that have an average rating lower than 7 do not bother. Most often at a similar price you can easily find accommodation rated at least 7.
In addition, read descriptive customer reviews. They often indicate the positives of accommodation that may suit you especially or the inconvenience that may be important to you.
You can find opinions by clicking on the rating icon, as indicated by the arrow in the image below.
It is worth noting that these are only the opinions of people who booked, paid and were at the selected object.

Of course, sometimes there are opinions of typical malcontents who complain about everything and always, but it is usually easy to pick them out. Most often they just significantly deviate from the rest of the opinion.
Sample opinions after expanding look like this: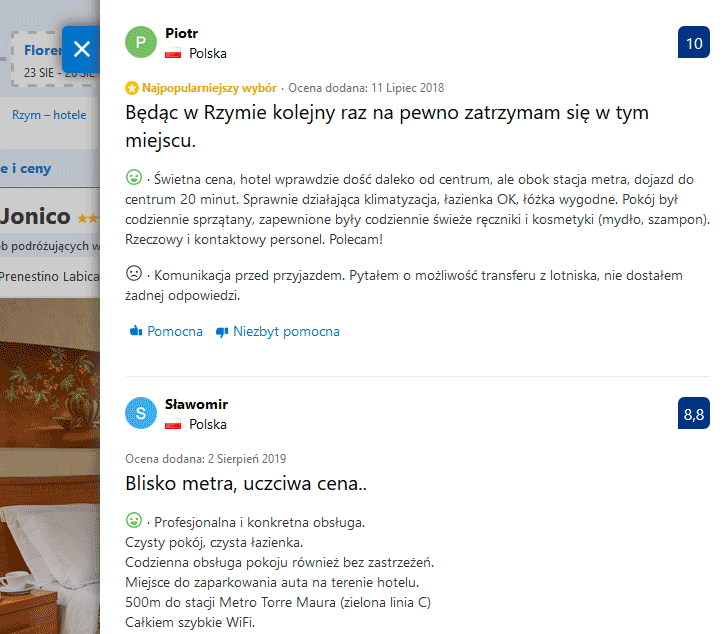 Hotel search on the map
By entering the offer you are interested in, you can do one more interesting thing. At the very top of the offer, above the main picture in the offer, there is a link to a map that allows you to check the location of the selected object on the city map.

It's always worth clicking and seeing, e.g. where the nearest metro station is, or whether there is another object nearby that could disturb you. In addition, other hotels and prices available in them are shown on such an open map. By entering this map I have found an even better hotel many times than the one from which I opened the map.
Below is just such an example. Definitely closer to the center, close to a metro station and the greatest attractions of Rome, great price and high ratings. I like to have a choice. A great tool!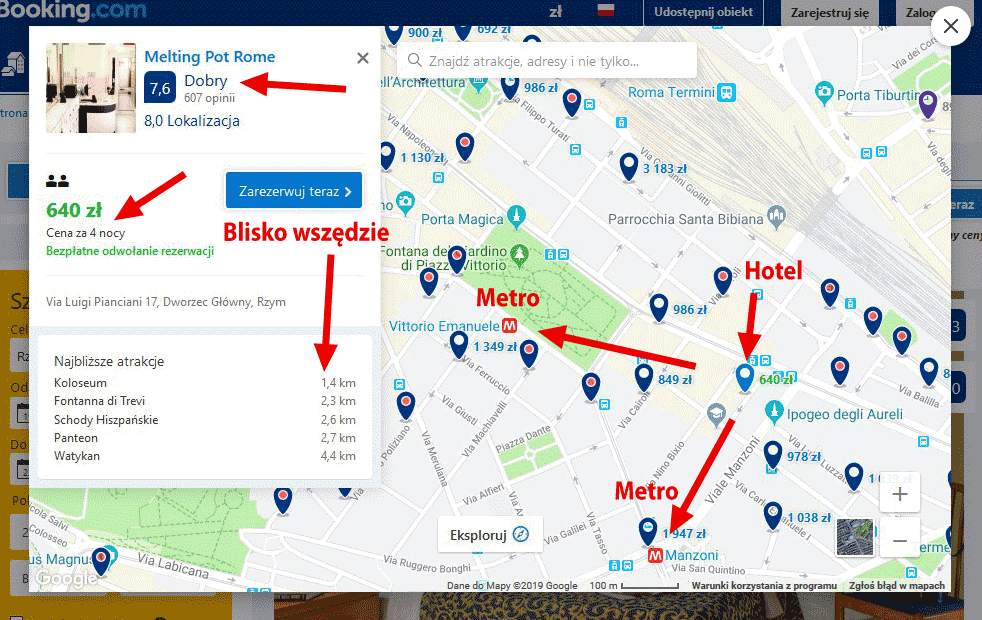 Cancellation of the offer
The rule is simple: you want a better price, then book in advance. Unfortunately, by booking well in advance you take the risk that in the meantime something may change and even regardless of your intentions you may not be able to go on the reserved date. Then what?
Fortunately, most offers in Booking are offers from the so-called free cancellation.
In practice, this means that you have the right to cancel your booking and cancel it without paying any fees. Cool right? If you suspect that this may happen to you, look for offers with this information about free cancellation.
When searching, be sure to pay attention to one more important element of free cancellation. In the description of the offers, the hotels state the date on which the resignation is free. In order for your free cancellation to be effective, you must cancel your arrival well in advance. Sometimes the minimum deadline is a week, sometimes two weeks, and sometimes 3 days before the start of the booking date.
After booking on the site Booking information on the free cancellation date is always easily available. You can always go in and check until you still have time to resign.
Free cancellation is a nice tool that allows you to plan your trip very conveniently and flexibly. Many people use it so that when they see an interesting offer, they simply reserve it and in the meantime they are still looking for more offers. If you suddenly find an extra opportunity, I reserve this opportunity and forgo the original offer free of charge. In practice, it works great.
There is a second version of the reservation, in which, despite the cancellation of the reservation, the total cost of renting the room is still incurred. On Booking it's called "non-refundable offer".
Often, the same room can be rented in two ways: non-refundable offer and offer with free booking cancellation. The non-returnable offer is then cheaper, but you run the risk that if you have to cancel a trip, you bear the entire cost. The offer with free booking cancellation is more expensive but you don't take any risk.
In the picture below I have marked what both versions of the accommodation rental look like on the example of one of the offers: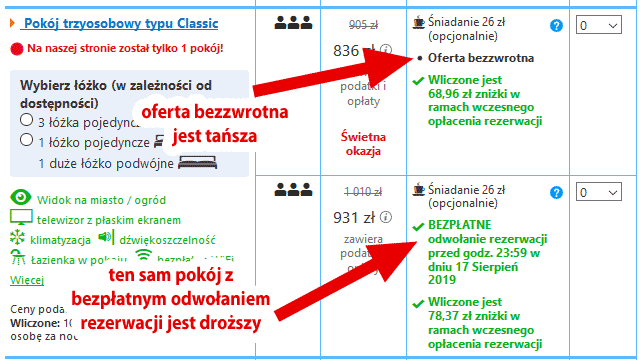 Parking
Parking is extremely important especially in large cities. Pay attention to this. Parking in the center of Paris or Rome is not easy. For example, parking in Madrid is a bit easier, but you must have a whole pocket of coins to pay for a sufficiently long stop in a parking machine, and in many places parking time is limited to a maximum of 2 hours. You can't just pay for more than 2 hours. If you want to park longer, then every 2 hour you have to go to the parking meter and pay for the next parking time. Extremely troublesome, but I understand that the goal is to reduce the number of cars parked in the center.
So if the hotel allows parking in its parking lot, and at the same time proposes it in the price of the hotel, then it is always worth considering such an offer, even if it is a little more expensive. Parking outside the hotel will probably also cost, so a slightly higher price of a hotel with a parking lot has its justification.
In smaller cities and provinces, this problem usually does not occur or is not so bothersome.
Other amenities
Many hotels, especially smaller ones, compete for clients with other amenities. Some offer a free airport shuttle, others provide a rooftop terrace for all guests, where in the evening you can relax in the open air, drink a glass of wine, etc., others have a special garden, swimming pool, gym, or breakfast included in the price.
It is always worth reading the entire offer and enjoying the benefits of competition between hotels on Booking , and once we make sure that we have chosen the best one, we only have to wait impatiently for the trip and a new adventure!
To work!
Now look for cheap and good accommodation yourself Booking - [click] !!!
WARNING!
If you are going to book a hotel then I have a request.
Do it from my link to booking.com - [click]
.
You will pay exactly the same
but by the way, I will get a commission. Of course, you can do it without clicking on my link and then you will pay the same price (not a penny cheaper) and the entire commission will go to one of these portals, but I believe that my work is worth one click, which costs you nothing. Many readers write to me that my texts were very useful.
Making such a reservation will be the best thank you.
So if this is not a problem for you, when booking a hotel, go to my website, click the link above, and then simply book any accommodation. Thanks in advance!
Important to me!
Give the article a good rating
(5 stars welcome 😀)!
It's free, a
for me it is very important!
The blog lives on visits and thus has a chance to develop.
Please do it
and ... thank you in advance!
I also post
link to Facebook profile - [click]
. Come in and press "
Follow
"then you will not miss new, inspiring posts.
Unless you prefer
Instagram
. I'm not a social media demon, but you can always count on something nice to look at on
my instagram profile - [click]
. The profile has just been created, so
for now he is starving
, due to the lack of followers. He is happy to receive any observer who feeds him with his love.
I make the content I create available free of charge with copyright, and the blog survives from advertising and affiliate cooperation. So, automatic ads will be displayed in the content of the articles, and some links are affiliate links. This has no effect on the final price of the service or product, but I may earn a commission for displaying ads or following certain links. I only recommend services and products that I find good and helpful. Since the beginning of the blog's existence, I have not published any sponsored article.
Some of the readers who found the information here very helpful, sometimes ask me how you can support the blog? I do not run fundraisers or support programs (type: patronite, zrzutka or "buy coffee"). The best way is to use links.
It costs you nothing, and support for the blog is self-generating.
Pozdrawiam