Turkey - Last Minute or First Minute holidays? When is the cheapest to book? Analysis of holiday price changes in Turkey.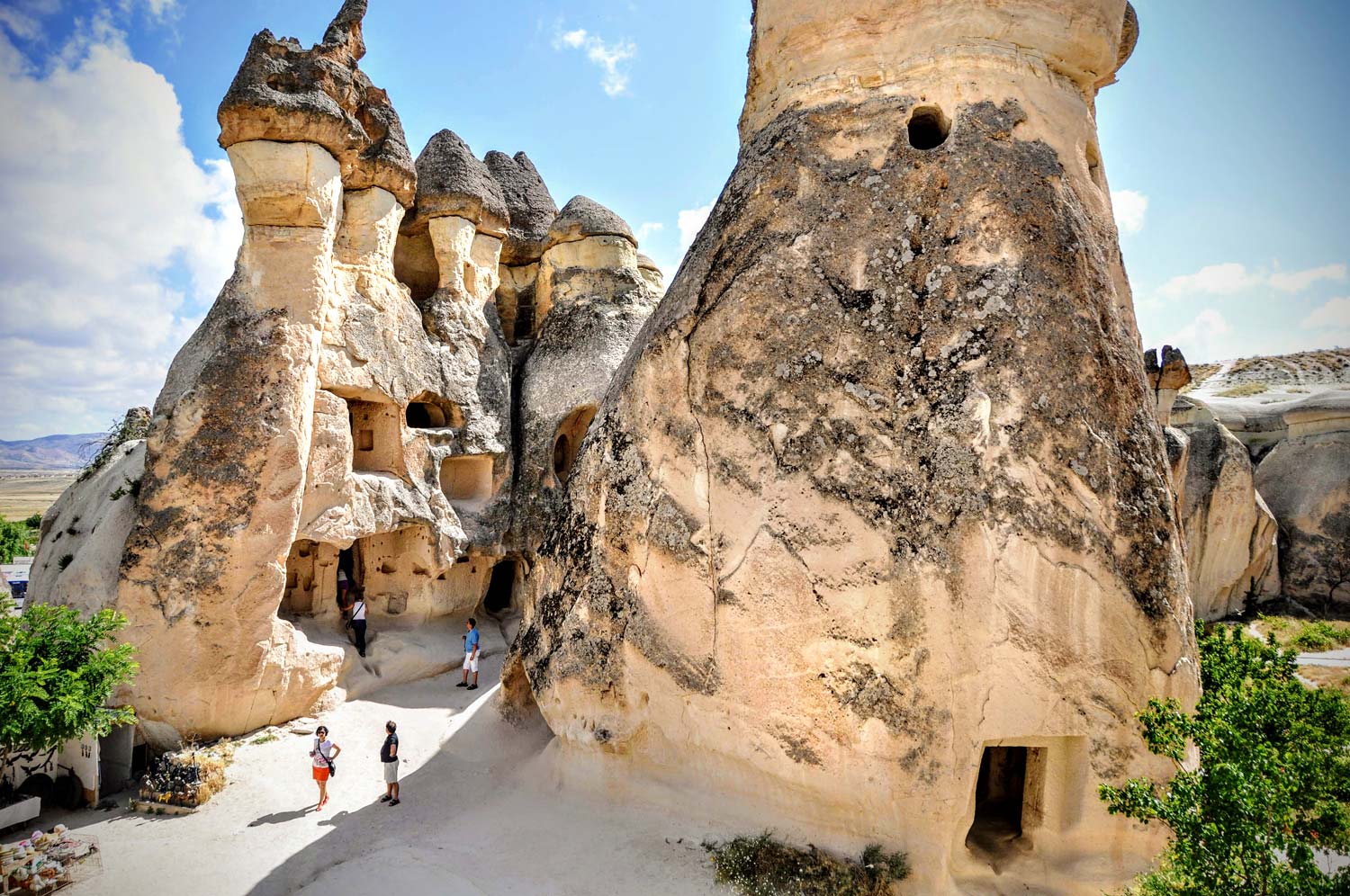 Holidays are great!
You don't need to convince anyone. Sun, travel, rest ... wonderful!
And if it were, apart from being wonderful, was it still cheap?
Why not? Truth?
Thanks!
However, you need to think about it early enough and grab the opportunity at the right time!
Only when is the right moment?
I will try to answer this question in this entry.
When is the right time to book a trip to Turkey?
This is a question from the category of those regarding future prediction. There is never 100% certainty that it will be as we think. However, based on observation and analysis of relevant data, you can get very close to the best answer and get a satisfactory result.
Historical data analysis is a good material. Observation of changes in the price of trips in the direction of interest from previous years brings a lot of important information. If the overall political and economic situation is stable at this time and there are no worrying changes, it is very likely that what happened in previous years will be repeated next year.
It is enough to get to the historical data, analyze it and the conclusions will come to their own. Truth?
Exactly!
Very simple and effective! Let's do it like that!
Seems so simple, yet ...
Exactly. The idea is not new and simple. Easy to carry out, but ... no historical data 🙁
It's hard as hell to get reliable data. Travel agencies - as you probably guessed - do not boast of such information. And why should they brag? For customers to buy cheaper, what can they buy more? Hehh… no kidding!
A slow search of the network has some effect, but the data found in this way is inconsistent and can be misleading. What I mean? I already explain.
Let's start with the question:
How much do holidays cost in Turkey?
The brainy traveler will answer right away: it depends when you want to go. More expensive in the season, cheaper in the off season, and even cheaper in the low season. And we already have the first trouble. Historical prices found on the web are enough to cover different dates and the topic is already falling apart.
Another brainy traveler will say: moment, moment ... so what if you have prices from similar dates, if they relate to different hotel standards? After all, the price for the 3 *** hotel is a completely different shelf than the price for the 5 ***** hotel.
Another traveler (also brainy) will add various food options (2 meals a day, 3 meals a day or All Inclusive) and we have another problem with data consistency.
Finally, even a careless traveler will find that the prices of the same trip, to the same hotel, with the same range of meals ... etc. change, depending on the moment you make the reservation. After booking much earlier you will pay a different price than when booking last minute.
There are a lot of variables, and incompetent analysis and the use of inconsistent data can be misleading instead of measurable benefits. This will eventually end in a higher price that you will have to pay for your dream trip.
So what about this analysis? Will or not?
It will! Of course it will be!
Below is a brief analysis, for which I used some of the data published by TravelDATA Tourism Market Research Institute. The Institute published data on how much the price for a trip for one person changed on 7 days to Turkey, in the first week of August, from Warsaw, in the All Inclusive standard.
Starting from October (then First Minute offers are available), the Institute every month checks how much the same trip currently costs (first week of August, 7 days, from Warsaw, All Inclusive). The study lasted until August (then the price is shaped by Last Minute offers).
3 *, 4 * and 5 * hotel prices were checked separately.
When calculating the final results, only offers of hotels whose offer was available continuously from First Minute to Last Minute were taken into account.
The Institute's website contains data from the year 2017.
These data seemed consistent enough to me that I decided to use some of them for analysis.
Holiday prices change in Turkey
The chart below shows how much and in what direction the price of a holiday trip to Turkey has changed, depending on when you bought the trip.
Under the graph you will find the same data, but in the form of a neat table.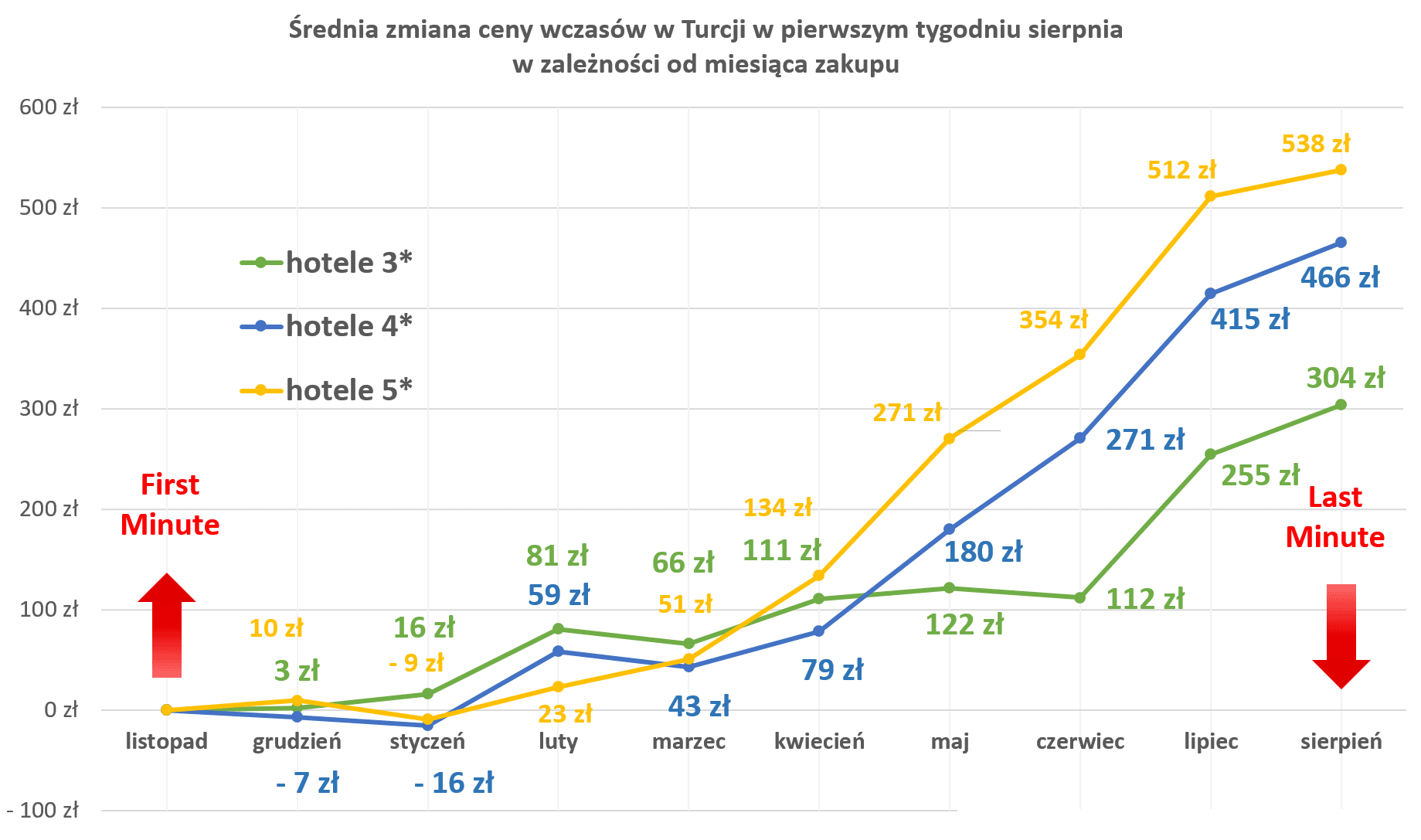 Price change for a 1 stay of a person
3 hotels *
4 hotels *
5 hotels *
November
PLN 0
PLN 0
PLN 0
December
+ PLN 3
-7 PLN
+ PLN 10
January
+ PLN 16
-16 PLN
-9 PLN
February
+ PLN 81
+ PLN 59
+ PLN 23
March
+ PLN 66
+ PLN 43
+ PLN 51
April
+ PLN 111
+ PLN 79
+ PLN 134
May
+ PLN 122
+ PLN 180
+ PLN 271
June
+ PLN 112
+ PLN 271
+ PLN 354
July
+ PLN 255
+ PLN 415
+ PLN 512
August
+ PLN 304
+ PLN 466
+ PLN 538
source: based on data from the TravelDATA Institute for Tourism Market
As can be seen from the above data, little is happening with prices up to January. Light traffic occurs at the turn of February / March. However, at the turn of March and April some major price movements begin. The price has been rising almost all the time and this clearly growing trend continues until the very end.
Therefore, the Last Minute price is unlikely to compete with the price that can be obtained by buying a holiday in Turkey in the First Minute offer. Last Minute appears here in the form of a marketing name rather than an actual shopping opportunity.
Based on this data, it's easy to work out a strategy for the most favorable holiday purchase in Turkey.
WARNING!!!
Price changes in Turkey should not be translated into other directions. Prices in other places can and even certainly change differently. An example would be price analysis in Bulgaria, which I presented in the entry: Bulgaria - Last Minute or First Minute holidays? When is the cheapest to book? Analysis of holiday price changes in Bulgaria.. Although the charts look similar at first glance, in the first months of the survey period (i.e. from November to January) there is a definite difference in the way prices increase. In Bulgaria, prices are rising from the beginning, immediately. In Turkey, practically nothing happens between November and January. Then, when in Turkey the price still stands still, in Bulgaria we already have increases close to 300 PLN per person.
Doubts about the Institute's methodology
The data published by the TravelDATA Institute for Tourism Market is very interesting and useful, but during the analysis I came to the conclusion that from the point of view of a tourist looking for a good-price trip offer, they still do not quite reflect the information we care about most. It results from the way of collecting data and the way of providing it.
Note one:
In the manner of collecting data, the Institute has adopted the principle that the data we see were only affected by the offers of hotels that were available throughout the entire study period from First Minute to Last Minute. This means that if a hotel sold its entire offer before Last Minute started, its offer was not taken into account. Similarly, if a hotel was not interested in the First Minute promotional sale and did not make such an offer available at all, then its offer was not taken into account.
For this reason, the final result was shaped only by a narrow group of hotels and the results generated in this way reflect the sales policy of this narrow group of hotels rather than the entire leisure market in Turkey. The result may not reflect the actual situation.
For tourists looking for an attractive offer, it doesn't matter if the hotel participated in First Minute or whether it will participate in Last Minute. What counts for a tourist is the price he sees here and now, looking for an offer for himself from the entire offer database currently available.
Note two:
Published data relate to the purchase of the holiday, with the date of departure in the first month of August. These figures reflect well the trends of price changes during the high season. However, I miss the prices here in a date immediately adjacent to the peak of the season, i.e. in June and September. We know that a huge group of people are very interested in this part of the season, especially since the weather at this time does not differ significantly from the weather in the middle of the season. However, the available prices are usually much more attractive.
Note three:
The data definitely lack specific holiday prices. We only see the price change in zlotys, but we do not see what specific prices are behind these changes. The correct interpretation of these data is therefore very difficult, especially taking into account the fact that they come from a narrow, selected group of hotels (about which I wrote in the first remark). So I get information that during the sales season the price of the 5 *** hotel increased by an average of PLN 538. And what about this information, if I do not know what the base price was and whether it was at all within the range of prices in my portfolio? If the average rest price was e.g. at the level of 7 PLN 000? In this situation, neither this offer is interesting for me, nor the price increase by just over PLN 500 does not make any great impression. It would be different if the trip price were, for example: 3 500 PLN. Then I would have grounds to be interested in offers from this shelf, and an increase of over 500 zlotys is beginning to gain significant significance and convinces me to make an earlier reservation.
To sum up: the data is very interesting, but not perfect. It is worth realizing their weakness and ambiguity.
Or maybe your own analysis?
In this way my whining led me to the place where I came to the conclusion that since the data on price changes can bring so many interesting conclusions, can it start to collect them yourself? The way of collecting and analyzing data may then be the one I consider most useful to me as a travel agency client? The data will be super reliable (after all, I collect it myself), and at the same time exactly as consistent as I demand.
The moment to start collecting data is perfect (when I am writing this is October and the First Minute offers are flooding).
Therefore, I'm starting to collect data!
What data will I collect?
Within days, I sorted out my mind. In the meantime I read some reports Polish Chamber of Tourism. I wanted to find out what type of trips abroad is currently the most popular. It is not possible to analyze all possible options at once, because instead of a transparent report we will get a chaotic collection of infinite amount of data.
Reading a few studies allowed me to collect some necessary facts.
Currently the most popular trip option is:
- plane (around 94% of reservations)
- All Inclusive (around 76% of reservations)
- on 7 days (around 80% of reservations)
As for the standard of hotels, we choose them like this:
- 3 hotel *** - around 31% of the reservation
- 4 hotel **** - around 49% of the reservation
- 5 hotel ***** - around 17% of the reservation
The remaining 3% of reservations are made in objects of a lower category.
From the above data it is clear that there is no point in analyzing many different options. For most travelers it will be sufficient to analyze the travel model as above: 7 days, by plane, all inclusive.
I will search for analysis data in the comparison websites of tourist offers, which collect and allow comparison in one place offers of several dozen different travel agencies. In Poland, there are basically two comparison websites that count: wakacje.pl and travelplanet.pl.
It doesn't make sense to search both comparison websites. In both there are offers of all major tourist offices in Poland and they are practically exactly the same offers. I will limit myself to searching one of the comparison websites.
When will I read the prices?
For two weeks in the following months, I will read the prices of the three best travel offers and calculate the average price for each month.
So there will be 3 prices in the first half of the month and three prices in the second half. This will give 6 prices every month. The average price for a given month will be derived from these 6 prices.
Additional requirements
In addition, I decided to impose a restriction on hotel reviews. Each hotel in the comparison site is rated by customers on a scale of 1 to 10 points. I decided that hotels with a rating lower than 6 are not worth attention. Who would want to go to a cheap hotel that is cheap just because it is poor?
If a hotel is in the top three in terms of price in a given week, but its rating is lower than 6, it will be rejected and another offer that meets our criteria will be taken.
What time are we interested in holidays?
Since we can read what we like, there is nothing to prevent prices not only in the season, but also before and after it. Such data will definitely be more interesting than just a price survey in the middle of the tourist season. Dozens of percent of those leaving the area aim for dates just before or just after the season, hoping for lower prices.
The study will therefore contain information for three travel dates starting from:
- in the first half of June (before high season)
- in late July and early August (in high season)
- in the second half of September (after the high season)
Time for the first results
Now that we know how the price statement will be created, it's time to present the first results. The first results are from October 2019. The next ones will be successively added in the following months.
So let's get started!
Turkey - holidays 2020: prices and price changes depending on the moment of purchase
The following data is created in real time. New data will appear according to the rule: at the end of November there will be prices read in November, at the end of December, in December, etc.
These are the prices at which you could buy holidays for specific dates of departure if the purchase was made in advance, starting from October 2019 (First Minute) until September 2020 (Last Minute).
To search for the best offers I use specially prepared links that automatically filter the results according to my expectations. By clicking on the appropriate one I get a ready price comparison comparing the offers of several dozen offices. The list is ranked according to prices, from the lowest to the highest.
Links, of course, I put below, at the price lists for each date of departure. In addition to being used to collect data, they are great for finding the best deals.
Turkey - holiday prices, departure: June 2020
Links to the best offers for a trip in June 2020:
- 3 *** hotels - [click]
- 4 **** hotels - [click]
- hotels 5 ***** - [click]
Price per stay (for 1 person, plane, all inclusive)
reading in:
3 hotel *
4 hotel *
5 hotel *
October
1 578 zł
1 623 zł
1 756 zł
November
1 574 zł
1 605 zł
1 778 zł
December
1 526 zł
1 563 zł
1 856 zł
January
1 507 zł
1 580 zł
1 849 zł
February
Turkey - holiday prices, departure: July / August 2020
Links to the best deals for trips in July / August 2020:
- 3 *** hotels - [click]
- 4 **** hotels - [click]
- hotels 5 ***** - [click]
Price per stay (for 1 person, plane, all inclusive)
reading in:
3 hotel *
4 hotel *
5 hotel *
October
1 829 zł
1 871 zł
2 055 zł
November
1 837 zł
1 871 zł
2 084 zł
December
1 805 zł
1 879 zł
2 162 zł
January
1 787 zł
1 853 zł
2 183 zł
February
Turkey - holiday prices, departure: September 2020
Links to the best deals for a trip in September 2020:
- 3 *** hotels - [click]
- 4 **** hotels - [click]
- hotels 5 ***** - [click]
Price per stay (for 1 person, plane, all inclusive)
reading in:
3 hotel *
4 hotel *
5 hotel *
October
no offers
no offers
no offers
November
1 548 zł
1 600 zł
1 689 zł
December
1 563 zł
1 600 zł
1 717 zł
January
1 562 zł
1 598 zł
1 756 zł
February
A detailed list of hotels included in the analysis
Below are the prices of trips to specific hotels from which average prices have been created, shown in the charts above. I post them so that each reader has a full picture and overview of the data from which the statement was created. The data includes links to offers and hotels, thanks to which you can check current offer prices and building parameters.
Readings taken in January 2020
Departure in June 2020
Departure in July / August 2020
Departure in September 2020
Readings taken in December 2019
Departure in June 2020
Departure in July / August 2020
Departure in September 2020
Readings taken in November 2019
Departure in June 2020
Departure in July / August 2020
Departure in September 2020
Readings taken in October 2019
Departure in June 2020
Departure in July / August 2020
Departure in September 2020
In October 2019, there were no offers for September 2020 yet.
Important to me!
Give the article a good rating
(5 stars welcome 😀)!
It's free, a
for me it is very important!
The blog lives on visits and thus has a chance to develop.
Please do it
and ... thank you in advance!
I also post
link to Facebook profile - [click]
. Come in and press "
Follow
"then you will not miss new, inspiring posts.
Unless you prefer
Instagram
. I'm not a social media demon, but you can always count on something nice to look at on
my instagram profile - [click]
. The profile has just been created, so
for now he is starving
, due to the lack of followers. He is happy to receive any observer who feeds him with his love.
I make the content I create available free of charge with copyright, and the blog survives from advertising and affiliate cooperation. So, automatic ads will be displayed in the content of the articles, and some links are affiliate links. This has no effect on the final price of the service or product, but I may earn a commission for displaying ads or following certain links. I only recommend services and products that I find good and helpful. Since the beginning of the blog's existence, I have not published any sponsored article.
Some of the readers who found the information here very helpful, sometimes ask me how you can support the blog? I do not run fundraisers or support programs (type: patronite, zrzutka or "buy coffee"). The best way is to use links.
It costs you nothing, and support for the blog is self-generating.
Pozdrawiam