Los Gigantes - Tenerife: cliffs, beach, town, cruises, swimming, dolphins, sightseeing ... whatever you want!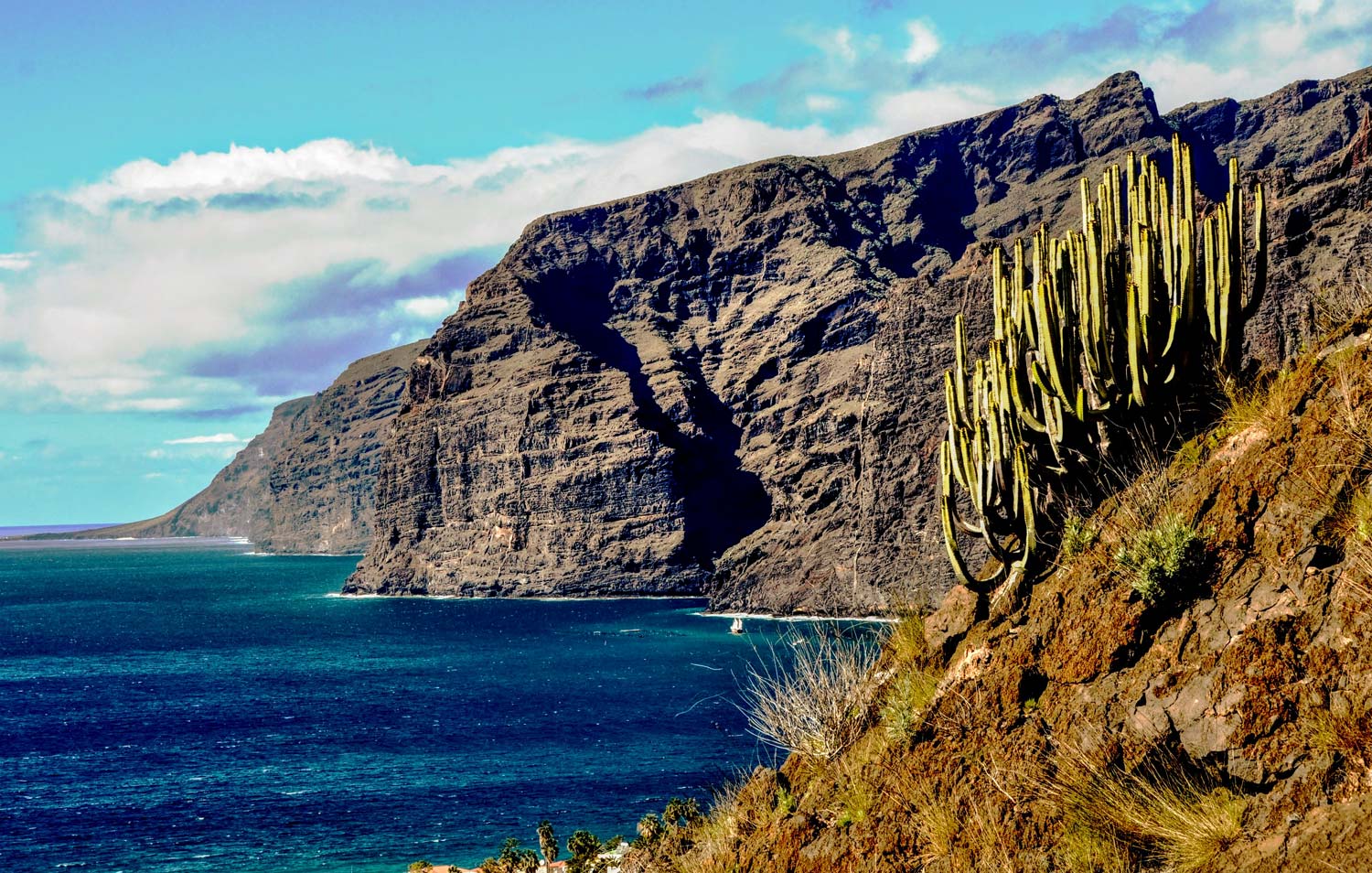 Los Gigantes - walls of hell
Rather, cliffs should mean the name Acantilados de los Gigantes, which in translation means: giant cliffs. In short, and colloquially, everyone simply says Los Gigantes.
The first known inhabitants of the Canary Islands (Guanches) called the cliffs walls of hell.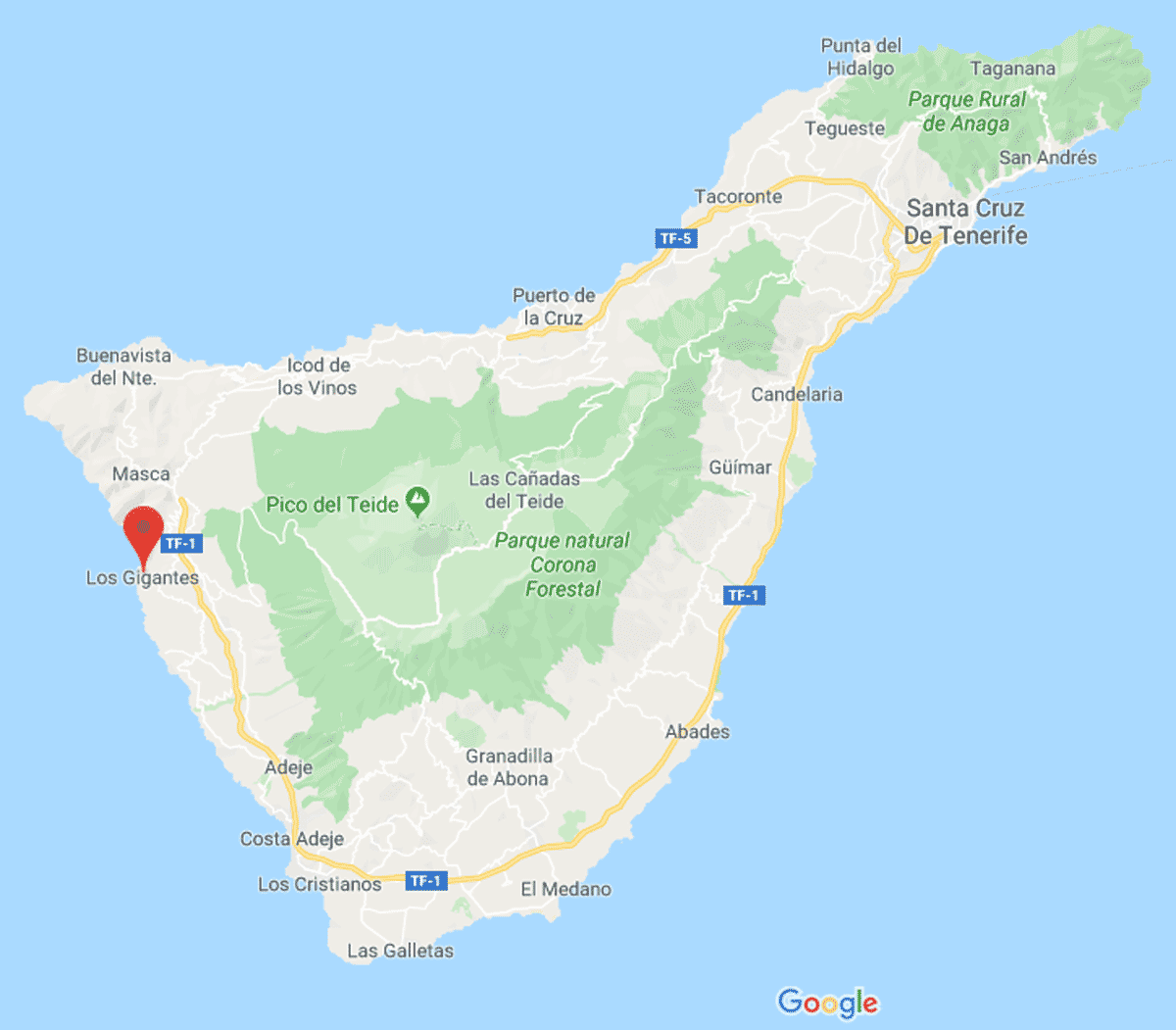 600 meters of basalt rock
The cliffs are monstrous. They make a huge impression and are overwhelming, even when viewed from a distance. The pictures usually come out "so-so" because no picture reflects their scale and power. But the live impression is unbelievable. You just have to go there, stand and feel the majesty of these rocks. Some primary energy beats from them. Visitors to this place simply look for a moment in silence. I watched it. Everyone (maybe even not always consciously) just needs a moment to silently embrace this mood. Time stands still and for a moment the energy of the rocks takes over.
Just go there and check it out for yourself.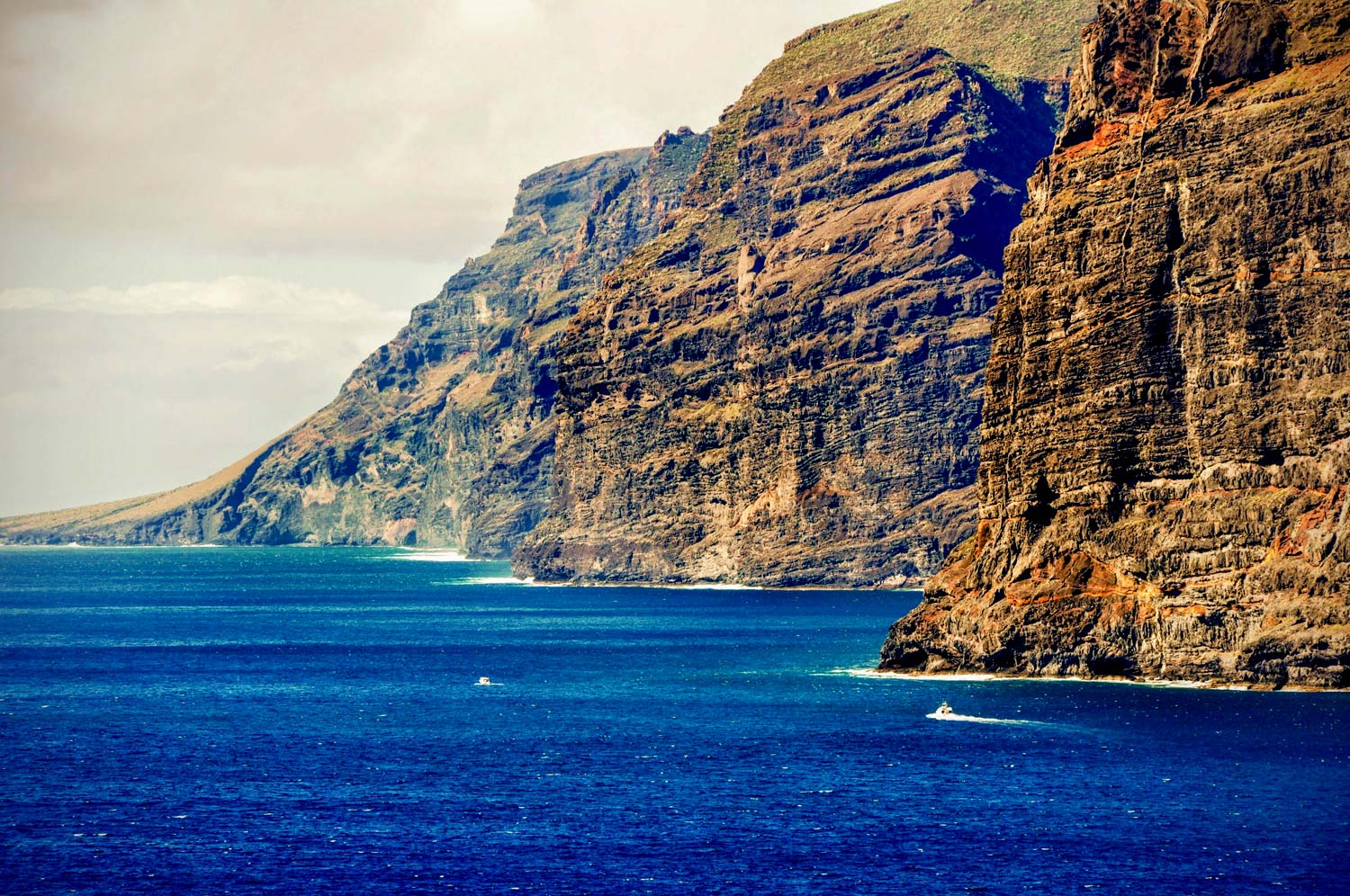 A salutary lava river
The height of the cliffs reaches 600 meters, and the lucky coincidence meant that despite such a height they do not slide into the ocean. The lava river from one of the last volcanic eruptions, flowing into the sea, shielded the bottom of the cliffs, thus preventing them from sliding. Thanks to this, we can admire this unique place today.
A town was founded on the frozen lava river, next to the cliffs, which naturally took its name from a gigantic, rocky neighbor: Los Gigantes.
The town of Los Gigantes
The vicinity of the cliffs and the mild climate meant that the place quickly became popular with tourists, and the town itself quickly developed. Today, there is a well-developed hotel and catering base, as well as many interesting tourist services. From the sympathetic port you can go on a cruise to get a closer look at the cliffs and dolphins, whales and sea turtles living in the surrounding waters. During some cruises, ships stop at beaches, in coves among cliffs and it is possible to swim in the turquoise ocean water.
Trips and cruises can be booked in advance via the booking offers available at: Los Gigantes tours - [click]
In Los Gigantes tourists have at their disposal a local beach (Los guios) with black sand and the seaside promenade you can go for a walk to the neighboring one Puerto Santiagoin which two more beaches are available: The sand i Playa de Santiago.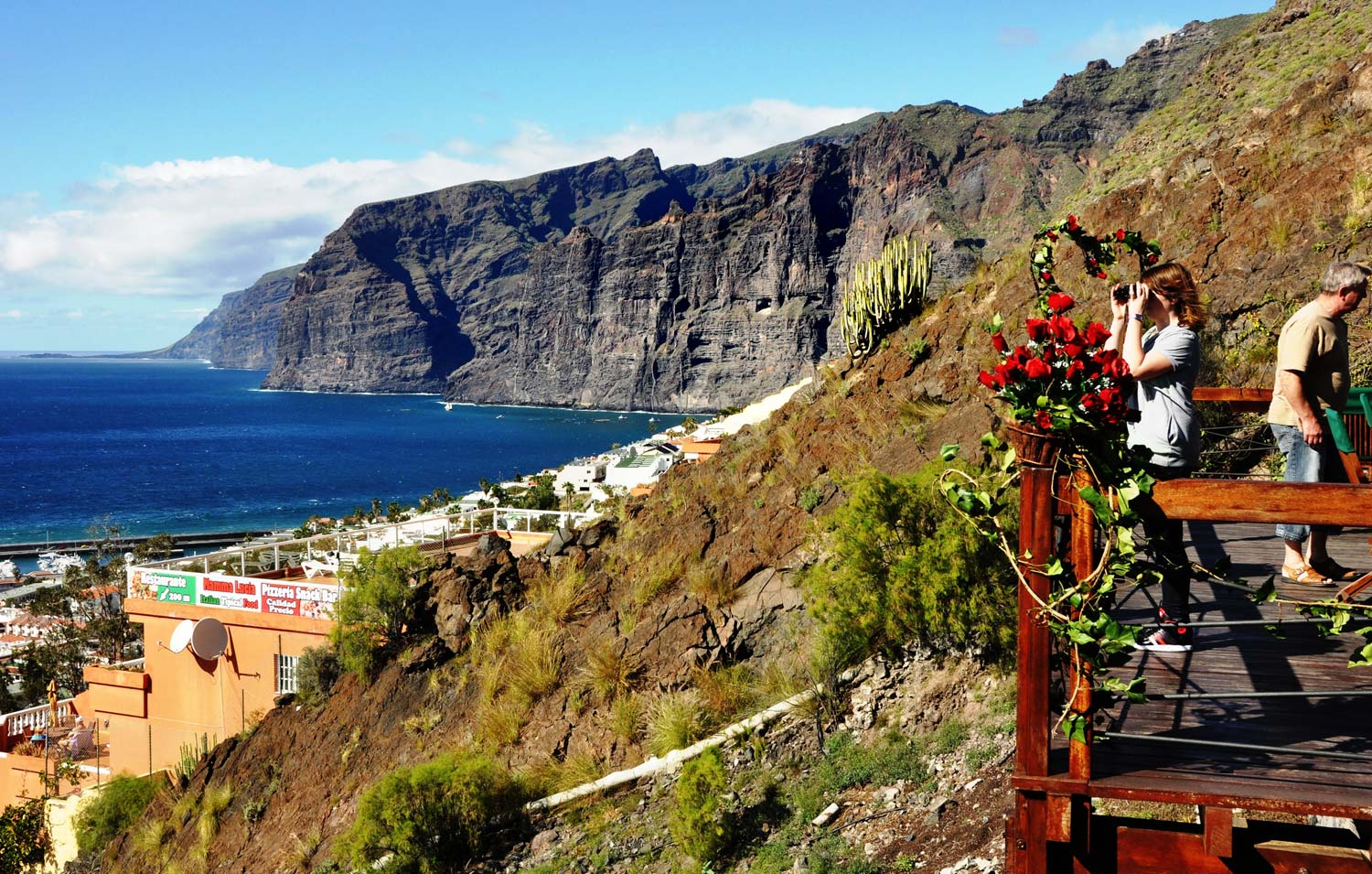 Useful GPS coordinates:
There is little parking space in Los Gigantes. Below I give the coordinates for two advantageously located places, from which very close to the port (this is due to cruises to the cliffs) and to the views of the "walls of hell".
Public car park (small):
28°14'38.2″N 16°50'32.3″W
28.243955, -16.842296 - click and route
Street parking near the port:
28°14'44.4″N 16°50'31.2″W
28.245662, -16.842011 - click and route
Tenerife pagoda
Detailed information about the weather that prevails in Tenerife during the year can be found in a special entry: Tenerife - long-term weather: air and water temperature, climate, holiday and vacation weather.
Complete information. The description of the whole year in a nutshell.
It is worth adding that the pictures were made in February. This is what winter looks like in Tenerife. Sun and short sleeves 🙂
Rent a car in Tenerife
If you need to rent a car on the island to independently explore it and discover unique places, be sure to read the entry: Tenerife - rent a car without a credit card and a deposit. Car rentals - comparison of offers
Safe car rental will give you comfort of travel and a calm head, on the winding and narrow roads of Tenerife.
Hotels near Los Gigantes
If you plan an independent trip to Tenerife and want to know the prices of accommodation in hotels in the area of ​​Los Gigantes, I recommend checking them out in hotel and price comparison site - [click].
The link immediately filters the offers so that they contain offers only from around Los Gigantes.
Holidays in Tenerife
If you are not a supporter of independent trips and want to have everything organized, check the best prices in offer comparison engine of several dozen tourist offices - [click].
All the best travel agencies offering stays in Tenerife are in one place. Thanks to this, you can easily find the best and most attractive offer at the moment, at the lowest available price.
The comparison engine includes, among others office offers:
Itaka, Rainbow, Best Reisen, BFC Travel, Coral Travel / Wezyr, Ecco Holiday, Ecco Travel, ETI, Euro Pol Tour, Europe Mountains, Exim Tours, Funclub, Grecos, Holiday Experts, Index, Karpatia, Kompas Poland, Consortium of Travel Agencies, Logos Tour , Marco, Matimpex Travel, Mouzenidis Travel, No limits by Itaka, Oasis Tours, Onholidays, Orex Travel, Orka Travel, Oskar, Otium, Premio Travel, Prestige Tours, Prima Holiday, Regent, Rego-Bis, SnowTrex, Sun Fun, Volare Travel
Tenerife - tourist attractions
On the blog you will find descriptions of several other tourist attractions in Tenerife. I grouped them into one category:
Tenerife
. See the list described by me
attractions in Tenerife - [click]
.
Important to me!
Give the article a good rating
(5 stars welcome 😀)!
It's free, a
for me it is very important!
The blog lives on visits and thus has a chance to develop.
Please do it
and ... thank you in advance!
I also post
link to Facebook profile - [click]
. Come in and press "
Follow
"then you will not miss new, inspiring posts.
Unless you prefer
Instagram
. I'm not a social media demon, but you can always count on something nice to look at on
my instagram profile - [click]
. The profile has just been created, so
for now he is starving
, due to the lack of followers. He is happy to receive any observer who feeds him with his love.
I make the content I create available free of charge with copyright, and the blog survives from advertising and affiliate cooperation. So, automatic ads will be displayed in the content of the articles, and some links are affiliate links. This has no effect on the final price of the service or product, but I may earn a commission for displaying ads or following certain links. I only recommend services and products that I find good and helpful. Since the beginning of the blog's existence, I have not published any sponsored article.
Some of the readers who found the information here very helpful, sometimes ask me how you can support the blog? I do not run fundraisers or support programs (type: patronite, zrzutka or "buy coffee"). The best way is to use links.
It costs you nothing, and support for the blog is self-generating.
Pozdrawiam