Val d'Orcia (map) – the most beautiful viewpoints in Tuscany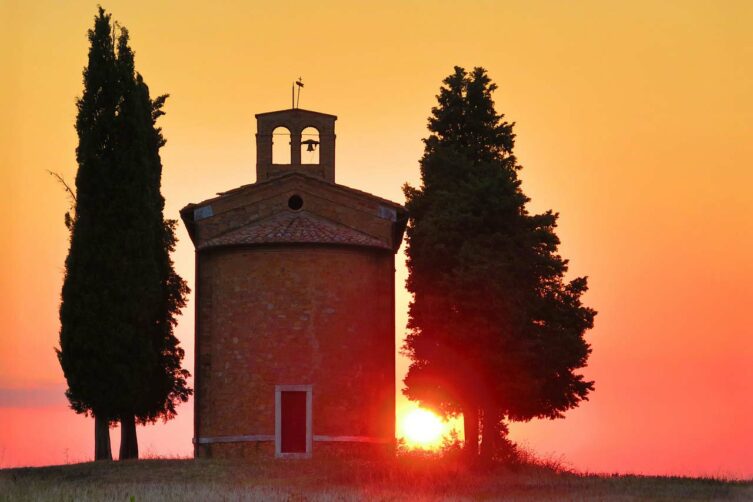 Only thick
There is no room for unnecessary content in this entry. Here I am going to post only specific data that will help you quickly and efficiently find several of the most characteristic viewpoints in Tuscany.
I assume that if you are reading this entry, you already know why you are going to Tuscany and I don't have to praise the attractiveness of Tuscan views and tell you how breathtaking they are :)
The data I have prepared will allow you to quickly and without unnecessary dilemmas reach the right place and find a good vantage point to take photos.
As my friend once said, scooping soup from the very bottom of a large cauldron: it will be just thick!
The magic of photos from Tuscany
First, however, there will be a slight cooling of the atmosphere. Photos you know from the Internet, especially those that make everyone say WOW! they require the right approach, commitment and, of course, a pinch of luck!
Instruments
First: if you want to get close to their quality, you must first equip yourself with: lens with long focal length (focal lengths of 200 mm and longer are welcome) or have a camera that has such objects built in (there are compact cameras that have such a range of focal lengths). Outdoor photos in Tuscany are taken at such long focal lengths because the photographed objects are very distant and we are often interested in a narrow section of the landscape. At the same time, a long focal length significantly shortens the perspective. Hills and objects very distant from each other in the perspective line seem to become denser in the photo, intensifying the impression of a wavy landscape. You won't be able to achieve this effect with a regular lens (e.g. with a focal length of 35mm).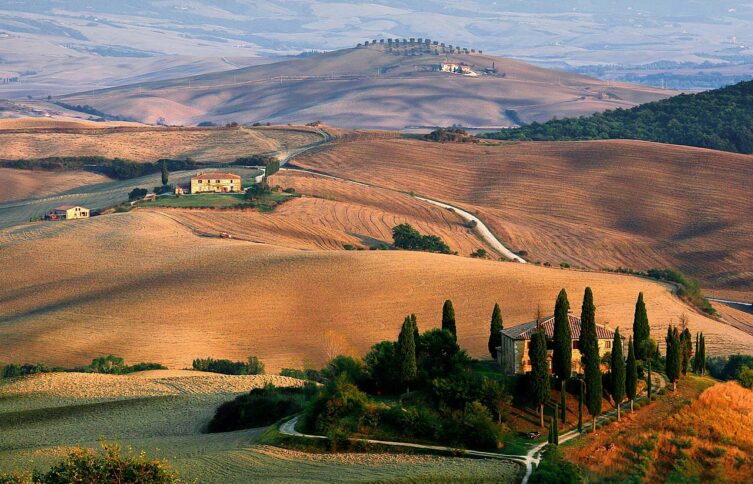 Season
Secondly: the time of year is key. The worst conditions for photographing subtle landscapes are in Tuscany in summer. Yes! Summer is the worst time of the year. The harsh summer sun creates too much contrast and at the same time artificially flattens the landscape, making the wavy shape of the Tuscan hills no longer visible in photos. Everything is strongly lit and becomes completely flat in the photo. There is no point in expecting that you will take a magical photo here at high noon in the middle of July. The only exception are photos in which, for example, the zigzag line of cypress trees or the line of the road with cypress trees are important. Then the bright sunlight does not bother you so much.
Undoubtedly, however, the best conditions for photography (in terms of light) are in Tuscany: autumn, spring and winter.
If you want the fields in the photos to contain some fresh greenery, you need to come for the session in early spring (April, at the latest). Then the sun begins to burn so strongly that in the second half of spring and for the rest of the year the vegetation takes the form of "dry grass".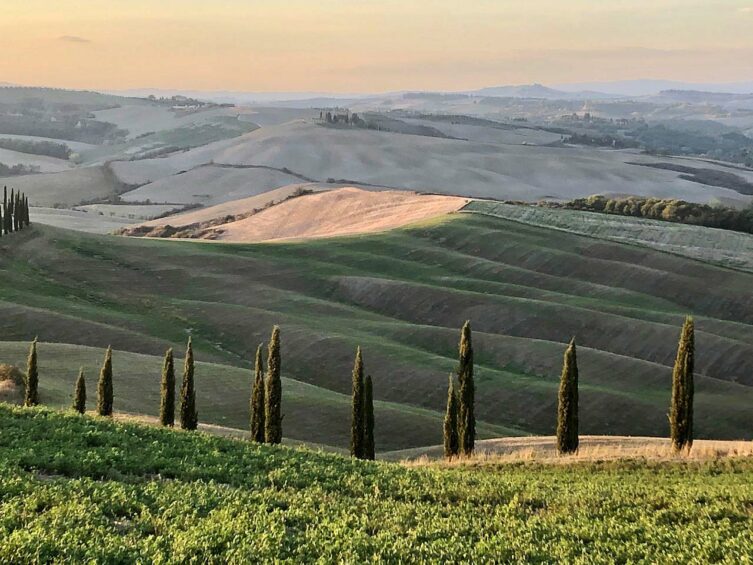 Time of day
Thirdly: time of day. Please note that the most interesting photos in Tuscany are taken when the sun is low. When sunlight falls at an acute angle on rolling hills, shadows are created, further emphasizing the undulations of the landscape. So if you want to achieve this effect, you have to get up in the morning and be there before sunrise, or drive and get into the right position in advance before the sunset begins.
The above strategy gives you a chance to take a nice photo even in summer. Unfortunately, in summer, sunrise is very early and sunset is very late. So it will require a lot of determination on your part. Then the sun disappears behind the horizon very quickly and you will only have a few moments to take photos. You have to act quickly.
The best in this respect are again spring, summer and winter. Then the sun stays low above the horizon for a longer time, providing more opportunities to take photos. Plus, the sunrise isn't that early in the morning and you don't have to wait that long for the sunset.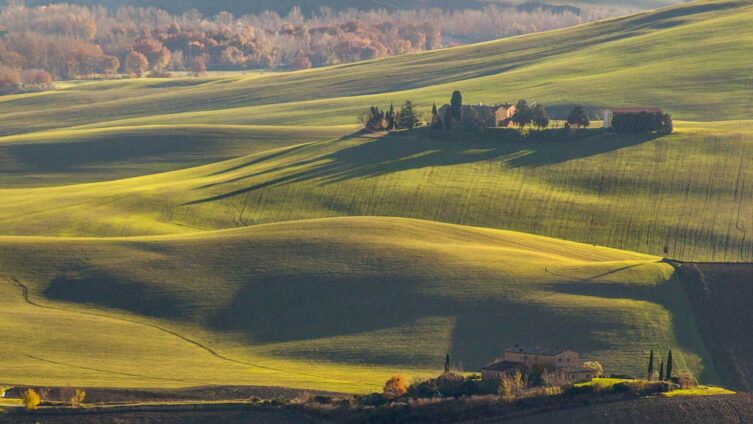 Weather
The last (fourth) parameter depends solely on luck. It may turn out that you have prepared everything perfectly, and there will be such clouds in the sky that at the most important moment the sun will not peek out from behind the thick clouds even for a second.
Then all you will have to do is plan your next visit to Tuscany :)
Before you despair because of bad weather, it is worth remembering that fog is not always an obstacle. It often becomes a boon that makes the photos even prettier. Moreover, spring rains in Tuscany often end quickly. So, at this time of year, I recommend taking some raincoat with you and being patient.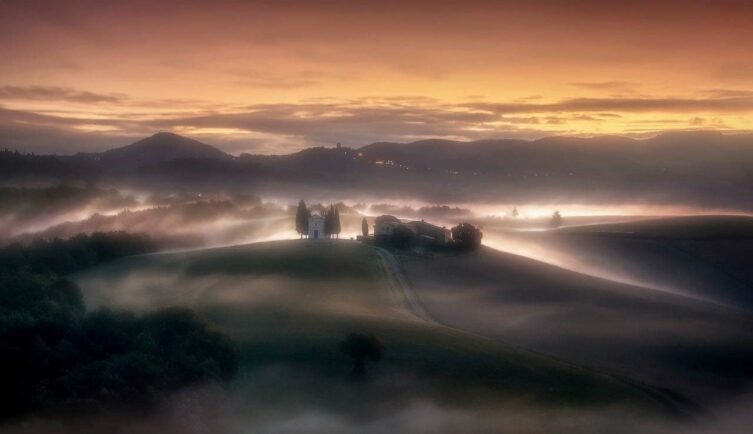 Tuscany – map of viewpoints
You probably won't be able to visit all the viewpoints in Tuscany. There are only a dozen or so of the most popular ones, and while traveling between them, you will discover as many places of your own. Tuscany is full of such views, and most of them are not yet marked on maps and made public.
In search of the most beautiful landscapes of Tuscany, you will move within the borders of two geographical regions: It will not only be a valley Val d'Orcia but also the adjacent area Crete Senesi.
Take a look at the two maps below. The first one presents the location of Tuscany on the map of Europe, and the second one shows the location of Val d'Orcia and Crete Senesi on the map of Tuscany.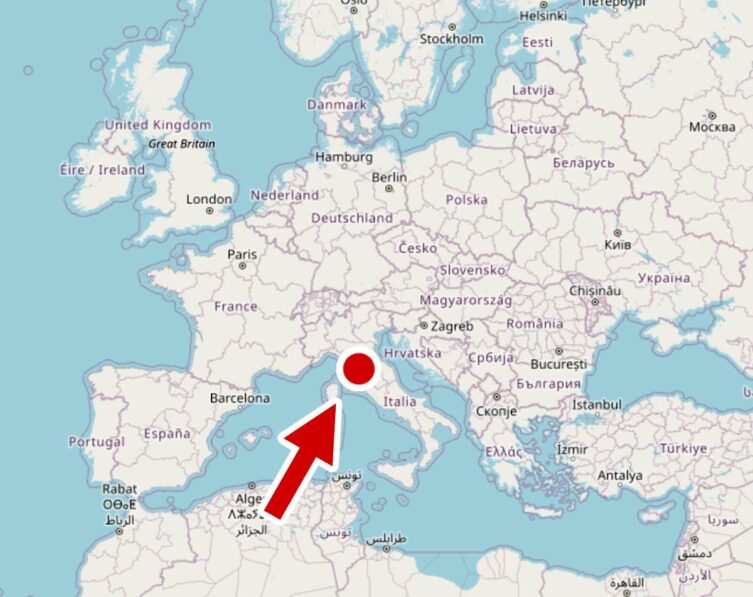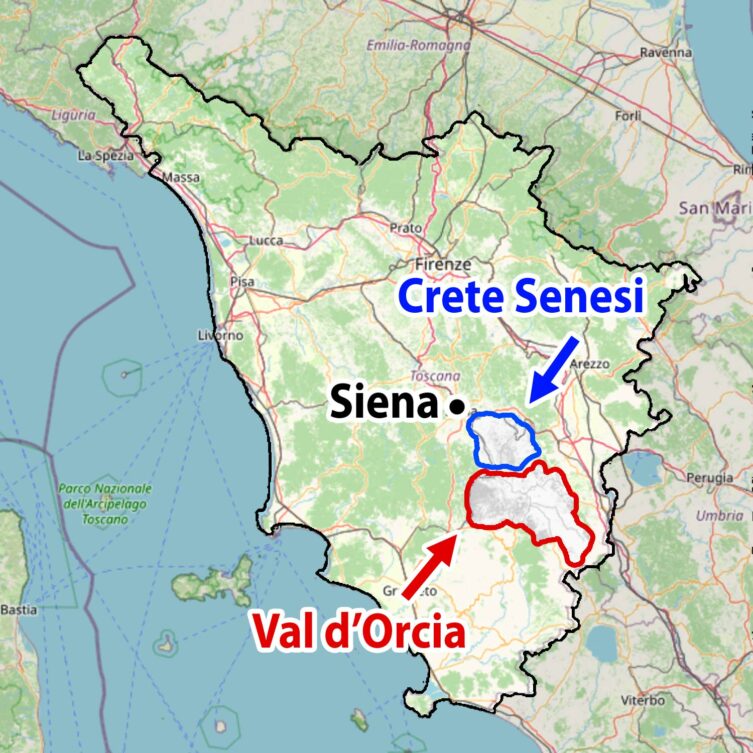 Now it's time for the third and most important map. This is a detailed map of Tuscany with the marked locations of all the viewpoints I described, against the background of both geographical regions. Each point on the map has its own number, and further in the text (and in the table of contents at the beginning of the page) under the same numbers you will find a package of very useful and useful data.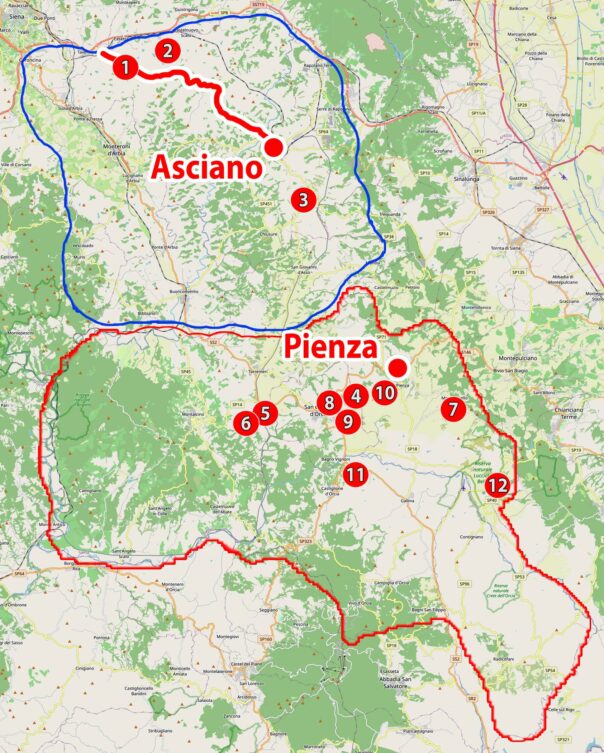 I suggest first making a preliminary selection of the places you are interested in, and then logically planning the order of visits based on the map data. If taking the right photos is very important to you (some people come here just for this purpose), it may be worth adjusting the location of the accommodation you book so that they are close to the most important photo spots for you.
At the viewpoints I describe, I will include appropriately prepared filtering links that will allow you to display the closest accommodations with one click, while rejecting accommodations located too far away. This is a very convenient feature that makes life much easier. Therefore, it is worth starting your search for accommodation by clicking on the prepared link.
In addition to a link to the closest accommodation at the viewpoints, you will find precise GPS coordinates of the place where you can park your car and (if necessary) the place from which there is the best view.
In practice, this is probably the most important data that you will use most often. They are used in a trivial way. Just click on the link next to the GPS coordinates "click and route" and the navigation on your phone will automatically start and calculate the route to your destination from your current location. After determining the route, depending on your needs, just switch the navigation mode from "pedestrian mode" to "car mode" or vice versa and that's it!
More information about Val d'Orcia and Crete Senesi
For the inquisitive who would like to delve even deeper into the exploration of the Val d'Orcia valley and the desert areas of Crete Senesi, I am attaching some additional information that may be useful when delving deeper into the topic.
List of municipalities included in the Crete Senesi area:
– Asciano
– Buonconvento
– Montalcino
– Monteroni d'Arbia
– Rapolano Terme
– Pienza
– Trequanda
historic walking trail: Via Lauretana trail – [click] (detailed map of the section leading through Crete Senesi)
Municipalities that make up the Val d'Orcia area:
– Castiglione d'Orcia
– San Quirico d'Orcia
– Radicofani
– Pienza
– Montalcino
official page: Val d'Orcia valley – [click]
Descriptions of viewpoints in Tuscany
1. SP 438 road from Arbia to Asciano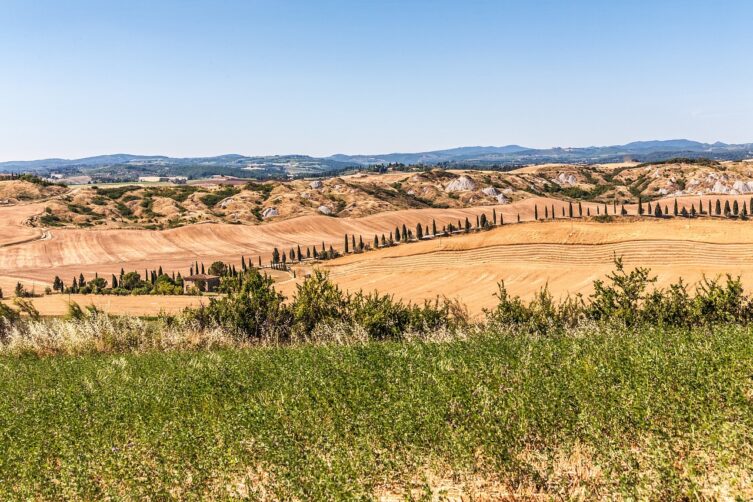 In this case, I gave up pointing out specific viewpoints, because almost the entire road is one big viewpoint. Take the SP 438 road from Siena via Arbia to Asciano and you will come across many places that are perfect for viewing points. Just drive, look around and look for places that catch your eye. I marked the route on the attraction map.
While driving along the SP 438 road, there will be one place worth stopping at (Site Transitoire). I describe them in more detail in the next section.
Length of the road section from Arbia to Asciano: 18km
Route: open on Google map - [click]
check out: accommodation near Asciano and in Crete Senesi – [click]
check out: accommodation near Siena – [click]
Hotel B&B San Francesco – [click]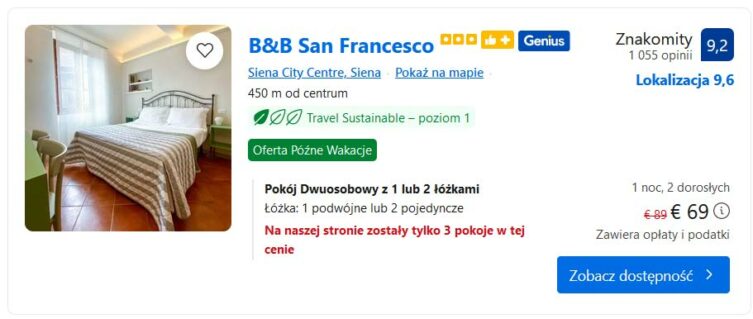 2. Site Transitoire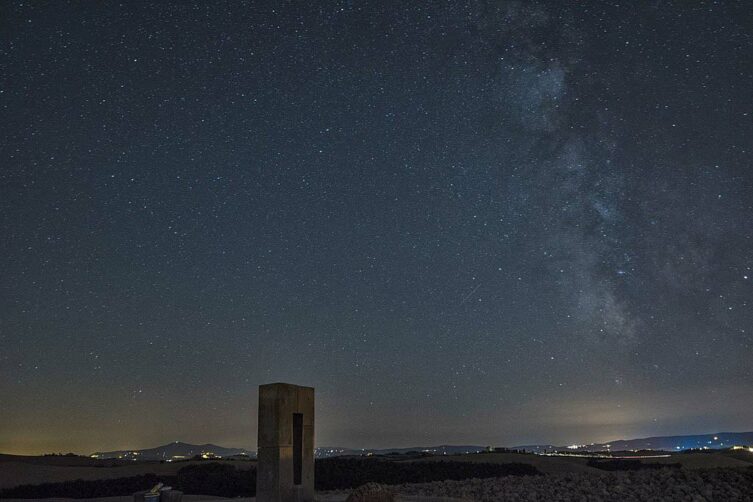 Art installation (author: Jean-Paul Philippe, year of creation: 1993) symbolizing an open house without walls with a view of the Tuscan hills and two cities: Mucigliani and Siena.
On the summer solstice, the sun sets exactly in the gap between the blocks of the Site Transitoire.
There is a very narrow dirt road from the asphalt main road to the Site Transitoire. Tourists often leave their car in a small parking lot at the beginning of the dirt road and walk to the Site Transitoire itself. The walk takes about 40 minutes one way (2,5 km one way).
Parking at the beginning of the dirt road to Site Transitoire, GPS coordinates:
43°16'58.7″N 11°26'33.4″E
43.282984, 11.442610 - click and route
Site Transitoire, GPS coordinates:
43°17'36.1″N 11°27'56.1″E
43.293370, 11.465579 - click and route
check out: accommodation near Site Transitoire – [click]
Hotel Hotel More di Cuna – [click]

3. Baccoleno agritourism farm (Agriturismo Baccoleno)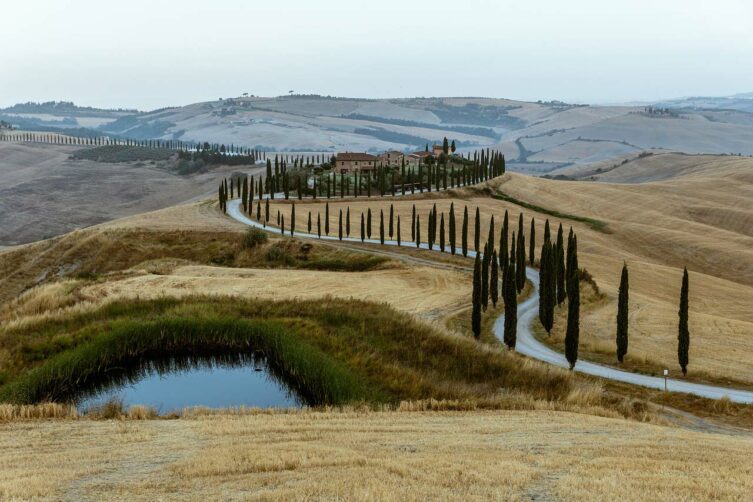 Undoubtedly one of the most famous and recognizable paintings from Tuscany.
Parking on the road, GPS coordinates:
43°12'01.0″N 11°35'25.3″E
43.200273, 11.590357 - click and route
The best view of Agriturismo Baccoleno, GPS coordinates:
43°12'02.8″N 11°35'23.1″E
43.200762, 11.589746 - click and route
check out: accommodation near Agriturismo Baccoleno – [click]
Hotel Podere il Poggio – [click]

4. Vitaleta's Chapel (Cappella della Madonna di Vitaleta)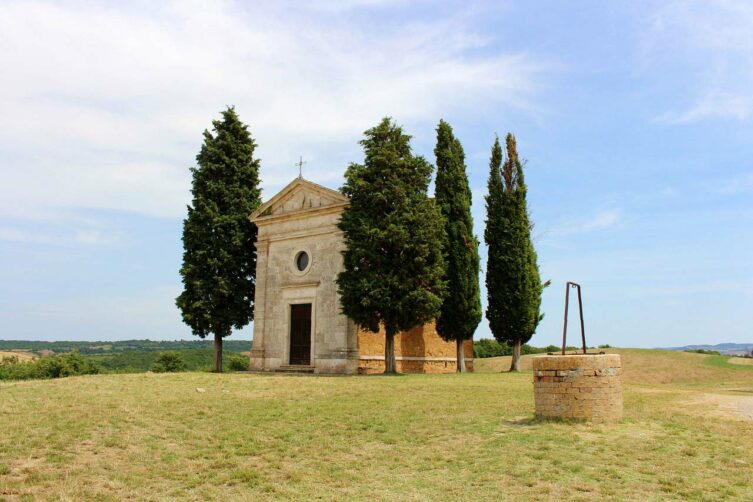 It is certainly the most famous chapel in all of Tuscany and a true icon of this region of Italy.
Vitalet's shrine, GPS coordinates:
43°04'14.8″N 11°38'03.8″E
43.070786, 11.634396 - click and route
check out: accommodation near the Vitaleta chapel – [click]
Hotel Casanova – Panoramic Rooms and Suites – [click]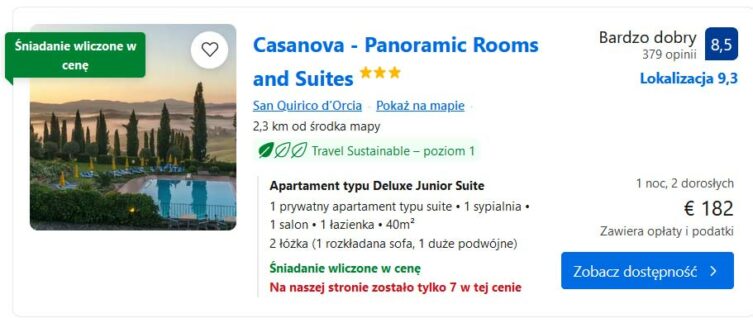 5. Cypress Circle (Cipressi di San Quirico d'Orcia)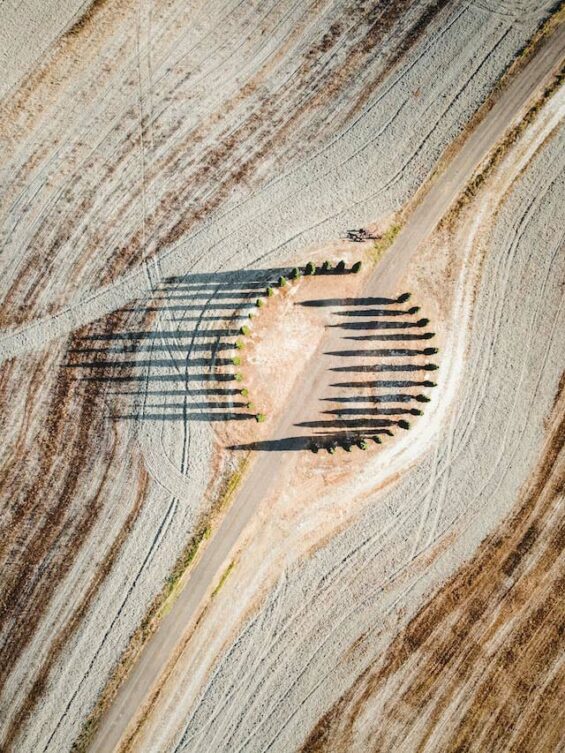 Cypress circle, GPS coordinates:
43°03'39.0″N 11°33'30.6″E
43.060839, 11.558511 - click and route
Parking lot at Cypress Circle and Cypress Knot, GPS coordinates:
43°03'50.0″N 11°33'34.5″E
43.063880, 11.559570 - click and route
check out: accommodation near the cypress circle – [click]
Hotel Agriturismo Il Pozzo – [click]

6. Cypress grove (Cipressi di San Quirico d'Orcia)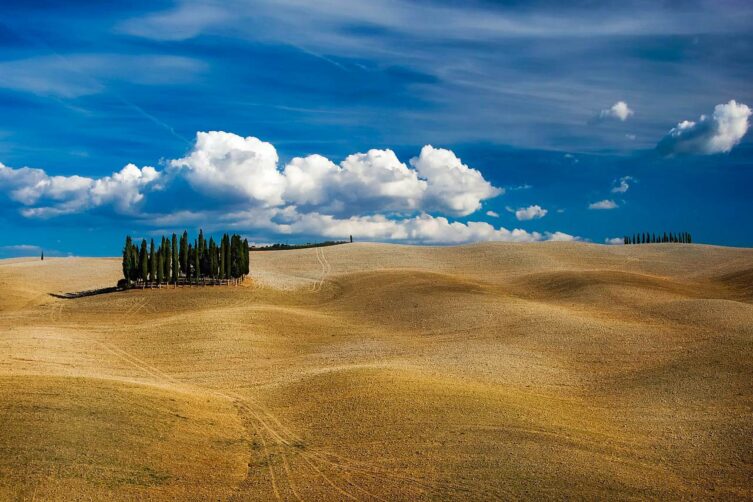 A cypress grove is a perfect subject for minimalist photographs. You've probably noticed this shot more than once, because it's probably the most famous clump of cypress trees in the world.
Cypress grove (Cipressi di San Quirico d'Orcia), GPS coordinates:
43°03'45.6″N 11°33'32.0″E
43.062654, 11.558880 - click and route
check out: accommodation near cypress clump – [click]
Hotel I Due Cipressi – [click]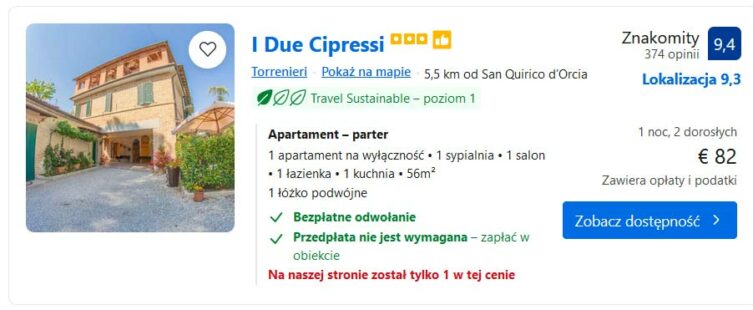 7. Cypresses near Monticchiello (Cipressi di Monticchiello)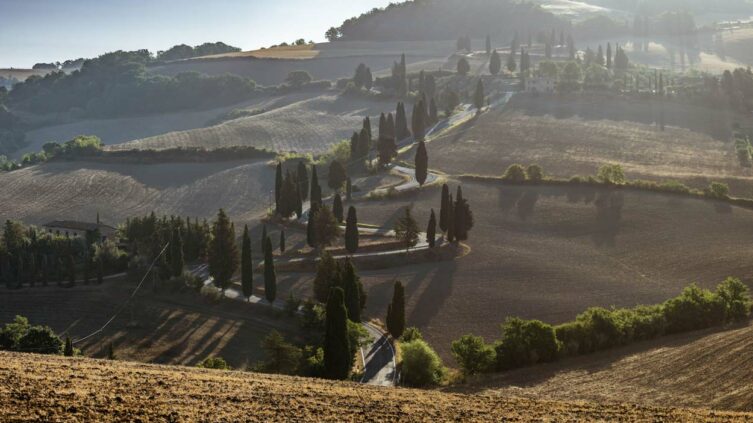 Viewpoint on the cypress road behind Monticchiello, GPS coordinates:
43°03'42.5″N 11°43'22.0″E
43.061796, 11.722777 - click and route
check out: accommodation near Monticchiello – [click]
Hotel Agriturismo Riposati – [click]

8. Gladiator's House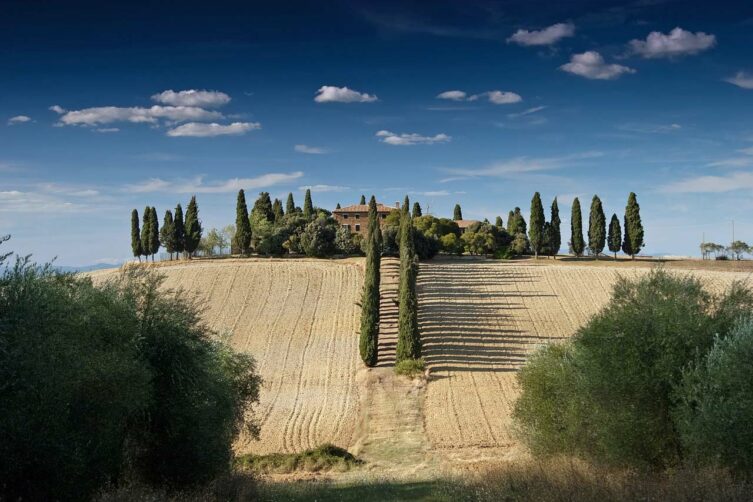 Gladiator's House, GPS coordinates:
43°03'55.6″N 11°36'43.3″E
43.065431, 11.612015 - click and route
Parking bay at the viewpoint, GPS coordinates:
43°03'55.8″N 11°36'43.9″E
43.065507, 11.612200 - click and route
check out: accommodation near Gladiator's house – [click]
Hotel Antico Podere la Martinella – [click]

9. Podere Belvedere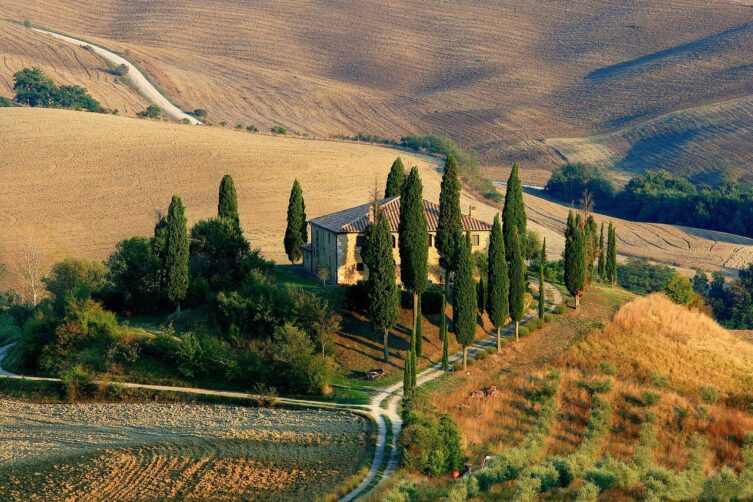 A point in the field with a good view, GPS coordinates:
43°03'54.5″N 11°36'45.6″E
43.065124, 11.612666 - click and route
check out: accommodation near Podere Belvedere – [click]
10. The Way of the Gladiator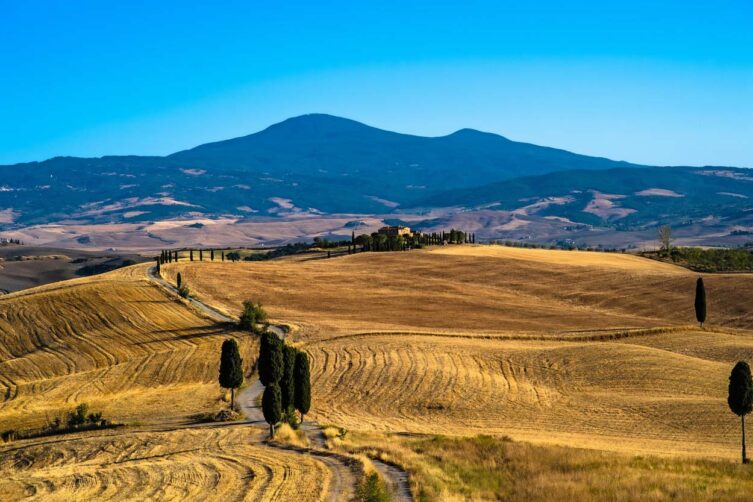 Viewpoint on the Gladiator Road, GPS coordinates:
43°04'30.2″N 11°40'05.4″E
43.075060, 11.668167 - click and route
A bay that can accommodate two cars before the path to the viewpoint on the Gladiator road, GPS coordinates:
43°04'38.8″N 11°40'17.1″E
43.077451, 11.671427 - click and route
check out: accommodation near the viewpoint of the Gladiator Road – [click]
Hotel Camere La Carbonaia – [click]

11. Cypress Alley (Viale di cipressi)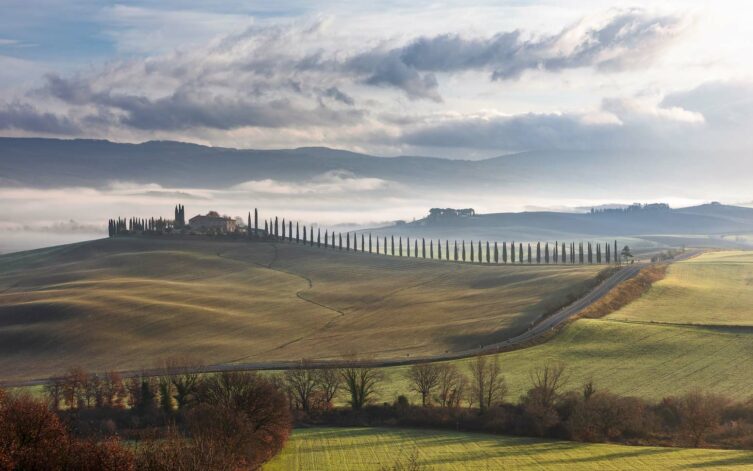 A bay by the cypress alley, GPS coordinates:
43°01'19.1″N 11°38'10.5″E
43.021968, 11.636243 - click and route
A wild bay on a road curve overlooking the cypress alley, GPS coordinates:
43°01'22.2″N 11°37'56.9″E
43.022838, 11.632478 - click and route
check out: accommodation near Cypress Avenue – [click]
Hotel Podere Il Tigliolo – [click]

12. Cypresses on Strada di Valoresi
The beginning of the cypress road Strada di Valoresi, GPS coordinates:
43°01'29.3″N 11°46'09.0″E
43.024796, 11.769156 - click and route
Parking overlooking Strada di Valoresi, GPS coordinates:
43°01'40.9″N 11°46'29.5″E
43.028022, 11.774854 - click and route
check out: accommodation near Strada di Valoresi – [click]
Hotel Villa Ricci & Benessere – [click]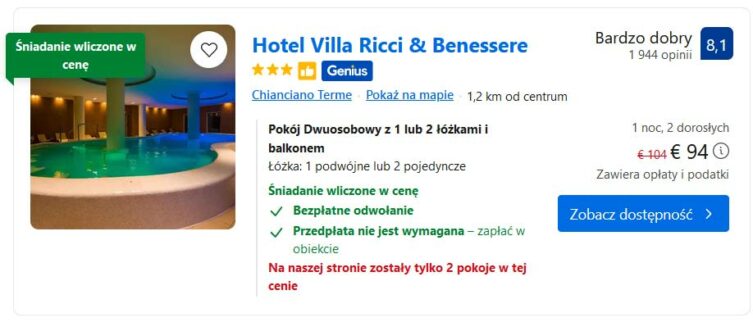 Important to me!
Give the article a good rating
(5 stars welcome 😀)!
It's free, a
for me it is very important!
The blog lives on visits and thus has a chance to develop.
Please do it
and ... thank you in advance!
I also post
link to Facebook profile - [click]
. Come in and press "
Follow
"then you will not miss new, inspiring posts.
Unless you prefer
Instagram
. I'm not a social media demon, but you can always count on something nice to look at on
my instagram profile - [click]
. The profile has just been created, so
for now he is starving
, due to the lack of followers. He is happy to receive any observer who feeds him with his love.
I make the content I create available free of charge with copyright, and the blog survives from advertising and affiliate cooperation. So, automatic ads will be displayed in the content of the articles, and some links are affiliate links. This has no effect on the final price of the service or product, but I may earn a commission for displaying ads or following certain links. I only recommend services and products that I find good and helpful. Since the beginning of the blog's existence, I have not published any sponsored article.
Some of the readers who found the information here very helpful, sometimes ask me how you can support the blog? I do not run fundraisers or support programs (type: patronite, zrzutka or "buy coffee"). The best way is to use links.
It costs you nothing, and support for the blog is self-generating.
Pozdrawiam