Barcelona sightseeing plan - map, tickets, attractions, monuments, accommodation, interesting facts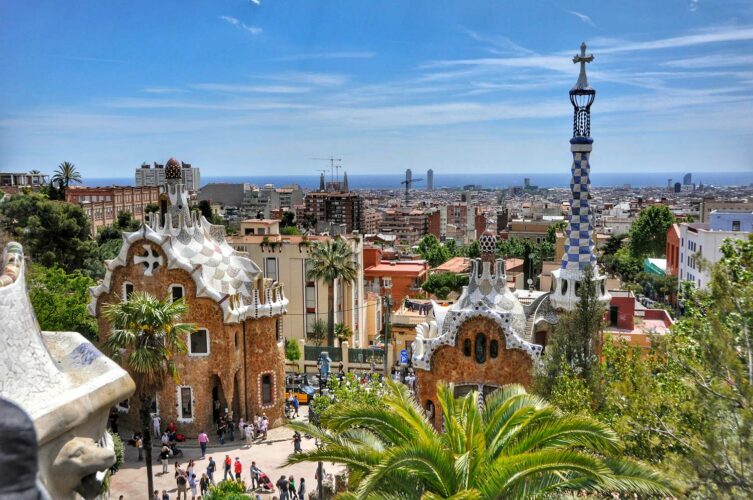 Colorful Barcelona
Barcelona attracts like a magnet. The capital of Catalonia has a certain color that makes you want to come back all the time. Formed by centuries of changes, beautifully situated, with access to the sea and the beach, with an interesting and turbulent history, and the legendary FC Barcelona football club that attracts people from all over the world.
You could say that Barcelona has everything, and it is hardly surprising that everyone would like to visit and see this city at least once. I have prepared this guide mainly for those who come to Barcelona for the first time or their previous visits were unsatisfactory and would like to catch up.
A good plan is essential!
My proposal is thought out so that you can see as much as possible during one visit. I will not play with the story that "it is best to spend a week or 10 days here". Of course it's worth it, but most people don't have that much time and spend 2-3 days visiting the city. These are the facts, and I'm not going to fight them. On the contrary, I am going to make you get as much out of these 2-3 days as possible for yourself.
The plan is really well packed and you will have to put in a lot of effort to make it complete. I will say even more: the plan is a bit exaggerated. Why? Because not everyone is interested in everything I describe. Even after throwing something out of your plan that interests you less, you will still have something to visit. And that's what I meant! Prepare a plan from which everyone will take something for themselves and when returning home they will think with satisfaction: it was fun in this Barcelona!
When is the best time to go to Barcelona?
The answer to this question is not as obvious as it seems at first glance. It turns out that the most people are in Barcelona in the period that is the least friendly to visiting the city, i.e. in July.
Why is July the worst? Because then there is an accumulation of all things that are unfavorable to visiting. However, I do not want to go into the details of this phenomenon here, because I did it in a separate entry: Barcelona - long-term weather. When to go Air, water and climate temperature. I recommend reading this post. In it you will find not only detailed information about the weather in Barcelona, ​​but also suggestions of the best dates to visit the city.
Detailed itinerary for visiting Barcelona
I divided my visit to Barcelona into two days. However, there are so many attractions that you can easily extend the plan I have prepared for three or even four days. It all depends on how much time you have and what pace of sightseeing you prefer.
For the description of both days of visiting, I have prepared special maps with the location of the described attractions and the approximate walking path. The digital markings of attractions on the map, of course, correspond to the numbers next to the detailed descriptions of the attractions that you will find under the maps.
The path marked by me is obviously not the only and the best one. You can move on other streets. Just walk around the city and go to the next points.
Tickets to attractions in Barcelona
Barcelona is one of the cities where You can buy admission tickets to many attractions without queuing, over the Internet. Wherever possible, I will provide relevant links to ticket websites. It is especially valuable at attractions where admission tickets are sold for specific entry hours. This will allow you to plan your day neatly without wasting time standing in lines or waiting long for the next free entry hour.
An excellent option is the recently available option to purchase tickets in packages. It's best to see this with an example, e.g. Barcelona pass – [click] included in the price:
Sagrada Familia:
– fast entry ticket
– admission to the museum inside the Sagrada Familia
– audio guide on the phone in 17 languages
Park Güell:
– skip-the-line entry ticket
Hop-on Hop-off tourist bus:
– access to two tourist lines: red and blue
– audio guide
– Barcelona map
Audio guide to Barcelona:
– information about over 100 insertion places in Barcelona
– map with navigation
– access to 19 guide languages
At the time of writing these words, the entire package costs EUR 85.
This is, of course, just one of the available packages. You can always check others ticket packages in Barcelona – [click]. Maybe you will find something interesting and beneficial for yourself (e.g. for those who like museums). Barcelona Museum Pass – Articket, entry to 6 art museums for half the price of single tickets).
Use GPS coordinates!
For each attraction, I have provided precise GPS coordinates that will allow you to always reach your destination. Just go to this page on your phone, click on the link next to the coordinates of the attractions and the navigation application will open automatically.
Simply walk towards your chosen tour point along the streets you wish to walk along. Treat the navigation on the phone rather as information whether you are going in the right direction and approaching your destination, or whether your fantasy is already taking you in the wrong direction 🙂
When you reach one point of the trip and want to go further, click on the coordinates of the next point and so from point to point you can freely explore Barcelona on your own!
Visiting Barcelona on your own - day one
First, a map with the locations of attractions planned for the first day of sightseeing marked.
Length of the route: 7,5 km
Walking time (without visiting attractions): 2 hours 30 minutes
The route itself is not very long, but if you include the time you have to spend on seeing each of the attractions then… the day will certainly be full.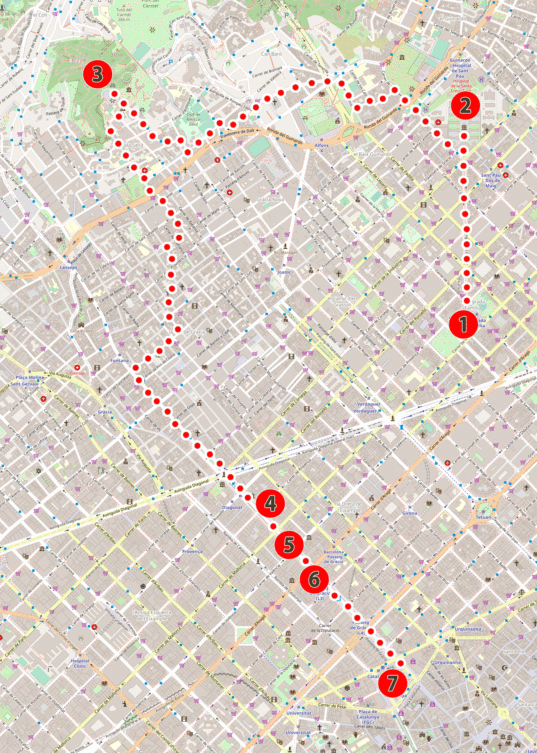 I also provide the walking route for the first day in form active route on Google maps - [click]
1. Sagrada Familia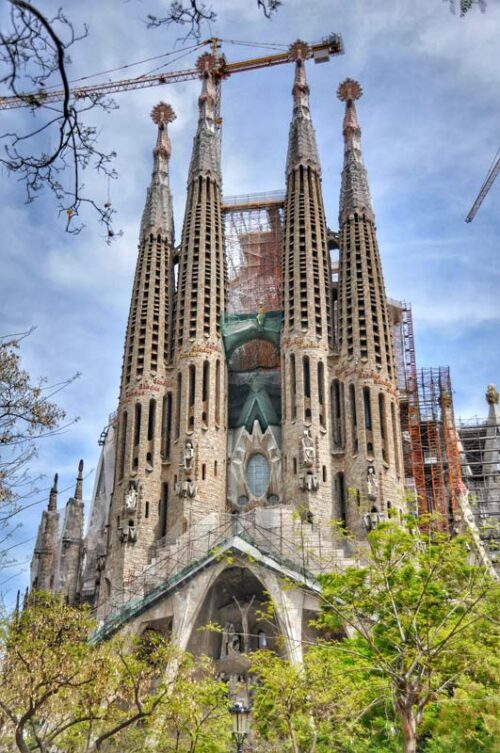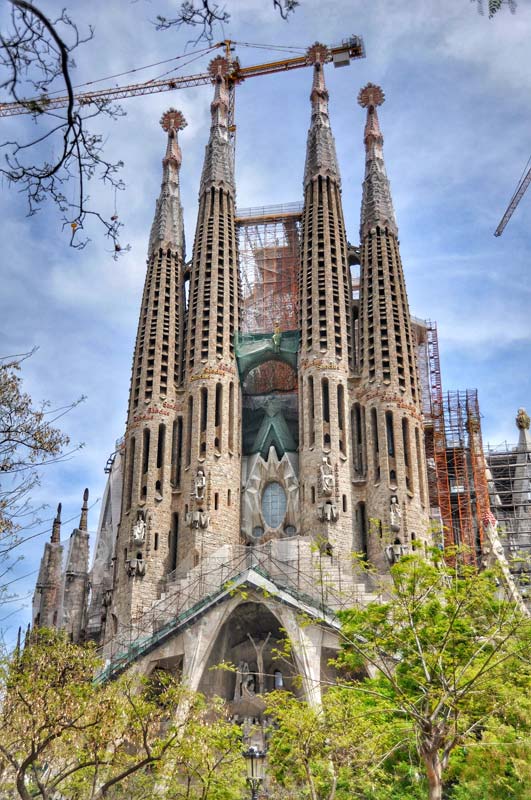 We start with one of the most famous buildings in Barcelona and the world. There are several reasons for this route arrangement. Firstly, there is a metro station directly under the cathedral. So you can quickly get to the start of your tour by metro from every corner of Barcelona. In this way, my sightseeing proposal becomes easily accessible to everyone, regardless of where in Barcelona they will stay overnight. The plan is supposed to be universal, so I thought it would be a good idea. In addition, in the morning at Sagrada Familia, there is not a large crowd yet, so it is definitely more pleasant to visit.
Tickets to the Sagrada Familia
I recommend that you buy tickets to enter the cathedral in advance via the Internet - [click], due to the fact that they are sold for a specific date and time of entry. On another day and at a different time, you will not enter. Buying tickets right in front of the entrance is definitely a bad idea. There are always large lines at the ticket offices and there is no guarantee that you will be able to get a ticket for the next hour. It may turn out that the next free entrance is, for example, in 3 hours. And then what? All day blown away. Instead of leisurely exploring everything you have planned, you wait to enter the Sagrada.
Fortunately, Sagrada Familia electronically distributes tickets through several channels and you can buy them well in advance for example here - [click].
Recently, the ticket distributor provides live information about their actual availability for specific days. The tool is in the form of a calendar and I present it below.
.
If a given day in the calendar is green, there are still tickets available for that day. After selecting the day you are interested in and clicking the button "book now"You will be taken to the next step of the booking, where you will be able to select the number of regular and reduced tickets and check the available entry times.
Clicking alone does not yet book tickets, so you can even use this tool as a good way to check the current availability of tickets. A really great and very useful thing in my opinion.
Sagrada Familia, GPS coordinates:
41°24'14.6″N 2°10'30.0″E
41.404061, 2.175011 - click and route
More information about the Sagrada Familia can be found in a separate entry: Sagrada Familia (Barcelona) - tickets, sightseeing, interesting facts
2. San Pau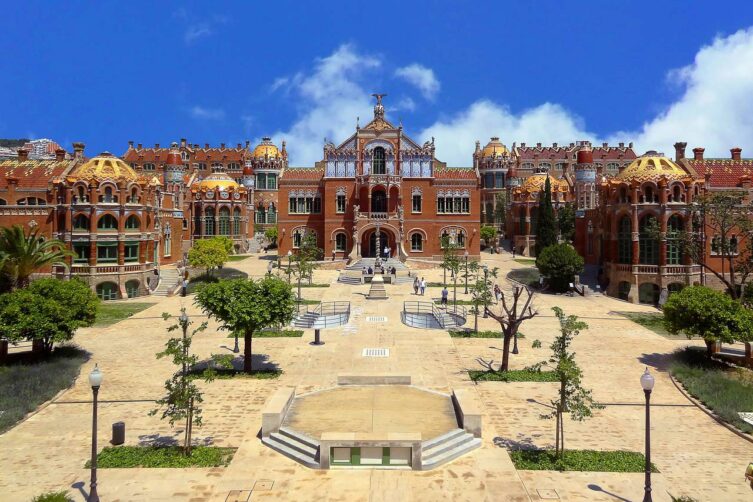 Barcelona's most underrated attraction is the building of the former Sant Pau Hospital. A beautiful, outstandingly beautiful complex of buildings located a few steps from the Sagrada Familia. It is overlooked by most tourists… because many guides do not mention it or only mention it in a few words.
Failure to do so is an unforgivable mistake. The mistake is so big that some people who have already been to Barcelona and have not seen it return to Barcelona especially to see it. In 1997, the stunning architecture of the building was appreciated by UNESCO by including the former hospital on its heritage list. You have to see!
You can buy entrance tickets to Sant Pau without queuing online at: Sant Pau - GetYourGuide - admission ticket - [click]
Sant Pau, GPS coordinates:
41°24'41.5″N 2°10'27.6″E
41.411524, 2.174330 - click and route
3. Park Güell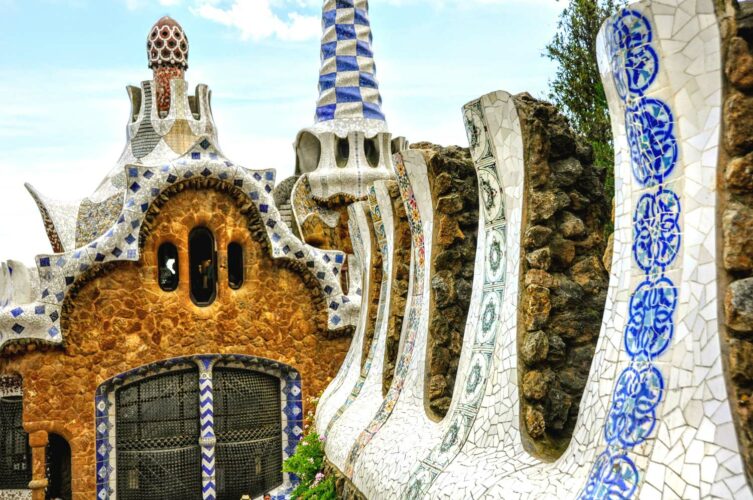 Park Guell was not meant to be a park at all ... it was supposed to be a housing estate for the wealthy bourgeoisie.
Catalan entrepreneur Eusebio Guell, fascinated by English garden cities, decided to implement a similar project in Barcelona. He commissioned his friend Antoni Gaudi to work on the project. Gaudi designed a garden-estate of 60 plots of land, but only five buildings were built: two at the main entrance and three in the present park. Gaudi himself lived in one of them until 1906 (today it is a museum).
Entrance tickets to Park Guell are sold for a specific date and time. It is very likely that if you want to buy tickets on the spot at the box office, there will be no free tickets for the next few hours. The best and probably the only sensible option is to buy tickets online in advance. You can do it directly on the ticket vendor's website, e.g. here: entrance tickets to Park Guell - [click]
Park Güell, GPS coordinates:
41°24'48.5″N 2°09'11.2″E
41.413481, 2.153099 - click and route
4. Casa Milla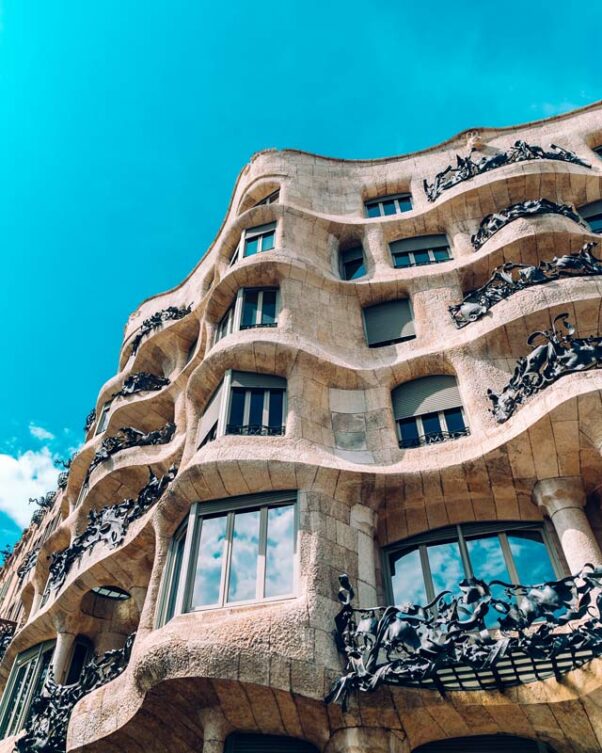 Called by the Barcelona people La Pedrera or "quarry" Casa Mila is widely recognized as the culmination of Gaudi's creativity and the most mature project. At the same time, it is the last non-sacred design made by Gaudi.
In creating the shape of the building, Gaudi deliberately avoided the use of straight lines. The undulating shape of the building is often associated with the rocking sea, and the balustrades of balconies with seaweed.
The chimneys on the roof of the building are very characteristic and often seen in souvenir photos. Their shape was inspired by the shapes of the smoke emerging from traditional chimneys. So you can say that at Casa Mila the chimneys are shaped like smoke 🙂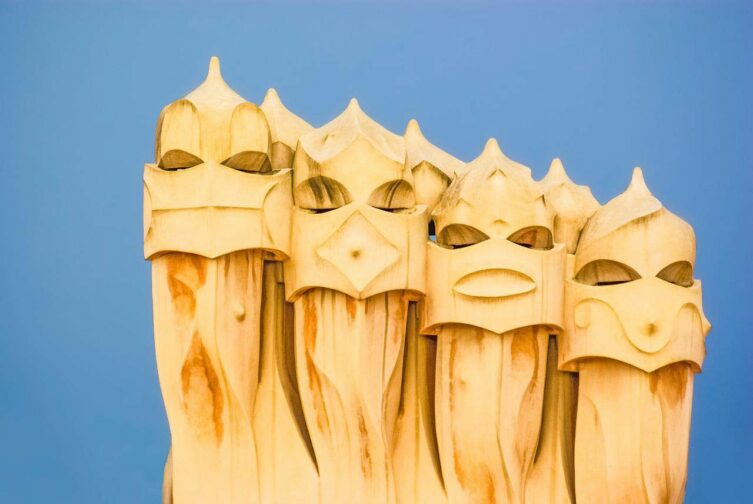 Tickets to Casa Mila are sold for a specific date and time. There is no guarantee that upcoming hour tickets will be available at the ticket office. Fortunately, entrance tickets to Casa Mila are also available online. On page Casa Mila - admission tickets - [click] check availability and order tickets for the day and time you are interested in.
Mile House, GPS coordinates:
41°23'42.5″N 2°09'42.5″E
41.395142, 2.161809 - click and route
5. Passeig de Gracia
Passeig de Gracia is the most prestigious and, at the same time, the most expensive street in Barcelona and the second most expensive street in all of Spain (of course, this is about the prices of real estate next to it). Unfortunately, it does not end with real estate prices. Everything on this street is probably the most expensive. Unfortunately for us, during the march on Passeig de Gracia we got very hungry. So we went to the first typical little eaterie on the bank and from the menu hanging on the wall above the bar we chose a pizza for everyone (two pizzas for EUR 15 each, i.e. EUR 30 in total). In other streets, pizza cost between EUR 6 and EUR 9, but we did not have the strength to look for something cheaper.
We were given a number and the service was supposed to bring food to the table. It did, too, but as the waiter placed our order for a table, I nearly fell off my chair. What on the menu was pompously called a pizza, it turned out to be nothing more than a half of a small roll, a Kaiser located on a tiny saucer-sized plate, delicately sprinkled with a few crumbs of mushrooms and cheese. In the category of TOP 10 worst and most expensive culinary mishaps from my travels, this meal is one of the top positions to this day.
If, however, you want to go crazy with shopping in expensive boutiques, branded stores and expensive restaurants, this is the best place. It will clean your wallets in the blink of an eye 🙂
Why is this street on my itinerary? Precisely to take a walk down the most expensive street in Barcelona. After all, there are also two other important attractions: Casa Mila and Casa Batllo. Besides, Passeig de Gracia simply looks beautiful. The buildings are sumptuous, perfectly maintained, and built with a view to enchanting. Even the streetlights are almost like works of art. It is simply a pleasure to walk Passeig de Gracia.
Paseo de Gracia, GPS coordinates:
41°23'36.1″N 2°09'47.3″E
41.393349, 2.163133 - click and route
6. Casa Batllo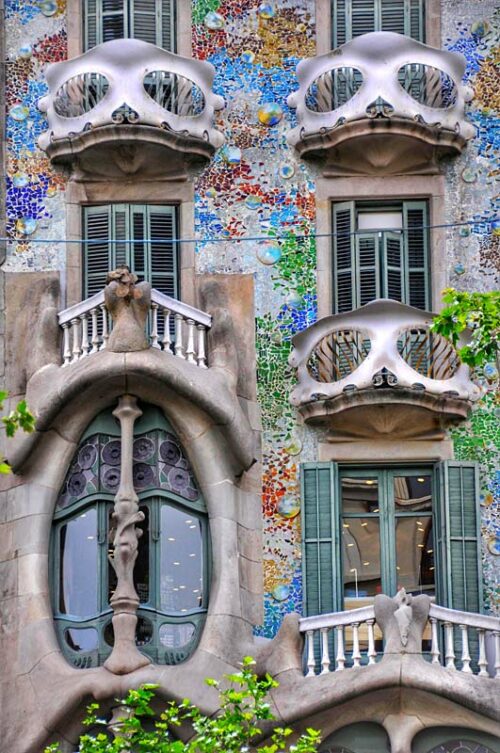 Josep Batllo i Casanovas, who owned the tenement house from 1900, originally planned to demolish it. Ultimately, he gave up on this plan and had it rebuilt. The commission was accepted by Antoni Gaudí and Josep Bayo and Font. Gaudi personally supervised the ongoing work. Looking at the tenement house, you will easily find Gaudi's favorite references to nature motifs: bones, skull bones (balconies), scales (dragon scales on the roof) and fish scales (broken ceramics on the facade). The interior of the building is also the work of Gaudi. He even designed details such as furniture and lighting (including chandeliers).
Undoubtedly, Gaudi gave the building a new life and a new soul, and he did his job so well that the apartment building, which was originally supposed to be demolished, finally found its way to UNESCO list.
Tickets to Casa Batllo are sold for a specific date and time. So if you want to enter at a time that suits you, the best way is to buy tickets online. On page Casa Batllo - admission tickets - [click] check availability and order tickets for the day and time you are interested in.
Casa Batllo, GPS coordinates:
41°23'30.7″N 2°09'53.9″E
41.391859, 2.164969 - click and route
7. Catalan Square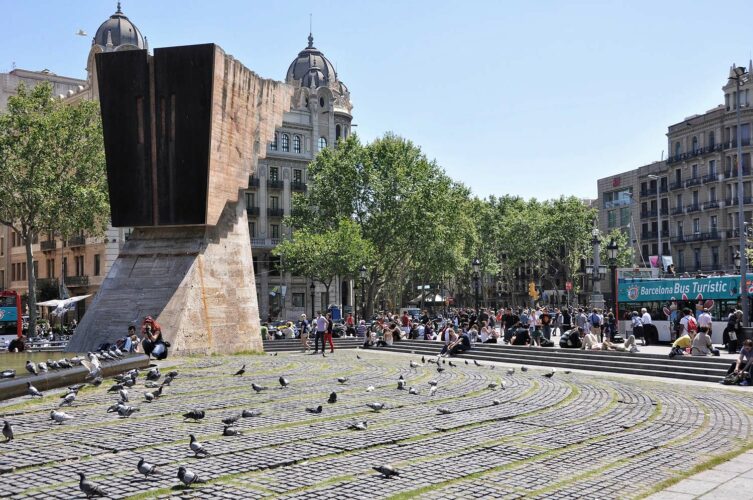 Plaza Catalunya is one of Barcelona's most important landmarks. Several of the most important streets meet here and one of the key communication junctions functions here. All means of communication intersect here, so it's a great place to start or end your sightseeing tour. You can get anywhere from here and do it really quickly.
This is also the case in the plan I am proposing. This is where the typical walking part of the tour ends. If you have the strength and desire, you can continue your sightseeing, for example by taking the metro towards the Montjuic hill described below or the FC Barcelona stadium.
The choice is yours.
Catalan Square, GPS coordinates:
41°23'13.1″N 2°10'12.1″E
41.386971, 2.170018 - click and route
8. The hill of Montjuic
Barcelona's Montjuic Hill is, in short, a gigantic city park, situated entirely on a green hill, full of attractions for residents and tourists.
In fact, you can spend a whole day or even a few days on the hill itself.
Greenery, sports facilities, playgrounds, brilliant museums, cable cars, restaurants with amazing panoramic views of the city ... There are really a lot of places worth seeing here. I will briefly mention a few of the most interesting ones that will help you plan your visit to the hill.
- Spanish town (Poble Espanyol)
A great place for those who want to feel the atmosphere of the Spanish countryside, but without leaving Barcelona. How it's possible? The idea arose during the preparations for the world exhibition EXPO, which was to be hosted in 1929 by Barcelona. The Spaniards wanted to take advantage of the fact that crowds of people from all over the world would visit Barcelona during the EXPO. So they decided in the vicinity of the EXPO site to build a demonstration small Spanish townthat would present the beauty of buildings that can be found in the provinces of Spain.
The town designers in search of ideas from Fr.they had previously visited over 1600 villages and towns. From the collected material, they chose the best and designed the Poble Espanyol.
The town consists of four parts, each of them reflects the character of four regions: the Mediterranean, North, South and Central Spain.
After the EXPO, the town was supposed to be demolished, but it was so popular that it still stands in Barcelona today and is still one of the city's most visited attractions.
In the Poble Espanyol area - as in a normal city - you will find plenty of cafes, restaurants, tourist attractions, museums and exhibitions. There are often concerts and various shows to make your visit and stay more enjoyable.
Tickets to Poble Espanyol
Admission is ticketed, and my observation shows that ticket prices are regulated in such a way that online purchase - [click] it was cheaper than buying at the checkout counter at the entrance. On average, buying online on one ticket you can save from 1 to 2 EUR
Spanish town, GPS coordinates:
41°22'09.0″N 2°08'48.1″E
41.369156, 2.146698 - click and route
- Castle Montjuic (Castillo Montjuic)
There is usually a castle at the top of the hill. It is no different in Barcelona. To reach the castle, you need to get to the very top of the mountain. This can be done easily because of the metro station Parallel a special line runs to the Montjuic hill, marked as: FM (you can use it on the same ticket as in the subway, you do not need to buy an additional ticket), and further (from the very top station of the FM line) a cable car will take you to the top Teleferic de Montjuic. You need to buy a separate ticket for the cable car.
Barcelona is still struggling with the idea of ​​using the castle to this day. Due to its recent history, the Barcelona people simply do not like it (in the XNUMXth century, during the rule of General Francisco Franco, the castle was poured with the blood of hundreds of Catalans tortured and murdered in it).
Montjuic Castle, GPS coordinates:
41°21'49.9″N 2°10'01.7″E
41.363854, 2.167136 - click and route
- National Art Museum of Catalonia (Museu Nacional d'Art de Catalunya)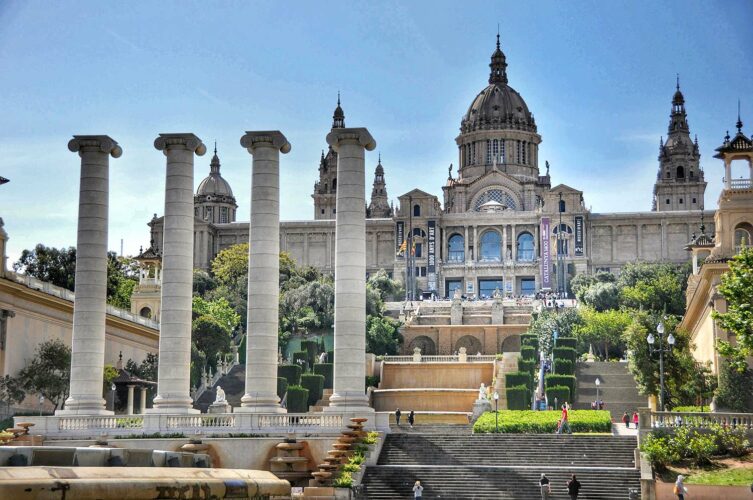 Briefly named MNAC (National Art Museum of Catalonia), it is one of the largest museums in Spain. It contains works of art from over 1000 years of history (from the XNUMXth century). The exhibition is divided into several parts:
- Romanesque Art (considered the largest collection in the world)
- Gothic - Catalan art from the XNUMXth to the XNUMXth century.
- Renaissance and Baroque - Spanish, Italian and Flemish art from the XNUMXth to the XNUMXth century
- modern Art
- prints
- photography
- coins and securities
In the following sections you will come across works by artists such as Pablo Picasso, Ramon Casas, Antonio Gaudi, Savadore Dalí, El Greco, Zurbaran, Velazquez, Fortuna, Torres-García, Julio Gonzalez.
The National Art Museum of Catalonia is located at the foot of Montjuic hill and is easiest to reach from one of the largest metro interchange stations: Espanya (metro lines L1, L3, L8 reach here)
National Art Museum of Catalonia, GPS coordinates:
41°22'07.7″N 2°09'11.9″E
41.368806, 2.153314 - click and route
- Stadium and other Olympic venues
In 1992, Montjuic Hill was the main arena of the Olympic Games in Barcelona at that time. At that time, many sports facilities were built on the hill, the most impressive of which is the Olympic stadium, which could accommodate 65 spectators.
The main facade of the stadium looks more like a castle or a palace than a stadium and it is by far the most impressive.
The teams from Lithuania, Latvia, Estonia and Croatia performed for the first time in history at the Barcelona Olympics. There are also three new disciplines: women's judo, baseball and badminton.
Stadium and other Olympic venues, GPS coordinates:
41°21'53.3″N 2°09'13.3″E
41.364810, 2.153699 - click and route
- Joan Miro Museum (Fundació Joan Miró)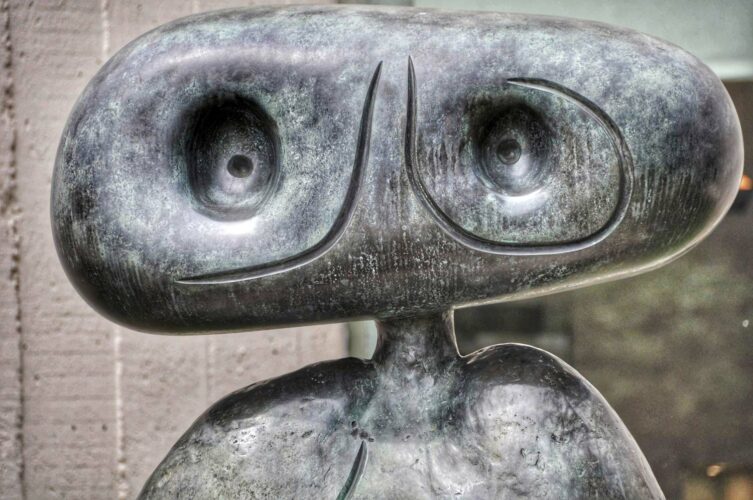 One of my favorite museums, but mine in this case may not be objective, I'm just a fan of this artist's work. You could find out about it on the occasion of the entry related to a visit to Joan Miro's house in Majorca - [click]
For art lovers, and especially for those who like the Miro style, this is a must-see. The museum is large and the collection is impressive.
Tickets to Fundacio Joan Miro can be buy online - [click]
Joan Miro Museum, GPS coordinates:
41°22'06.4″N 2°09'35.6″E
41.368438, 2.159879 - click and route
- Teleferic de Montjuic - cable car
The cable car mentioned in one of the previous paragraphs allows you to effortlessly get to the top of the hill where it is located Montjuic Castle. The lower cable car station is located at the FM railway station (the FM line starts at the Paral-lel metro station and takes the same ticket as on the metro). You need to buy a separate ticket for the Teleferic de Montjuic cable car.
Of course, the main attraction of Teleferic de Montjuic are the views that we have a chance to see during the journey.
Tickets for the cable car to Montjuic can be buy online - [click]
Teleferic de Montjuic cable car station, GPS coordinates:
41°22'07.4″N 2°09'48.5″E
41.368728, 2.163477 - click and route
- Teleferic del Port - cable car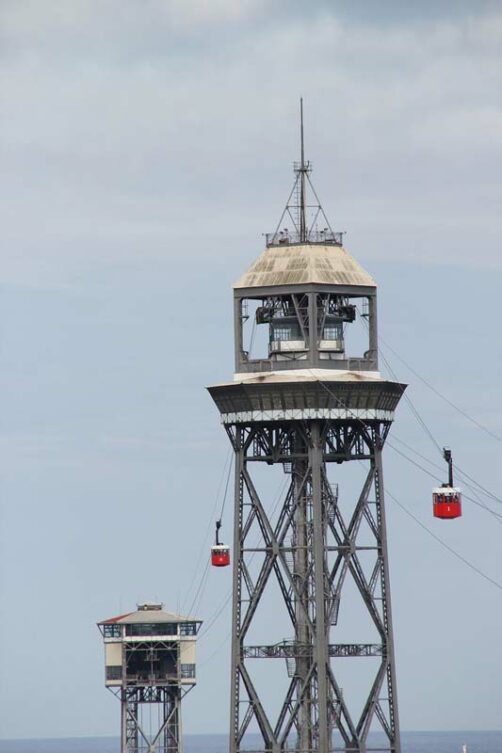 Also called Transbordador Aeri del Port is old and looks quite archaic, but the views of the city available from it are unique.
The cable car route takes you from the port of Barcelona to Montjuic Hill and after a short walk to the valley station of the Teleferic de Montjuic, you can continue up the hill to the castle.
Teleferic del Port - Montjuic hill station (Estacion Miramar), GPS coordinates:
41°22'16.0″N 2°10'20.9″E
41.371098, 2.172474 - click and route
Teleferic del Port - station in the port, GPS coordinates:
41°22'23.4″N 2°11'16.1″E
41.373162, 2.187818 - click and route
9. FC Barcelona Stadium and tickets to the team's matches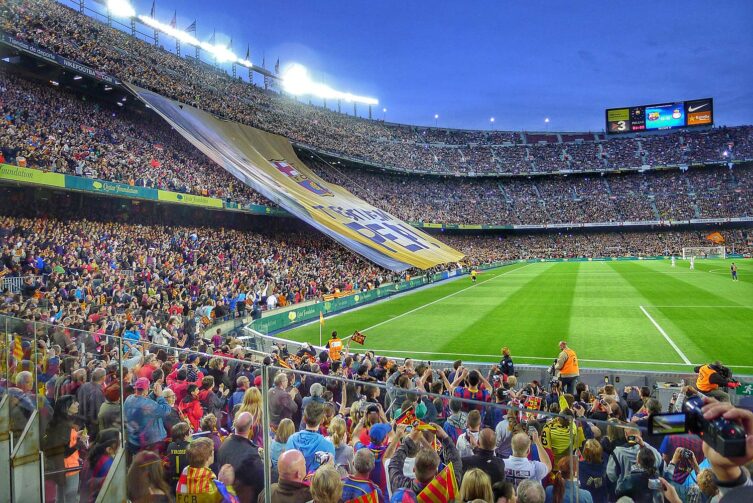 This object needs no special introduction. A must-see for football lovers.
On the main pedestrian street of Barcelona, ​​La Rambla, there are special points where you can buy tickets for the next Barcelona matches. The way it works is that if the owner of a pass, who has a guaranteed seat for the entire season, cannot attend the game, he or she will submit his seat for resale. You can buy such a free seat at one of the points on La Rambla, thanks to which you can see the game and the owner of the pass gets money.
Unfortunately, the repurchase prices are higher than the original ticket price (the owner of the ticket and the broker in the La Rambla booth earn), but often there is no other option to buy a ticket for a FC Barcelona match.
Some Barcelona residents buy season tickets every year only to sell them throughout the season and earn money on it. For some, the second ticket circulation is an opportunity for additional earnings, and for others it is the only opportunity to see the match of their favorite team.
While in Barcelona, ​​I used the opportunity to buy a free seat and bought a ticket for the Barcelona derby, which took place the next day. FC Barcelona won 3-0 against Espanyol de Barcelona and it was also Pep Guardiola's farewell match as FC Barcelona coach.
I have posted a picture of this event above.
Nowadays, purchasing tickets for an FC Barcelona match is much easier than ever. This is due to distribution via the Internet. You can easily buy free tickets as well as second-circulation tickets. Just click and you immediately get the entire FC Barcelona schedule along with ticket prices and the distribution of available seats.
The FC Barcelona stadium is currently under renovation (until the end of 2024), but the club's museum has been reopened in a new location and can be visited.. Tickets to visit the FC Barcelona museum you can buy online - [click]
check: free tickets for FC Barcelona matches directly from the official distributor – [click]
Calendar with current ticket availability:
.
check out: second circulation tickets for FC Barcelona matches – [click]
ATTENTION! For football lovers
- check: tickets for the entire Spanish La Liga – [click]
- check: UEFA Champions League tickets – [click]
Camp Nou (FC Barcelona Stadium), GPS coordinates:
41°22'50.1″N 2°07'18.4″E
41.380588, 2.121771 - click and route
Visiting Barcelona on your own - day two
The second day of sightseeing seems even more demanding than the first. On the list of attractions, however, there are some that not everyone will use, because not everyone likes it (eg the Oceanarium or the Maritime Museum). These attractions, however, are perfect for families with children who do not necessarily like to see monuments.
You can, therefore, opt out of selected attractions, because you will not have enough time to complete everything.
On the second day, the route goes through the port of Barcelona, ​​so if on the first day something went wrong (mainly Montjuic hill), you can take the Teleferic del Port cable car from the port to the hill.
The routes of the first and second day can therefore be combined with each other, which gives you the flexibility to build your own plan.
Length of the route: 6 km
Walking time (without visiting attractions): 2 hours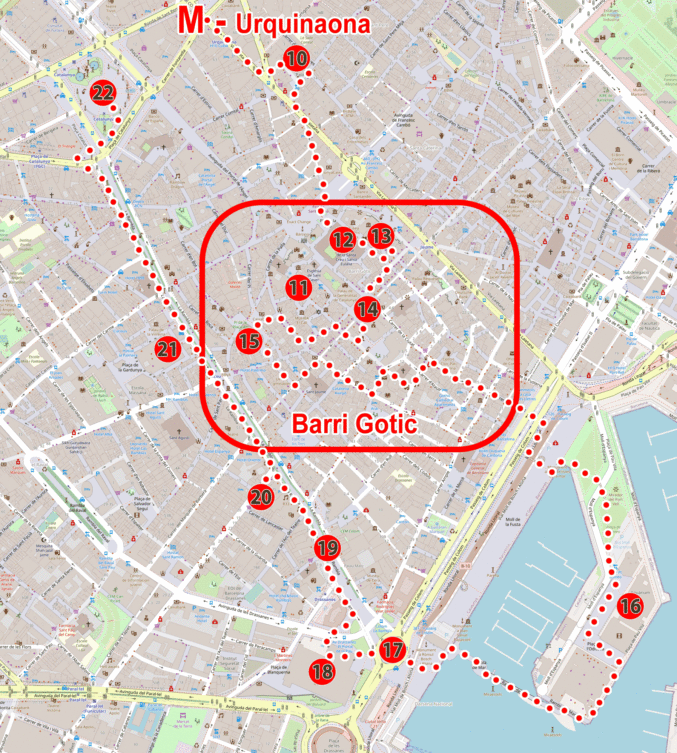 The walking route for the next day is also available in form active route on Google maps - [click]
10. Palace of Catalan Music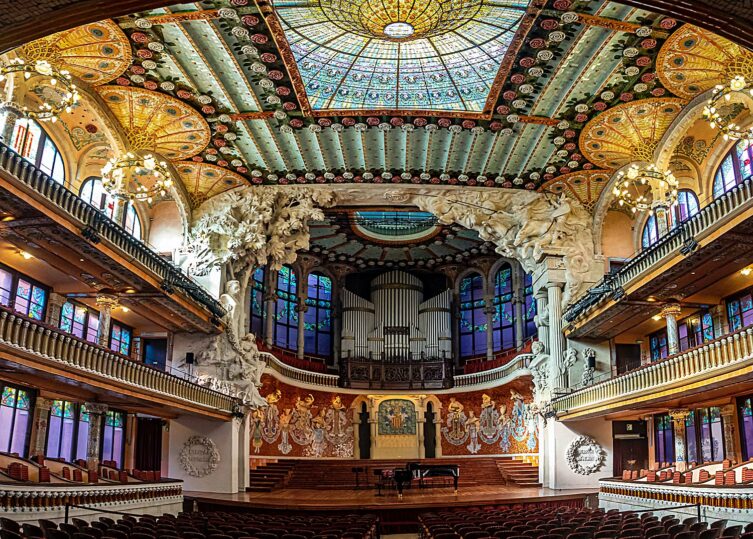 We start the second day with a visit to the Palace of Catalan Music. A beautiful, architecturally extraordinary building with amazing interiors. One of the most beautiful monuments of Catalan Art Nouveau. The fact that the building is entered on the UNESCO heritage list is probably enough for all other recommendations.
An interesting fact is that the palace was average ... for listening to music. After the initial admiration for the building, the first negative reviews of the palace as a music listening place appeared about ten years after it was put into use. More and more flaws were noticed in it, and finally a new (of course unofficial) name stuck to it: Palau de la Quincalleria Catalanawhich in translation means Palace of Catalan Rubbish.
There were ideas to deprive the palace of most of the interior decorations, because perhaps then it will better fulfill the function for which it was created. Most likely, the fact that listening to the music inside drowned out the tolling of nearby bells and the traffic caused that these ideas were abandoned. Thus, the palace has survived in its original form to our times and we can enjoy the eyes with a wonderful interior design.
Do Palace of Catalan Music the easiest way to get there is on foot from the Urquinaona metro station (lines L1, L4). I also marked the location of the metro station on the map.
Entrance tickets to the Palace of Music of Catalonia you can buy online - [click]
Palace of Catalan Music, GPS coordinates:
41°23'14.9″N 2°10'32.0″E
41.387479, 2.175541 - click and route
11. Gothic Quarter (Barri Gotic)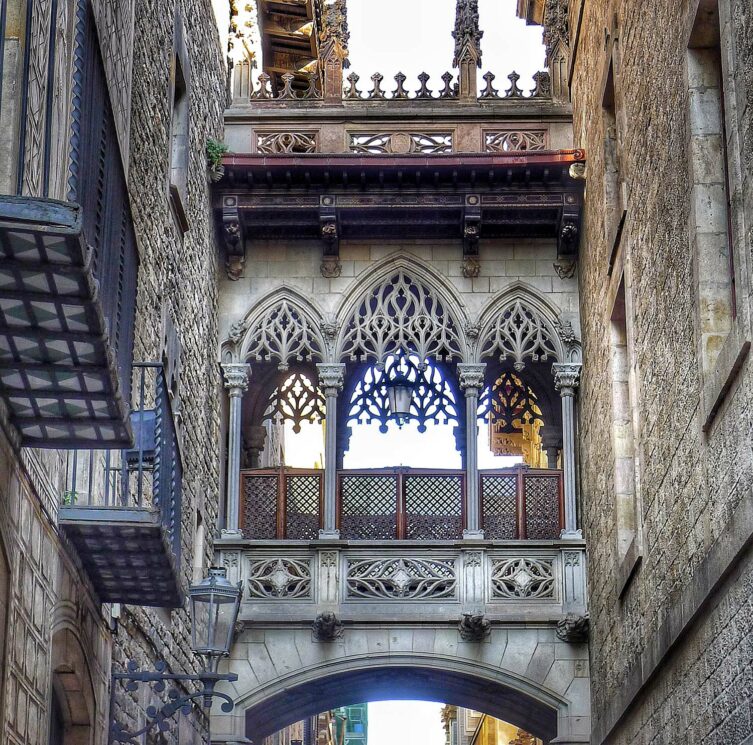 The Gothic Quarter is a part of the city, which I marked on the map with number 11. For a better illustration, I also put a red rectangular frame on the map, which more or less indicates the area Gothic Quarter. Visiting this area is mainly about aimlessly wandering through the streetswhich you want to enter at the moment. Along the way, you will probably come across several attractions, which I have distinguished with the numbers: 12, 13, 14 and 15.
There are many more interesting places in the Gothic Quarter, so don't limit yourself to those mentioned by me. Just spend some time in this part of town. Have a coffee, have a cookie or do whatever you want and surrender to the gothic atmosphere.
12. Cathedral of Saint Eulalia (Catedral de Barcelona)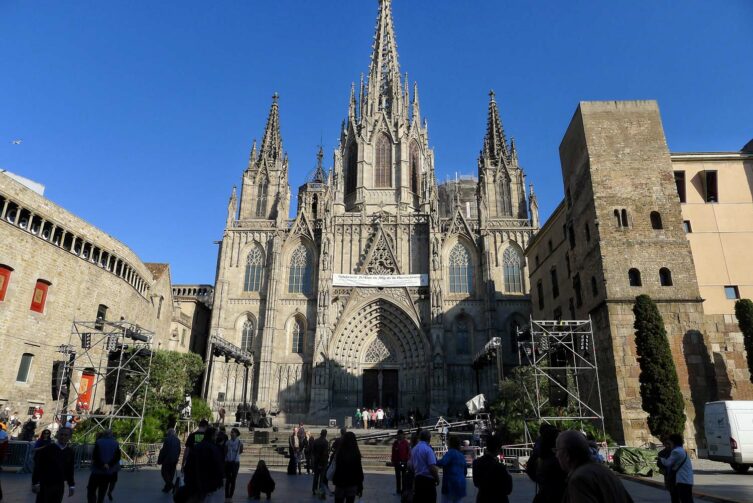 The cathedral was built in several stages from the XNUMXth to the XNUMXth centuries. It has a beautiful, monumental, neo-Gothic facade and is also the seat of the Catalan Archdiocese.
Inside the cathedral there is a richly decorated tombstone made of alabaster, in which the patron of the cathedral is buried. Eulalia (died in 304 as a martyr during the persecution of Christians during the reigns of Diocletian and Maximian).
On the south side of the cathedral there are buildings of the former seat of the archbishop adjacent to it. Among them is a pretty courtyard surrounded by cloisters with a small pool with a fountain. Usually thirteen white geese swim here, symbolizing the age of the church patron.
Saint Eulalia Cathedral, GPS coordinates:
41°23'03.4″N 2°10'34.3″E
41.384281, 2.176181 - click and route
13. Placa del Rei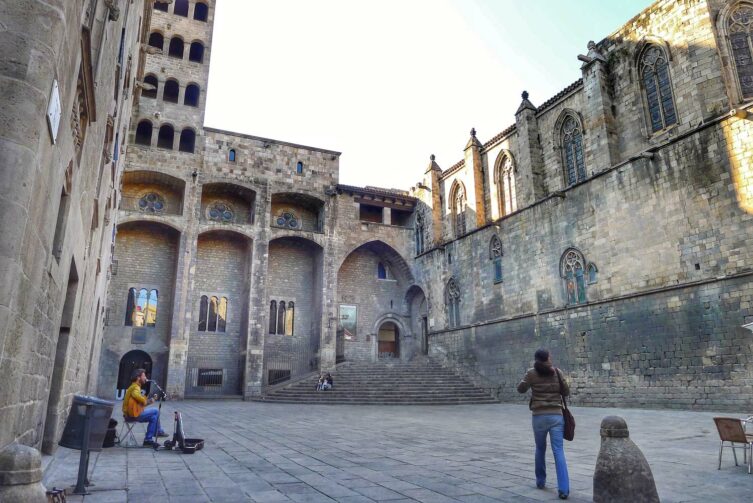 The Royal Square (or Placa del Rei) is a medieval public square built in the XNUMXth century, surrounded by interesting buildings that make up the Grand Royal Palace. The Grand Palace includes:
- Salón del Tinell, a large hall with an impressive vaulted arches
- Saint Agatha's Royal Chapel
- Palau del Lloctinent, i.e. the Governor's Palace with the five-story Mirador del Rei Martí tower (i.e. King Martin's Watchtower)
On the south side of the Royal Square is the Casa Padellas Palace building, transferred here stone by stone from another part of Barcelona. Currently, it houses the Museum of the History of the City of Barcelona (called MUHBA for short), where you can also visit the neighboring buildings of the Grand Royal Palace.
Place del Rei, GPS coordinates:
41°23'03.1″N 2°10'38.7″E
41.384182, 2.177414 - click and route
14. Placa de San Jaume
In translation, St. James's Square is widely recognized as the central and at the same time the most important square in the Gothic quarter. The reason is that there are two most important buildings next to it:
- the historic city hall, or Casa de la Ciudad de Barcelona, ​​where city council sessions are still held
- the seat of the Catalan government, i.e. Palau de la Generalitat de Catalunya
It is interesting to note that the present Saint James' Square is located exactly where the center of the Roman city of Barcino used to be. The two most important streets of the city of Cardo (today Llibreteria and Call Streets) and Decumanus (today Bisbe / Ciutat / Regomir streets) crossed here. At the intersection there was a forum and the Roman Temple of Augustus, of which four columns have survived to this day (currently it is Carrer del Paradís street number 10).
Placa de San Jaume
41°22'57.8″N 2°10'37.3″E
41.382731, 2.177020 - click and route
15. Basilica of Santa Maria del Pi
A very characteristic gothic church, which cannot be missed while walking around the gothic quarter. Above the entrance to the church there is one of the largest rosettes in the world, which unfortunately did not survive to our times in the original and was completely recreated.
It is possible to climb the bell tower of the church, from which there is a beautiful view of the city, but admission is paid (€ 2021-5 in 10).
Basilica of Santa Maria del Pi, GPS coordinates:
41°22'56.6″N 2°10'25.4″E
41.382377, 2.173709 - click and route
16. Aquarium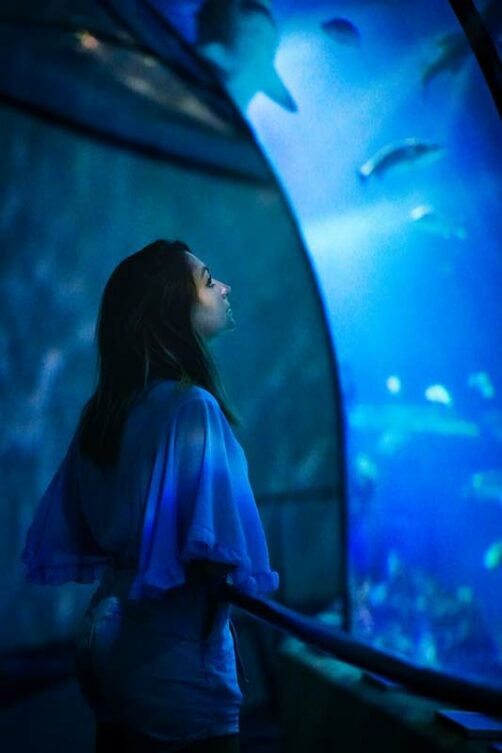 The attraction opened in 1995 arouses great interest and joy among children and, of course, adults. The biggest attraction of the Barcelona Oceanarium is, of course, the underwater tunnel with a moving walkway "at the bottom of the ocean". The possibility of observing life in the ocean from the bottom of the reservoir is always amazing. The passage, and in fact the passage through the underwater pipe, is organized in such a way that we can do it even several times.
The aquarium is very popular, but admission tickets can fortunately be purchased online in advance. I definitely recommend this way.
Check availability: skip-the-line admission ticket to the Barcelona Oceanarium - [click]
Barcelona Oceanarium, GPS coordinates:
41°22'36.6″N 2°11'02.8″E
41.376846, 2.184114 - click and route
17. Column of Christopher Columbus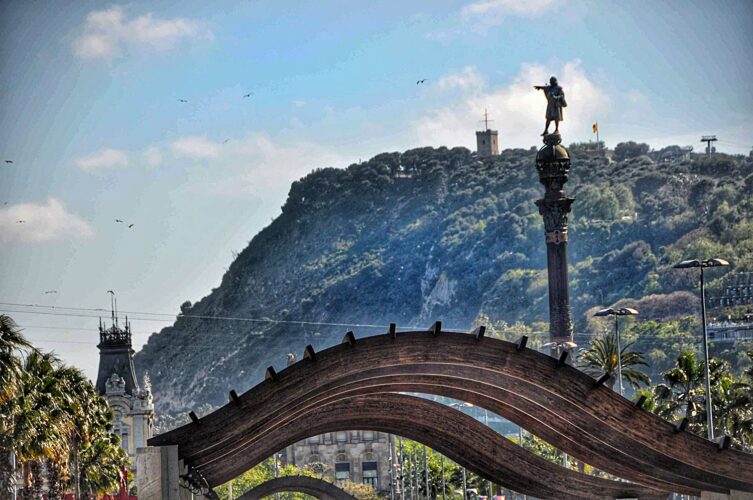 One of the most characteristic points of the city and at the same time an important landmark for tourists. Of course, the positioning of the column in this place is not accidental. It was here that Christopher Columbus, welcomed by the royal couple, landed on his way back from his trip to India.
The figure of Columbus on the monument has his arm stretched out in front of him and is clearly pointing at something. The first idea is always that it points to America… but unfortunately it is not. It is still not certain what Columbus points to, and many ideas for it (mainly humorous) have already been created. Currently, the official version is that it points to…. the port he has in front of him.
Christopher Columbus Column, GPS coordinates:
41°22'33.0″N 2°10'39.8″E
41.375839, 2.177731 - click and route
18. The Maritime Museum
The Maritime Museum in Barcelona, ​​functioning in the former port buildings, has a really great atmosphere. Mainly due to the buildings themselves, which are perfectly restored in themselves, arouse admiration. For this, it is enough to add a clever and interestingly organized exhibition and two hours of sightseeing pass in the blink of an eye.
In 2021, the entrance ticket to the museum cost EUR 10.
Maritime Museum, GPS coordinates:
41°22'31.6″N 2°10'36.0″E
41.375453, 2.176675 - click and route
19. La Rambla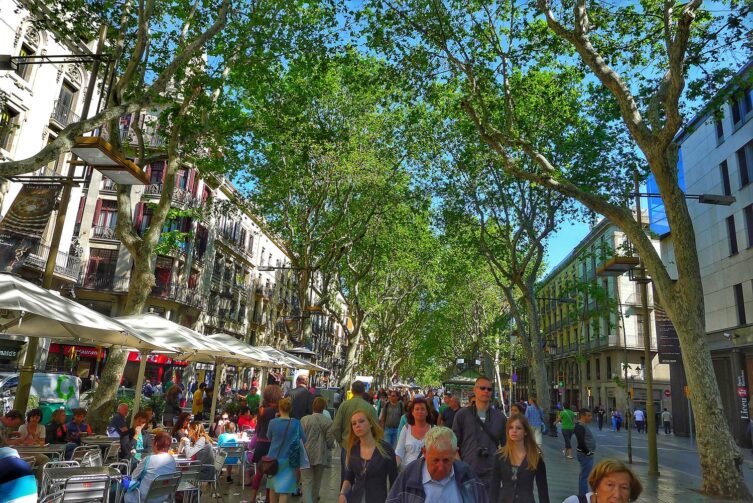 Probably the most famous and popular walking street in Barcelona. Its entire length is filled with cafes, stalls, street artists. Due to the number of tourists walking around La Rambla, it is also the main workplace for petty thieves and pickpockets. Probably the largest number of petty thefts per square meter of area takes place here. I recommend that you have your wallet and pockets under constant control while walking around La Rambla.
Despite the large number of small restaurants encouraging consumption, I do not recommend eating on La Rambla. It is expensive and not necessarily tasty. You can get better and cheaper food in places away from the tourist center.
The La Rambla walk, however, is an obligatory point of the program, the more so as it leads to the next attractions in our plan.
La Rambla, GPS coordinates:
41°22'38.8″N 2°10'34.9″E
41.377438, 2.176352 - click and route
20. Palau Guell
Another of the buildings designed entirely by Antoni Gaudi. Often overlooked by visitors to Barcelona, ​​but definitely wrong. The Guell Palace is worth a visit and it is worth to summon a little more strength, because look inside. Gaudi designed almost everything here. From the basement to the roof and chimneys down to the last detail. He was not limited by any finances (Guell had a huge fortune), so everything was made of the highest quality materials by the best craftsmen.
In 1984, Palau Guell was inscribed on the UNESCO World Heritage List.
Palace of Guell, GPS coordinates:
41°22'43.7″N 2°10'26.6″E
41.378816, 2.174051 - click and route
21. La Boqueria market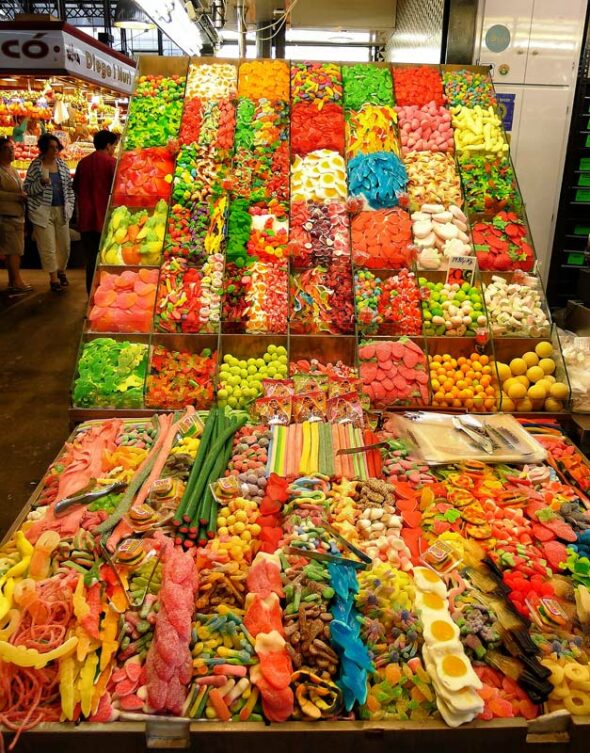 The most famous and huge bazaar in Barcelona. Filled with everything you can imagine. Countless varieties of beautiful, colorful and fragrant fruits and vegetables are displayed by merchants in such a way that they create an amazing rainbow of colors from which it is difficult to take your eyes off. I had the impression that arranging the displays on the stalls had already taken the form of a forwarding art.
In addition, cold cuts, meat, fish, preserves, alcohol, sweets ... over 13 square meters (because this is the size of the bazaar) of everything your heart desires.
Of course, there is also a quarter with street fast food. Inexpensive and really tasty. I definitely recommend looking for something for yourself here. Much cheaper and much tastier than on La Rambla, located a few steps away.
Main entrance to La Boqueria market, GPS coordinates:
41°22'55.2″N 2°10'19.9″E
41.381993, 2.172192 - click and route
22. Catalan Square
At the end of the tour, we reach Plaza Catalunya again, from which you can get anywhere quickly. Now comes the time to decide, do you still have the strength and willingness to continue exploring, or is it time for the sinful pleasures of drinking and eating in the evening? Or maybe you have something to catch up on from the day before?
Perhaps it would be a good idea to spend an evening by the sea on the beach? After all, Barceloneta is in Barcelona. which is a huge city beach.
Catalan Square, GPS coordinates:
41°23'13.1″N 2°10'12.1″E
41.386971, 2.170018 - click and route
23. Barceloneta Beach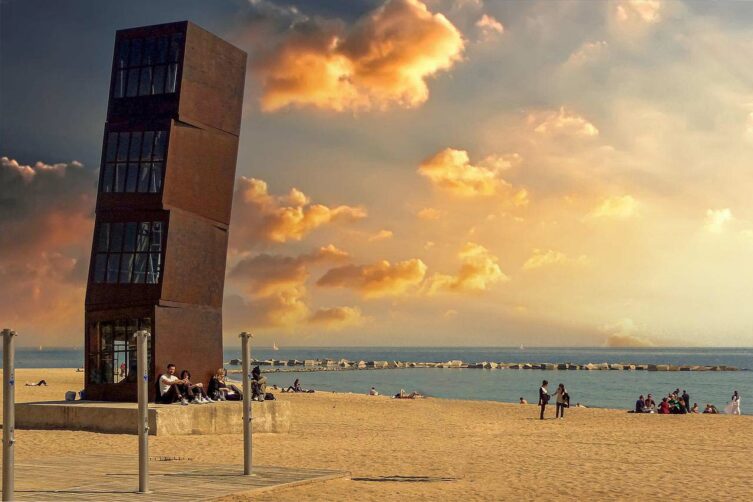 Barceloneta is basically one of the districts of Barcelona, ​​but tourists usually call it the beautiful, wide, sandy beach that is located in this district.
The beach itself has several names because it is divided into several parts: San Sebastian beach, Sant Miquel beach, Somorrostro beach ... but who would remember it all? The name Barceloneta is commonly used and everyone knows what's going on.
The easiest way to get to the beach is by metro (line L4) and get off at a stop with a shockingly surprising name: Barceloneta : )
Then you still have to walk a bit through the residential area and we are on the Mediterranean Sea.
Near the beach you will find seafood eateries and traditional tapas bars.
Barceloneta Beach, GPS coordinates:
41°22'36.2″N 2°11'28.4″E
41.376708, 2.191228 - click and route
Buses for tourists
If the sightseeing plan proposed by me was too demanding for you physically, I can propose an interesting lifebuoy. Hop On-Off buses, i.e. bus lines especially for tourists who do not want or do not have the strength to walk everywhere. These lines run over and over again on fixed routes and have stops next to the city's top tourist attractions. You can get on and off as many times as you want, because the ticket is valid for a specific time, not for a journey. 1-day and 2-day tickets are available.
By using the Hop On-Off buses, you can drive to an attraction, get off, visit it, return to the bus, drive to the next attraction and so on ...
Some carriers offer even more than one Hop On-Off line within one ticket. Such an offer I found it here - [click].
As part of one ticket valid for 1 or 2 days, you can use two bus lines: red and blue. Both lines run approximately every 20 minutes and serve a total of 36 stops.
The blue line route includes:
1. Plaça de Catalunya
2. Casa Batlló - Fundació Antoni Tàpies
3. Passeig de Gràcia - La Pedrera
4. Sagrada Familia
5. Example
6. Park Guell
7. Tramvia Blau - Tibidabo
8. Sarria
9. Monestir de Pedralbes
10. Palau Reial - Pavellons Güell
11. Football Club Barcelona
12. Diagonal Les Corts
13. Francesc Macià - Diagona
14. MACBA - CCCB
The red line route is:
1. Plaça de Catalunya
2. Casa Batlló - Fundació Antoni Tàpies
3. Passeig de Gràcia - La Pedrera
4. Francesc Macià - Diagonal
5. Estacio de Sants
6. Creu Cobert
7. Spanish Square
8. Caixa Fòrum - Pavelló Mies van der Rohe
9. Poble Espanyol
10. Museu Nacional d'Art de Catalunya
11. Anella Olimpica
12. Joan Miró Foundation
13. Teleferic de Montjuic
14. Miramar - Jardins Costa and Llobera
15. World Trade Center
16. Colom - Museu Maritim
17. Velli Harbor
18. Museu d'Història de Catalunya
19. Olympic Port
20. Zoo
21. Pla de Palau - Parc de la Ciutadella
22. Barri Gotic
If you have read my entire post, you can easily find the attractions described by me on the list of stops provided above.
Note that the common stop for both lines is well known to us Catalan Square (Plaça de Catalunya) and at this stop, if necessary, you can change from one line to the other.
Ticket for Hop On-Off buses in Barcelona you can buy online here - [click] ... in fact, you buy a voucher online, which is converted into a ticket when you get on at any stop on the route. Only when the coupon is exchanged for a ticket does the counting of the ticket validity period start.
Barcelona - accommodation and hotels
In terms of accommodation, Barcelona is very specific. Theoretically, finding an interesting accommodation should not be a problem, because these are huge cities, but in practice this is not always the case. Most often you can find it at an attractive price hostels with rooms without bathroom or dorms. Not everyone is happy with this. Hotels of a better standard, which we consider to be a normal standard on a daily basis, i.e. a typical double room with its own bathroom, unfortunately, are much more expensive than in other cities. This is probably due to the popularity of Barcelona. Finding the right quality accommodation at a good price in Barcelona can be difficult and you will need to spend a bit more time doing it.
Fortunately, in Barcelona you don't have to live in the very center of the city. Due to the excellent communication (I mean the metro) it is enough to live close to any metro station and you can get to any point in the city in no time.
For your convenience, here are some suggestions that I found interesting. Perhaps you will like them or they will be a good starting point for further research. Click, search, choose!



Important to me!
Give the article a good rating
(5 stars welcome 😀)!
It's free, a
for me it is very important!
The blog lives on visits and thus has a chance to develop.
Please do it
and ... thank you in advance!
I also post
link to Facebook profile - [click]
. Come in and press "
Follow
"then you will not miss new, inspiring posts.
Unless you prefer
Instagram
. I'm not a social media demon, but you can always count on something nice to look at on
my instagram profile - [click]
. The profile has just been created, so
for now he is starving
, due to the lack of followers. He is happy to receive any observer who feeds him with his love.
I make the content I create available free of charge with copyright, and the blog survives from advertising and affiliate cooperation. So, automatic ads will be displayed in the content of the articles, and some links are affiliate links. This has no effect on the final price of the service or product, but I may earn a commission for displaying ads or following certain links. I only recommend services and products that I find good and helpful. Since the beginning of the blog's existence, I have not published any sponsored article.
Some of the readers who found the information here very helpful, sometimes ask me how you can support the blog? I do not run fundraisers or support programs (type: patronite, zrzutka or "buy coffee"). The best way is to use links.
It costs you nothing, and support for the blog is self-generating.
Pozdrawiam