Bergamo - Italy: attractions, sightseeing, car rental (no credit card?), Cheap flights.
You can fly to Bergamo from Poland with low cost airlines 39 PLN. That's more or less what we pay at two gates for the highway near Poznań. However, very few reach this unique and beautiful city ... because Milan is right next to it. Its attraction is so great that it absorbs almost entirely the stream of people arriving and disembarking at Bergamo Milan airport.
Why is it like that?
If you haven't been to Bergamo yet, you can answer my question easily: after all, Milan is Milan, the capital of European fashion, beautiful, unique cathedral, Last Supper by Leonardo da Vinci, Castello Sforzesco, La Scala ... you can still exchange for a long time. After visiting Bergamo, the answer ceases to be so easy and obvious. Bergamo was cast into the shadows by a giant neighbor. Bigger, louder, more expensive, stronger ... but whether prettier, more atmospheric, more interesting? Not necessarily!
Citta Bassa and Citta Alta
Bergamo is clearly divided into 2 parts: lower and upper. Lower Town (i.e. Citta Bassa) is a new part of the city where mainstream everyday life is taking place. Work, business and everything that is associated with the daily operation of a normal city, i.e. evening life, of course, too. A high hill emerges from the lower part of the city, on which the Upper City is located (Citta Alta). Citta Alta is completely surrounded by a fortified wall and is a historic part of the city. A walk around Bergamo is a great pleasure. The typical atmosphere of the Italian town, with views that stretch from the hill, draws you immediately. After the nanosecond, you're already in this climate, you can feel it and you absorb the entire surface of the skin.
The city is compact and basically everything is located close to each other. Walking is not tiring and does not require much focus on navigation, in the style of: where to go now, not to miss something.
In Bergamo, you cannot miss the most important points: Piazza Vecchia, Basilica Santa Maria Maggiore, Torre Civica, Piazza Duomo, Duomo (cathedral), Chapel of Cappella Colleoni and the main street Via Gombito and Rocca di Bergamo with a beautiful park and views. The road leads alone. Everything is close and you only need to let yourself be guided intuitively.
At the end of the road you will reach Funicolare S. Vigilio, which is the funicular station that will take you to the San Vigilio hill. From it you can see even further and even more beautiful.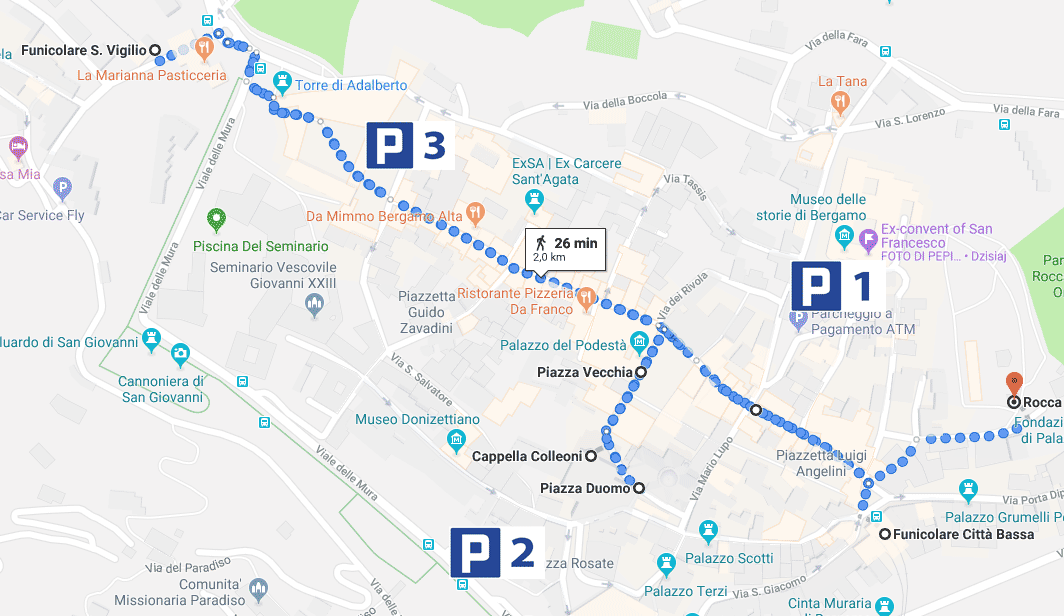 Four words about monuments
Old Town Square
15th century square, center of everything in Bergamo. Around this square are the most important monuments of Bergamo, and at its back there is another important square: Piazza Duomo.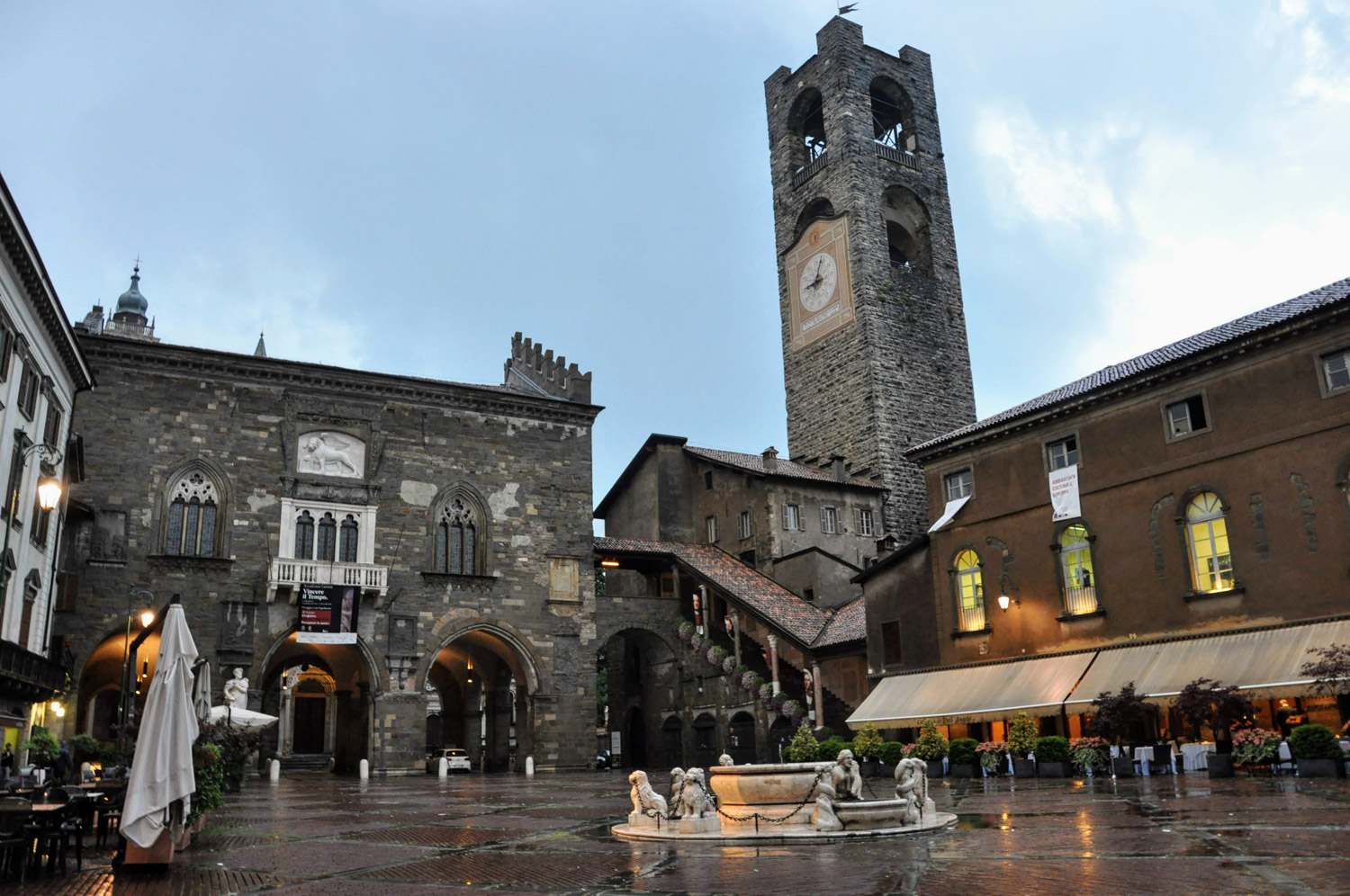 Basilica of Santa Maria Maggiore
A three-nave basilica built between the 12th and 14th centuries. It is widely claimed that it was created as a fulfillment of the promise made to Our Lady by the inhabitants of Bergamo, asking for protection against drought, hunger and plague (from the 1133 year).
Torre Civica tower
Often called Campanone because of the large bell placed on it. Is the tallest building in the city. Initially she measured 38m but repeated conversions pulled her up to 54m.
Piazza Duomo
Cathedral Square located behind the Piazza Vecchia. There is the cathedral and Cappella Colleoni next to it.
Duomo (cathedral)
The cathedral was built on the site where previously the church of St. Vincent. Single nave, on the Latin cross plan. In the crypt under the presbytery there is the burial place of the bishops of Bergamo.
Chapel of Cappella Colleoni
The chapel is dedicated to the Colleoni family, one of the most distinguished and influential families in Bergamo. It was added to the church in the 15th century.
Via Gombito
The main walking street, running along the most important parts of the town.
There are shops and restaurants on the street.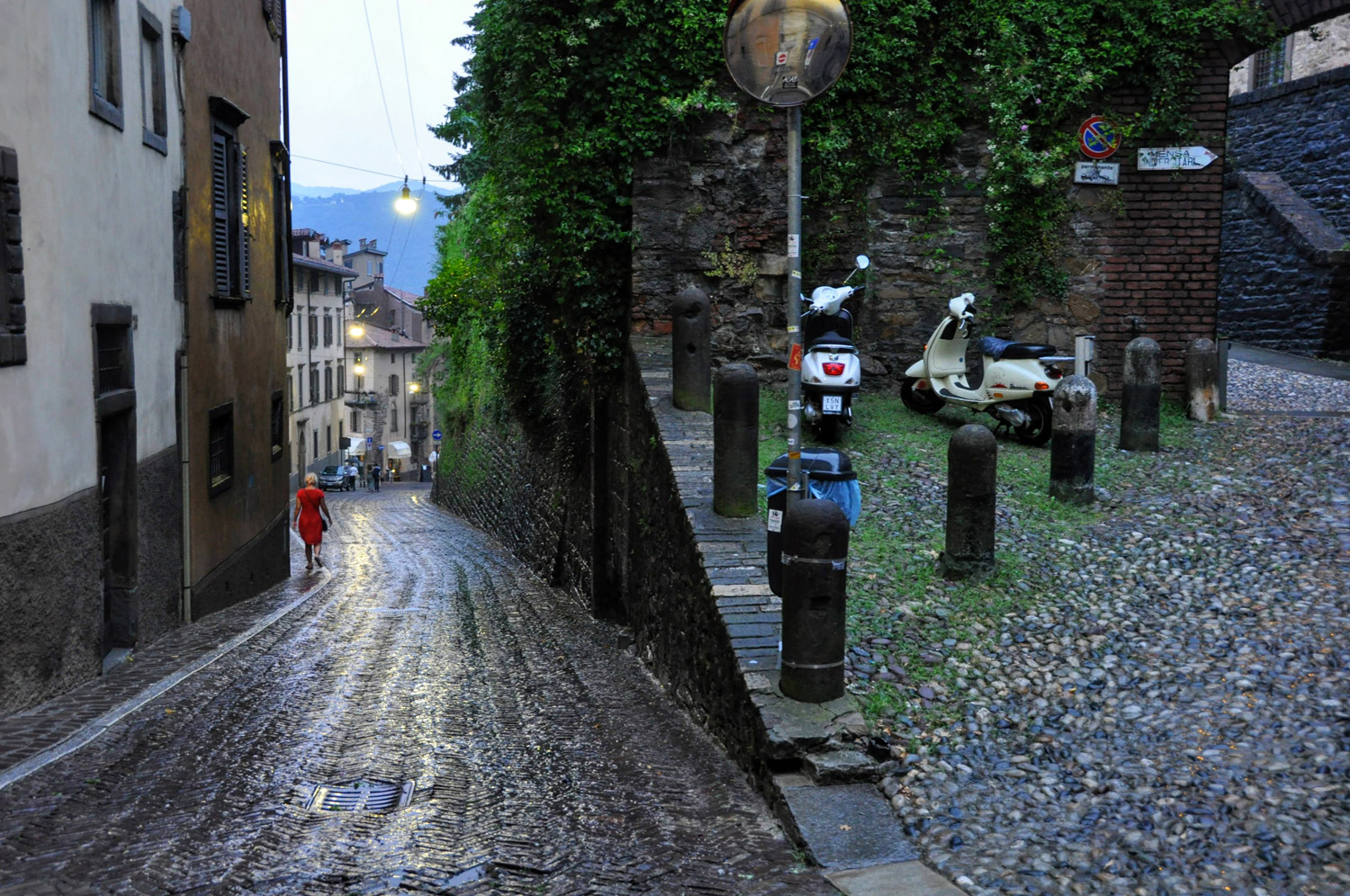 Rocca di Bergamo
A fortified defensive building (now a museum) with a picturesque park with a viewpoint. A must see point.
San Vigilio
The hill on which is the Castello San Vigilio castle and a unique viewpoint. The hill can be reached by a cable car from the bottom station called Funicolare S. Vigilio (marked on the map of Bergamo).
Queue station GPS coordinates: 45 ° 42'02.3 ″ N 9 ° 39'58.0 ″ E or 45.700641, 9.666100 - click and set the route
Parking lots and getting around by car in Bergamo
Parking in Bergamo (especially in the Upper) is not easy. Sometimes you have to turn around a little and look. Parking bans marked: 0-24 i tug symbol means that only locals can park here. Don't stand in these places.
Car traffic in Bergamo (Lower and Upper) is limited. During holidays, entry to the Upper Town is prohibited during 10: 00-12: 00 and 14: 00-19: 00. In addition, it is prohibited to enter Fridays and Saturdays during 21: 00-1: 00 during summer time. Of course, this does not apply to hotel guests who stay in Bergamo. When booking a room, please inform that you will arrive by car. Upon arrival at check-in, you will receive a card to be put behind the glass, which entitles you to park in places for residents (free).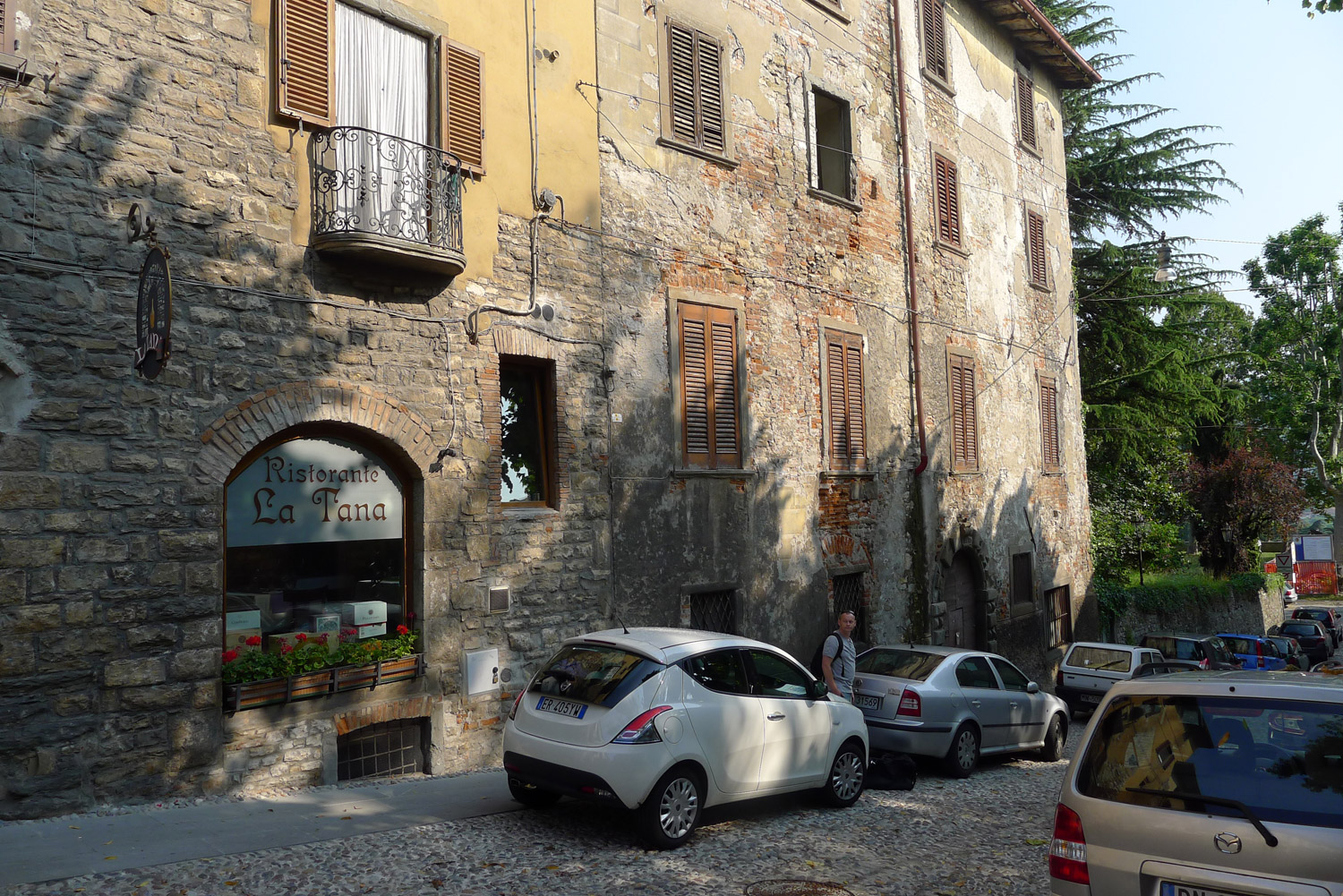 On the map I have marked the locations of three parking lots in Upper Bergamo with paid parking spaces. Below are their GPS coordinates.
Parking - P1, GPS: 45 ° 42'15.9 ″ N 9 ° 39'53.5 ″ E or 45.704418, 9.664857 - click and set the route
Parking - P2, GPS: 45 ° 42'09.9 ″ N 9 ° 39'43.6 ″ E or 45.702760, 9.662101 - click and set the route
Parking - P3, GPS: 45 ° 42'20.9 ″ N 9 ° 39'33.9 ″ E or 45.705811, 9.659414 - click and set the route
Parking near P3, at Viale delle Mura, GPS: 45 ° 42'20.6 ″ N 9 ° 39'29.3 ″ E or 45.705711, 9.658135 - click and set the route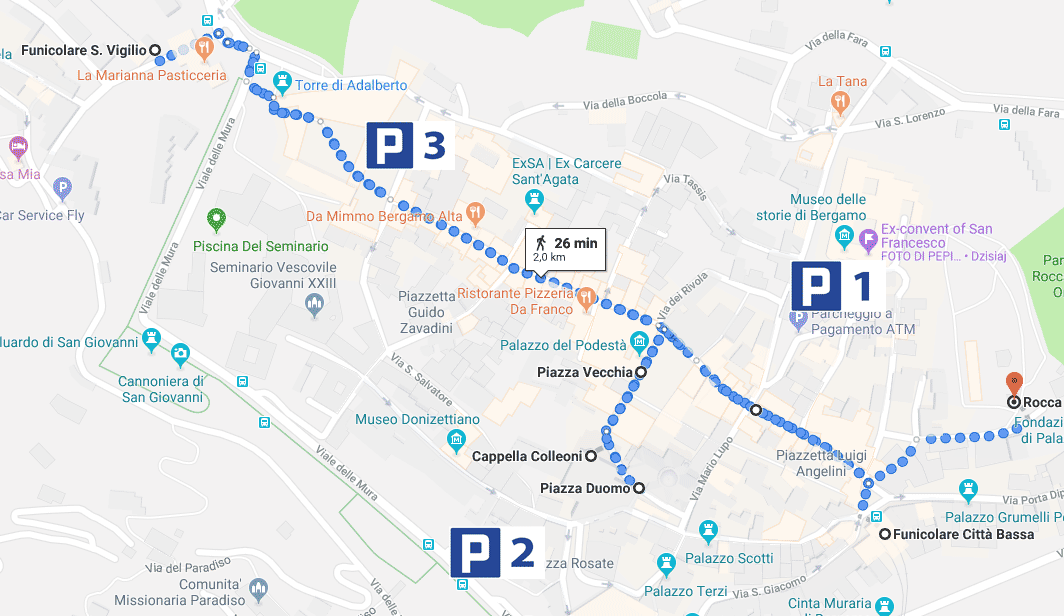 Directions from the airport
There is a shuttle service to Bergamo every 20 minutes 1 bus route. Travel time from the airport to the city is about 20 minutes. The last bus stop is on Colle Aperto in Upper Bergamo, next to the citadel and the cable car to the San Vigilio hill, and the parking lot which I marked as P3 on the city map.
Bus ticket you can buy in the arrivals hall at the tourist information point. The most preferred option is Tourist Ticketwhich costs:
- 5 EUR - 24-hour ticket
- 7 EUR - 72-hour ticket
For the price of the ticket you have to travel by bus 1 (airport - Bergamo - airport), move by public transport in Bergamo, and ride by Funiculare railways.
Car rent
At Bergamo airport, the car rental offer is wide. I found more than 20 from various companies enabling pickups from Bergamo airport. I made a list of 10 those that require the lowest deposit (in the form of a table, ordered by the amount of deposit required).
Clicking on the name of the rental will take you to the price offer for cars from this rental (if you browse the site on a computer). If you read this page on your phone, and the rental company does not yet have a version for mobile devices, the basic search engine of car offers will open.
At the time when I checked the prices, the promotion for rentals in two rental companies was on: Leasys and Sicily By Car. In the basic insurance package, without any subsidies, the own contribution against damage and theft was reduced to 0 EUR (!!!). At the same time, both rentals do not require a too high deposit, so both offers looked very attractive. It is likely that with full insurance, which you have here in the price of the basic rental, you will not even need a deposit. About it ask necessarily when picking up the car. Cancellation of the deposit would mean that no credit card would be needed. It is very possible that even if the rental does not give up the entire deposit, it will significantly reduce it and instead of the 300 EUR it will be the usual 100 EUR deposit (for possible refueling after returning the fuel missing in the tank). On holidays, it's always better to have more money at your disposal than less money 🙂
The screenshot along with the information about the promotion (it is indicated by a red arrow) I placed under the table.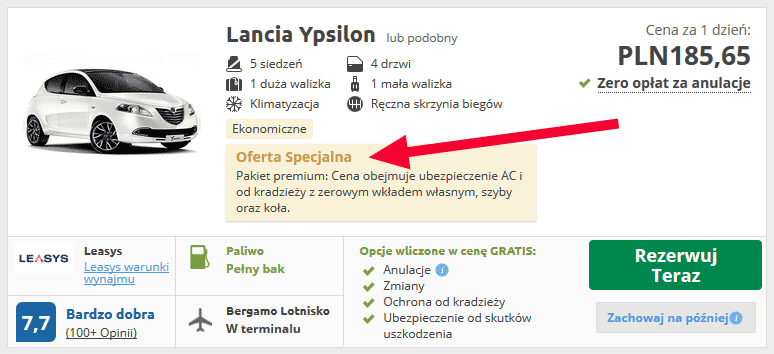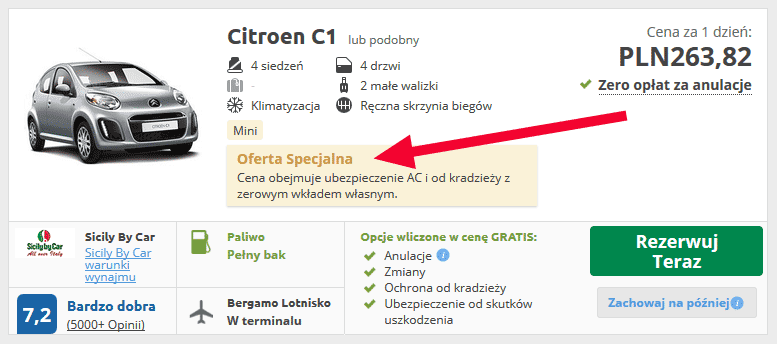 Renting a car in Bergamo is a great idea for starting point for a longer trip. Bergamo is perfectly located and close to everything.
Example:
You buy a ticket for a cheap flight, take a car in Bergamo and, for example, take a week on the route: Bergamo, Milan, Turin, Cinque Terre, Pisa, Siena, Florence, San Marino, Venice, Verona, Bergamo, sleeping somewhere else everyday. The cost of renting a car will be less for you than the cost of fuel for a car if you came from Poland with your car.
An example of an offer from the day the article was created is an offer with a portal 300 EUR deposit, and own contribution for damages or theft reduced to 0 (zero) EUR. The total cost of renting for the whole week: PLN 678,46.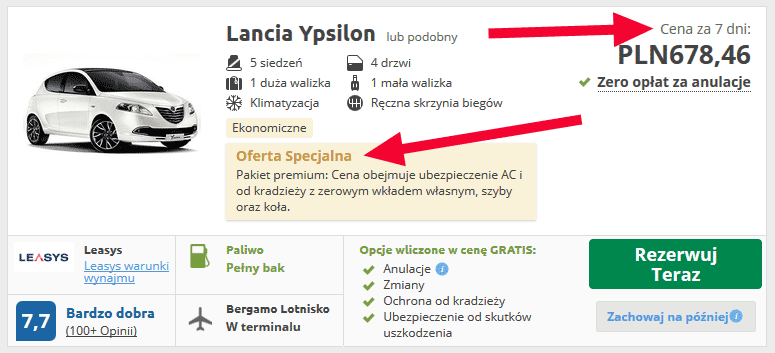 If you do not feel the need to use the promotional reduction of your own contribution to 0 EUR, the current price per week could be even better. The total cost of renting for the whole week: PLN 384,27.
An attractive amount for the comfort of traveling with your own car, right?

The full car rental offer is available at this link - [click].
It is worth checking whether it is currently impossible to get an even better offer.
Tickets for cheap airlines
As I mentioned earlier, flights to Bergamo from Poland are extremely cheap. Low cost airlines serve several cities in Poland with direct connections.
Ticket prices for flights change quickly, which is why I put the search engine below. As a starting point, it's best to enter Poland as the starting point, and of course: Milan Bergamo (this is what the airport is called).
You can leave the date fields empty. We will deal with them in the next step. Check the option "round-trip"And click"Search".
Cheap flights search engine
Now it's time to choose the date. I click on the date window and choose "all month" and then "September".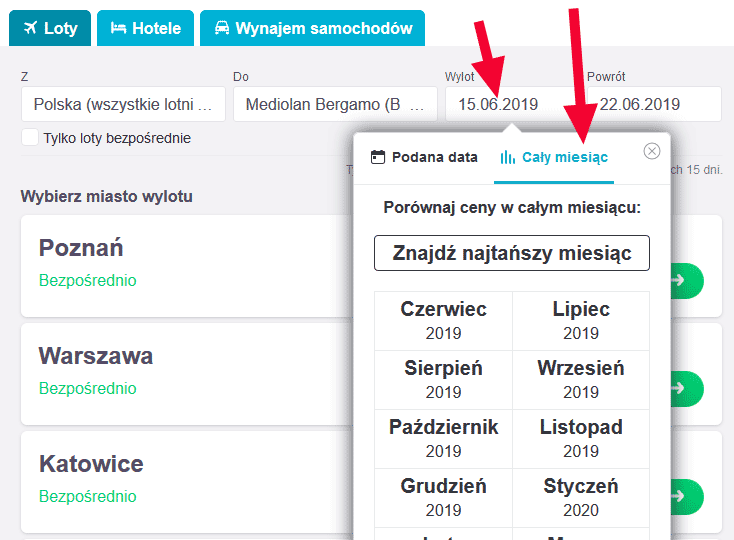 As a result, we get a list of airports. I choose Poznań.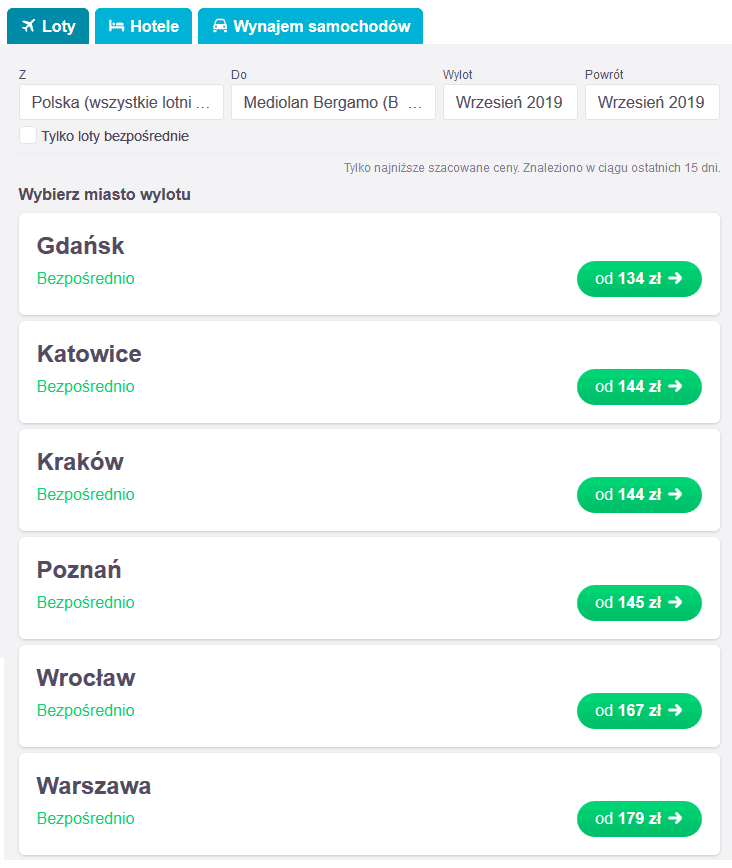 In September, I first choose the departure date: September 10, because the PLN 78 price seems attractive to me. After choosing departure date, the return prices update. I choose September 17 and I return for PLN 84. Pretty nice A round-trip flight will cost me 162 PLN.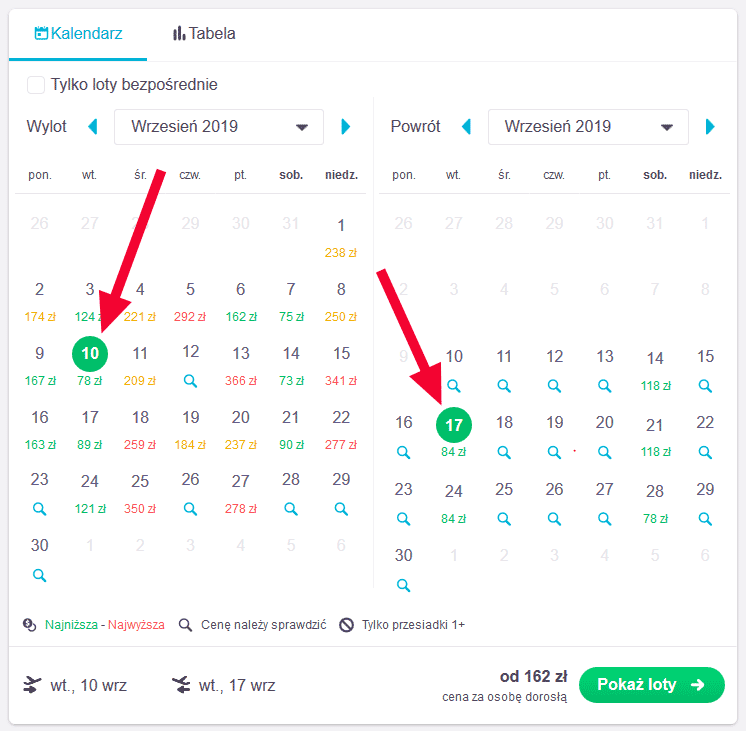 Some useful tips on how to find the cheapest flights and tricks can be found in a separate post: How to search for cheap flights and cheap flights? [GUIDE]
Accommodations
In Bergamo I can recommend several places. Personally, I prefer sleeping in Upper Bergamo (Citta Alta). A walk in the old town after dark is always amazing. In addition, dinner on one of the small squares, a bit of wine and ... four steps to the quarters to take a bath and sleep. I love it. Unfortunately, Citta Alta is a bit more expensive than Citta Bass, but you can always find something.
Accommodation Cita Alta (Upper Town)
Luxury Home Holidays - [click] - extremely atmospheric (in an old building), perfectly located apartment. Despite the proximity of the most important points, it is quiet and peaceful (located on a side, quiet street). The town's main attractions are around 200m. Equipped with everything you might need. Clean and pleasant.
La Torre Bergamo House - [click] - very highly rated and extremely willingly rented. The preserved climate of the interior completes the experience of the city. Fantastic views from the window of the city. Beautiful, friendly and recommendable place. Close to everything.
La Luna Blu in Old Town - [click] - comfortably located, highly rated and at a good price. Overnight in the heart of Bergamo. The hotel breakfast is served next door in a cafe next door 🙂
Accommodation Citta Bassa (Lower Town) and surroundings
B&B Early Leaving Bergamo Airport - [click] - comfortable 2 passenger rooms with a balcony. 150 m from the room a bus stop with the possibility of traveling to various places in Bergamo. you may meet our compatriots here.
Alex E Angie - [click] - equipped with a public terrace with a beautiful view of the city. A place where evenings are nice. Convenient location. Close to shops and public transport. In fact, it is close to everywhere 🙂
B&B Hotel Bergamo - [click] - nice, functional and very affordable hotel with breakfast. Well rated and popular among landlords. It is worth booking in advance, because the rooms disappear quickly. To the station about 10 minutes walk.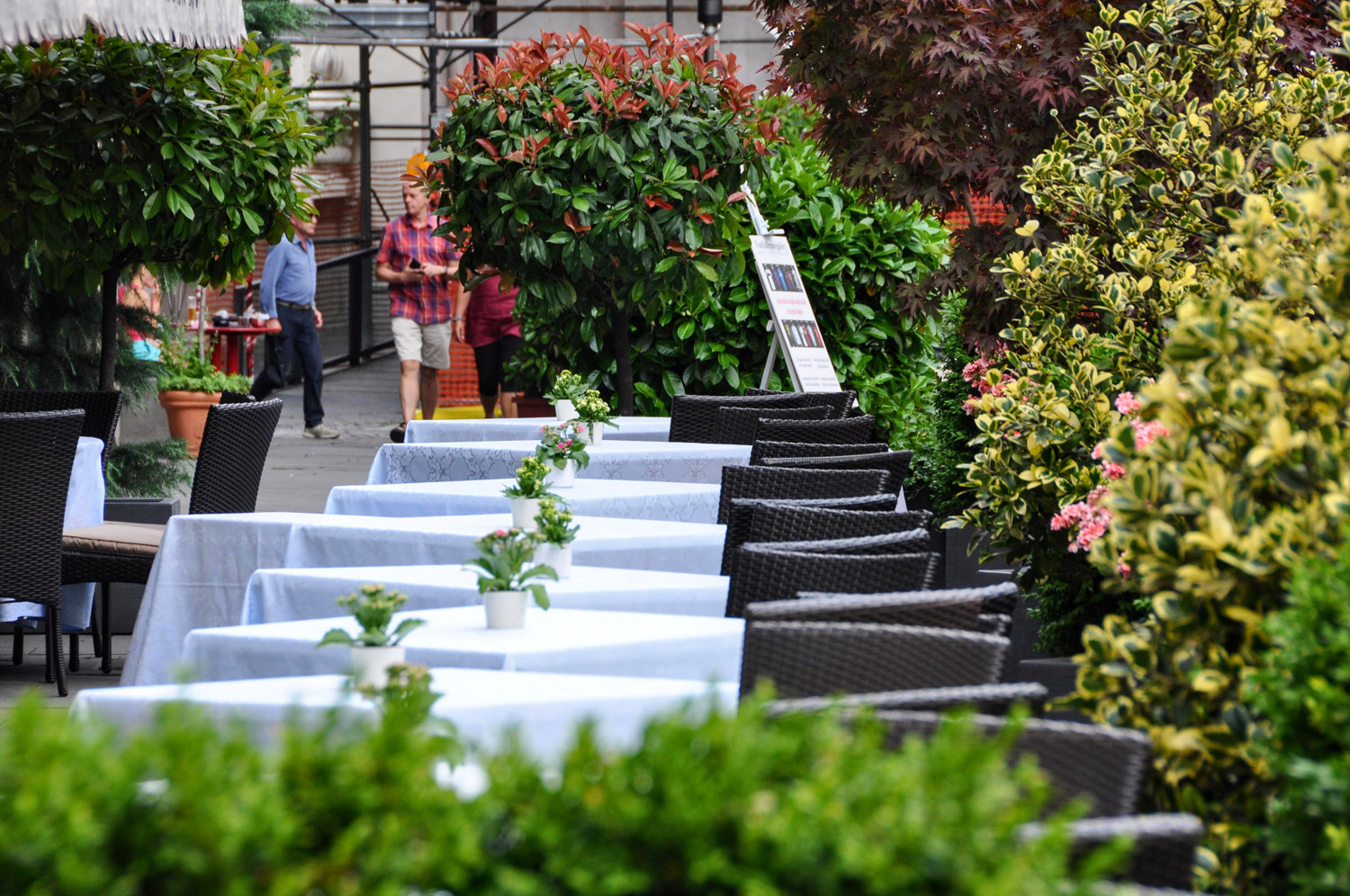 What to eat Where to eat
After thinking about the matter, I decided not to recommend any dishes or places. Eat everything and everywhere. Everything I ate and everywhere I had was great. Sit and eat wherever you feel, wherever your intuition attracts you. Wonderful little squares, streets and places where you can drink and eat there is so much that you will regret the horses that you could not sit down and eat at all. Enjoy the moment and have fun!
Important to me!
Give the article a good rating
(5 stars welcome 😀)!
It's free, a
for me it is very important!
The blog lives on visits and thus has a chance to develop.
Please do it
and ... thank you in advance!
I also post
link to Facebook profile - [click]
. Come in and press "
Follow
"then you will not miss new, inspiring posts.
Unless you prefer
Instagram
. I'm not a social media demon, but you can always count on something nice to look at on
my instagram profile - [click]
. The profile has just been created, so
for now he is starving
, due to the lack of followers. He is happy to receive any observer who feeds him with his love.
I make the content I create available free of charge with copyright, and the blog survives from advertising and affiliate cooperation. So, automatic ads will be displayed in the content of the articles, and some links are affiliate links. This has no effect on the final price of the service or product, but I may earn a commission for displaying ads or following certain links. I only recommend services and products that I find good and helpful. Since the beginning of the blog's existence, I have not published any sponsored article.
Some of the readers who found the information here very helpful, sometimes ask me how you can support the blog? I do not run fundraisers or support programs (type: patronite, zrzutka or "buy coffee"). The best way is to use links.
It costs you nothing, and support for the blog is self-generating.
Pozdrawiam