Tickets to attractions: Rome, Paris, Barcelona, ​​London, Berlin ... enter without queue, buy online, quickly and conveniently wherever you are !!!
Ticket search engine
First, I put the search engine into the database GetYourGuidethat you can always get back to quickly and will always be easily accessible at the very top of the post. If you are reading this entry for the first time, jump below the search engine and read on! You will find there valuable information.
Enter the name of the country, region, city or attraction (e.g. Rome, Louvre, Eiffel Tower, Wieliczka etc.) and look for entrance tickets to attractions:
Why was this post created?
At the beginning an example from life that inspired me to write this article.
A few days ago I was on a short trip to Krakow. Passing by the National Museum, we caught the eye of a banner advertising an exhibition of Wyspiański's works extended with a temporary exhibition, which was soon to end. It was the last opportunity, so I immediately threw in the direction indicator and parked next to the museum. We went inside and ... we all left the desire to explore. Several hundred people stood in two thick queues, monstrously long, in the lobby by the ticket offices. The whole huge hall was filled with people. Several dozen (at least) minutes of standing. I can't do it, I thought. I felt sorry for the hell. I looked sadly at the crowd, desperately looking for a solution. I gripped the phone helplessly in my hand ... exactly PHONEand in it INTERNET. Damn! Eureka !!! I entered the search engine, entered "National Museum Krakow tickets online"…. and after three minutes the tickets in PDF format were on my phone. Two minutes later, we were already watching the exhibition of Wyspiański's works! Beautiful! Just beautiful!
I entered without queuing up!
... and for the ticket I paid the same as willing who stood in the queue for several dozen minutes.
What really happened?
No, I didn't buy tickets on the National Museum website. Support for online payments and ways of delivering electronic tickets on the websites of various museums or other attractions that we would like to get to often does not work well or does not support such sales at all. I bought the tickets via the website GetYourGuide, which specializes in selling tickets to various attractions and does it in a simple, intuitive and instant. You can buy tickets for tourist attractions around the world.
Let's start from the beginning ...
What is GetYourGuide?
GetYourGuide is a search engine that was created in Germany. Collects offers of tourist services (admission tickets to museums, historical facilities, entertainment attractions, amusement parks, tourist services, trips, guide services, etc.) from around the world and enables purchase of tickets to these attractions online. This is not a new initiative, because it has been functioning for over 10 years (!!!), but the construction of such a database of offers and the development of the level of service that we can use at the moment had to take some time. Thanks to this, you do not have to look for a separate page for each attraction today, and then search these pages for the possibility of buying a ticket online, go through payment processes, where different cards and authorizations are required, you do not have to provide your payment card details on many different pages , etc. You have everything in one place. Simple and convenient. You order and pay with one supplier, you have all your tickets in one place, you can download them at any time and most often you only need their electronic version on your phone. The site is working also in Polish no matter what part of the world the offer comes from.
In addition to admission tickets in GetYourGuide you will also find offers for individual guides and small local tourist offices. Thanks to this you will find offers that you don't have a chance to find elsewhere. For example, imagine you fancy a private boat ride off the coast of Majorca. In the search engine, just enter, for example, "majorca cruise" and as a result of the search you will get a list of several dozen cruise offers. By boat, catamaran, fishing vessel, boat with transparent bottom, short, several hours, all day, with fishing, with or without board, at sunrise, with observation of dolphins ... to choose the color.
You bought a ticket but you can't go? Return the ticket and get a refund!
Yes Yes!!! This is not a joke!
When you buy a ticket directly on the site of interest (museum, amusement park, show, etc.), you almost never have the option of returning the ticket. When buying through this search engine, with many attractions you have the option of canceling your ticket up to 24 hours before it starts and get your money back! Cool right? I think so too.
Information on whether you have the option of returning the ticket and at what time before the start of the attraction you will find in the description of each attraction.
How to use the search engine?
The search engine I prepared is very easy to use, but that's where her strength lies. It allows you to search in a way very flexible and intuitive. Thanks to this, it can be used in several ways. The easiest way to show this is with examples.
Tickets for a particular attraction
This is the simplest form of inquiry. If you are looking for a ticket to a specific attraction, simply enter (in Polish) its name or even a part of it, e.g. Louvre, Eiffel Tower, Colosseum, Park Guell, Sagrada, Wieliczka, etc.
As a result, you'll receive a list of matching offers. These will most often be tickets, tickets without queuing, tickets with guide services in groups of various sizes and duration, and even with delivery to attractions from another town. Depending on how much time you have and how exactly you want to know the attraction, you choose the package that's right for you. After choosing a specific offer, you select the day (in some attractions also the hour) and go to the next steps of the booking.
City exploration
This is another way of searching. Let's assume you're going to Barcelona. It is known that you know more or less what you want to see. It is worth starting my search engine and simply enter the city name: Barcelona.
As a search result you will receive a list of attractions related to Barcelona. By entering Barcelona into the search engine today, I received 792 (!!!) suggestions related to Barcelona. This is great material that is worth reviewing at least. Every time browsing this list brings something interesting and inspiring, which I did not know before. I highly recommend this version of the search.
Planning longer trips
If you plan a tour around a country or region, enter the name of that country or region in the search engine. I'm sure the result will surprise you. The wealth of ideas and interesting places that you will want to include in your trip is huge. Following Barcelona, ​​I entered "Catalonia" in the search engine. For example, I found a tour of Girona in the footsteps of "Game of Tones". The tour is based around the monuments and places where the famous TV series was shot. Other interesting suggestions include: a catamaran cruise, a trip to the vineyards and to the fabulously located Montserrat Monastery. Even if you do not use any of the suggestions, you will definitely be inspired!
By the way, if I ever had access to such a search engine when I was going to Provence, I would not miss Valensole - click if you want to see what I feel sorry for ... 🙁
What does the offer contain?
Due to the huge variety of offers, read the detailed descriptions that accompany each offer.
The description is divided into several parts. Let's see how it looks based on one sample offer hop-on hop-off bus tour in Palma de Mallorca.
Attraction rating and gallery
The description of the offer begins with the assessments given by its users who bought the participation in it. So we see the average rating and the number of opinions issued.
On this basis, we can initially quickly assess the attractiveness and popularity of the offer.
There is a photo gallery under the rating, which you can scroll with the arrows on the right and left of the photo.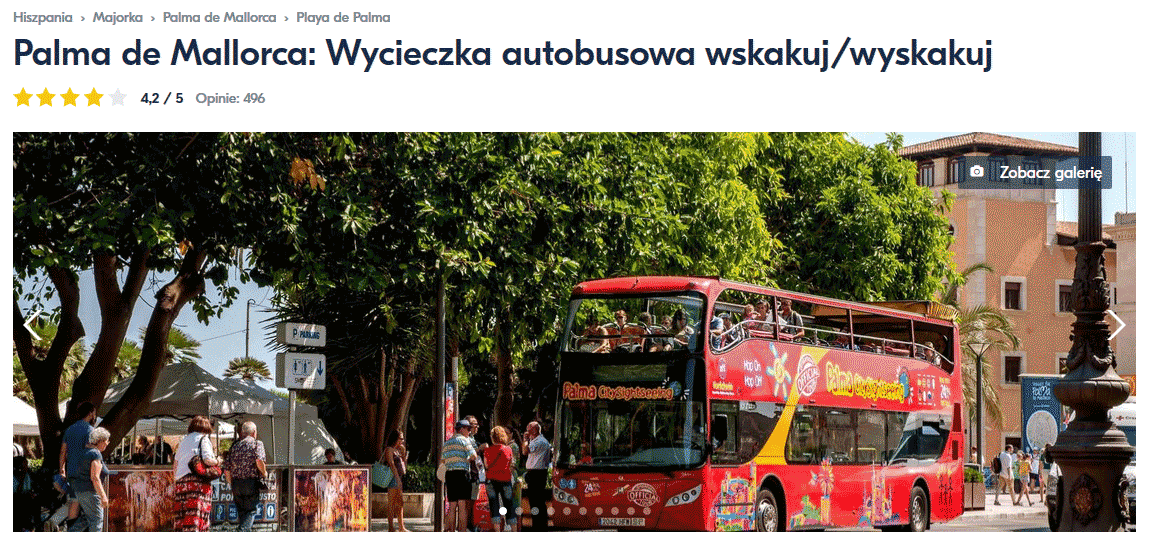 Characteristics of the offer
Here is a brief description of the attractions so that you can quickly find out if that's what we mean.

Information
In the section you will find important data on the duration of the attraction, the required form of the ticket / coupon (printout or electronic version, e.g. on the phone), the date of confirmation of participation, communication languages ​​of the guide and audio guide, accessibility for the disabled and the possibility of cancellation and refund.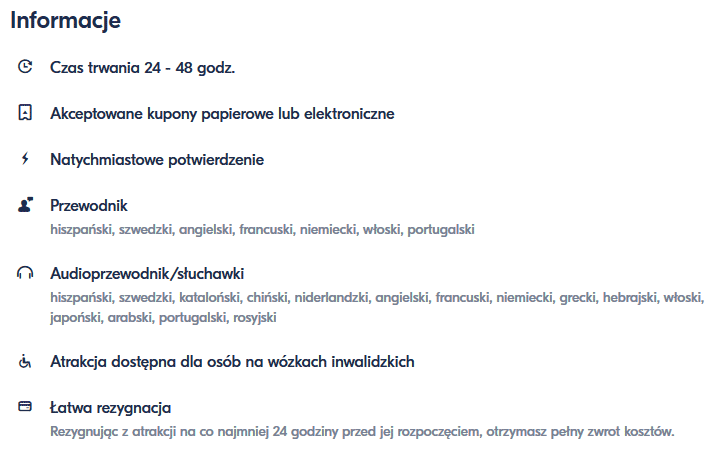 Accessibility check form
This is the form in which you have the opportunity to check the availability of tickets for a selected number of people at a time you are interested in. You simply click on the appropriate fields and choose the options that interest you.

What can you expect?
This is a much more detailed description of the attractions. It contains a much broader description of the attractions and a list of services that are included or not included in the price of the attraction. It is mandatory to read it.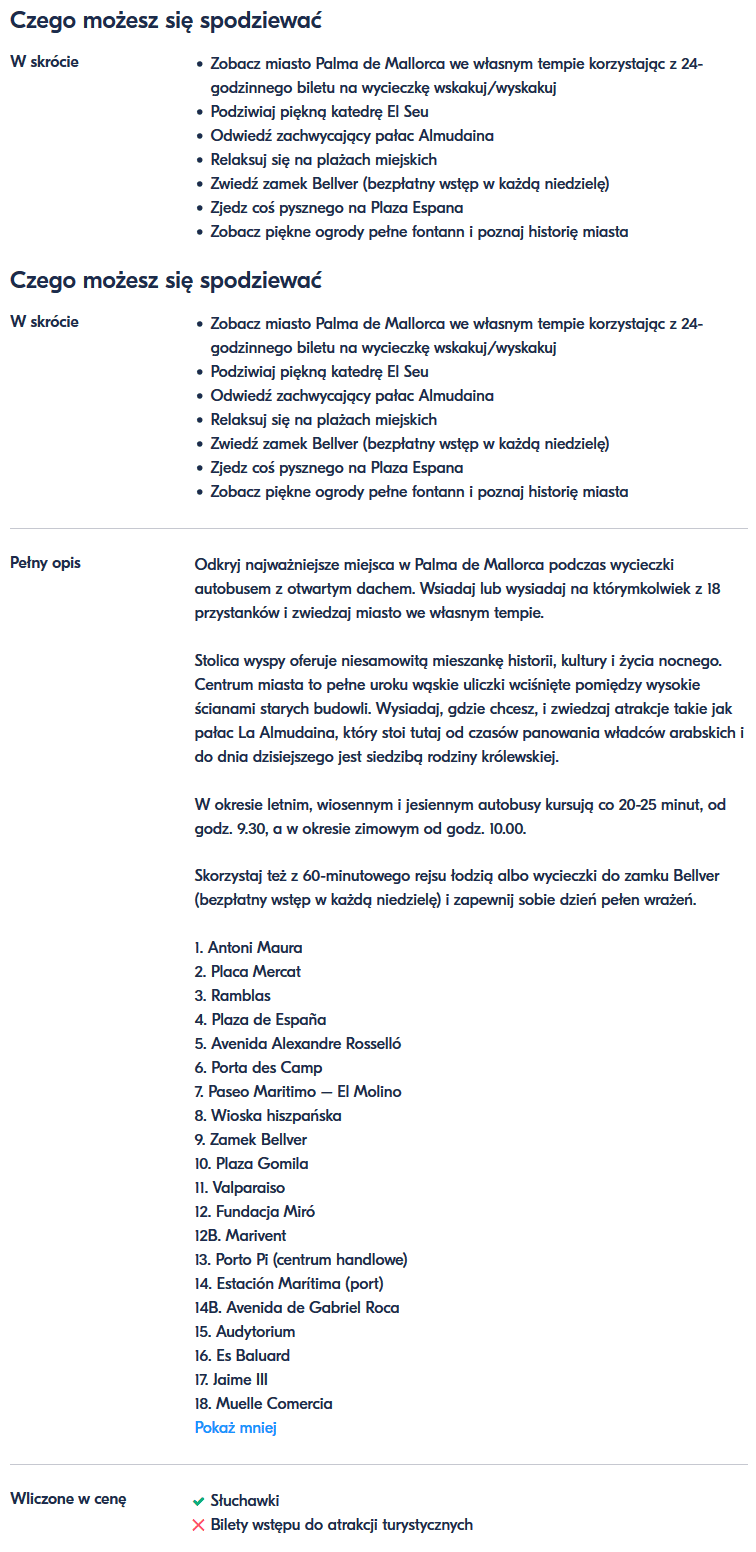 get ready
A set of relevant information related to the organization of using the purchased attraction. Depending on the type of attraction, it can be: a meeting point, meeting time, what to look for, what to bring, how to dress ... etc.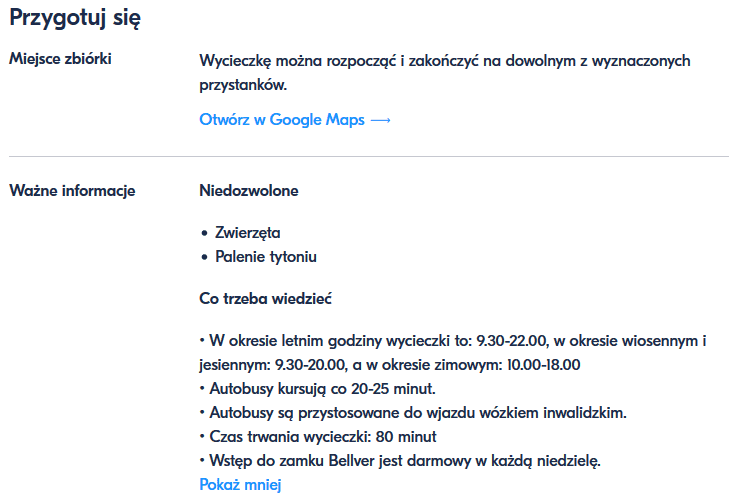 Wherever you are
Finally, it's important to remember that wherever you are You can always buy a ticket via the internet. So remember the address of my search engine, because it can be useful to you at any time, just like it came to me suddenly in the lobby of the National Museum.
If you ever, even being at the other end of the world, you start to get bored lying by the pool, think about this search engine. Perhaps adventure is just waiting for you ?! Give her a chance and press "Search"!
return to ticket search engine >>>
Important to me!
Give the article a good rating
(5 stars welcome 😀)!
It's free, a
for me it is very important!
The blog lives on visits and thus has a chance to develop.
Please do it
and ... thank you in advance!
I also post
link to Facebook profile - [click]
. Come in and press "
Follow
"then you will not miss new, inspiring posts.
Unless you prefer
Instagram
. I'm not a social media demon, but you can always count on something nice to look at on
my instagram profile - [click]
. The profile has just been created, so
for now he is starving
, due to the lack of followers. He is happy to receive any observer who feeds him with his love.
I make the content I create available free of charge with copyright, and the blog survives from advertising and affiliate cooperation. So, automatic ads will be displayed in the content of the articles, and some links are affiliate links. This has no effect on the final price of the service or product, but I may earn a commission for displaying ads or following certain links. I only recommend services and products that I find good and helpful. Since the beginning of the blog's existence, I have not published any sponsored article.
Some of the readers who found the information here very helpful, sometimes ask me how you can support the blog? I do not run fundraisers or support programs (type: patronite, zrzutka or "buy coffee"). The best way is to use links.
It costs you nothing, and support for the blog is self-generating.
Pozdrawiam