Masca - Tenerife: gorge, village and winding mountain road. Access, sightseeing, map, information.
Masca - things will happen!
Absolutely crazy mountain road. and next to it a village located so that the camera shutter heats up to red and you can not stop taking photos. In addition, the gorge, which walks down takes about 4 hours and ends under a giant rock cliff. Densely from attractions and impressions, and all this can be colloquially contained in one word: Masca.
Let's start from the beginning.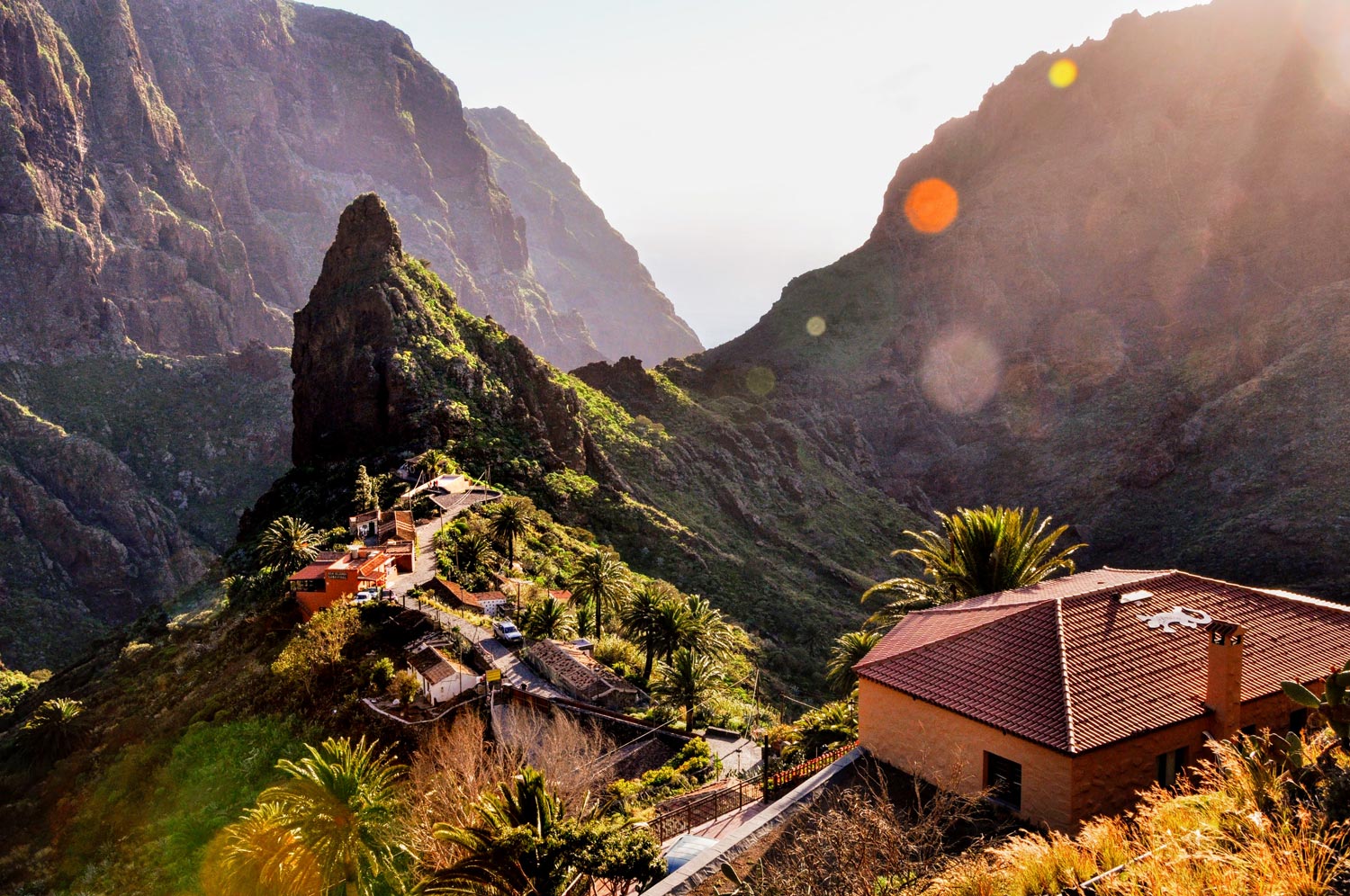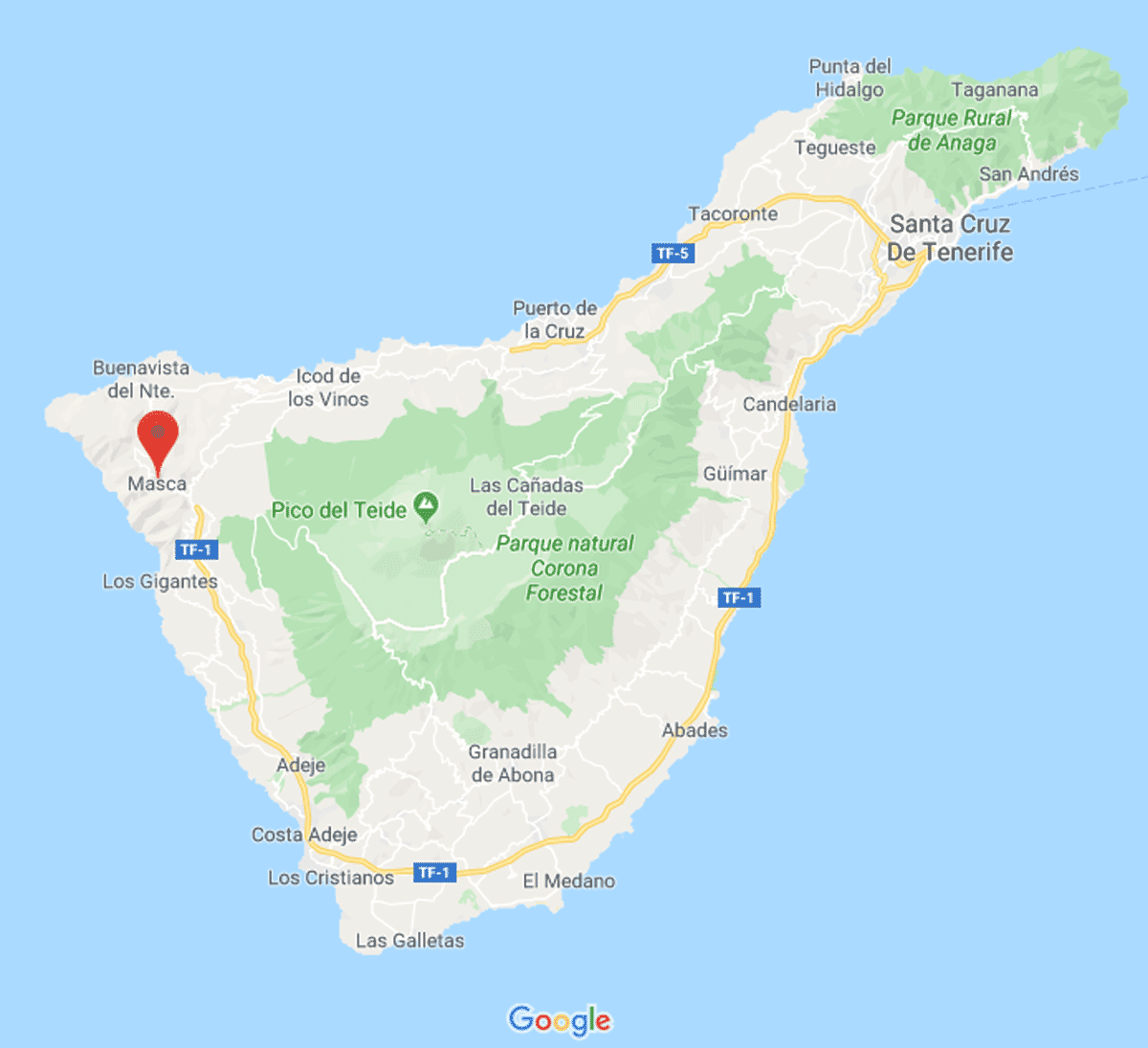 Road to Masca (TF-436)
Road number leads to the village TF-436which is an attraction in itself. It starts in the city of Santiago del Teide and initially climbs strongly to the switch, where the Mirador de Cherfe viewpoint is located.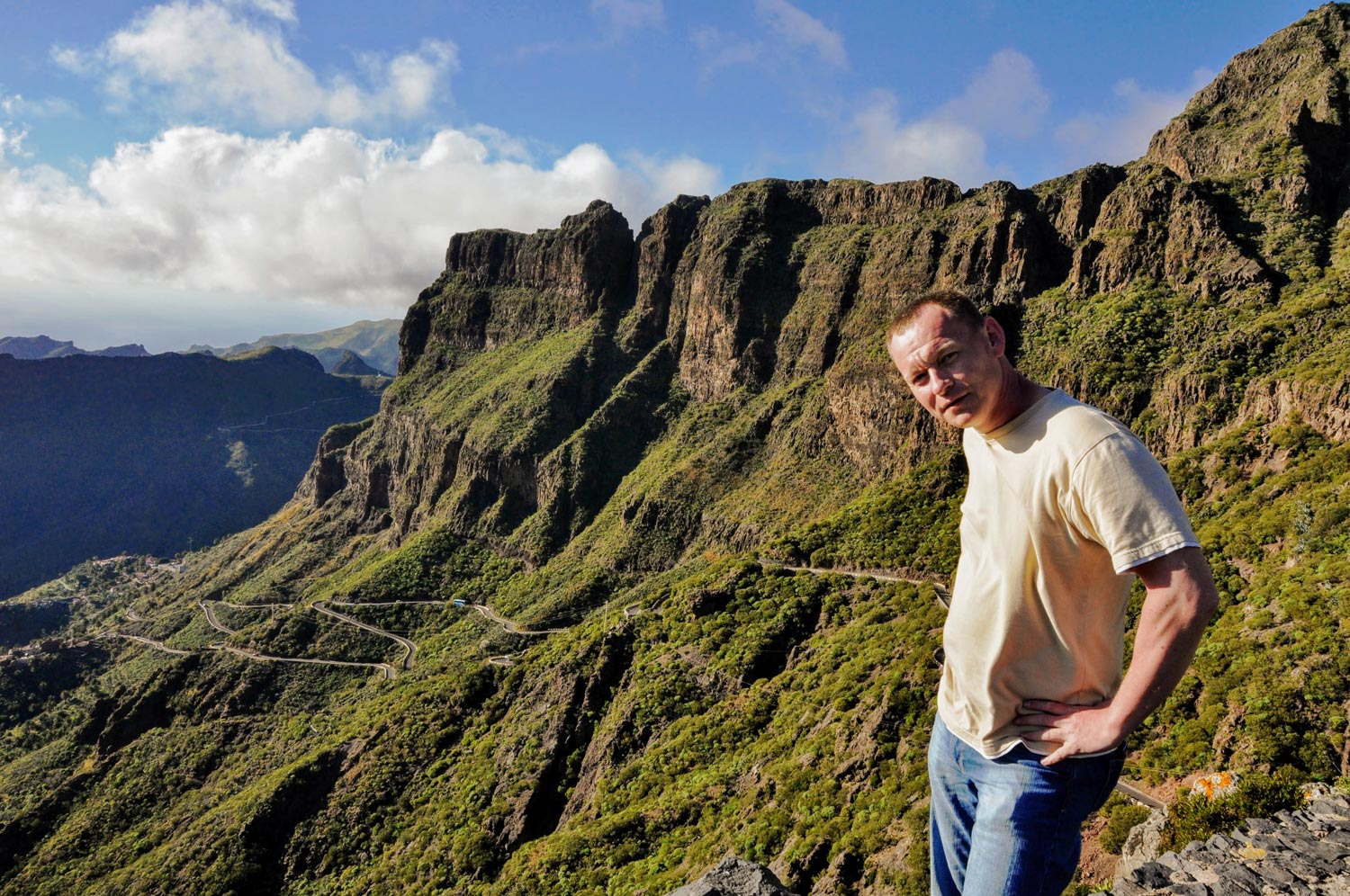 Then the road begins to fall strongly. It gets very steep, narrow, winding and ... dangerous. In a word, fantastic emotions and adrenaline. The wall on the right, the abyss on the left. Car tilted down well over 20%, and a sharp curve wraps tightly around the rock. Visibility on the 2 meters forward, because the narrow road immediately disappears behind the edge of the bend and rock. All senses tense in anticipation or from the opposite suddenly no other vehicle will appear.
And ... appeared!
Bus.
We are facing each other, one meter away, face to face. I mess my head up to make eye contact with the bus driver and he looks down at me. Here are the basic laws of nature. Big maybe more.
I pull the manual, drive in reverse and under more than 20% slant, I set off backwards up the hill. Fortunately, I don't have anyone behind me. We go back to the place where there is a passing place, where we can finally pass safely. We make a few hundred meters backwards, sharply uphill between the wall and the abyss. Happens! During this time, the bus ends the turn at 10 times and after a while we pass each other safely. You can go on waiting for the next bus ...
If you are lucky you will meet the bus once or not at all. In the summer season, I would rather not count on such kindness of fate. It will be very tight. Front, back and sides 🙂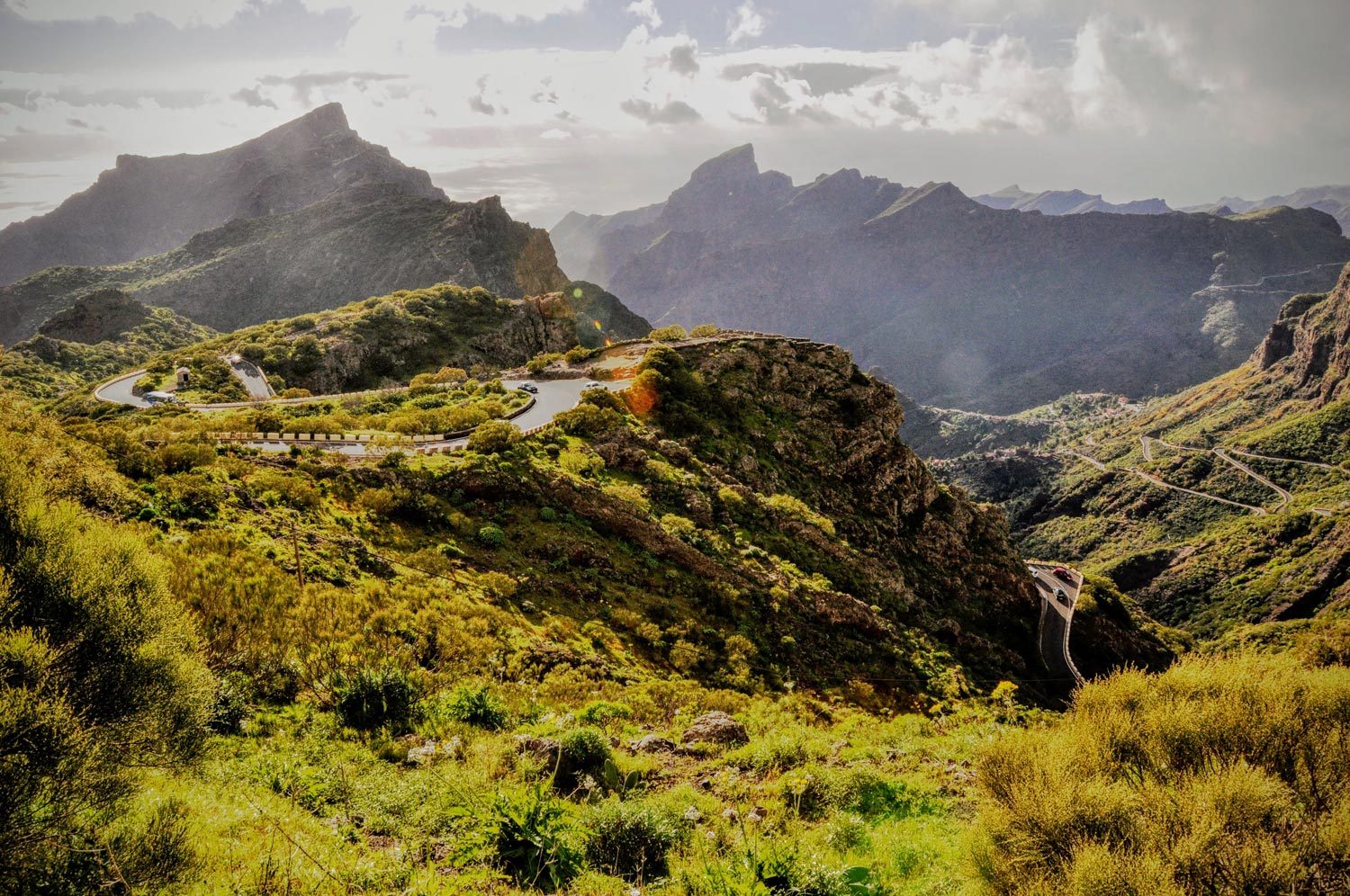 Do not rush.
Do not panic.
Drive calmly and stop often. There are several viewpoints along the road and it is worth stopping at each. The views are overpowering and it's a shame not to use them. Although the access from Santiago del Teide to Masca is only 5,5km, and the traffic is rather moderate in winter, the ride took us well over an hour. We absorbed views everywhere we could stop for a moment. I would recommend!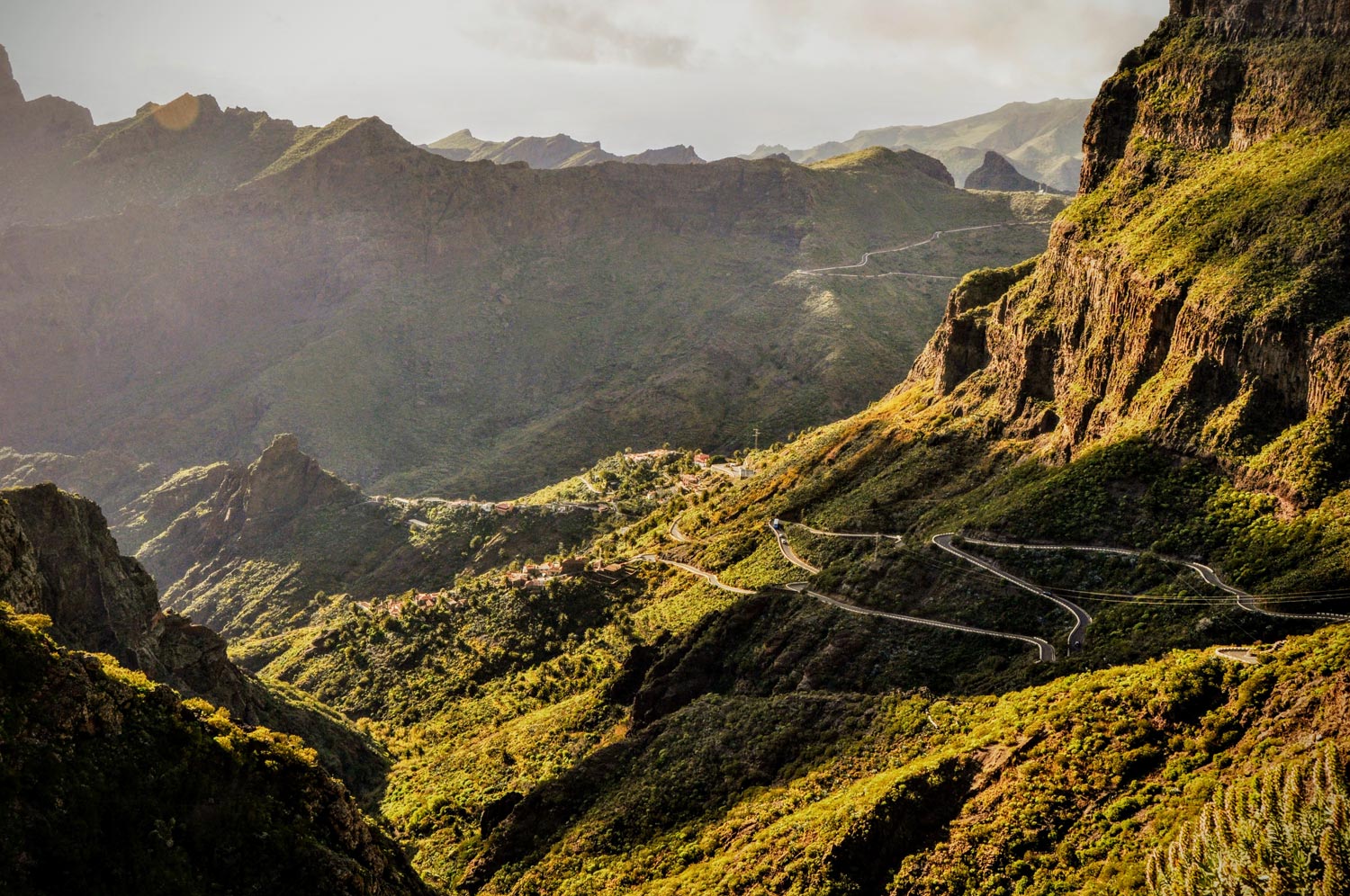 Below are the GPS coordinates of several viewpoints where you can safely stop. There are several specially prepared parking spaces.
Parking lot - Viewpoint Mirador de Cherfe, GPS coordinates:
28°17'58.7″N 16°49'26.3″W lub
28.299651, -16.823957 - click and route
Parking lot - Mirador de Masca viewpoint, GPS coordinates:
28°18'01.1″N 16°49'36.2″W lub
28.300315, -16.826727 - click and route
Parking lot - Mirador sobre Masca viewpoint, GPS coordinates:
28°18'16.5″N 16°49'47.3″W lub
28.304590, -16.829810 - click and route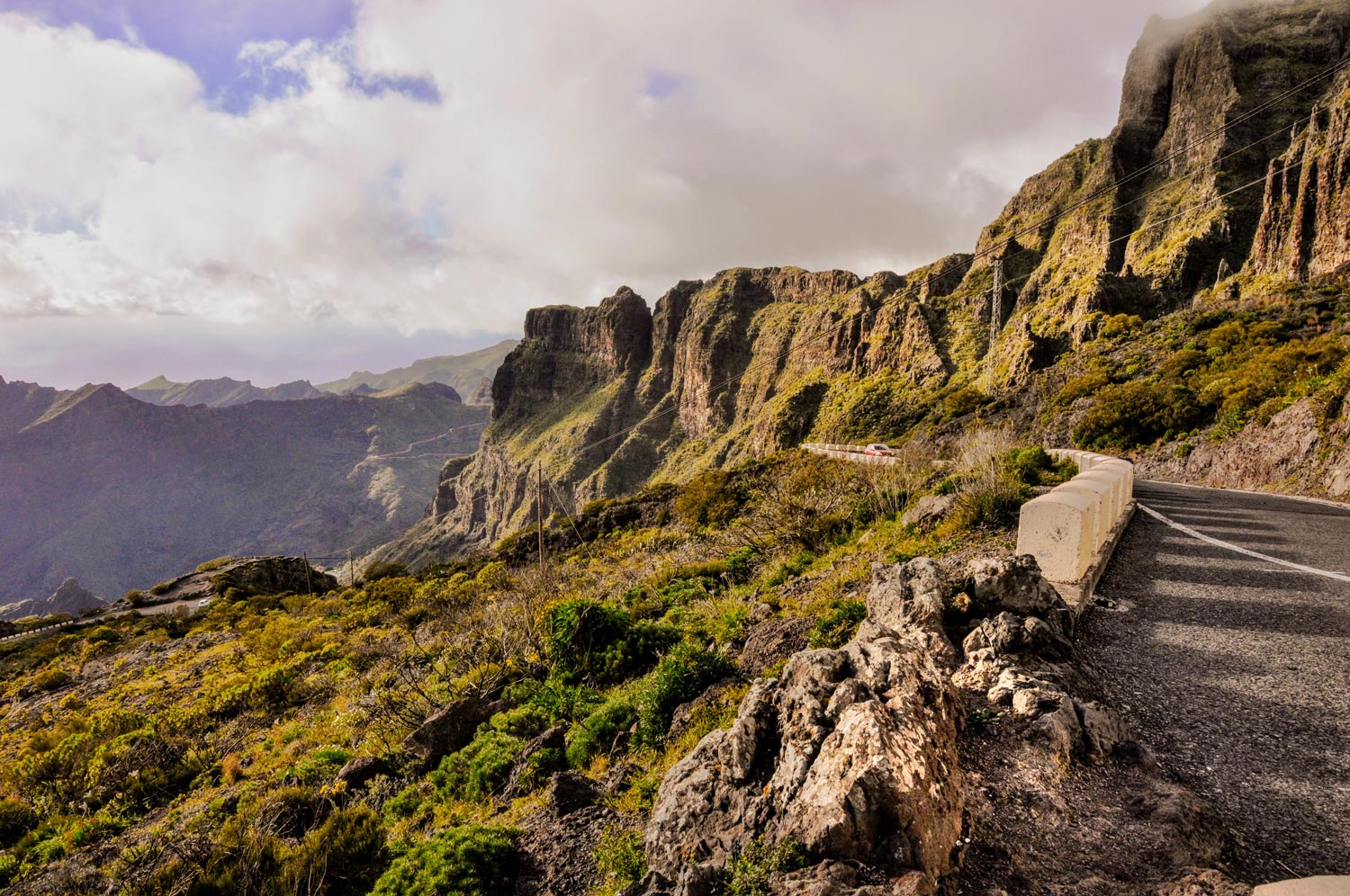 Masca - mountain village
Masca as a village is not very beautiful in itself. Picturesque is its location, which we see from afar while driving towards it. For some, this scenery resembles Machu Picchu (the best-preserved Inca city in the Peruvian Andes) and it must be said that there is something to it. In any case, the location of Masca is fabulous and leaves a strong impression.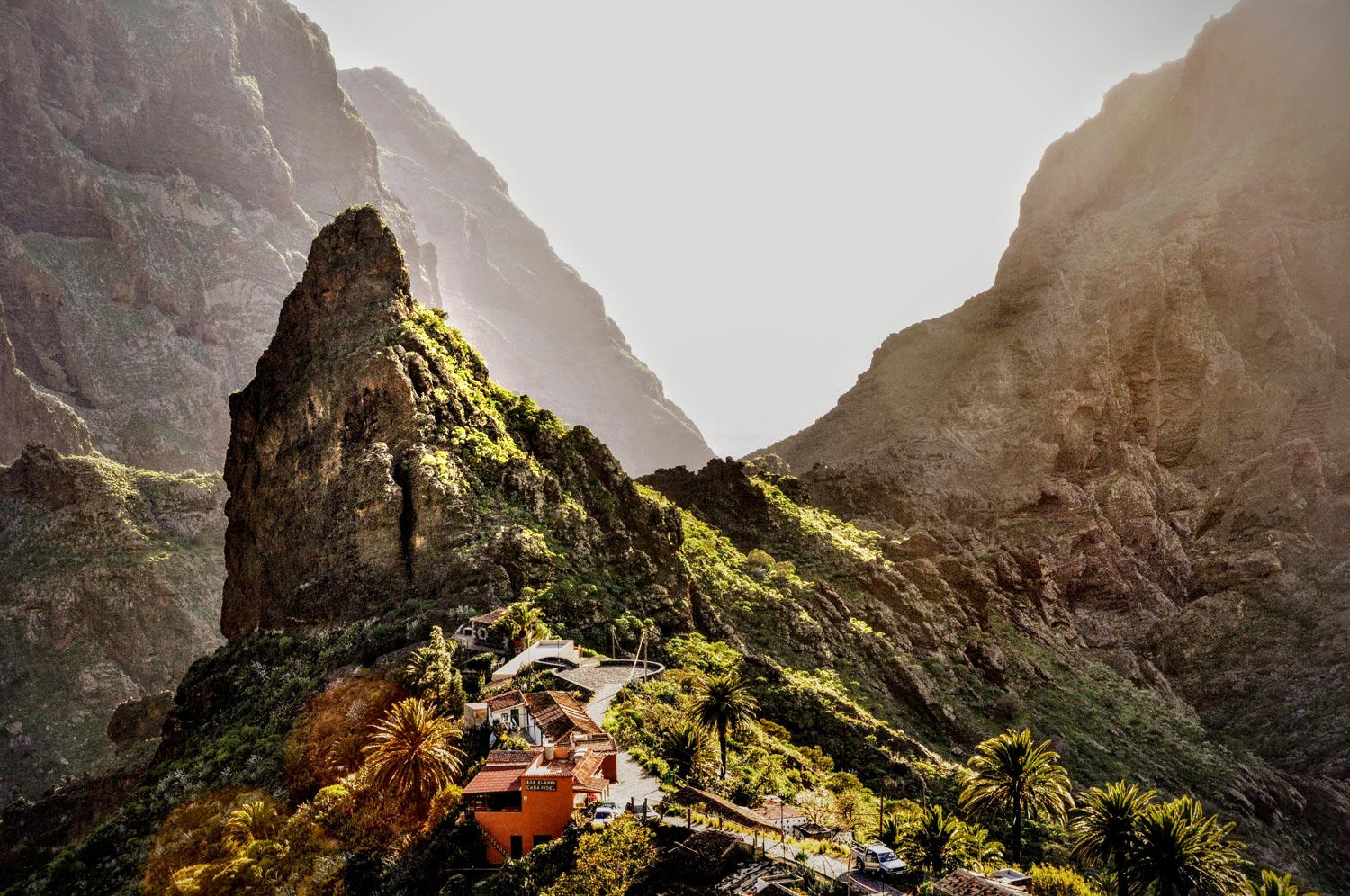 Undoubtedly, the attractiveness of the town is determined by the fact that the first road connecting them with civilization was built only in the 60 of the twentieth century. Thanks to this, you can find traditional Canarian buildings made of volcanic rock combined with a light binder. He built them easily from others, because the walls of these buildings resemble a white and brown chessboard.
Such buildings can be found in the village around 50, and the number of inhabitants of the village does not exceed 100 people. A large proportion of the inhabitants are foreigners, and many of the buildings have been converted into bars, shops and rooms for rent.
In Masca you will probably have to fight a small parking space. There are few places, there are many takers and parking here can be a challenge. Below is the link to the main tourist parking lot (its size does not correspond to what I called it). There are about 30 places on it, and the easiest way to park is being here early in the morning. The rest of the volunteers usually park along the street, but these places also end quickly.
Parking in Masca (for tourists), GPS:
28°18'19.2″N 16°50'22.2″W lub
28.305330, -16.839490 - click and route
Observation deck in Masca, GPS:
28°18'19.3″N 16°50'25.7″W lub
28.305352, -16.840479 - click and route
Masca Gorge (Barranco de Masca)
Important information:
On February 26, 2018, access to the Masca Gorge was closed for security reasons. Works are planned to improve access to the ravine and to improve safety in the ravine itself. The opening of the gorge was planned before the summer season in 2019, but the deadline was not met and the gorge remains closed. When the gorge is closed, there are also no ships that pick up tourists from Masca beach at the mouth of the gorge and take them to Los Gigantes during normal operation.
When planning a trip to the gorge, be sure to check first if it is already open!
The latest official information shows that the gorge will not be opened by summer 2020. This means that access to the gorge in the 2020 summer season will be 100% impossible.
Another date for opening the gorge to visitors has been announced. According to current announcements, the gorge is to be open to the public in the summer of 2021.
The trail leading through the Masca Gorge begins in the village of Masca, at an altitude of about 600 meters above sea level and leads down to Masca Beach, located at the foot of the Los Gigantes cliffs. At the beach there is a marina for boats that take tourists descending down the ravine. Ships take tourists to Los Gigantes.
This gorge is beautiful and unusual. Suffice it to say that at the time when the gorge was open to the public (despite the scale of difficulty and effort that should be put into its passage), it was the most visited attraction on the island.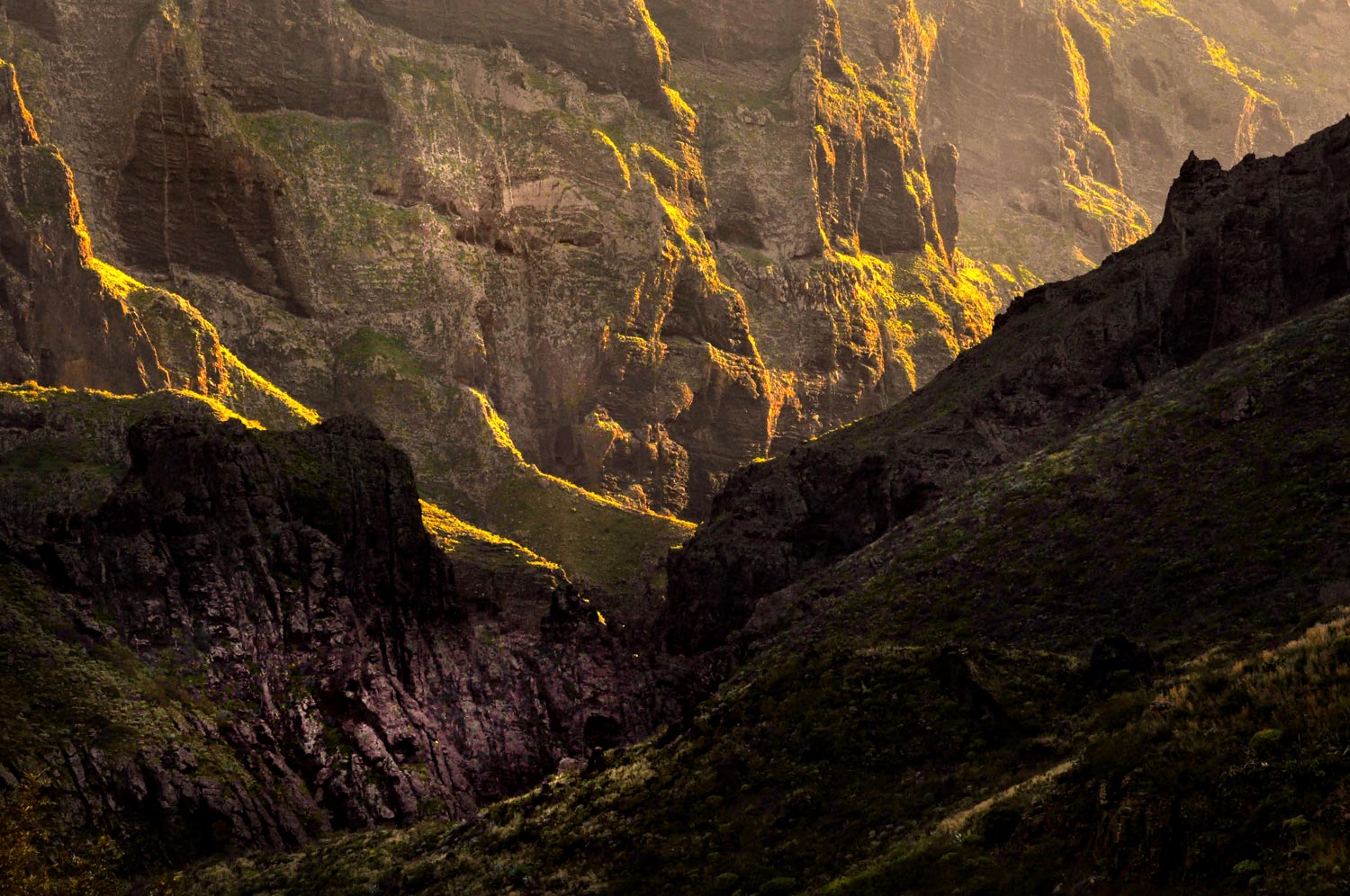 The descent from the wax gorge to Masca beach takes about 3,5 - 4 hours. The scale of difficulty of the trail is defined as medium / difficult. The trail is not recommended for people with poor physical condition, children under 8 years of age and pregnant women.
Entering the trail, it is recommended that they have mountain / trekking shoes, headgear, sunblock, food, flashlight (especially in winter, when it gets dark before), a phone with a charged battery and an application for glocalization. It is recommended to use a backpack (never shoulder bags), because steep sections of the trail often require the use of both hands, and the luggage should stick firmly to the body. You should not enter the trail alone.
Before setting off on a trail, you need to check whether a weather alert has been announced for that day. Information on alerts is posted in hotel receptions, tourist offices and is broadcast on local television. Staying on the trail and climbing it during the weather alert is prohibited.
Beginning of the trekking route to Masca Gorge, GPS:
28°18'15.5″N 16°50'25.8″W lub
28.304304, -16.840501 - click and route
How to organize a tour of the gorge?
People planning to explore the gorge themselves, and not as part of an organized trip, must solve a certain logistical problem.
Due to the fact that the tour of the gorge begins in the village and its end takes place on Masca beach, under the cliffs of Los Gigantes, somehow you need to organize a return to the starting point, where you probably left your car.
The relative locations of key points of the trip are shown in the map below: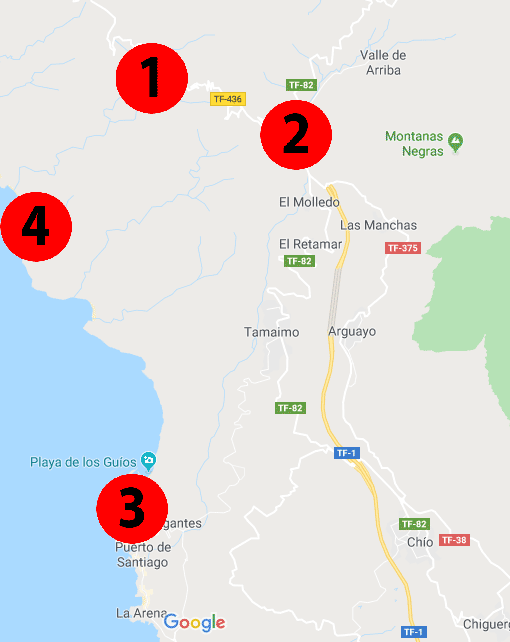 To start with, you should ensure a return transport by boat from Masca beach to Los Gigantes. Tickets for the boat should be bought the day before online (first check that there are no weather alerts for that day) or directly at the office.
Here are the addresses of two carriers:
- TrekkingMasca.com - [click]
- MascaLosGigantes.com - [click]
I have a ticket for the return boat from Masca beach and what next?
There are several variants to choose from. In a few words I will discuss them all.
1. Are you afraid of going up a difficult hill or you are afraid of the lack of parking spaces in Masca
In this case, you go to Los Gigantes and leave the car here. At Los Gigantes you rent a taxi that will take you to Masca (cost around EUR 25). In Masca, you start on the road, walk through a gorge on your feet, return by boat to Los Gigantes, and here your car is waiting for you.
Instead of hiring a taxi, you can take the 461 bus from Los Gigantes, which will take you to Santiago del Teide, and here change to the 355 bus, which will take you to Masca.
Some do slightly differently. They leave the car in Santiago del Teide. By bus 355 they go to Masca and after returning by boat to Los Gigantes they take the 461 bus, which takes them to the car they left in Santiago del Teide.
461 bus stop in Los Gigantes, GPS:
28°13'56.3″N 16°50'29.0″W lub
28.232297, -16.841394 - click and route
355 and 461 bus stop in Santiago del Teide, GPS:
28°17'47.7″N 16°48'56.5″W lub
28.296591, -16.815699 - click and route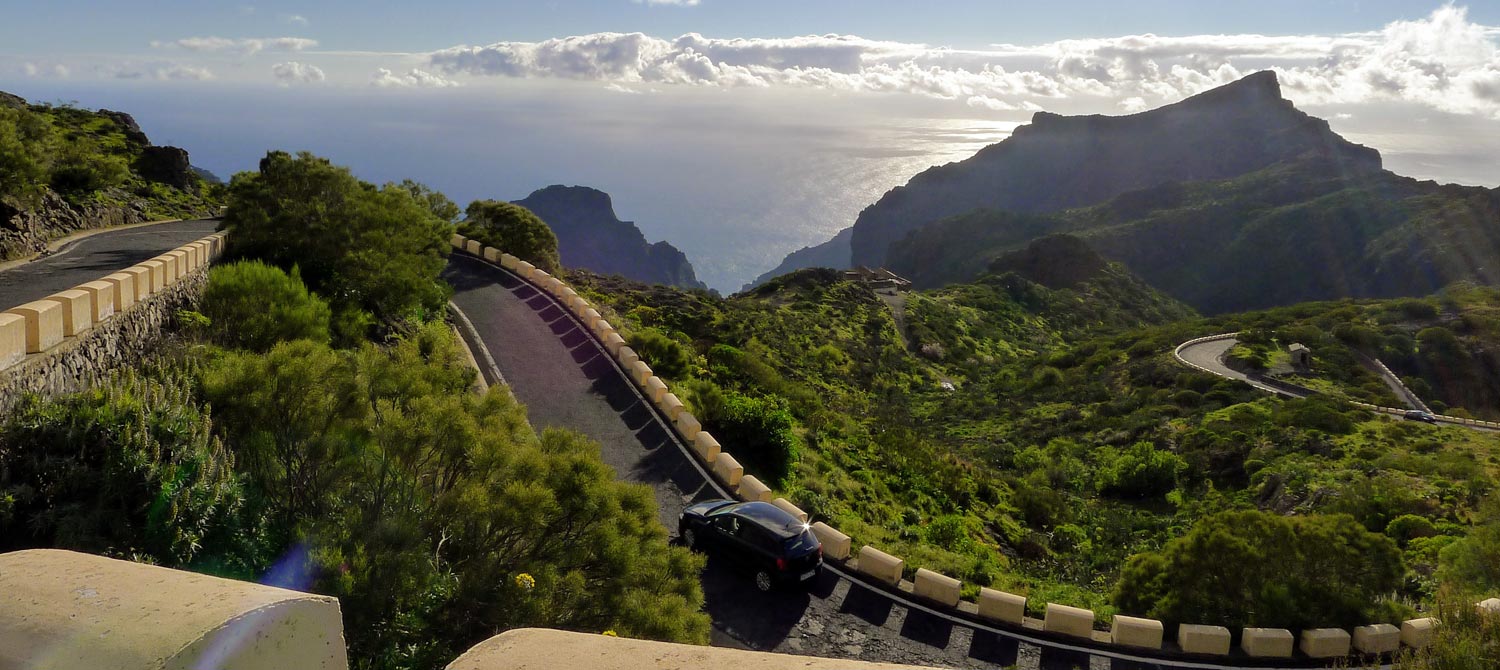 2. You are not afraid of driving in the mountains by car, or even like it
You drive the car to Masca and fight the duel for a parking space. You go through the gorge, return by boat to Los Gigantes, and from here by taxi or bus you go to Masca.
This version has a significant drawback: finding a parking space in Masca. To avoid trouble, be in Masca in the morning. The piston is definitely smaller.
The disadvantage of this version of the journey to Masca is more than compensated by the fact that on the way you have the opportunity to stop at the viewpoints as many times as you like and enjoy the views as long as you like. In previous versions of directions, the most beautiful views you can only admire from behind the glass of a taxi or bus, and photos may not come out best 🙂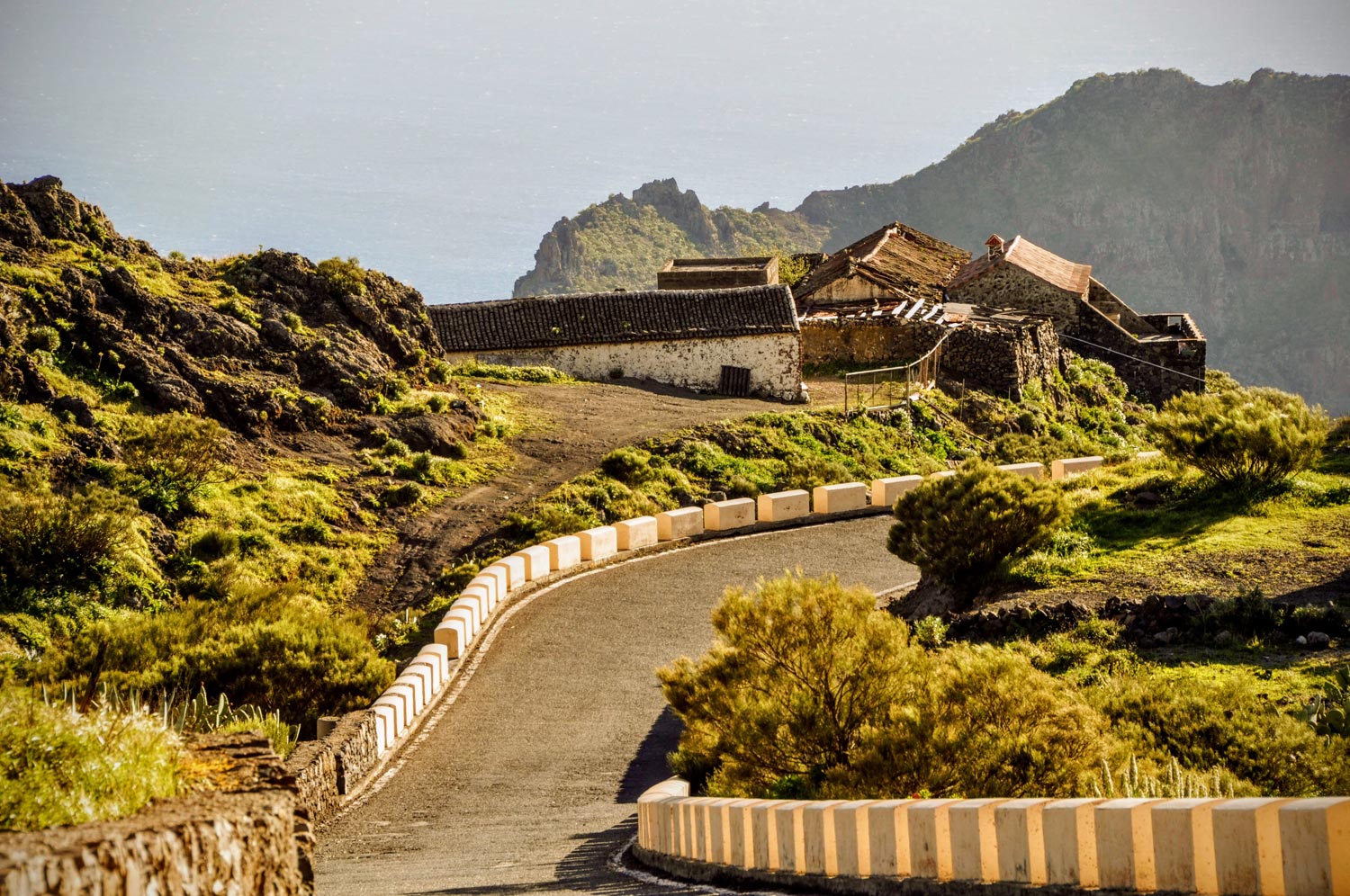 Rent a car in Tenerife
You can rent a car in Tenerife cheaply and safely (without credit card and deposit) but you need to know where and how to do it. You will meet a huge number of rental offers, but most of them will not be attractive, although at first glance they will look good. The devil is in the details and many people complain of unforeseen complications when picking up the car, additional fees that were not there before or deduction from the card a few days (or even several weeks) after returning the car. You can analyze all offers, load in the contract meanders in Spanish or English, or ... read a short guide and immediately find out where you can rent a car in Tenerife. So I recommend a special entry on this topic: Tenerife - rent a car without a credit card and a deposit. Car rentals - comparison of offers
Important to me!
Give the article a good rating
(5 stars welcome 😀)!
Below are icons that you can easily use
share
article, and at the top of the page a button to like the profile on Facebook.
DO IT please!
The blog is alive from visits and thanks to that it has a chance to develop. It's free, and
is very important to me
. Thanks in advance!
Pozdrawiam