Obidos – access, map, parking, sightseeing, interesting facts, accommodation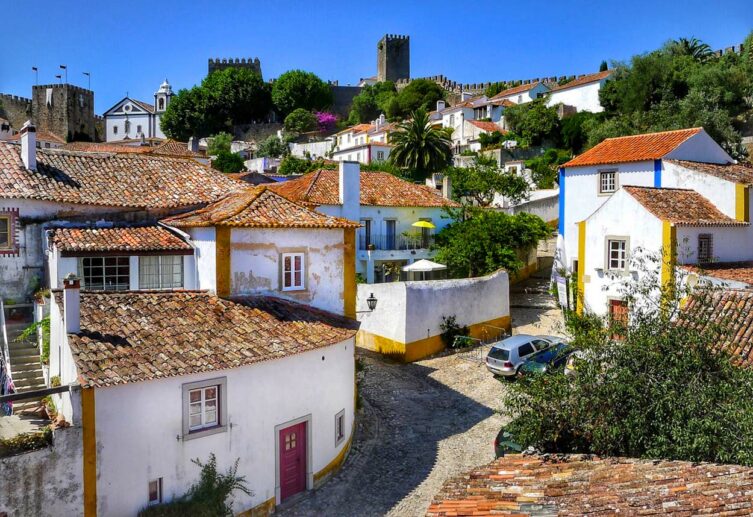 A wall that invites
Obidos can be seen from afar. The castle standing on a hill with a huge wall surrounding the entire city is visible from a long distance. Once upon a time, this castle and this wall were supposed to act as a deterrent to strangers. They were a solid guarantee of safety for the city's inhabitants surrounded by it. Today things are completely different. Its view, like a magnet, attracts travelers not only from the surrounding area, but from the farthest corners of the world. The stronghold is still visited by many tourists, making Obidos one of the most popular attractions in the region.
The inhabitants of the city surrounded by a wall are no longer afraid of visitors. They open the city gates wide and invite them inside, presenting the medieval interior to anyone interested. Ultimately, both of them end up very satisfied. Residents earn a decent living for themselves and the city, and visitors are completely enchanted by the narrow, stone, medieval streets surrounded by whitewashed houses and countless flowers. It's really hard not to be amazed.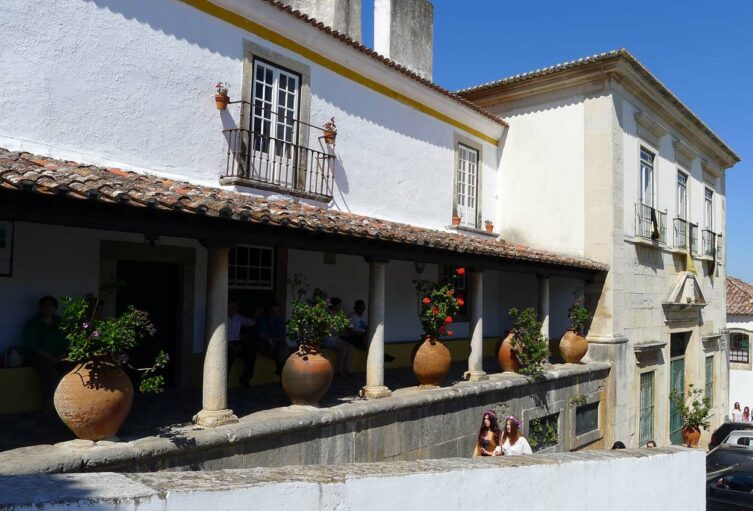 City of princesses
The Portuguese often call Obidos "Vila das Rainhas", which translates as the city of princesses. There is quite an interesting and long story behind this term, which, however, can be told in a few words. It all started in the 1080th century, thanks to Princess Teresa de Portugal (1130-500). She was the first to receive Obidos as a dowry. Then Obidos was given as a dowry to the next princess ascending the throne (Urraca of Portugal), then the next and the next ... and so on for the next 8 years (it was given to at least XNUMX princesses in total).
Obidos was part of the dowry estates until 1580, when Spain gained control of Portugal and incorporated it into its territory.
After Portugal regained its independence (1640), the tradition probably continued and it is suspected that Obidos ended up in the statue of three more princesses. The last one was probably Maria Anna de Braganza (1861-1942), who ascended the throne of Portugal in 1889 and died during World War II.
It is worth noting that the relationship between the princesses and Obidos was not only that they owned the city. Many of them lived here.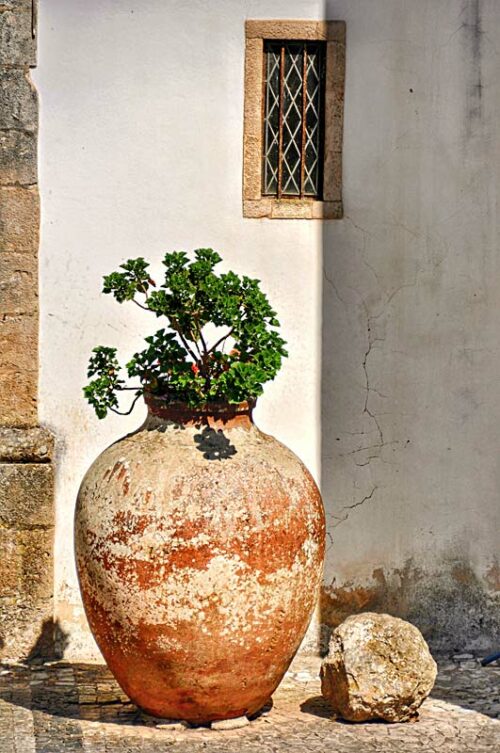 Obidos – attractions map and sightseeing
First, let's take a look at where Obidos actually is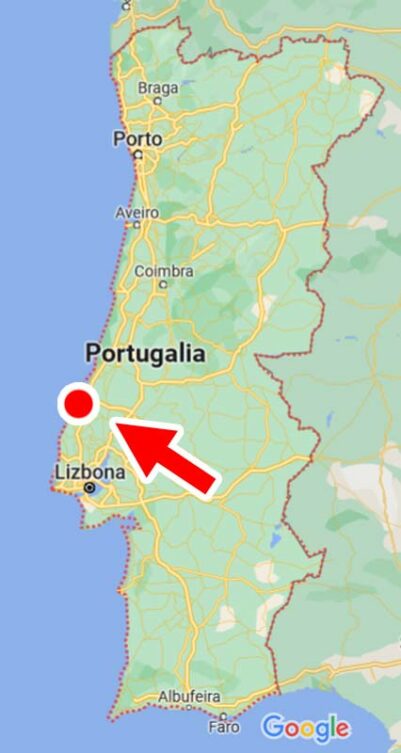 When visiting Obidos, you can follow my favorite rule: go wherever you want, wherever your eyes take you. The city is small and completely surrounded by a wall. You can't get lost in it, or you can, but only for a moment, because in a moment you will find yourself. In fact, the more times you get lost, the better, because it's definitely worth getting lost in Obidos. Narrow, medieval streets, well-kept whitewashed houses lined with flowers and devoid of tourist crowds, and quiet alleys are the best things you can encounter here. So walk and discover Obidos your way, but for better orientation, first take a look at the map I prepared.
You can see some of the most important points that will help you get organized quickly: parking, tourist information and key points inside the city. I have included a few comments under the map. Take a look at the map, read the notes below, and then go explore!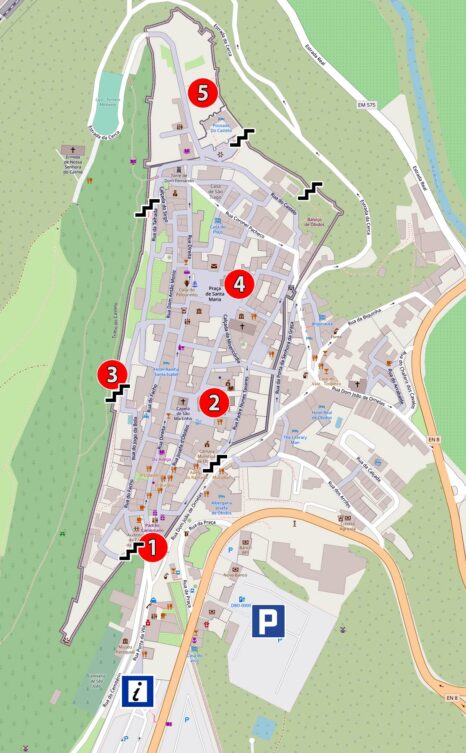 Firstly, parking. There is a huge tourist parking lot (actually several parking lots) in front of the city walls. You won't have any problems finding a parking space.
In the first step, you can (but do not have to) go to the tourist information located next to the parking lot, where (if available) you will receive a free city map. You probably won't need it, but it's always a nice souvenir of your stay, and there's always something to watch and read in the hotel in the evening.
There is only one road from the parking lot or tourist information to the town, through the main gate of the town (1). You already have it in your sight. After passing through the gate, you have two options:
– climb the defensive walls and take a walk along the walls (the stairs leading to the walls are just around the corner, behind the gate on the left)
– immediately take a walk around the streets of Obidos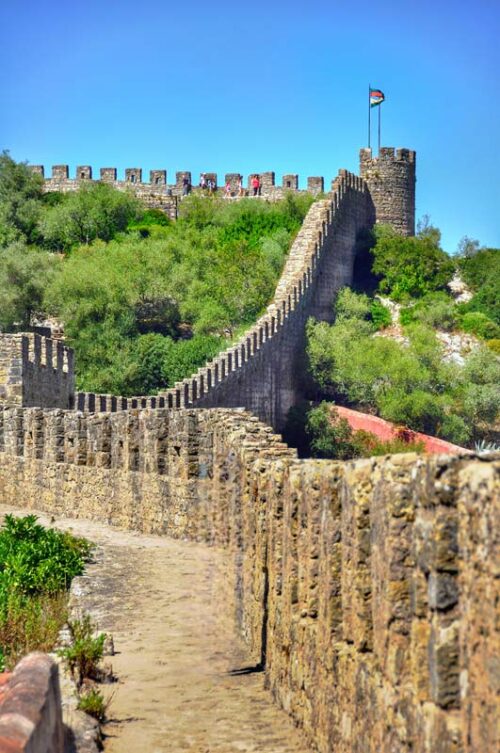 WARNING!
You can enter the walls in several places, so you don't have to walk around the entire walls. I have marked on the map the places where there are connecting stairs (black zigzags) through which you can get to or leave the walls.
The path leading through the walls is not very wide and is not secured in any way (there is no handrail or safety barrier). If you have problems with your labyrinth and maintaining balance, this walk is not for you. I also do not recommend walking the walls with children.
You can enter for a moment through one or the other entrance, look around and come back.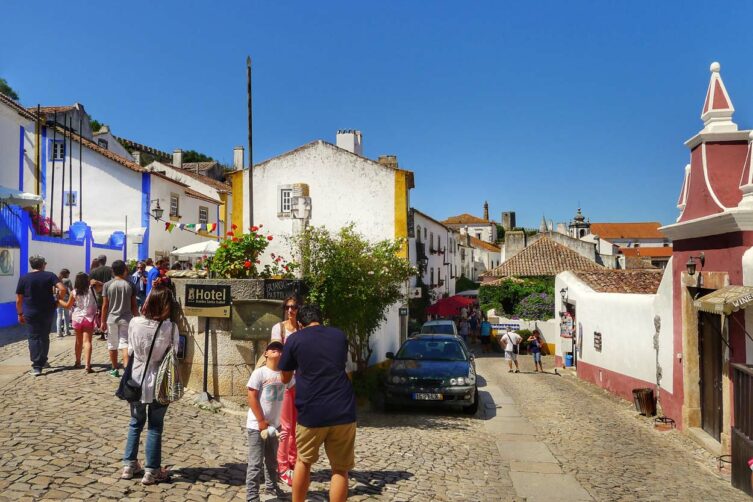 Interesting streets are located in the area between number (2) and (3) on the map. It's worth wandering around a bit.
While walking, look out for the specialty of Obidos, i.e cherry liqueur called "cherry". It tastes best in a glass made of chocolate... yum! In addition to liqueur, Obidos also tastes delicious cod (bacalhau) and small cream tarts (pastéis de nata).
Main attractions and points in Obidos
Tourist information office in Obidos, GPS coordinates:
39°21'29.6″N 9°09'28.7″W
39.358219, -9.157979 - click and route
1. Porta da Vila city gate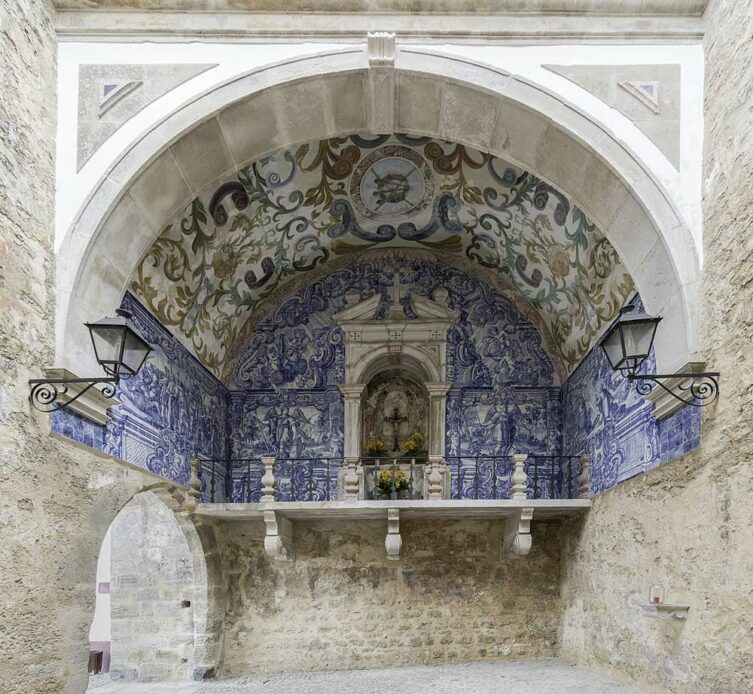 Porta da Vila city gate, GPS coordinates:
39°21'34.0″N 9°09'28.2″W
39.359454, -9.157824 - click and route
Just behind the gate, on the left, there are stairs leading to the defensive walls.
2. Church of St. Peter (Igreja de São Pedro)
The building originally standing here collapsed during an earthquake in 1755. Only the gilded main altar with the throne and the bell tower with spiral stairs survived. The current reconstruction has a simplified form.
Church of St. Peter (Igreja de São Pedro), GPS coordinates:
39°21'39.1″N 9°09'26.1″W
39.360864, -9.157253 - click and route
3. Viewpoint of Obidos and the surrounding area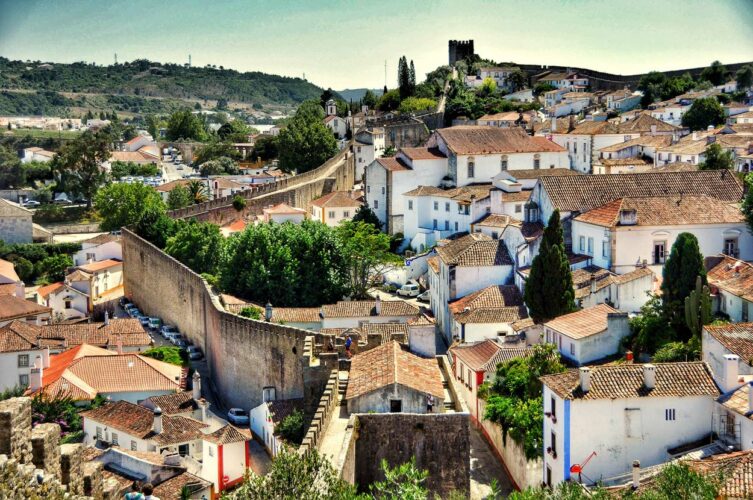 An interesting viewing point with a vast panorama of the city and the distant surroundings of the castle.
Viewpoint of Obidos and the surrounding area, GPS coordinates
39°21'41.2″N 9°09'29.0″W
39.361441, -9.158041 - click and route
4. Church of Santa Maria in Obidos (Igreja de Santa Maria)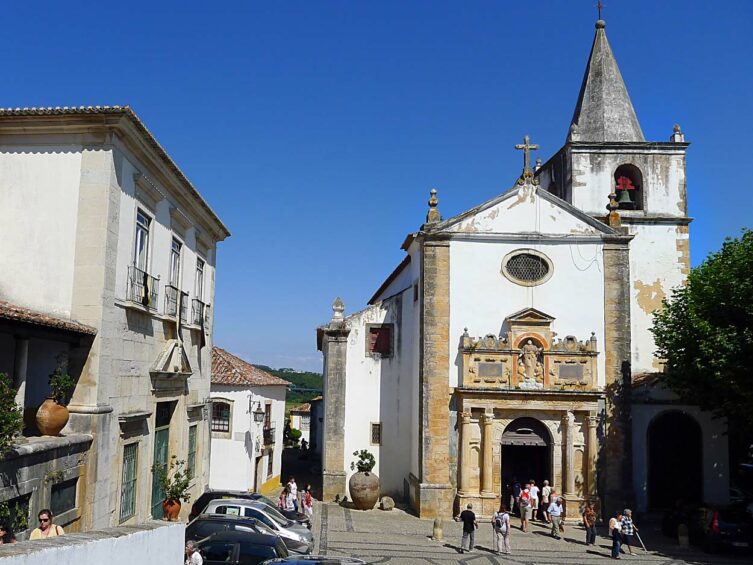 The Church of Santa Maria was built in the XNUMXth century, but it gained its present form in the XNUMXth century. The interior of the church is decorated with beautiful Portuguese ceramic tiles, the so-called azulejos. The decorations depict biblical and religious scenes.
Inside there is a chapel dedicated to Our Lady of Grace, which is an object of special cult in Obidos.
Every year, in June, Obidos celebrates one of the most important holidays in the city: Corpus Christi. During this celebration, the city streets are decorated with colorful flowers and carpets, and the procession always passes by the Church of Santa Maria.
Church of Santa Maria (Igreja de Santa Maria), GPS coordinates:
39°21'43.0″N 9°09'25.4″W
39.361942, -9.157054 - click and route
5. Obidos Castle (Castelo de Obidos)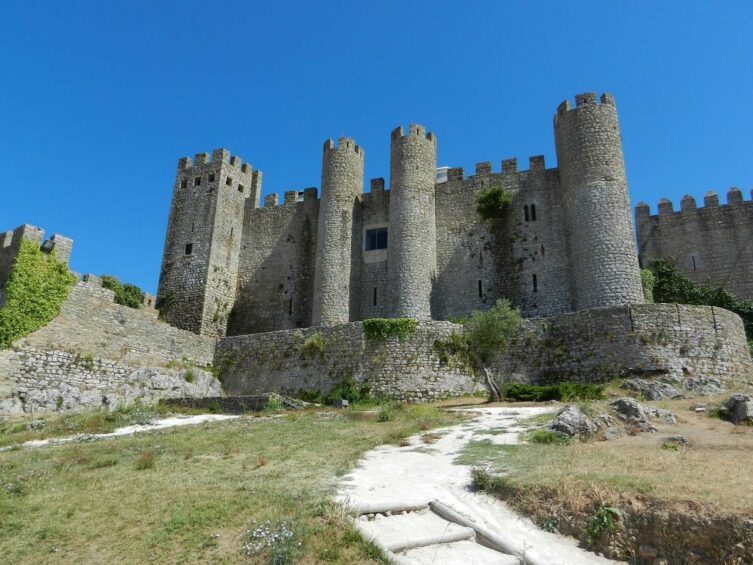 The castle of Obidos was built in the XNUMXth century and is a Moorish castle. In the XNUMXth century (during the Reconquista) it was taken over by Christians. Queen Isabella's Palace (Paço de Rainha Santa Isabel), which is part of the castle, currently serves as a luxury hotel Pousada do Castelo de Óbidos – [click]
Castle of Obidos (Castelo de Obidos), GPS coordinates:
39°21'49.6″N 9°09'26.7″W
39.363764, -9.157403 - click and route
Accommodation in Obidos
Below are some accommodation suggestions. Clicking on any of them will take you to a detailed description and will also display several similar accommodations available nearby. This should make your search much easier.



Portugal sightseeing plan
This entry is part of a complete one
Portugal sightseeing plan - [click]
. The guide contains plans, maps and descriptions of specific sightseeing routes.
To see all currently available descriptions of attractions in Portugal, click on the link:
Continental Portugal - [click]
.
Safe car rental guide:
Portugal - car rental without credit card, no deposit
Important to me!
Give the article a good rating
(5 stars welcome 😀)!
It's free, a
for me it is very important!
The blog lives on visits and thus has a chance to develop.
Please do it
and ... thank you in advance!
I also post
link to Facebook profile - [click]
. Come in and press "
Follow
"then you will not miss new, inspiring posts.
Unless you prefer
Instagram
. I'm not a social media demon, but you can always count on something nice to look at on
my instagram profile - [click]
. The profile has just been created, so
for now he is starving
, due to the lack of followers. He is happy to receive any observer who feeds him with his love.
I make the content I create available free of charge with copyright, and the blog survives from advertising and affiliate cooperation. So, automatic ads will be displayed in the content of the articles, and some links are affiliate links. This has no effect on the final price of the service or product, but I may earn a commission for displaying ads or following certain links. I only recommend services and products that I find good and helpful. Since the beginning of the blog's existence, I have not published any sponsored article.
Some of the readers who found the information here very helpful, sometimes ask me how you can support the blog? I do not run fundraisers or support programs (type: patronite, zrzutka or "buy coffee"). The best way is to use links.
It costs you nothing, and support for the blog is self-generating.
Pozdrawiam