Area of ​​monumental olive trees - Apulia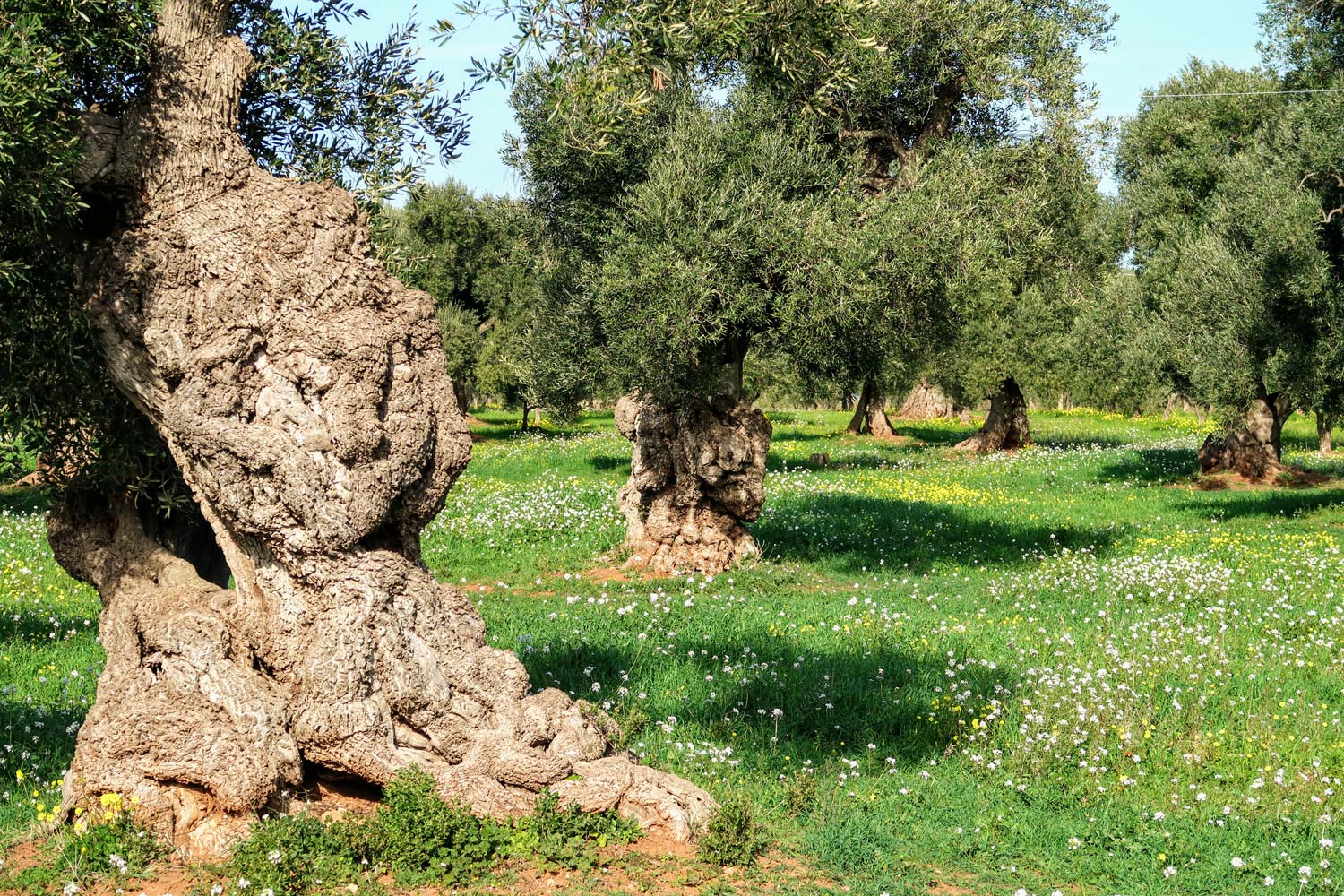 The gold of Apulia
This was not the purpose of our trip. This point was not on the agenda. Coincidence… just way out Monopoli leads to Ostuni through this amazing area.
It's hard not to pay attention to these trees. They are just amazing. Huge, majestic, they grow right next to the road and occupy a vast area.
I accidentally slowed down first. I allowed myself to be overtaken by everyone behind me. Then, driving slower and slower, I looked at these trees with fascination. We've traveled thousands of kilometers through the olive groves, but none of them looked like this yet. I had to stop.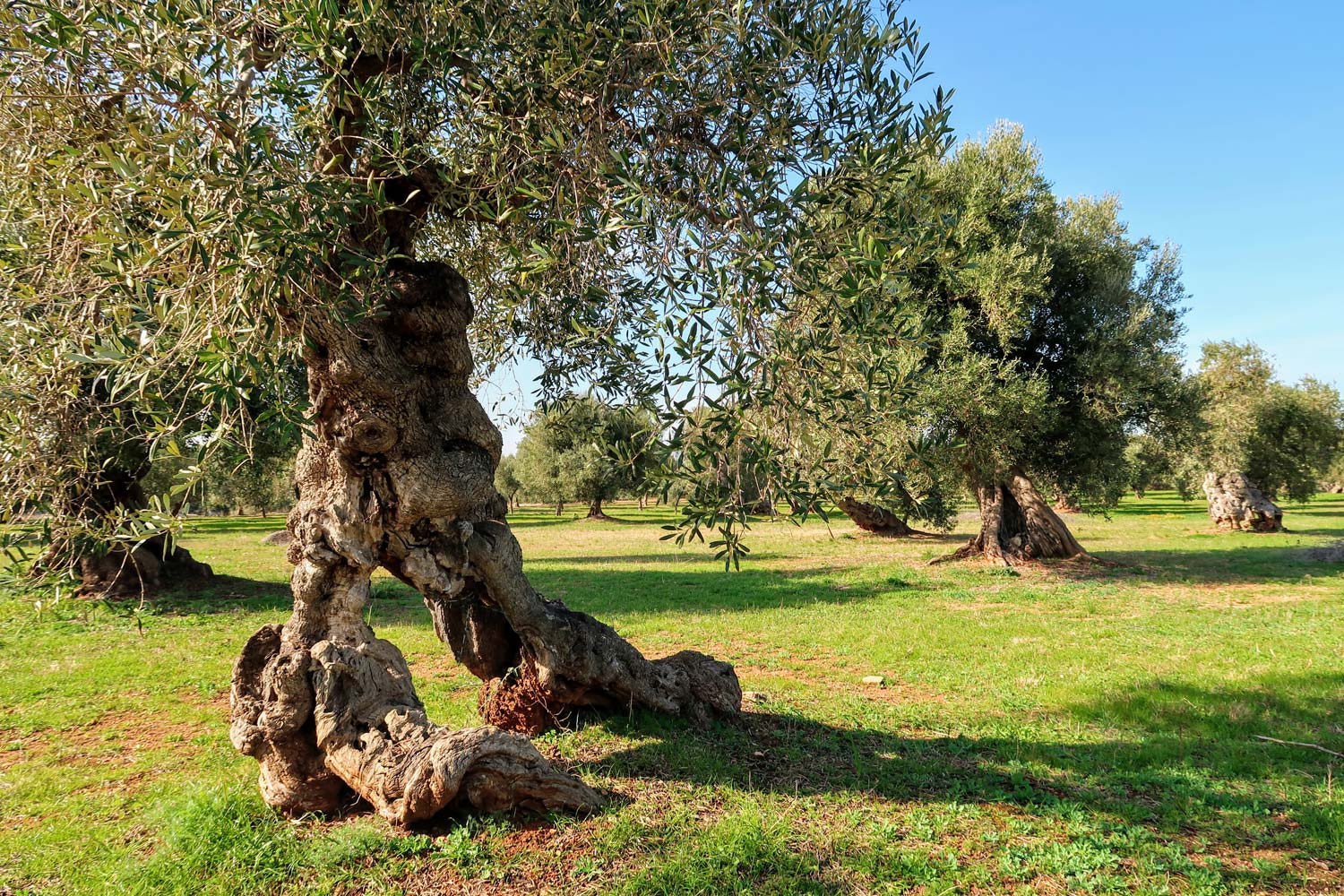 We were here in February. In Apulia, spring was already in full swing. The day was sunny, the temperature was 23 degrees. I got out of the car.
The air smelled like spring… I walked towards the trees. Huge, twisted into unimaginable shapes, beautiful olive trees were everywhere. I took my steps carefully as if I could hurt my roots with my weight… nonsense. After all, they drive small tractors between them.
All the time, however, somehow subconsciously I walked silently and lightly like a cat. There was something about these trees that was hard to describe, something that gave me some extra sense. I was fascinated by this scenery. I walked closer to one of them, touched the trunk. It looked even more interesting up close. I took a few photos and moved on to the next and the next ...
The walk between the trees lasted several minutes, and the grove drew me deeper and deeper. Each subsequent tree was different, different and interesting.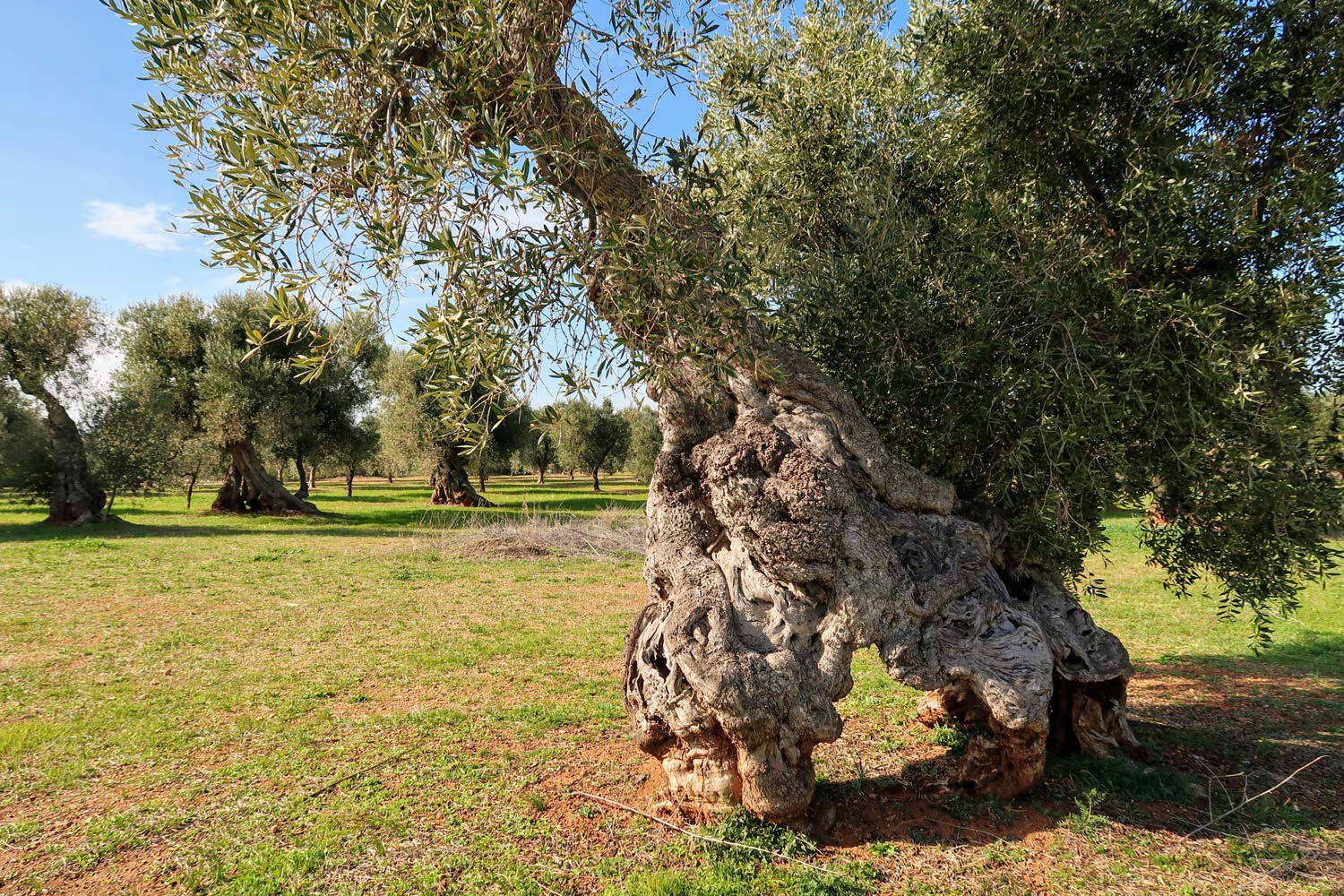 After returning to the car, we continued towards Ostuni, but made several stops. Spring flowers formed colorful, dense meadows under the trees. In a few weeks, the scorching midday sun would dry them all up and turn them into a tangle of dry, rickety stems. But now they were creating an insane landscape. To the left of the road, monstrous trunks of olive trees drowned in a white, flowery meadow. The grove to the right of the road took a liking to yellow flowers, and a little further, the green canopy of the trees floated among red flowers. Madness! Can only be seen in early spring. An unforgettable view and one of the most amazing memories of the entire trip.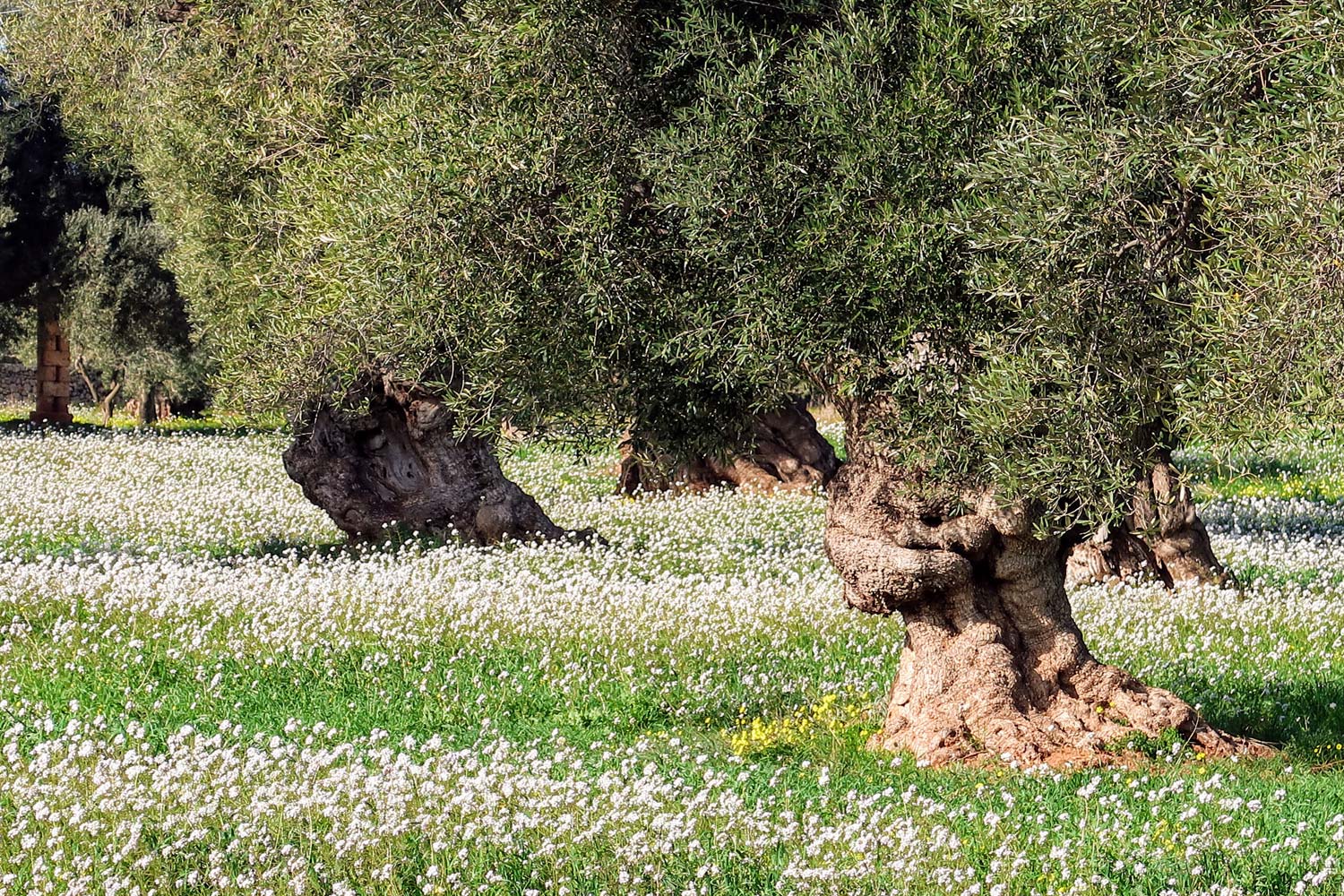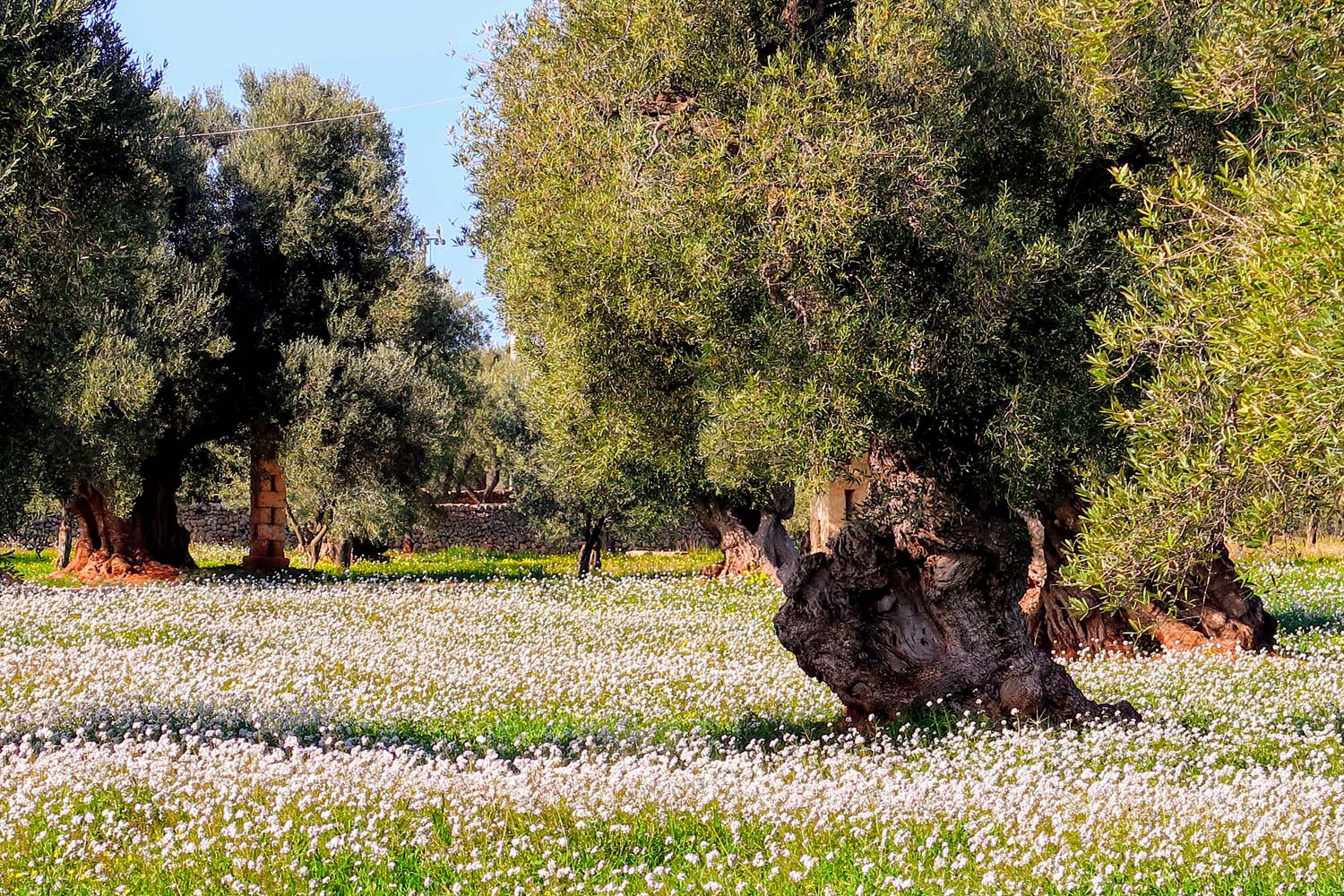 The oldest trees in the world?
In the evening, after returning to my room, I decided to do some research. It was only then that I found out that we visited the area of ​​monumental, thousand-year-old olive trees, where some specimens are almost 3 years old (YES, three thousand years !!!).
When traveling through this area, it is worth paying attention to an interesting fact. Some of the trees are planted irregularly, not forming regular lines with other trees. These are trees of Greek origin which are considered "wild".
However, the vast majority of you will see trees that grow in regular lines in relation to other trees and at a certain distance from them. The Romans introduced this regularity. They noticed that the optimal distance between the trees for the best cultivation results was 60 Roman feet (18 meters). Of course, over the centuries, different planting methods and different distances were tested, but in the end it was decided that the Romans were right. Today, new trees are planted according to the rules established by the Romans some 3000 years ago.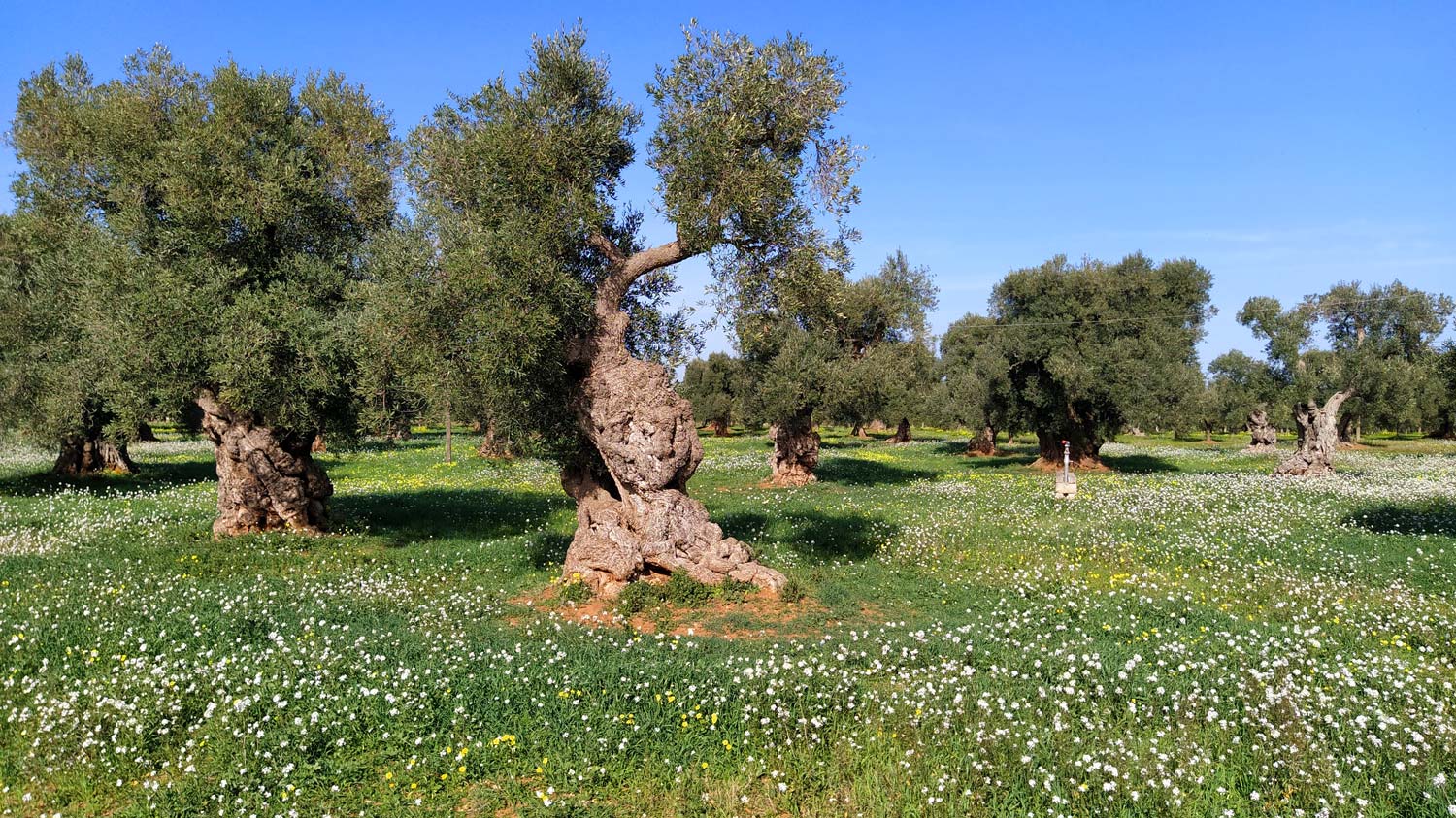 Currently, of the 60 million olive trees growing in Apulia, about 15 are more than 100 years old, and 5 are classified as natural monuments. Even the oldest of them still bear fruit. They are protected by law and have metal plates with a unique number and a GPS locator. In this way, e.g. uncontrolled logging is prevented. Wood from the ancient olive tree has a very high price. There are many willing, willing to pay a lot of money to own, for example, a table with a tabletop made of over 2 years old wood. GPS transmitters prevent whole trees from being sold for transplantation.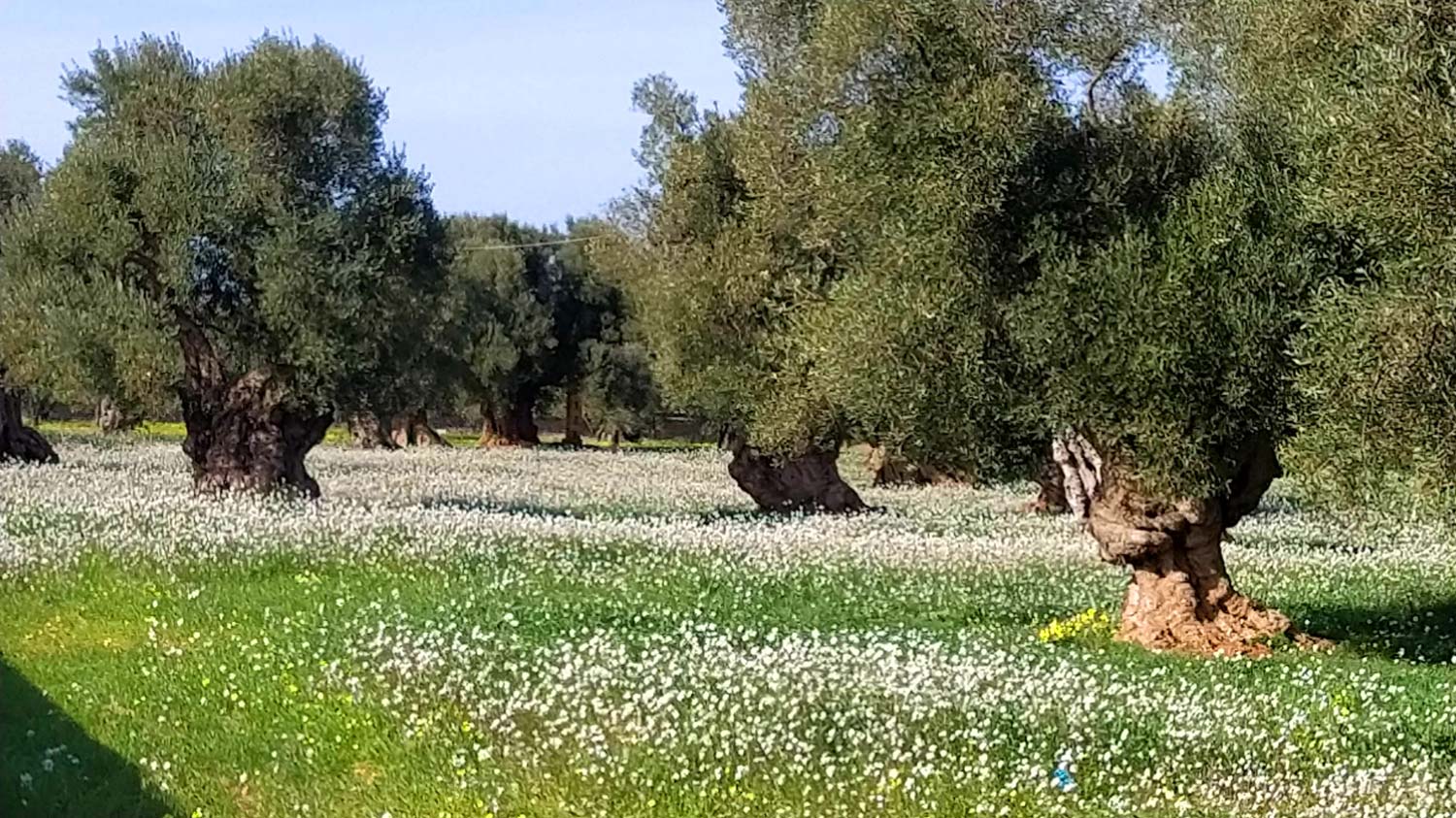 Bad news
Since 2010, Apulia, which accounts for around 40% of all olive oil production in Italy, has been struggling with a gigantic problem called: Xylella fastidiosa. It's a bacterium that kills olive trees. Its presence in the tree does not affect the quality of the oil, but it cuts off the plant's access to water and nutrients, and consequently the trees wither at an unprecedented rate. Currently, the extent and size of this phenomenon has led to a situation where vast, so far green stretches of olive groves are filled only with dry trunks of dead trees. The worst situation is in the Salento area.
The number of dead trees in the region has by far exceeded 1 million, and the number of partially dead trees is now estimated at 11 million.
The plague is still spreading very quickly to other regions. It has now reached and is spreading dangerously across Tuscany. New outbreaks of disease have recently been detected in other European countries specializing in olive oil production (France, Spain, Portugal).
It is estimated that about 75% of plantations are threatened with extinction.
See before it's too late
At the moment, you can still enjoy the unique view of centuries-old trees and it is worth doing it. In the area of ​​monumental olive trees or in its immediate vicinity, there are many agritourism farms that cultivate olives, produce olive oil and run a small, usually high-quality hotel. So you can spend some time absorbing the atmosphere of this amazing place from the inside. These farms have a unique atmosphere and in addition to a fantastic location, they offer excellent food and wine. I sincerely regret that our plan did not include even one night here. If I were to build it again, I can't imagine both not to plan at least one night among the monumental olive trees.
I have selected a few unique offers below. Some of the farms (e.g. Masseria brancati) additionally offer a guided tour program.
Useful GPS coordinates
Stop I: place (more or less) where I took photos, GPS:
40°47'19.3″N 17°32'47.2″E
40.788694, 17.546444 - click and route
Stop II: where I took photos, GPS:
40°46'34.2″N 17°32'57.9″E
40.776168, 17.549420 - click and route
Accommodation in an area of ​​monumental olive trees
WARNING!
If you are going to book a hotel then I have a request.
Do it from my link to booking.com - [click]
.
You will pay exactly the same
but by the way, I will get a commission. Of course, you can do it without clicking on my link and then you will pay the same price (not a penny cheaper) and the entire commission will go to one of these portals, but I believe that my work is worth one click, which costs you nothing. Many readers write to me that my texts were very useful.
Making such a reservation will be the best thank you.
So if this is not a problem for you, when booking a hotel, go to my website, click the link above, and then simply book any accommodation. Thanks in advance!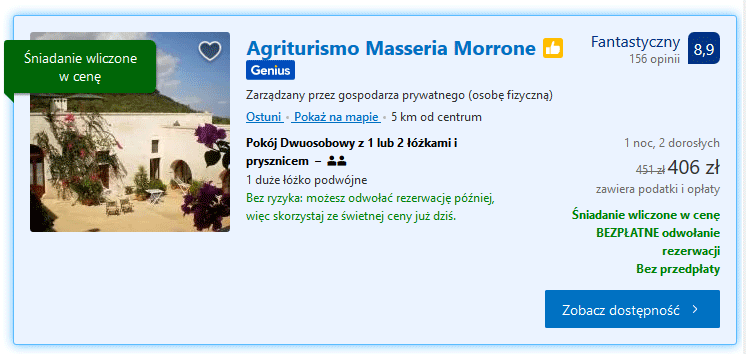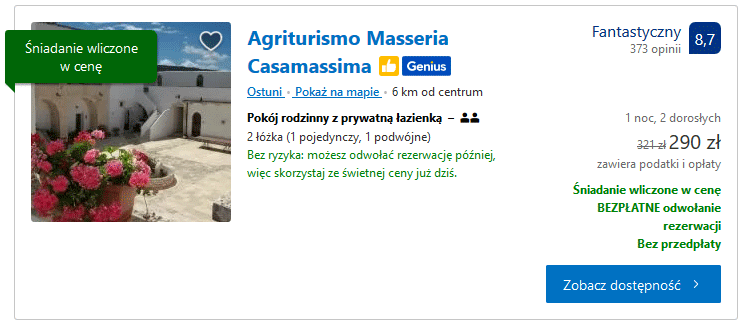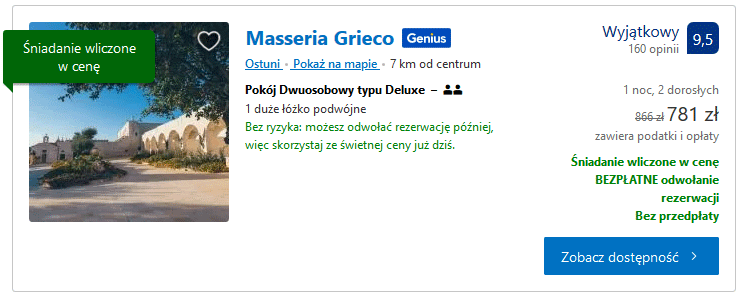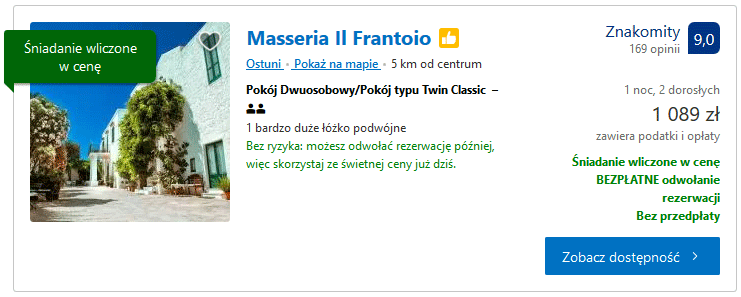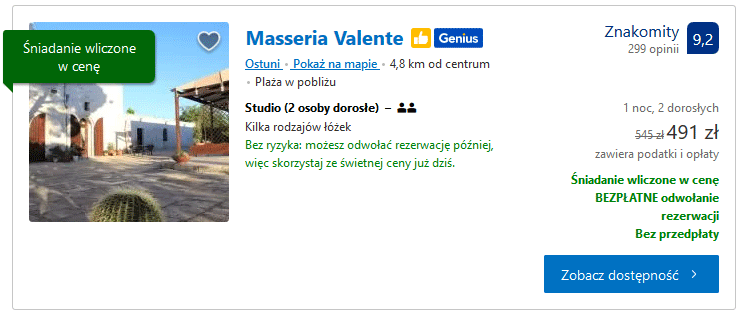 Important to me!
Give the article a good rating
(5 stars welcome 😀)!
It's free, a
for me it is very important!
The blog lives on visits and thus has a chance to develop.
Please do it
and ... thank you in advance!
I also post
link to Facebook profile - [click]
. Come in and press "
Follow
"then you will not miss new, inspiring posts.
Unless you prefer
Instagram
. I'm not a social media demon, but you can always count on something nice to look at on
my instagram profile - [click]
. The profile has just been created, so
for now he is starving
, due to the lack of followers. He is happy to receive any observer who feeds him with his love.
I make the content I create available free of charge with copyright, and the blog survives from advertising and affiliate cooperation. So, automatic ads will be displayed in the content of the articles, and some links are affiliate links. This has no effect on the final price of the service or product, but I may earn a commission for displaying ads or following certain links. I only recommend services and products that I find good and helpful. Since the beginning of the blog's existence, I have not published any sponsored article.
Some of the readers who found the information here very helpful, sometimes ask me how you can support the blog? I do not run fundraisers or support programs (type: patronite, zrzutka or "buy coffee"). The best way is to use links.
It costs you nothing, and support for the blog is self-generating.
Pozdrawiam