Monopoli - map, sightseeing, attractions, hotels, accommodation. Guide.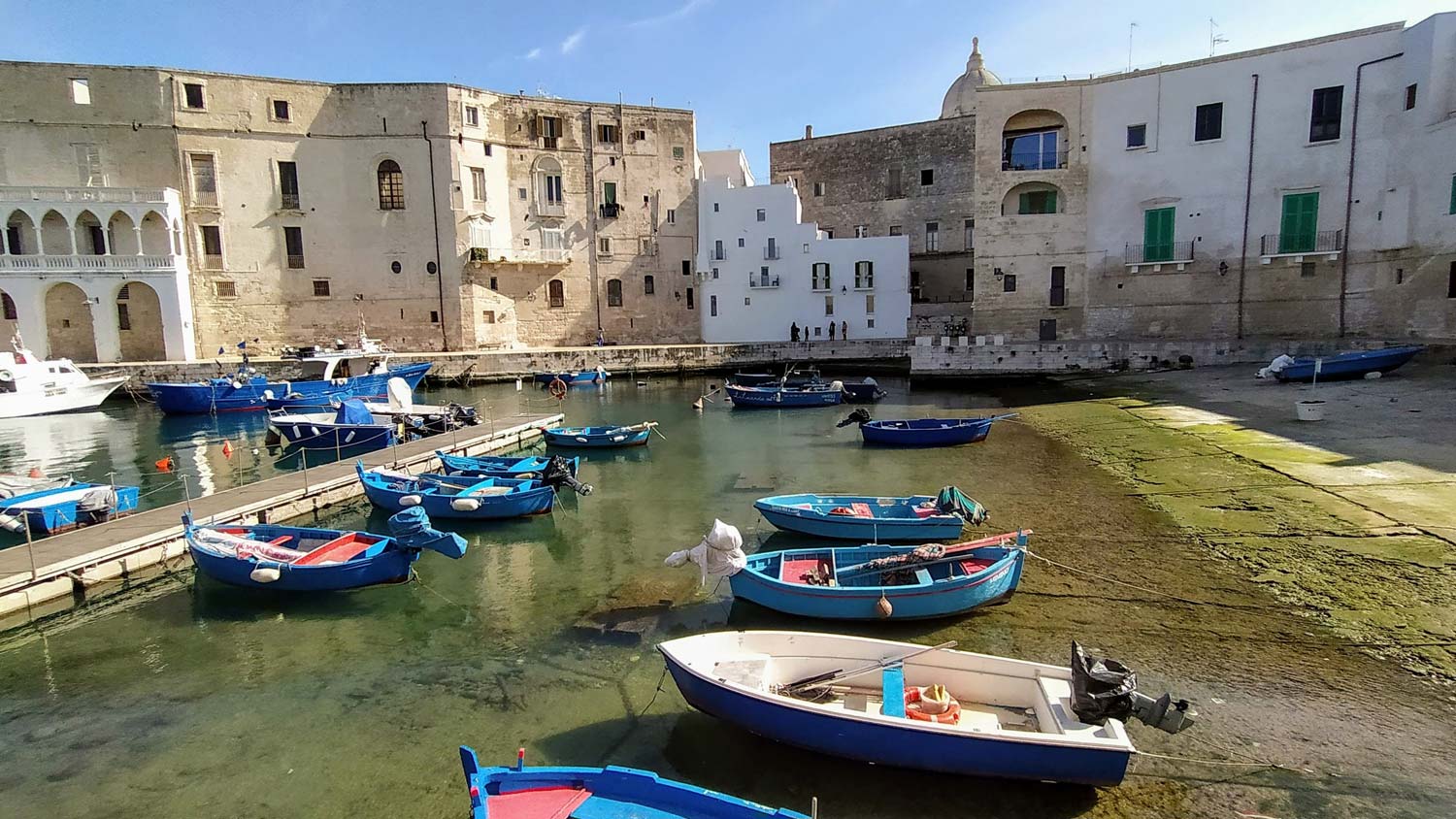 Hope
We went to Monopoli with flushed faces. This was one of those trip points you are waiting for. The iron point of ours Puglia sightseeing plan. Twenty minutes ago we were still in Polignano a Mare. Our heads were red-hot with impressions, and the appetite for more was sharpened to the limit. We read about Monopoli in superlatives, and we knew the photos of blue boats suspended on the water tafia in the ancient port by heart. We slowly made our way through quite a large city (Monopoli has nearly 50 inhabitants). Crossroads after crossing, traffic lights after traffic lights.
Start. Stop. Sart. Stop ...
We moved our legs impatiently. The destination on the navigation map was getting closer.
Start. Stop. …
We have arrived.
The climate of a medium-sized industrial city has not retreated. The concrete quay of the port was blocked with cars. Parking spaces are precisely painted in blue. It can be seen that the renovation of the port quay has recently been completed. The spout had the smoothness and character that can be found in multi-storey car parks at new shopping centers. As the car tires gently turned, they squealed with joy, clinging tightly to the almost mirror-like surface of the concrete.
Despite the inscriptions that clearly stated that only vehicles with appropriate permissions can park here, I decided that in such a mass of cars, no one would pay attention to me. Especially that I was on the Italian "plates", because the car is from the rental company. So I positioned myself in the first free seat and relaxed (pretending that it was a day for me like every day in the port) I got out of the car, whistling nonchalantly under my breath Lasciatemi Cantare by Toto Cutugno. By the way, I waved my hand carelessly to greet a random passerby. I embellished my greeting with a sincere smile, and the passer-by returned the same. I was right. Nobody paid any attention to us.
I looked around hesitantly.
The harbor quay was not like the pictures on the internet. There were some ships moored, but they were clearly larger ... several hundred times larger than those in the photos. And they weren't blue.
Transporters. As big as half the old town of Bari. They were waiting to be loaded or vice versa. They expected unloading.
My eyes wandered on. The ancient port must be here somewhere!
A glance at the map… there! It is just steps away! Over there!
Disappointment
In fact, we were maybe 100m away from the old port. After a few steps we were there. I felt a huge disappointment, maybe even a twinge in my heart.
The old port is glued to the modern quay. They connect with each other openly, with no barrier of intimacy separating the two parts. The tiny old port is pushed aside, to the sidelines. The size and weight of the huge concrete industrial port overwhelms him. The report is as if the mole built its mound on the slope of Kasprowy Wierch. Although the mole mound is beautiful, the great mountain ruthlessly dominates the landscape.
As if that were not enough, the bottom of the old port is completely covered with concrete slabs. I almost cried.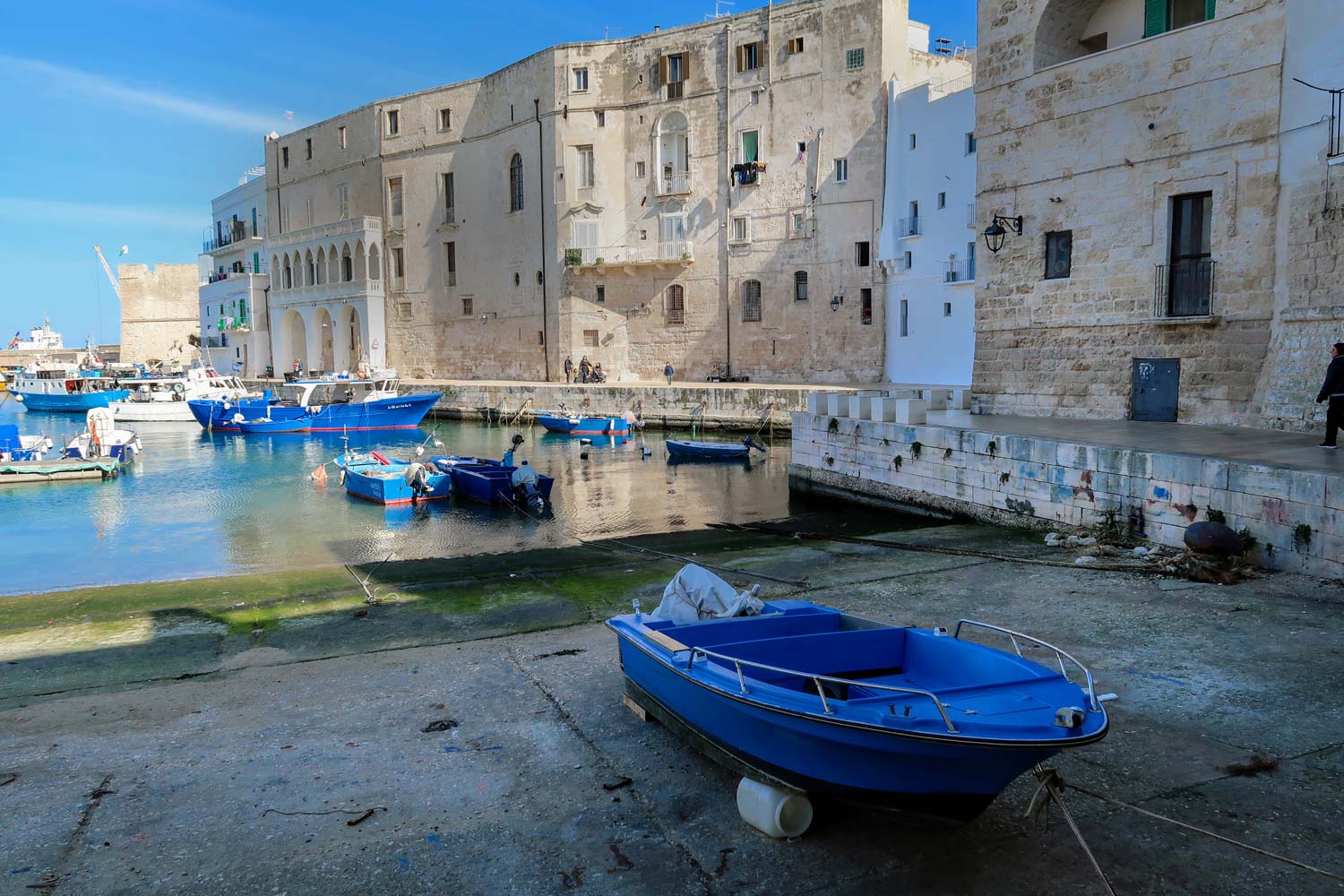 I visited the rest of the city under the influence of my mood in the harbor.
The city does not have any unique attractions to visit. Yes, it has a very nice old town, a comfortable wide promenade, a few nice squares. But what I saw in the port for which I had been waiting so much was constantly stabbing in my heart.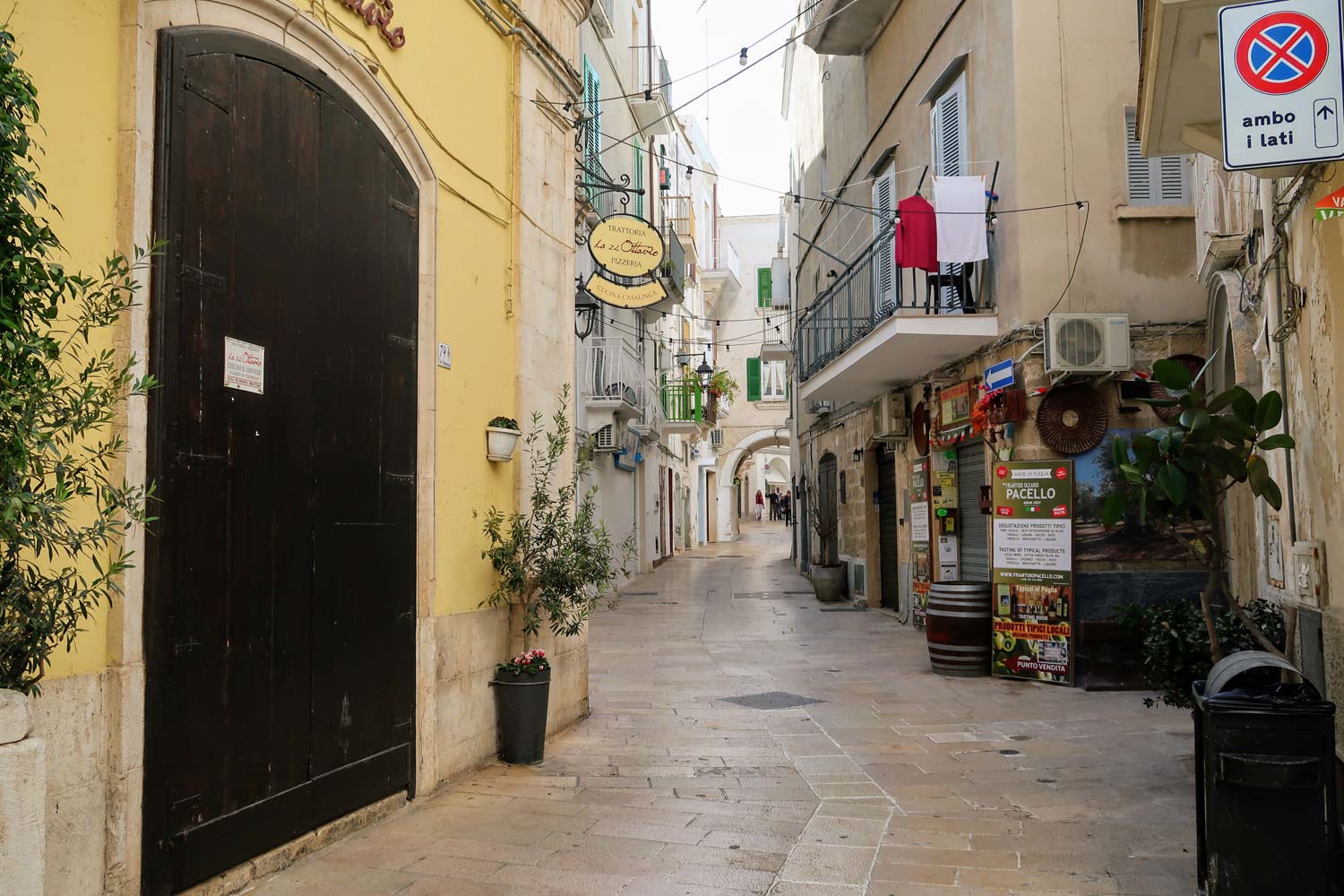 At the end of the walk, I returned to the port once more. I realized that during my first visit, several dozen minutes earlier, I hadn't taken a single photo.
The port still wasn't what I read about everywhere on the internet. I looked for a few places from which I took some photos. It turned out that everything looks much, much better in the photos 🙂
The photos, especially when taken from the right side, look really good, but the live impression is definitely weaker.
When going to Monopoli, it is worth taking a correction to the fabulous opinions that are common on the web, about the wonder and uniqueness of this place, and lowering expectations about it.
No disappointment similar to mine will surely enhance and enhance the reception and experience for the rest of the city.
Who is Monopoli for?
After returning home, I read again the texts that I read before my departure. It bothered me. I wanted to find out if it was turning our heads from the excess of impressions, or maybe the reason for our disappointment lies in the excessive admiration for this city.
When I read everything again from the perspective of someone who has seen Monopoli live, after discarding the obvious over-admiration (which I still consider exaggerated), a different picture of the city emerges.
Most of the texts (even those who are overly enamored with the port) indicate that Monopoli is not a very attractive city to visit. Monopoli is presented rather as an excellent starting point for a trip around the attractions scattered around Apulia, and as a good place for a lazy, stationary rest and isolation from popular tourist destinations.
There are several arguments for this:
- the still low popularity of the city makes the prices of hotels and accommodation very attractive.
Agreement here. The prices are attractive.
- the city (supposedly) creates its own specific atmosphere that you can feel when you are in it
longer, and not only as "visiting attractions". It has good gastronomy and can draw you into its atmosphere, slowing time and life, giving you time to breathe.
I don't know that, because we were here with a focus on "visiting attractions" and maybe that was our mistake.
- in the city and in the immediate vicinity there are many nice beaches where you can relax.
It is worth taking into account the fact that the beaches can be crowded (because they are small). Sometimes you have to go further to free yourself from the excessive crowds on the beach and get some peace. There are many beaches in the immediate vicinity of the city, so it should not be a problem to find a suitable place to relax.
So if you are looking for a place for a quiet and cheap holiday. You expect guaranteed sunny weather, access to many small beaches, good gastronomy and several very attractive places in the vicinity, then Monopoli may turn out to be the perfect holiday destination for you.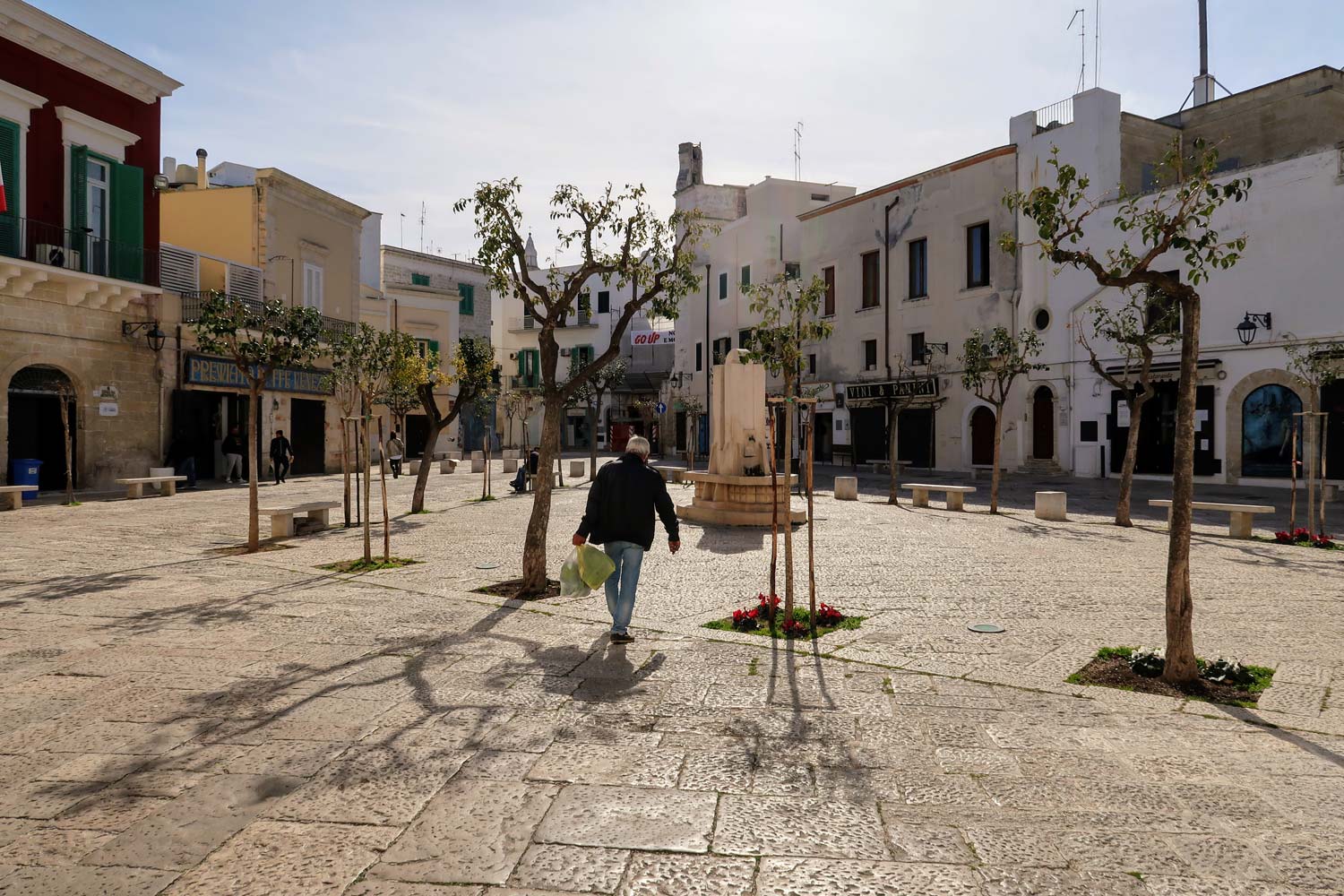 What to see in Monopoli?
Of course, it's worth seeing the old port (1) and taking some photos of it. I guarantee that it will look great in the photos, especially against the background of old buildings that surround it largely.
Right next to the port you will come across the Castle of Charles V (Castello Carlo V) (2) and the Bastion of St. Maria (Bastione Santa Maria) (3), which is located directly on the promenade (4).
It is worth taking a stroll through the streets of the small old town and entering several squares, eg Piazza Garibaldi (5). The streets will lead you to them by themselves.
Here you will also find the beautiful cathedral Maria Santissima della Madia (6) and a chapel with a door decorated with skeletons, with mummified bodies inside: Chiesa di Santa Maria del Suffragio detta del Purgatorio (7).
I have marked the location of all places on the map below.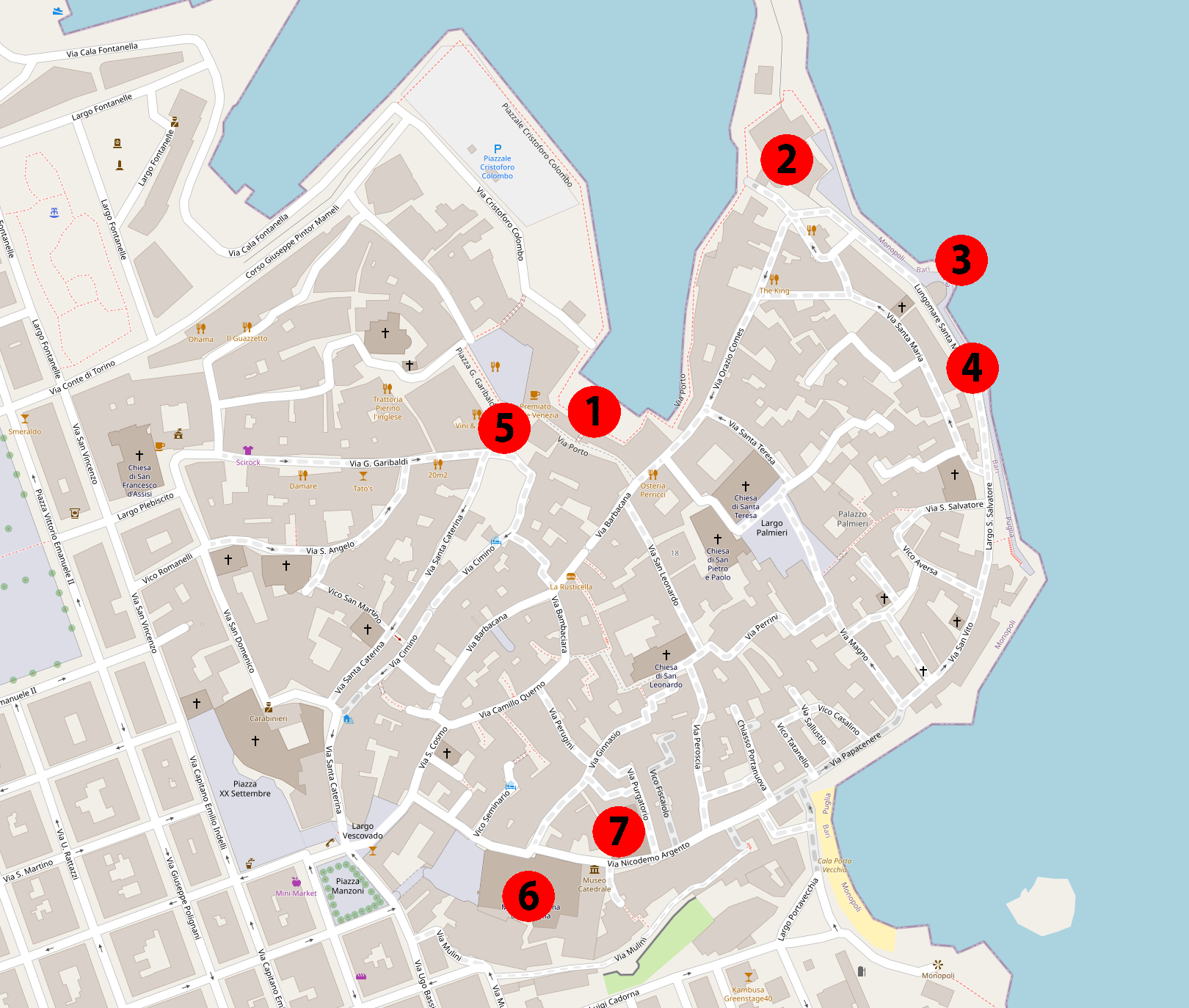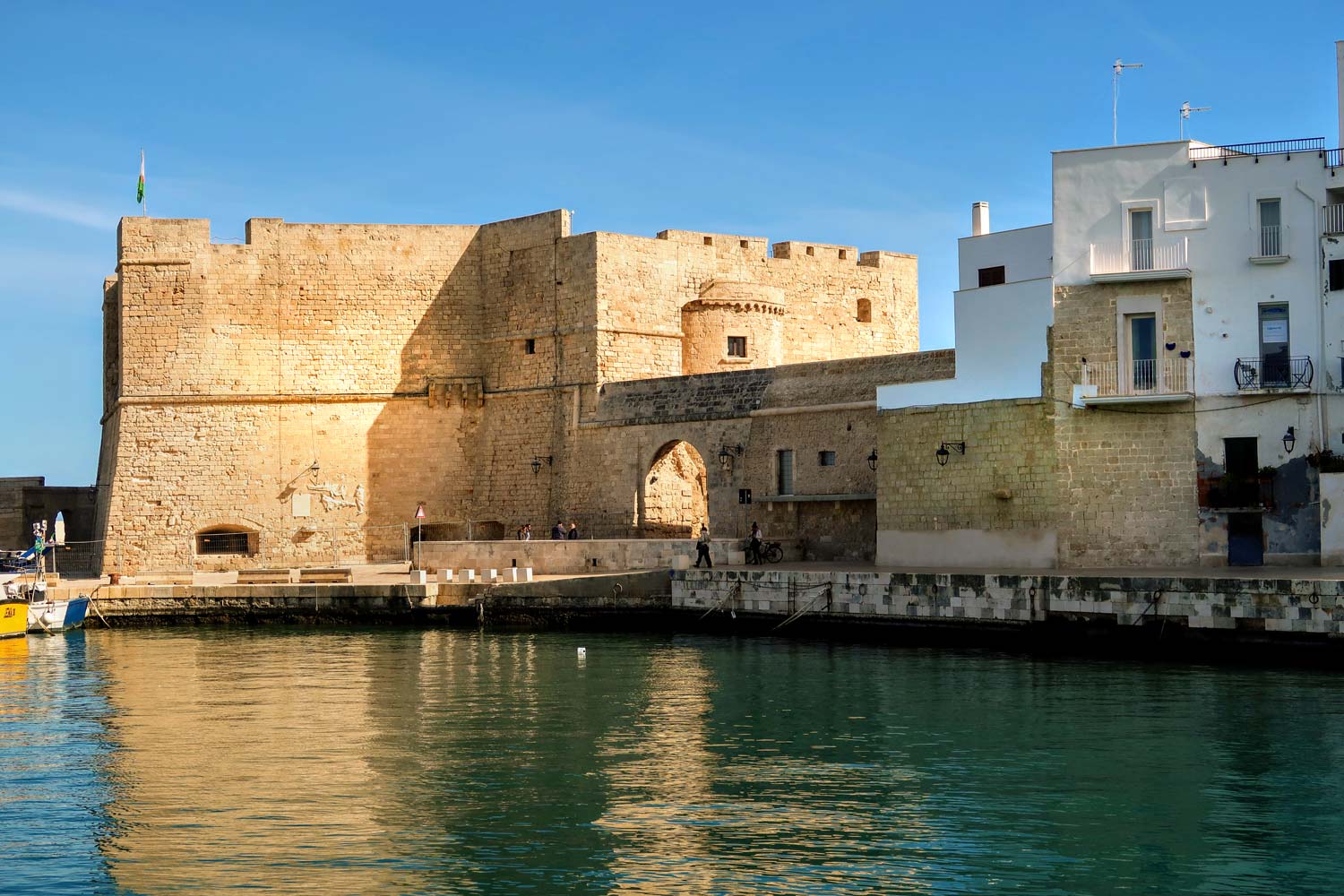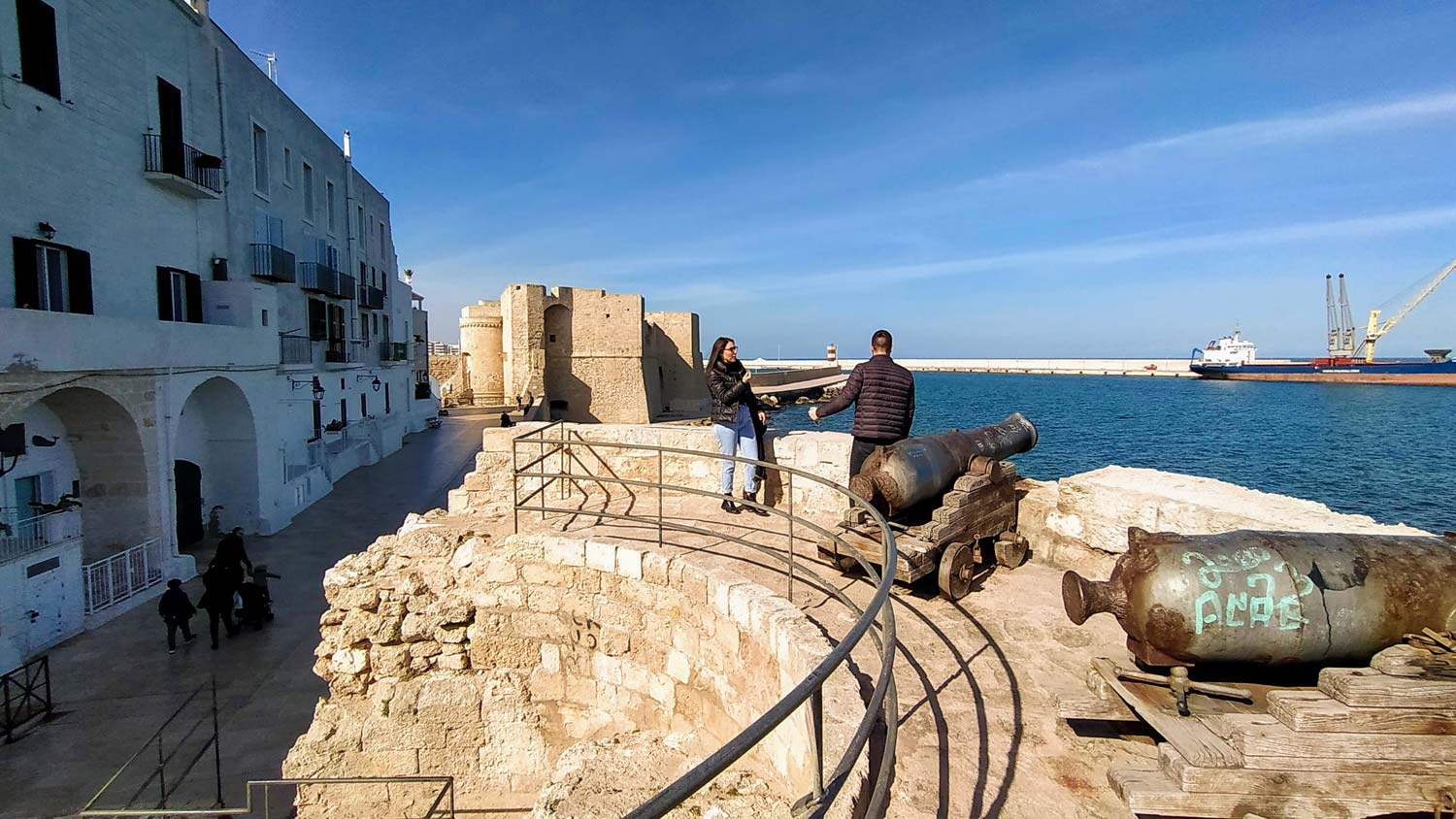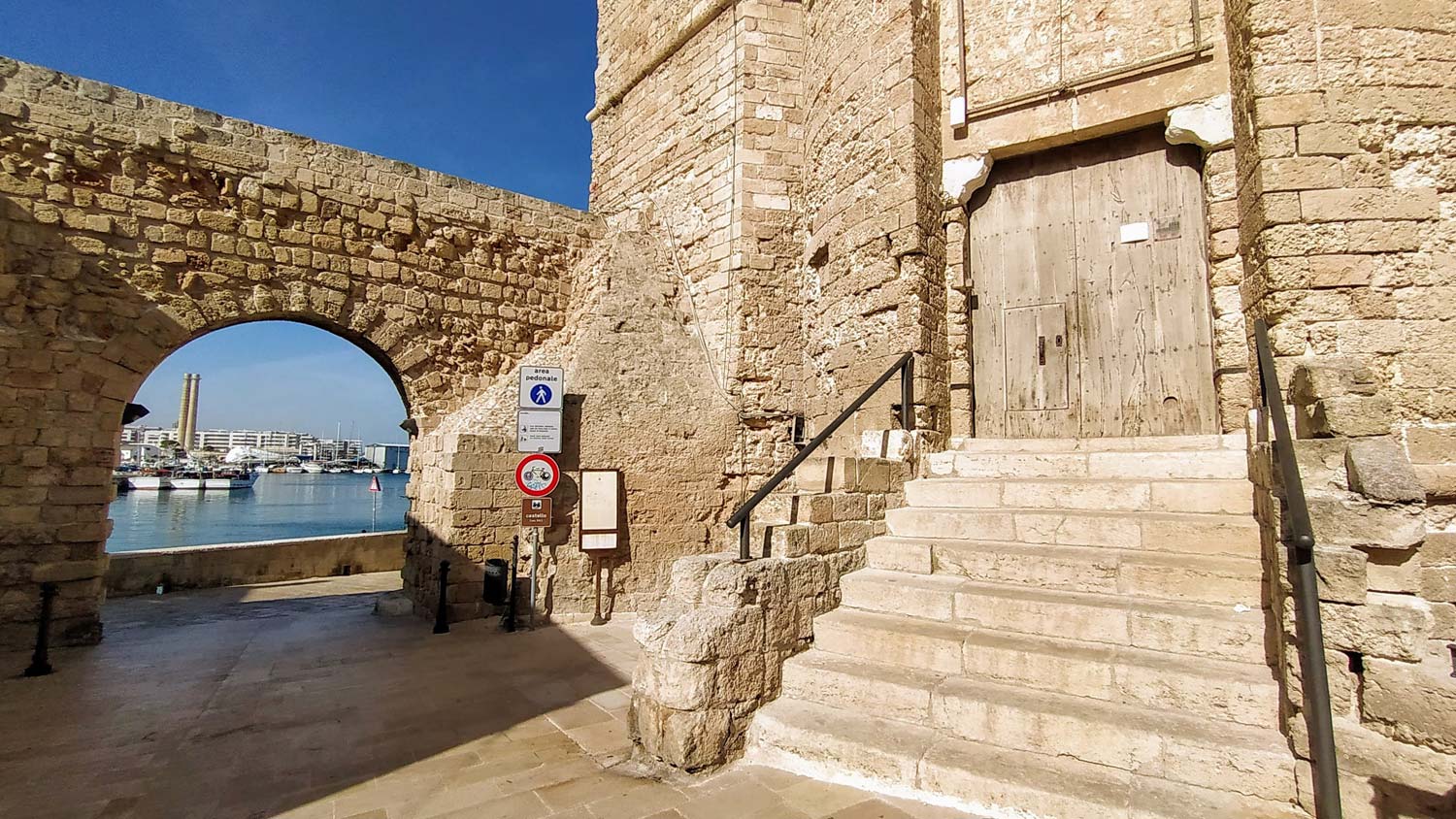 Beaches in the vicinity of Monopoli
Below you will find GPS coordinates for navigation for the beaches near Monopoli, along with links to photos to illustrate their appearance.
The beach map below shows their location along the coast. As you can see from the information that Google has placed on the map, all 10 beaches are located within 6,4 km. So they are all very close to each other (ideal for access, for example by bike).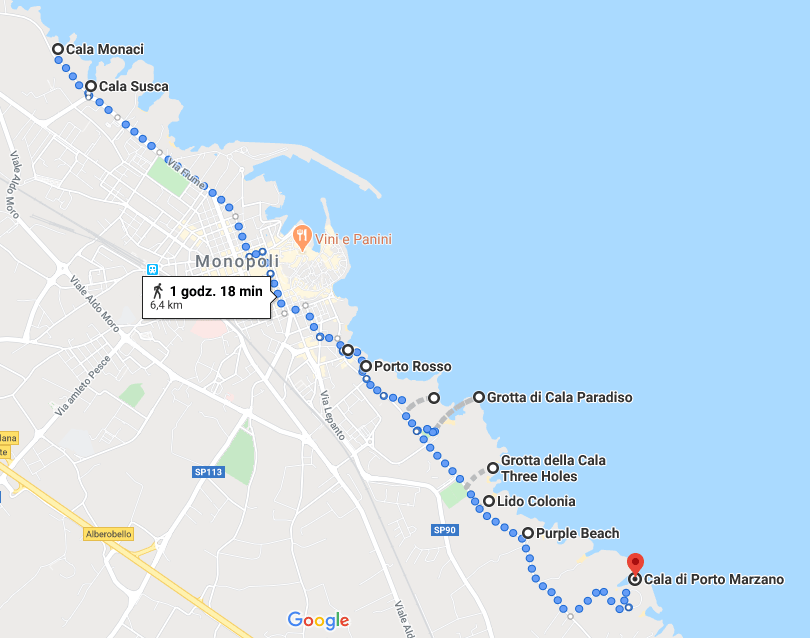 40°57'50.8″N 17°17'08.3″E
40.964100, 17.285647 - click and route
40°57'43.1″N 17°17'16.5″E
40.961978, 17.287926 - click and route
40°56'51.6″N 17°18'23.7″E
40.947661, 17.306592 - click and route
40°56'48.3″N 17°18'28.2″E
40.946749, 17.307832 - click and route
40°56'41.9″N 17°18'45.5″E
40.944965, 17.312651 - click and route
40°56'37.4″N 17°18'49.7″E
40.943717, 17.313794 - click and route
40°56'26.2″N 17°19'00.0″E
40.940616, 17.316679 - click and route
40°56'22.8″N 17°19'01.0″E
40.939664, 17.316946 - click and route
40°56'10.1″N 17°19'24.0″E
40.936132, 17.323321 - click and route
40°56'06.1″N 17°19'37.7″E
40.935035, 17.327126 - click and route
Accommodation in Monopoli
The accommodation base in Monopoli is interesting. There are a lot of very pleasant locations and facilities, and the prices are not excessive. In the suggestions below, I focused on the fact that there is an old town nearby, where you spend the most pleasant evenings over dinner. At the same time, I wanted it to be as close to the beach as possible (because I assume that a stay in monopoly is primarily a convenient starting point or spending lazy time on the beach and eating 🙂)
Bearing in mind the fact that the prices in Monopoli are moderate, I chose the accommodation with the highest ratings, confirmed by at least several dozen opinions (including many from Poland). This did not significantly affect the final cost (a valuable advantage of Monopoli).
Click on the picture to go to the hotel's current offer.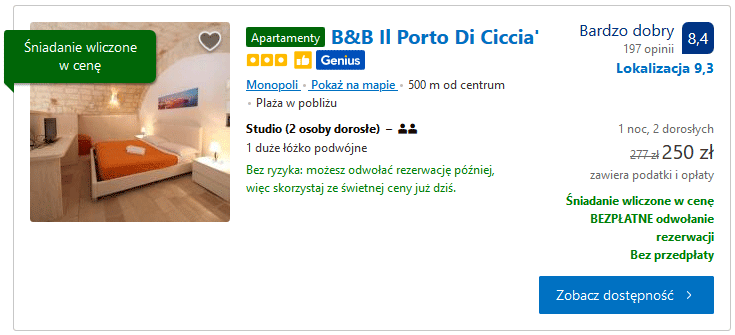 A practical studio apartment in the very old town. Equipped with a kitchen. Comfortable, clean and aesthetic. A very pleasant place to relax, and at the same time a convenient location that allows you to enjoy the culinary charms of the old town.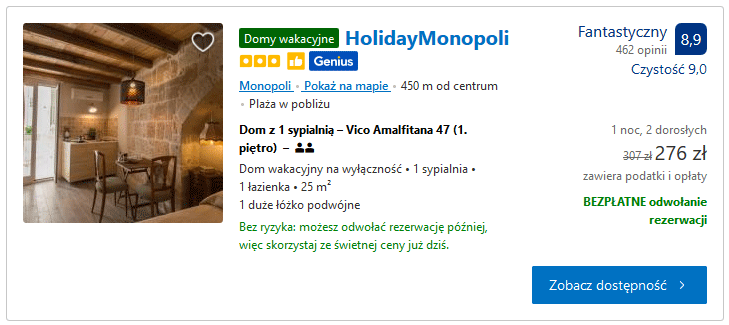 A very pleasant holiday home with one bedroom, bathroom and kitchen. Located just 400m from Porta Vecchia beach and 1,4km from Cala Paradiso beach. Located in a very atmospheric street. Guests have at their disposal a terrace, barbecue facilities and free use of bicycles (I highly recommend). In the off-season (October to April) there is free parking in the neighboring street.

Fantastic, atmospheric apartment with character. A great place to relax. located 50m from the small beach of Porta Vecchia. Cala Paradiso Beach is 1,1 km from the apartment. The property offers free parking spaces and the possibility of renting bicycles.
Important to me!
Give the article a good rating
(5 stars welcome 😀)!
It's free, a
for me it is very important!
The blog lives on visits and thus has a chance to develop.
Please do it
and ... thank you in advance!
I also post
link to Facebook profile - [click]
. Come in and press "
Follow
"then you will not miss new, inspiring posts.
Unless you prefer
Instagram
. I'm not a social media demon, but you can always count on something nice to look at on
my instagram profile - [click]
. The profile has just been created, so
for now he is starving
, due to the lack of followers. He is happy to receive any observer who feeds him with his love.
Pozdrawiam