Ostuni - sightseeing, attractions, map, parking lots, hotels, accommodation. Guide.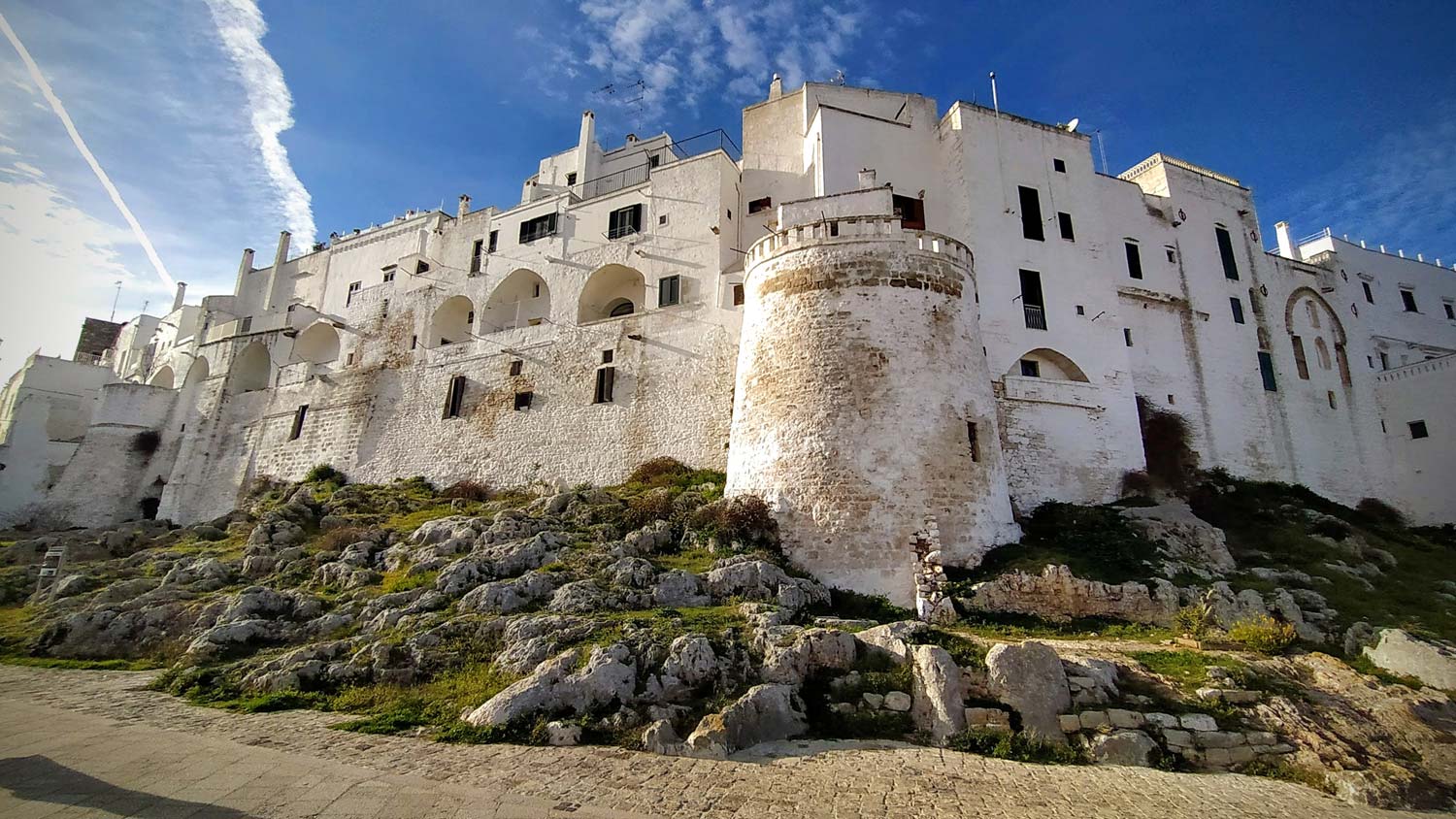 White Italian towns
I entered "white town in Italy" in the search engine. What did i get
In the top "10" of the most popular search results, 9 (!!!) leads to Ostuniand 1 to Alberobello. Shocking domination. Ostuni reigns supreme in the category of "white towns" and it has been going on for several years now. The Internet, and thus the world is crazy about this place.
Ostuni is a real and unquestionable showcase of "white Italian towns". This is a place that is the main reason for the true fashion to visit these characteristic small towns (because there are definitely more white Italian towns than just 2).
While traveling in the footsteps of white towns, many of you will probably come across a situation when several times in different places you come across the same people who do the same as you do: wandering around small, white Italian towns.
Driving from place to place, some familiar faces have already instinctively said "good morning" 🙂
Ostuni
The town is located in the deep south of Italy, in Apulia. Its location on the map of Italy can be seen in the image below. Getting here isn't much of an effort though.
More details on the organization of a trip to Apulia can be found in the entry, which is also a ready-made guide to Apulia: see a guide to Apulia - [click]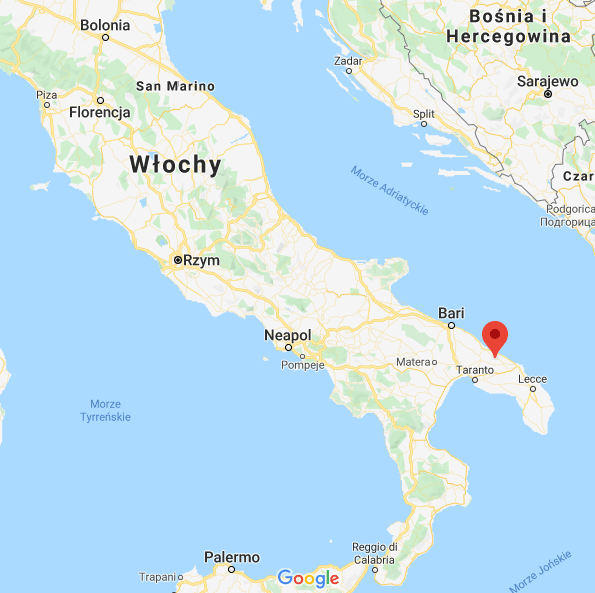 In short, from Poland, we have direct and cheap air connections to Bari and Brindisi, and further you can get by train (journey time from Bari about 1h, ticket price about 6 EUR, from Brindisi it is much closer). It's about 5km uphill from the train station to the historic center of Ostuni, so it's better to take a special bus for € 1. You can buy train tickets online on the website Trainline - [click]. The website is in Polish.
I prefer renting a car, and I have described the complete set of information needed for safe and cheap car rental in the post: Bari and Brindisi: car rental without credit card and deposit?
According to the official website, about 33 people live in the town. Quite a lot, but a glance at the city map is enough to notice that the residential part of the city seems to be separate, next to the historical part.
Most of the buildings in the historical part (called La Terra) serves mainly tourist traffic and has been transformed into hotels, restaurants, bars, shops, etc. Only some houses are permanently inhabited and there are less and less of them each year. They are regularly transformed into new facilities for tourists. Of course, the owners of the buildings take special care to preserve the city's atmosphere, so it's no wonder that Ostuni simply delights.
That is the goal. It is supposed to delight. And there is no place for cheap claptrap here. Ostuni delights with the authenticity of the Italian atmosphere.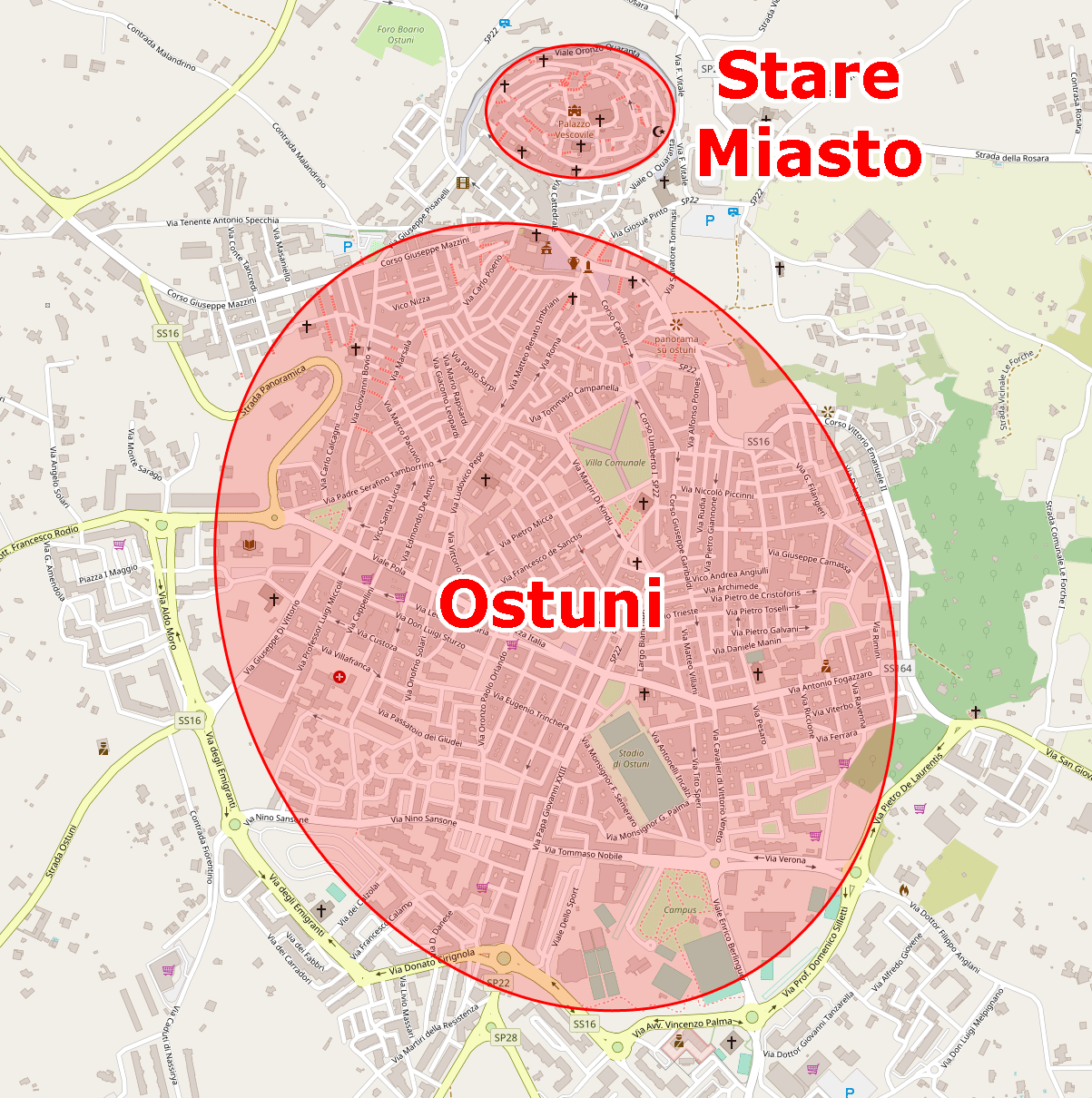 There are quite a lot of tourists in the season here. This is an obvious effect and the price of popularity. The official website of Ostuni reports that the number of people staying in the town triples during the season. This means that around 100 people may stay in the town during the day. people, with 66 visitors unlikely to visit the residential area. It can be safely assumed that the entire visiting population is crowding in the tiny historical center.
And, in fact, that's exactly how it is. The streets of Ostuni are full of people and in the summer you shouldn't expect a romantic walk. On the other hand in practice, it is not some wild crowd and you can still find a lot of fun while visiting Ostunialthough each year there should be more and more tourists.
What else out of season. When we arrived here in February, there was practically no one on the streets. We had blue sky, beautiful sun, perfect temperature (23 degrees) and all streets and alleys of the city at our disposal. Quiet and peaceful.
Some buildings were undergoing renovation work before the next season, and someone on the neighboring street was painting the façade white to make it shine snow-white in summer.
The only inconvenience was mostly closed restaurants, but there are also some that operate all year round. So it was enough to walk a little, and that's why we came here. There will always be something open in the end.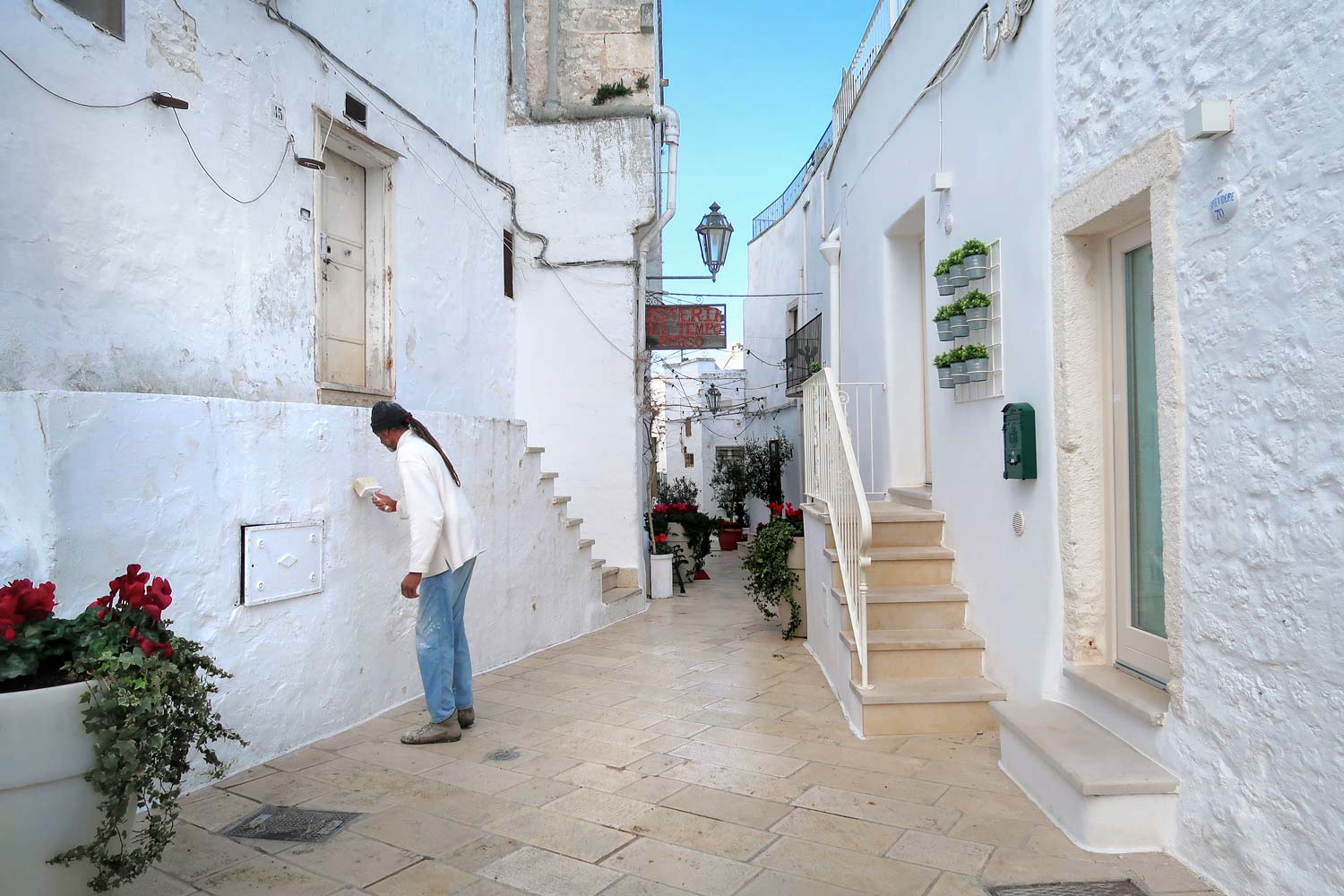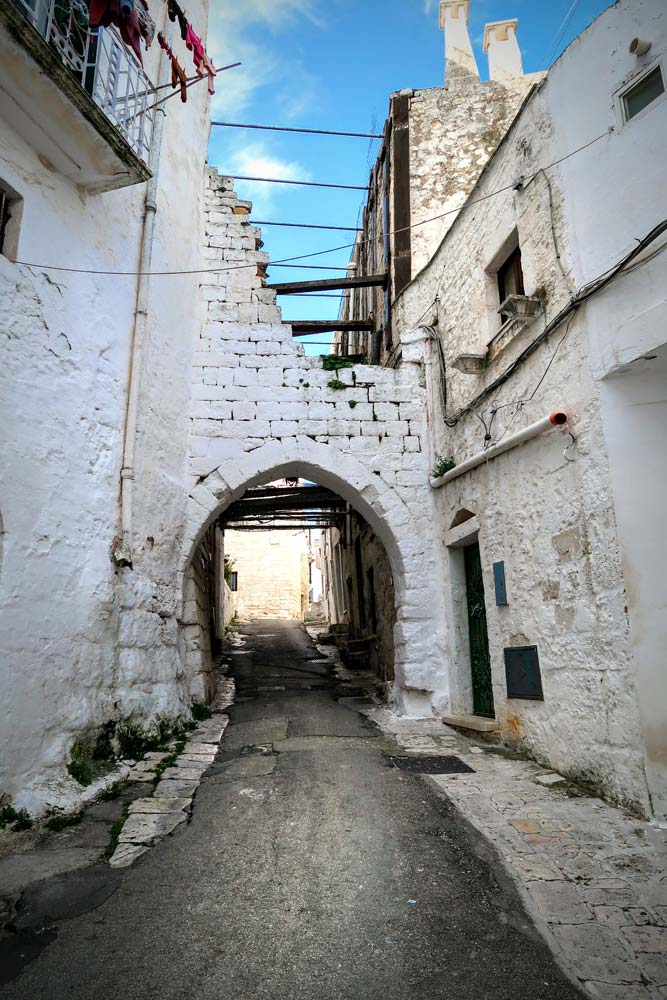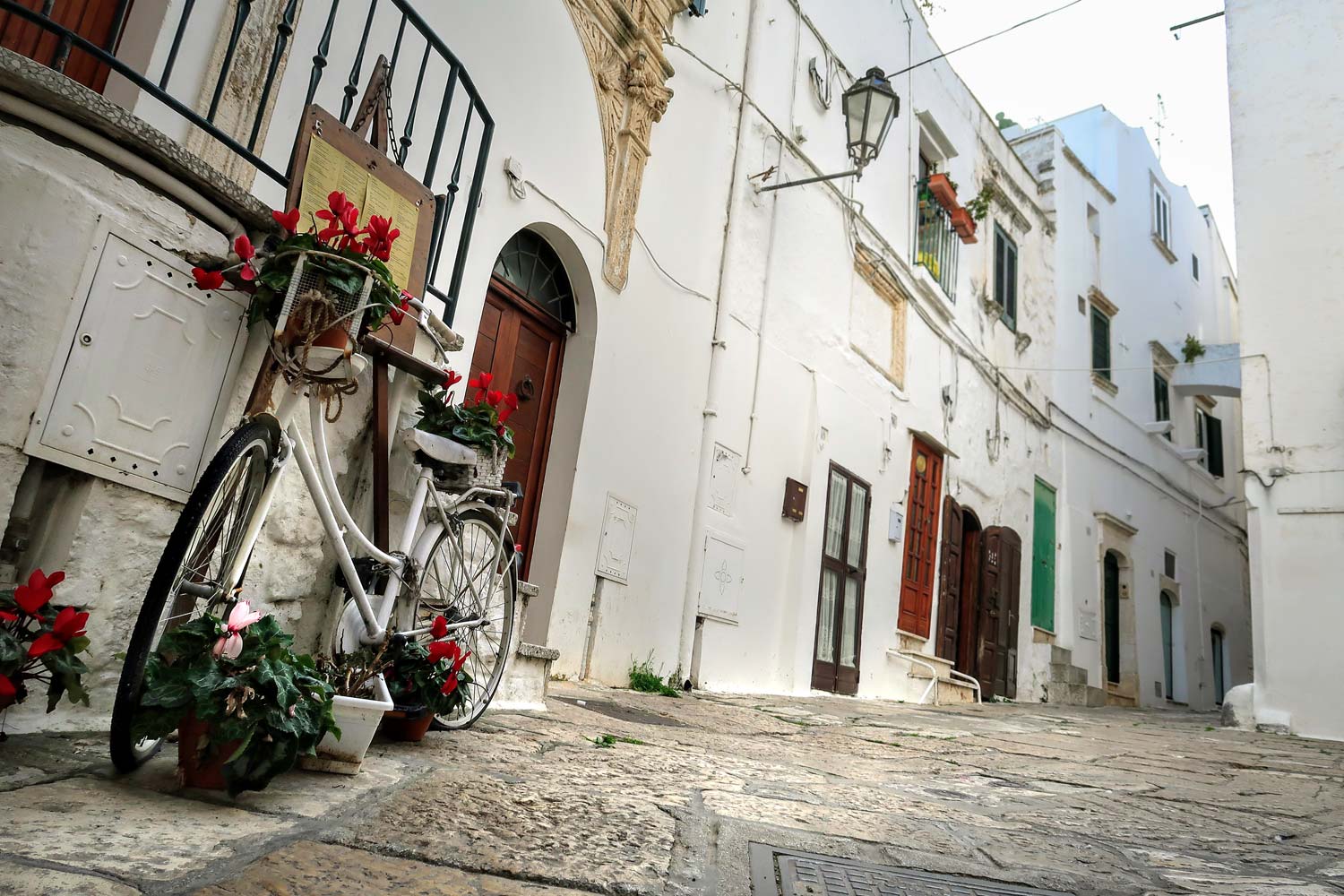 Visiting Ostuni
Ostuni is not one of the cities full of must-see monuments. Here you come to soak up the pleasure. By any means. If you feel that you are losing control of time and are not interested in what time it is, then you are visiting Ostuni properly. It shouldn't be difficult, because Ostuni will probably take over your heart in no time. Just let this city guide you.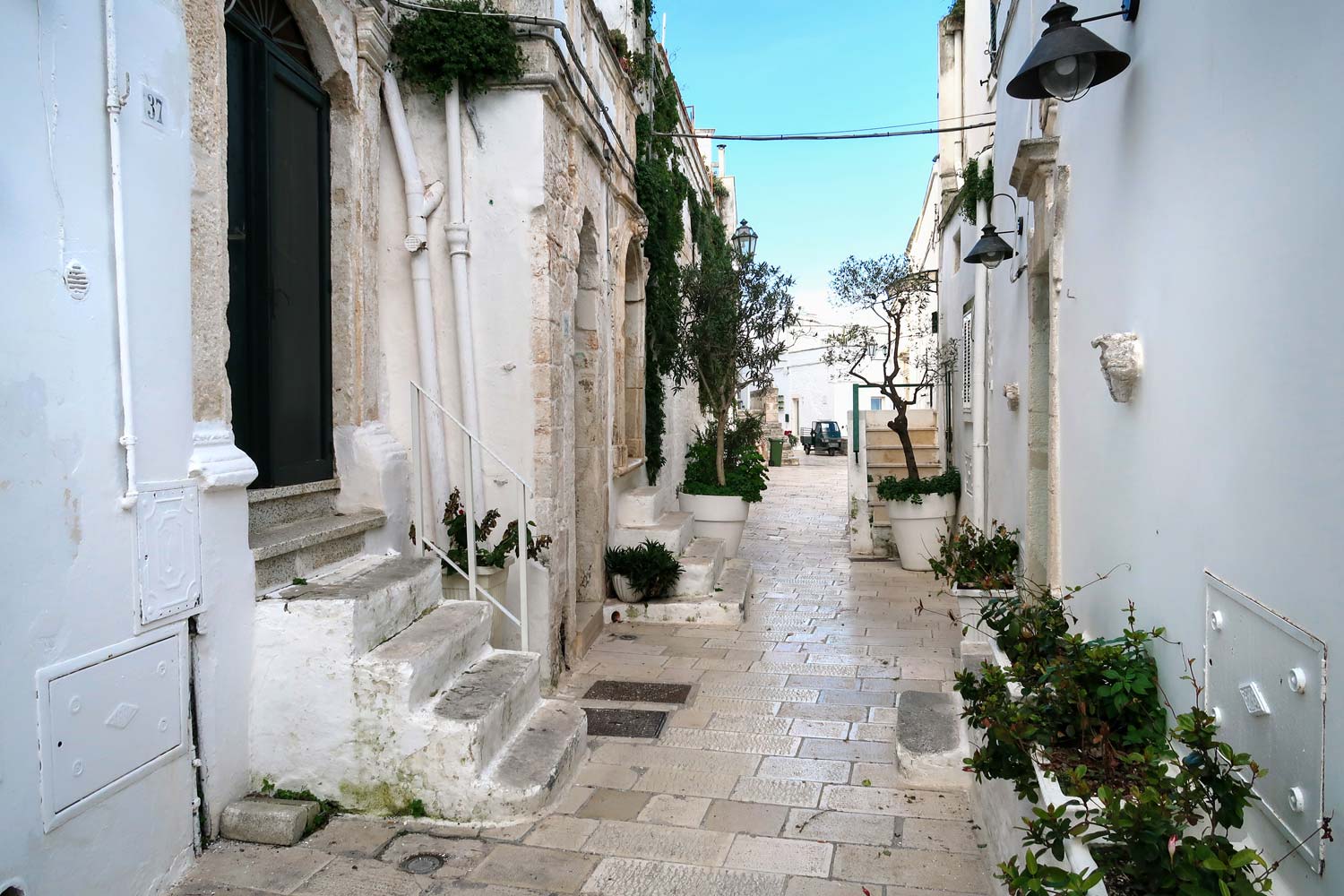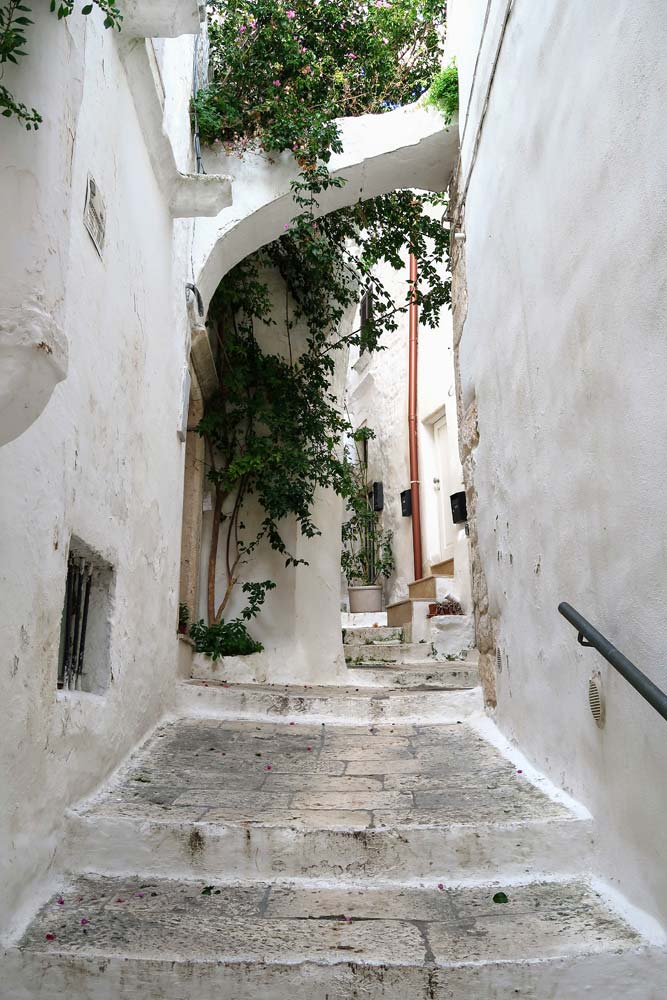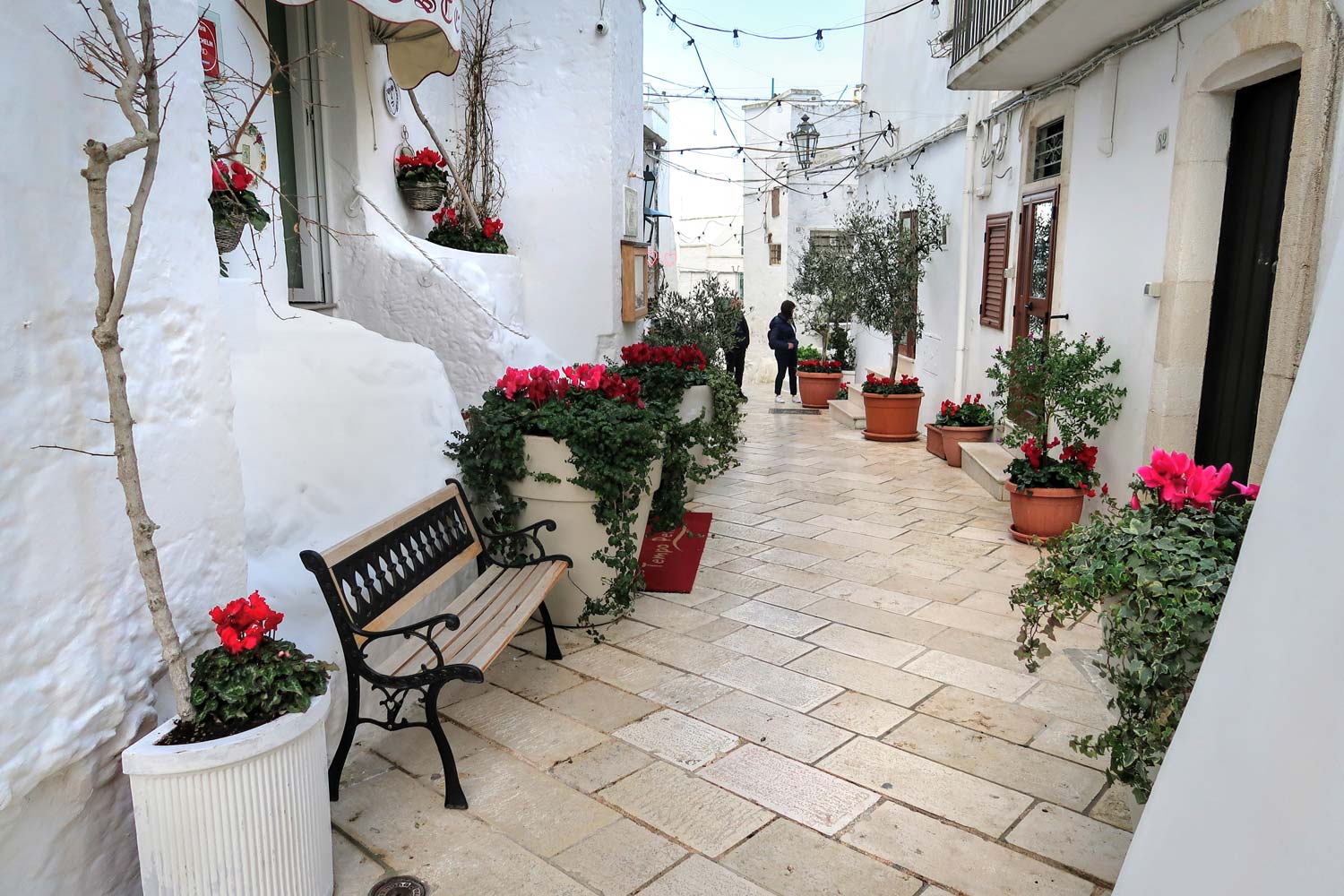 Ostuni is a fascinating tangle of narrow and winding streets, separated by courtyards and squares. The elliptical old town climbs the rocky slopes of the mountain, culminating in the cathedral at the very top. It is a weave of fancifully twisted stairs, often leading up the walls and roofs carved directly into the rock of the houses. It is a real maze of alleys that once led to five city gates embedded in the walls surrounding the city. A large part of the walls and eight out of fifteen Aragonese defensive towers have survived to this day.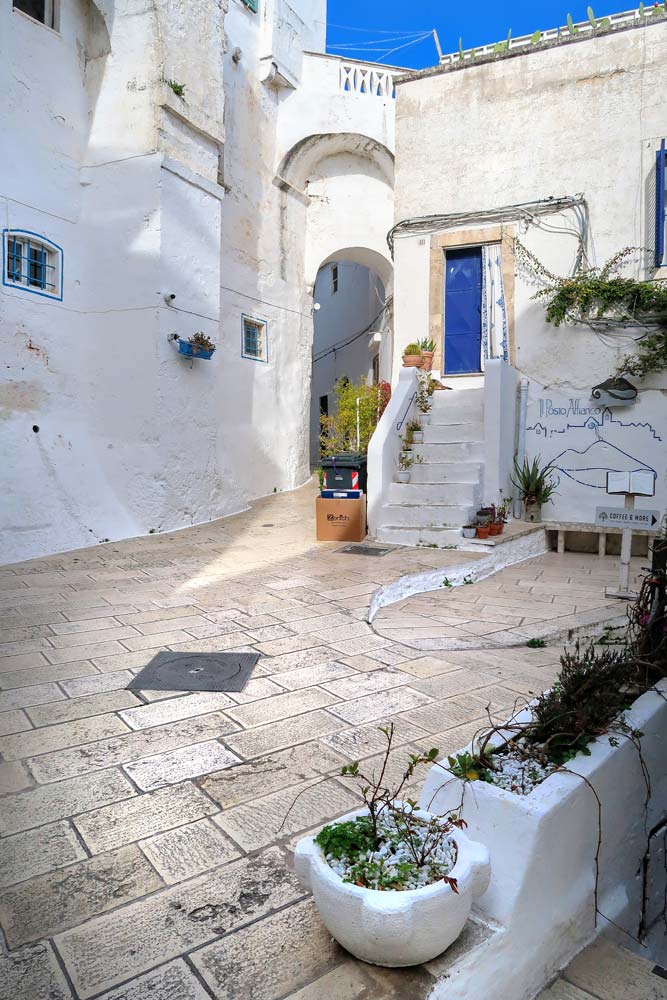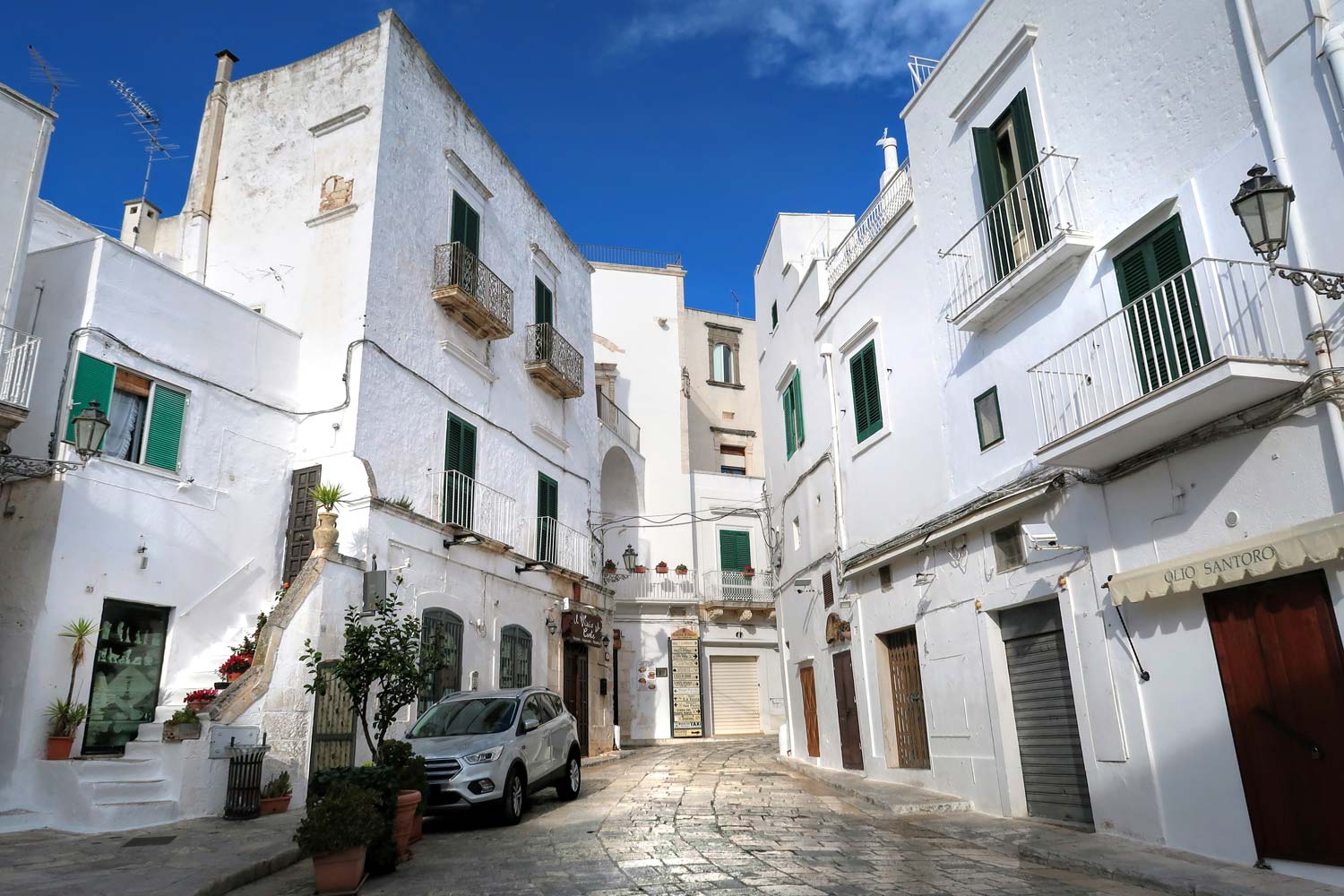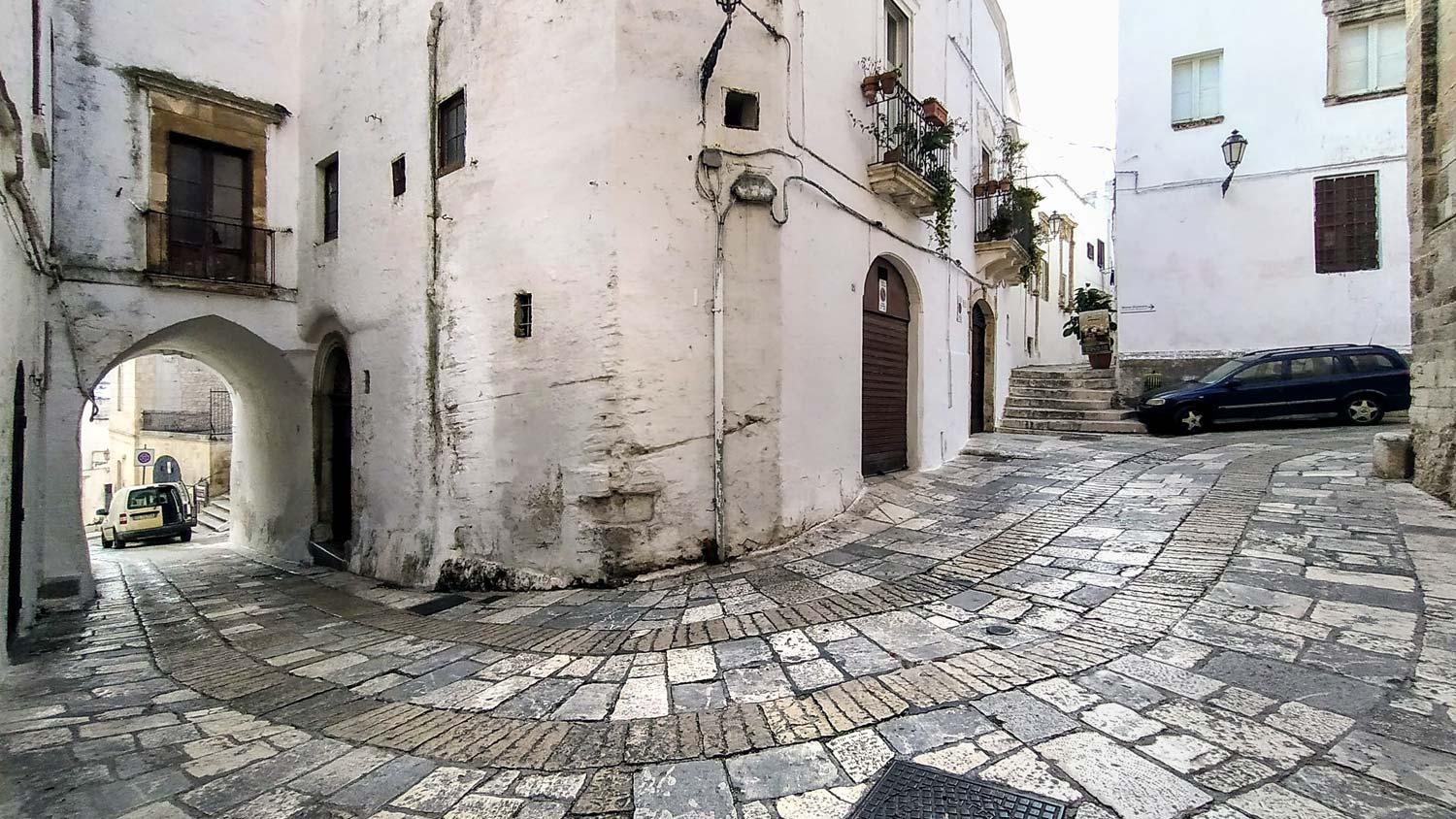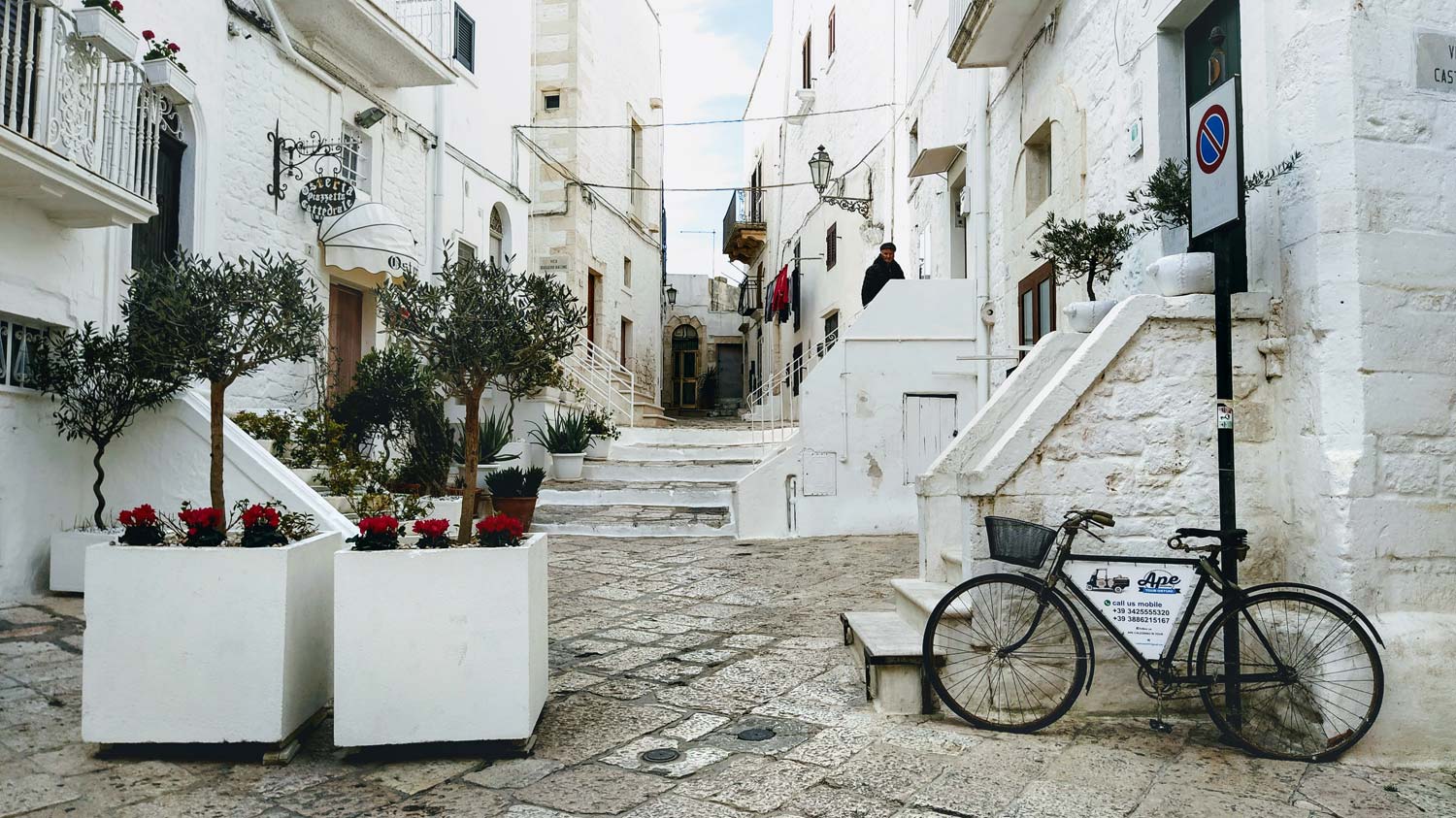 Proposing a way of visiting Ostuni, I can boldly write: go wherever you want, go where your eyes carry you. The city is so small that sooner or later you will stumble upon everything there is to see. To be sure, however, I am including a map with some key points, although I don't think you will need it.
1. Liberty Square (Piazza della Liberta)
At the square there is the town hall in the building that used to be the monastery. No wonder that it is integrated with the neighboring church st. Francis (Chiesa di San Francesco). A monument dominates the square st. Oronzo (Obelisco Sant'Oronzo), who is the patron saint of the city.
Wolności Square, GPS coordinates:
40°43'55.1″N 17°34'42.4″E
40.731979, 17.578444 - click and route
2. Via Cattedrale - freely translated Katedralna Street
It is a street that cuts the Old Town into two parts, and at the same time the only real street in the old part of the city, fully accessible to motor vehicles and reaching the top of the hill. All the streets that depart from it to the left and right sooner or later become impassable for vehicles, becoming dead ends or turning into narrow, steep stairs.
While Via Cattedrale it is teeming with life and bustle of people mixed with the growling of engines of tourist scooters, the streets transverse to it are dominated by pedestrians almost exclusively.
I marked it with red dots on the map above.
Via Cattedrale, GPS coordinates:
40°43'59.8″N 17°34'42.8″E
40.733265, 17.578565 - click and route
3. Cathedral in Ostuni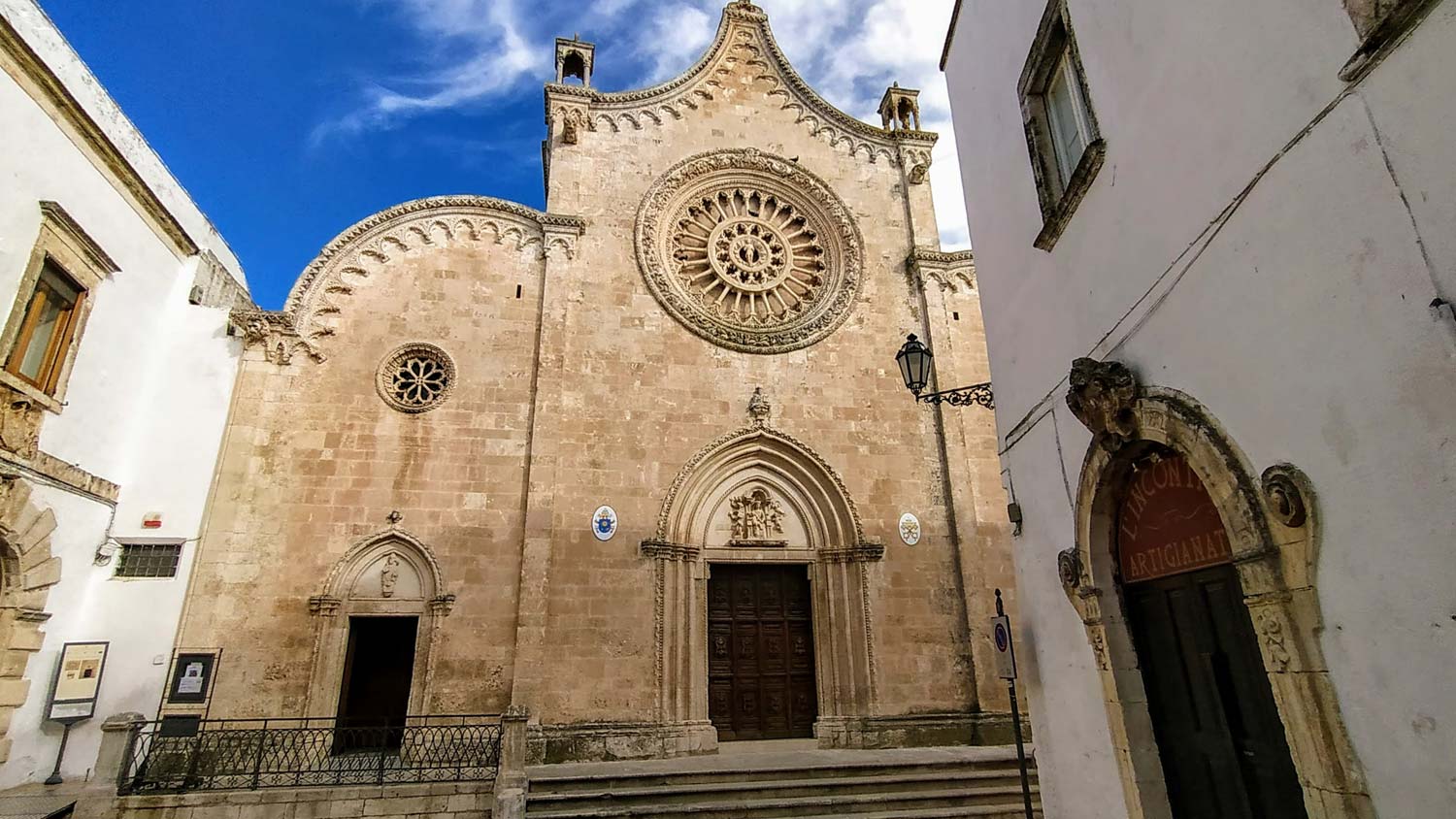 It is located at the very top of the hill and is tucked tightly between the other buildings that surround it. It is a combination of Romanesque, Gothic and Venetian styles and is extremely difficult to photograph.
Ostuni Cathedral, GPS coordinates:
40°44'02.9″N 17°34'43.7″E
40.734135, 17.578793 - click and route
4. Postcard "door to heaven"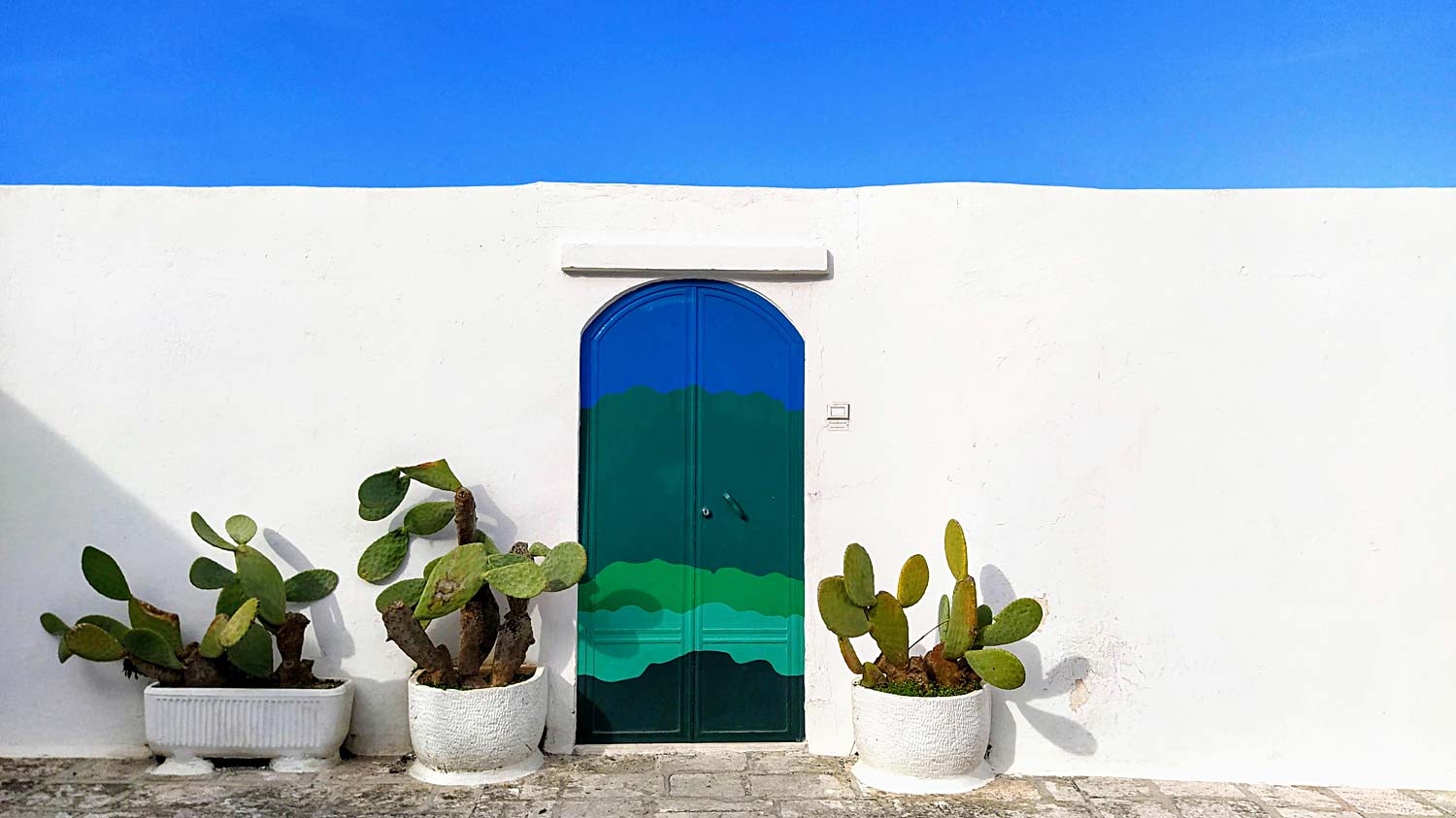 In Ostuni, there is a characteristic wall with a door, against which almost everyone wants to take a picture. The queue for the photo is sometimes long and you have to wait a bit. The door is located near the cathedral (I've marked it on the map) and you can't miss it. You just have to go where everyone is going (going from the cathedral go under the arch Arco Scoppafter which you have to turn right and after a few dozen meters on the left there is a small square / parking lot with a wall with a "door to heaven").
I noticed that most of the walkers are now looking at the cathedral because it is on the way to the "door" 🙂
... so far it was rather the opposite, the door was on the way to the cathedral. Well, priorities change. The Internet is changing the world.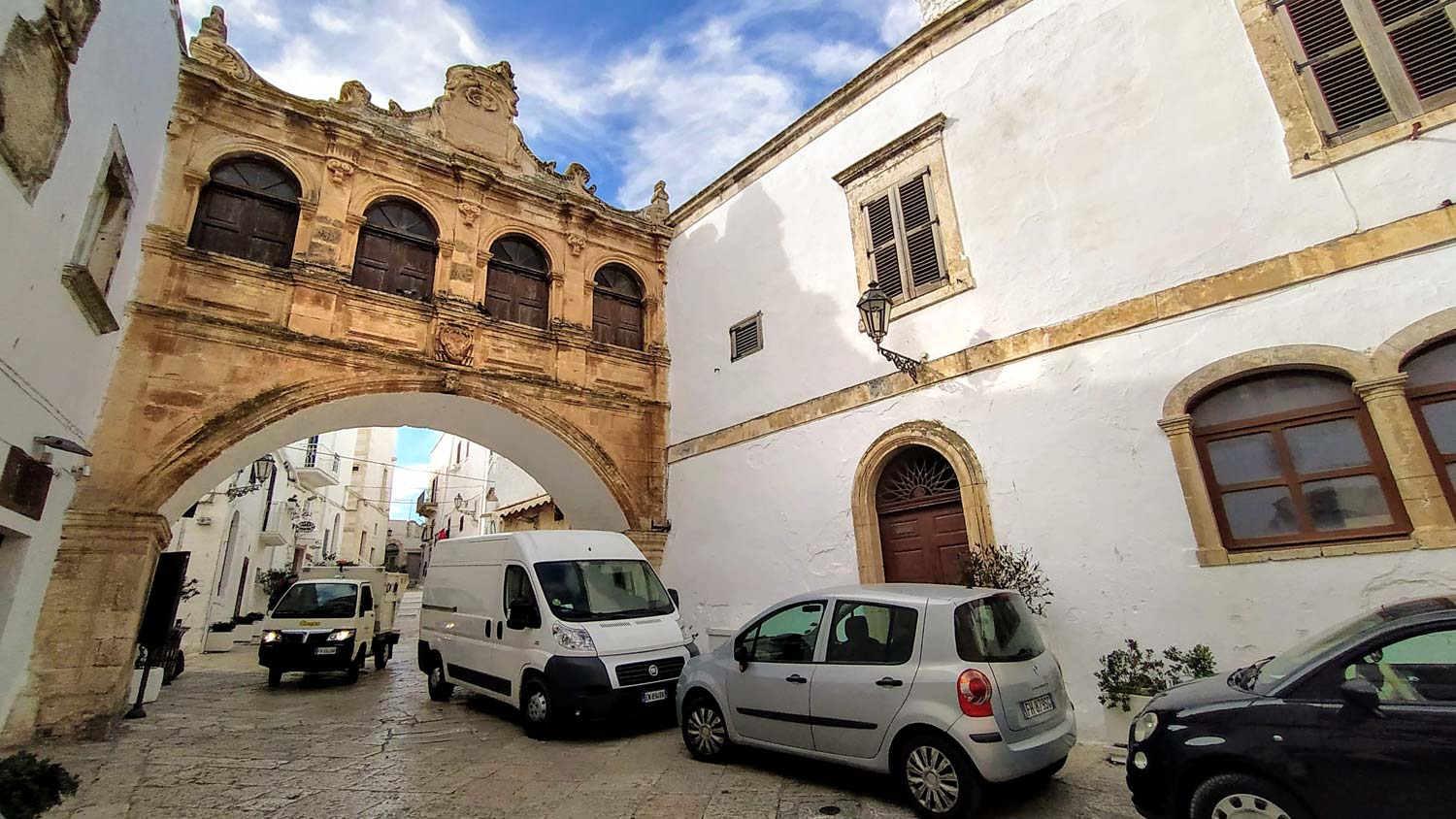 Door to heaven, GPS coordinates:
40°44'04.8″N 17°34'41.0″E
40.734672, 17.578050 - click and route
Taking a photo of the extremely popular "door to heaven", I noticed that there was another door right behind my back. They did not arouse anyone's interest and no one took a picture of themselves in front of them. Needless to say, it took a fraction of a second and, to the surprise of everyone present, I suddenly moved to the opposite wall, taking a picture in the opposite direction than everyone else. It immediately occurred to me that since there is a "door to heaven" on one side, then those on the other must be ... "a door to hell". They even presented themselves appropriately for their purpose.
In this way, with photos of a set of doors to opposite worlds and with the feeling of a well-fulfilled mission, we could go further, soak up the atmosphere of Ostuni.
Parking in Ostuni
For those coming to the town by car, the coordinates of large and convenient parking lots may be particularly useful (I marked them on the map above as: P1, P2 and P3). In low season, the P1 car park where I parked was free of charge. In high season you have to pay a fee at the parking meter.
Parking lot (P1 on the Ostuni map), GPS coordinates:
40°43'57.9″N 17°34'51.2″E
40.732747, 17.580886 - click and route
Parking lot (P2 on the Ostuni map), GPS coordinates:
40°43'56.2″N 17°34'27.3″E
40.732277, 17.574248 - click and route
Parking lot (P3 on the Ostuni map), GPS coordinates:
40°44'08.6″N 17°34'37.6″E
40.735724, 17.577121 - click and route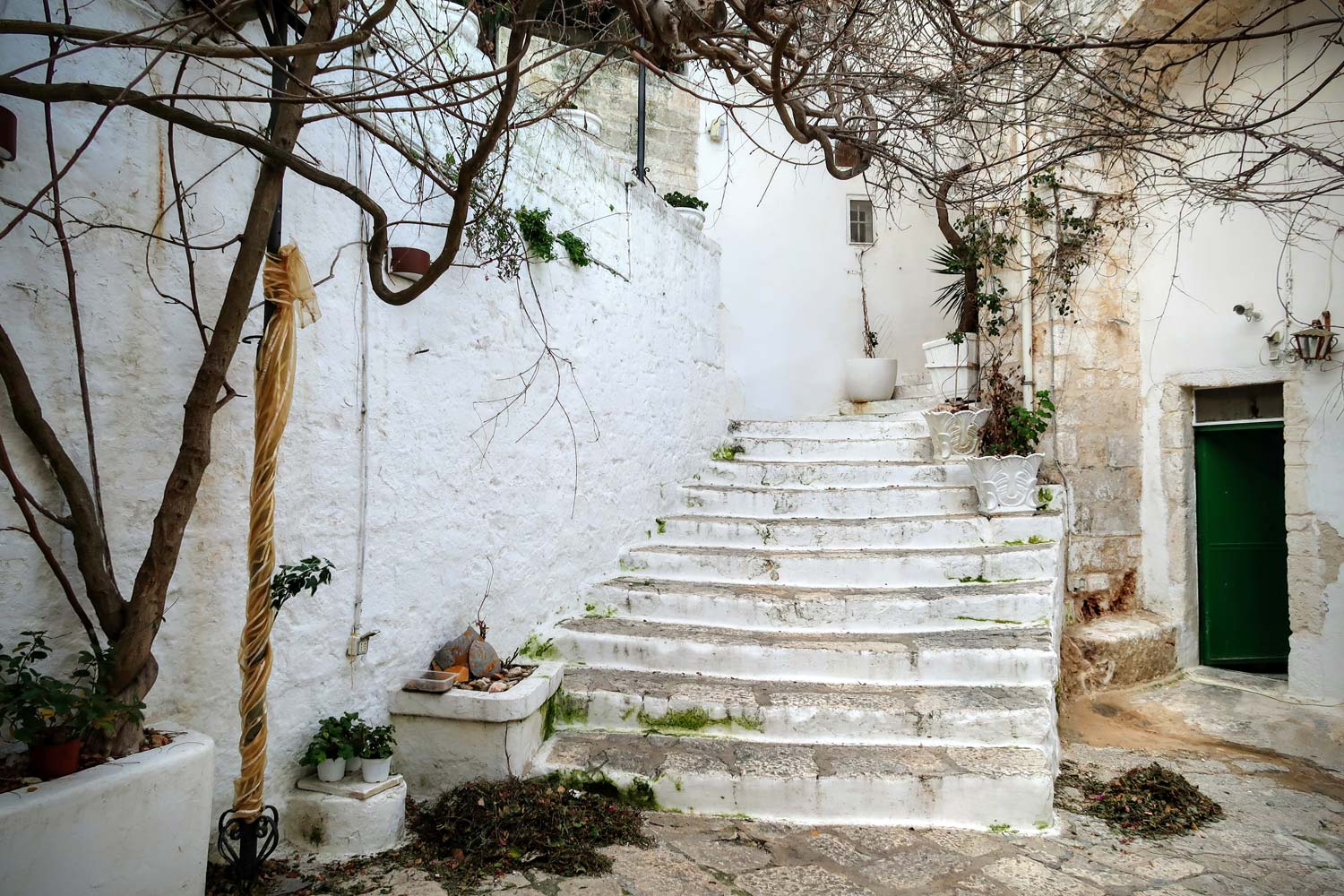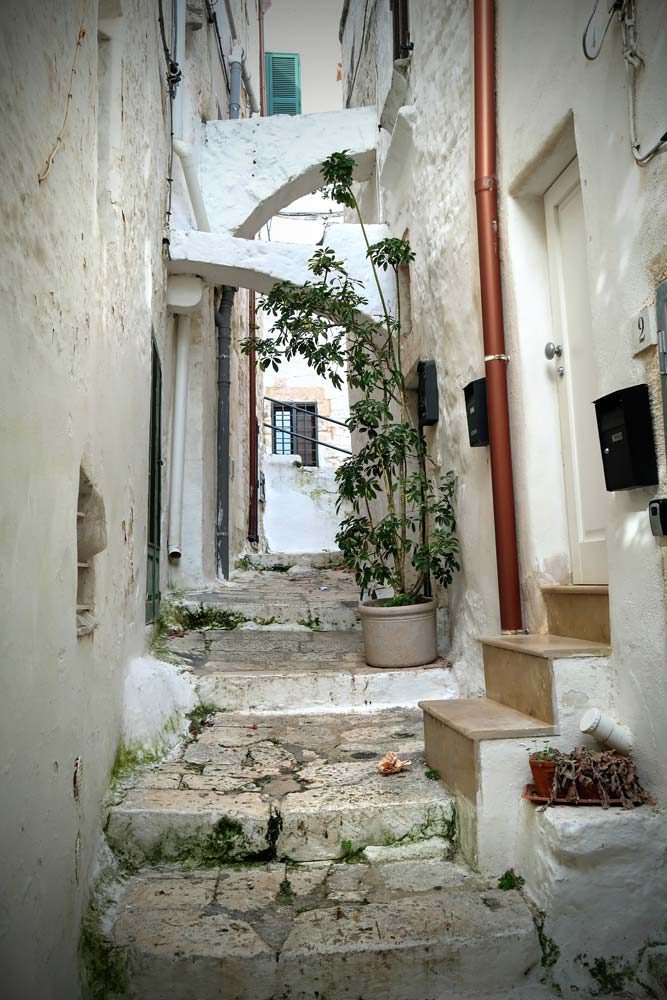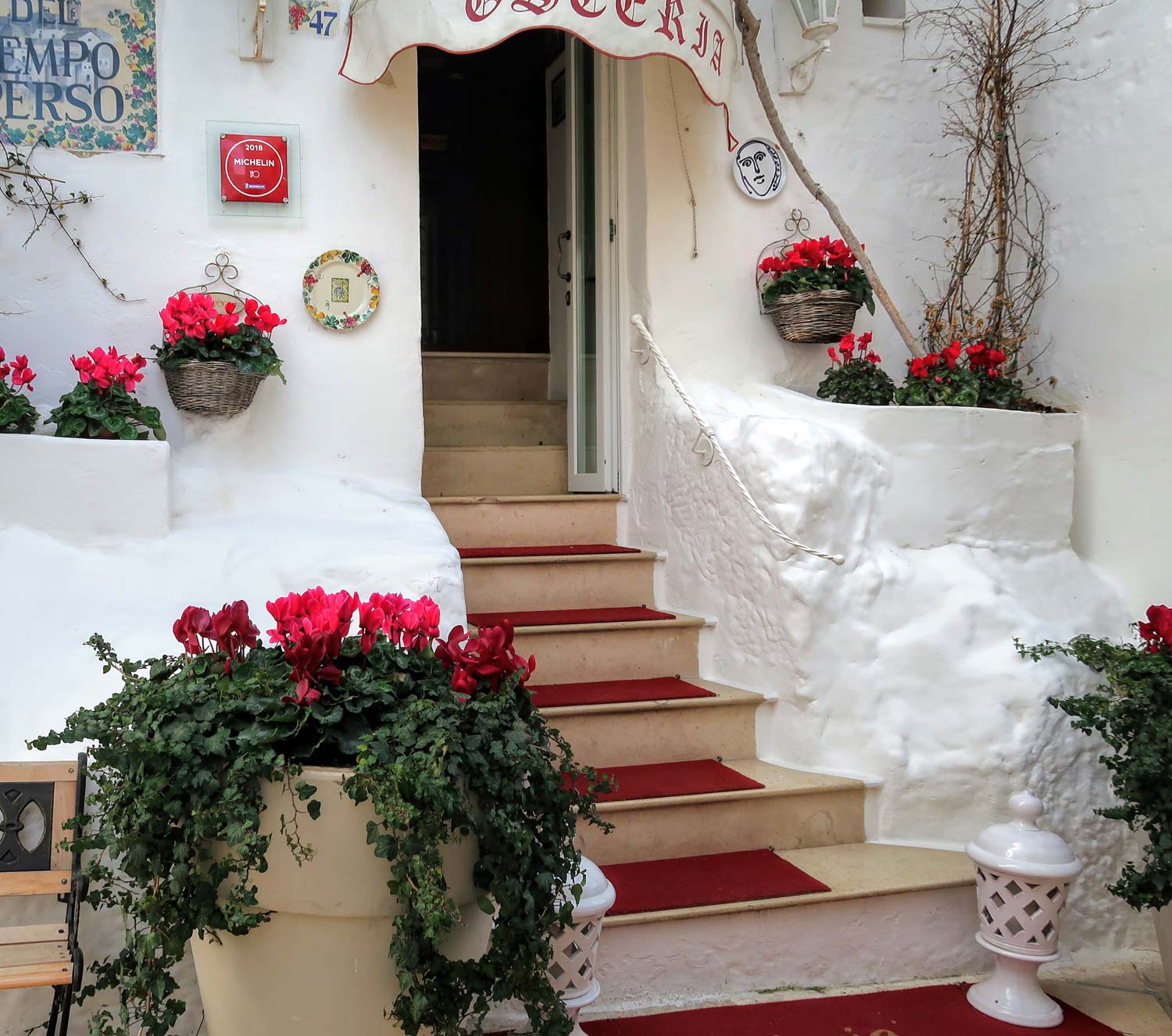 Accommodation and hotels in Ostuni
In common opinion, Ostuni functions as a place where prices are not low. While analyzing the accommodation offers, I came to the conclusion that this stereotype is not entirely true. Just a glance at the offers I have selected below. As a rule, I do not propose and do not look for accommodation in which there is no adequate comfort to rest. I am always looking for high-quality places at an attractive price. These are also the proposals below: large, comfortable and comfortable apartments and holiday homes with an area of ​​several dozen square meters, at a price not exceeding PLN 100 per person per day. You won't find accommodation at this price, even in a campsite by the Polish seaside.
Prices in the pictures below are for 2 people, although most can fit up to 4 people.
So, as I mentioned before, opinions about high prices in Ostuni are often exaggerated. You just have to search well.
Several ways to search for high-quality, cheap accommodation can be found in the post: Cheap hotels on Booking? Of course! Check how to look for comfortable and cheap accommodation!
WARNING!
If you are going to book a hotel then I have a request.
Do it from my link to booking.com - [click]
.
You will pay exactly the same
but by the way, I will get a commission. Of course, you can do it without clicking on my link and then you will pay the same price (not a penny cheaper) and the entire commission will go to one of these portals, but I believe that my work is worth one click, which costs you nothing. Many readers write to me that my texts were very useful.
Making such a reservation will be the best thank you.
So if this is not a problem for you, when booking a hotel, go to my website, click the link above, and then simply book any accommodation. Thanks in advance!
A very highly rated 60m2 apartment with access to a terrace overlooking the old town. The apartment consists of a living room, bedroom, bathroom, kitchen and balcony. Private parking is available and must be booked in advance (preferably when booking an apartment) at a cost of EUR 5 per night.

Beautiful, well-equipped holiday home with an area of ​​68m2 right next to the old town. Perfect location. The house consists of 2 bedrooms, a living room, a bathroom and a kitchen. There is free (!!!) parking at the house. I sincerely recommend clicking and seeing more photos from inside the house.

Another high-quality holiday home with an area of ​​55m2: bedroom, living room, bathroom. A terrace is available for guests. Located only 250 meters from the historic old town. The location is definitely worth considering.

The smallest of the recommended (30m2) but very climatically furnished apartment. If you like interiors decorated with a unique character, then you may like it. The stone fittings do a really great job.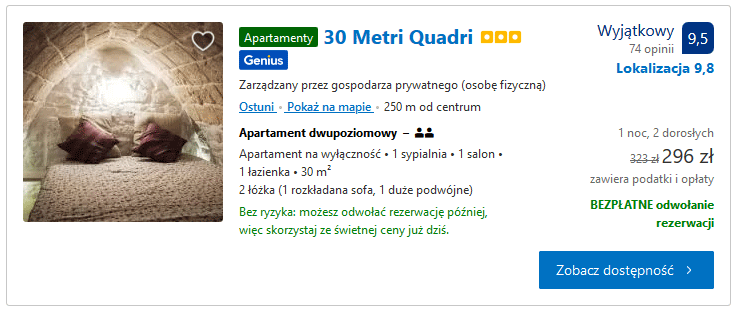 Important to me!
Give the article a good rating
(5 stars welcome 😀)!
It's free, a
for me it is very important!
The blog lives on visits and thus has a chance to develop.
Please do it
and ... thank you in advance!
I also post
link to Facebook profile - [click]
. Come in and press "
Follow
"then you will not miss new, inspiring posts.
Unless you prefer
Instagram
. I'm not a social media demon, but you can always count on something nice to look at on
my instagram profile - [click]
. The profile has just been created, so
for now he is starving
, due to the lack of followers. He is happy to receive any observer who feeds him with his love.
I make the content I create available free of charge with copyright, and the blog survives from advertising and affiliate cooperation. So, automatic ads will be displayed in the content of the articles, and some links are affiliate links. This has no effect on the final price of the service or product, but I may earn a commission for displaying ads or following certain links. I only recommend services and products that I find good and helpful. Since the beginning of the blog's existence, I have not published any sponsored article.
Some of the readers who found the information here very helpful, sometimes ask me how you can support the blog? I do not run fundraisers or support programs (type: patronite, zrzutka or "buy coffee"). The best way is to use links.
It costs you nothing, and support for the blog is self-generating.
Pozdrawiam