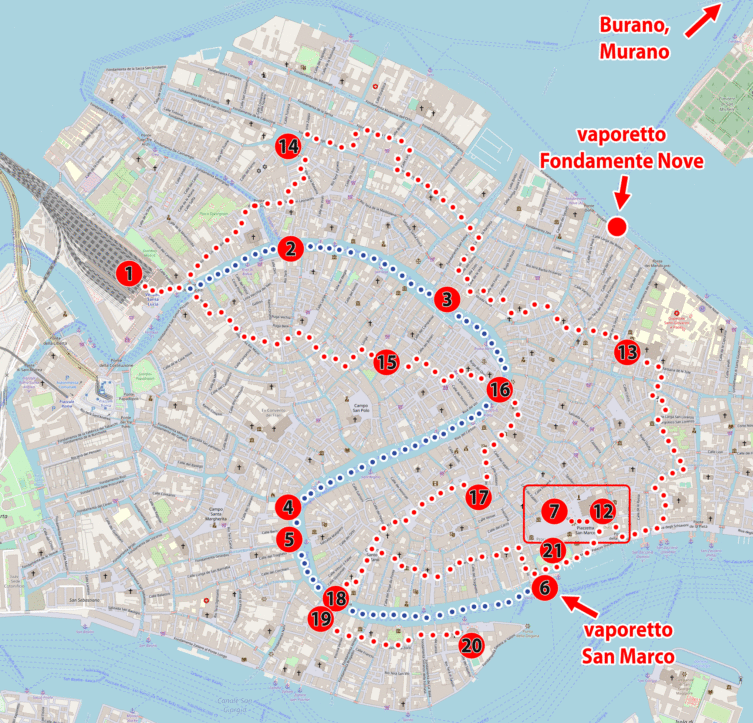 This entry is short and contains only the necessary data to be able to quickly download and use the map of attractions and sightseeing plan prepared by me.
The map I prepared is not only that clear and legible planbut also a complete guide, equipped with a set of necessary information and a huge amount of specific data that every tourist needs. At first glance, it looks a bit inconspicuous, but in a moment you will see how useful, versatile and useful it is!
Why a PDF map?
The map was prepared in PDF format for several reasons.
First because this type of file is read by practically all devices and regardless of where you want to use the map, your device will probably open it without any problems.
Secondly you do not need any additional applications or programs, you do not need to install anything and you do not need to register anywhere. You just download, open and use.
Thirdly this type of file allows you to include hotspots that you can click on to get additional information. Thanks to this, the map is clean and legible at first glance, but it has a huge amount of information available at the click of a button.
Fourthly and perhaps most importantly: everyone is looking for PDF maps on the internet for some reason. So it makes no sense to break open doors. Want a PDF map? Then you have a PDF map!
I'll just add that the map it is shaped to fit the phone screen. I assume that it will be used mainly on phones (no one goes sightseeing with a computer in front of their face).
Simple and effective
The idea is simple and damn effective. During the trip, there is no time to browse the Internet, search websites or remember: "where did I read about it?". Now you don't need to remember any website addresses. Simply download the finished PDF file, save it on your phone and open it when you need it. Everything else you have at your fingertip on the screen, without wasting time searching.
How it works?
How do I download and use my PDF map?
1. First download and save a PDF map on your device, the link to which can be found below.
There are two files to choose from:
download: Venice - tourist map and PDF guide in Polish - [click]
download: Venice – tourist map and guide PDF (ENG version) – [click]
2. search downloaded file on your device i open it.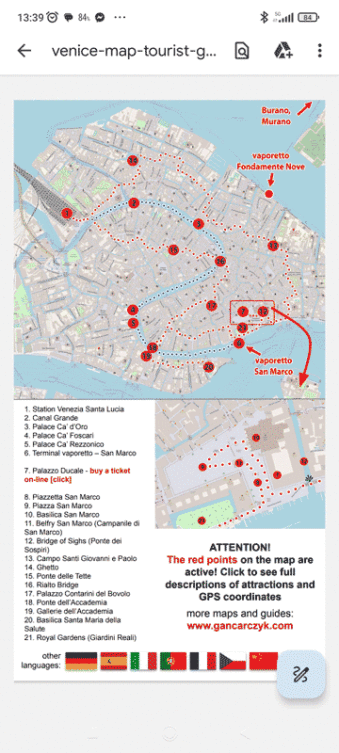 3. The file is prepared so that you can use it increase. The phone screen is small, so zooming in on the map using typical screen gestures is essential.
4. Tourist attractions are marked on the map red, numbered dots. Red points are active! Click to any red point will open the pagewhere you will find a description of the attraction and its GPS coordinates. Clicking on link at GPS coordinates will automatically open navigation i on your device will determine the route access to the selected attraction from the place where you are currently.
WARNING!
If you want to return to the PDF map after opening the description of the attraction, you do not need to open it again. Simply click on the "step back" symbol on your device's screen or perform the appropriate screen gesture specific to your phone.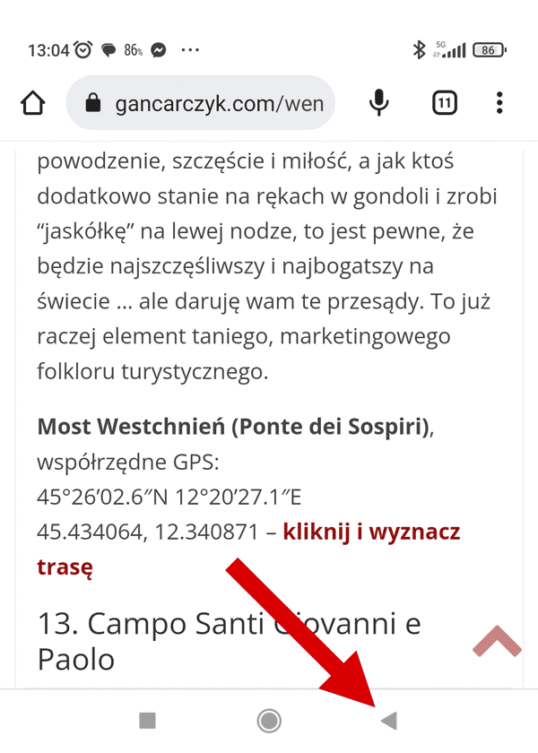 5. Under the map there is a list of all attractions visible on the map. At the attractions where it is possible to buy a skip-the-line ticket (via the Internet), there are links to online sales. You can buy a ticket in advance (I strongly recommend) or if there is a long queue at the place, it is worth checking if there is a way to skip the queue.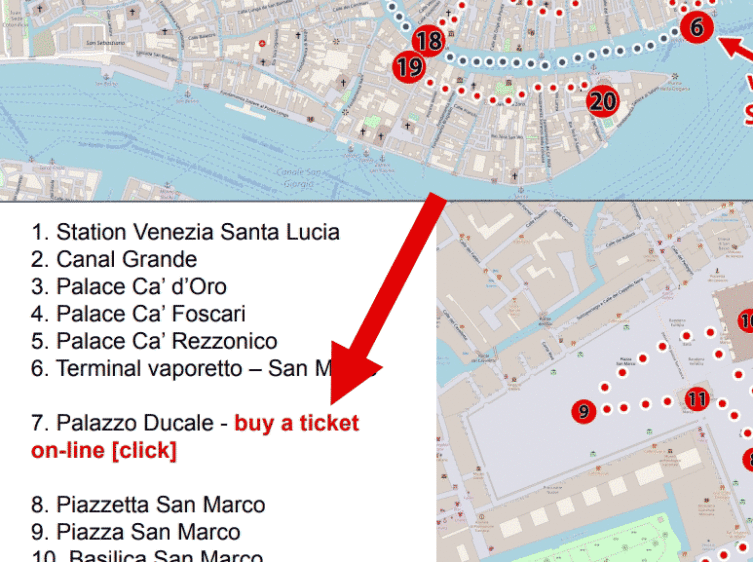 6. My proposed sightseeing route has also been marked on the map (in the form of small dots).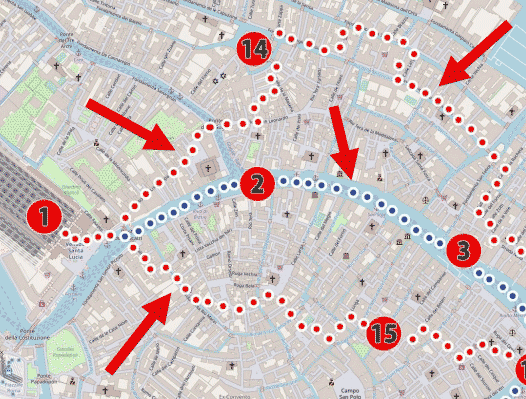 A detailed description of this route can be found by clicking on any of the points representing one of the numbered attractions. Once you've opened any of the attraction descriptions, simply scroll up or down to read the full content of my guide.
hint:
After opening the additional description, you will find a small arrow in the lower right corner of the screen. Clicking on it will immediately take you to the very beginning of the entry, without having to laboriously scroll through subsequent screens.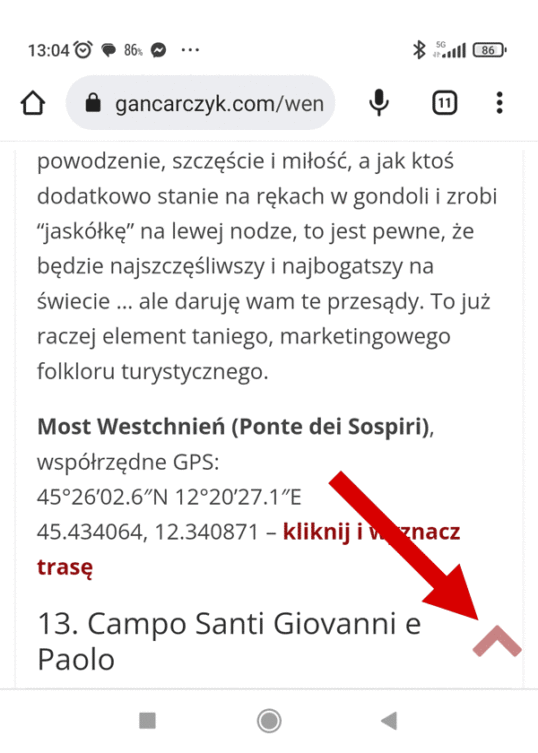 Important to me!
Give the article a good rating
(5 stars welcome 😀)!
It's free, a
for me it is very important!
The blog lives on visits and thus has a chance to develop.
Please do it
and ... thank you in advance!
I also post
link to Facebook profile - [click]
. Come in and press "
Follow
"then you will not miss new, inspiring posts.
Unless you prefer
Instagram
. I'm not a social media demon, but you can always count on something nice to look at on
my instagram profile - [click]
. The profile has just been created, so
for now he is starving
, due to the lack of followers. He is happy to receive any observer who feeds him with his love.
I make the content I create available free of charge with copyright, and the blog survives from advertising and affiliate cooperation. So, automatic ads will be displayed in the content of the articles, and some links are affiliate links. This has no effect on the final price of the service or product, but I may earn a commission for displaying ads or following certain links. I only recommend services and products that I find good and helpful. Since the beginning of the blog's existence, I have not published any sponsored article.
Some of the readers who found the information here very helpful, sometimes ask me how you can support the blog? I do not run fundraisers or support programs (type: patronite, zrzutka or "buy coffee"). The best way is to use links.
It costs you nothing, and support for the blog is self-generating.
Pozdrawiam