Gozo - attractions, map, sightseeing plan, trips, the most beautiful places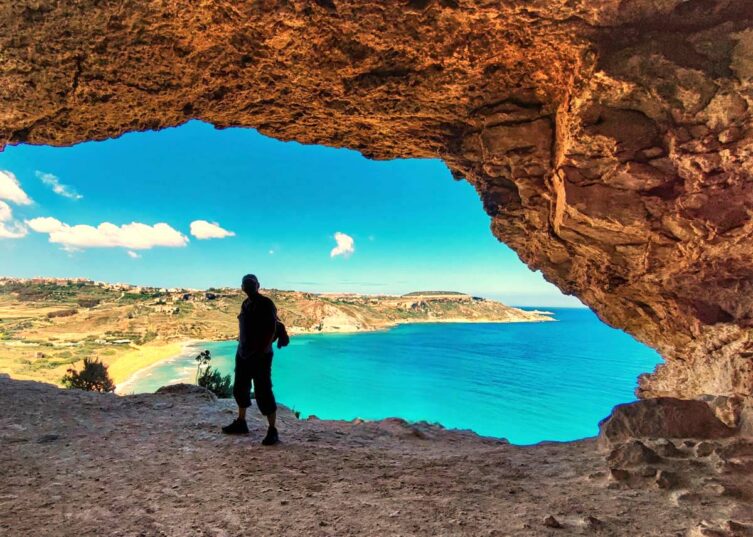 A small island full of attractions
If someone wanted to invent an island ideal for tourists, where everyone will find something for themselves, and at the same time sightseeing will not involve constantly covering hundreds of kilometers, they would most likely come up with Gozo. This little island is truly amazing. The very fact that it is small makes it very pleasant to visit. When you add to this the number and variety of attractions it offers, it turns out that you will stumble across unique things almost at every step, and instinctively saying "WOW!" practically won't come out of your mouth. It's hard not to like Gozo and it's hard not to be amazed by this island. It's really worth going there with the assumption to see as much as possible. It will be a great adventure!
Some essential information about Gozo
Gozo is the second largest of the entire archipelago of islands that make up Malta. You can see its dimensions and size comparison with Malta and the third largest Comino in the picture below.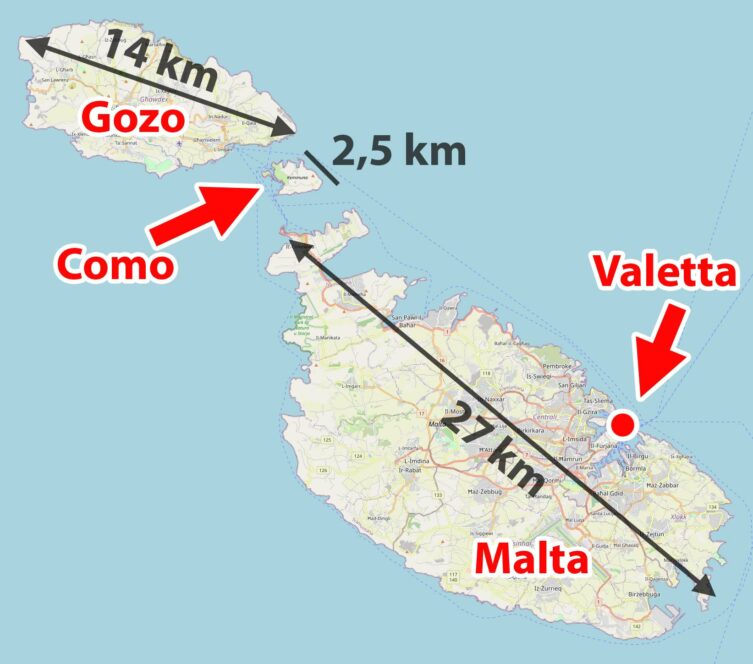 Gozo is 14 km long and 7 km wide. The length of the route connecting the two most distant points on the island is 15 km, and its journey by car will take about 30 minutes.
The capital of Gozo is the city located practically in the middle of the island Rabat.
How to visit Gozo?
There is a bus service on Gozo, which ensures good communication between the towns scattered around the island. It's worse with commuting to attractions. Some attractions are about 1,5 to 3 km one way from the nearest stop (eg 3, 5, 6, 7), so sightseeing by bus and then walks of several kilometers in the open terrace and in full sun are pointless. I do not recommend this form of visiting Gozo. You can get really tired and there is no chance to see everything in one day.
The implementation of my plan is possible only if you have a car. I guess. that you decide to give up some of the attractions. Then take into account mainly what is within the reach of the bus and has stops nearby. These are the numbers: 4, 8, 9, 10 and 12.
However, I strongly recommend that you plan your sightseeing by car. It is much more enjoyable and much more satisfying.
If renting a car is something new for you and you are afraid of it, read the guide written from scratch, in which you will learn step by step the rules of renting and how to search for cheap and safe offers: Malta and Gozo - car rental without credit cards and deposit - [click]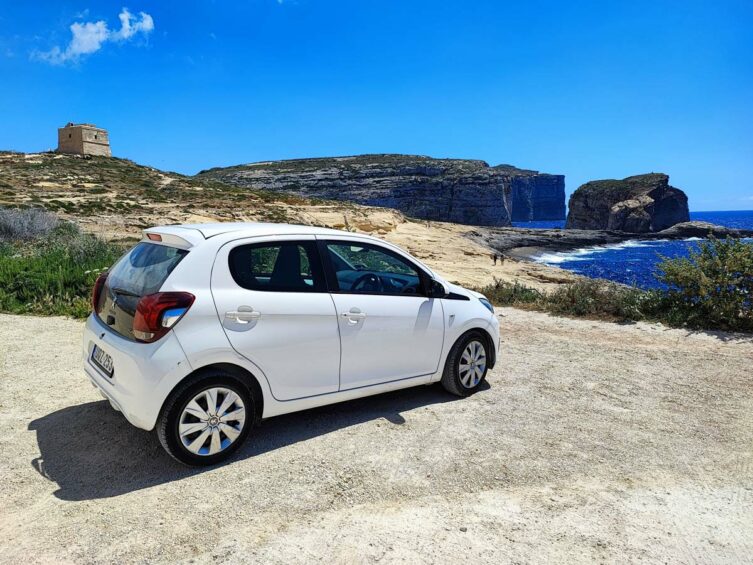 How to get from Malta to Gozo by car?
If you have a rental car in Malta, you can easily get to Gozo with the car. It runs between the islands permanent ferry connection called enjoyment channel, which is designed to transport a large number of cars and people.
Ferry hours
From the terminal in Cirkewwa in Malta in the direction of Gozo in the summer season ferries depart at the following times:
00:00; 01:30; 02:15; 02:45; 03:45; 04:00; 04:45; 05:30; 06:15; 06:45; 07:15; 07:30; 07:45; 08:15; 09:00; 09:15; 09:45; 10:30; 10:45; 11:15; 12:00; 12:45; 13:30; 13:45; 14:15; 15:00; 15:15; 15:45; 16:15; 16:30; 16:45; 17:15; 17:45; 18:00; 18:15; 18:45; 19:15; 19:45; 20:15; 21:00; 21:45; 22:30; 23:15
Cruise between Malta and Gozo takes about 25 minutes.
We are most interested in cruises between 07:15 and 10:45. Before that, there is no point in sailing (I realize that 7:15 is an impossible task for most during the holidays). In turn, a cruise later than 10:45 also makes no sense, because then there will be too little time for leisurely sightseeing in Gozo (most ticketed attractions close at 18:00 pm).
Note that there are times during the day when two ferries leave the terminal within 15 minutes. They are: 07:15; 07:30; 07:45 then 09:00; 09:15 and 10:30; 10:45. It's worth planning a cruise just then, assuming you want to sail on the first of these ferries. If on the spot it turns out that not everyone will fit on the first ferry, then in 15 minutes you have the next one. If you plan a ferry trip for example at 8:15 and you can't fit on it, then you will have to wait 45 minutes for the next one.
Please arrive at the ferry parking lot approximately 30 minutes prior to the scheduled departure time.
The day before departure, check the link provided here to make sure that the ferry times have not changed since I wrote this text: Gozo Channel timetable – [click]
Where to wait to board the ferry and how to behave?
Before boarding the ferry, you must park in the parking lot for cars waiting to board the ferry. Below is an aerial photo of the car park taken from Google Maps, which perfectly presents its location and the organization of the parking lot.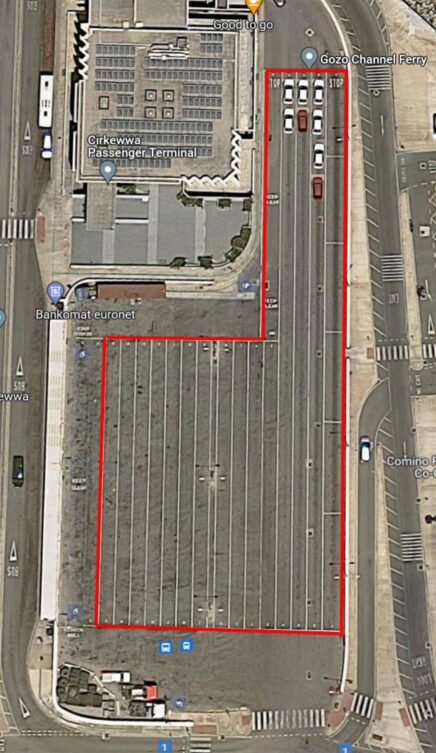 The area marked with a red frame is the place where you should stand and wait for your turn to enter. As you can see, the entire car park is divided by white lines into long parallel lanes. You just need to drive in here and stand in one of the lanes, standing close behind the back of the car in front, so as not to protrude beyond the white lines. Don't worry, the straps are wide enough to stand comfortably. The same layout of the belts is on the ferry. Parking in front of the ferry simply reflects the amount of space that is available on the ferry itself. If your car does not fit in the lane (e.g. you are standing last and the rear of your car protrudes beyond the white boundary line), the parking staff will ask you to move to the next lane.
The road to the car park and further to the ferry is shown in the picture below.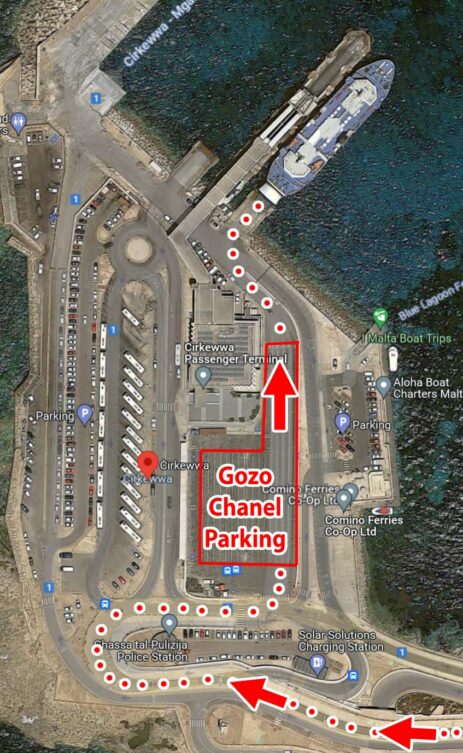 Cars are allowed on the ferry starting from the extreme right lane. Entry is regulated by the car park service both on land and on the ferry. Gozo Channel ferries have a good handle on everything, so the parking operation itself in the ferry's hold is also smooth and efficient.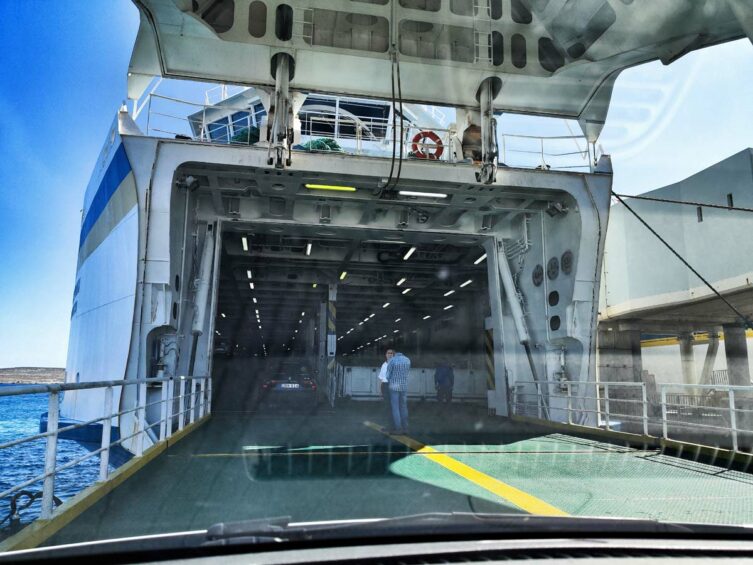 During the cruise, you can leave the car and go to the upper deck to enjoy the views. On the way, you will pass very close to the island of Como. Just don't forget to get down to your car a little early when the ferry starts docking in Gozo.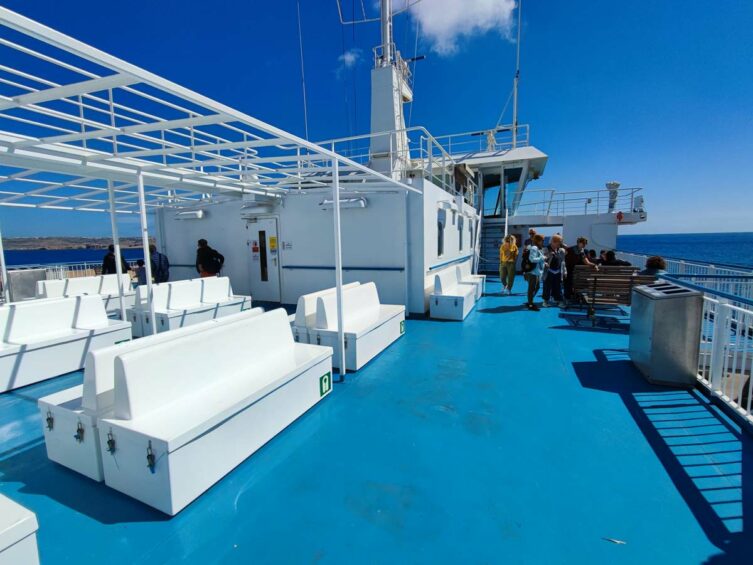 Ferry tickets and prices to Gozo
First, the most important information: you don't need to buy any tickets in advance to the ferry. When sailing from Malta to Gozo, you just board and that's it. You don't need anything. You only pay for the ferry on your way back from Gozo to Malta, but you don't have to do anything beforehand either. You simply head to the entrance to the parking lot for waiting for the ferry and here at the entry gate a ferry crossing employee will approach you and charge the appropriate fee. You can pay by card or cash.
Gozo Channel ferry prices for tourists are as follows (year 2023):
– a small passenger car: 15,70 EUR
– the driver and each adult passenger: 4,65 EUR
- kids: 1,15 EUR
current price list: Gozo Channel ferry fees between Malta and Gozo – [click]
Return from Gozo to Malta
The organization of the crossing when returning from Gozo to Malta looks the same as from Malta to Gozo, so there is no point in describing it again.
I will only list the times at which the ferries depart from the terminal in Mgarr (Gozo):
00:00; 00:45; 01:30; 02:15; 03:00; 03:30; 04:15; 04:45; 05:30; 06:00; 06:30; 06:45; 07:00; 07:30; 08:15; 08:30; 09:00; 09:45; 10:00; 10:30; 11:15; 11:30; 12:00; 12:45; 13:30; 14:15; 14:30; 15:00; 15:30; 15:45; 16:00; 16:30; 17:00; 17:15; 17:30; 18:00; 18:30; 18:45; 19:00; 19:30; 20:15; 21:00; 21:45; 22:30; 23:15
Malta map of tourist attractions and sightseeing plan
Once we managed to get to Gozo, it's high time to start exploring. From the beginning, it is worth adopting one general rule: do not rush anywhere! Gozo is relatively small, the journeys will be short, but at times requiring attention and caution. The roads on the island are generally not congested (stoppages occur mainly in Rabat and the surrounding towns), but they are often very narrow. Several times you will have to face a very uneven ground surface. The best way is to be calm and not rushed. You will be able to get anywhere as long as you do it calmly and without haste.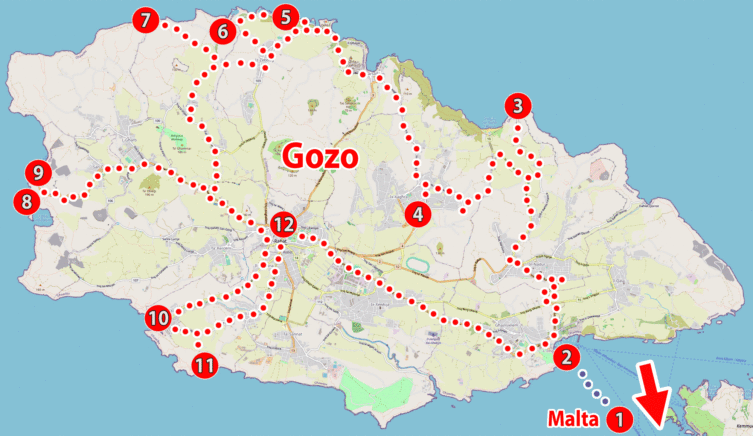 Above, I have included a map of all the attractions on the island described by me and an approximate route. The length of the entire loop visible on the map is about 46 km, which is really not much. In practice, however, the entire route is covered very slowly. Google maps calculates the time as 1 hour 45 minutes, but in reality the journeys will take you about 2,5 hours (in my case it came to that, maybe because I was really in no hurry). To this time, you must add the time of sightseeing and using attractions (such as the beach, walking along trails and walking paths, etc.).
1. Malta Ferry Terminal
We start the trip to Gozo from the terminal in Malta. Below you will find useful GPS coordinates. After clicking on it, navigation will automatically open on your phone and it will immediately calculate the route from where you are currently. Use the GPS coordinates I provided, it's very convenient!
Parking in Cirkewwa for those waiting for the ferry from Malta to Gozo, GPS coordinates:
35°59'16.3″N 14°19'45.4″E
35.987851, 14.329285 - click and route
2. Gozo Ferry Terminal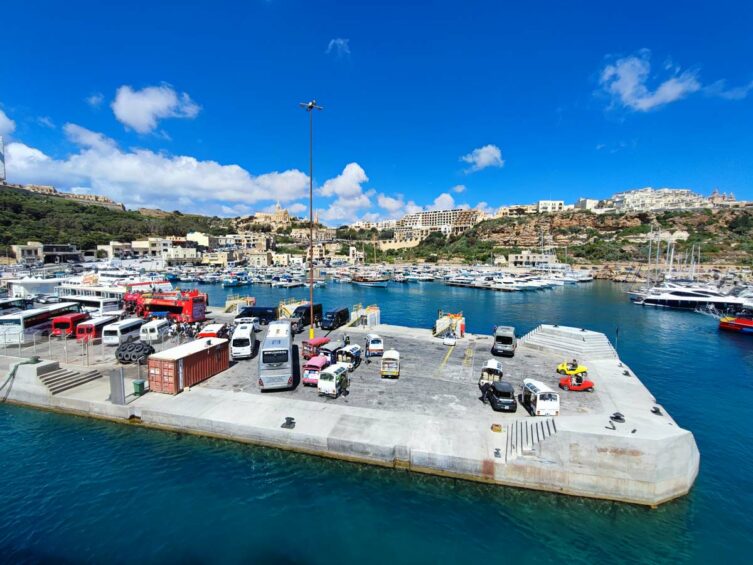 This is the place you need to come back to when you're done exploring Gozo. Just click on the link next to the coordinates and the navigation will take you to the toll gates and to the ferry waiting area.
Parking with Mgarr toll booths for those waiting for the ferry from Gozo to Malta, GPS coordinates:
36°01'22.7″N 14°17'52.3″E
36.022969, 14.297851 - click and route
3. Tal-Mixta Cave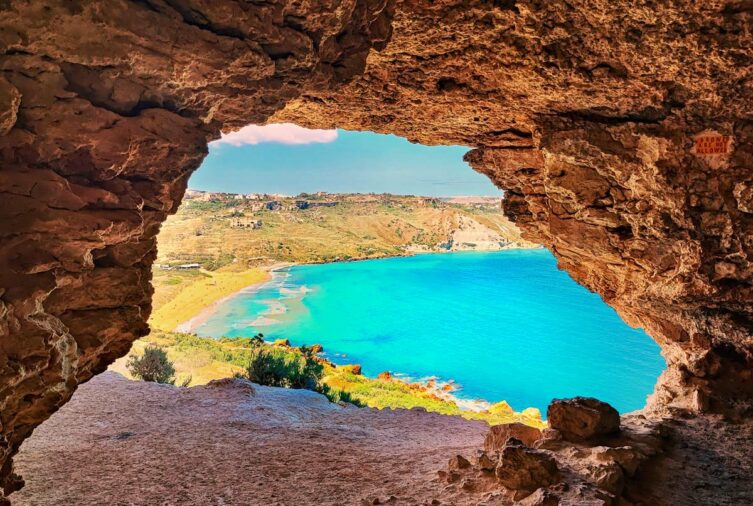 A cave with an amazing view of the beach Mr. Ramla, surrounding hills and sea. The photo of this view speaks for itself.
A dirt road leads to the parking lot located near the cave, with bits of asphalt in some places. After leaving the asphalt road, especially on a short fragment where there are still fragments of asphalt, it is very uneven and you have to drive very slowly.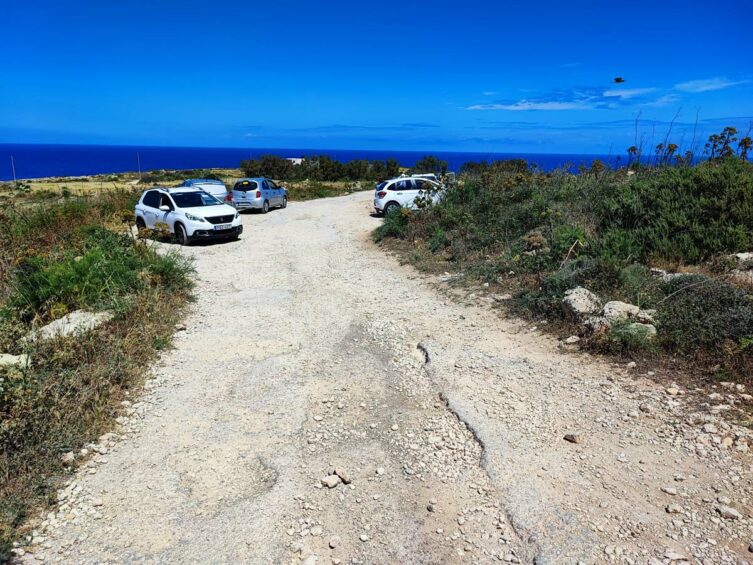 After parking your car, continue walking along the road. You will come to a private property. The entrance to the cave is a bit further, to the left of the buildings.
Entrance to Tal-Mixta Cave, GPS coordinates:
36°03'48.0″N 14°17'22.5″E
36.063324, 14.289589 - click and route
Parking near the Tal-Mixta Cave, GPS coordinates:
36°03'39.9″N 14°17'25.7″E
36.061071, 14.290469 - click and route
4. Ggantija megalithic temple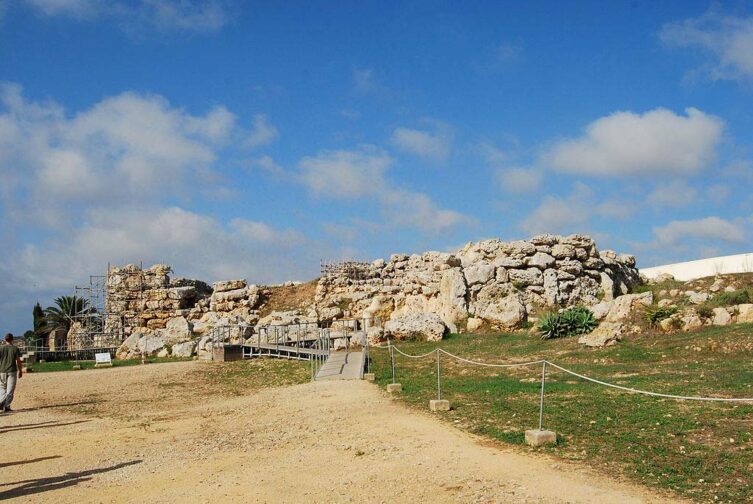 The Ggantija temple until the discovery of the Göbekli Tepe sanctuary in present-day Turkey, i.e. until 1994, was considered the oldest in the world, made of worked stones. The beginning of its construction dates back to 5000 - 4300 BC. This means that the temple is now over 6000 years old and is about 2000 years older than the pyramids in Egypt. The largest rock blocks used in its construction weigh over 50 tons.
Curiosity:
The oldest temple in the world known to us today, built of worked stones, is located in Turkey. It is called Gobekli Tepe and is about 10 years old.
Entrance to Ggantija temple, GPS coordinates:
36°02'56.5″N 14°16'04.0″E
36.049015, 14.267764 - click and route
A small car park at the exit of the temple, GPS coordinates:
36°02'51.3″N 14°16'00.8″E
36.047587, 14.266874 - click and route
5. Gozo salt pans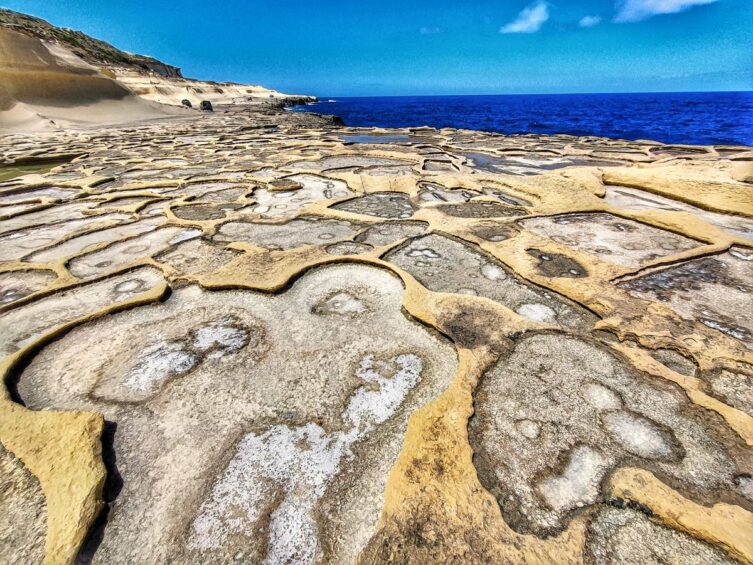 Beautiful, picturesquely located salt pans on Gozo are one of the must-see points for all trips around the island. They almost stretch for several hundred meters along the coast. The fragment closest to the nearby town is protected and cannot be entered. A few hundred meters further on, the situation changes radically. The beautifully sculpted coast hides more pans and (for now) you can enter and walk there without restrictions, of course with common sense and without destroying anything.
Remember! Destroying the pans is not justified even by the most beautiful photo on Facebook and Instagram.
A small cove on the roadside by the most interesting part of the salt pans in Gozo (here you can go down and walk among the bushes), GPS coordinates:
36°04'48.7″N 14°14'30.8″E
36.080198, 14.241887 - click and route
Ground bay for short-term parking by the salt pans, GPS coordinates:
36°04'46.2″N 14°14'44.9″E
36.079498, 14.245797 - click and route
You will also find beautiful salt pans in Malta. I have included all the details about this in a separate entry: Malta - salt pans
6. Wied Il-Ghasri Fjord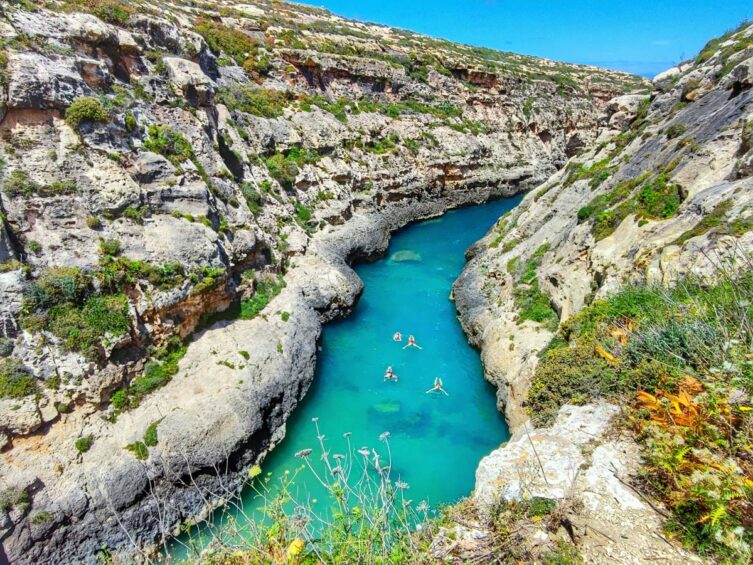 A narrow, deep strip of water surrounded by steep rocks is the Wied Il-Ghasri fjord. The captivating scenery that opens before us suddenly, only when we reach the place itself, is completely invisible from a distance. A narrow but safe path leads to the bottom of the fjord (it has been specially prepared). At the very bottom there is a tiny beach, and there is no shortage of people willing to swim in the turquoise water along the fjord.
Access to the car park by the fjord is very uneven at first, but then the quality of the dirt road improves significantly.
If you decide that you do not want to fight the unevenness of the road, you can leave the car near the fork (GPS coordinates below) and walk about 300 m.
Ground parking by the fjord, GPS coordinates:
36°04'43.4″N 14°13'45.0″E
36.078710, 14.229178 - click and route
A place to stop for less brave drivers, GPS coordinates:
36°04'44.2″N 14°13'53.0″E
36.078951, 14.231394 - click and route
7. Wied Il-Mielah rock window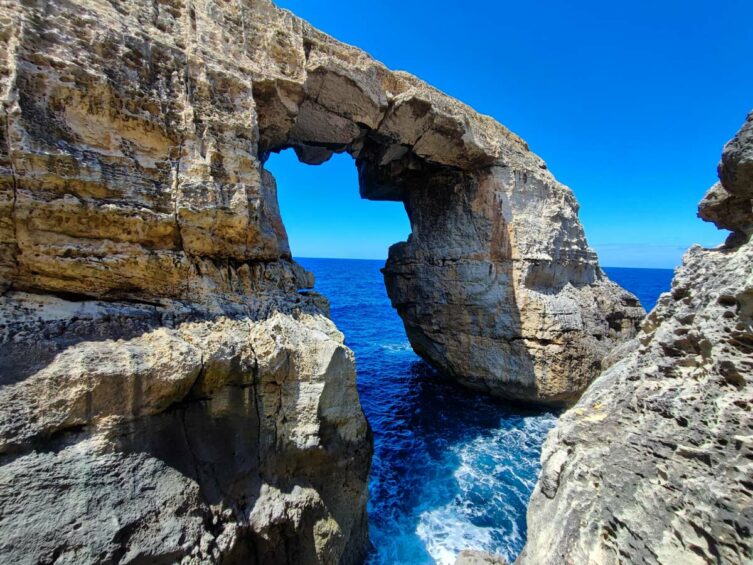 You can look at the Wied Il-Mielah rock window from above or walk a short distance along a special path leading along the rock ledge (it's safe and has railings, so don't be afraid) to the viewpoint. Really worth. The place is beautiful!
Currently, Wied Il-Mielah replaces Malta's most famous Azure Window rock bridge, which collapsed in 2017.
The Wied Il-Mielah water bridge is still quite massive and is considered safe for now, so access is allowed.
Viewpoint on a rock ledge, GPS coordinates:
36°04'45.2″N 14°12'46.8″E
36.079230, 14.212991 - click and route
A small parking bay at Wied Il-Mielah, GPS coordinates:
36°04'40.6″N 14°12'45.9″E
36.077937, 14.212759 - click and route
8. Dwejra Bay and Fungus Rock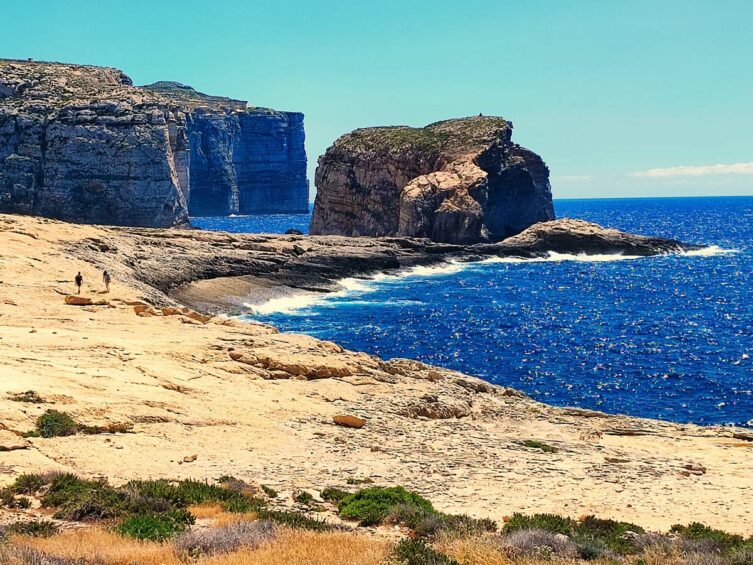 In this place, there is a chance to take a short (1,5 km in total both ways) hiking trip and stretch your legs. From the car park overlooking Fungus Rock, there is a walking path leading to Dwejra Bay. From the path there are beautiful views, both of the bay and the surrounding area near Fungus Rock.
Dwejra Bay viewpoint, GPS coordinates:
36°02'54.4″N 14°11'29.2″E
36.048441, 14.191456 - click and route
Parking near Dwejra Bay overlooking Fungus Rock, GPS coordinates:
36°03'04.8″N 14°11'25.7″E
36.051334, 14.190485 - click and route
9. The Blue Hole and the Inland Sea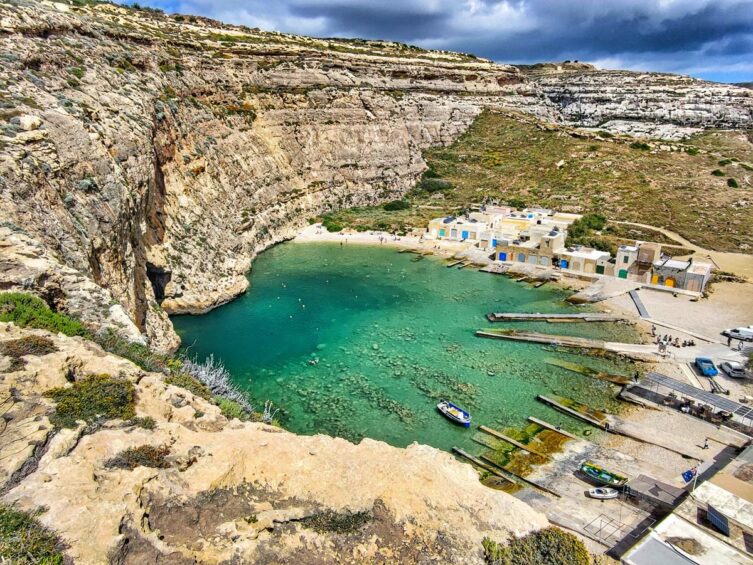 Both attractions described in this point belong to the category of those that look better in pictures than in real life. However, they are just a few steps (maybe 300m) from the car park at Dwejra Bay (8), so you can see them by the way.
Inland Sea, which literally means the Inland Sea, although it is not very delightful in real life, it hides one interesting secret. It was created in a very unusual way. Separating it from the open sea, a high, steep, rocky mountain has a large, natural hole in its interior that goes right through it. Sea water flows through this hole and appears on the other side of the mountain, spilling out in the form of a small lake called the Inland Sea.
The hole in the mountain is large enough and located in such a way that you can swim through it from the lake straight to the open sea. However, this can only be done with a calm sea. Even small waves will cause the sea at the exit of the cave to push you down and crash against the rocks.
The second attraction in this place, i.e. the Blue Hole, is exactly what the name suggests. It is a deep hole in the seabed, filled with water. The depth of the water makes it a dark blue color here. The hole is located at the very shore, where the undulating sea breaks against the rocks, and white foam forms on the surface of the water. So if there are waves, there's no way you can see the hole... and I didn't see it. Most of you will not see it either, because the sea without waves is rather rare here.
Inland Sea, GPS coordinates:
36°03'12.1″N 14°11'28.2″E
36.053372, 14.191160 - click and route
Blue Hole, GPS coordinates:
36°03'10.8″N 14°11'19.2″E
36.053009, 14.188660 - click and route
Parking at Blue Hole and Inland Sea, GPS coordinates:
36°03'07.4″N 14°11'25.9″E
36.052047, 14.190522 - click and route
10. Xlendi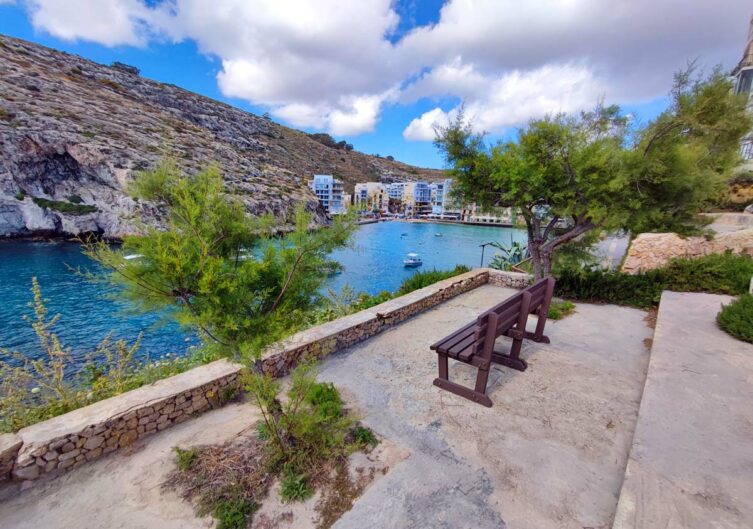 The town of Xlendi, picturesquely situated on a bay that cuts deep into the inland, is a very pleasant vantage point and a nice place for a short rest, and maybe even a meal.
The entrance to the bay at Xlendi is guarded by one of the observation towers, located on a hill, visible from time to time on the island. You will learn more about the towers, their purpose and functioning from my Malta guide.
In the upper part of Triq San Xmun in Xlendi, a rock-cut tomb (probably Punic) with several burials was discovered during construction work.
Xlendi viewpoint by the road (it's best to go downstairs), GPS coordinates:
36°01'43.7″N 14°12'55.9″E
36.028811, 14.215519 - click and route
11. Sanap Cliffs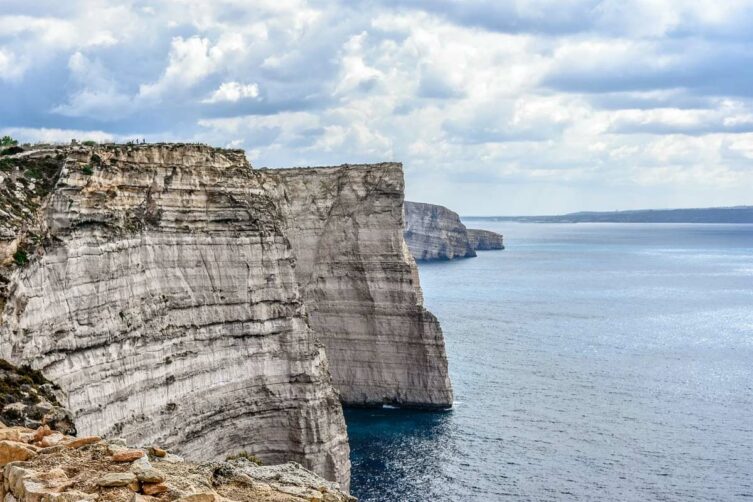 Getting to the most spectacular viewpoint of the Sanap Cliffs is quite difficult. So difficult that it is the only place on the island where I decided not to go any further. Very narrow, steep, uneven, and by the way, the surface is not very cohesive and densely covered with gravel. On the steep sections, the grip started to be a problem, so I decided to retire.
However, the viewpoint can be reached on foot, leaving the car on the side of the main road. It is then about 300 m to walk.
Beautiful cliffs near Xlendi, GPS coordinates:
36°01'18.7″N 14°13'37.8″E
36.021863, 14.227161 - click and route
The side of the main road (leave your car here if you don't want to continue), GPS coordinates:
36°01'26.3″N 14°13'36.1″E
36.023972, 14.226707 - click and route
12. Discount (Victoria)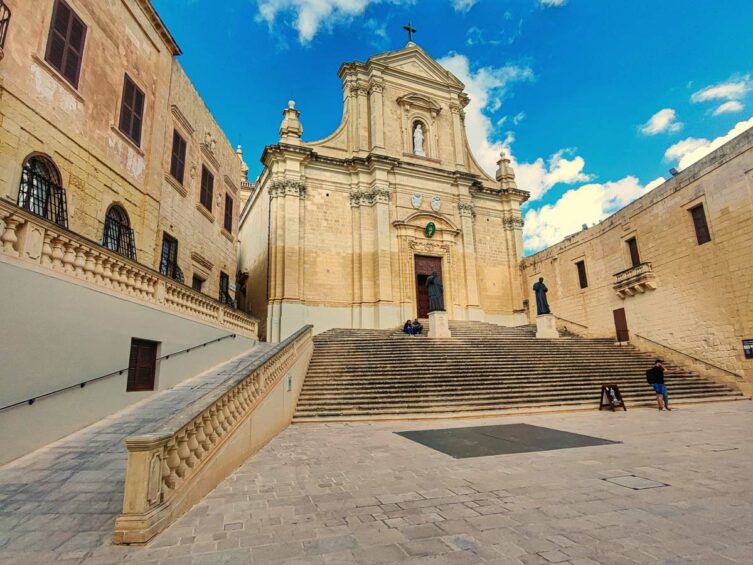 Discount in Maltese is as we already know from Malta guide means suburbs. The capital of Gozo, i.e. Rabat, is nothing more than a suburb of the heart of the city, i.e. the Citadel. And it is the Citadel that mainly attracts tourists to Rabat. Impressive, solid urban buildings were built on a hill and tower over the entire capital. They are visible from a distance and immediately make a huge impression.
If you decide to visit them at the end of your tour and you find that you will arrive after 18:00 PM (the Citadel is open until 18:00 PM), don't give up on visiting the eggs. Until 18:00, only the museum facilities are open, while a large part of the Citadel, its inner streets, the cathedral square and viewpoints remain open.
The main entrance to the Citadel, GPS coordinates:
36°02'45.6″N 14°14'20.9″E
36.046001, 14.239131 - click and route
Ample public parking in the center of Rabat, GPS coordinates:
36°02'34.3″N 14°14'31.9″E
36.042861, 14.242194 - click and route
Parking at the Citadel, GPS coordinates:
36°02'47.0″N 14°14'18.8″E
36.046401, 14.238541 - click and route
Gozo – hotels and accommodation
If you come up with a very good, in my opinion, idea to spend more than one day in Gozo, I am posting some interesting hotel suggestions below. I recommend treating them as preliminary suggestions, because the links have been prepared so that in addition to the selected hotel, the search engine will offer you several other similar places. It is possible that they will be cheaper, or you will like them more, so My suggestions are a good starting point and a great filter that can facilitate and speed up your own search.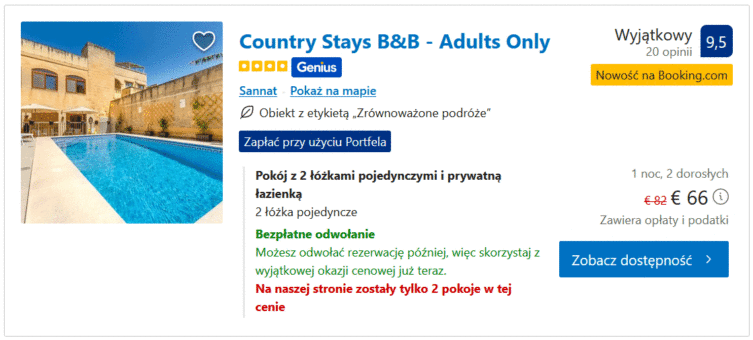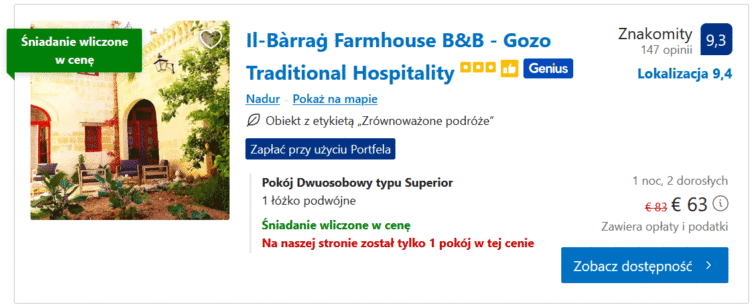 Important to me!
Give the article a good rating
(5 stars welcome 😀)!
It's free, a
for me it is very important!
The blog lives on visits and thus has a chance to develop.
Please do it
and ... thank you in advance!
I also post
link to Facebook profile - [click]
. Come in and press "
Follow
"then you will not miss new, inspiring posts.
Unless you prefer
Instagram
. I'm not a social media demon, but you can always count on something nice to look at on
my instagram profile - [click]
. The profile has just been created, so
for now he is starving
, due to the lack of followers. He is happy to receive any observer who feeds him with his love.
I make the content I create available free of charge with copyright, and the blog survives from advertising and affiliate cooperation. So, automatic ads will be displayed in the content of the articles, and some links are affiliate links. This has no effect on the final price of the service or product, but I may earn a commission for displaying ads or following certain links. I only recommend services and products that I find good and helpful. Since the beginning of the blog's existence, I have not published any sponsored article.
Some of the readers who found the information here very helpful, sometimes ask me how you can support the blog? I do not run fundraisers or support programs (type: patronite, zrzutka or "buy coffee"). The best way is to use links.
It costs you nothing, and support for the blog is self-generating.
Pozdrawiam