Holidays in Italy for free - San Giovanni in Galdo offers 40 weeks for free!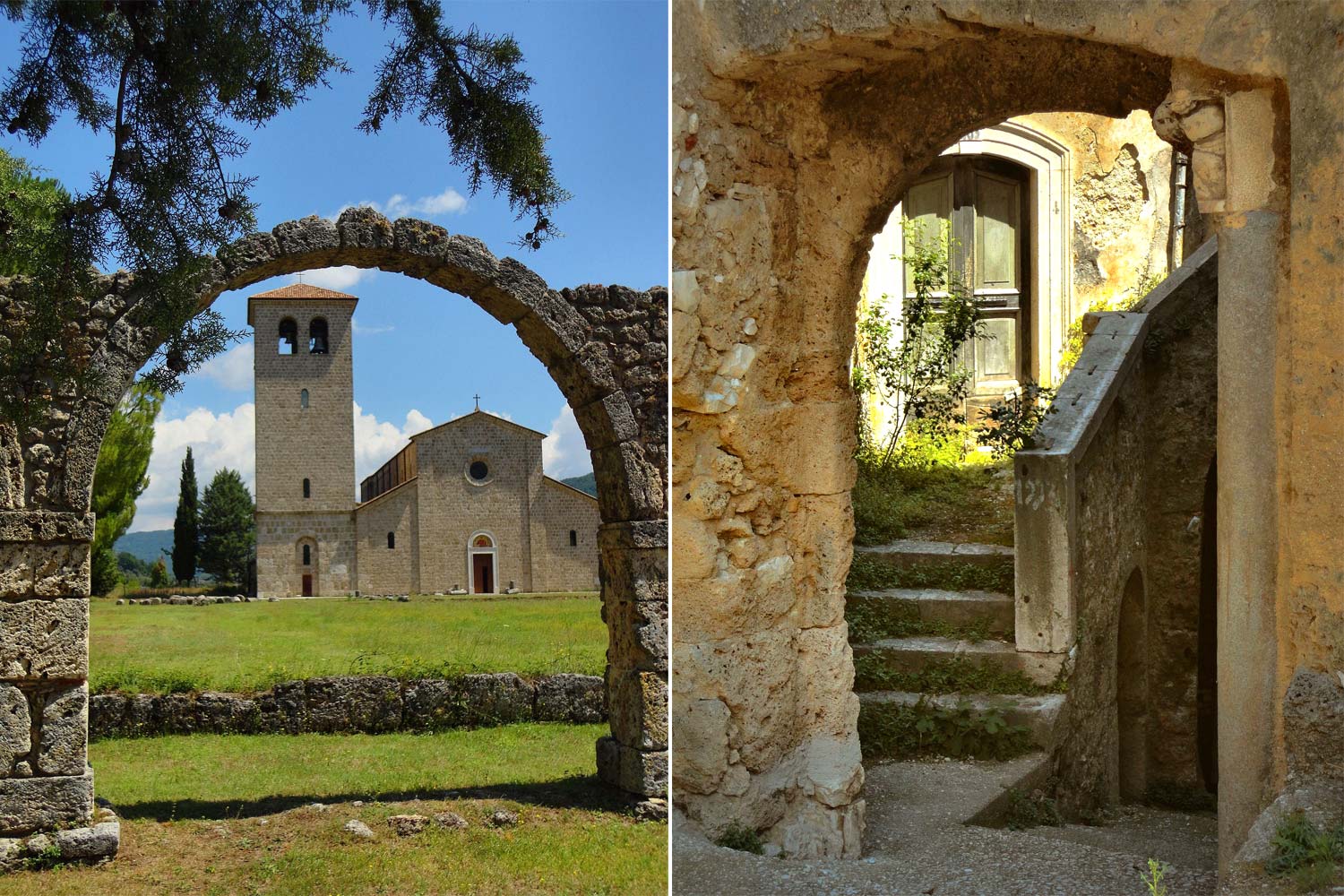 Molise does not exist ...
They make so much fun of Molise because the region is so small that… according to many, it basically doesn't exist. But nothing could be more wrong! Molise is spoken all over the world !!! And this is due to the initiative of the town San Giovanni in Galdowhich was named "Give Yourself Molise".
"Give Yourself Molise" in short, it is a reaction to the current situation that is changing the picture of tourism around the world. The authorities of Molise decided that the year when everything changes due to the pandemic may be the year when they got a chance to promote a region that is almost forgotten by tourists. So they decided to launch a unique initiative. As part of it, 40 week-long stays will be made available for free, in houses specially prepared for tourists, in the period from July to September 2020. The organizers assume that those who want to come and get to know the region will later - thanks to an unusual vacation - promote Molise .
By the way, the creators of the initiative pay attention to the attractiveness of their areas and their proximity to Rome and Naples (about 2 hours by car).
Organizers do not provide for any own financial contribution from those willing to take advantage of the offer. Visitors are to deal with poultry learning about the beauty and history of Molise, and tasting local food and wine
To participate in the initiative you must not be a resident of Molise and you must not have real estate or relatives in the region. It is also necessary to include the reason why you want to discover Molise.
The application requires the completion and sending of the appropriate form to the e-mail address provided.
The application form is available for download here - [click], and the e-mail address to which you have to send it after filling in is: amicidelmorrutto@gmail.com
More information (in Italian) can be found on the special website devoted to the project - [click].
You can use the version automatically translated into Polish by a Google translator - [click]
You will find the "Give Yourself Molise" policy here - [click], and its automatic translation into Polish: here - [click]
Note:
There is one more good news: the project is to be extended to other towns in the coming years !!!
Is San Giovanni in Galdo a really good location?
First, let's take a look at the town's location on the map of Italy.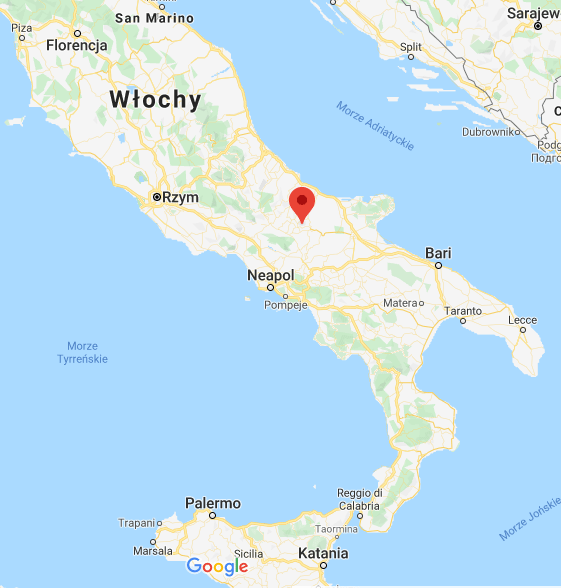 The map shows that San Giovanni in Galdo has something interesting in every direction and everything is at a similar distance: Rome, Naples, Bari - [click], Gargano peninsula - [click], Amalfi Coast.
Well, let's see exactly what these distances are and what time it entails.
This will be best seen on the next map: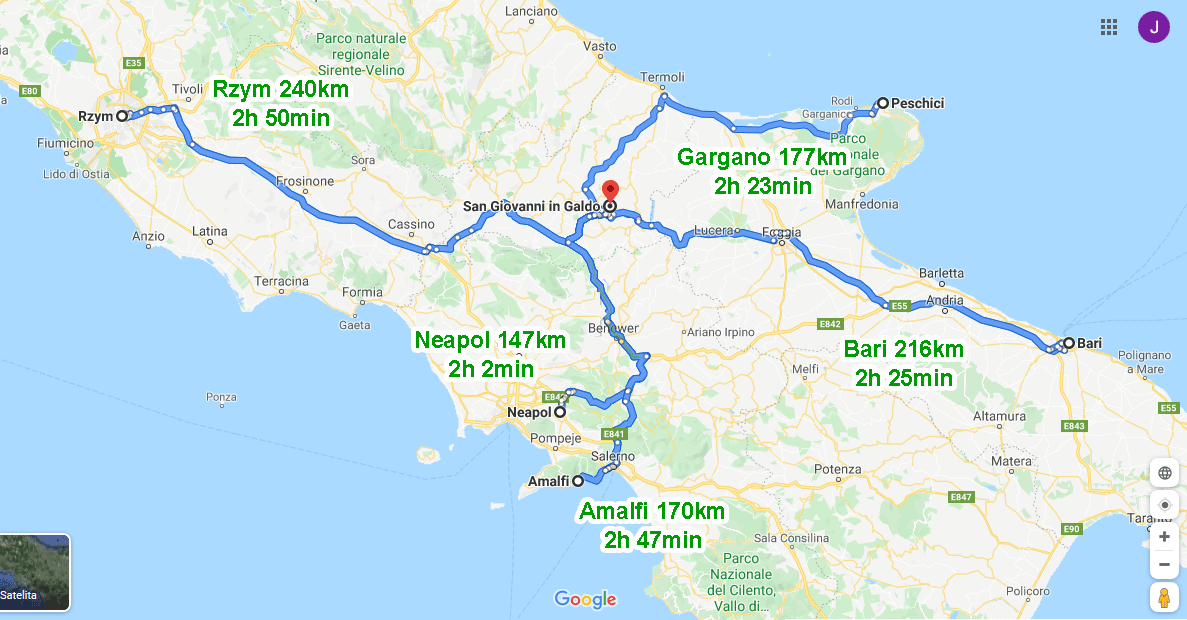 Rome
distance: 240km
travel time: 2h 50 minutes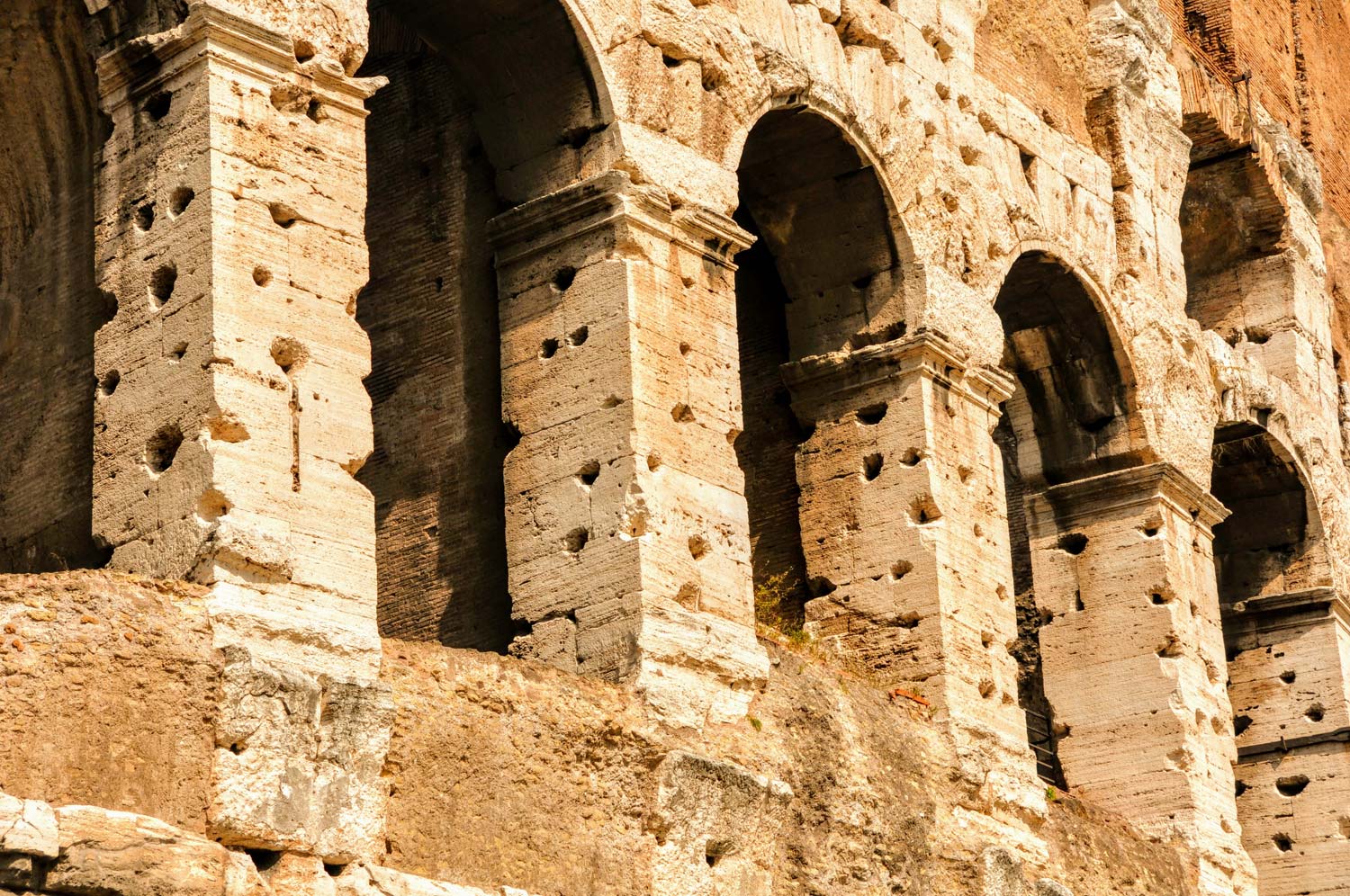 Neapol
distance: 147km
travel time: 2h 2 minutes
In the vicinity of Naples, there are several additional attractions: Vesuvius (with the possibility of relatively easy climbing to the top of the volcano), Pompeii, Herculaneum.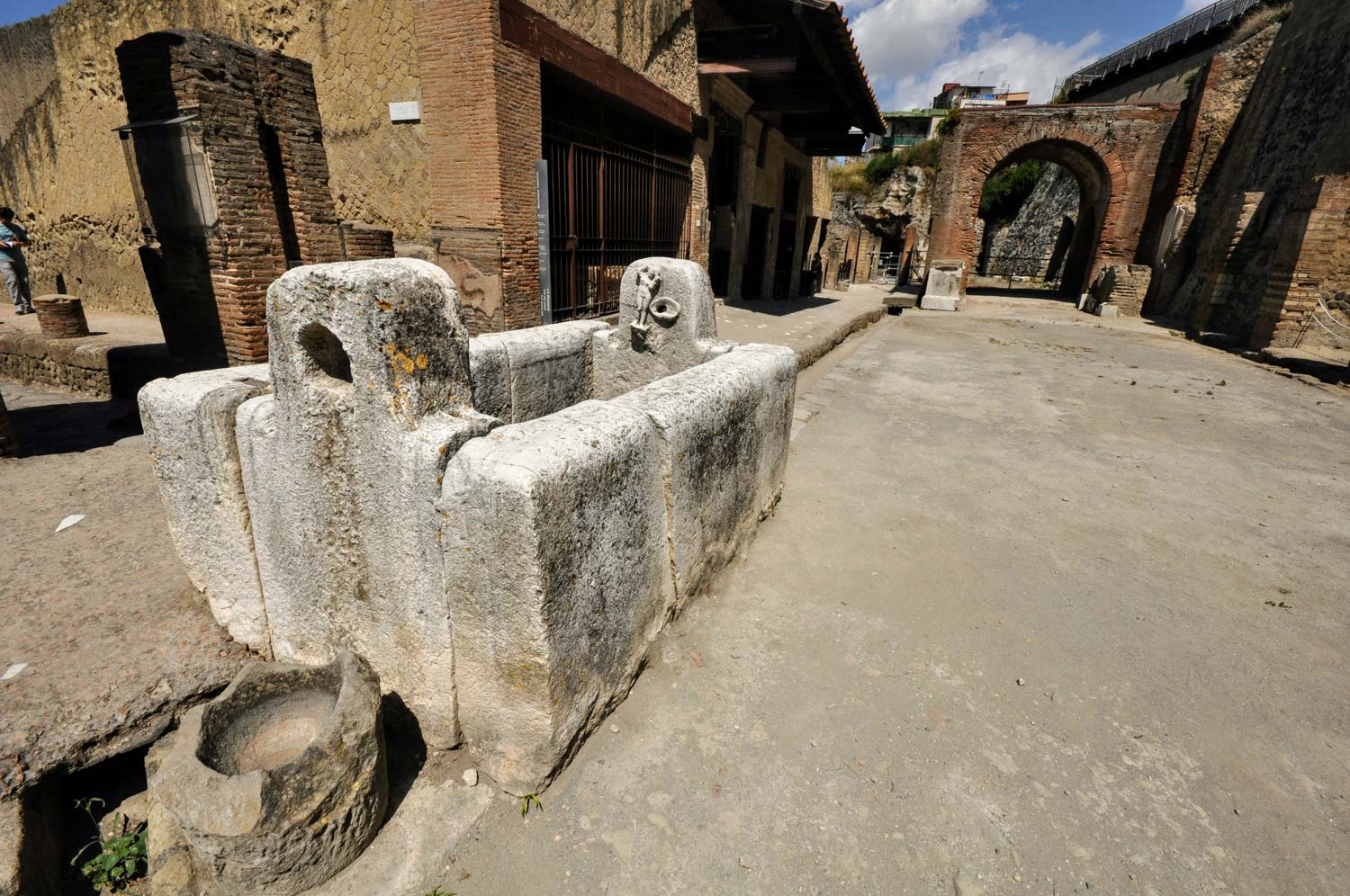 Amalfi coast
distance: 170km
travel time: 2h 47 minutes
Coast with insane views and small towns squeezed into a rocky landscape. Difficult to describe and impossible to forget. Additionally, from Sorento you can go for a quick spill to Capri. There is a regular connection by ships and catamarans here.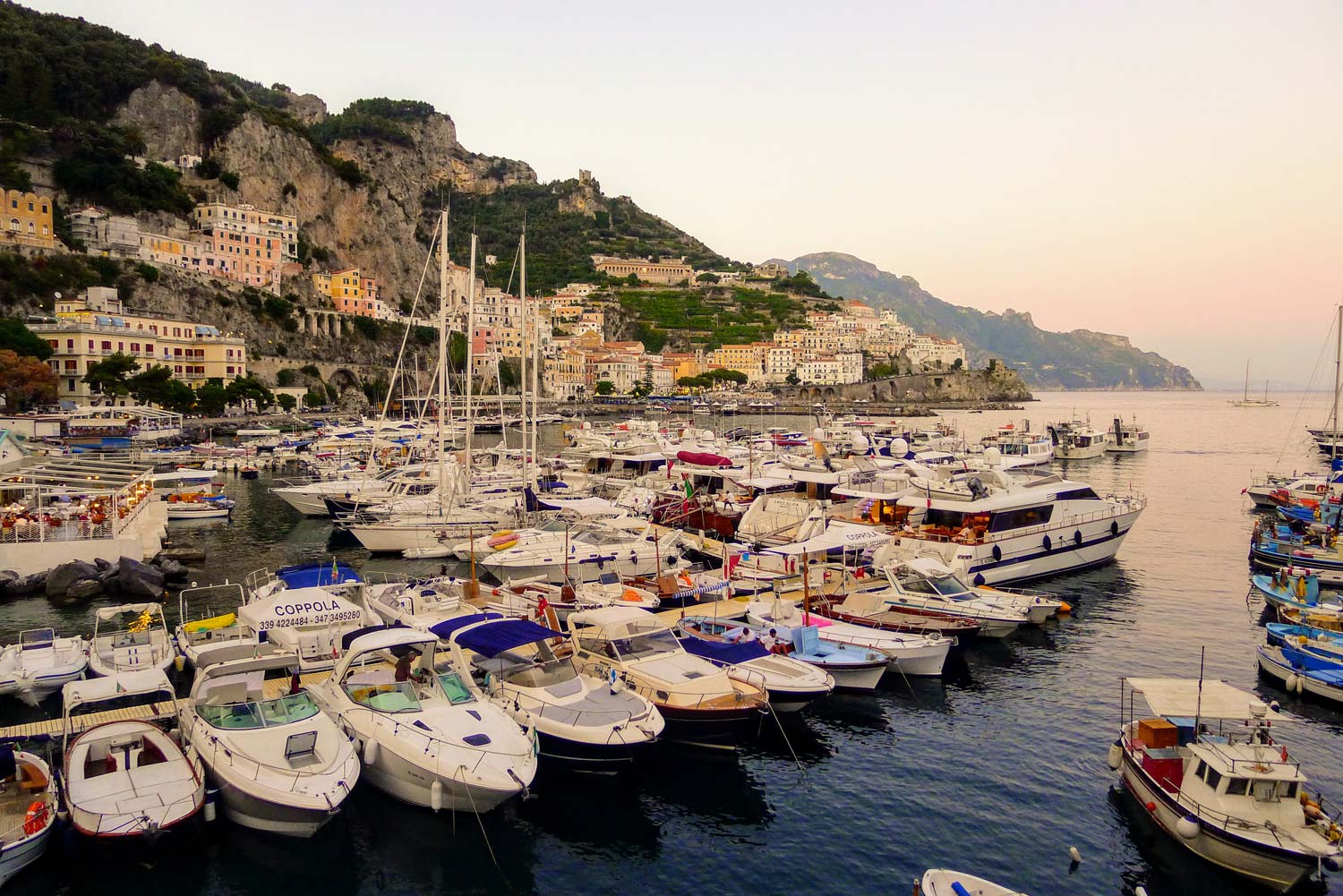 Bari
distance: 216km
travel time: 2h 25 minutes
On the way to Bari - [click] a unique attraction from the UNESCO list: Castel del Monte - [click]and around Bari a whole lot of interesting places described by me in a guide to Apulia - [click]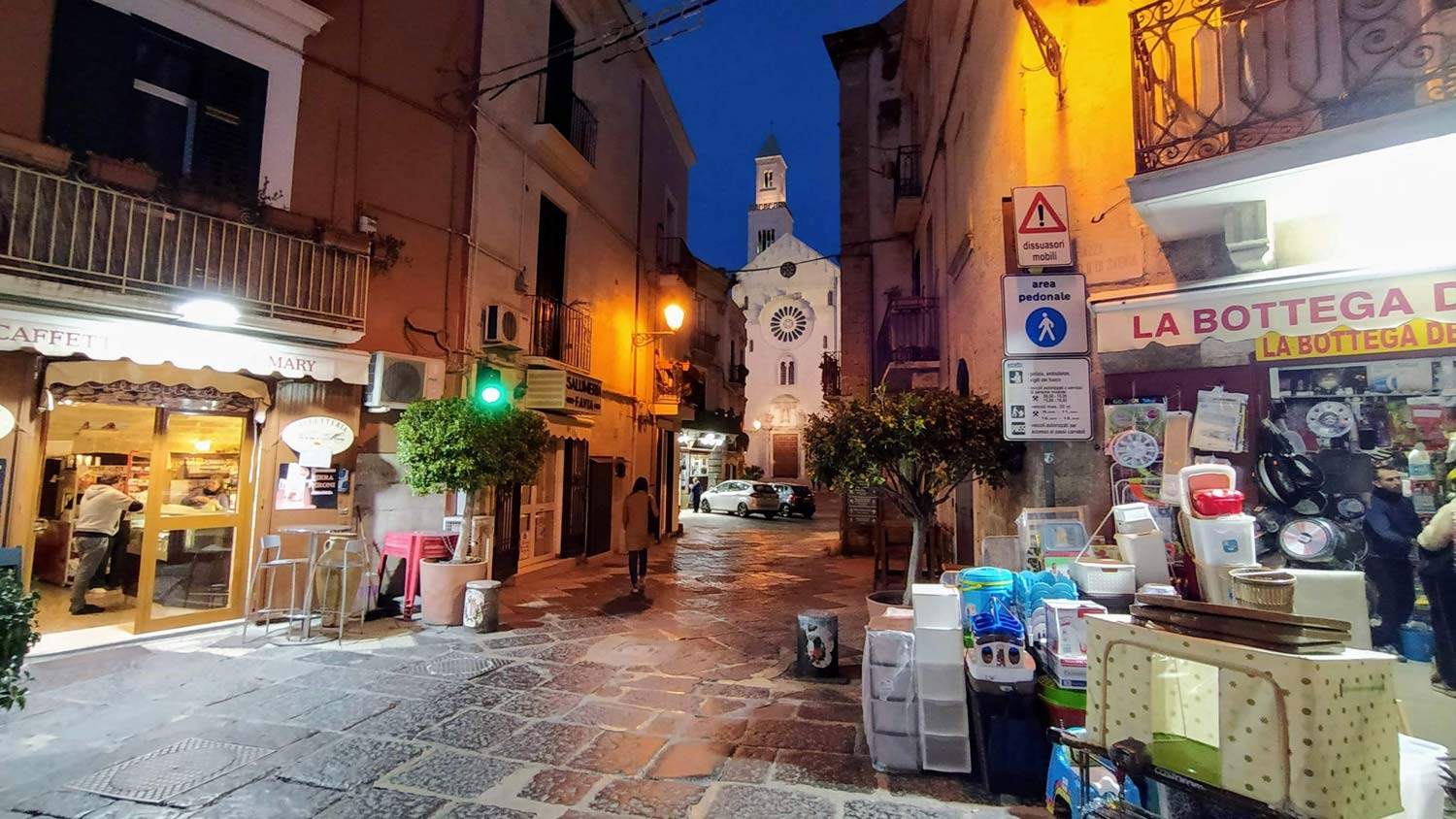 Gargano peninsula
distance: 177km
travel time: 2h 23 minutes
Gargano Peninsula - [click] is a beautiful and unique geographical land with a whole lot of interesting and beautiful places, fantastic beaches and unforgettable views, such as: Peschici - [click], Vieste - [click], Foresta Umbra - [click], Monte Sant'Angelo - [click].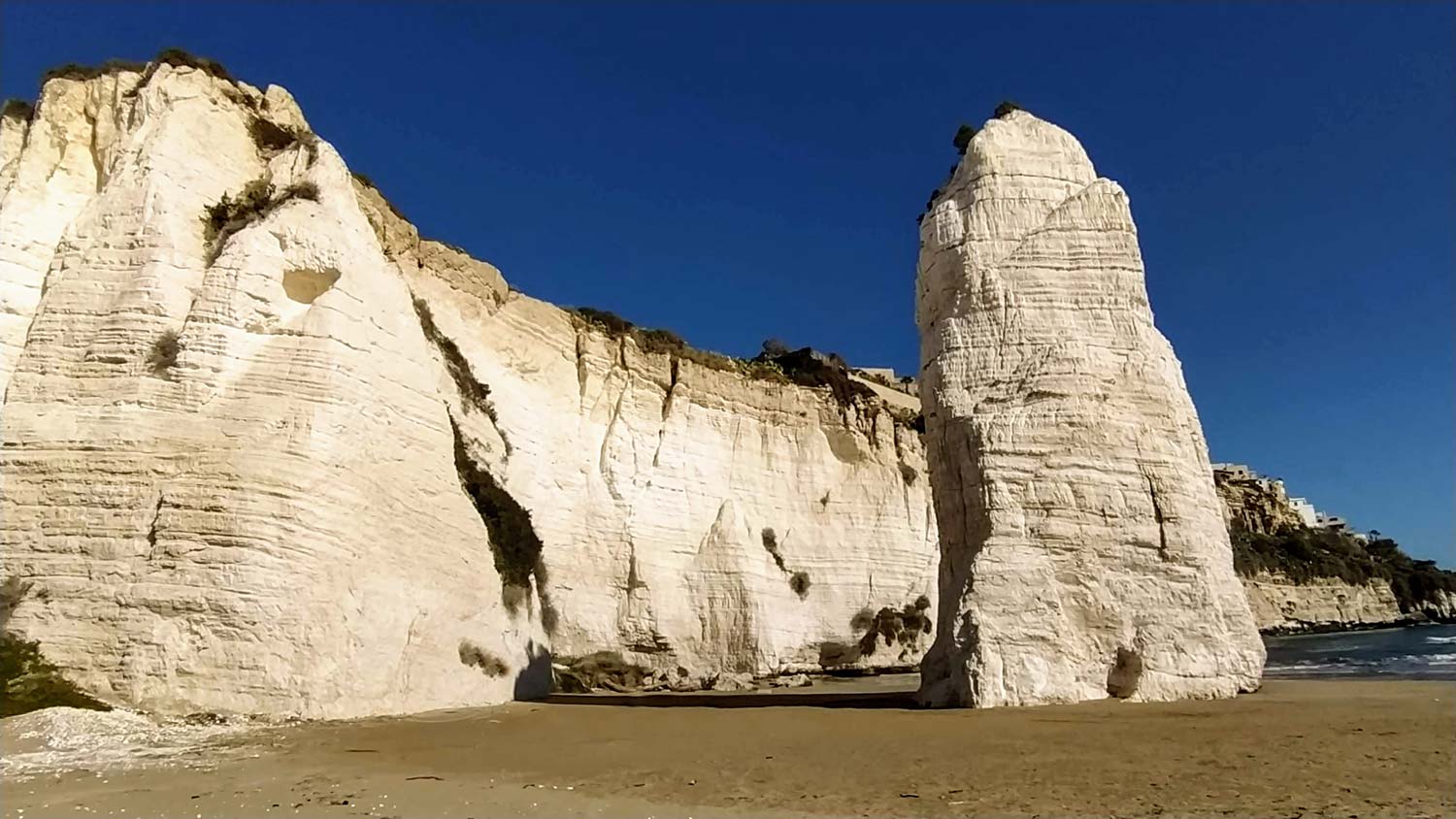 Is San Giovanni in Galdo a good spot and a proposition? I leave the answer to you!
The first guests at San Giovanni in Galdo
Information about the arrival of the first guests to San Giovanni in Galdo is now available. You can see the information with photos directly on the project website - [click] The provided link automatically translates the website into Polish.
Important to me!
Give the article a good rating
(5 stars welcome 😀)!
It's free, a
for me it is very important!
The blog lives on visits and thus has a chance to develop.
Please do it
and ... thank you in advance!
I also post
link to Facebook profile - [click]
. Come in and press "
Follow
"then you will not miss new, inspiring posts.
Unless you prefer
Instagram
. I'm not a social media demon, but you can always count on something nice to look at on
my instagram profile - [click]
. The profile has just been created, so
for now he is starving
, due to the lack of followers. He is happy to receive any observer who feeds him with his love.
I make the content I create available free of charge with copyright, and the blog survives from advertising and affiliate cooperation. So, automatic ads will be displayed in the content of the articles, and some links are affiliate links. This has no effect on the final price of the service or product, but I may earn a commission for displaying ads or following certain links. I only recommend services and products that I find good and helpful. Since the beginning of the blog's existence, I have not published any sponsored article.
Some of the readers who found the information here very helpful, sometimes ask me how you can support the blog? I do not run fundraisers or support programs (type: patronite, zrzutka or "buy coffee"). The best way is to use links.
It costs you nothing, and support for the blog is self-generating.
Pozdrawiam