Sicily long-term weather. When to go? Air and water temperature, climate. The best weather for holidays and holidays.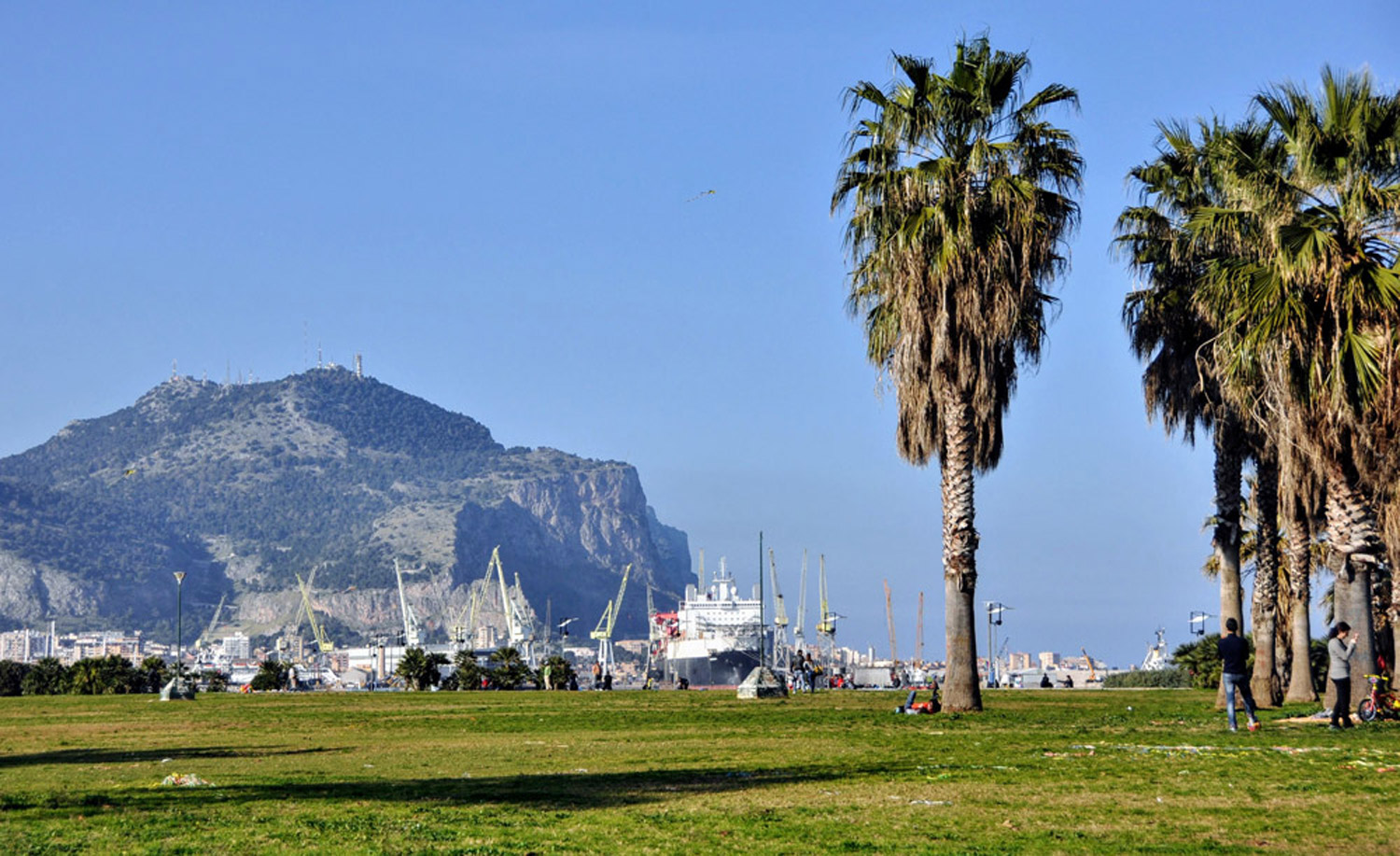 Sicily - weather, climate and annual temperatures
Sicily is a large island and the climate is not uniform. Closer to the shoreline, the climate is milder. The deeper the island, the greater the temperature differences and the colder the winters. Etna is a separate matter, where winter sports enthusiasts reign for several months, and snow remains almost until mid-May.
There is another division in Sicily: the northern and southern parts of the island. The south is definitely hotter and the north a bit milder.
If you like really high temperatures, choose summer in the south of the island. 40 degrees Celsius is not uncommon here, especially because the hot air often comes straight from the Sahara desert.
Slightly cooler, but still hot in the summer in the north of the island.
Similar differences also apply to other seasons. The south is always slightly warmer than the north.
In the table below you will find information on average daytime and nighttime air temperatures, sea water temperature and the expected number of rainy days. I must point out that rainy days do not mean that it rains all day. In summer, rains are usually short, but the closer to winter, the longer and more intense the rainfall may be.
In practice, it looks like that when we were in Sicily in the middle of winter (exactly in February) there was not a single day where it would rain all day. If it rained shortly.
On the other hand, when the sun came out, we immediately got rid of the outer layers of the clothes and we gladly walked with a short sleeve. Anyway, the pictures that you will find next to the entries from Sicily clearly show how the weather looks like in February, because they were created at that time.
Temperature
during the day
[℃]
in the night
[℃]
water
[℃]
Number of days
rain
January
15
9
16
8
February
16
8
15
10
March
17
10
15
8
April
18
11
16
2
May
23
15
18
3
June
27
18
22
2
July
29
21
24
2
August
30
22
25
1
September
27
20
24
6
October
23
17
21
6
November
20
13
18
11
December
16
11
17
5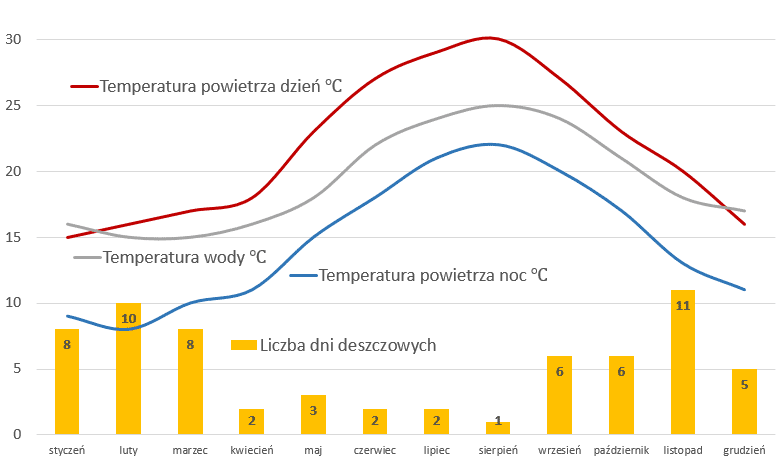 Sicily - weather for holidays, vacation, in the summer (June, July, August, September)
It can be safely assumed that the summer in Sicily lasts 4 months. Unfortunately, one of the summer months can be removed from the plan of potential dates and then avoid going to Sicily. This month is not recommended ... August!
Yes Yes! August! If only you can do not go to Sicily in August.
First of all, there is the greatest heat and the perceptible temperature reaches even 40 degrees and there is no rescue from nowhere.
Secondly, the Italians have compulsory leave at that time (most companies are closed in August in Italy) and the nightmare is therefore crowded. It's just everywhere on the bus during rush hour.
Thirdly, because of the number of people there is a sudden and radical increase in prices.
Rest in July is more pleasant (definitely fewer people) and cheaper. Although it is hot almost like in August, but some like the heat. So if you choose to go on vacation, July is definitely better than August.
What about June and September? I will say briefly: these are the two coolest summer months to come to Sicily. The temperature around 30 degrees, warm sea, attractive prices and a feeling of freedom when it is not crowded. You will find peace and quiet easily. The summer in Sicily is the coolest in June and September. Definitely!
Rainfall in June, July and August is almost non-existent (most often as short-lived storms). A few days when it rains can happen in September.
Sicily - weather: autumn (October, November, December)
Autumn in Sicily is surprisingly warm and pleasant. There are several rainy days during the month, but the temperatures are extremely pleasant. For us (i.e. people from a moderate climate zone) these temperatures are very comfortable. If you do not like hot weather, autumn in Sicily will be the perfect time for you. The beginning of autumn is temperatures around 20-25 degrees Celsius. By the end of December, the temperature drops to 15-20 degrees. It's still warm.
You can sunbathe and swim in the sea until the end of October.
Needless to say, the prices in this period are very attractive and the tourist traffic is low.
Sicily - weather: winter (January, February)
January and February are the winter period, although in fact only January can be treated as a typical winter month. The weather, of course, has nothing to do with winter as we know it in our country. The temperature during the rule day is around + 10 to + 15 degrees. It rarely falls below + 5 degrees at night.
In practice, when we were in Sicily in mid-February, we walked in short-sleeved T-shirts for about half the stay. We were accompanied by temperature at the 18 level - 20 degrees and sunshine. On colder days, the problem was not the temperature, but rather a very strong wind that periodically appeared.
Of course, other laws are governed by Etna. In winter, it is a regular ski resort with lifts located even at an altitude of about 2. 800 m above sea level. The regular ski season usually lasts until October to the end of April.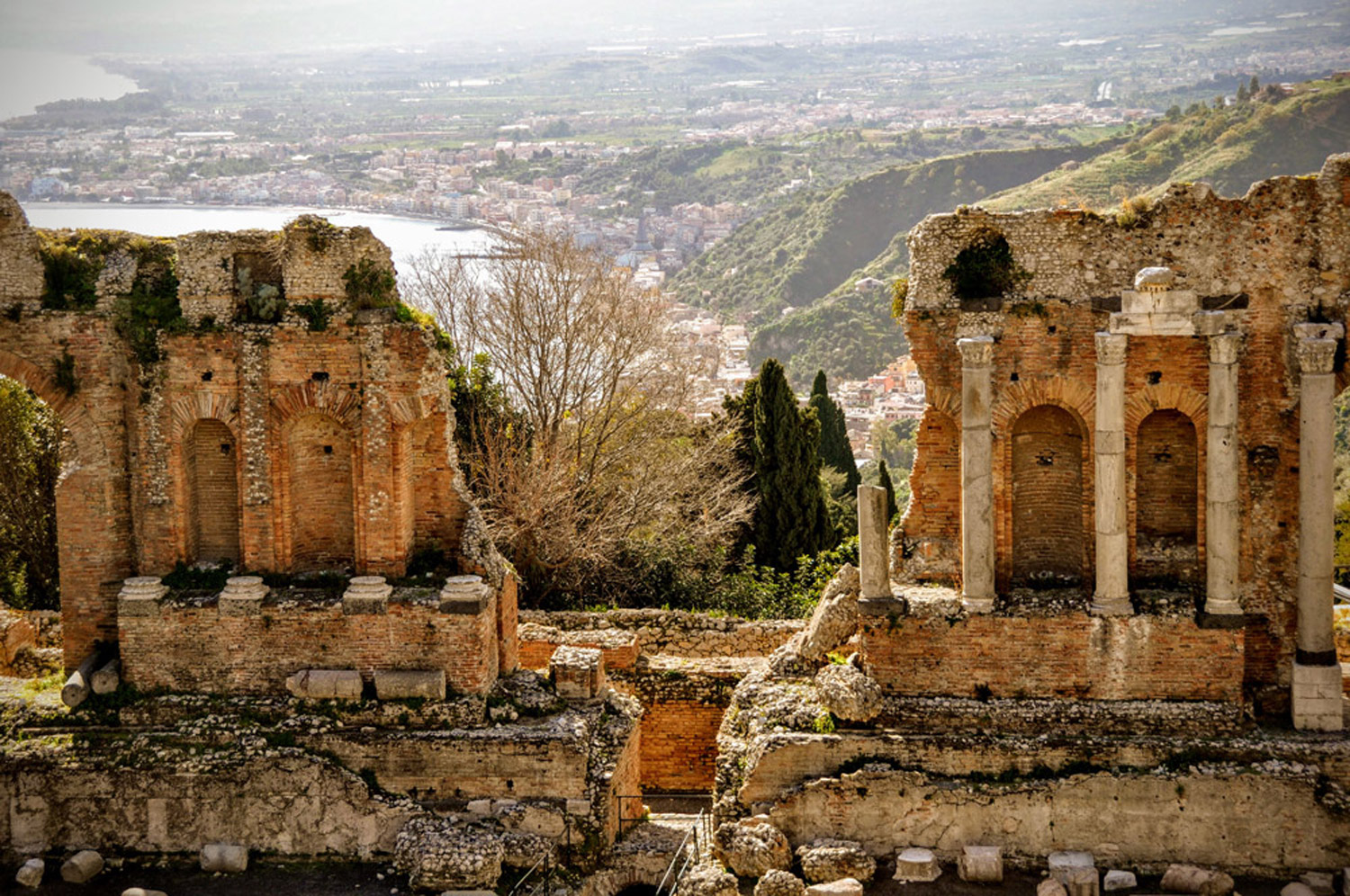 Sicily - weather: spring (march, april, may)
Spring in Sicily is almost perfect. Tailored temperatures almost perfect for our needs (20 - 25 degrees), and at the same time pleasant air that you want to breathe. A lot of sun, little rain, nature which smells of air ... you just want to live. I recommend, recommend, recommend!
Of course, great prices and a complete lack of crowds. It is hard to fault anything 🙂
Read more about Sicily - sightseeing, attractions
You can find more about interesting places in Sicily, accommodation, car rental and cheap flights in articles about Sicily - [click].
I especially recommend an entry for safe car rental in Sicily: Sicily: Palermo, Catania, Trapani - car rental without credit card and deposit? How to rent a car in Sicily? - [click]
Be sure to read a plan of visiting Sicily developed by me containing detailed sightseeing maps, information about attractions on the whole island with GPS coordinates for car navigation. All information can be found in the entry: Sicily - tourist attractions, sightseeing, monuments, map, car rental, vacation. Guide.
Sicily - current weather and 7 days forecast
Below you can find live updated weather data along with the 7 weather forecast. Always by entering this entry you will receive current weather data. Under the weather data is a map of Sicily with marked locations to which the weather data relate.
This is one location in the north of the island, one in the south, one in the center.
1. Palermo weather
2. Noto - the weather
3. Enna - the weather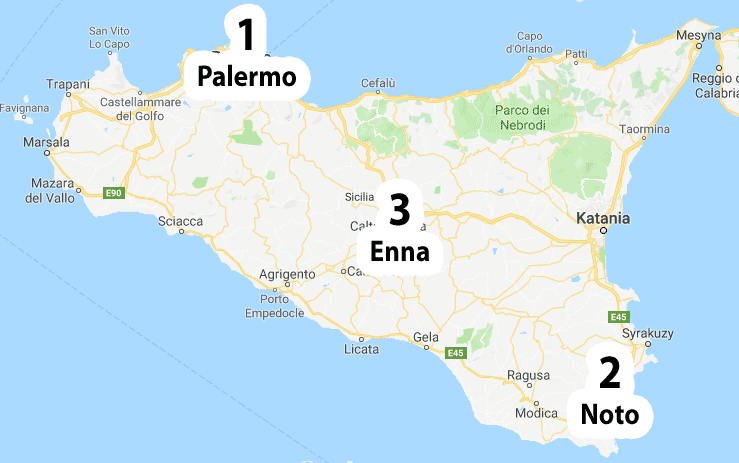 Important to me!
Give the article a good rating
(5 stars welcome 😀)!
It's free, a
for me it is very important!
The blog lives on visits and thus has a chance to develop.
Please do it
and ... thank you in advance!
I also post
link to Facebook profile - [click]
. Come in and press "
Follow
"then you will not miss new, inspiring posts.
Unless you prefer
Instagram
. I'm not a social media demon, but you can always count on something nice to look at on
my instagram profile - [click]
. The profile has just been created, so
for now he is starving
, due to the lack of followers. He is happy to receive any observer who feeds him with his love.
I make the content I create available free of charge with copyright, and the blog survives from advertising and affiliate cooperation. So, automatic ads will be displayed in the content of the articles, and some links are affiliate links. This has no effect on the final price of the service or product, but I may earn a commission for displaying ads or following certain links. I only recommend services and products that I find good and helpful. Since the beginning of the blog's existence, I have not published any sponsored article.
Some of the readers who found the information here very helpful, sometimes ask me how you can support the blog? I do not run fundraisers or support programs (type: patronite, zrzutka or "buy coffee"). The best way is to use links.
It costs you nothing, and support for the blog is self-generating.
Pozdrawiam