Croatia car rental without credit card and no deposit required? Split, Zadar, Zagreb, Dubrovnik.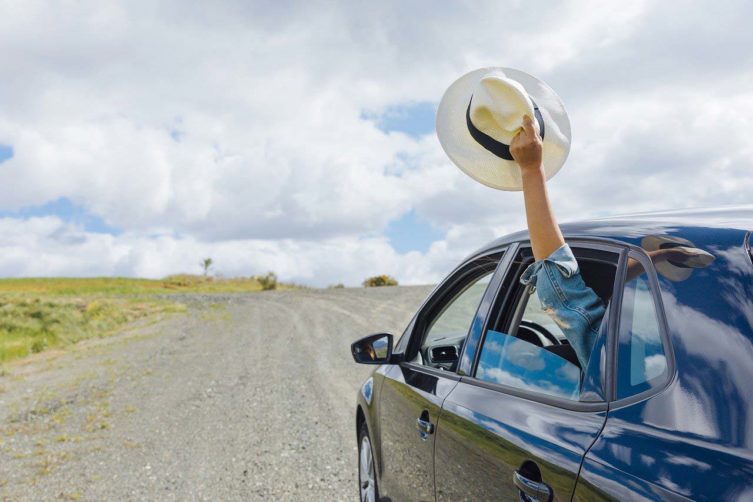 Stereotype
Croatia is widely regarded as a country where it is very difficult to rent a car without a credit card and without making a deposit on the credit card. There is hope in this opinion, however, because "very difficult" does not mean that it is "impossible".
In this post, we will look for the possibility of such a rental, but more importantly, by looking for such an offer, I will show you how to search for the best rental offers, what to look for and how not to expose yourself to additional costs. Renting a car - anyone who has tried to explore the topic at least once will confirm - is not an easy thing to do, and if it is not properly secured, it can be very expensive.
On the other hand, it doesn't make sense to demonize things too much. I have been renting cars for many years and I believe that this is the best version of free, cheap and unfettered travel. All you need to do is understand the problem and follow a few specific rules to make car rental a pleasure.
So before we go to the search for specific rental offers, I suggest you a short course of safe car rental. After reading it, it will clear your head and finding the best, safe and cheapest offer at the moment will not be a problem.
Where to find rental cars?
For the impatient, who would like to start looking for offers for themselves, I will immediately provide links to the most sensible places with the best offer. However, if you do not have experience in car rental yet, I do not advise you to start by looking for offers. I strongly advise you to read this article to the end (though it won't be short or easy).
In the case of Croatia, the search is best done in two comparison sites. In most cases, what you will find in the first one should be enough, but it is worth verifying the offers in the second source to make sure that there is actually nothing better.
The Discover Cars comparison engine pays great attention to having as many local companies as possible. In this respect, it is probably unrivaled at the moment. Besides, it has a huge base of global companies with offices in Croatia. A great tool thanks to which you can immediately compare local prices with the prices of the biggest market players. Here, sometimes (if you are lucky) you will come across temporary price promotions that will allow you to save a lot of money. Discover Cars is a searchable database.
The Rentalcars comparison engine is the largest database of car rental offers in the world. Number 1 in the world for years. Due to the fact that Rentalcars mainly focuses on the largest and most extensive car rental networks, there is often a lack of offers from small, local companies. However, it is always worth checking if a giant has decided to do a promotion.
Other search engines and comparison engines
On the Internet you will find many other search engines and car price comparison engines. I have been observing them for years (because I have been renting cars in various places for many years). Searching most of them does not add any new quality to the search results, and often produces the same result as the pages suggested above. Why? Because they are only copies of the biggest and best search engines. The largest market players make their databases available to other parties electronically (using the so-called API key) and new pages are created that actually search the same database. Naturally, you will not get any better or more interesting offers from them. You will get exactly the same result.
So there is no point in looking for the same pages on clones.
Before you rent a car - absolutely necessary knowledge
Before you dive into the abyss of car rental deals, there are a few things you need to know. First for your own safety and second for the security of your wallet.
It is obvious that when renting a car, you get your hands on a fairly expensive item, and at the same time very exposed to damage or failure. It doesn't even have to be your fault. Just a coincidence, such as a stone, which at any moment may pop out from under the wheels of another car and hit your car, scratch the paint or break the windshield. Or, in a parking lot, a car parked next to you may catch on your exit and leave a thick scratch. You might not even be there. You may not even know it. There are many examples.
A rental company that gives you its car must protect itself somehow. Loan agreements are usually long, multi-page documents, drafted in legal language, most often in a foreign language. When renting, you have maybe one minute to read it and sign the document. Of course, someone will say that you can try to read the contract template in advance, before borrowing. Yes you can. However, I do not know anyone who would be able to read contract templates from several dozen rental companies in advance and finally choose one. It's even a pity to try.
There is no miraculous way to get rid of the responsibility for the property entrusted to you by the rental company (although for an appropriate fee, this responsibility can be passed on to the insurance company, but more on that). However, there are ways and schemes of conduct that allow you to reduce the risks and rent a car as safely as possible, without having to go into the content of the contracts. I will describe the entire process as briefly and specifically as possible.
How is the rental company secured?
A rental company, when giving a car to you, basically has to take care of one thing: to secure financing for the repair or purchase of a new car in case the car is damaged or stolen. Of course, the potential financier is you! It's clear. You take the car, you are responsible for it.
So what does the rental company do? When renting a car, they ask you for a credit card with a sufficiently high limit, which in the event of problems will be a source of money for them to finance the repair. An appropriate deposit is made on the card, then you sign the contract, get the keys and go.
The deposit is the first very important detail that you must pay attention to when browsing the offers.
What is a credit card deposit?
The deposit is the amount that the rental company blocks on your credit card. This amount does not disappear from your card. It is still there, but it is not usable.
Example:
Suppose you have a credit card with a limit 1000 EUR. You rent a car from the rental company, and there is a deposit information in the rental conditions 800 EUR.
You pick up the car. Then the rental company will make a deposit on the card when picking it up: according to the agreement, EUR 800. There is still 1000 EUR on your card but 800 EUR is blocked and until the block is removed you cannot use these funds. Stays at your disposal 200 EUR.
If you had a plan to use the same card to pay for a hotel that costs e.g. 400 EUR, you will not succeed. The deposit will be released at the earliest approximately 24 hours after the car is returned, and it often takes longer than a week. It is worth remembering and it is best to have a different (debit) card or a correspondingly higher limit on the credit card to pay for other obligations.
What is the deposit on the credit card for?
In this way, rental companies protect themselves against dishonest customers. If the customer does not fulfill the terms of the contract, the costs associated with it rental deducts from the deposit. Suppose you are 8 hours late with returning the car. The agreement provides for an additional fee. The rental company may charge a fee from the deposit regardless of your will.
Another example: You picked up a car with a full tank and returned it with an empty one. The rental company charges itself the value of full refueling and additional service costs. It is now more or less as if a liter of fuel costs EUR 2. So e.g. a fuel tank of 50 L * 2 EUR / L = 100 EUR. This is roughly the amount that will disappear from the deposit. Examples can be multiplied (scratch on a car, broken mirror, broken windshield, damaged upholstery, etc.).
The amount of the deposit that rental companies place on the card is usually equal to the amount of the so-called deductible.
Deductibility is another very important issue that you need to know and check before renting.
Deductible and car insurance
In addition to the deposit, which is blocked directly on your credit card, when you rent a car, you assume a so-called deductible obligation.
The deductible applies in the case of:
- destruction or damage to the car
- car theft
Each rental company individually sets the amount of the excess. Separately for destruction and separately for car theft.
The deductible - in short - is the maximum cost that you undertake to pay if one of the above events takes place (i.e. damage or theft).
The assumption is that if the costs resulting from the removal of damage are greater than the excess amount accepted by you in the contract, then you are responsible only up to the amount of the excess, and the remaining costs are covered by the insurance.
Currently, virtually all rental companies include the cost of this insurance in the basic price of the vehicle.
Vehicle damage insurance - CDW
This is the basic, compulsory insurance that covers the vehicle (it is often called Full Insurance on the rental websites, which can be misleading, I am sensitizing, it is a common practice). The practice of referring to the basic insurance as full insurance is probably aimed at suggesting to the client that he is purchasing a better insurance package at a similar price. Then the offer seems more attractive, but in reality it is not. So it's worth checking whether the called full insurance is CDW or actually full (SCDW - which I will write about a little below).
I did not find an offer where the insurance would be subject to a surcharge. Everywhere it was at the basic price of the vehicle.
CDW stands for Collision Damage Waiver. Having this insurance reduces your liability for damage to the amount of your own contribution.
However, in order not to be too colorful, this insurance usually excludes: windows, tires and chassis. There may be more exceptions. This means that if, for example, during a collision, damage has touched elements that are excluded from insurance, you will pay extra for their repair.
Of course, if the incident was not your fault and you have the police report for it, the rental company has no right to deduct any money. Then the perpetrator pays.
IMPORTANT!
If you have been driving while under the influence of alcohol or drugs, then no insurance coverage works. You pay the full amount of the repair costs.
Theft insurance - TP
It is an insurance which, in the event of theft of a vehicle, limits your financial liability to the amount of your deductible.
The name of the insurance is an abbreviation of the English version of Theft Protection.
The cost of this insurance is included in the basic vehicle rental price.
I did not find an offer where the insurance would be subject to a surcharge. Everywhere it was at the basic price of the vehicle.
Full damage insurance - SCDW
This type of insurance completely or partially removes your liability for damage to the car and this is true full damage insurance.
The name comes from the English version: Super Collision Damage Waiver.
After purchasing this insurance, your liability is reduced to zero, less often to a symbolic amount of around EUR 100 - 500 (depending on the brand and price of the new vehicle).
The rental companies that the basic insurance wrongly (or intentionally call) call this type of insurance: All Inclusive ..., Super ..., All Protection ... etc.
When booking on comparison websites, you have the option of buying full SCDW insurance with each rental. However, you should be aware that this is an insurance that you buy in the comparison website, not in the target rental company. What does it mean? This means that if there is damage or theft of the car, the car rental company will charge your account up to the amount of your own contribution, and for the reimbursement of this amount under your insurance, you must apply to the comparison site with which you took out the insurance.
The solution that eliminates this problem is to search for an offer in the comparison engine that already includes full SCDW insurance. This is clearly stated on the offer. When choosing an offer that already includes SCDW, do not buy insurance, which is additionally offered by the comparison site, because you do not need two identical insurance.
Travel Insurance - PAI
Often, when renting, insurance for people traveling with a rented car is also offered. It has nothing to do with the car itself, it only applies to people. If you buy insurance for yourself before traveling, you do not need it.
The abbreviation comes from the English name: Personal Accident Insurance.
This insurance is often included in the package with SCDW.
Analysis of the offers
I assume that after reading all of the above information, it is still not entirely clear to you what you really need to look for.
I know there is a lot of it.
But don't worry. I'm about to shorten it all down to a few simple steps. In a moment you will learn how to analyze offers instantly.
Analyze offers in the following order:
- rental price (you know, we are looking for a good price)
- insurance (ideally, if it is full insurance, i.e. SCDW - full insurance radically risks your risk, your excess and often eliminates the need for a card)
- credit card requirements (is it needed and how much is the deposit)
- amount of own contribution
These are the four key parameters. If they all look good, you can start analyzing the offer deeper, checking less important things, such as mileage limits, fuel policy, etc.
But nothing works as well as a good example. So let's look for a good offer together.
First example - searching for the best available offer
Let's start the search. I go to the site Discover Cars - [click]. In the field "Pickup point" I enter: Croatia. A list of places where I can pick up my car will appear. For my example, I chose Split airport, and the rental period, on 7 daysin the second week of October.

After clicking on "Search", a list of search results will appear after a while. However, before we start analyzing the search results, I suggest you do one more thing. We will apply an additional, very useful filter to the results.
If you are looking for a car on a computer, the filters are available in the column on the left side of the screen. On your phone, you'll find them under the "All Filters" link at the top of the screen.
Scroll down a little and look for the "Refundable" section in the filter list.
Check the option: "no deposit is required"(If it appears) and the first interval, that is in this case 1 - 499 EURas shown in the image below.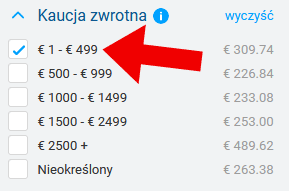 As you can see, the option "no deposit is required" is not available at the time I choose, so I only had to select the option 1-499 EUR. The conclusion immediately arises that a small deposit will be established, however, and there will be no way around it.
If there were any offers that do not require a deposit were available on the date selected by me, the appropriate option would appear in the filter and it would look like in the image below.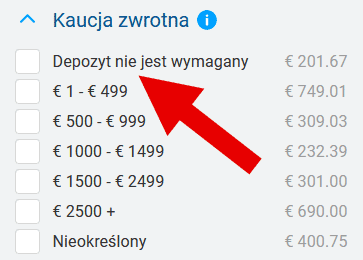 Unfortunately, there is no such option on my date, so I choose the range of 1 - 499 EUR.
After a while, the search results will update. What have we gained?
By selecting the filter options as above, you eliminate offers that require a large deposit with one move. You only leave those for which the deposit is not required or is very low. Zero or low deposit practically only occurs on offers with full insurance, so you are very likely to have full SCDW coverage as well. A simple action in the search engine filter, and how much less robots!
At the top of the search results was the rental proposal as below. Let's take a closer look at it and analyze the four basic parameters of the offer.
1. Price for rent
The price of EUR 134,59 for 7 days of rental is less than EUR 20 per day. Great price, but you have to remember that we check the price in October, which is off-season. It will be much more expensive in the high season. In summer, the rental for EUR 50 for one rental day should be considered very attractive. In the summer season in 2021, the rental prices regularly exceeded EUR 100 (!!!) for one day.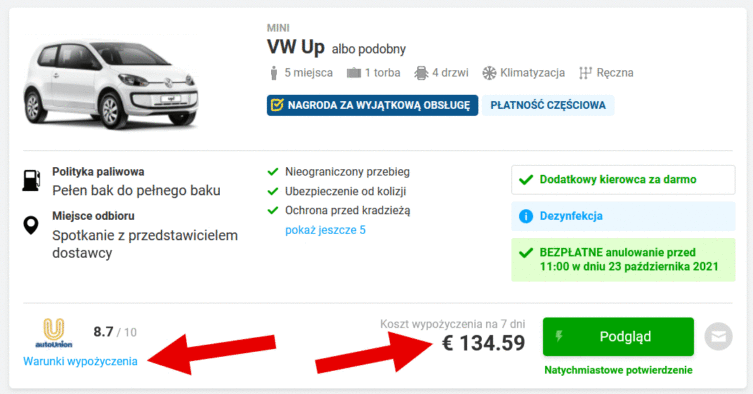 2. Insurance
The content of the offer shows that this is not a typical offer with full SCDW insurance, but includes insurance, thanks to which the deposit and own contribution amounts are quite low. To check it carefully, click on the "Rental conditions" link, as indicated by the arrow in the image above.
3. Credit Card Requirements
After entering the "Loan conditions" you will quickly check what the deposit will be on your credit card. In this case, a deposit of EUR 300 will be made. You can see it in the picture below.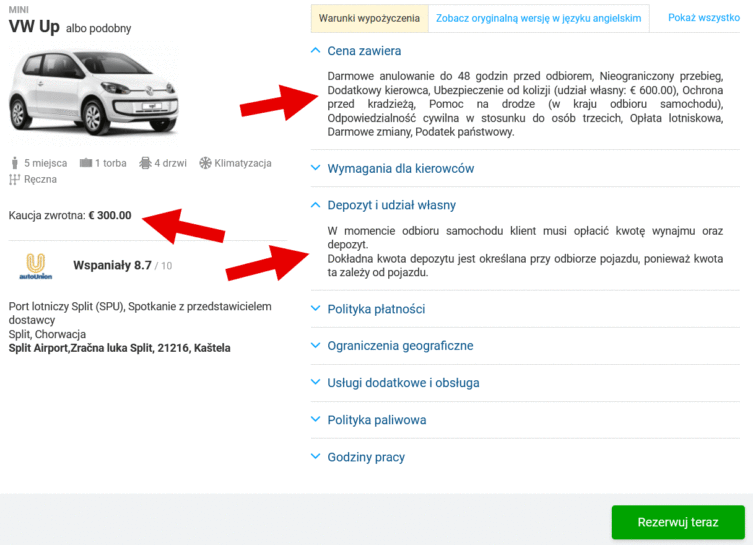 4. Amount of own contribution
You will find information on the excess amount by expanding the two sections: "Price includes" and "Deposit and deductible". Both sections need to be expanded (they are indicated by the arrows in the picture above), because I know from experience that the information we are looking for may be found in one or the other.
In this case, the excess is EUR 600.
My offer evaluation
I rate the offer interesting. It has an attractive price and low credit card deposit requirements. The self-risk amount is also not high. It will be difficult to find a better offer in Croatia. You can try to lower the amount of the deposit and your own risk even when you are already there in Croatia.
I have analyzed the entire terms and conditions of the Autounion rental company and it follows that you can buy:
- additional full SCDW insurance (in Autounion it is called FDW - Full Damage Waiver) from 8 to 12 EUR per day for basic small car models. Insurance reduces your deductible to zero. When buying this insurance, the deposit on the card should be even lower. Sometimes it drops to zero, but in Croatia it is expected to drop to 100 EUR at most.
- undercarriage, wheels and windows insurance (in Autounion it is called WUG - Wheels Underside Glass) from 4 to 8 EUR per day for basic small car models. Your liability drops to zero after you take out this insurance.
Generally, it is possible to buy additional insurance in all decent rental companies. If you want to minimize the amount of the deposit and your own liability as much as possible, and you have not found such an offer in the comparison engine - just like me - then ask about such insurance (SCDW) on the spot. The cost of full insurance for basic small and medium car models should not exceed EUR 20 per day. If the price is higher, it means that the rental company really wants to earn on you.
Example two - comparison of offers from several sources
This time we will look at the price of the same offer, for the same car and for the same period of time, but coming from different sources. For a change, it will be an offer of another rental company: CARWIZ, the price of which will be checked in two price comparison websites and directly on the rental company's website.
I choose the same place to pick up the car as before, i.e. SPLIT, and the same period, i.e. 7 days, in the second week of October.
First, I searched for the cheapest offer on Discover Cars - [click]. It turned out to be Volkswagen Up. The rental price shown below is EUR 116,30 for 7 days.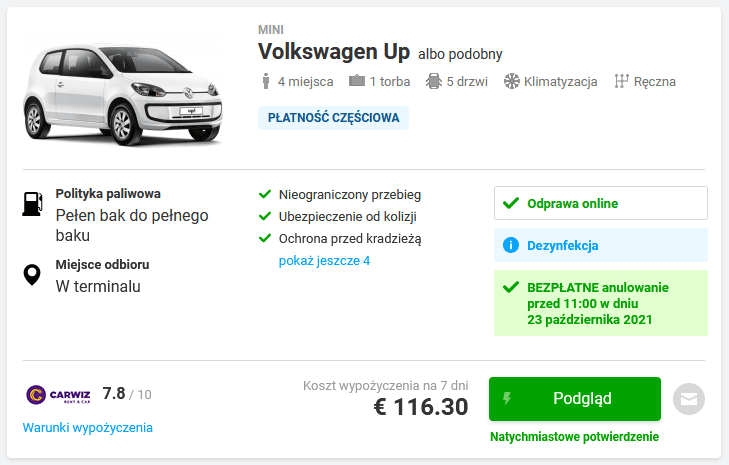 Now let's check how much the same car in the same rental company and time will cost in the comparison engine Rentalcars - [click].
As you can see in the offer below, the rental cost is over EUR 13 higher and amounts to EUR 129,47.

How much does the same rental cost directly on the rental website? You might be surprised, but it's even more expensive: EUR 151,91. By renting directly on the rental website, you will pay more than 31 EUR more. This is not surprising to me. I have been observing this practice for years and have included this example specifically.
Rentals, due to the huge range of comparison engines, prefer to promote their offer through them. By setting their prices low in search engines, they promote themselves much more effectively than just on their own website. They compensate for low prices in comparison websites with higher prices on their own website. There is a large group of customers who do not check prices in the way we do and book directly much more expensive.
For this offer, you would overpay more than 30% by buying directly.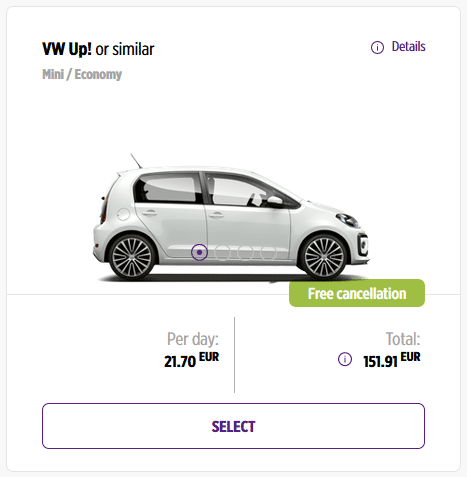 Third example - holiday massacre
For the very end, I have left the real reason for writing this post. It was the situation that happened in the summer of 2021.
It was a quiet summer day. Suddenly the phone rang. I received.
In the receiver I heard my friend's voice:
- Jacek, damn ... I'm going to Croatia and I need to rent a car on the spot. You'll be able to have a look and send us something sensible, because there's a massacre here…!
"Luzik," I replied. I'll find you something soon!
And I was really convinced that I was about to find something. After a few minutes of searching, I felt anxious… I can't find anything normal. All offers as if from outer space. Prices such that I checked the rental dates several times. Or maybe instead of 5 days I didn't write 50 days ... No! Everything was fine. The rental companies offered me to rent a small car at prices not lower than EUR 500-600 for 5 days of rental, and a security deposit at the level of EUR 700-1200. Are they mad?
Failed to. Despite the next several dozen minutes of searching, I did not find anything sensible. A friend went to Croatia and severely mutilated his wallet. I didn't even ask for details after that. I didn't want to kill him.
Croatia's exceptional popularity this summer took its toll. The Croatian government has decided not to introduce special COVID restrictions this summer, so a record number of tourists have sewn to Croatia. Prices have reached an absurd level.
How will it be in the coming years? I don't know, but I decided to check if it could be protected against it. So I checked what the rental price would be if the car was booked 10 months in advance. Crazy idea? It turns out that it is not.
Comparison engines give you the option to cancel your booking free of charge. You can cancel many reservations up to two days before arrival.
So let's check if the idea is effective!
Again I chose pick up in Split, rental period 7 days in the middle of summer, July 18-25.
I also checked the filter: Refundable deposit EUR 1-499.
What was the result? I present the best offer below.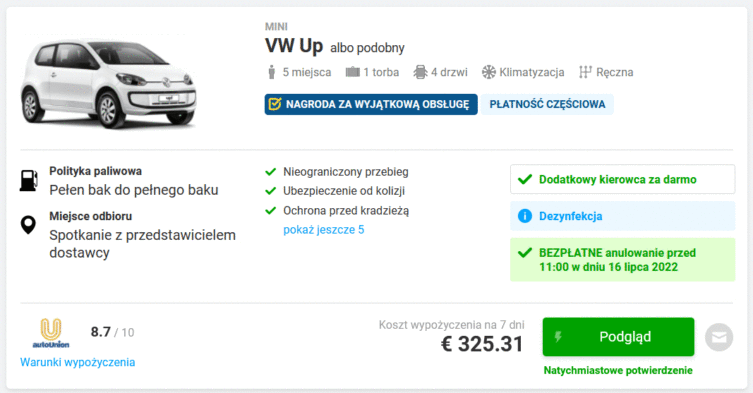 The rental price is EUR 325,31, the deposit is EUR 300 and there is a possibility of free cancellation until July 16, i.e. two days before the pick-up date.
The same search carried out in the summer of 2021 offered me prices of 800 EUR + 800 EUR deposit.
So what's the point of waiting with the reservation until the last minute, since I can pay more than half as much, and if I change my plans, I can give up at the last minute without any consequences?
I submit for consideration.
You know everything
Now that you have full knowledge of rental options, how to read offers and verify their profitability, all you need to do is look for the best offer for yourself and visit, explore, explore ... enjoying Croatia's attractions.
Good luck!
Important to me!
Give the article a good rating
(5 stars welcome 😀)!
It's free, a
for me it is very important!
The blog lives on visits and thus has a chance to develop.
Please do it
and ... thank you in advance!
I also post
link to Facebook profile - [click]
. Come in and press "
Follow
"then you will not miss new, inspiring posts.
Unless you prefer
Instagram
. I'm not a social media demon, but you can always count on something nice to look at on
my instagram profile - [click]
. The profile has just been created, so
for now he is starving
, due to the lack of followers. He is happy to receive any observer who feeds him with his love.
I make the content I create available free of charge with copyright, and the blog survives from advertising and affiliate cooperation. So, automatic ads will be displayed in the content of the articles, and some links are affiliate links. This has no effect on the final price of the service or product, but I may earn a commission for displaying ads or following certain links. I only recommend services and products that I find good and helpful. Since the beginning of the blog's existence, I have not published any sponsored article.
Some of the readers who found the information here very helpful, sometimes ask me how you can support the blog? I do not run fundraisers or support programs (type: patronite, zrzutka or "buy coffee"). The best way is to use links.
It costs you nothing, and support for the blog is self-generating.
Pozdrawiam