Egypt - holidays and hotels: the best, the most interesting, recommended, for families. Itaka, Tui, Rainbow, Ecco Travel and others.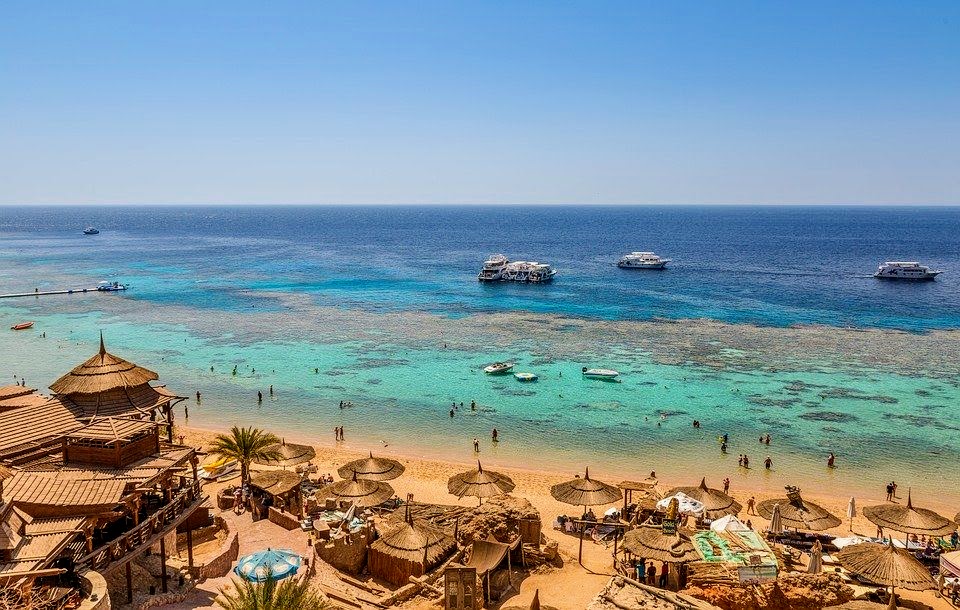 How was the ranking created?
The ranking was created as side effect price analyzes conducted by me, in which I am looking for the best moment to buy holidays, e.g. in Egypt (but also in Turkey i Bulgaria).
Many months of constantly browsing vacation offers meant that I know most of the offers almost by heart. It has come to the fact that after a random, accidental photo from the Internet, I am able to recall the names of many of the hotels 🙂 (this applies not only to Egypt).
What if I closed my eyes and recalled those hotels that stuck in my memory the most? If I had to quickly choose something for myself today, what would come to my mind first?
Ranking of hotels in Egypt
Sequence of places
Exactly. This ranking is different than all the others, because it is not only set by a dry assessment of selected offer parameters. There are no mathematically calculated first, fifth or tenth places. The order is non-binding, although in practice I am drawn to those from the top of the list the most.
Hotel prices and quality
It is also not a list of the most expensive, cheapest, more or less luxurious offers.
I was not interested in the hotel price. It was not she who determined the choice of this and not another object. I chose places that attract people with their entirety. They encourage me as a traveler of arrival and rest.
So on the list you will find offers available for every pocket. What the hell ... if only I can have fun for little money?
Links to price offers
The headlines with hotel photos are simply screenshots from the comparison engine of the offers of the largest travel agencies wakacje.pl. Here you will find offers from all major travel agencies: Tui, Itaka, Rainbow, Ecco Holiday, Ecco Travel and many more.
Clicking on the picture will take you to the hotel page, where you can see more pictures and current prices for trips from different cities and on different dates. Additionally, under the photo you will find links to alternative offers.
It will always be easy to come back to interesting places and check the current price.
Hotel descriptions
I will limit additional hotel descriptions to a minimum. You can find a lot of details directly on the offer pages under the attached links. There you will find guest reviews, parameter ratings, available dates and a whole mountain of photos that will either additionally encourage you or vice versa.
List of hotels
Time for specifics!
Here is a list of hotels I have found.
SerenityFun City
Well, you can add… you can see everything in the photo. In such a water park, not only children, but he was eager to go crazy himself 🙂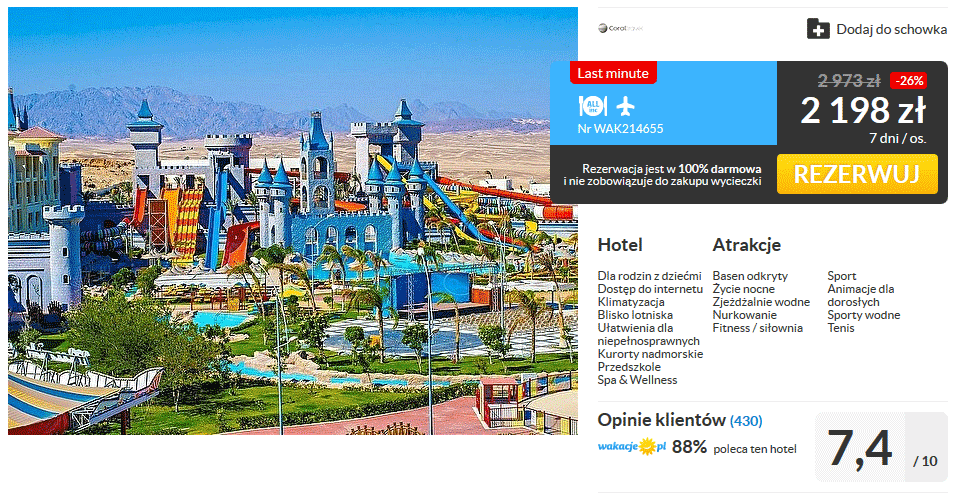 Links to hotel leisure offers Serenity Fun City Resort:
holiday.pl - [click]
Booking.com - [click] (hotel itself)
Caves Beach Resort
A hotel that looks like a caveman town, and at the same time very comfortable. The photo below shows the inside of the cavern, which is a hotel room. I recommend going to the attached links. There are dozens of other photos there. It's worth seeing out of curiosity.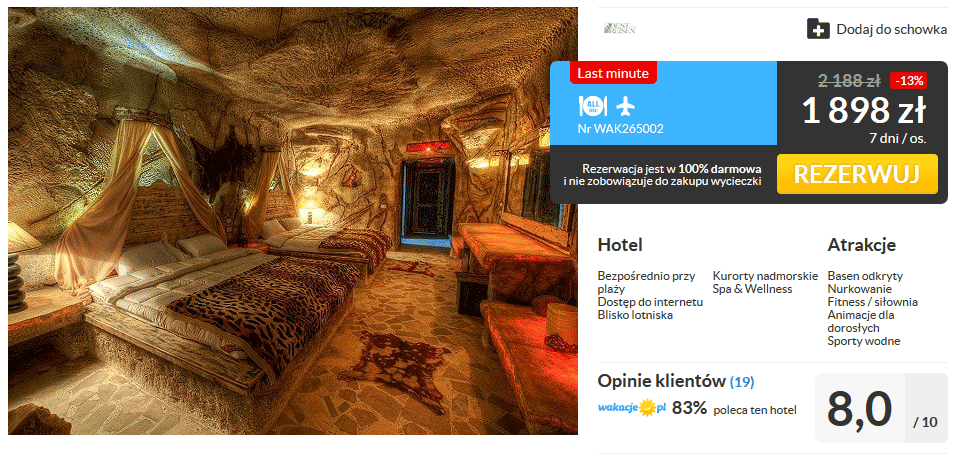 Links to holiday offers in Caves Beach Resort:
holiday.pl - [click]
Booking.com - [click] - not available
Red Sea Grand Resort
Here, I really like the proximity of the water that washes the steps of the hotel facilities. It reminds me of Venice. Maybe that's why I'm attracted to this hotel.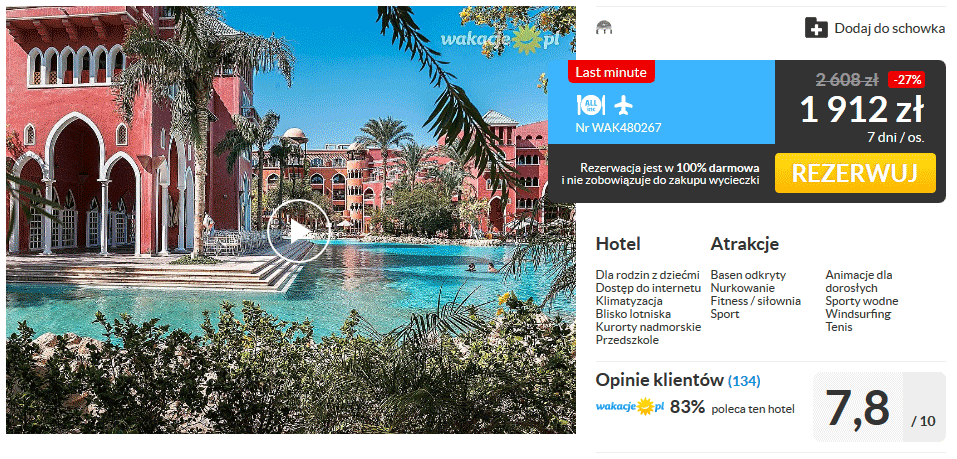 Links to holiday offers in Red Sea Grand Resort:
holiday.pl - [click]
Booking.com - [click] - not available
Red Sea Makadi Palace
As in the previous hotel, here also the proximity of the water creates the atmosphere. I like!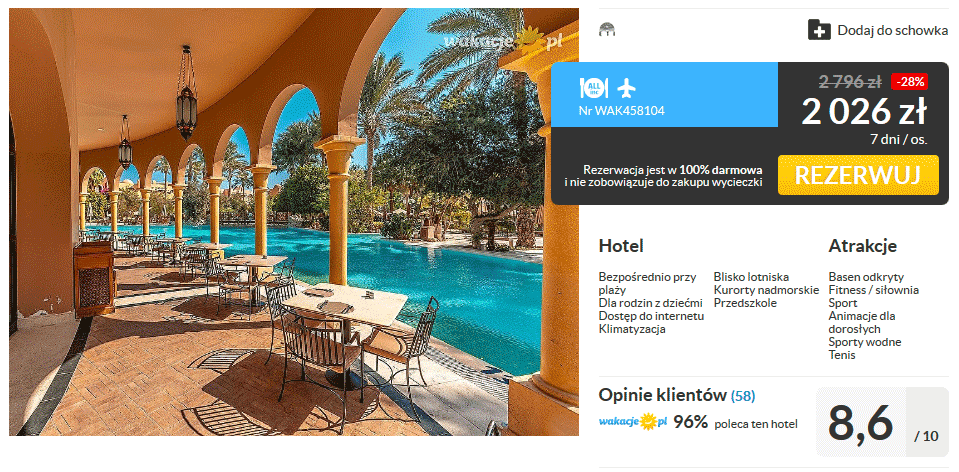 Links to holiday offers in Red Sea Makadi Palace:
holiday.pl - [click]
Booking.com - [click] - not available
Maraya weir
A new and very modern hotel where you can see that the architect has worked hard. Simple shapes, but still kept in the local style. Lots of spacious, bright and clean spaces. Order and peace, conducive to relaxation.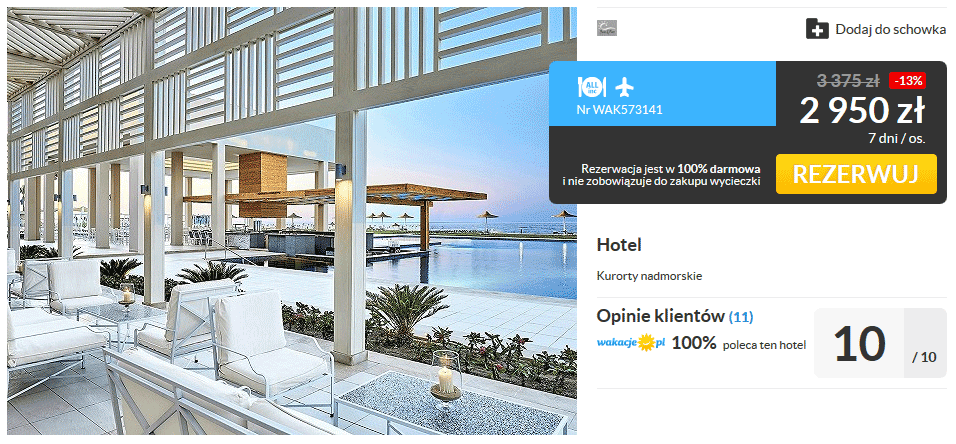 Links to holiday offers in Maraya weir:
holiday.pl - [click]
Booking.com - [click] - not available
Inne hotele
If anything else catches my eye, I will add more hotels.
If you know an interesting hotel in Egypt, please share it in the comments.
I will check 100% of the links to each hotel reported. If it's really cool and I like it, I might even include it in the list above.
Important to me!
Give the article a good rating
(5 stars welcome 😀)!
It's free, a
for me it is very important!
The blog lives on visits and thus has a chance to develop.
Please do it
and ... thank you in advance!
I also post
link to Facebook profile - [click]
. Come in and press "
Follow
"then you will not miss new, inspiring posts.
Unless you prefer
Instagram
. I'm not a social media demon, but you can always count on something nice to look at on
my instagram profile - [click]
. The profile has just been created, so
for now he is starving
, due to the lack of followers. He is happy to receive any observer who feeds him with his love.
I make the content I create available free of charge with copyright, and the blog survives from advertising and affiliate cooperation. So, automatic ads will be displayed in the content of the articles, and some links are affiliate links. This has no effect on the final price of the service or product, but I may earn a commission for displaying ads or following certain links. I only recommend services and products that I find good and helpful. Since the beginning of the blog's existence, I have not published any sponsored article.
Some of the readers who found the information here very helpful, sometimes ask me how you can support the blog? I do not run fundraisers or support programs (type: patronite, zrzutka or "buy coffee"). The best way is to use links.
It costs you nothing, and support for the blog is self-generating.
Pozdrawiam