Ibiza – map, attractions, sightseeing plan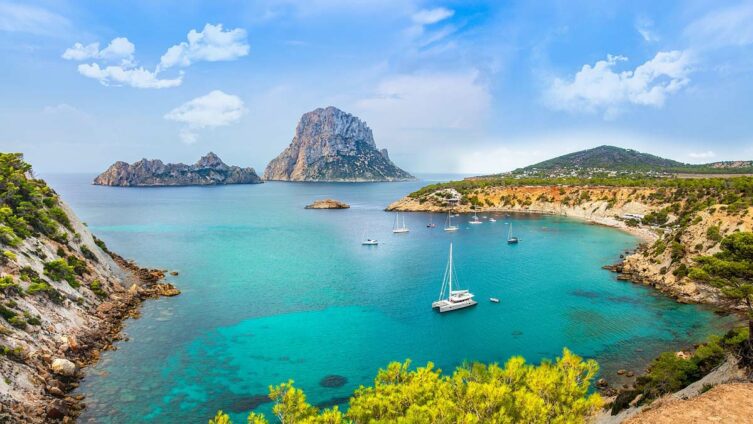 The other face of Ibiza
Stereotypically, Ibiza is treated as a place where you go to have fun. Countless dance clubs, discos, bars, as well as beautiful weather and the paradise atmosphere of the island make it difficult to find a better place to have fun.
Suffice it to say that right here, in Ibiza, there is the world's largest dance night club: PRIVILEGE. The club can accommodate nearly 11 people, the main hall is as big as large airplane hangars, and the main PRIVILEGE dance floor could accommodate most of the most famous clubs in the world.
This time, however, we will look at Ibiza from a different perspective. Ibiza offers much more than just clubs and loud parties. After all, it is a typical, beautiful Mediterranean island, with beautiful beaches, history, atmospheric towns and monuments. Moreover, there are two top-shelf facilities on the island, included on the UNESCO list. When planning a trip to Ibiza, it is worth planning some free time for relaxation and sightseeing.
Traveling around Ibiza
The easiest way to explore Ibiza is by car. Of course, not my own, but a borrowed one. There are many rental companies on the island that offer car rentals at favorable prices and do not require a credit card.
A guide that will help you rent a car and choose the best offer can be found here: ???
I do not recommend other means of transport because (in my opinion) they do not compare very favorably with the offers of car rental companies. Of course, you can research this issue yourself, but you will probably come to the same conclusion.
Ibiza tourist attractions map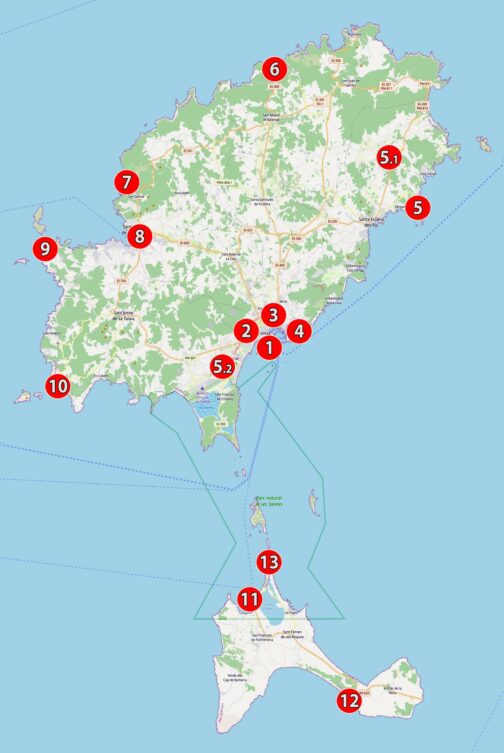 To make exploring Ibiza easier, I have prepared a special map of attractions, marking the places I have chosen on it. Each attraction marked on the map has its own number. Further in the text under this number you will find additional information related to a given attraction. It will be mainly a short description and some important information (if necessary).
I usually include GPS coordinates of the nearest car park in all attractions and (if necessary) additional coordinates of key points that will help you get to the right place.
Use this data! They are simple to use. Just click on the link next to them, and the navigation will start automatically and calculate the route to the destination (just don't forget to switch the navigation from car mode to walking mode or vice versa).
Ibiza sightseeing plan
After a quick glance at the above map of attractions, you've probably realized that it won't be a problem to create your own itinerary for visiting Ibiza. Based on the map above, anyone can do it themselves in a few minutes.
So this time I'm not imposing or proposing my own plan. Just go wherever you want and watch what you want.
The map above and the basic data set below should help you do just that.
Tourist attractions in Ibiza
1. Eivissa Dalt Vila, i.e. the Old Town in the capital of Ibiza (inscribed on the UNESCO list)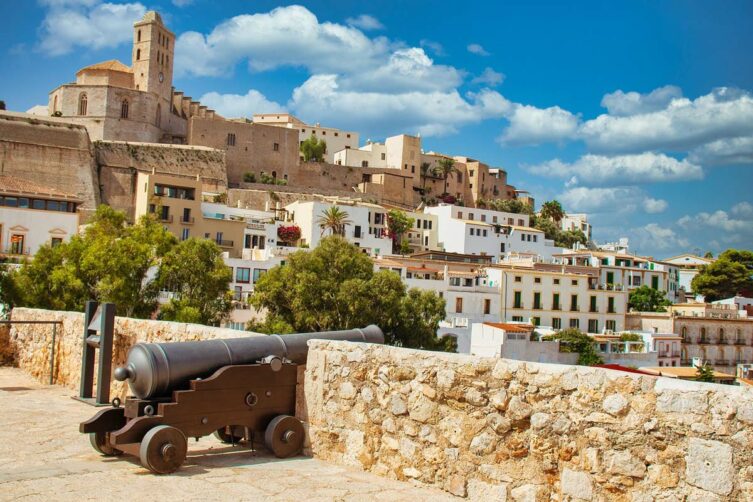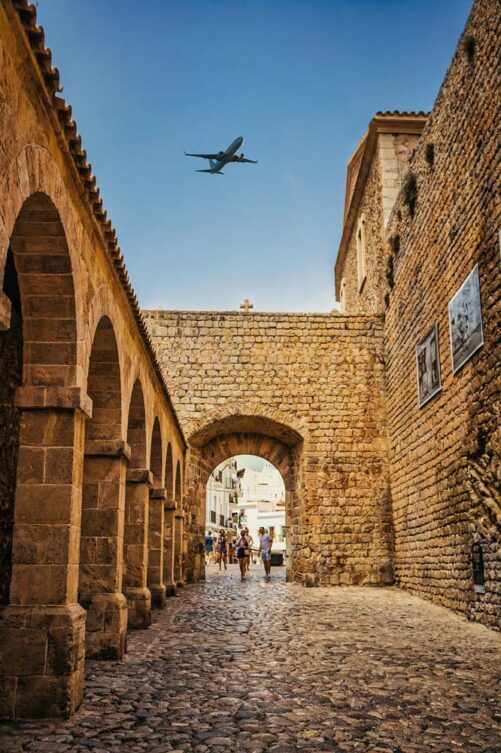 The road leading over the old drawbridge passes through the main gate to the city, which is entirely surrounded by ancient walls. A walk through the narrow streets of the town is very impressive, and the views available from the defensive walls are spectacular.
Parking near the city walls, GPS coordinates:
38°54'24.5″N 1°25'58.2″E
38.906803, 1.432830 - click and route
Large parking lot near the marina, 15 minutes (900 m) from the old town, GPS coordinates:
38°54'46.7″N 1°26'02.0″E
38.912977, 1.433878 - click and route
2. Puig des Molins (Hill of Windmills)
Traces of a Phoenician settlement from the 3000th century BC, inscribed on the UNESCO list, with well-preserved elements of an ancient necropolis consisting of about XNUMX tombs.
Entrance to Puig des Molins (you have to park nearby, on the street), GPS coordinates:
38°54'25.9″N 1°25'46.2″E
38.907181, 1.429511 - click and route
3. Marina De Ibiza – port and marina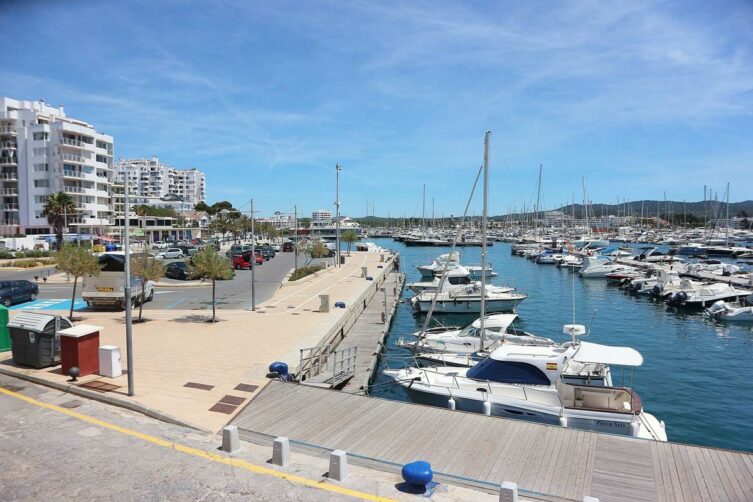 The picturesque marina and port form a small, separate district in the capital of Ibiza. Located at the foot of the defensive walls, whitewashed houses are squeezed around narrow streets, and the characteristic smell of saltpeter dominates the air.
Large parking lot near the marina, GPS coordinates:
38°54'46.7″N 1°26'02.0″E
38.912977, 1.433878 - click and route
4. Talamanca – beach
A beach located close to the marina in the capital of Ibiza, with characteristic snow-white sand. Popular and eagerly visited by tourists due to easy access and developed catering infrastructure.
Parking at Talamanca Beach, GPS coordinates:
38°54'50.1″N 1°27'02.6″E
38.913902, 1.450726 - click and route
5. Punta Arbai Hippy Market – hippie market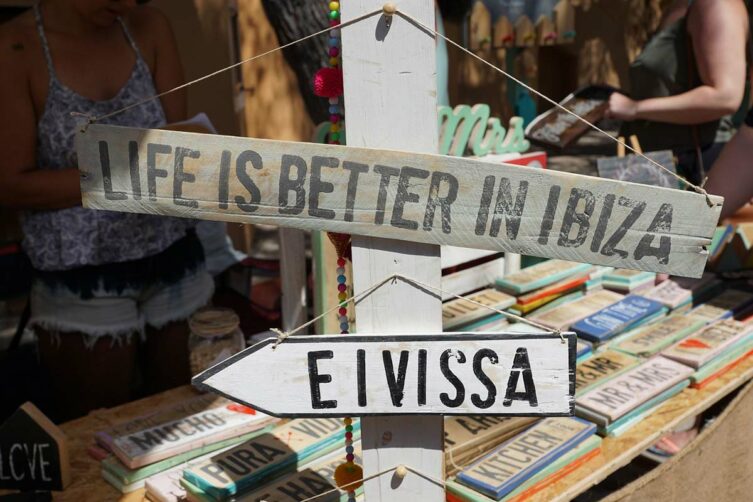 The oldest and largest hippie market on the island. A friendly, colorful, music-filled and child-friendly place (special Hippie Kids zone with games for children, face painting, etc.). It runs every Wednesday.
Below are GPS directions to the Punta Arbai bazaar and two other hippie bazaars.
Punta Arbai Hippy Market, GPS coordinates:
38°59'37.3″N 1°34'41.0″E
38.993700, 1.578056 - click and route
5.1 Las Dalias Hippy Market – hippie market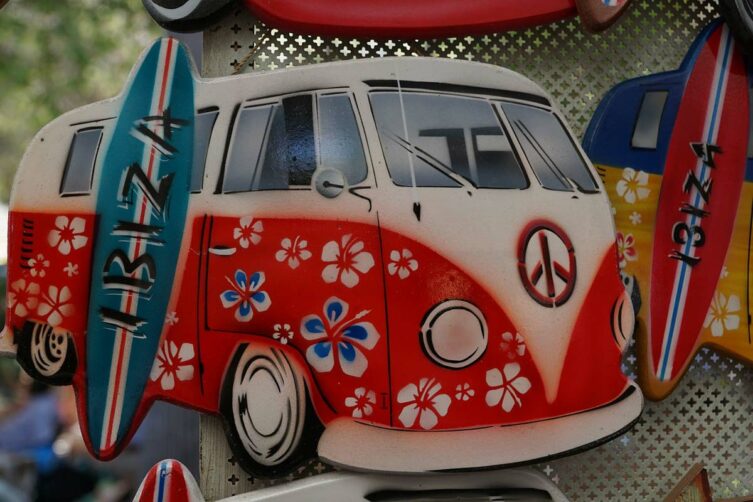 The bazaar is open:
From June to September:
– on Saturdays from 10:00 to 20:00
– at night: every Sunday, Monday and Tuesday from 19:00 to 0:30
In October
– on Saturdays from 10:00 to 19:00
– on Sunday from 11:00 to 18:00
Parking lot at the hippie bazaar Las Dalias, GPS coordinates:
39°01'44.3″N 1°33'26.8″E
39.028968, 1.557431 - click and route
5.2 Mercadillo de Sant Jordi – hippie market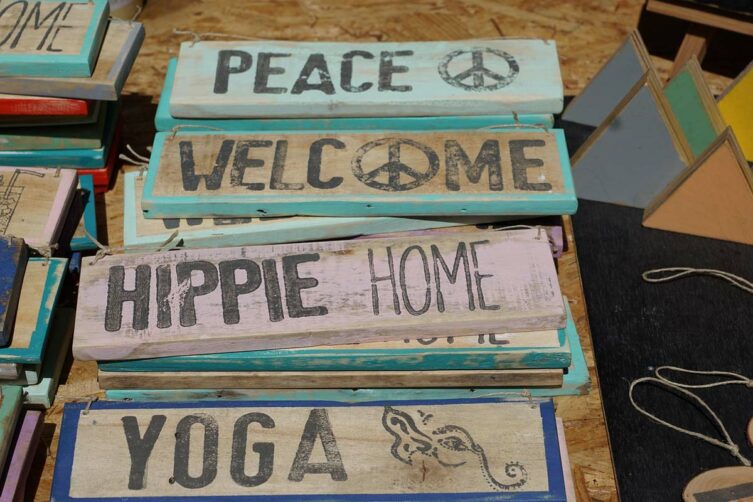 The hippie bazaar at the hippodrome is open every Saturday all year round.
Parking lot at the hippie bazaar at the hippodrome, GPS coordinates:
38°53'16.4″N 1°23'46.9″E
38.887888, 1.396347 - click and route
6. Cueva de Can Marca (Can Marca Caves)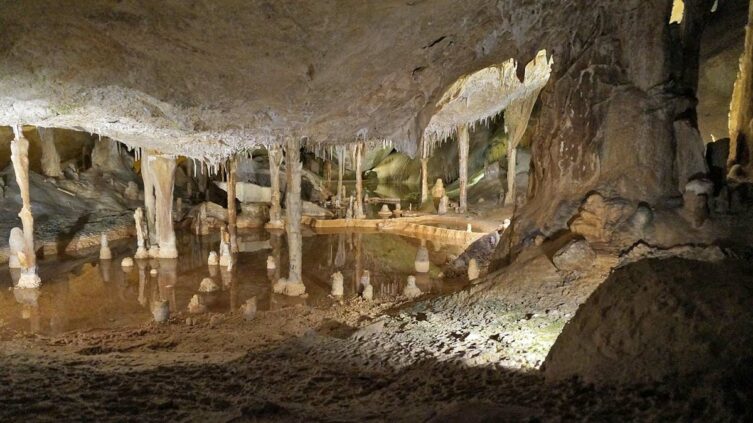 The beautiful caves, filled with stalactites and stalagmites, once served as a secret place for smugglers. Today, due to its attractiveness, it is a very popular tourist place.
Narrow entrance on the curve of the road to the parking lot at the Can Marca caves, GPS coordinates:
39°04'58.3″N 1°26'33.0″E
39.082860, 1.442488 - click and route
7. Cala Saladeta – beach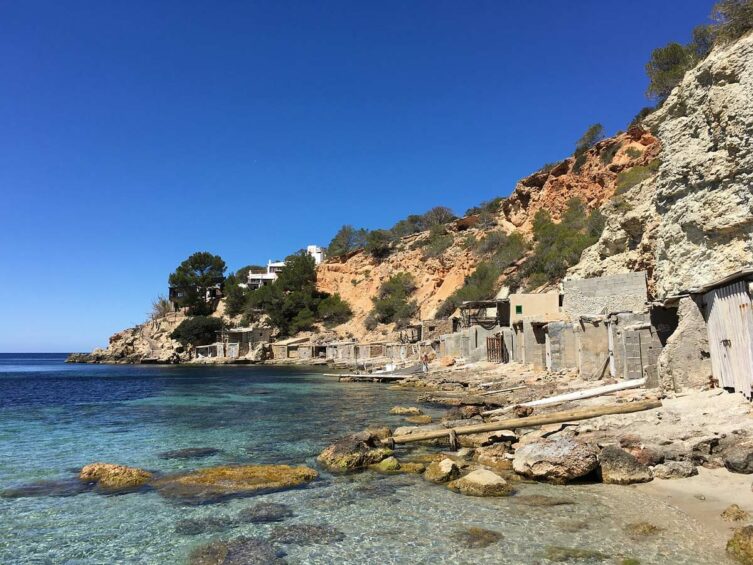 A beautiful rocky beach with an interesting descent down steep stairs. It is worth having more comfortable footwear (not beach shoes). One of the best kept beaches on the island.
Parking at Cala Saladeta, GPS coordinates:
39°00'33.0″N 1°18'00.1″E
39.009153, 1.300018 - click and route
8. San Antonio de Portmany – the second city of the island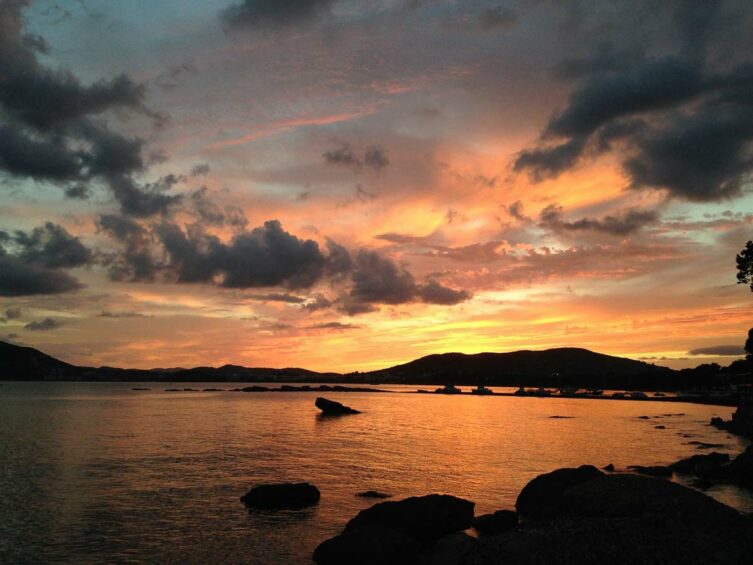 The second largest city on the island with all the attractions: port, beach, clubs and ... a place for fans of electronic music. This city is said to have the most beautiful sunsets on the island.
Parking at the waterfront in San Antonio de Portmany, GPS coordinates:
38°58'38.7″N 1°18'29.8″E
38.977424, 1.308286 - click and route
9. Cala Comte – beach
Another beautiful beach that is worth spending a moment on. The beaches are surrounded by a flat, rocky coastline. At the top of the flat, terraced, rocky coastline there are cafes and restaurants with perfect views of the sunsets.
Above, a panoramic shot from one of the bars on the rocky terrace by the beach.
Parking near Cala Comte, GPS coordinates:
38°57'42.8″N 1°13'13.9″E
38.961898, 1.220525 - click and route
10. Es Vedra Rock – viewpoint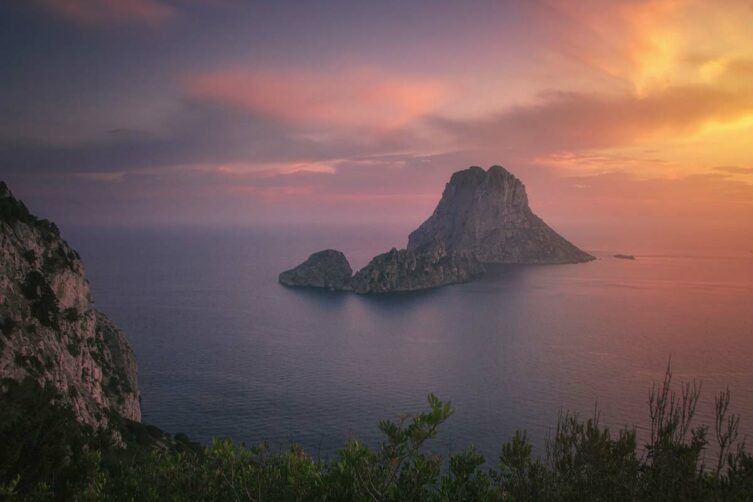 The 413-meter-high, raw, monolithic rock island of Es Vedra makes a huge impression. This is where, according to Homer ("The Odyssey"), nymphs and sirens lived and lured Ulysses with their singing.
Ground parking lot at the viewpoint on Es Vedra, GPS coordinates:
38°52'46.2″N 1°14'12.0″E
38.879489, 1.236655 - click and route
Viewpoint on Es Vedra, GPS coordinates:
38°52'34.2″N 1°13'40.3″E
38.876153, 1.227862 - click and route
11. Formentera Island
You can reach Formentera by ferry directly from the capital of Ibiza. Tickets for the fast ferry (both ways) are available buy online - [click].
Formentera is a nice change from the typically touristic Ibiza. Definitely more quiet, calmer and wilder. Worth seeing.
check out: round-trip tickets from Ibiza to Formentera – [click]
12. Calo des Mort – beach
A beach on the island of Formentera with sea water of a mesmerizing turquoise color. Lovely place.
Calo des Mort, GPS coordinates:
38°39'36.2″N 1°31'03.6″E
38.660042, 1.517658 - click and route
13. Playa de Ses Illetes – beach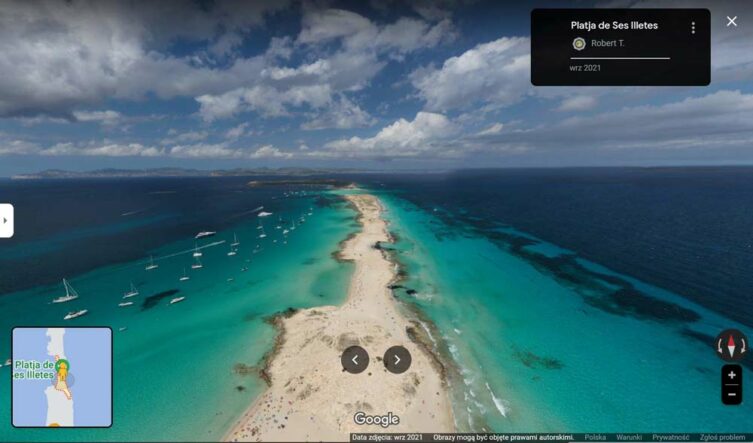 The fantastic-looking white beach and soothing turquoise water make it possible to sit here forever. Scenery known from photos from... the Caribbean. It is located on the island of Formentera.
Ses Illetes beach, GPS coordinates:
38°45'32.0″N 1°26'08.5″E
38.758900, 1.435684 - click and route
Hotels and accommodation in Ibiza
Take a look at some suggestions below. They are rated very highly and at an attractive price. Clicking on any of them will take you to a detailed description and will also display several similar accommodations available nearby. Sometimes you can find really nice offers in Ibiza.
The links I prepared were designed to filter out unnecessary results. Using them should definitely make it easier for you to find interesting offers.



Important to me!
Give the article a good rating
(5 stars welcome 😀)!
It's free, a
for me it is very important!
The blog lives on visits and thus has a chance to develop.
Please do it
and ... thank you in advance!
I also post
link to Facebook profile - [click]
. Come in and press "
Follow
"then you will not miss new, inspiring posts.
Unless you prefer
Instagram
. I'm not a social media demon, but you can always count on something nice to look at on
my instagram profile - [click]
. The profile has just been created, so
for now he is starving
, due to the lack of followers. He is happy to receive any observer who feeds him with his love.
I make the content I create available free of charge with copyright, and the blog survives from advertising and affiliate cooperation. So, automatic ads will be displayed in the content of the articles, and some links are affiliate links. This has no effect on the final price of the service or product, but I may earn a commission for displaying ads or following certain links. I only recommend services and products that I find good and helpful. Since the beginning of the blog's existence, I have not published any sponsored article.
Some of the readers who found the information here very helpful, sometimes ask me how you can support the blog? I do not run fundraisers or support programs (type: patronite, zrzutka or "buy coffee"). The best way is to use links.
It costs you nothing, and support for the blog is self-generating.
Pozdrawiam