Salt pans in Malta - access, parking, sightseeing, interesting facts, accommodation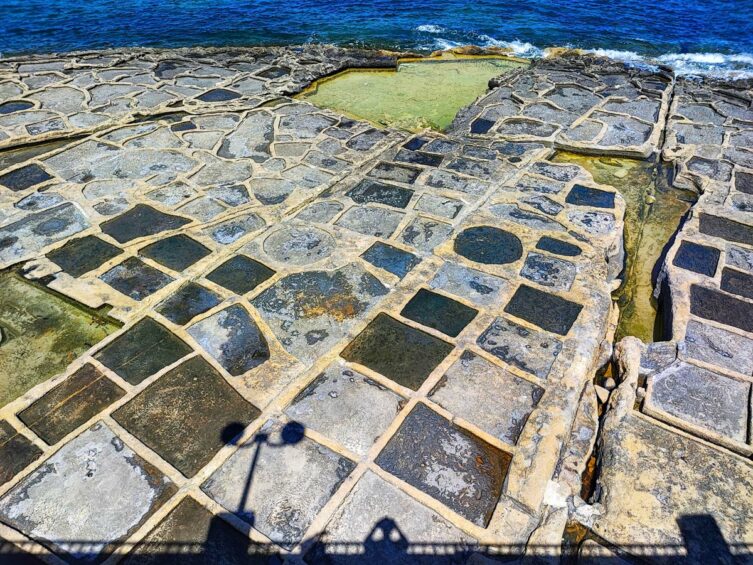 Do you know what pans are?
One of the biggest and most photogenic attractions of Malta are the salt pans, i.e. small, shallow brine pools excavated in the coastal soil. They fill with water on their own, without human intervention, and this happens at high tide. The sea level is then so high that the pans are completely flooded with sea water. As the sea level drops, the water trapped in the pans under the influence of the sun and temperature slowly evaporates, leaving crystallized salt behind. Then comes the moment when a man has to get to work. It comes with a set of simple tools and a bag or bucket for salt and extracts what has crystallized from the bottom of each pan. This is, in a nutshell, the traditional production of natural salt from sea water in Malta.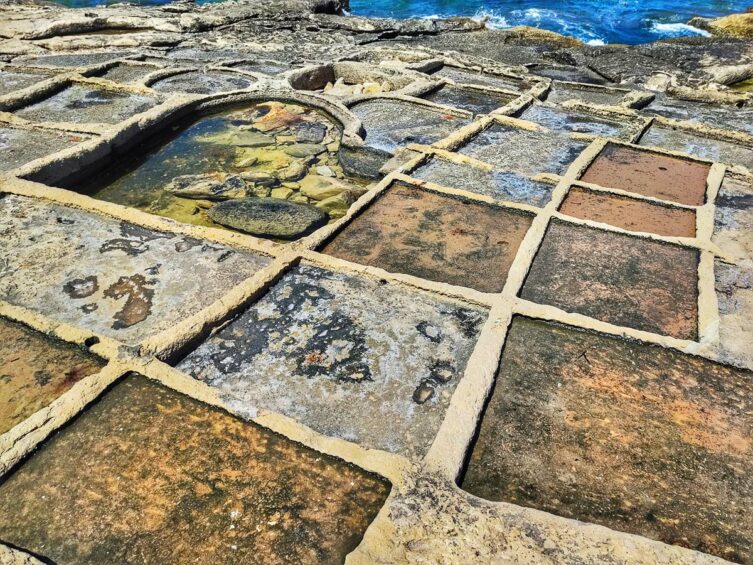 Today, of course, the traditional salt pans are no longer the island's main source of salt, as production methods have been industrialized. Only in some places such production is maintained, mainly to preserve tradition. The salt extracted from them is sold mainly as a tourist souvenir, but it is worth remembering that thanks to its properties (mainly mineral ingredients), pan salt is often used not only for culinary purposes, but also in healing treatments for various skin ailments.
Where are the pans in Malta?
Almost all tourists go to see the salt pans on Gozo, the neighboring island next to Malta. This usually takes place while exploring the entire island of Gozo (I recommend it, it's beautiful), but if you don't plan to visit Gozo, nothing lost either. Wild salt pans can also be found in Malta! The fact that no one writes about them (I came across the pans in Malta by accident, I did not find information about them in guidebooks) does not mean that they are uglier or worse. They are beautiful, expansive and look great. In addition, due to the fact that they are not widely known and advertised, there are practically no people on them. Empty, quiet and beautiful (exactly as in the photos attached to this entry).
I have marked the location of the proposed salt pans on the map of Malta attached below (they are located on Triq Is-Salini Street in Marsaskala).
Salt pans in Marsaskala, GPS coordinates:
35°51'51.1″N 14°34'16.8″E
35.864182, 14.571340 - click and route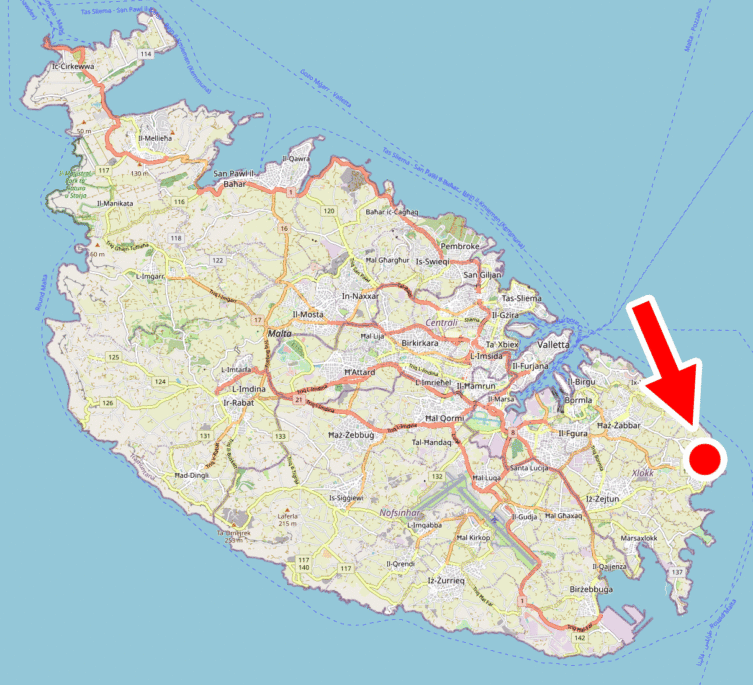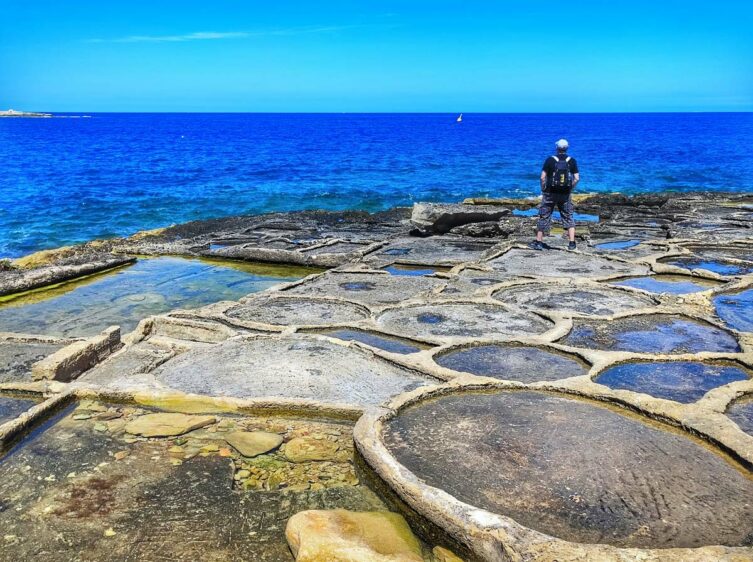 How to get to the salt pans in Malta?
In practice, most travelers can get here in two ways.
Accessible by car
If you are moving around Malta by car, the matter is very simple. Below are the coordinates of the place you need to get to. GPS coordinates indicate free parking spaces that stretch along the entire street (on both sides of the road) and there are so many of them that there is no way that there is no place to park. After reaching the place, enter the promenade running along the shoreline and look over the railing. Nearby you will also find stairs that will allow you to go down to the water itself to walk among the ladies. It is allowed here. However, please remember to do so with moderation and respect. Others who come after you will also want to see them. So, move around the pans carefully and make sure not to damage them.
Street parking next to the salt pans in Malta, GPS coordinates:
35°51'51.7″N 14°34'14.1″E
35.864365, 14.570570 - click and route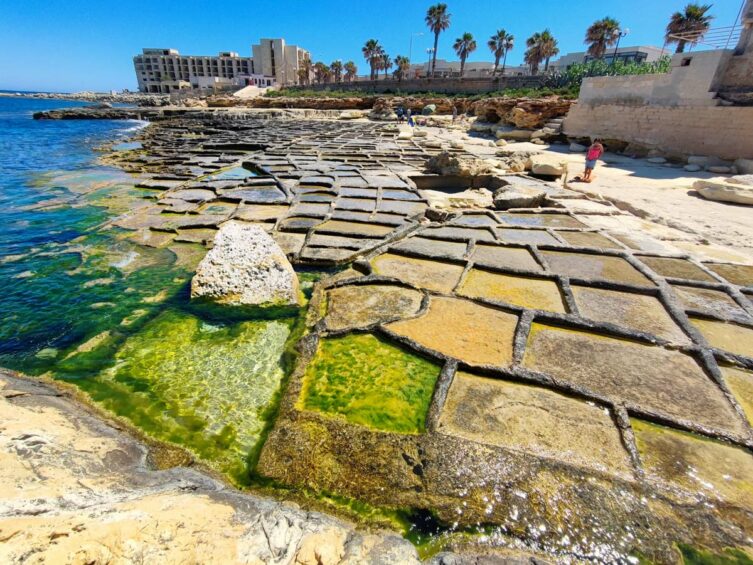 Access by bus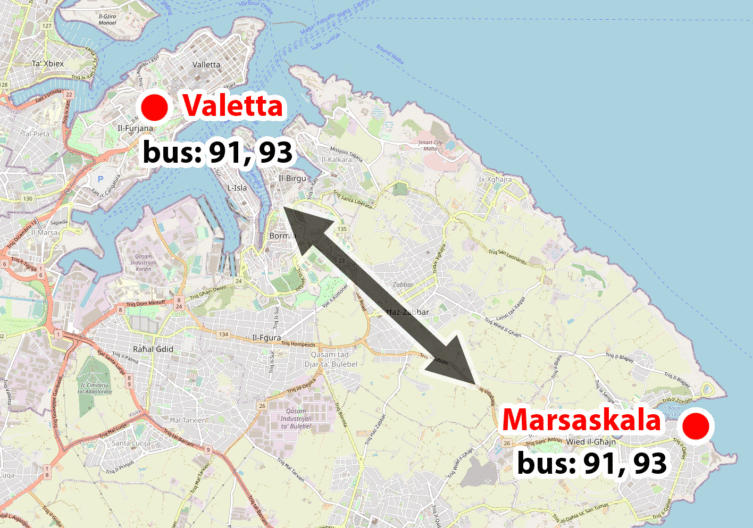 Line 93
At the salt pans, bus number 93 stops, which will take you here directly and without transfers from Valletta (the bus leaves from the main stop in the center of Valletta). The line runs approximately every 60 minutes and the journey time is approximately 40 minutes.
You will receive the route along with the current hours of the nearest departure and travel time by clicking on this link: bus 93 – access from Valetta to the salt pans in Marsaskala – [click]
Valeta - starting stop of line 93, GPS coordinates:
35°53'39.9″N 14°30'31.0″E
35.894422, 14.508623 - click and route
Marsaskala - stop of line 93 at the salt pans (name of the stop: Olivana), GPS coordinates:
35°51'48.2″N 14°34'18.4″E
35.863395, 14.571776 - click and route
Line 91
The salt pans in Marsaskala can also be reached without transfers by the second line: bus no. 91. It runs much more frequently than line 93 (about every 15 minutes), but the final stop is not at the salt pans themselves. From the stop where you get off, you need to walk about 250 meters (2 minutes walk) to Panwi. Getting there is very easy, so don't be afraid to take this bus. The journey time is similar: about 40 minutes.
You will receive the route along with the current hours of the nearest departure, travel time and walking path after clicking on this link: bus 91 – access from Valetta to the salt pans in Marsaskala – [click]
Valeta - starting stop of line 91, GPS coordinates:
35°53'40.2″N 14°30'31.0″E
35.894493, 14.508620 - click and route
Marsaskala - stop of line 91 near the salt pans (name of the stop: Grigal), GPS coordinates:
35°51'46.6″N 14°34'10.5″E
35.862949, 14.569570 - click and route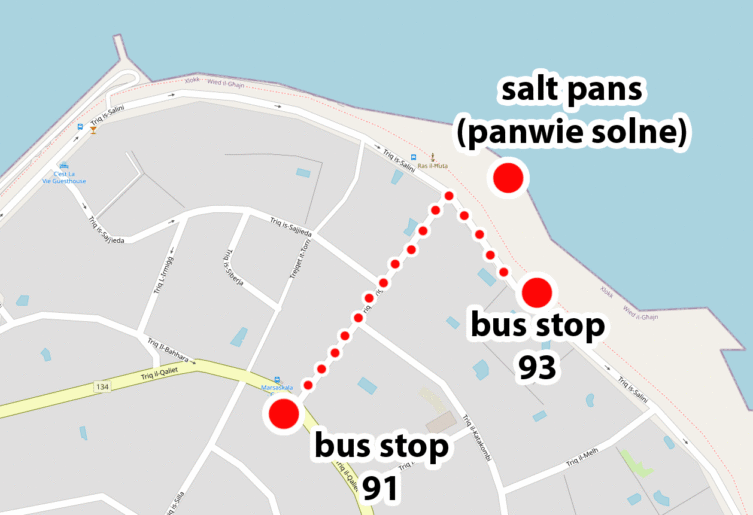 Hotels and accommodation in Marsaskala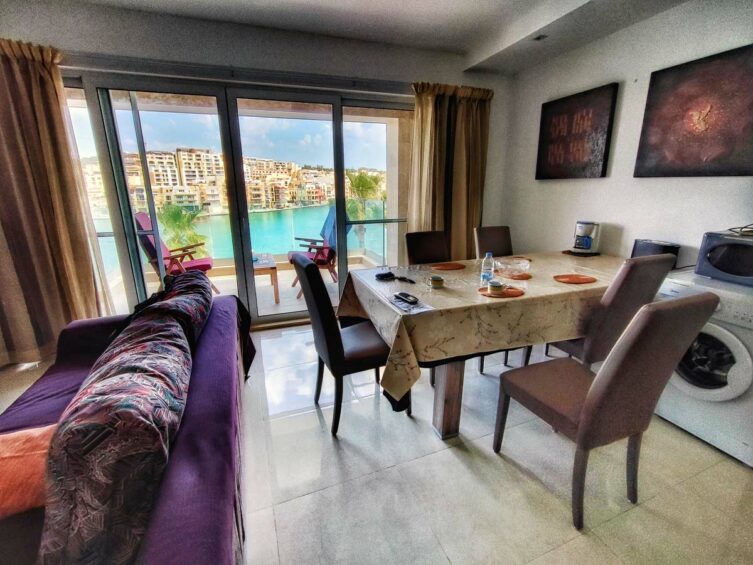 Certainly, when you get to Marsaskala to watch the salt pans, you will notice that the town is picturesquely situated on a deep bay that cuts into the land. Along the shoreline of the bay there are old tenement houses, and some of them have been recently renovated. In them there are apartments with comfortable balconies and terraces with an insane view of the bay. Currently, due to the fact that Marsaskala is not yet very popular and known among tourists, the prices of renting such apartments, especially in the off-season, are affordable, but I think that will change over time.
We found here an apartment of about 70 m2 (out of season, in May) at a price lower than a regular hotel room in Valletta.
Living in Marsaskala is great. It is peaceful, there are no crowds, and within a few steps there are shops and restaurants serving really great cuisine, at any time of the day (from breakfast to dinner).
However, if you plan to actively explore Malta and live in Marsaskala, plan it necessarily car rental – [click]. Visiting the island by city buses from this location can be a pain (generally in my opinion visiting Malta by bus is in practice a nuisancebut I will write about that on another occasion). From Marsaskala it will require commuting to Valletta in the morning and returning in the evening (this means an additional 2 x 40 minutes per day by bus).
Below are some suggestions accommodation in Marsaskala – [click]. These are not the only and selected ones that I recommend or somehow especially prefer. Rather, treat these suggestions as a convenient starting point for your own explorations. Clicking on each of these offers will take you to the details of the offer, but at the same time it will display a number of other similar accommodation. It is always worth browsing alternative offers, because you can often (like us) find a promotion and catch a really great accommodation at an attractive price.



Malta sightseeing itinerary
This entry is part of a complete one
Malta sightseeing plan - [click]
. The guide contains plans, maps and descriptions of specific sightseeing routes.
To see all currently available descriptions of attractions in Malta, click on the link:
Malta - [click]
.
Safe car rental guide:
Malta - is it possible to rent a car without a deposit?
Important to me!
Give the article a good rating
(5 stars welcome 😀)!
It's free, a
for me it is very important!
The blog lives on visits and thus has a chance to develop.
Please do it
and ... thank you in advance!
I also post
link to Facebook profile - [click]
. Come in and press "
Follow
"then you will not miss new, inspiring posts.
Unless you prefer
Instagram
. I'm not a social media demon, but you can always count on something nice to look at on
my instagram profile - [click]
. The profile has just been created, so
for now he is starving
, due to the lack of followers. He is happy to receive any observer who feeds him with his love.
I make the content I create available free of charge with copyright, and the blog survives from advertising and affiliate cooperation. So, automatic ads will be displayed in the content of the articles, and some links are affiliate links. This has no effect on the final price of the service or product, but I may earn a commission for displaying ads or following certain links. I only recommend services and products that I find good and helpful. Since the beginning of the blog's existence, I have not published any sponsored article.
Some of the readers who found the information here very helpful, sometimes ask me how you can support the blog? I do not run fundraisers or support programs (type: patronite, zrzutka or "buy coffee"). The best way is to use links.
It costs you nothing, and support for the blog is self-generating.
Pozdrawiam