Tenerife - long-term weather: air and water temperature, climate, holiday and vacation weather.
Tenerife - weather, climate and annual temperatures
Tenerife is an island of eternal spring. You will often come across this wording. From our subjective point of view (inhabitants of temperate climate) it can be misleading. I will say more, definitely misleading.
Imagine an island on which the average daytime air temperature throughout the year does not fall below 20 degrees Celsius, and the water temperature in the sea in the coldest month does not fall below 18 degrees. Translate this to our conditions and at what time of year do you associate it? Of course summer !!!
Perhaps for the inhabitants of Spain, Portugal or Italy (where the climate is much warmer than ours), Tenerife is an island of eternal spring. For us - you can safely say - Tenerife is rather an island of eternal summer.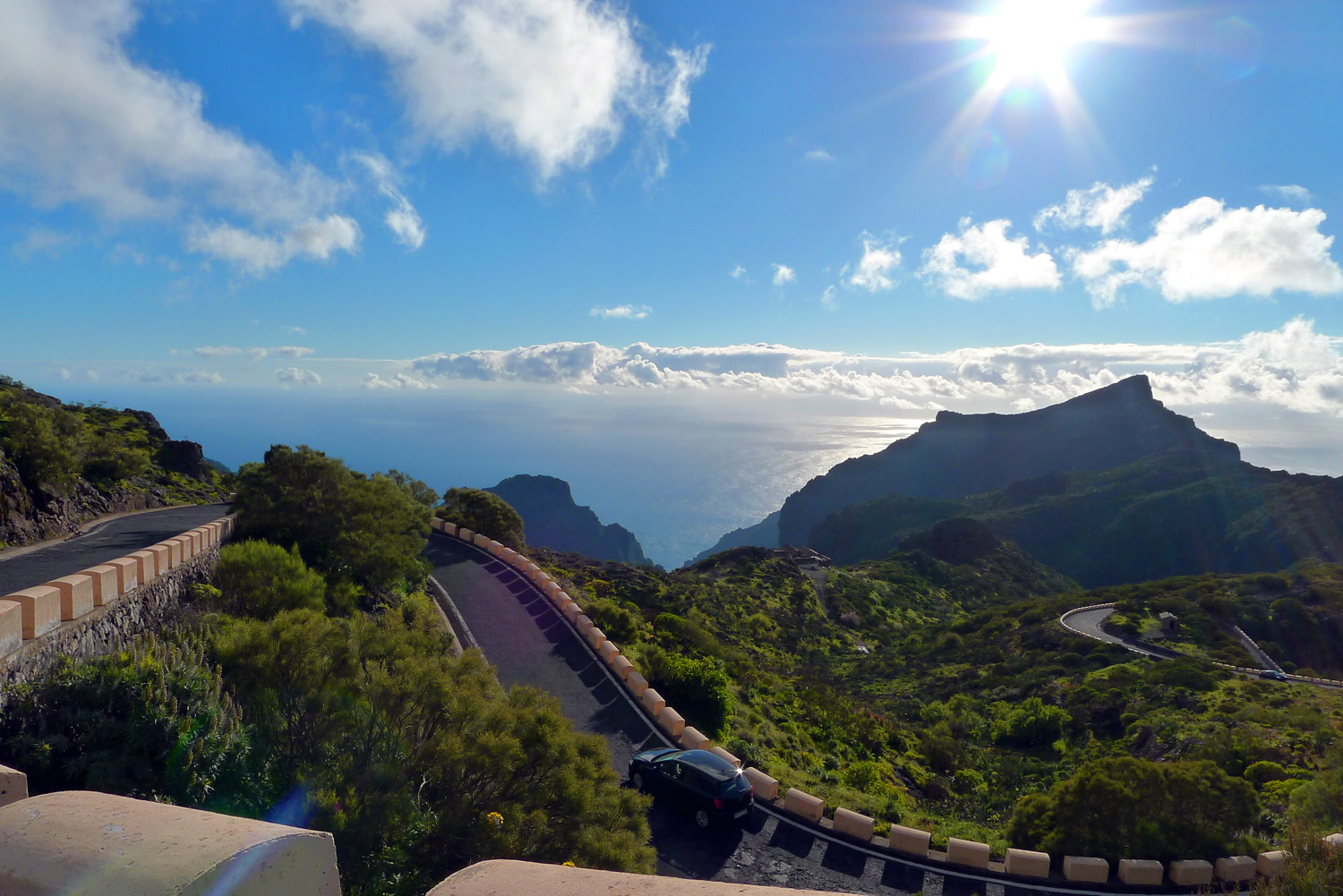 Tenerife, however, is not uniform in terms of climate. A key element influencing the diversity of the climate in Tenerife is the volcano Teide, located almost in the middle of the island. 3718 high above sea level is an effective barrier to the cooler air that flows over the island from the north. Teide acts like a curtain and does not allow cooler air to pass south. The effect is that in the north of the island the temperature is a few degrees lower than the average temperature I gave. But in the south it is exactly the opposite. It's usually a few degrees warmer.
North and south therefore differ significantly in appearance. The north is lush and green, the south dry and sunburnt.
Below is a table with average temperatures for all months of the year. If you intend to relax on the south of the island, expect temperatures of 5-7 degrees higher than the average, while if you choose north of the island, subtract 3-5 degrees from the given average temperature every month.
In practice, it looks like that if you like the heat, choose spring or summer and south of the island. Temperatures around 30 degrees guaranteed. If you like warm but not necessarily hot, choose spring or summer and north of the island, or other seasons and south of the island. If you want to escape from Polish winter and cold weather and rest in winter in a pleasant warmth, choose the south of the island.
Temperature
Number of days
during the day
[℃]
in the night
[℃]
water
[℃]
rain
January
21
15
19
5
February
22
16
19
5
March
22
16
19
4
April
22
16
19
3
May
22
17
20
2
June
24
18
21
1
July
24
20
22
1
August
25
20
23
1
September
23
19
23
1
October
22
19
23
4
November
22
17
22
5
December
20
15
19
6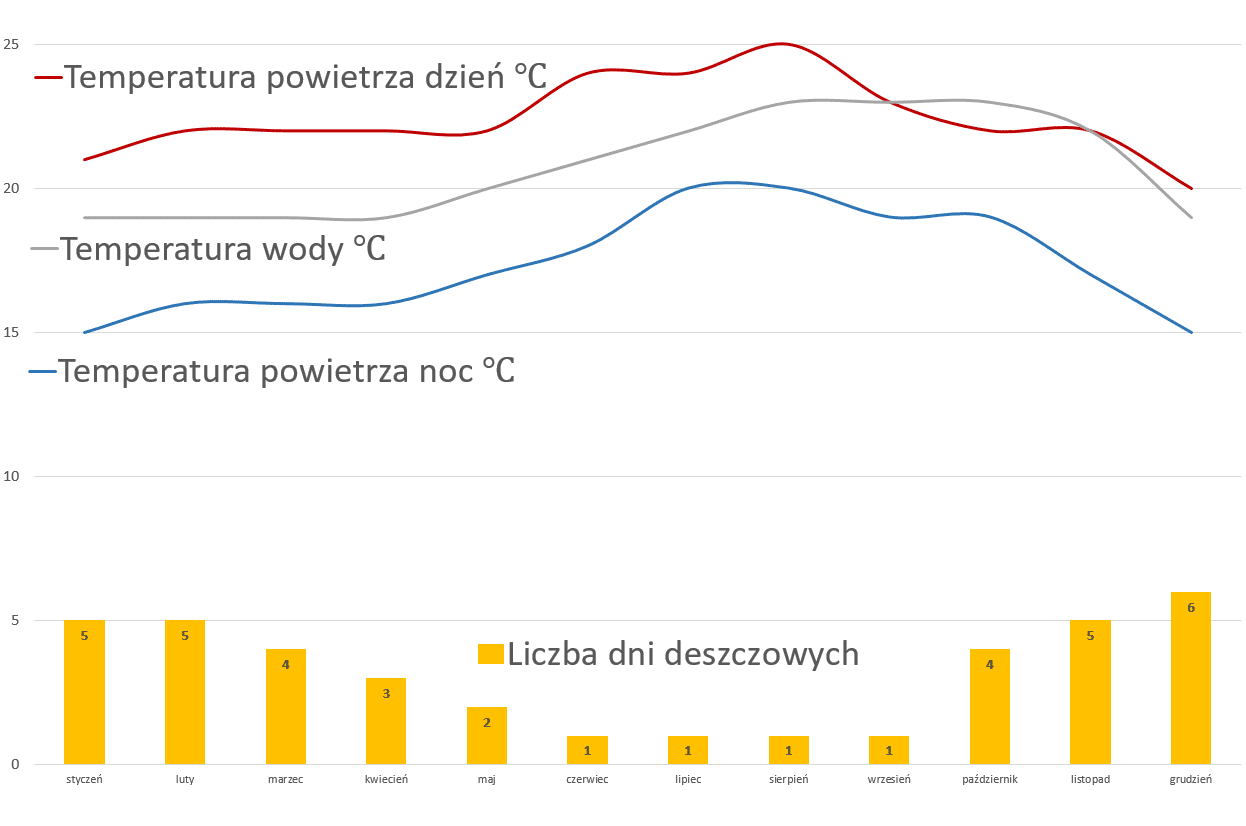 Tenerife - weather: summer (June, July, August, September)
Summer in Tenerife is a guarantee of weather. On average, a rainy day happens in 1 a month, but rainy doesn't mean it rains all day. If you really are unlucky and you come across this one rainy day, it will probably be a small and fleeting rain that you will enjoy with pleasure.
It's hot in the south. 30 degrees and full sun is the norm. Expect temperatures around 25 degrees in the north.
Tenerife - weather: autumn (october, november)
In autumn, the number of rainy days in Tenerife gradually increases (4 to 5 days a month), but the rainfall intensity does not resemble those we know from our climate. They are not troublesome and they are not long-lasting. In principle, they do not disturb relaxation.
In the south of the island it is still very warm (around 25 degrees), in the north expect temperatures around 20 degrees.
The water in the sea is still warm as in summer.
Tenerife - weather: winter (December, January, February)
Winter in Tenerife in terms of temperature looks like the turn of spring and summer in Poland. There are more or less 6 rainy days a month (in Poland it is definitely more) and the temperature is ideal for active exploring the island. Rains are not long lasting or bothersome (especially when it rains at night). If you want to escape somewhere in winter to recharge your internal batteries, this is a great place. Practically every day you are guaranteed a large amount of sunshine.
The temperature of the day in the south of the island is pleasant 20-22 degrees. In the north it gets a bit windier and the temperature falls to around 15 degrees.
Winter is the perfect time of year to observe the giant waves that crash into the north coast of Tenerife. The impression is amazing. The observation of how a wave is being built, which reaches a few or several meters in height and then with a giant bang crash into the rocks is difficult to describe.
I became hypnotized by this phenomenon. You won't see it in the summer.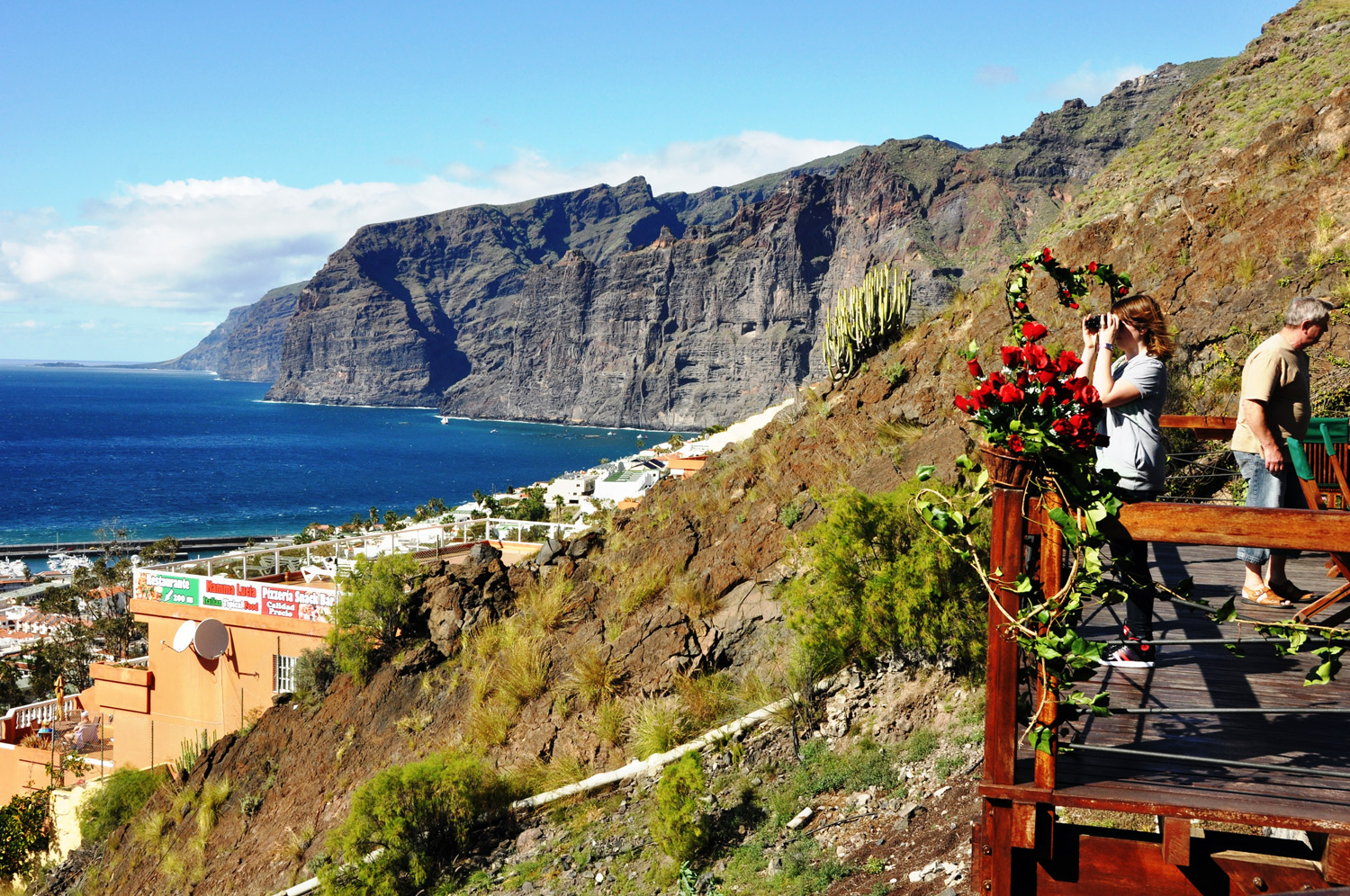 Tenerife - weather: spring (march, april, may)
In Tenerife, you want to live in spring. The number of rainy days (while I remind you that the term "rainy" is a bit exaggerated) falls to 3 in a month. The temperature in the south usually exceeds 25 degrees Celsius, and in the north it is usually around 20 degrees. It's like our summer.
If after the dark of winter you need intervention in order to break free from winter numbness, Tenerife will put you on your feet. That's for sure!
Teide volcano
Teide requires separate treatment. The volcano is 3 718 meters high. The lower station is at 2 356 m above sea level. The upper station is already at 3 555 m above sea level
As the altitude increases, the air temperature decreases. The temperature drop is roughly 0,6 degree Celsius for every 100m height difference. When coming to Teide from a hotel located by the sea, i.e. from sea level, expect a significant drop in temperature.
At the bottom station of the queue the temperature should be lower by: 23,5 * 0,6 = 14,1 degrees Celsius than at the seaside.
At the top station of the cable car, expect a temperature lower by: 35,5 * 0,6 = 21,3 degrees Celsius than at the seaside.
These simple calculations show that when going to Teide in the summer you need to have some light extra clothing (softshell jacket, fleece) and winter clothing in winter. Driving in winter to Tenerife from Poland, you will still have a set of winter clothing in which you will dry from home. Don't forget to take her with you to Teide.
Tenerife - current weather and 7 days forecast
Below you can find live updated weather data along with the 7 weather forecast. Always by entering this entry you will receive current weather data. Under the weather data there is a map of Tenerife with marked locations which are affected by weather data.
This is one location in the north of the island and one in the south.
1. Puerto de la Cruz - weather
2. El Médano - weather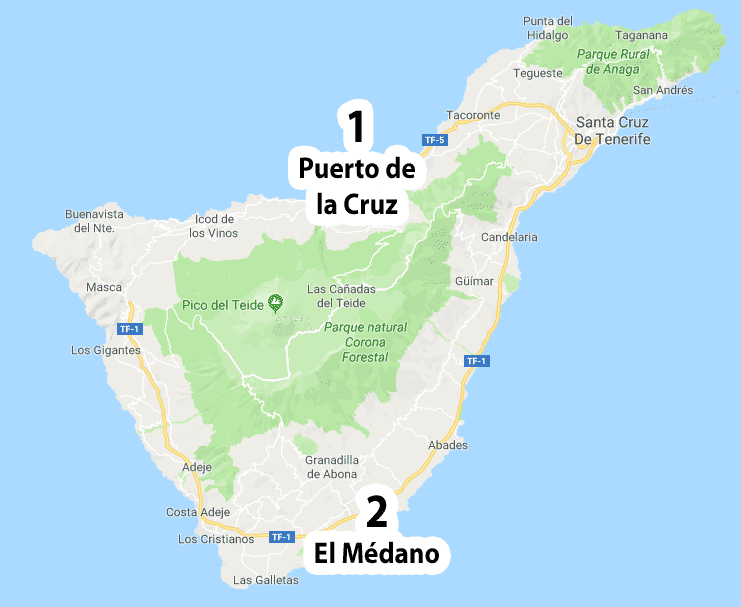 Tenerife - tourist attractions
On the blog you will find descriptions of several other tourist attractions in Tenerife. I grouped them into one category:
Tenerife
. See the list described by me
attractions in Tenerife - [click]
.
Important to me!
Give the article a good rating
(5 stars welcome 😀)!
It's free, a
for me it is very important!
The blog lives on visits and thus has a chance to develop.
Please do it
and ... thank you in advance!
I also post
link to Facebook profile - [click]
. Come in and press "
Follow
"then you will not miss new, inspiring posts.
Unless you prefer
Instagram
. I'm not a social media demon, but you can always count on something nice to look at on
my instagram profile - [click]
. The profile has just been created, so
for now he is starving
, due to the lack of followers. He is happy to receive any observer who feeds him with his love.
I make the content I create available free of charge with copyright, and the blog survives from advertising and affiliate cooperation. So, automatic ads will be displayed in the content of the articles, and some links are affiliate links. This has no effect on the final price of the service or product, but I may earn a commission for displaying ads or following certain links. I only recommend services and products that I find good and helpful. Since the beginning of the blog's existence, I have not published any sponsored article.
Some of the readers who found the information here very helpful, sometimes ask me how you can support the blog? I do not run fundraisers or support programs (type: patronite, zrzutka or "buy coffee"). The best way is to use links.
It costs you nothing, and support for the blog is self-generating.
Pozdrawiam