Montenegro – car rental without deposit and credit card [GUIDE]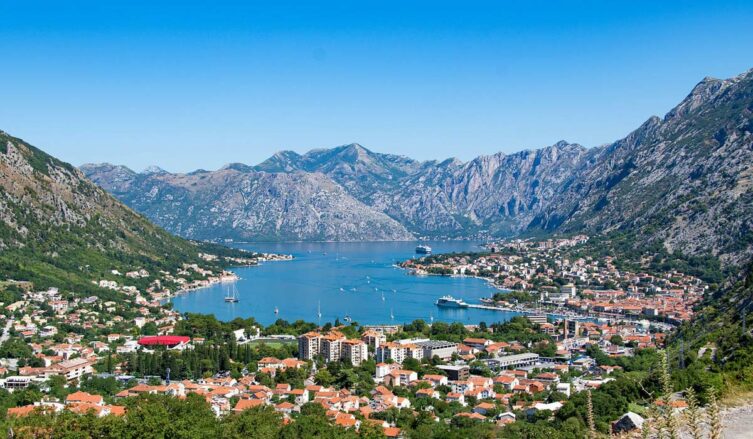 Montenegro by car?
Of course! Definitely yes!
Montenegro offers many beautiful places that are not always on the main route and are not crowded. Montenegro offers wonderful nature, fantastic views, perfect weather and attractive prices. It is a dream country for travelers and curious people who like the freedom of traveling in wonderful circumstances for little money.
So if you are wondering whether Montenegro would be a good idea for an independent trip, I suggest: it is a very good idea.
Traveling around Montenegro
If you decide to come to Montenegro and do it by plane, you will most likely land in Podgorica. This is good news, because this is where there are the most car rental opportunities. You can quickly compare rental prices by clicking the button below.
Of course, it is not a problem to rent a car in other towns, but it is definitely the most convenient to do it right at the airport. The cost of renting a car in Montenegro is lower than in most European countries, so it is worth taking a car for the entire trip. Then you will pick up the car at the airport right after getting off the plane and drop it off at the airport just before departure.
Compare car rental prices
A short instruction for the intemperate
I'll start with a short guide to renting a car without a deposit and without a credit card, a quick guide for the impatient. Just follow the few simple steps below and you're ready to start looking.
If questions and doubts arise during the search, look for answers further in the text. The text is long and contains a lot of useful information. I consciously constructed it this way. You can read it piece by piece, selecting the part that interests you, or read it in its entirety. However, the most important thing is to search quickly.
Car rental without a deposit
step 1
- go to the website
offer comparison websites - [click]
step 2
- fill out the form (entering the dates and place of pickup of the car) and press "
Search
"

step 3
- after a while you will receive the search result. Then in the options and filters panel, search for the section "
Refundable deposit
" and check the option "
A deposit is not required
".
step 4
-
Finished!
The search results only include offers without a deposit!
WARNING!
It is possible that the "No deposit required" option will not be available in the filters. This option does not appear when all such offers have already been sold. Sometimes it helps
date change
rental or
car pickup location
.
The location of the key search engine elements on your computer and phone screen can be found in the image below.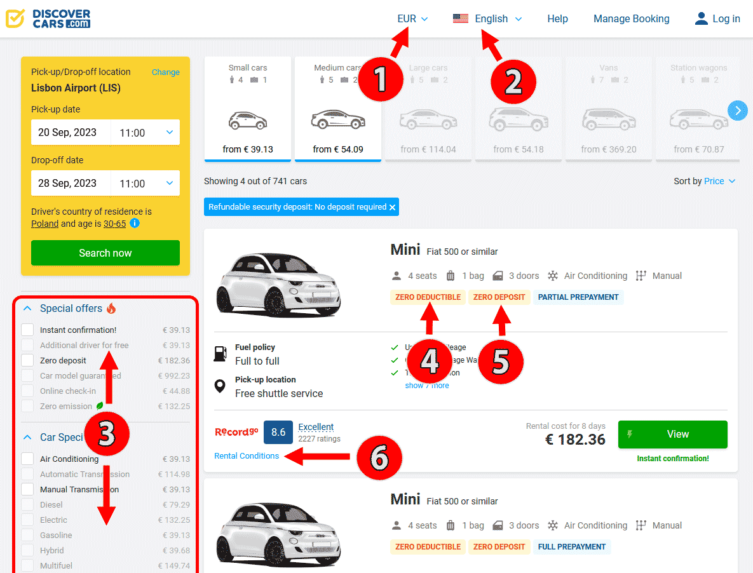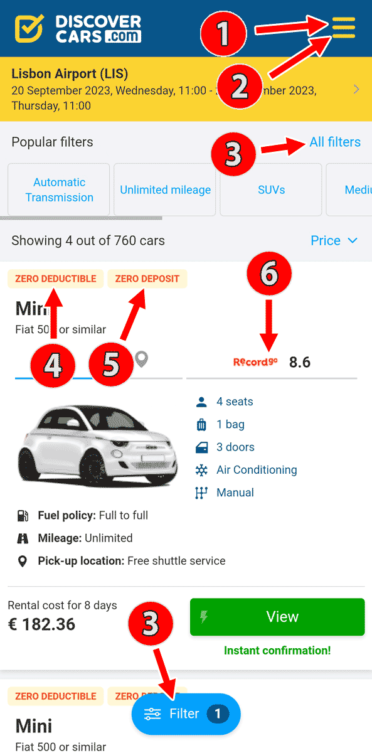 Car rental without a credit card
step 1
- go to the website
offer comparison websites - [click]
step 2
- fill out the form (entering the dates and place of pickup of the car) and press "
Search
"
step 3
- in the options and filters panel (3) search for the section "
Payment by card on delivery
" and check the option "
Debit card
"
step 4
-
Finished!
The search results only show rental offers without a credit card
The location of key elements on the search engine page (on your computer and phone) can be found in the images above.
Montenegro - important information for drivers and travelers
Language:
- official: Montenegrin
- popular foreign language: Serbian, Bosnian, Albanian, English (poor)
Currency:
EUR (euro)
Area telephone number:
+382
Traffic:
right-handed
Speed ​​limits:
- in built-up areas 50 km/h (31 mph)
- outside built-up areas 80 km/h (49 mph)
- on expressways 100 km/h (62 mph) - there is only one short section of such a road
Permissible blood alcohol content:
0,3 per mille
Fuel prices (2023):
- petrol (Euro 95): EUR 1,58/litre
- diesel: EUR 1,77/liter
check out:
current fuel prices in Europe
Roads and driving culture in Montenegro
Just glance at the map to notice that Montenegro is a mountainous country. Hence, it is easy to draw the conclusion that roads in such demanding terrain will be rather narrow, winding and steep. Driving a car requires great attention and caution. However, the topic should not be excessively demonized. Every driver who drives a car every day will be able to cope without any major problems, but will have to be more focused than usual. A much more serious obstacle on the road is... other drivers. The inhabitants of Montenegro drive on narrow and winding roads much too recklessly and sometimes their actions can be frightening. Take this into account and observe the behavior of other drivers and what is happening on the road, especially when approaching corners.
Reasonable travel planning is also important. Don't cram too many things into one day because you may run out of time to complete your plan. This especially applies to the road along the coast, which is regularly clogged with traffic jams. I had the pleasure of crossing it several times (e.g. I came up with the idea to go from Ulcinj in the very south of Montenegro along the entire coast to Dubrovnik in Croatia) and there were cases when the average speed on this section was about ... 20 km/h. It's only 150 km, but I drove for well over 6 hours. Even now, as I write these words (end of October, i.e. off-season), Google map shows the time 4 hours 20 minutes.
You can't rush anywhere in Montenegro because you won't make it anyway. Plan a leisurely tour with plenty of time left. It will definitely be better this way.
Material liability, insurance, own contribution, deposits and deposits
When the rental company hands over the car to you, you are also responsible for its condition for the duration of the rental. It's clear!
What is the scope of this responsibility? It's not so clear anymore!
Financial responsibility is mandatory, but can it be significantly reduced? Or maybe you can throw it away completely?
It's possible, but you have to see how!
You can find more about getting rid of financial responsibility for a rented car in the entry:
Car rental insurance and reduction of financial liability - [click]
Additional charges and their reasons
Additional fees incurred when renting a car (especially those charged after the car is returned) are often a source of frustration for many rental customers. They can be prevented, but first you need to know where such fees come from and what may be their cause. I gathered situations I knew together in one text and described them. It's really worth reading this post!
How to avoid additional fees at a car rental company - [click]
Important to me!
Give the article a good rating
(5 stars welcome 😀)!
It's free, a
for me it is very important!
The blog lives on visits and thus has a chance to develop.
Please do it
and ... thank you in advance!
I also post
link to Facebook profile - [click]
. Come in and press "
Follow
"then you will not miss new, inspiring posts.
Unless you prefer
Instagram
. I'm not a social media demon, but you can always count on something nice to look at on
my instagram profile - [click]
. The profile has just been created, so
for now he is starving
, due to the lack of followers. He is happy to receive any observer who feeds him with his love.
I make the content I create available free of charge with copyright, and the blog survives from advertising and affiliate cooperation. So, automatic ads will be displayed in the content of the articles, and some links are affiliate links. This has no effect on the final price of the service or product, but I may earn a commission for displaying ads or following certain links. I only recommend services and products that I find good and helpful. Since the beginning of the blog's existence, I have not published any sponsored article.
Some of the readers who found the information here very helpful, sometimes ask me how you can support the blog? I do not run fundraisers or support programs (type: patronite, zrzutka or "buy coffee"). The best way is to use links.
It costs you nothing, and support for the blog is self-generating.
Pozdrawiam