Geysers in Iceland: Geysir, Strokkur and the Haukadalur Geothermal Valley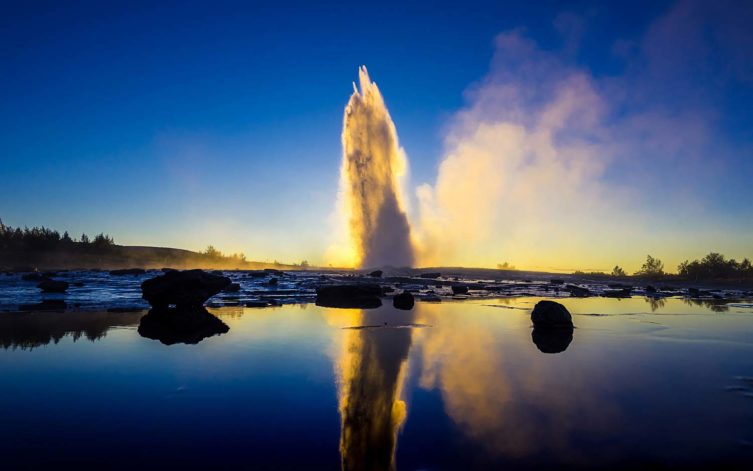 Sprinkler and blasting machine
If you were to look for a word in Icelandic, it would be geysa to describe the phenomenon of gushing and bursting. It's a verb that means exactly: to squirt, to explode.
No wonder, then, that when someone saw a hole in the ground, from which something bursts from time to time and spouts water high up, he called it a sprinkler-exploder, that is: geysir.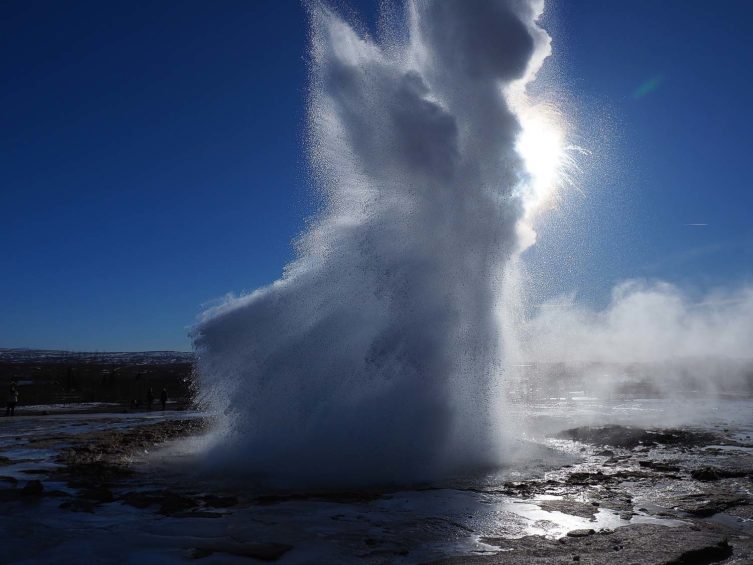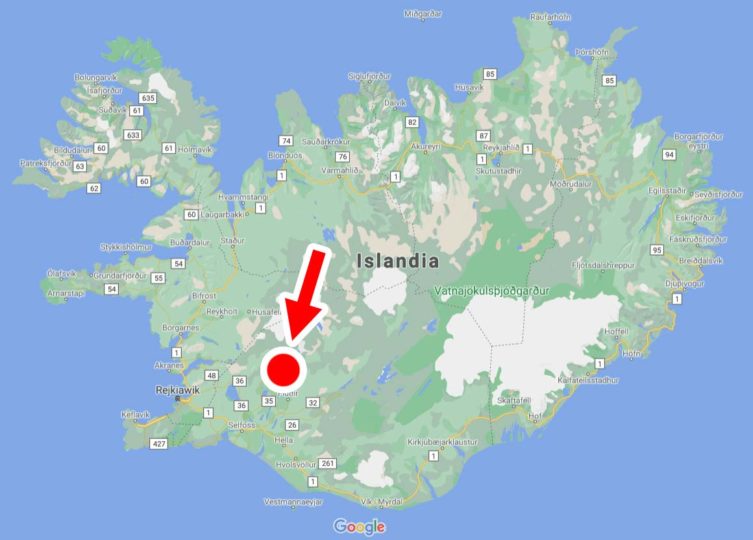 Someone, somewhere describing the phenomenon and the aforementioned hole in the ground in Iceland, used exactly this word: Geysir. The name stuck forever. Later, the word spread wider, and today all the holes in the ground gushing water into the sky are geysers, but the one that gave all geysers their name is only one: Geysir in Iceland.
Geysir geyser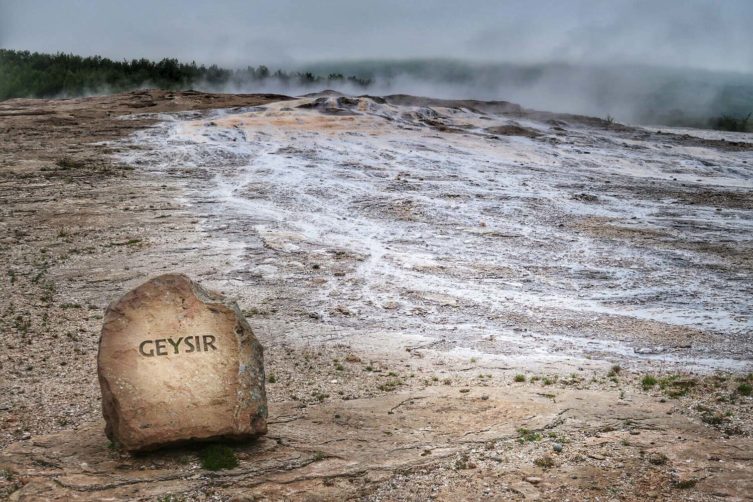 It used to be powerful. Really powerful. And the earthquakes in Iceland only gave him strength. Observers of Geysir's activity noticed that as seismic activity grew and as strong earthquakes occurred, the Geysir shot up into the sky higher, harder and more joyfully. The gunshot record was broken in the mid-nineteenth century, between two very strong earthquakes. Geysir burst into the sky at a height of 170 meters (!!!). I can imagine how spectacular the sight must have been.
Then came a moment of seismic silence, so the geyser itself (at the end of the 2000th century) became a little calmer and more lazy. A brief awakening followed the June XNUMX earthquake. As if the Earth wanted to say: Hey! You! Geysir, get up!
He woke up for a moment. Awakened in anger, he was snarling for some time shooting water up to 120 meters, but soon another dream caught up with him.
I will just add that currently the largest geyser in the world is Steamboat Geyser in the Yellowstone National Park in the United States. Its record ejections of water and steam reach 90 meters above the ground, but regular eruptions usually do not exceed 12 meters.
The old bear is fast asleep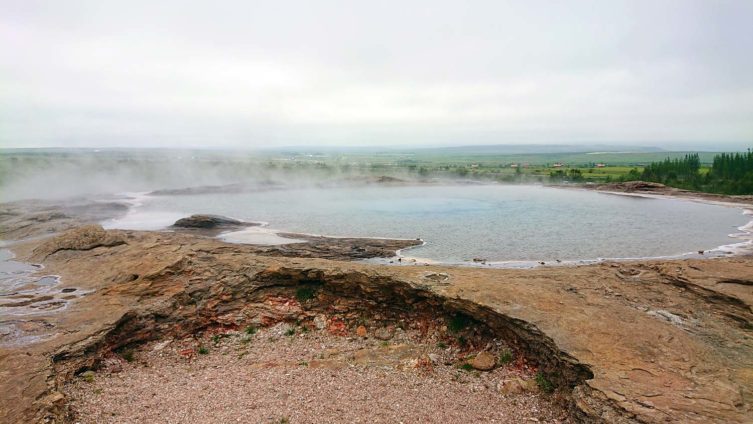 In 2017, Geysir shot only a few times a year at a height not exceeding 10 meters. When we were visiting him in 2021, he reportedly was sleeping all the time.
The water table at the mouth of the water crater was smooth, blue in color, and only above the surface was the ominous steam rising, reminding us that everything was still boiling inside there. There is still enormous energy somewhere deep. Trapped in the meanders of the geyser rock throat. One day it will crave freedom and it will launch a giant water umbrella high into the sky, sprinkling everything around with a warm drizzle.
Strokkur geyser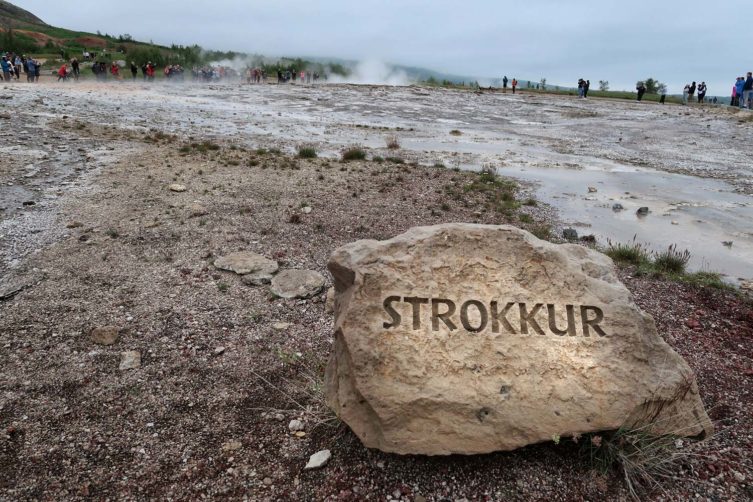 Fortunately, there is another geyser right next to Geysir: Strokkur. It is open all the time and replaces Geysir with dignity, entertaining tourists with its eruptions. It does it in a spectacular way, because it can shoot even 40 meters up, and a 20-meter pole is normal.
Strokkur is very active as it fires regularly at medium intervals of 5-10 minutes. It sometimes happens, however, that it can shoot faster, e.g. after 2 minutes.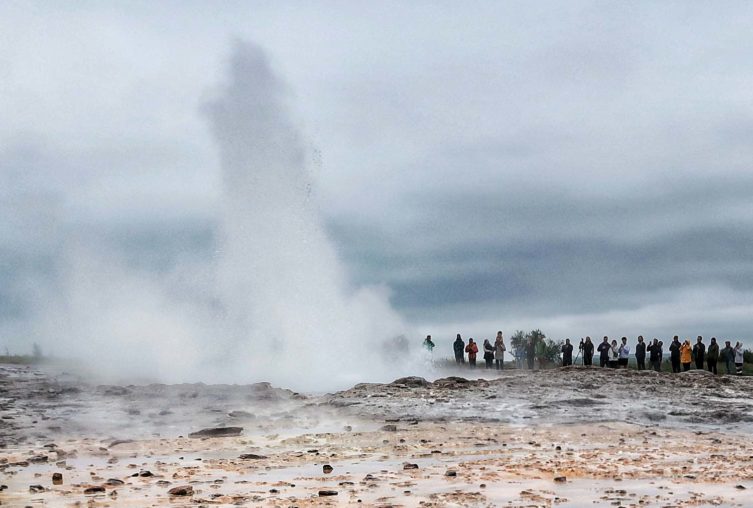 So I encourage you to stand for a while, try to catch the eruption in the photo, at the most spectacular moment. however, do not get too close after the eruption, and certainly do not cross the makeshift restraining tapes! There is no guarantee as to how quickly the next eruption will occur, and let me remind you that we are dealing with boiling water. Severe burns would therefore be guaranteed.
The water mist falling down after the eruption is no longer dangerous. It is slightly warm and it will probably get you a little wet 🙂
Below is a video presenting one of the eruptions during our presence at the Strokkur geyser.
Haukadalur Valley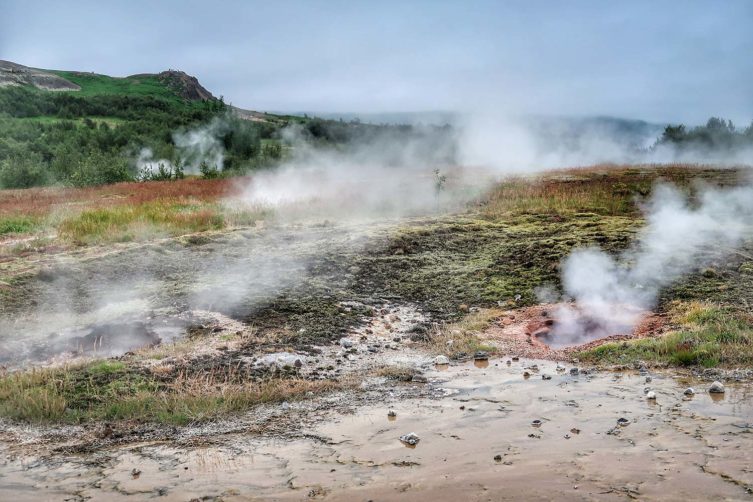 Both geysers are located in the Haukadalur geothermal valley. In addition to geysers, you will also find more than 40 other, smaller geothermal objects: hot springs and vents with boiling water, natural mud pools with constantly boiling mud or fumaroles (holes in the ground that emit huge amounts of water vapor and gases such as: carbon dioxide, sulfur dioxide, hydrogen chloride and hydrogen sulfide).
It's worth a while here.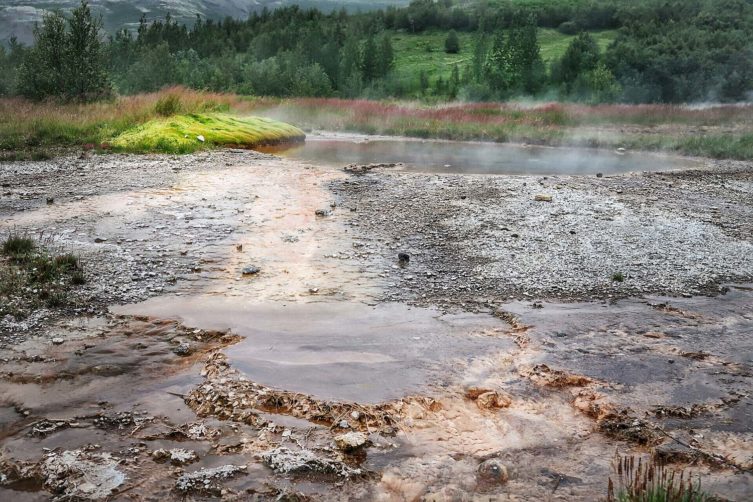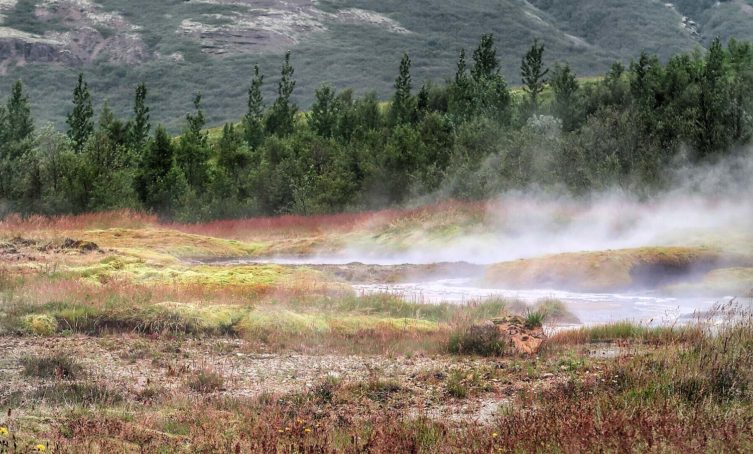 Access and parking at the geyser
The access to the geysers is on an asphalt road all the time, so there should be no problems with getting there. From the main island road (road number 1), take road number 35 and there is a parking lot (P1) next to it. A bit further there is a second, smaller car park (P2).
It doesn't matter which of these parking lots you use. Both are close to geysers.
The advantage of the first car park is that there is a sanitary and catering facility next to it: Geysir Center.
The second of the parking lots is a plain square by the road and nothing else.
In the further part of the post you will find a map showing the location of parking lots in relation to attractions and the path to the geysers.
Parking lot P1 at Geysir and Strokkur geysers, GPS coordinates:
64°18'33.9″N 20°18'12.3″W
64.309410, -20.303425 - click and route
Parking lot P2 at Geysir and Strokkur geysers, GPS coordinates:
64°18'47.7″N 20°17'51.7″W
64.313245, -20.297686 - click and route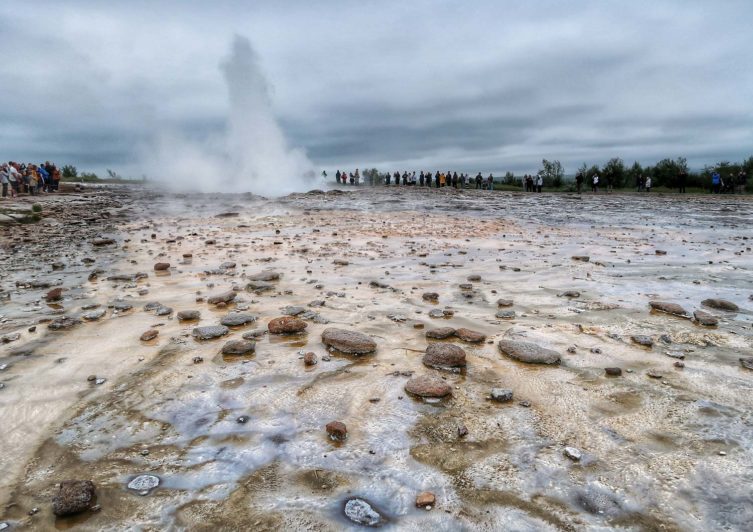 Sightseeing and admission ticket
The good news is that admission to the Haukadalur Valley and Geysers is free, and the tour is self-guided. You can move around the entire valley area, but be careful where you step. The most dangerous and protected areas are marked and fenced with tapes, but fencing is often quite conventional and it is better to look under your feet often. Additionally, the area is active all the time and the situation there is changing dynamically, so it is even more important to be careful.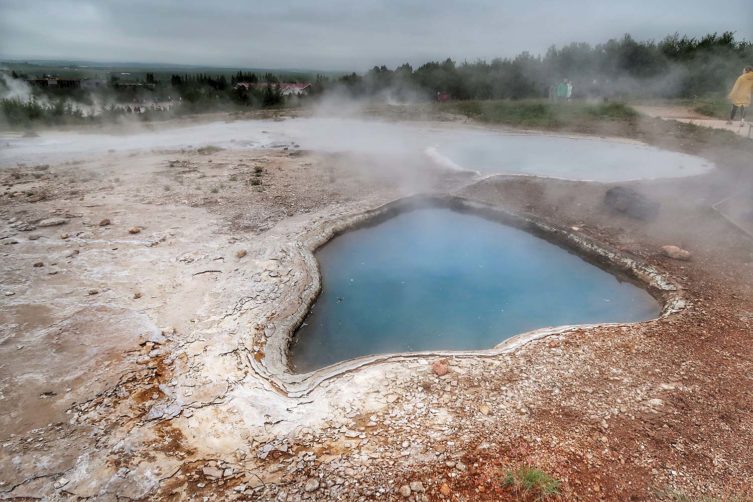 Under no circumstances should you touch innocent-looking water. Its temperature may be close to 100 degrees Celsius, and the temperature around 90 degrees is normal.
There are special warning signs in the valley to remind you of this.
If you are coming in with children, you better keep your eyes around your head, and preferably hold their hand. A moment of inattention can end badly.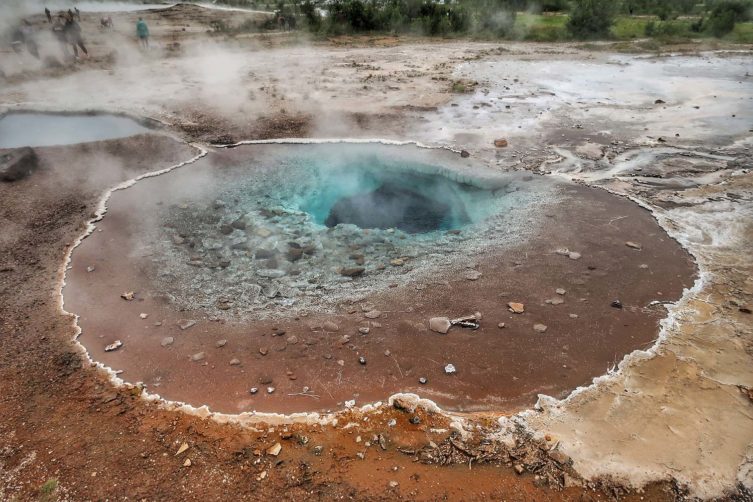 If the geyser Strokkur fired while you were there, but the eruption wasn't very impressive then… wait a few minutes until the next one. It will probably be bigger.
The tour of the entire area will take you approximately 30-60 minutes. Depending on how you will be drawn into observing all the wonders of nature available here.
Below is a map of the walk, which… in practice, you will not need it 🙂
The area is small and easy to see, and the access is very easy. However, a glance at the map always does the right thing, at least you know what to expect.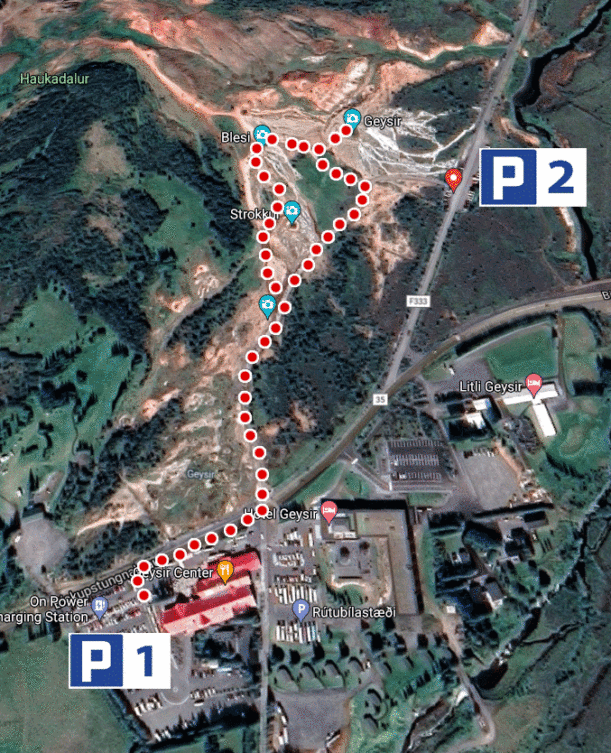 Accommodation near the geyser
There are few accommodation in the immediate vicinity of the geyser. There is one hotel next to the geyser, called Grysie Hotel, but the accommodation is terribly expensive. For one night in a standard double room you have to pay around 220 - 250 EUR. As for me, a lot.
However, I assume that if you are visiting Iceland on your own, you are driving around in a rented car. So you can move a few kilometers away. At a distance of several kilometers, you can find a few definitely cheaper accommodation. I present some of them below. Clicking on the picture will take you to the hotel page.
You can also check all the offers in the immediate vicinity of geysers by clicking on this link - [click]. The link is prepared in such a way that it orders offers from the closest to those located further.



Iceland sightseeing itinerary
The entry you are reading is an element prepared by me
Iceland sightseeing plan
. Most likely, everything you need to prepare for your trip to Iceland can be found in this entry. Weather, accommodation, car rentals, tourist attractions and a map of a trip around Iceland ... all in one place:
Iceland - map and sightseeing plan, tourist attractions, excursions, the most beautiful places - [click]
.
Be sure to read!
Important to me!
Give the article a good rating
(5 stars welcome 😀)!
It's free, a
for me it is very important!
The blog lives on visits and thus has a chance to develop.
Please do it
and ... thank you in advance!
I also post
link to Facebook profile - [click]
. Come in and press "
Follow
"then you will not miss new, inspiring posts.
Unless you prefer
Instagram
. I'm not a social media demon, but you can always count on something nice to look at on
my instagram profile - [click]
. The profile has just been created, so
for now he is starving
, due to the lack of followers. He is happy to receive any observer who feeds him with his love.
I make the content I create available free of charge with copyright, and the blog survives from advertising and affiliate cooperation. So, automatic ads will be displayed in the content of the articles, and some links are affiliate links. This has no effect on the final price of the service or product, but I may earn a commission for displaying ads or following certain links. I only recommend services and products that I find good and helpful. Since the beginning of the blog's existence, I have not published any sponsored article.
Some of the readers who found the information here very helpful, sometimes ask me how you can support the blog? I do not run fundraisers or support programs (type: patronite, zrzutka or "buy coffee"). The best way is to use links.
It costs you nothing, and support for the blog is self-generating.
Pozdrawiam