Hraunfossar - the strangest waterfall in the world. Map, parking, sightseeing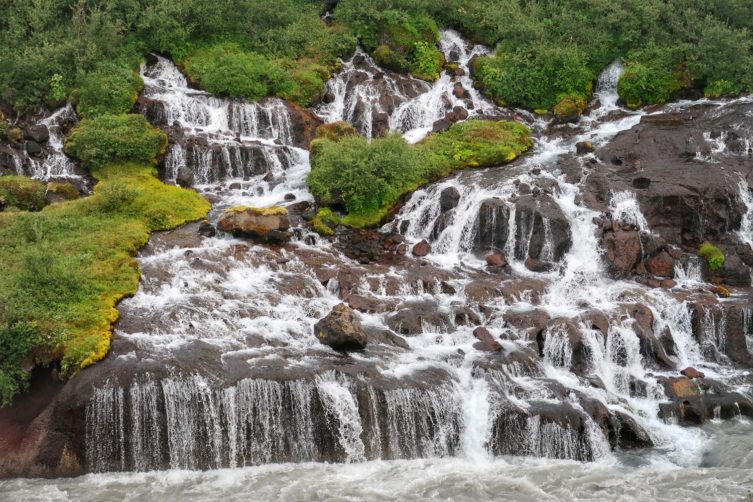 Where is the river?
I wrote that Hraunfossar is the strangest waterfall in the world and it is very likely that you will agree with me. Imagine a waterfall where no river flows. There is no river and suddenly there is a waterfall. Where does the water come from?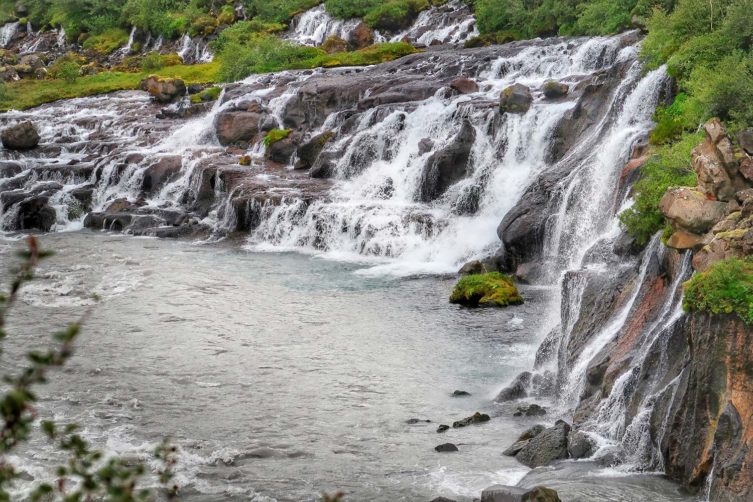 Lava waterfall
The name Hraunfossar is - as you probably guessed - a bunch of words. Hraun = lava, foss = waterfall. So we have a "lava waterfall".
At this point, a lava crust covers the surface of the earth. A thick and extensive layer of solidified lava. Under the crust, underground water accumulates from the sources hidden beneath it. But they cannot accumulate indefinitely. Eventually, they find their outlet in the porous rocks of the hillside. They rise to the surface creating a waterfall, several hundred meters wide. Hraunfossar is therefore powered only by underground sources, invisible on the surface of the earth.
The waterfall looks amazing! It delights with its otherness and its "unnatural", but in fact very natural, functioning. It is a peculiarity that must be seen.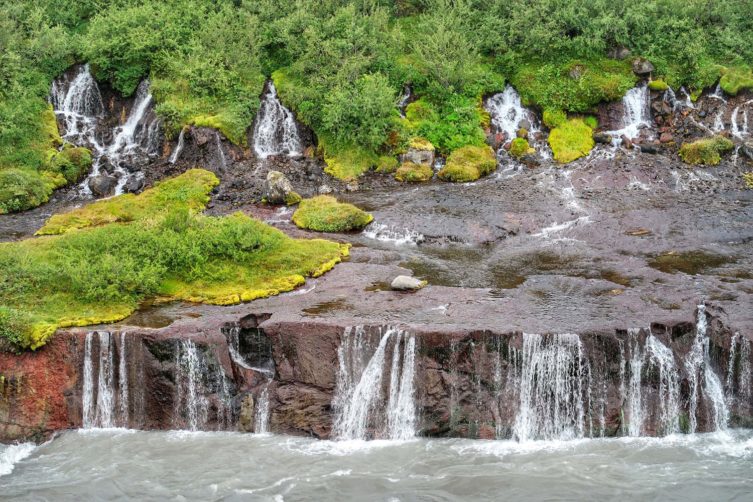 Photographer's trauma
By the way, I have to share some experience. It's easy to guess that I liked the waterfall very much because of its difference. I put a lot of effort into the photos I took, because I especially wanted to present my favorite as favorably as possible. Unfortunately, the delicacy of the waterfall (the water flows from it in gentle streams) and its size (it is several hundred meters wide) meant that what looked great in real life did not make any impression in the pictures. Every picture is more crap.
The waterfall has exercised me terribly. I will remember it for a long time. And the photos? In my opinion, they are missing a lot from the original, but judge for yourself.
Additionally, below I am posting a short video. It much better reflects the size of the waterfall.
Sightseeing
Visiting the waterfall is free, and there is a convenient parking lot right next to the viewpoint. Right next to the parking lot there is a food court and toilets.
Several dozen meters from Hraunfossar there is another waterfall: Barnafoss - [click]. It is made up of the waters of the Hvita River flowing here.
Both waterfalls are viewed at once. Unpaved walking paths will lead you through the area, where you will come across viewpoints, making it easier to admire the charms of the waterfall. In total there will be about 500 m to walk, which is not too much.
Below is a map with marked main paths. In practice, you will not need it, but familiarizing yourself with it will make it easier for you to quickly orientate yourself in the field.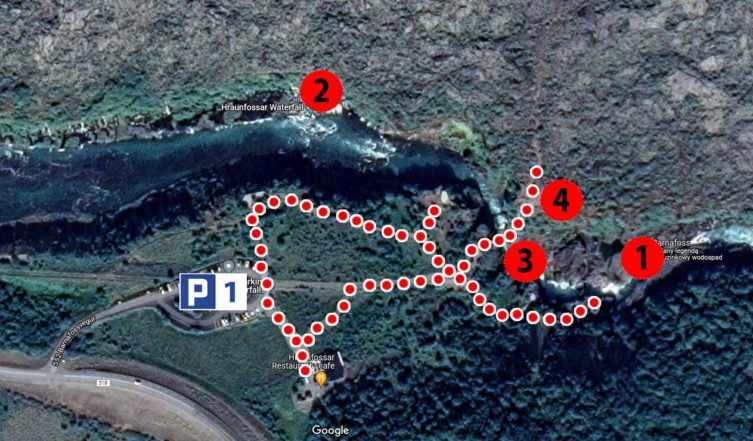 There are lava caves near the waterfalls: Víðgelmir, Surtshellir and Stefánshellir, but access to them takes an off-road road (marked with the letter F), which can only be accessed by an off-road car.
Access and parking
Getting to the waterfalls should not be difficult, as long as you use car navigation. For the sake of convenience, I provide the geographic coordinates of the parking lot at the waterfalls. Just click and the navigation on your phone will guide you.
Parking at Hraunfossar waterfall, GPS coordinates:
64°42'06.1″N 20°58'42.2″W
64.701696, -20.978379 - click and route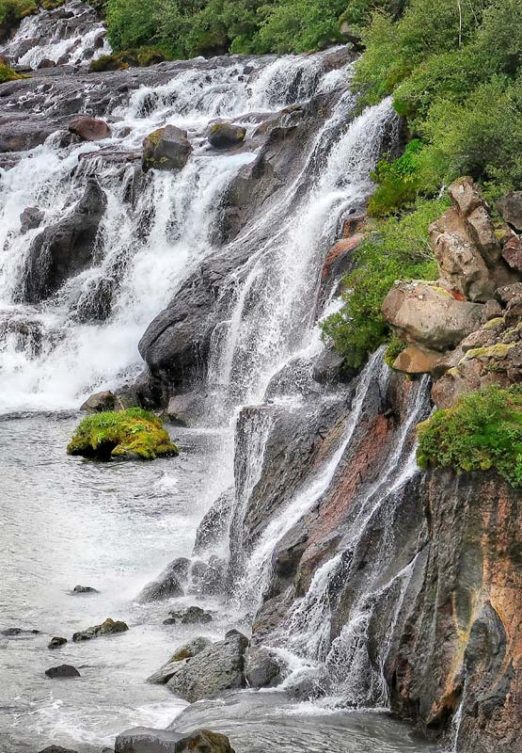 Hotels and accommodation
Below you will find several suggestions for accommodation in the vicinity of the waterfall. Perhaps you will like something of them, or it will turn out to be relatively wallet-friendly 🙂
If not, then I also provide a link to all of them current offers from the vicinity of the waterfall - [click]. If you do not find anything suitable on this list, accommodation may be a small problem.



Iceland sightseeing itinerary
The entry you are reading is an element prepared by me
Iceland sightseeing plan
. Most likely, everything you need to prepare for your trip to Iceland can be found in this entry. Weather, accommodation, car rentals, tourist attractions and a map of a trip around Iceland ... all in one place:
Iceland - map and sightseeing plan, tourist attractions, excursions, the most beautiful places - [click]
.
Be sure to read!
Important to me!
Give the article a good rating
(5 stars welcome 😀)!
It's free, a
for me it is very important!
The blog lives on visits and thus has a chance to develop.
Please do it
and ... thank you in advance!
I also post
link to Facebook profile - [click]
. Come in and press "
Follow
"then you will not miss new, inspiring posts.
Unless you prefer
Instagram
. I'm not a social media demon, but you can always count on something nice to look at on
my instagram profile - [click]
. The profile has just been created, so
for now he is starving
, due to the lack of followers. He is happy to receive any observer who feeds him with his love.
I make the content I create available free of charge with copyright, and the blog survives from advertising and affiliate cooperation. So, automatic ads will be displayed in the content of the articles, and some links are affiliate links. This has no effect on the final price of the service or product, but I may earn a commission for displaying ads or following certain links. I only recommend services and products that I find good and helpful. Since the beginning of the blog's existence, I have not published any sponsored article.
Some of the readers who found the information here very helpful, sometimes ask me how you can support the blog? I do not run fundraisers or support programs (type: patronite, zrzutka or "buy coffee"). The best way is to use links.
It costs you nothing, and support for the blog is self-generating.
Pozdrawiam