Iceland - car rental without credit card and deposit? Reykjavik Airport Keflavik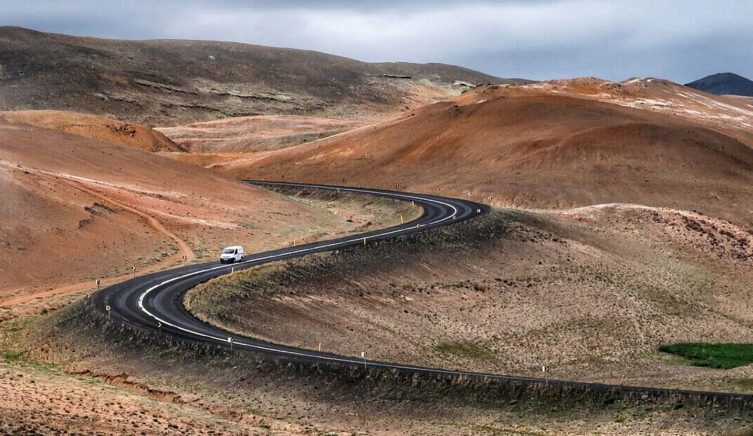 Honestly about the prices
First, a painful truth. Car hire in Iceland won't be cheap. Nothing is cheap here. Iceland is one of the most expensive countries. According to statistics for 2020, Iceland was the fourth most expensive country in the world. In Iceland, everything is more or less twice as expensive than in the USA, 2 times more expensive than in Germany and over three times more expensive than in Poland.
So I do not promise you that I will reveal to you a secret way to find affordable, cheap car rental in Iceland. I risk saying that if there is someone who promises you this, they are either not telling the whole truth or are just lying.
I can promise you that after reading this text, you will find the best and most attractive price at the moment without any problems. It will probably be the best possible price available. And that's really a lot!
Actual car rental prices in Iceland
Even in 2017, the average car rental prices in Iceland were as shown below.
The statement concerns the total cost of renting a 4 × 4 car for a period of 7 days. It is based on actual transaction prices obtained from 30 car rental companies in Iceland (source: northbound.is).
The cost of a 4 × 4 car rental for 7 days in Iceland:
- January - 59 ISK (000 EUR)
- February - ISK 60 (EUR 000)
- March - 61 ISK (500 EUR)
- April - ISK 63 (EUR 500)
- May - 66 ISK (500 EUR)
- June - 74 ISK (500 EUR)
- July - 95 ISK (500 EUR)
- August - ISK 107 (EUR 000)
- September - 73 ISK (500 EUR)
- October - ISK 53 (EUR 000)
- November - ISK 53 (EUR 000)
- December - ISK 54 (EUR 500).
This was the case in 2017. Then came the change. Iceland has exploded in popularity and interest in car rental has grown enormously, and so has prices.
Then came another change that can only be described in one word: pandemic. Tourist traffic froze and prices… increased even more. Strange, isn't it?
The pandemic increase in car rental prices has affected not only Iceland but all of Europe. For example, prices in Italy increased so much that I had to cancel one of my trips. A car, for which I paid 2019 EUR in 110 for 7 days (about what I wrote here), in 2021 in the same rental shop it would cost me 780 EUR. Over 7 times more expensive !!! Nightmare! Someone has gone mad?
The Icelandic media (e.g. icelandmonitor).
The prices listed in the article are so absurdly high that I don't even want to quote them here. Anyway, it doesn't make sense, because it's history! Let's see what the matter is now.
I decided to do a thorough research while writing this guide. I got acquainted with the offers of several dozen rental companies, choosing a few reasonable and cost-effective offers. I was looking for offers according to the same criteria as for the price list above, i.e. a 4 × 4 car, for a period of 7 days.
I focused on the next month, September (I am writing these words on September 4).
It turns out that if I wanted to rent a car in September 2021, it would cost me around 91 ISK (in September 500 it was 2017 ISK). Therefore, prices have risen by 73% in real terms since 500. You can see that the rise in prices in Iceland is not as huge as it might seem based on press reports.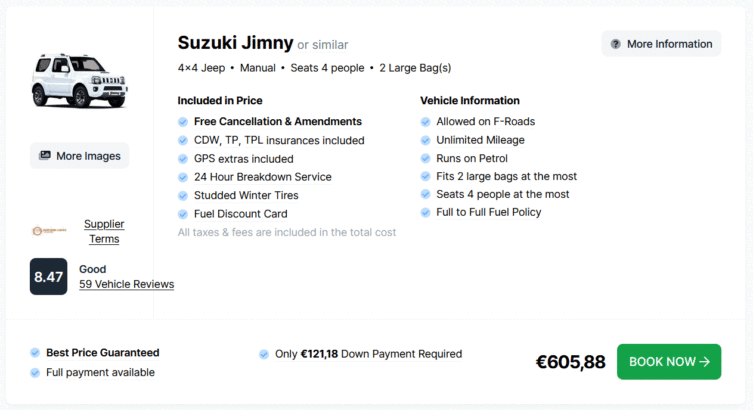 The small compact car of the Hyundai i10 type would be cheaper than the 4x4 version by about 40%.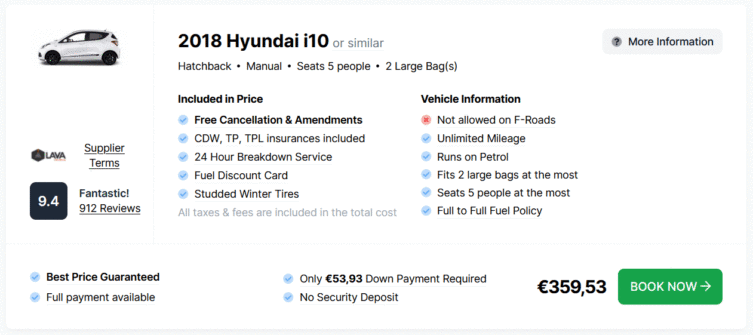 Considering the price relations you received, you can estimate what real rental costs can be expected now.
Ready calculations can be found in the table below. The presented table is a good starting point for assessing the attractiveness of offers when searching for an offer that is right for you.
| | 2017 | 2021 | 2021 |
| --- | --- | --- | --- |
| | auto 4 × 4 | auto 4 × 4 | car compact |
| January | 390 EUR | 488 EUR | 293 EUR |
| February | 400 EUR | 500 EUR | 300 EUR |
| March | 410 EUR | 513 EUR | 308 EUR |
| April | 422 EUR | 528 EUR | 317 EUR |
| May | 442 EUR | 553 EUR | 332 EUR |
| June | 494 EUR | 618 EUR | 371 EUR |
| July | 635 EUR | 794 EUR | 476 EUR |
| August | 710 EUR | 888 EUR | 533 EUR |
| September | 490 EUR | 613 EUR | 368 EUR |
| October | 352 EUR | 440 EUR | 264 EUR |
| November | 352 EUR | 440 EUR | 264 EUR |
| December | 362 EUR | 453 EUR | 272 EUR |
An offer that is grossly lower than that of the above calculation should increase your vigilance. There is probably an additional cost hidden somewhere, which you will learn about when you want to pick up the keys on the spot. Be sure to research such an offer inside and out three times before you decide to take advantage of it. It is better not to spoil your trip with unpleasant surprises, when when picking up the car it turns out that you still have to pay a lot more.
An offer slightly higher than that specified in the table should be considered appropriate. For the calculations, I used the prices from attractive offers, so they are rather a lower price point. It is therefore natural that many of the offers will be a bit more expensive. Anyway, at the end of this post, we will analyze several offers, so it will be easy to check if the calculations coincide with the real prices.
An abnormally higher offer should prompt you to search further. Probably if you spend a little more time searching, you will find something more attractive. Well, unless you're looking for the last minute and everything is already taken. Then you may find that you have no choice. It may also turn out that prices have gone crazy again and have seen another increase. I cannot rule out such a situation.
Where to find rental cars?
For the impatient, who would like to start looking for offers for themselves, I will immediately provide links to the three most sensible places with the best offer. However, if you do not have experience in car rental yet, I do not advise you to start with looking for offers. I strongly advise you to read this article to the end (though it won't be short or easy).
Car rental is one of the most pitfalls of booking activities that every traveler has to deal with. The lack of basic knowledge about the practices used by car rental companies, in principle, always results in the fact that the car ultimately costs much more than it was on offer. You usually find out about this fact just before departure or even after arriving at the place where you have the keys to pick up. Then you are faced with a dilemma: pay extra and forget about the matter, or stay with the problem and suitcases at the airport, feverishly looking for another offer.
Usually the first solution is cheaper anyway, because catching the car at the last minute for the rental company means that you are against the wall and you can demand a higher price.
Okay, the warnings are behind us, so it's time to link to the offers. From my experience and analysis of dozens of car rental methods, it appears that you can limit yourself to three places where we will look. I consider searching the first two as mandatory.
Pierwsza the database includes local companies that operate basically only in Iceland. Second partially overlaps with the former, but also includes a broad base of companies operating more broadly, often globally, with branches in Iceland. This creates an excellent material for comparing local prices to the prices offered by the largest players in this market.
Third It is worth checking the database to make sure that the best offer is selected. It mainly offers the largest rental companies with offices around the world.
Northbound is a car rental price comparison website that brings together the offers of several dozen local rental companies, operating basically only in Iceland.
Iceland is a geographically isolated country. This favors the emergence of local businesses, which is particularly noticeable on the car rental market. Not all global companies choose to run a branch in Iceland and local companies fill this gap perfectly. There are so many of them that you won't be able to find all of them, let alone familiarize yourself with their offer. Northbound perfectly simplifies the matter by gathering all these offers in one place, in a very functional comparison engine.
In the base Discover Cars you will find several local companies (often the same as in Northbound), plus a huge base of global companies that also have offices in Iceland. A great tool thanks to which you can immediately compare local prices with the prices of the biggest market players. Here, sometimes (if you are lucky) you will come across temporary price promotions that will allow you to save a lot of money. Discover Cars it is a database that must be searched.
Comparison Rentalcars is the largest database of car rental offers in the world. Number 1 in the world for years, which does not necessarily mean that it is also the case in Iceland. Because of that Rentalcars focuses mainly on the largest and most extensive car rental networks, it often lacks offers from small, local companies. However, it is always worth checking if a giant has decided to do a promotion. So, third check it out Rentalcars.
Other search engines and comparison engines
On the Internet you will find many other search engines and car price comparison engines. I have been observing them for many years (because I have been renting cars in various places for many years). Searching most of them does not introduce new quality to the search results, and often gives the same result as the pages proposed above. Why? Because they are only copies of the biggest and best search engines. The largest market players make their databases available to other parties electronically (using the so-called API key) and new pages are created that actually search the same database. Inevitably, you won't get any better or more interesting offers from them. You will get exactly the same result.
So there is no point in looking for the same pages on clones. A small site that is only a data broker will not provide you with as much support (in case of possible trouble) as the main player in the market. Large comparison websites often have a contact number available 7 days a week and 24 hours a day. In case of a problem, there is always someone at this number who may be able to help, suggest and advise you in an unusual situation.
For the above reasons, a search of the three sites I have suggested should give you a complete picture of the situation.
What car to rent?
Paradoxically, the car rental market in Iceland offers more solutions than, for example, the European market on the main continent. The reason is prices in Iceland. Iceland rentals came up with some cool ideas that can drastically reduce the cost of vacationing and traveling around the island. In the offers of the rental companies in Iceland, you will find specially converted cars that you will not find in other parts of Europe!
Before I go to the presentation of these ideas, however, there is one very important thing first.
The letter F
The first criterion for choosing a car in Iceland must be the type of road you will be driving on. Not all roads in Iceland are covered with asphalt. I will say more! Most likely, if you counted the share of asphalt roads in Iceland, it would turn out that they are in the minority. Most of them are dirt roads!
In practice, however, it is not so bad, because recently, the main road around the island, i.e. road number 1, is entirely asphalt. This is important because most of the island's most famous and popular attractions are located near this road. Unless you plan to explore the lesser-known areas of Iceland, you will basically be on a very good asphalt road all the time, deviating only for short descents to the side, to specific attractions. Some of these descents may be unpaved, but most often (to ensure the safety of tourists) they are kept in good condition and even.
For all those who plan to visit Iceland by car, I have prepared a detailed one trip plan around Iceland - [click], containing maps, travel times, taking into account the quality of roads, the availability of accommodation and GPS coordinates of parking lots at attractions.
Dear that require off-road vehicles, often four-wheel drive have the letter F in front of the numeric code. So if, while in Iceland, you notice the letter F at the beginning of the road sign, eg F26, and you are not driving a 4 × 4 off-road car, then rather do not take this road, you may get stuck on it forever.
All rental companies in Iceland are divided into cars that can only be used on normal roads (without the letter F) and those that are suitable for driving on roads with the letter F.
This is a very important difference. If you drive your car on an F road, and the car is not intended for driving on such a road, you lose your insurance. You will then pay 100% for any faults with your car out of your own pocket (and it will not be cheap). I warn and sensitize! Don't let your holiday slack and fantasy lead you this way.
If you intend to use off-road roads, look for a car offer where it is clearly stated that it can be driven on F-roads, as you can see in the marked fragment of the picture below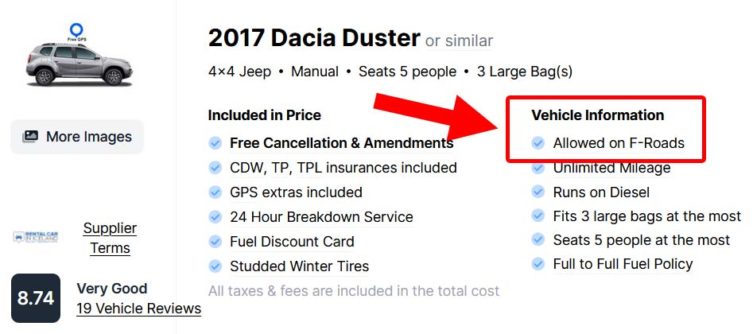 New possibilities
As I mentioned before, the offer of car rental companies in Iceland is more diverse than what we are used to in mainland Europe. This is a consequence of the high prices that tourists have to face when deciding to visit the island.
To reduce the cost of sightseeing, the rentals came up with an idea that caught on very well. The idea is that the rental companies buy small, universal passenger and transport cars. They leave the passenger part unchanged, and the transport part is converted into a luggage and residential part. In the transport part, they install special beds, luggage compartments and other equipment necessary for a short, holiday stay in such a car. There are also offers with a two-person tent mounted on the roof, which is normally hidden in the roof container while driving. During the night, you unfold it with one move, opening the roof container.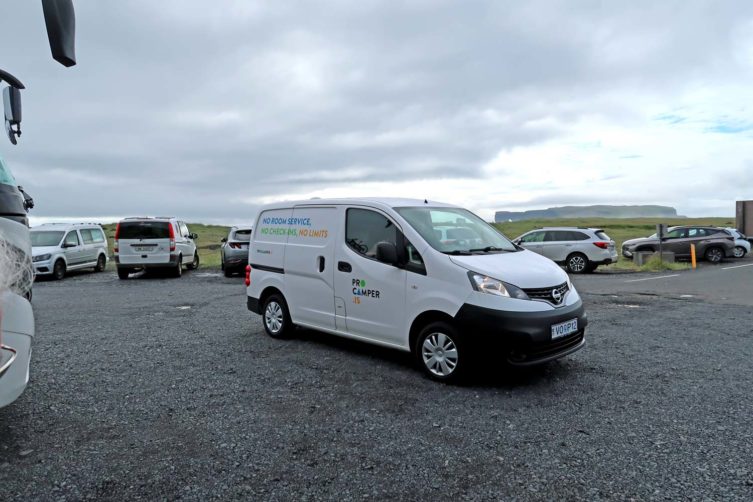 Renting a converted car is a bit more expensive, but if you take into account that hotel rental costs are eliminated, the costs of the entire trip drop dramatically.
There are many people using this option in Iceland and such cars can be found everywhere. We found small, medium and quite large converted buses and transport cars literally everywhere. They are especially noticeable in areas a bit remote from civilization.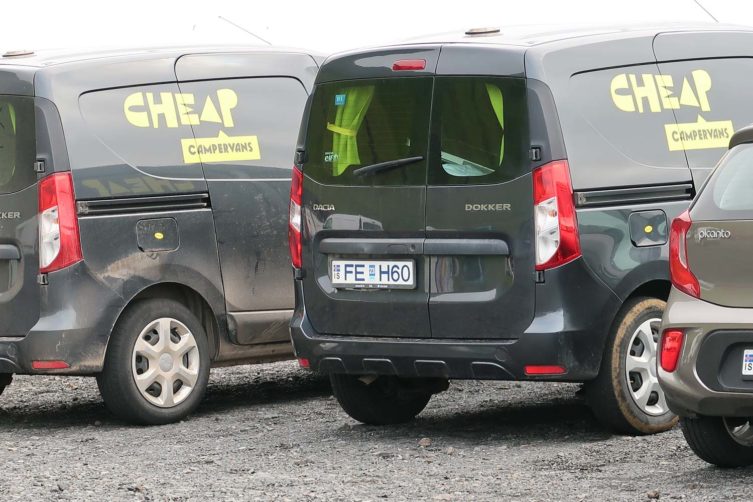 There are campsites all over Iceland with sanitary facilities.
For your convenience, I am providing links to two maps showing the location of campsites in Iceland:
- Iceland: map of seasonal campsites, open only in summer - [click]
- Iceland: map of year-round campsites - [click]
The maps are interactive and when you click on the campsite icon on the map, you will get more information about the location: photo of the property, full name, address, contact telephone number and website address of the property (if any). In the case of year-round campsites, it is worth checking in advance if anything has changed. I know for sure that some of them have narrowed their life span during the pandemic.
Returning to the issue of cars, to better illustrate what such a converted car looks like, I present screenshots from one of the offers (in this case by GO Campers), available in the comparison engine Northbound
The offer applies to a Dacia Dokker car, converted into a mini-camper. In the search engine, the offer looks like below, but it is worth clicking on the "more images" button.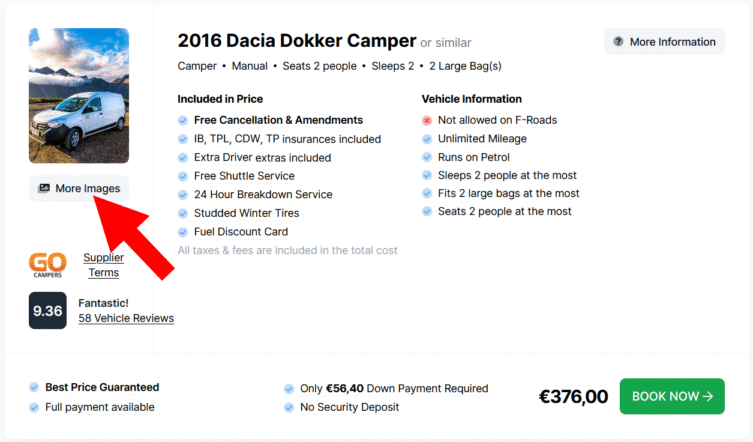 Clicking on "more images" will open a photo gallery showing the inside of the converted car (as below). You can see that the car is also equipped with dishes, a gas stove, etc.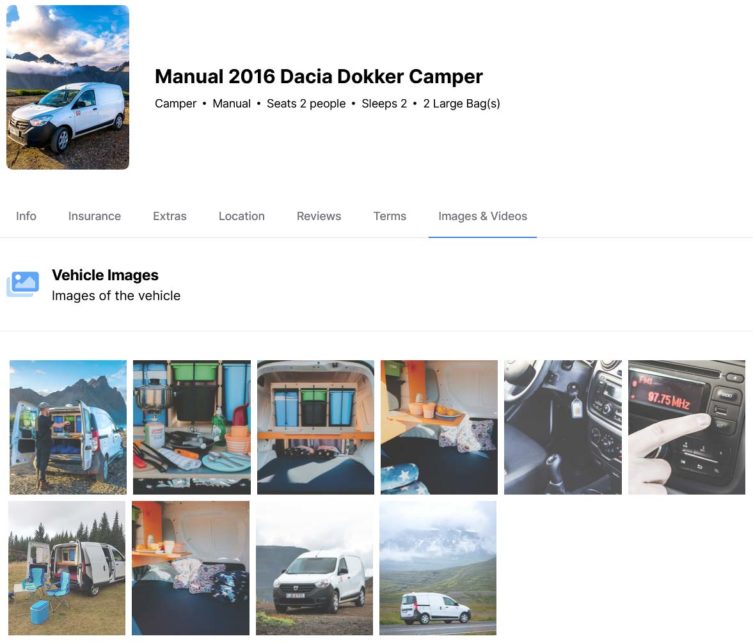 It's worth going on Northbound, search for offers (Campers section) and see photos in the gallery.
If you want to see Iceland while spending much less money (at the cost of less comfort), this idea may help you.
Before you rent a car - absolutely necessary knowledge
Before you dive into the abyss of car rental deals, there are a few things you need to know. First for your own safety and second for the security of your wallet.
It is obvious that when renting a car, you get your hands on a fairly expensive item, and at the same time very exposed to damage or failure. It doesn't even have to be your fault. Just a coincidence, such as a stone, which at any moment may pop out from under the wheels of another car and hit your car, scratch the paint or break the windshield. Or, in a parking lot, a car parked next to you may catch on your exit and leave a thick scratch. You might not even be there. You may not even know it. There are many examples.
A rental company that gives you its car must protect itself somehow. Loan agreements are usually long, multi-page documents, drafted in legal language, most often in a foreign language. When renting, you have maybe one minute to read it and sign the document. Of course, someone will say that you can try to read the contract template in advance, before borrowing. Yes you can. However, I do not know anyone who would be able to read contract templates from several dozen rental companies in advance and finally choose one. It's even a pity to try.
There is no miraculous way to get rid of the responsibility for the property entrusted to you by the rental company (although for an appropriate fee, this responsibility can be passed on to the insurance company, but more on that). However, there are ways and schemes of conduct that allow you to reduce the risks and rent a car as safely as possible, without having to go into the content of the contracts. I will try to provide the minimum necessary dose of knowledge below. I consider it necessary to read it. I will describe the entire process as briefly and specifically as possible.
How is the rental company secured?
A rental company, when giving a car to you, basically has to take care of one thing: to secure financing for the repair or purchase of a new car in case the car is damaged or stolen. Of course, the potential financier is you! It's clear. You take the car, you are responsible for it.
So what does the rental company do? When renting a car, they ask you for a credit card with a sufficiently high limit, which in case of problems will be a source of money for them to finance the repair. The appropriate amount is put on the card deposit, then you sign the contract, get the keys and go.
depositis the first very important detail that you must pay attention to when browsing through the offers.
What is a credit card deposit?
The deposit is the amount that the rental company blocks on your credit card. This amount does not disappear from your card. It is still there, but it is not usable.
Example:
Suppose you have a credit card with a limit of EUR 1000. You rent a car from the rental company, and the rental conditions contain information about a deposit of 800 EUR.
You pick up the car. Then the rental shop during the pickup creates a deposit on the card: under contract 800 EUR. There is still EUR 1000 on your card, but EUR 800 is blocked and until the lock is released, you cannot use these funds. You have 200 EUR at your disposal.
If you had a plan to use the same card to pay for a hotel that costs e.g. 400 EUR, you will not succeed. The deposit will be released at the earliest approximately 24 hours after the car is returned, and it often takes longer than a week. It is worth remembering and it is best to have a different (debit) card or a correspondingly higher limit on the credit card to pay for other obligations.
What is the deposit on the credit card for?
In this way, rental companies protect themselves against dishonest customers. If the customer does not fulfill the terms of the contract, the costs associated with it rental deducts from the deposit. Suppose you are 8 hours late with returning the car. The agreement provides for an additional fee. The rental company may charge a fee from the deposit regardless of your will.
Another example: You picked up a car with a full tank and returned it with an empty one. The rental company charges itself the value of full refueling and additional service costs. It is now more or less as if a liter of fuel costs EUR 2. So e.g. a fuel tank of 50 L * 2 EUR / L = 100 EUR. This is roughly the amount that will disappear from the deposit. Examples can be multiplied (scratch on a car, broken mirror, broken windshield, damaged upholstery, etc.).
The amount of the deposit that rental companies place on the card is usually equal to the amount of the so-called deductible. Iceland is an exception (which I will write about in a moment when discussing the deductible).
Deductibility is another very important issue that you need to know and check before renting.
Deductible and car insurance
In addition to the deposit, which is blocked directly on your credit card, when you rent a car, you assume a so-called deductible obligation.
The deductible applies in the case of:
- destruction or damage to the car
- car theft
Each rental company individually sets the amount of the excess. Separately for destruction and separately for car theft.
Own contribution - in short - it is the maximum cost that you undertake to pay if one of the above events takes place (i.e. damage or theft).
The assumption is that if the costs resulting from the removal of damage are greater than the own share assumed by you in the contract, then you are liable only up to the amount of your excessand the remaining costs are covered by insurance.
Currently, virtually all rental companies include the cost of this insurance in the basic price of the vehicle. This insurance is compulsory in Iceland and applies to all rental vehicles.
In the case of Iceland, the amounts of own shares are horribly high (around EUR 4000 and more). Most landlords arriving in Iceland do not have credit cards that would be able to meet such high requirements (apart from the deposit, you still have to have a lot of money for hotels, food, etc.). A large group of rental companies in Iceland do not assume such a high deposit and do not block such large amounts on the card. In return, it makes a full print of the credit card so that, if necessary, it has the funds available on it. On offers, this is often indicated as "No Security Deposit". The version of the offer without blocking the deposit is available only in combination with full car insurance (SCDW insurance - about which I write a little below).
Thanks to this, the rental company gains some form of security, and the landlord has no blocked funds and can use them during the trip.
Information about such a facility can be found in the content of the offer. An example of an offer with no deposit information marked is provided below.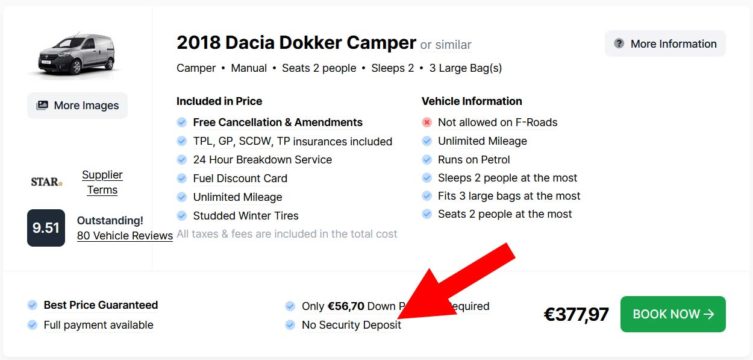 Vehicle damage insurance - CDW
This is the basic, compulsory insurance in Iceland that covers the vehicle (it is often called Full Insurance on the car rental websites, which can be misleading, I am sensitizing, it is a common practice). The practice of referring to the basic insurance as full insurance is probably aimed at suggesting to the client that he is purchasing a better insurance package at a similar price. Then the offer seems more attractive, but in reality it is not. Therefore, it is worth checking whether the called full insurance is an insurance CDW or actually full (SCDW - about which I will write a little below).
I did not find an offer where the insurance would be subject to a surcharge. Everywhere it was at the basic price of the vehicle.
CDW is an abbreviation of the English name Collision Damage Waiver. Having this insurance reduces your liability for damage to the amount of your own contribution.
However, in order not to be too colorful, this insurance usually excludes: windows, tires and chassis. There may be more exceptions. This means that if, for example, during a collision, damage has touched elements that are excluded from insurance, you will pay extra for their repair.
Of course, if the incident was not your fault and you have the police report for it, the rental company has no right to deduct any money. Then the perpetrator pays.
IMPORTANT!
If you have been driving while under the influence of alcohol or drugs, then no insurance coverage works. You pay the full amount of the repair costs.
Theft insurance - TP
It is an insurance which, in the event of theft of a vehicle, limits your financial liability to the amount of your deductible.
The name of the insurance is an abbreviation of the English version of Theft Protection.
The cost of this insurance is included in the basic vehicle rental price.
I did not find an offer where the insurance would be subject to a surcharge. Everywhere it was at the basic price of the vehicle.
Full damage insurance - SCDW
This type of insurance completely or partially removes your liability for damage to the car and this is true full damage insurance.
The name comes from the English version: Super Collision Damage Waiver.
In continental Europe, your liability after purchasing this insurance is reduced to zero, less often to a symbolic amount of around EUR 100 - 500 (depending on the brand and price of the new vehicle). In Iceland, it most often falls to several hundred EUR.
The rental companies that basic insurance wrongly (or intentionally) refer to as full insurance call this type of insurance: All Inclusive ... Super ... All Protection ... etc.
When booking on comparison websites, you can buy full insurance with each rental SCDW. However, you should be aware that this is the insurance that you buy in the comparison engine, not in the target rental company. What does it mean? This means that if there is damage or theft of the car, the rental company will download from your account an amount up to the amount of own contribution, a for a refund of this amount as part of your insurance you must apply to the comparison enginewith whom you took out insurance.
The solution that eliminates this problem is to search for an offer in the comparison engine that already includes full insurance SCDW. This is clearly stated on the offer. Choosing an offer in which it is already included SCDW do not take out insurance, which is additionally offered by the comparison website, because you do not need two identical types of insurance.
Offer with full insurance, no deposit required, in the search engine Discover Cars It looks like this: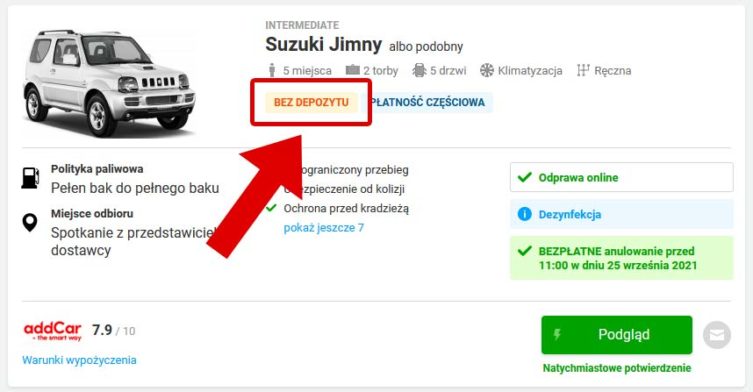 In the case of a comparison engine Northbound Information that interests us can be found in the places indicated in the picture below. The lack of this information means that the offer does not contain it.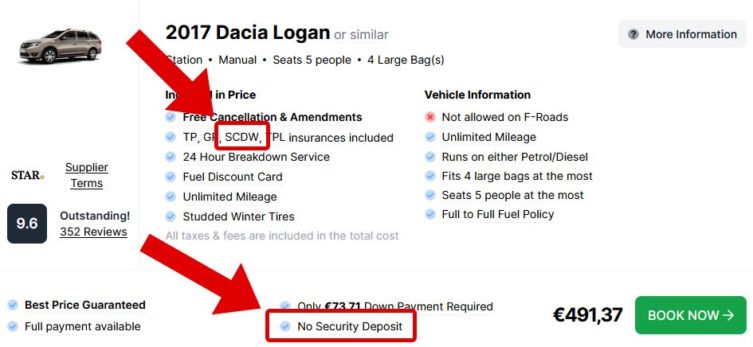 Gravel and spatter damage insurance - GP
It is an insurance specific to Iceland and related to the specificity of the country itself and the roads. If the car is damaged due to the impact of gravel or rock, your financial liability will be limited only to the amount specified by the insurance. When you take out this insurance, the value of your share usually drops to around EUR 100 for basic car models. More expensive cars have higher quota limits.
The abbreviation of the name of the insurance comes from the words: Gravel Protection.
Sand and ash damage insurance - SAP
Another insurance specific to Iceland. It offers a reduction in deductible from damage caused by ash and sandstorm destroying the car's paintwork, windows, lights and plastic.
No insurance company in Iceland covers sand and ash damage, so this type of insurance is offered directly by the car rental company and not the insurance company.
Sand and ash damage is more likely in the south of Iceland in spring.
The purchase of insurance reduces the amount of the deductible to several hundred EUR. The final amount of liability depends on the value of the car.
The abbreviation of the name of the insurance comes from the words: Sand and Ash Protection.
Zero Liability Insurance - IB
In practice, it is a package of several types of insurance at one (slightly lower) price. Buying out to reduces your liability to zero.
If you have not been driving under the influence of alcohol or other intoxicants, you have complied with the regulations, etc., then you do not have to worry about anything. All costs will be covered by insurance. Of course, this is the most expensive version of insurance, but it gives the greatest comfort and relieves all liability and deposits.
However, it does not exempt from complying with the rental rules, such as returning the car with a full tank (full-to-full fuel option), returning the car at a specific time or paying road fines.
The abbreviation of the name of the insurance comes from the words: Insurance Bundle
Third party property damage insurance - TPL
I left this type of insurance until the end, as it is compulsory in Iceland. All rentals are required to purchase it.
I am writing about it so that there is no doubt whether such insurance should be purchased additionally or not. If someone wants to charge you an additional fee, it means that they are up to something. I wouldn't risk renting someone like that.
The insurance covers the driver's liability for damage to property of third parties. It also covers injuries sustained by other people, whether or not they are in the rental car, subject to the terms of the rental agreement.
The abbreviation of the name of insurance comes from the words: Third Party Liability
Summary - what are we looking for?
I realize that what I have written so far is a solid dose of knowledge and it is difficult to comprehend it all at once. However, there is no such necessity, because you can always come back here and dispel any doubts. Besides, I will gather everything together, squeeze it like a lemon and bring it down to a few key phrases. This will definitely make your life easier and will allow you to analyze all offers very effectively.
So let's think: what are we looking for? It is enough to think back to the beginning of the article. We are looking for a possibly cheaper and at the same time safe for us car rental offer.
In practice, this means that when choosing an offer, we check:
- price (you know)
- designation for a specific type of roads
- insurance (preferably if it is full insurance, i.e. SCDW)
- credit card requirements (is it needed and how much is the deposit)
- amount of own contribution
Five key things. If all five meet your requirements, then you can start analyzing the offer more deeply, checking the less important things, such as mileage limits, fuel policy, etc.
Analysis of the offers
To make it easier for you to navigate through the offers, let's do an analysis of the offers together. You will see where to look for specific information on the offer.
Offer - first example
First, let's get started with the comparison engine Northbound - [click].
I go to the search engine and click the button: Search for Car Hire

In the next step, I enter the place of pick-up and return of the car in the search form (most often it will be the main airport near Reykjavík, i.e. Keflavík International Airport), and the date. For the purposes of this post, I chose the rental length of 7 days, in the period from October 11 to 18, 2021. It may not be the best time to visit the island, but for the purposes of this analysis it does not bother you at all.
Let's assume that we are looking for an ordinary passenger car, without the option of a mini-camper.
I received a list of search results, in order of increasing prices. In the first place, I see an interesting (at first glance) offer for a fairly comfortable car: the Dacia Logan.
Let's take a closer look at this offer.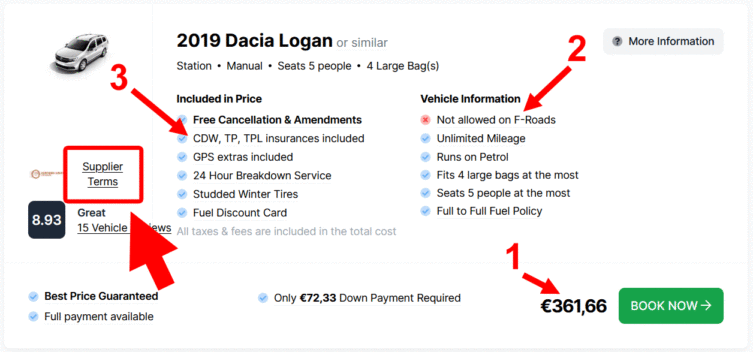 1. Price: EUR 361,66, for a week's rental it looks perfect. Really cheap.
By the way: don't get too attached to this price. Please note that I check the prices in October. In the summer season, prices are much higher!
2. Type of roads: intended only for driving on roads without the letter F. I'm not going to drive on off-road roads, so no problem.
3. Insurance: basic CDW, TP and TPL insurance, i.e. standard, without any additional options. This immediately suggests to me that a credit card and a large deposit will be required, because there must be some security.
4. Credit card: there is no credit card waiver information on the offer. This means that it will probably be required. We'll check it out soon.
5. Amount of own contribution: it is not visible at first glance. We have to look deeper.
Well, let's look deeper! First, let's check what our own contribution will be in the event of any damage. If they are greater than zero, it means that a deposit will be made on the card, and its amount is usually equal to the amount of the deductible.
I click on the link visible on the offer "Supplier Terms"(In the picture above I marked it with a red frame and an arrow).
After clicking on the link, a window opens in which you need to click on the tab "Insurance".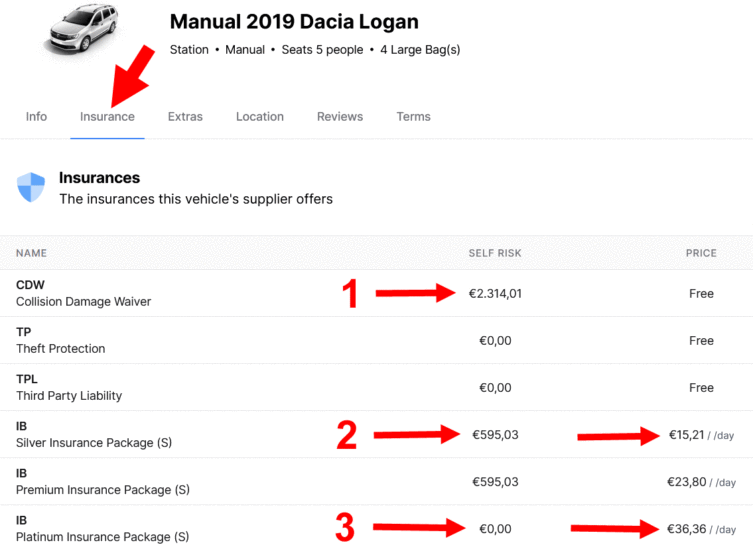 And what do we have here?
1. The excess amount for this bid is EUR 2. This means that when you pick up the car you will be asked for a credit card on which a deposit of EUR 314,01 will be made and these funds will be blocked for the entire duration of the car rental and you will not be able to use them during your departure.
If your credit card does not have such a limit and it is not possible to block the required deposit, the car will not be issued to you. Then the rental company will offer you two solutions. The first is at number 2 in the picture above, and the second is at number 3.
2. If you pay extra EUR 15,21 for each day of renting a car (for seven days it will be EUR 106,47, i.e. the real cost of the rental will increase to 361,66 + 106,47 = EUR 468,13), you will receive additional insurance that will make that the amount of your excess will drop to EUR 593,03. Most likely, you will still need a credit card, only the amount of the required deposit will drop. If your card is still unable to hold the EUR 593,03 holdout, option number 3 will appear.
3. By paying extra EUR 36,36 for each rental day (i.e. EUR 254,52 for seven days, which will make the real cost increase to 361,66 + 254,52 = EUR 616,18), you will receive insurance that will reduce your own contribution to zero. No deposit will be made and the rental company will only make a copy of your embossed card.
Offer - second example
We enter again onNorthbound - [click], we enter the same data as before and this time we are struck by the offer as below: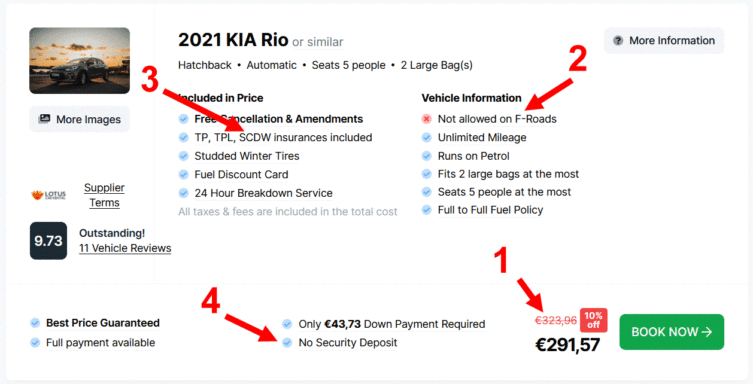 We look at the offer and we have:
1. Price: EUR 291,57 for seven days - even better than the previous one. Cool!
2. You cannot drive on roads with the letter F - that is, as before.
3. Full SCDW insurance is included in the package. It is better than before.
4. No deposit lock is required on the credit card. That sounds really good!
5. After hovering the cursor over "No Security Deposit" we get additional confirmation that the deposit will not be placed. The rental shop only download the imprint of a convex credit card. All funds on the card will therefore be at your disposal during your trip.

Is this an ideal offer? At first glance, it may seem so, but it's always worth going deeper.
So I enter the "Supplier Terms":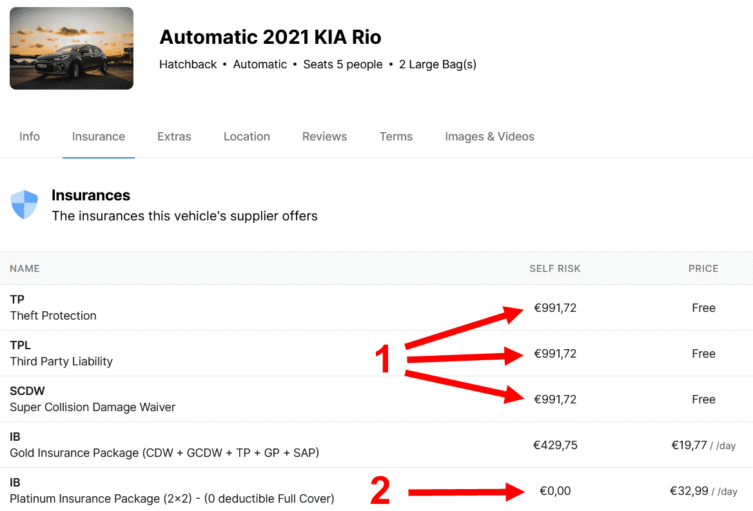 We see that:
1. Our excess in the event of destruction, theft of the car or damage to third parties is EUR 991,72. Considering that there is very little traffic in Iceland, the risk of something happening is rather small. In my private opinion, the deductible at this level can be accepted, of course with full awareness that, in case of need, we are burdened with such a burden.
2. You can also reduce your excess to zero by taking out additional insurance. Cost: EUR 32,99 for each rental day.
Offer - third example
Let us consider one more example. This time from the comparison engine
Discover Cars - [click].
We enter the same data in the search engine: Keflavik and 7 days of rental, in the period from 11 to 18 October 2021.
This time I chose an off-road vehicle offer. I think that you are able to analyze the information from the offer yourself. I will just mention a few facilities that will help you better evaluate the offer: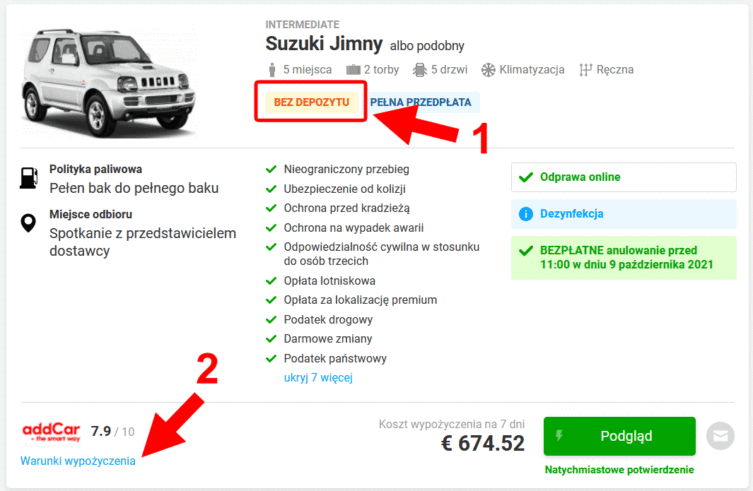 1. Offers that do not require a blocking of a credit card deposit at Discover Cars are clearly marked as "NO DEPOSIT" or "ZERO DEPOSIT".
You can help yourself in the search by properly filtering the offers. In the search panel you will find the appropriate filter (if you are browsing the offers on your computer, you will find the filters in the panel on the left side of the screen, it looks a bit different on the phone).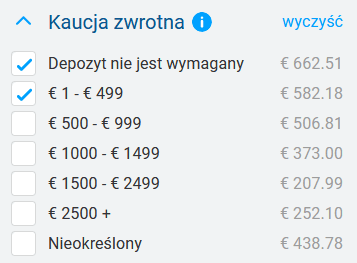 2. More information on the terms of the rental can be found under the link "Loan conditions"I marked as number 2 in the picture above.
After clicking on the link, the window below will appear. The key information is immediately visible: no deposit is required.
The remaining information can be found by expanding the next items in the available menu.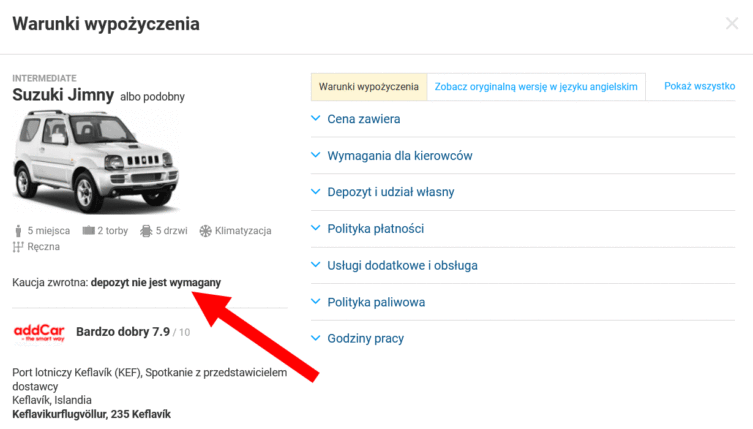 Offer from Rentalcars
Offer analysis with Rentalcars - [click] already forgive myself. The portal looks and functions almost identically to Discover Cars, so you will find your way around it without any problem.
You know everything
Now that you have full knowledge about rental options, how to read offers and verify their profitability, all you need to do is look for the best offer for yourself and visit, explore, explore… absorbing the unique atmosphere of Iceland.
Good luck!
Important to me!
Give the article a good rating
(5 stars welcome 😀)!
It's free, a
for me it is very important!
The blog lives on visits and thus has a chance to develop.
Please do it
and ... thank you in advance!
I also post
link to Facebook profile - [click]
. Come in and press "
Follow
"then you will not miss new, inspiring posts.
Unless you prefer
Instagram
. I'm not a social media demon, but you can always count on something nice to look at on
my instagram profile - [click]
. The profile has just been created, so
for now he is starving
, due to the lack of followers. He is happy to receive any observer who feeds him with his love.
I make the content I create available free of charge with copyright, and the blog survives from advertising and affiliate cooperation. So, automatic ads will be displayed in the content of the articles, and some links are affiliate links. This has no effect on the final price of the service or product, but I may earn a commission for displaying ads or following certain links. I only recommend services and products that I find good and helpful. Since the beginning of the blog's existence, I have not published any sponsored article.
Some of the readers who found the information here very helpful, sometimes ask me how you can support the blog? I do not run fundraisers or support programs (type: patronite, zrzutka or "buy coffee"). The best way is to use links.
It costs you nothing, and support for the blog is self-generating.
Pozdrawiam