Locorotondo - attractions, sightseeing, map, hotels, accommodation, parking. Guide.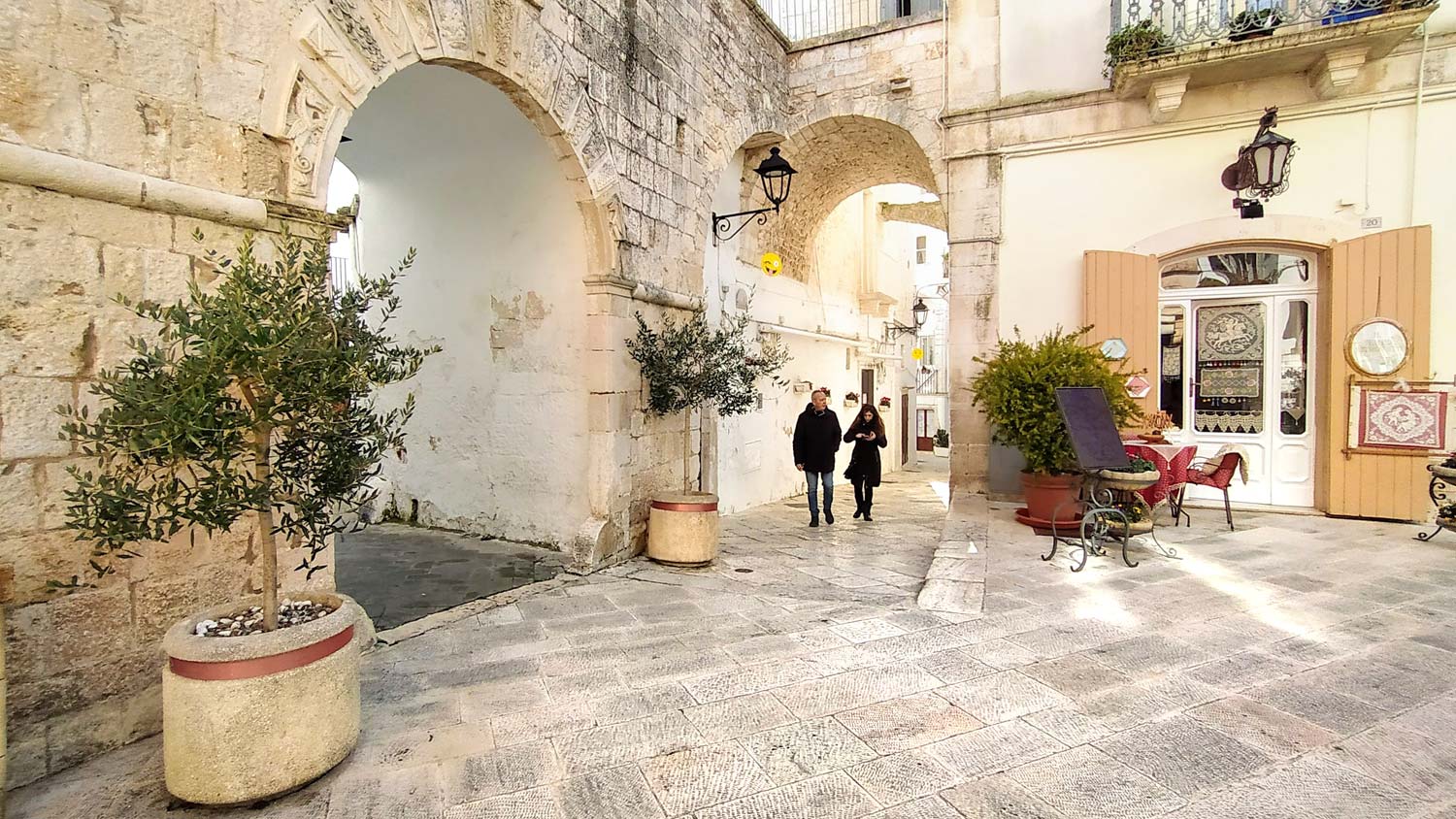 Modest neighbor
Locorotondo is easy to miss. Mainly due to the close proximity to the world famous Alberobello. It is hard to be popular when you have an extraordinary town that the whole world talks about next to you. Both towns are only 8 km away, but the vast majority of tourists who visit so crowds Alberobello does not reach Locorotondo. This is a serious mistake. It is a tourist sin of omission that should be regretted.
This is exactly the sin of omission that I committed a few years ago when I visited Apulia and Alberobello for the first time in my life. Full of attractions from Alberobello, I did not go to Locorotondo. I understood my mistake only now, during this trip, when I decided better get to know all of Apulia. A few steps through the historic part of Locorotondo was enough for me to realize my mistake.
Locorotondo is one of the points developed by me Apulia sightseeing plan - [click]. I recommend reading it, because I'm sure you will find a lot of cool information in it.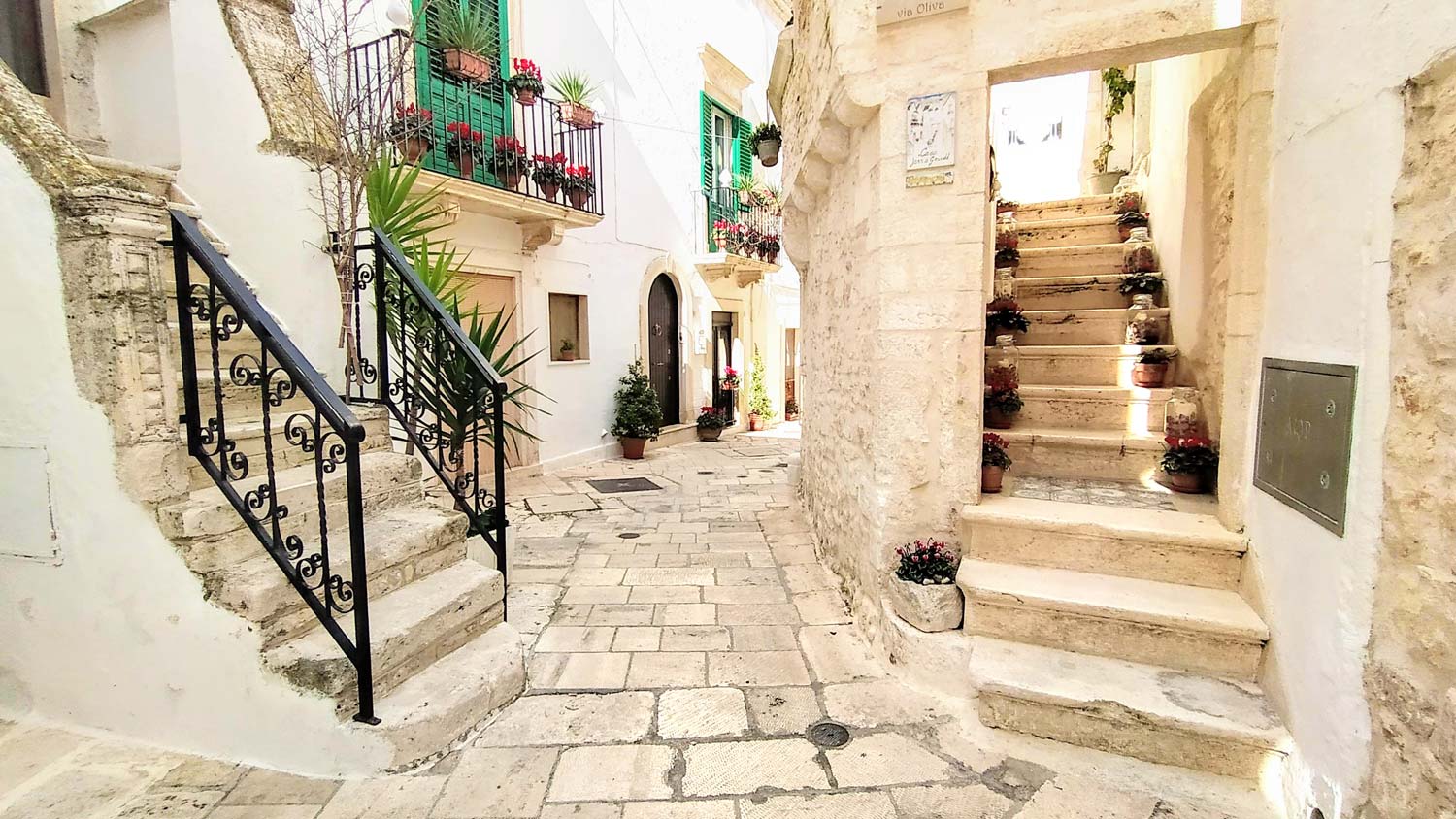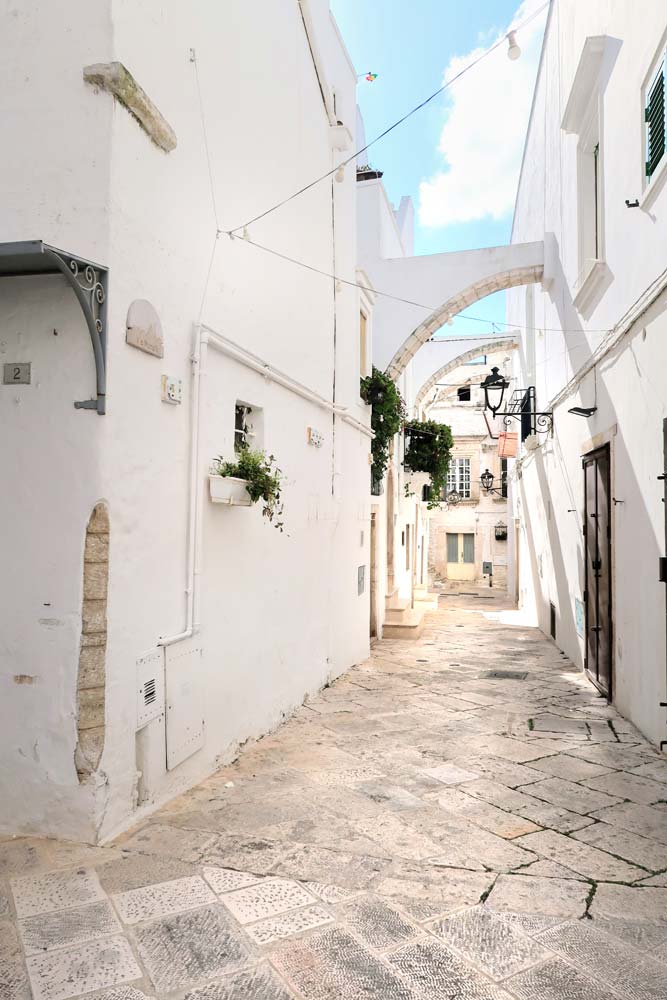 The nature of Locorotondo
The town has been developing at a steady, slow pace for centuries. There are no periods of radical growth or unfettered, turbulent development ... but slow, and even one might even say a very slow but systematic growth. As an interesting fact, about 10 people come to Locorotondo every 5000 years and this increase is still there all the time the same for 150 years : )
So, life in Locorotondo has been going its way for a long time. It is additionally supported by the fact that this rhythm is not disturbed by a wide wave of tourists, of whom there are definitely fewer than expected.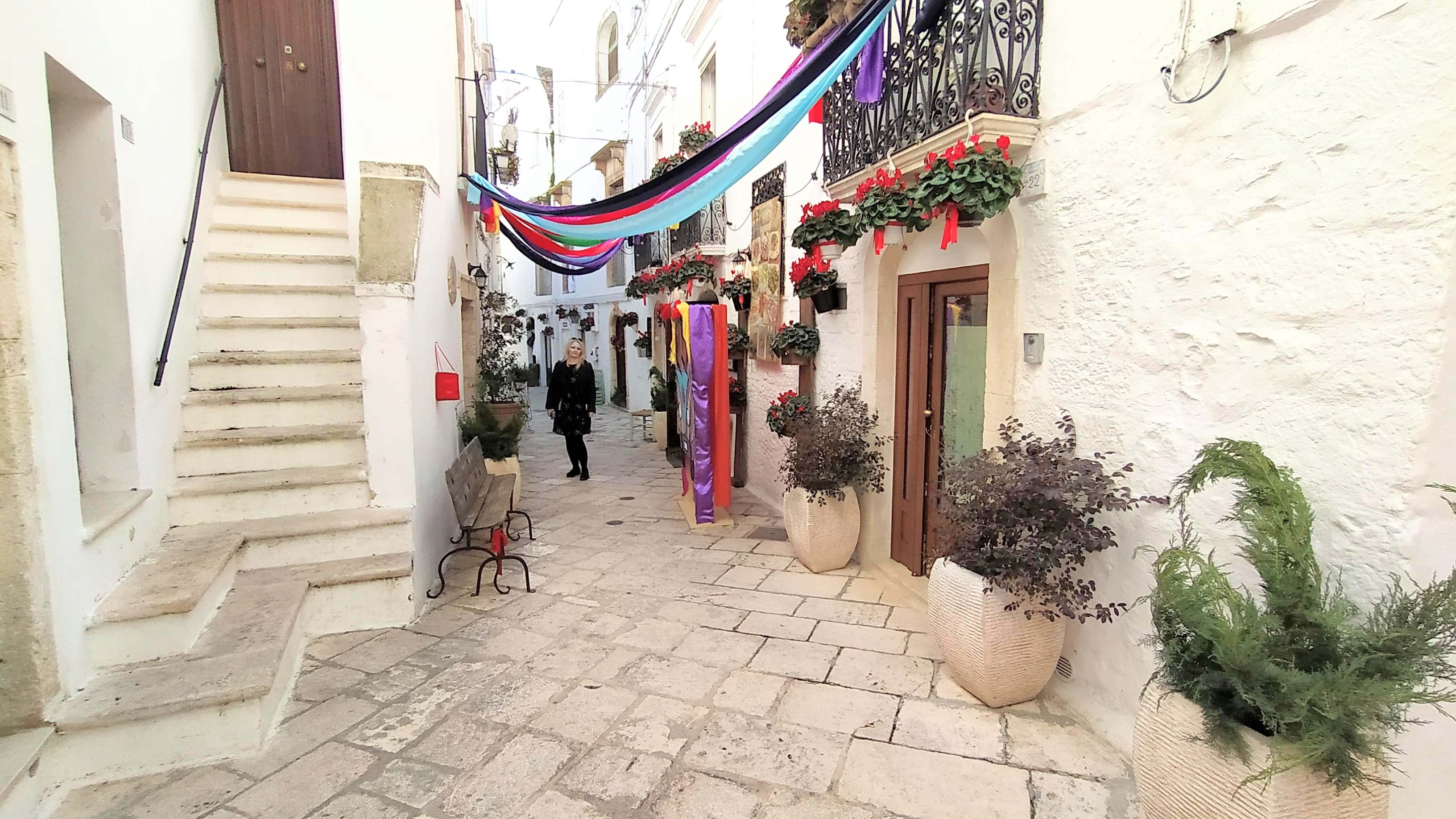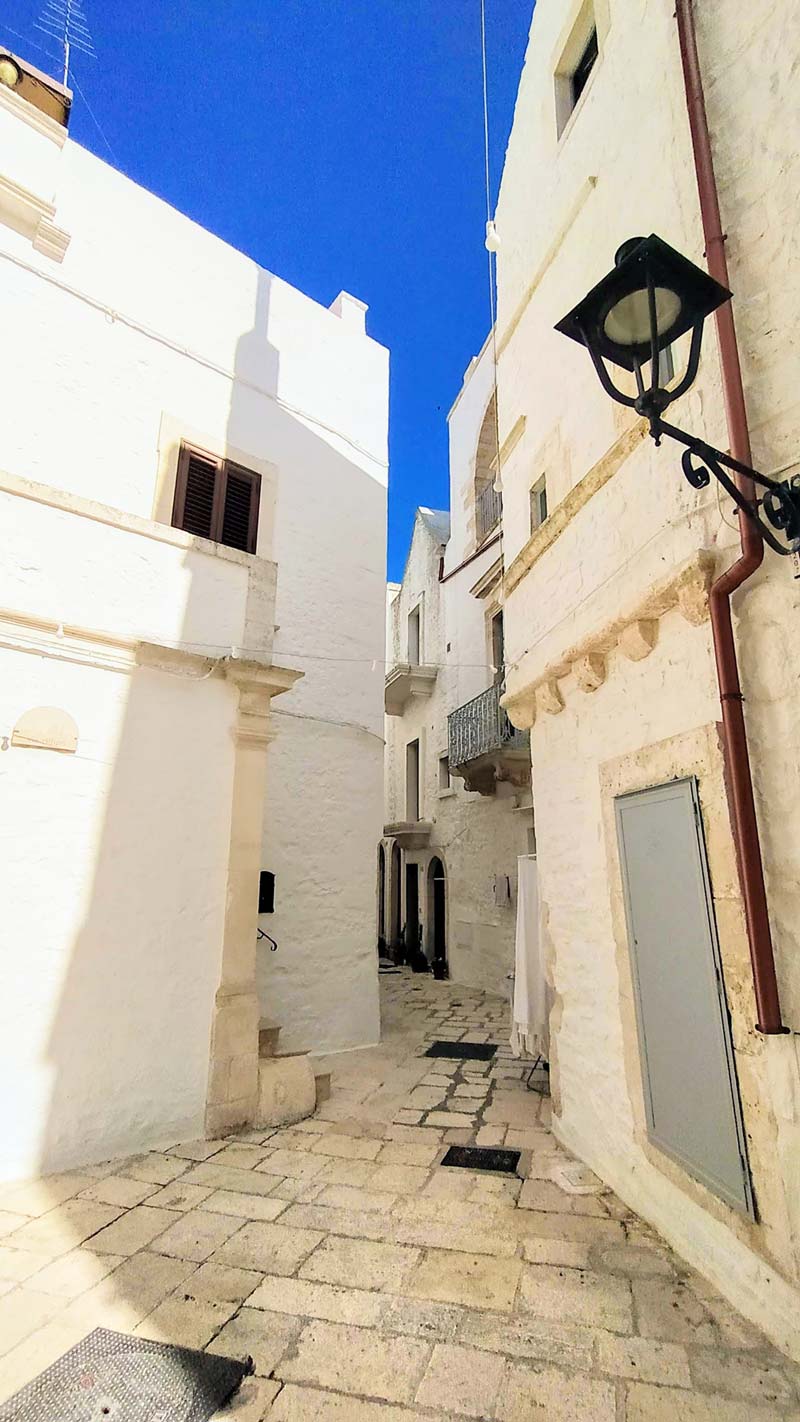 The historic part of the city is tiny. It is clear that the old town developed around one central point, around which successive layers of buildings were formed. It has an exceptionally regular round shape, in the center of which is now the main (though tiny) square Piazza Fra Giuseppe Andrea Rodio. There is a beautifully decorated St. Jerzy Martyr (Chiesa Madre San Giorgio).
Anyway, just take a look at the map below.
The shape of the city clearly refers to its name, because loco means "place" and rotondo means "round". Locorotondo is just a "round place".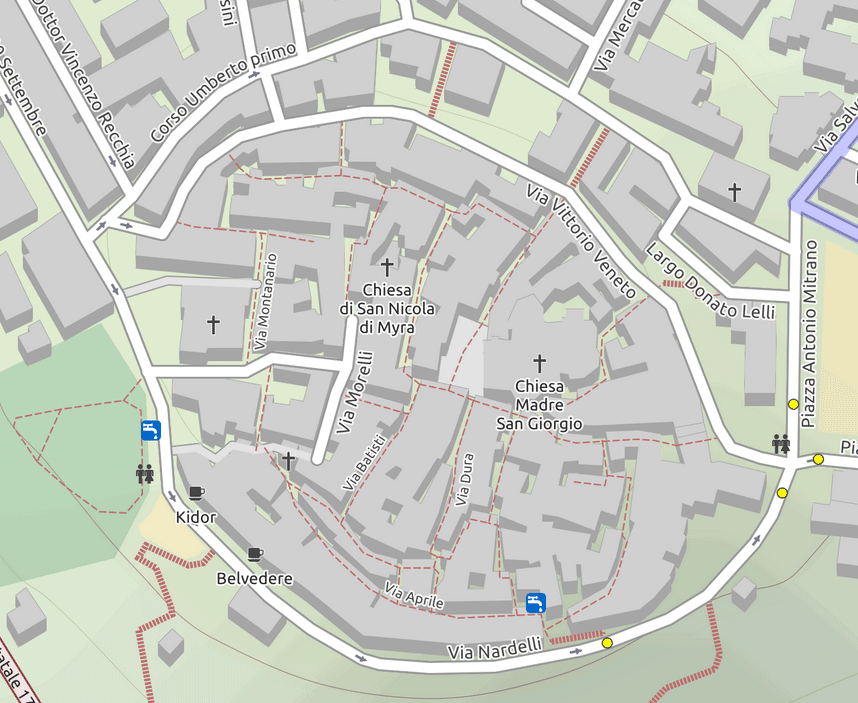 Attractions and sightseeing
Today, the old town of Locorotondo looks as if for the past 500 years the inhabitants have only been looking for a way to beautify it. The whitewashed walls of buildings all over the city, balconies, balustrades, stairs, stone railings wherever possible are decorated with flowers, old equipment, flower baskets, here and there is a bicycle pinned, garlands hang, umbrellas ... just an endless amount of street decorations. Even in winter, when there are necessarily fewer flowers, the city looks beautiful. In spring, summer and autumn everything is full of beautiful plants.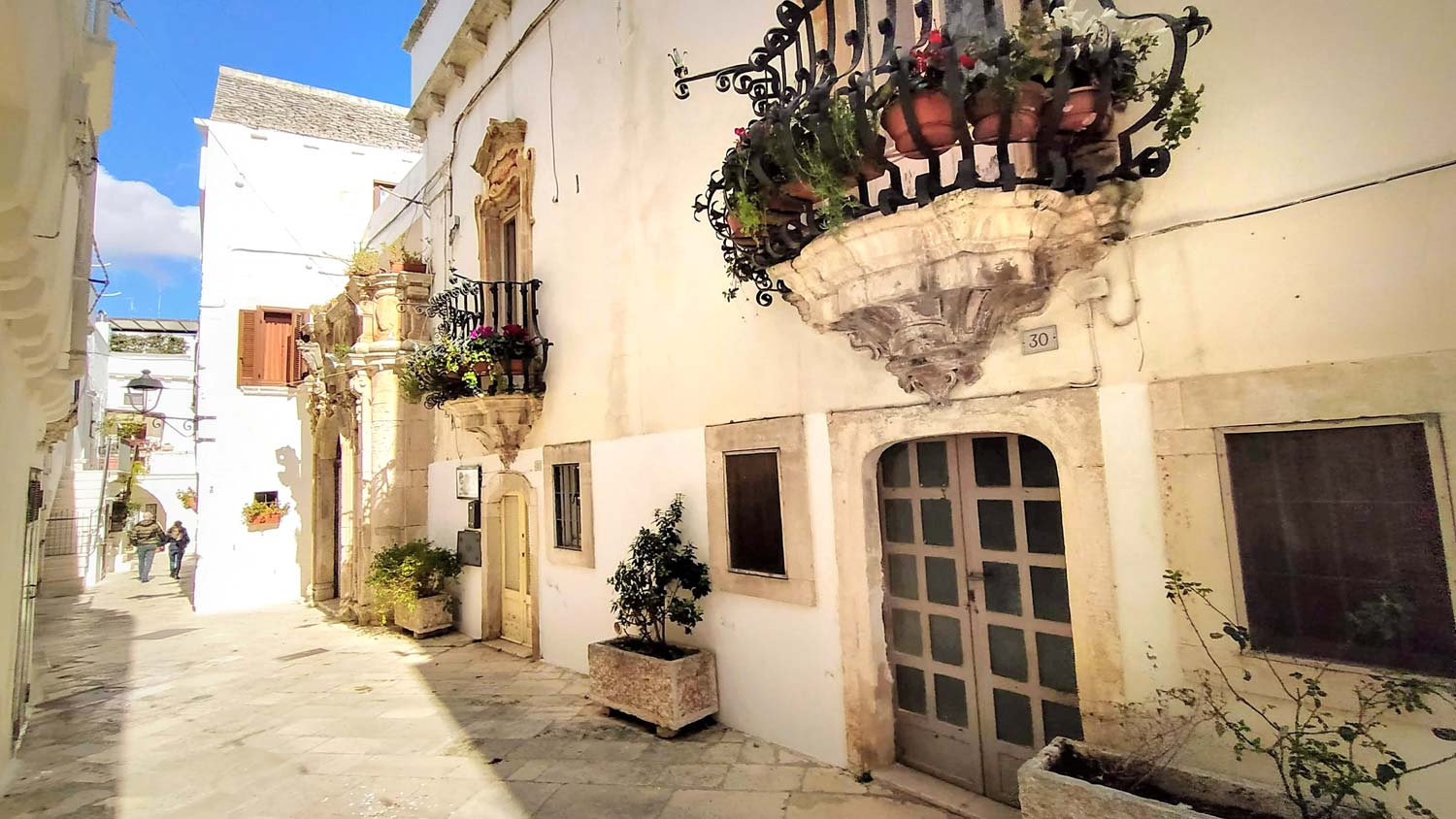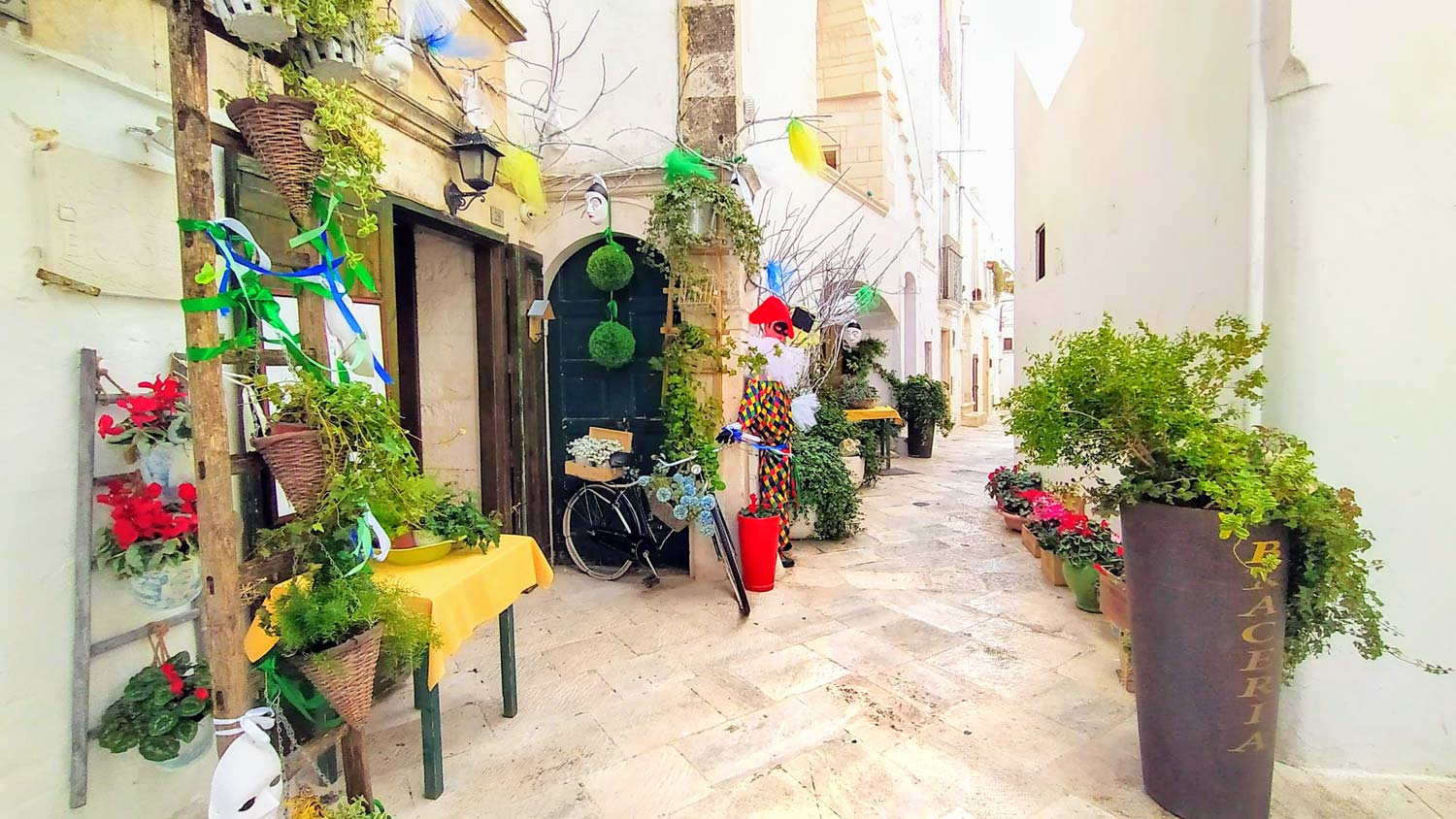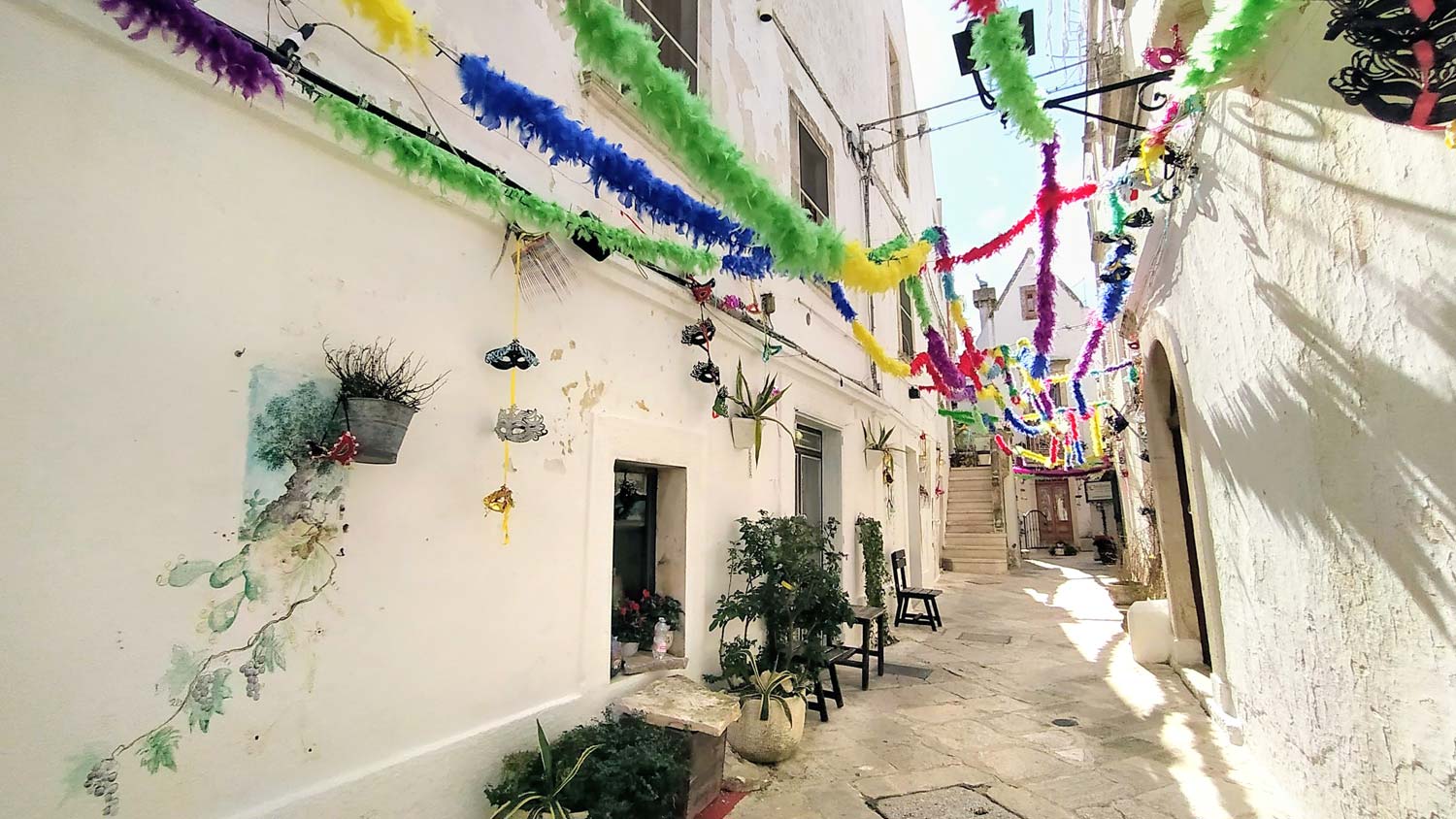 Map of Locorotondo
In the case of Locorotondo, the entire old town can be considered as one big attraction. It is simply difficult to indicate any special place, because almost every street here is unique. It's really a pity to miss any of them. So I recommend walking everywhere. Everywhere you can. Additionally, on the map I have marked a few places that should not be omitted.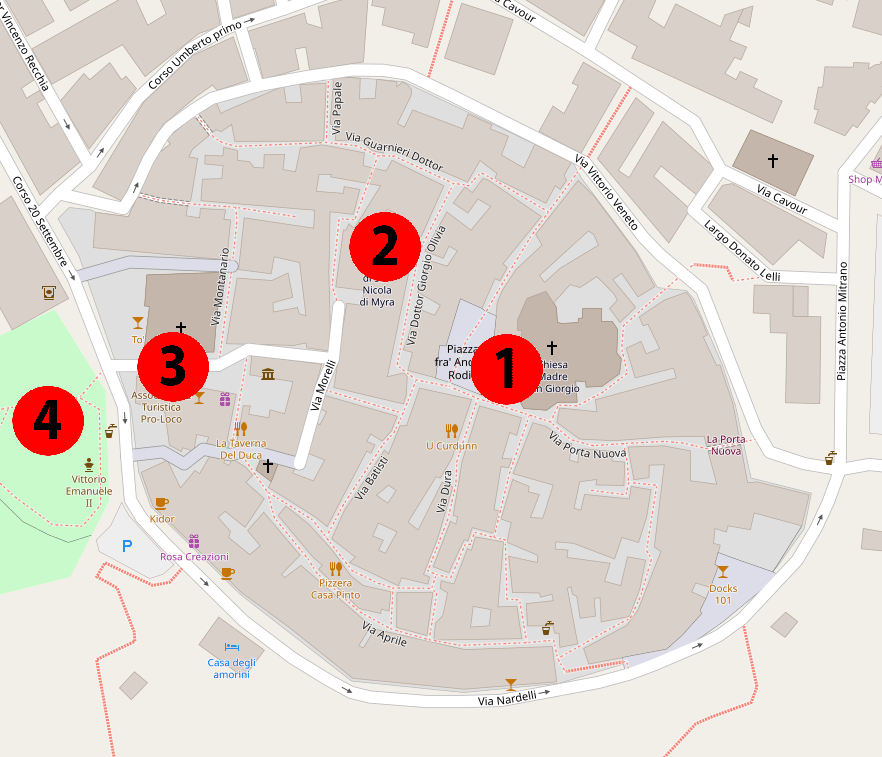 1. Giuseppe Andrea Rodio Square and the Church of St. George the Martyr (Chiesa Madre San Giorgio)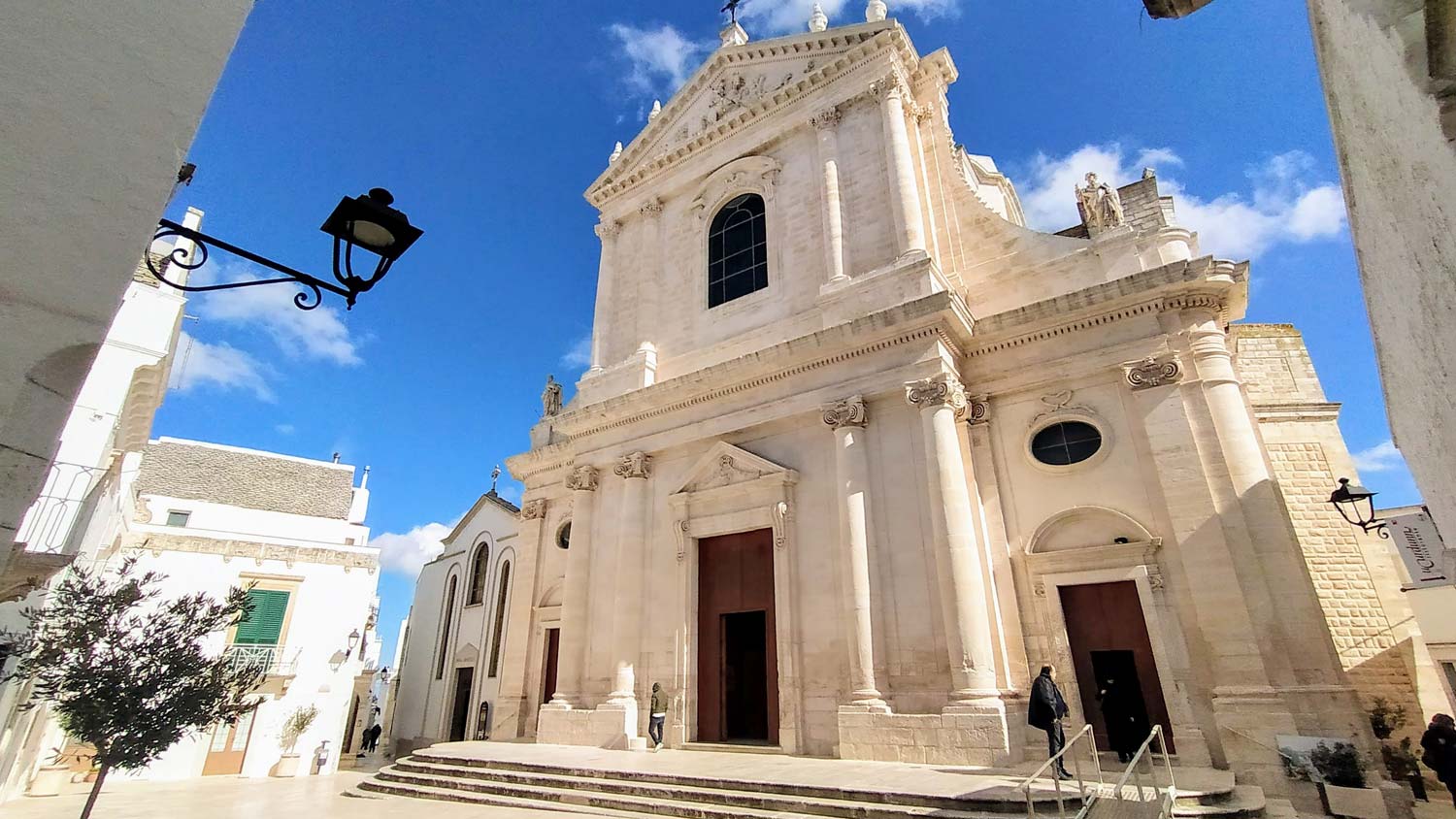 The main square is the central part of the town. The old town stretches around it symmetrically. Next to the square, there is a church of St. George the Martyr.
Giuseppe Andrea Rodio square, GPS coordinates:
40°45'10.8″N 17°19'46.3″E
40.752997, 17.329528 - click and route
2. Church of St. Nicholas (Chiesa di San Nicola di Myra)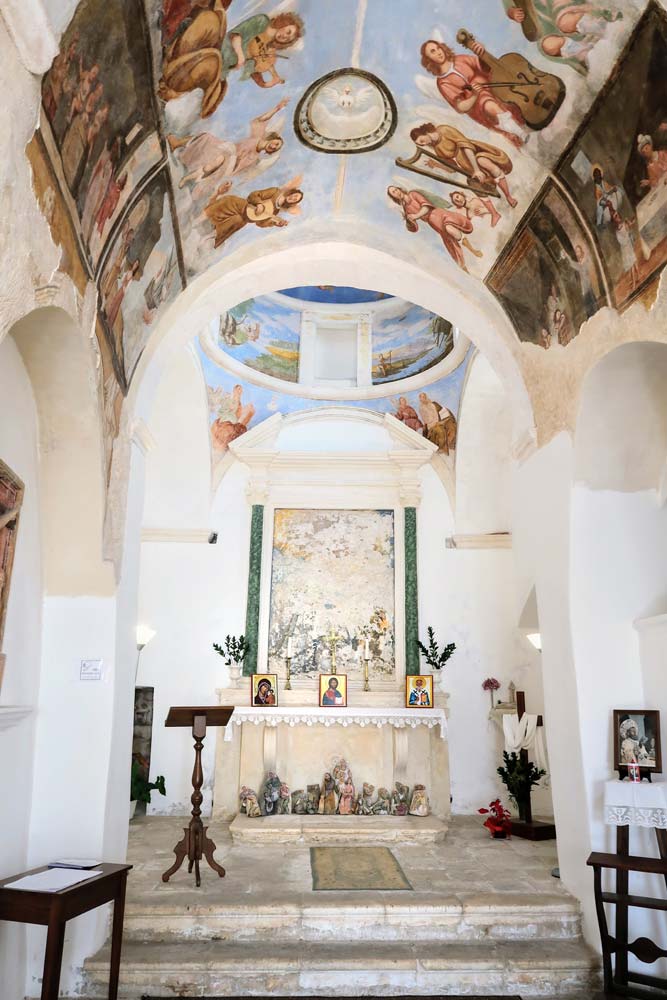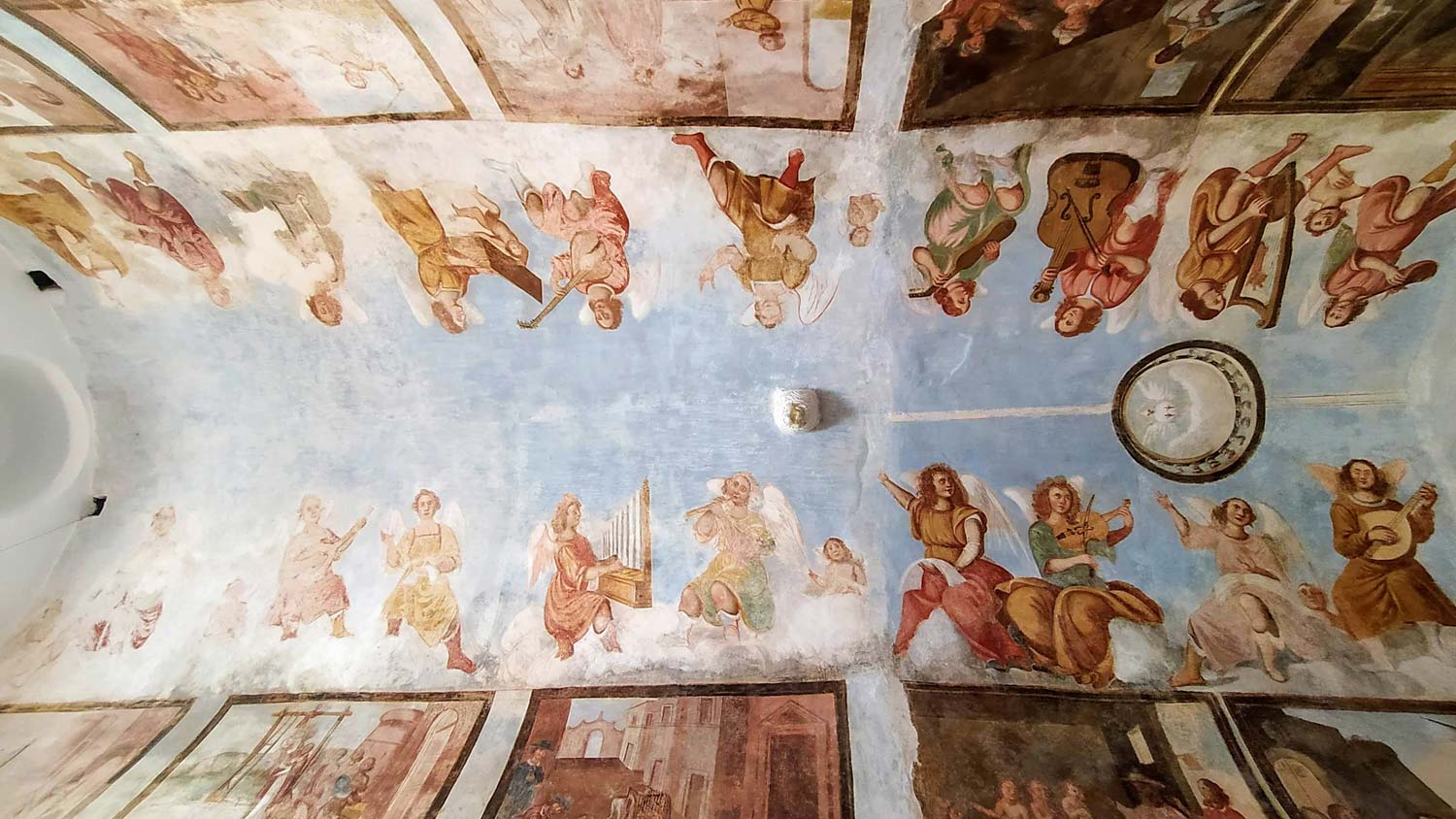 Beautifully decorated with frescoes, a tiny church pressed tightly between other buildings. It should definitely not be missed, and it is very easy to miss. Below is a short video that I hope will encourage you to visit this beautiful place.
All frescoes have something to do with the figure of St. Nicholas.
St. Nicholas, GPS coordinates:
40°45'12.0″N 17°19'45.9″E
40.753319, 17.329407 - click and route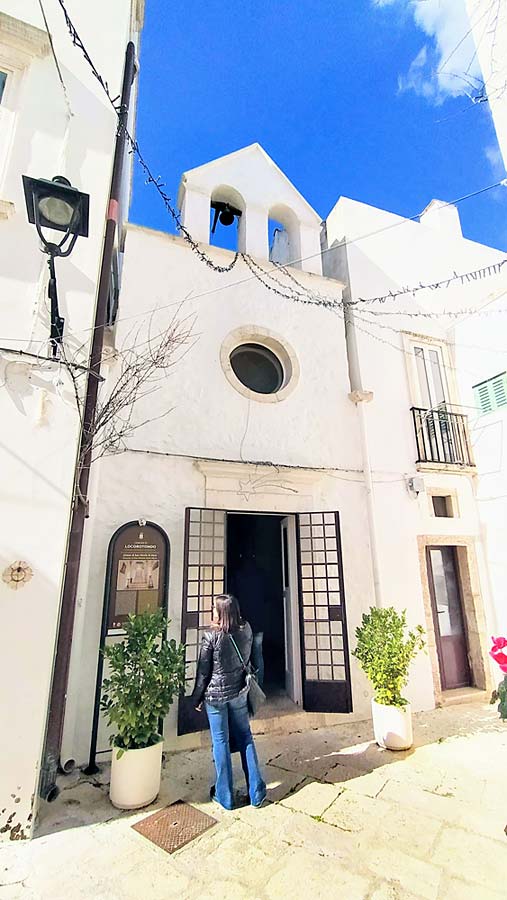 3. Piazza Vittorio Emanuele and Porta Napoli
An atmospheric, small square where you will also find tourist information with very useful maps. On the Sunday before 12.00 mass, many of the city's residents simply meet here to chat. It gets very lively and crowded. At the exit of the square towards the park, there is the city gate: Porta Napoli.
Piazza Vittorio Emanuele, GPS coordinates:
40°45'10.8″N 17°19'42.2″E
40.752987, 17.328397 - click and route
4. Park with a viewpoint
The park is located in front of Porta Napoli. As the town is located on a hill, there is a viewpoint at the end of the park with a vast panorama of the surrounding area. It's worth to sit down there and rest or just waste some time… just for fun.
City park, GPS coordinates:
40°45'10.3″N 17°19'40.7″E
40.752858, 17.327977 - click and route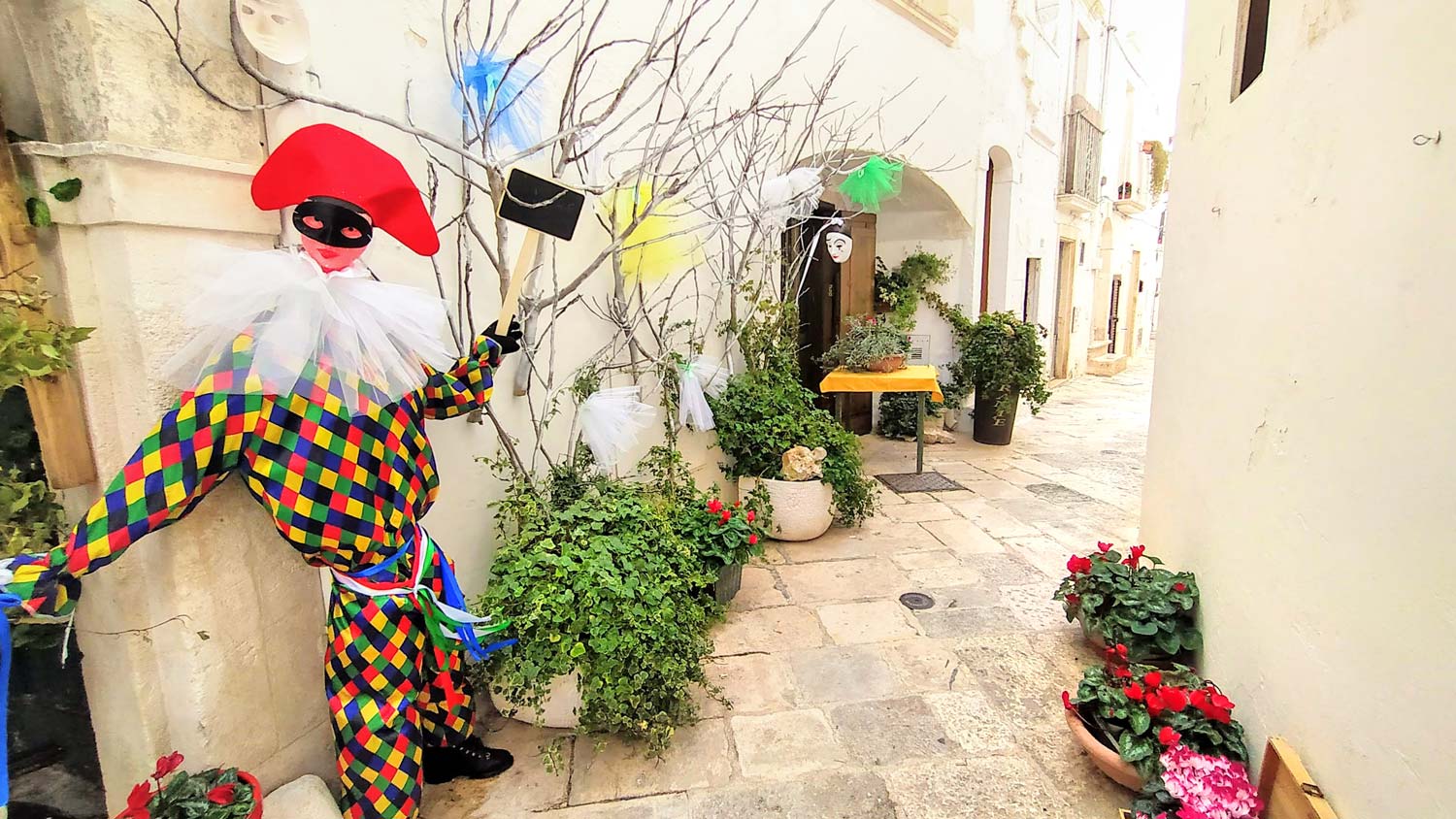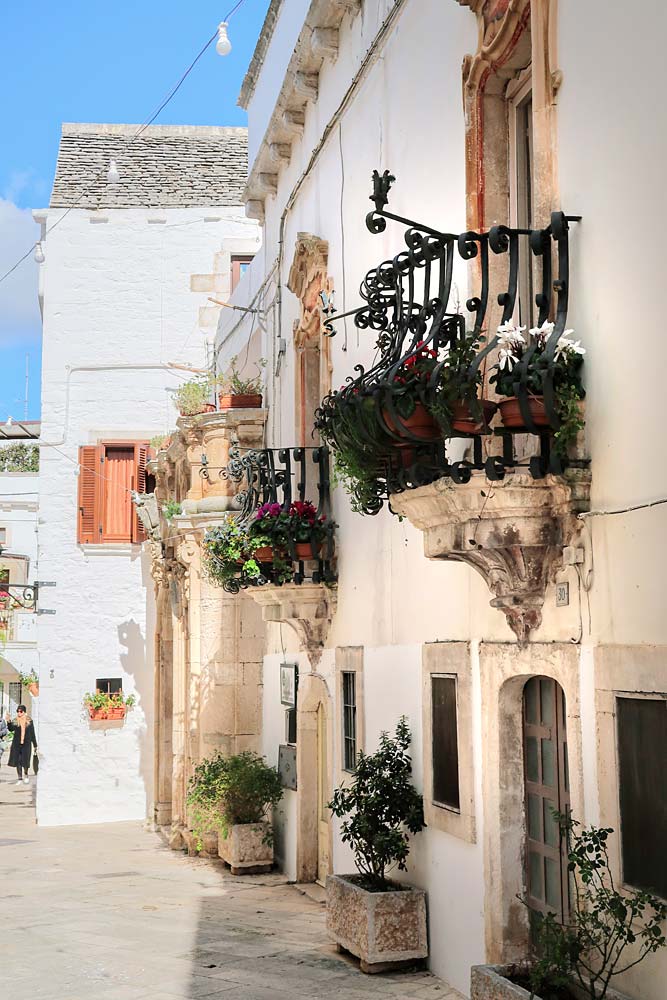 Parking lots in Locorotondo
There is not much parking space in Locorotondo. In fact, there is only one, relatively large car park to choose from, located in the immediate vicinity of the historic part of the city. If you do not find a place in this parking lot, all you have to do is wander around in the immediate vicinity and look for a free space on the street.
Parking in Piazza Antonio Mitrano, GPS coordinates:
40°45'11.3″N 17°19'52.3″E
40.753129, 17.331204 - click and route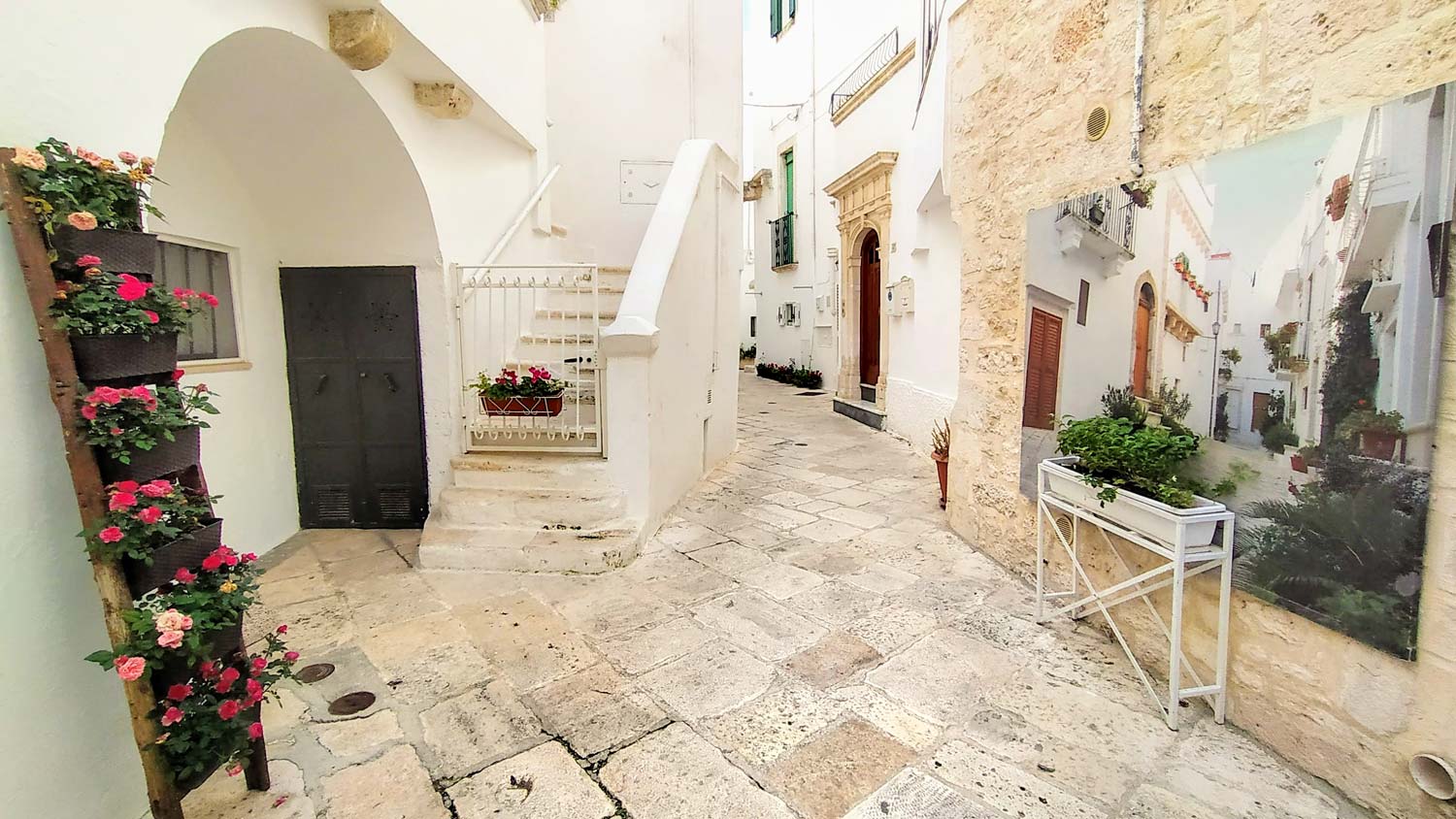 Accommodation and hotels in Locorotondo
Is it worth the night in Locorotondo? Definitely yes! Next time - if I'm in Apulia - I will definitely book one night at Locorotondo!
Below are two links to the best accommodation base. The link is prepared in such a way that it limits the search results to the area of ​​Locorotondo we are interested in. It is worth starting the search for accommodation from him, thanks to which, for a good day, locations that are not of interest to us are eliminated. The link takes you to booking.comwhere you will find offers for guesthouses and hotels.
Booking.com - see the current offer of accommodation in Locorotondo - [click]
Below you will also find a few screenshots for specific, interesting and affordable accommodation selected by me.
I hope this will allow you to find a satisfactory accommodation.
Overnight in a trulli? And why not? Due to the popularity of the town itself, spending the night in a trulli in Alberobello is even several times more expensive than this offer. So why not stay overnight in a trullo near Locorotondo. The city center is 1,3 km away and Alberobello is only a few kilometers away. A great option to feel the local atmosphere and not to exhaust yourself financially.

Important to me!
Give the article a good rating
(5 stars welcome 😀)!
It's free, a
for me it is very important!
The blog lives on visits and thus has a chance to develop.
Please do it
and ... thank you in advance!
I also post
link to Facebook profile - [click]
. Come in and press "
Follow
"then you will not miss new, inspiring posts.
Unless you prefer
Instagram
. I'm not a social media demon, but you can always count on something nice to look at on
my instagram profile - [click]
. The profile has just been created, so
for now he is starving
, due to the lack of followers. He is happy to receive any observer who feeds him with his love.
I make the content I create available free of charge with copyright, and the blog survives from advertising and affiliate cooperation. So, automatic ads will be displayed in the content of the articles, and some links are affiliate links. This has no effect on the final price of the service or product, but I may earn a commission for displaying ads or following certain links. I only recommend services and products that I find good and helpful. Since the beginning of the blog's existence, I have not published any sponsored article.
Some of the readers who found the information here very helpful, sometimes ask me how you can support the blog? I do not run fundraisers or support programs (type: patronite, zrzutka or "buy coffee"). The best way is to use links.
It costs you nothing, and support for the blog is self-generating.
Pozdrawiam