Pantheon in Paris - sightseeing, tickets, interesting facts, buried people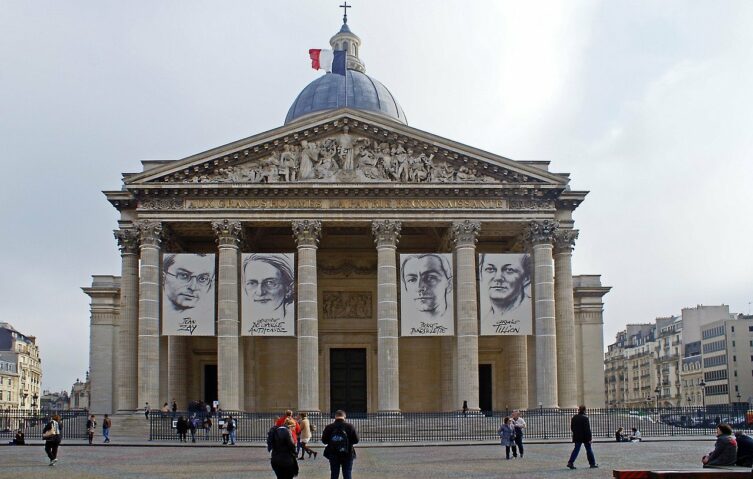 MrTheos
The pantheon is a combination of two Greek words: pan (all) + theos (god). The Pantheon, in short, was therefore a temple built to honor all gods. The most famous pantheon of the world is undoubtedly Pantheon in Rome. The one in Paris was created in his model and likeness, but ... it was not supposed to function as a pantheon.
Promise
The pantheon was built as a result of the promise made by the king of France, Louis XV. During his illness, he swore to the patron saint of Paris - Saint Geneveva - to build a temple in her honor, if he would be restored to health.
He healed. Just over 10 years later, the construction of the church began. It lasted over 30 years, and when it was about to end (only interior design remained) in 1789, the French Revolution broke out.
Temple of the nation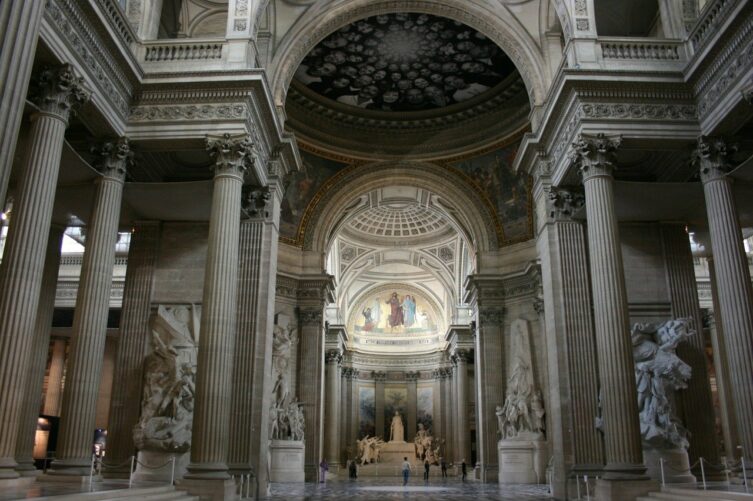 The revolution changed the world, including the later fate of the church. The idea arose in revolutionary circles to make the church a "temple of the nation". The National Legislative Assembly called the Kostituant, established by revolutionaries, decided:
"That this religious church may become the temple of the nation, that the tomb of a great man may become an altar of freedom."
A new inscription has appeared above the entrance:
"A grateful nation honors its great people"
The building has become the national mausoleum of France, where the ashes of the most prominent people are placed.
In the following years, attempts were made to restore its sacred functions, but ultimately it still plays the role assigned to it during the Revolution.
They were the first to be buried in the Pantheon Mirabeau and Voltaire.
The assembly of Voltaire's ashes was accompanied by an exhibition ceremony and crowds of people. The event was immortalized by Claude-Nicolas Malapeau in the painting "Transfer of Volaire to the Pantheon"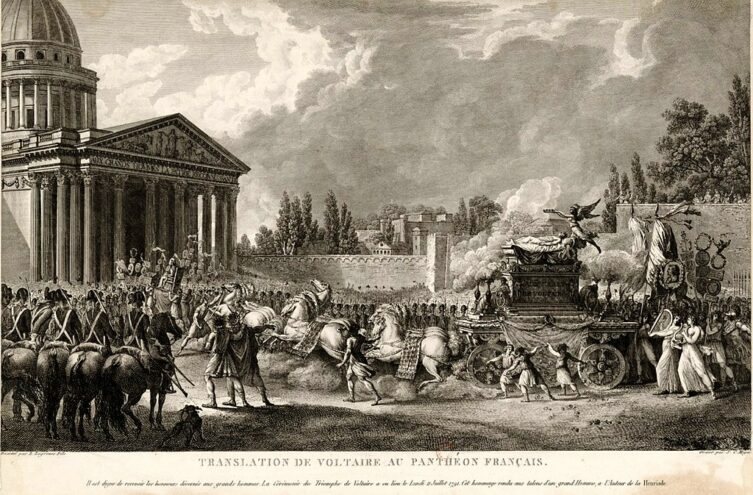 Mirabeau's ashes were soon removed from the Pantheon, as he was considered an enemy of the revolution. Soon after this event, the government decided that only the ashes of people who had been dead for at least ten years could be placed in the Pantheon.
Polka in the Pantheon
The Pantheon is also a very important place for Poles, because ashes rest there Maria Skłodowskiej-Curie. In addition to our Nobel Prize winner, you will find here such names as Wolter, Wiktor Hugo, Jean-Jacques Rousseau, Emil Zola, and Aleksander Dumas.
According to data from December 2021, the ashes of 81 people (including only 6 women) are in the Pantheon. I attach the full list of people at the end of the post.
Little known secret of the Pantheon
When in October 2006 to the office of the director of the Pantheon Bernard Jeannot A man he didn't know walked in UX groups, Jeannot didn't know that his life had just changed.
The anonymous visitor introduced himself and told the director of the Pantheon a story which made Jeannot laugh, thinking it was a silly joke. So what did he hear?
Illegal workshop
About a year earlier, several members of the Paris secret UX groups (short for Urban eXplorers) dealing with the exploration of unknown corners of Paris, came up with the idea of ​​repairing the decaying clock in the Pantheon. Regarded as a watchmaker's work of art, the 1850 Wagner clock (located above one of the passages) has been deteriorating for years, left to itself, and its hands have remained motionless for over 40 years.
The campaign started in November 2005. Members of the group simply entered the Pantheon as tourists, then hid and allowed themselves to be locked inside for the night. Then, under the dome of the Pantheon, they located a place that, in their opinion, was well suited for a workshop. Near the stairs leading to the future workshop, they found a side entrance door to the building that was perfectly placed for them, which turned out to be a trivial obstacle for a professional watchmaker. In the morning, there were no stray evening tourists in the Pantheon. The site for the workshop was selected and the passageway ready to handle the secret nightly activity of UX members.
As they themselves mention, the most difficult thing in the whole operation was ... secretly bringing in the boards from which the workshop equipment was made. Everything else turned out to be much easier. In the end, a very pleasant, illegal workshop was created under the dome of the Pantheon, which was more like a designer salon than a place to renovate an old clock. We even managed to connect electricity to the workshop and start the internet.
Renovation works on the clock, carried out secretly under the cover of night, lasted almost a year. The clock rejuvenated and came to life. It just needed to be wound up. The UX group held a heated debate on what to do next? Ultimately, they decided to notify the museum.
Disclosure and Consequences
An anonymous visitor told the director of the Pantheon this very story. No wonder Bernard Jeannot didn't believe it! To prove his story, the man from UX led the director up the stairs under the dome to the workshop. Here Jeannot experienced a real shock. He had to sit down and was silent for a long time.
The first reaction of the Pantheon administration to the situation was positive, but the rhetoric quickly changed. Bernard Jeannot had to leave his job, and the participants of the incident soon appeared before the French Court of Justice. They were accused of unlawfully trespassing and seizing a national monument, and of destroying a lock on one of the inner bars.
One lawyer claimed €48 in costs, but public prosecutor Anne Benejean said the accusation was "stupid" and she sought an acquittal herself. The judge, after deliberating for ten minutes, announced the verdict of acquittal.
Curiosity:
The administration of the museum in the Pantheon decided not to wind the clock, and it remained stationary. Therefore, the watchmaker of the UX group (Jean-Baptiste Viota) re-entered the Pantheon on December 24, 2006, repaired and put the bells connected to the clock into operation. Then he wound a clock which traditionally initiated the ringing of the bells on Christmas Eve, as long as it worked. The sonorous tolling of the bells from the Pantheon rose over Paris. This had its consequences.
One can get the impression that the indignant museologists made it a point of honor that the clock would not be wound.
If you decide to visit the Pantheon, look for the clock, look at it, remember this story and ... check if it shows the current time! You will get an answer to the question: have museum workers finally managed to accept the fact that the clock works?
Photos of the clock along with historical photographs from the hidden workshop and secret repair can be found at: urban-resources.net
Repairing the clock in the Pantheon is not the only achievement UX groups. They also have a lot in common parisian catacombs. By the way, the history of the catacombs is extremely entertaining and electrifying. You will learn more about this in a separate entry about Paris catacombs – [click]
Pantheon - entrance tickets
Luckily, the entrance ticket to the Pantheon can be purchased online. Below is a link to buy tickets,
Check it out: online admission tickets - Pantheon - [click]
The Pantheon is open daily from 10:00 to 18:00. Last visitors are admitted inside at 17:15.
Useful information
Pantheon, GPS coordinates:
48°50'47.2″N 2°20'42.5″E
48.846439, 2.345146 - click and route
Nearest metro stations:
Cardinal Lemoine - line number 10
Place Monge - line number 7
Worth seeing in the vicinity of the Pantheon
Just a few steps (literally 200 meters) from the Pantheon where Maria Skłodowska-Curie is buried, there is a building where she had her laboratory and conducted research. Currently, the building houses the Maria Skłodowska-Curie Museum with a very interesting exhibition and exhibits.
Laboratoruim - Maria Skłodowska-Curie Museum, GPS coordinates:
48°50'39.5″N 2°20'41.2″E
48.844307, 2.344769 - click and route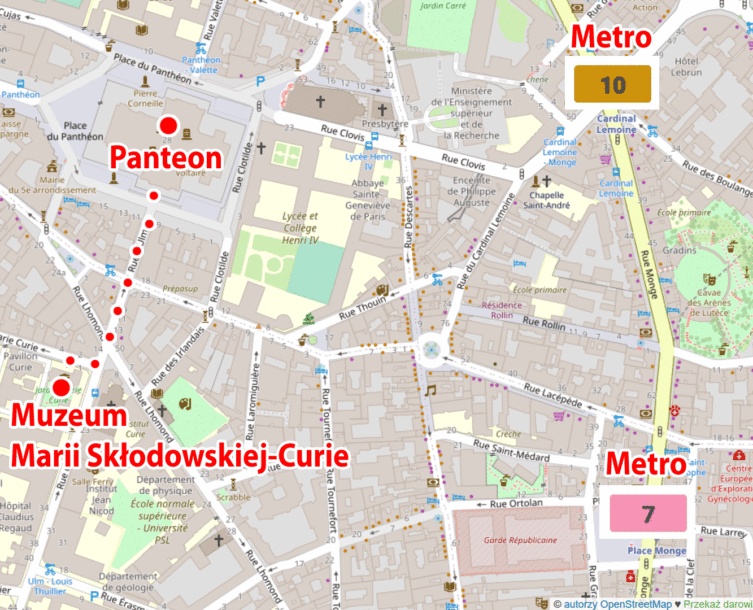 Paris sightseeing itinerary
This post is part of a very detailed itinerary for Paris that I have developed. The plan is available for free and you can see it on the website:
Paris sightseeing plan - map, tickets, attractions, monuments, accommodation, interesting facts
Accommodation in Paris
Below are links to some interesting accommodation in Paris. I tried to make them attractive in terms of price (for Paris) and to be as close as possible to the Pantheon. All of them (most importantly) are close to the metro station, which will allow you to get everywhere in no time.
The link has been prepared so that clicking on the proposed accommodation will take you to the details of the accommodation, but will also allow you to see other, similar offers. Therefore, it is worth treating the hotels I have selected as a starting point for my own research. Hotels often make temporary price cuts. So it is possible that by clicking on one of my offers, you will immediately find another, better-priced offer. It's worth clicking and looking.



List of people buried in the Pantheon in Paris
Below you will find a detailed list of those buried in the Pantheon in Paris. The list is arranged chronologically according to the year in which the ashes were placed.
in the Pantheon from
name
he lived in years
1791
Mirabeau
1749-1791
1791
Voltaire
1694-1778
1792
Nicolas-Joseph Beaurepaire
1740-1792
1793
Louis Michel le Peletier de Saint Fargeau
1760-1793
1793
Augustin-Marie Picot
1756-1793
1794
Jean-paul marat
1743-1793
1794
Jean-Jacques Rousseau
1712 – 1778 Feet
1806
François Denis Tronchet
1726-1806
1806
Claude-Louis Petiet
1749-1806
1807
Jean-Étienne-Marie Portalis
1746-1807
1807
Louis-Pierre-Pantaleon Resnier
1759-1807
1807
Louis-Joseph-Charles-Amable d'Albert, duc de Luynes [fr]
1748-1807
1807
Jean-Baptiste-Pierre Bevière [fr]
1723-1807
1808
François Barthélemy, comte Beguinot [fr]
1747-1808
1808
Pierre Jean Georges Cabanis
1757-1808
1808
Gabriel-Louis, marquis de Caulaincourt [fr]
1741-1808
1808
Jean-Frederic Perregaux
1744-1808
1808
Antoine-César de Choiseul, duc de Praslin [fr]
1756-1808
1808
Jean-Pierre Firmin Malher
1761-1808
1809
Jean Baptiste Papin, comte de Saint-Christau [fr]
1756-1809
1809
Joseph-Marie Vienna
1716-1809
1809
Pierre Garnier de Laboissiere
1755-1809
1809
Jean Pierre, Comte Sers [fr]
1746-1809
1809
Jérôme-Louis-François-Joseph, comte de Durazzo [fr]
1739-1809
1809
Justin Bonaventure Morard de Galles
1761-1809
1809
Emmanuel Cretet de Champmol
1747-1809
1810
Cardinal Giovanni Battista Caprara
1733-1810
1810
Louis Charles Vincent Le Blond de Saint-Hilaire
1766-1809
1810
Jean-Baptiste Treilhard
1742-1810
1810
Jean Lannes de Montebello
1769-1809
1810
Charles Pierre Claret de Fleurieu
1738-1810
1811
Louis Antoine de Bougainville
1729-1811
1811
Cardinal Charles Erskine de Kellie
1739-1811
1811
Alexandre-Antoine Hureau de Sénarmont
1769-1811
1811
Cardinal Ippolito Antonio, Cardinal Vincenti Mareri [it]
1738-1811
1811
Nicolas Marie Songis des Courbons
1761-1811
1811
Michel Ordener, 1st Count Ordener [26]
1755-1811
1812
Jean Marie Pierre Dorsenne
1773-1812
1812
Jan Willem de Winter
1761-1812
1813
Hyacinthe-Hugues-Timoleon de Cossé, Comte de Brissac [fr]
1746-1813
1813
Jean-Ignace Jacqueminot, Comte de Ham [fr]
1758-1813
1813
Joseph-Louis Lagrange
1736-1813
1813
Jean Rousseau [fr]
1738 – 1813 Feet
1813
Justin de Viry [fr]
1737-1813
1814
Frederic Henri Walther
1761-1813
1814
Jean-Nicolas Demeunier
1751-1814
1814
Jean-Louis-Ebenezer Reynier
1771-1814
1814
Claude Ambroise Regnier de Massa di Carrara
1746-1814
1815
Antoine-Jean-Marie Thévenard
1733-1815
1815
Claude-Juste-Alexandre Legrand
1762-1815
1829
Jacques-Germain Soufflot
1713-1780
1885
Victor Hugo
1802-1885
1889
Lazare Carnot
1753-1823
1889
Jean-Baptiste Baudin
1811-1851
1889
Théophile Corret de la Tour d'Auvergne
1743-1800
1889
François Severin Marceau
1769-1796
1894
Marie François Sadi Carnot
1837-1894
1907
Marcellin Berthelot
1827-1907
1907
Sophie Berthelot
1837-1907
1908
Émile Zola
1840-1902
1920
Leon Gambetta
1838-1882
1924
Jean Jaures
1859-1914
1933
Paul Painleve
1863-1933
1948
Paul Langevin
1872-1946
1948
Jean Perrin
Nobel Laureate "
1870-1942
1949
Victor Schoelcher
1804-1893
1949
Marc Schoelcher
1766-1832
1949
Felix Eboué
1884-1944
1952
Louis Braille
1809-1852
1964
Jean Moulin
1899-1943
1967
Antoine de Saint-Exupéry
1900-1944
1987
René Cassin
Nobel Laureate "
1887-1976
1988
Jean Monnet
1888-1979
1989
Abbé Henri Grégoire
1750-1831
1989
Gaspard monge
1746-1818
1989
Nicolas de Condorcet
1743-1794
1995
Pierre Curie
Nobel Laureate (1903) "
1859-1906
1995
Marie Skłodowska Curie
Nobel Laureate (1903 and 1911) "
1867-1934
1996
André Malraux
1901-1976
1998
Toussaint Louverture
1743-1803
1998
Louis Delgres
1766-1802
2002
Alexandre Dumas
1802-1870
2011
Aimé Césaire
1913-2008
2015
Jean Zay
1904-1944
2015
Pierre Brossolette
1903-1944
2015
Germaine Tillion
1907-2008
2015
Geneviève de Gaulle-Anthonioz
1920-2002
2018
Simone Veil
1927-2017
2018
Antoine Veil
1926-2013
2020
Maurice Genevoix
1890-1980
2021
Josephine baker
1906-1975
Important to me!
Give the article a good rating
(5 stars welcome 😀)!
It's free, a
for me it is very important!
The blog lives on visits and thus has a chance to develop.
Please do it
and ... thank you in advance!
I also post
link to Facebook profile - [click]
. Come in and press "
Follow
"then you will not miss new, inspiring posts.
Unless you prefer
Instagram
. I'm not a social media demon, but you can always count on something nice to look at on
my instagram profile - [click]
. The profile has just been created, so
for now he is starving
, due to the lack of followers. He is happy to receive any observer who feeds him with his love.
I make the content I create available free of charge with copyright, and the blog survives from advertising and affiliate cooperation. So, automatic ads will be displayed in the content of the articles, and some links are affiliate links. This has no effect on the final price of the service or product, but I may earn a commission for displaying ads or following certain links. I only recommend services and products that I find good and helpful. Since the beginning of the blog's existence, I have not published any sponsored article.
Some of the readers who found the information here very helpful, sometimes ask me how you can support the blog? I do not run fundraisers or support programs (type: patronite, zrzutka or "buy coffee"). The best way is to use links.
It costs you nothing, and support for the blog is self-generating.
Pozdrawiam