The trail to the highest peak of Madeira, Pico Ruivo (PR1 Vereda do Areeiro) - map, description, directions, parking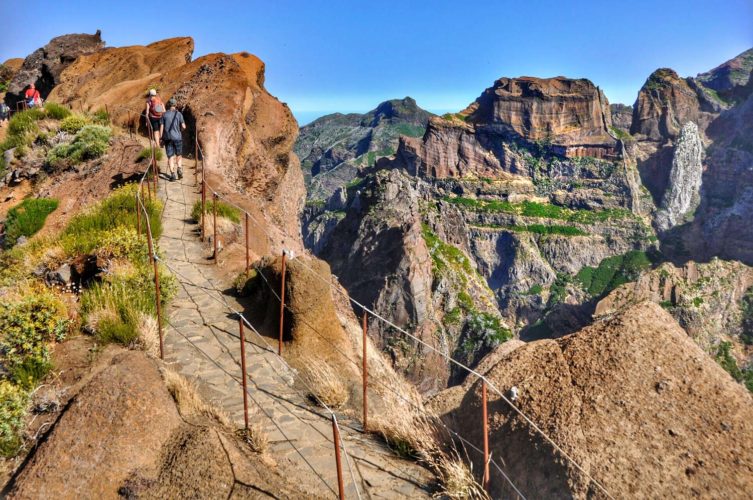 The most beautiful hiking trail in Madeira
It is commonly believed that the trail from Arieiro Peak na Pico Ruivo it is considered the most beautiful walking path in Madeira. When I went on this trail for the first time, I had no idea what awaited me there. I just got the message saying he's cool, so I went.
The official route time is 3 hours and 30 minutes. I didn't manage to beat it in such a time ... I walked it for 5 hours! Not because I lacked the strength. There are places and such views along the way that I just couldn't tear myself away. So I stopped often and soaked up the scenery as long as I could. I was in no hurry, nothing was chasing me.
To everyone who goes on this trail, I recommend that you reserve a lot more time for it than it results from the officially stated times. It's really a pity to rush. It will be really hard to find another such beautiful trail.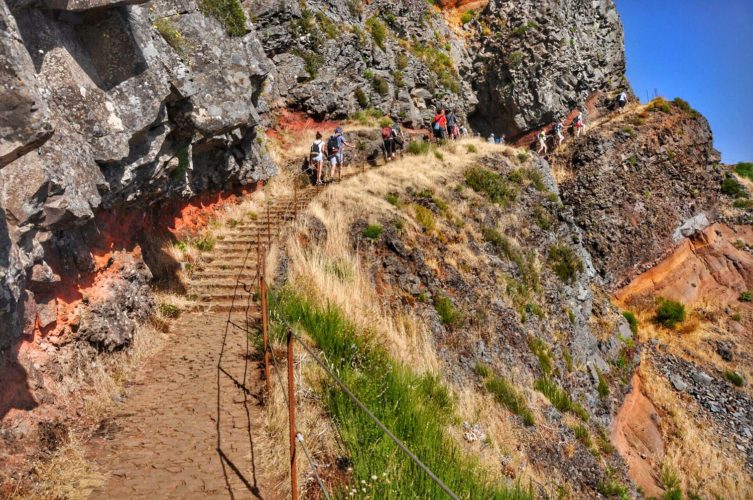 PR1 trail - Vereda do Areeiro
After a short introduction, it's time for some specific information that will help you organize your trip and follow the PR1 trail.
Basic data on the PR1 pathway
Beginning of the trail: parking at the top Arieiro Peak
End of the trail: Pico to Ruivo
Trail Length: 5,6 km (west path), 7 km (east path)
Walking time: 3 h 30 min (one way)
Level of difficulty: above average
Comments: the trail runs through partially unlit tunnels, a flashlight and warmer (even in summer) outer clothing (e.g. fleece) will be useful. Don't forget drinking water and something to eat!
Going from the side Arieiro Peakapproximately at the summit of Pico do Gato, the path forks. You can choose any of the paths, because after some time both paths connect again. The only difference is in the length and difficulty of both paths. The one that deviates to the left (western path - RW) is shorter and easier, while the one that diverges to the right (eastern path - RE) is about 1,5 km longer, a bit more difficult, but offers a lot of new, spectacular views. It all depends on your physical condition and the amount of time you have.
WARNING! The Eastern Path (RE) is currently closed indefinitely.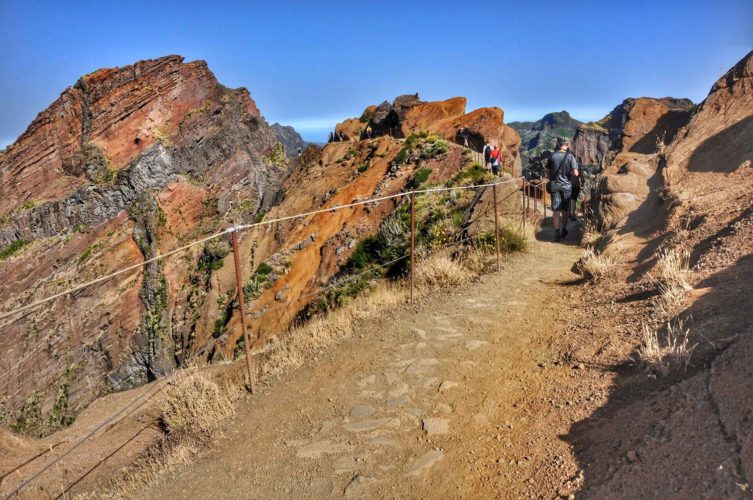 Organization of the trip
The key issue is whether you will have a rented car on the island, or whether you intend to use other means of transport.
If you have the rented car, then you need to get to the parking lot at the top of Pico do Arieiro and start the trail from there. Unfortunately, the trail is not a closed loop, so you will have to go all the way in both directions. So the transition time will be twice as long.
If you are fit, you can take the one-way trail along the western path, and return along the eastern path. Set aside about 7-8 hours for such a walk.
If you do not have your own car at your disposal, you can use the services of local tourist offices. There are no regular bus lines reaching the starting point of the trail.
Fortunately, there are offers of organized trips to the PR1 trail. Most of them start from Funchal, from around Funchal or from any town on the way from Funchal. Some organizers drive up to the hotel to pick up participants, and others ask you to come to one of the permanent stops where they stop. You can check the availability of tours online. For your convenience, below I am providing a link to the page where offers from local tourist offices are grouped. The price depends mainly on the scope of services included in the excursion program (often excursions include additional attractions, e.g. visiting colorful houses in Santana). On the website, you can choose the variant of departure that interests you and make a reservation for a specific day.
For details, please visit the website: Pico do Arieiro trip offers - Pico Ruivo - [click]
It may happen that there will be no more available dates at the link provided by me. Then - as the last resort - it is worth trying to ask about such a possibility at the hotel reception or just look around the city for something.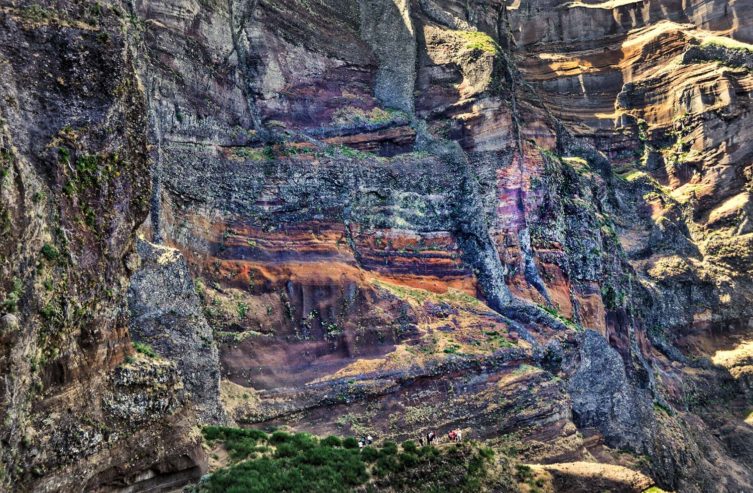 Access, parking and entry to the trail
The entrance to the trail is at the tourist car park at the top Arieiro Peak.
Below are the geographic coordinates of the car park at the top. Just click on the link next to them, and the navigation on your phone will start automatically and the route will be set.
Tourist parking at the top of Pico do Arieiro, GPS coordinates:
32°44'05.2″N 16°55'43.4″W
32.734766, -16.928712 - click and route
Trail map
Below is a map with the route. I have marked a few characteristic points on it, the description of which can be found later in the text.
There are two paths on the map: RW- west path and RE - eastern path.
WARNING! The Eastern Path (RE) is currently closed indefinitely.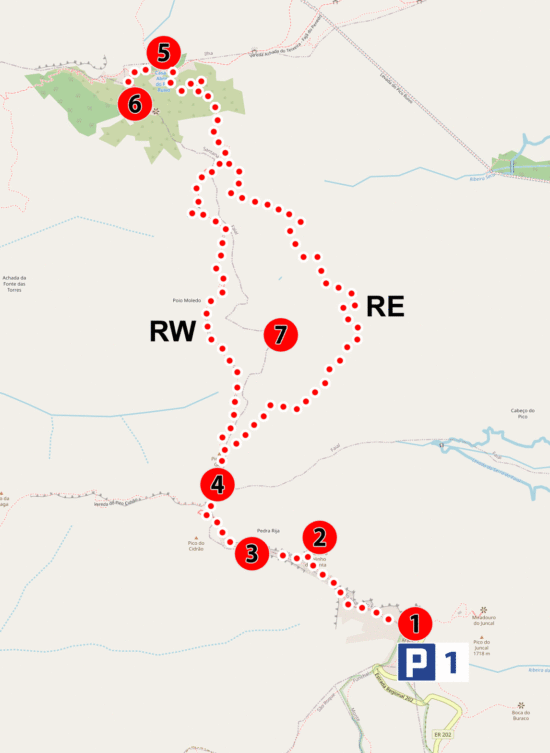 Description of selected places
The trail starts at the car park (P1) at the top Arieiro Peak (1) and from the very beginning you will be accompanied by fabulous views.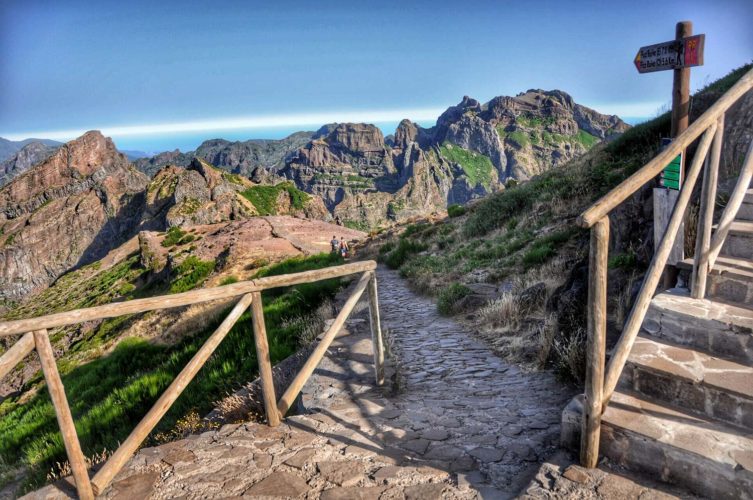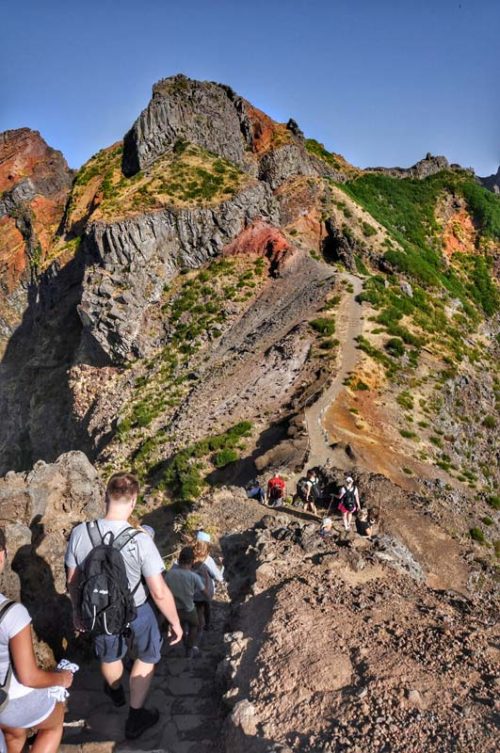 After about 1 km of walking, you will reach the first viewpoint: Ninho da Manta. If so far you thought that it couldn't be more beautiful, then it's a vantage point Ninho da Manta (2) he will probably quickly verify this view. As long as there are no pillows of clouds flowing under your feet, you will see overwhelming scenery. It will be really steep, dangerous and beautiful in front of you! Fortunately, there are appropriate barriers, so feel free to devote yourself to absorbing the views.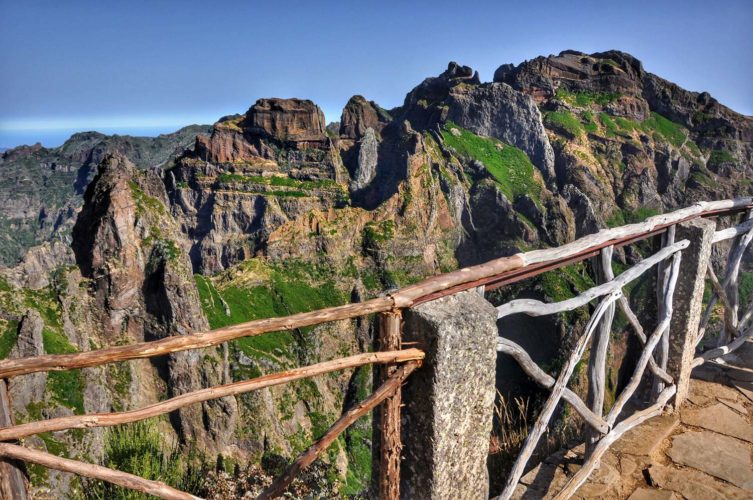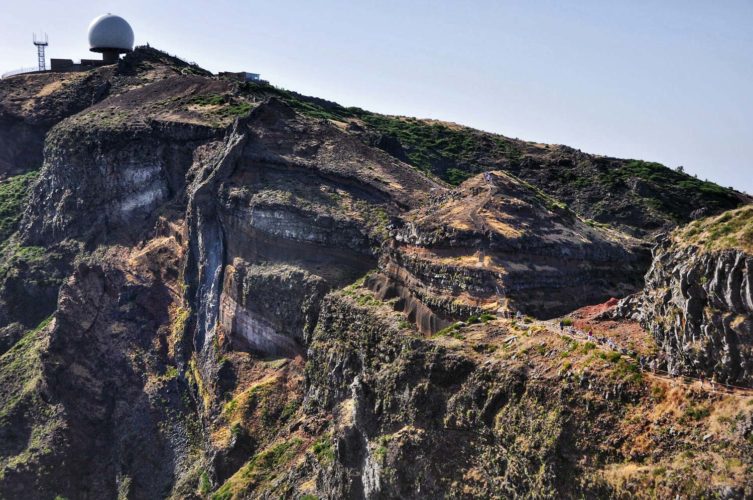 When you have cooled down and decide to go further, you will be able to walk only 200 or 300 meters in peace. Because you will hit almost immediately Pedro Rija (3): amazing ridge crossing. Walk through Pedro Rija (3) it seems crazy and extremely dangerous from a distance, but fear not! It's really well secured. In the pictures he looks brilliant!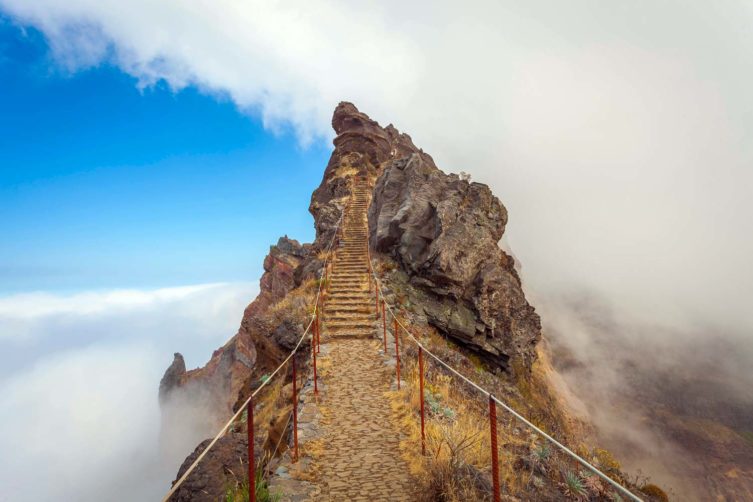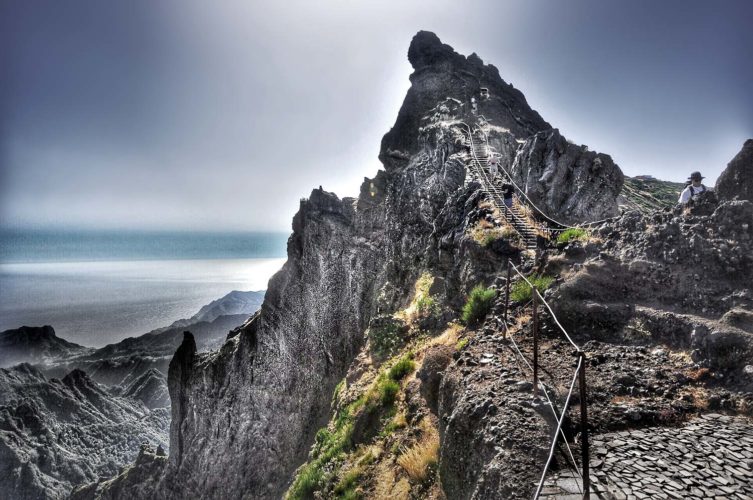 After walking through Pedro Rija, I was sure that nothing could surprise me anymore. Was I wrong again? We'll see!
After another few hundred meters you will reach the summit Pico to Gato (4). Here the path forks and you will have to make a choice: you are walking the western path (RW) which is a little shorter and easier, do you turn right onto the eastern path (RE) and at the expense of a slightly longer (1,5 km) and more difficult walk you will experience several beautiful views.
Both paths pass around the 1851 m peak of Madeira, the second highest peak: Pico das Torres (7). The western path is carved directly into the steep slope of Pico das Torres and leads through the resulting narrow rock ledge and several tunnels.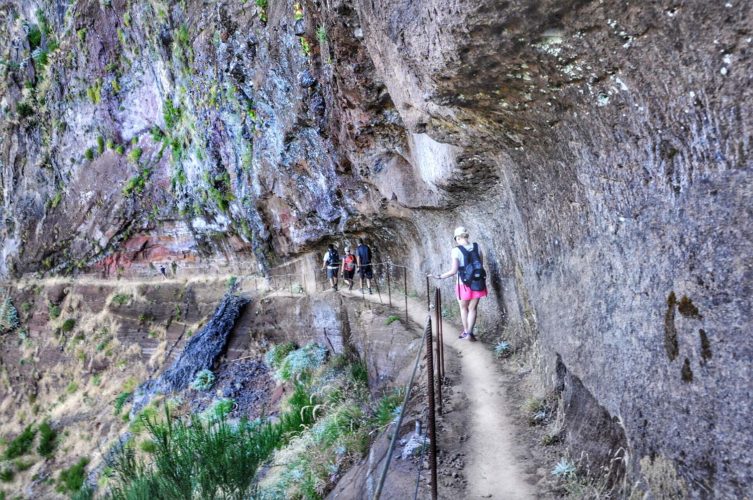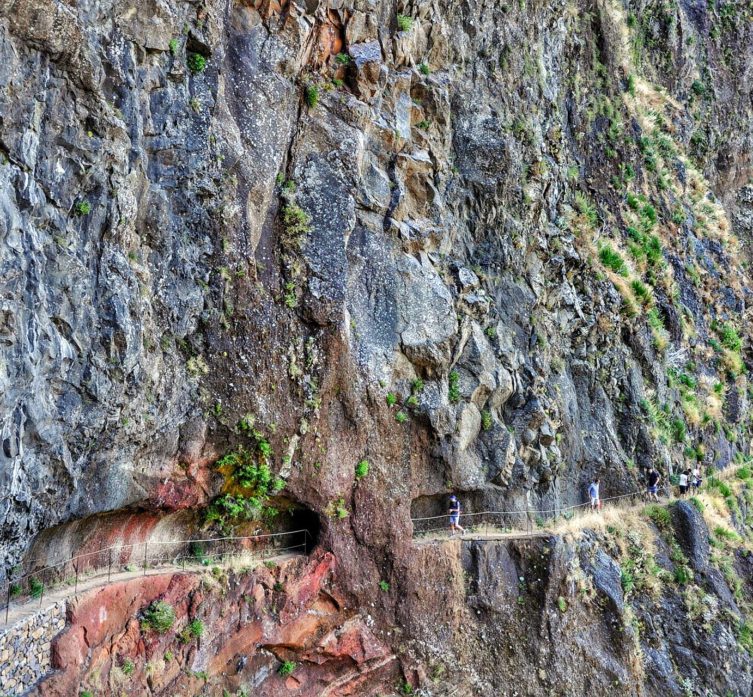 After passing a relatively flat section divided by several tunnels, it will be time to climb. Sometimes it will be really steep. Fortunately, there are safety rails or handrails everywhere. In the sections where it was impossible to forge safe steps in the rock, special metal structures with stairs were installed.
Entering the metal stairs means that you will soon reach shelters (5) at the foot of Pico Ruivo. Here I propose to sit down for a moment and rest. The toughest section is now waiting for you, the summit attack on Madeira's highest mountain: Pico Ruivo (6).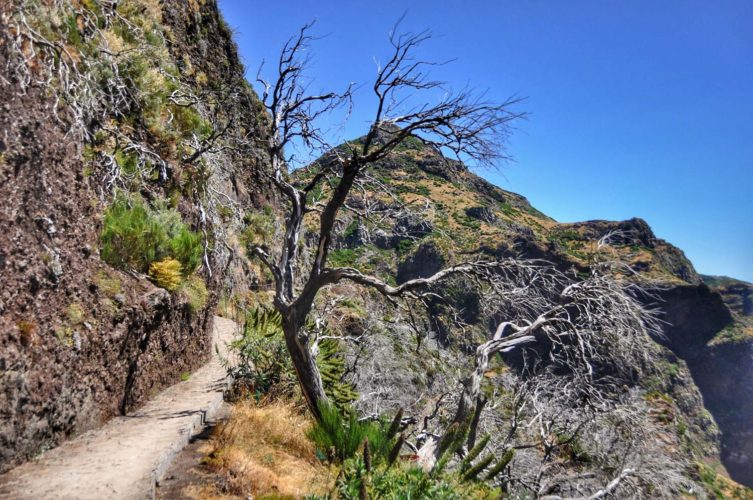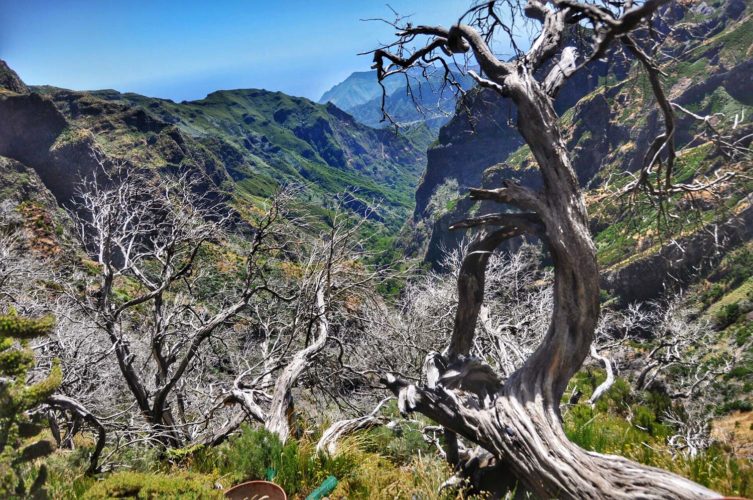 It shouldn't take you more than 20 minutes to get to the top. When you are at the top and you are lucky with the weather, stand where you have a good view in all directions and look around. The whole island is at your feet. From Pico Ruivo, in the absence of clouds to obscure the land under your feet, you can see the entire island in every direction. I was lucky to find perfect weather. The feeling of taking in the whole of Madeira with your eyes is amazing! If you've been driving around the island a bit earlier, you will probably see places you already know with Pico Ruivo.
You can stand there for a long time… enjoy watching!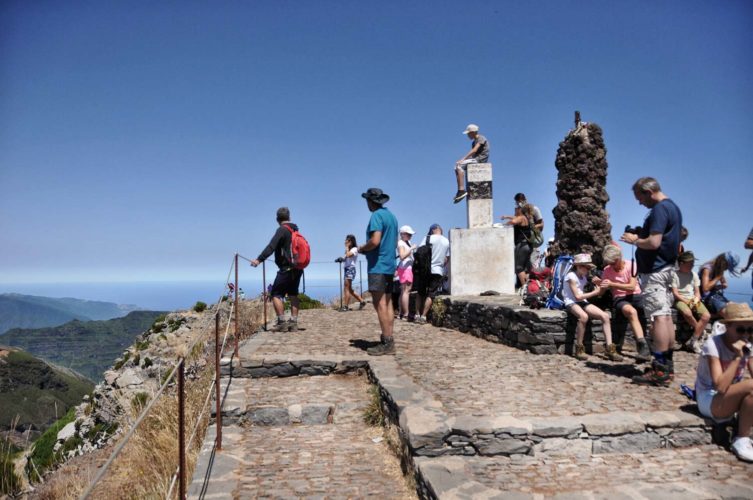 Madeira sightseeing itinerary
This entry is part of a complete one
Madeira sightseeing plan - [click]
. The guide contains plans, maps and descriptions of specific sightseeing routes.
To see all currently available descriptions of attractions in Madeira, click on the link:
Madeira - [click]
.
Safe car rental guide:
Madeira - car rental without deposit?
Important to me!
Give the article a good rating
(5 stars welcome 😀)!
It's free, a
for me it is very important!
The blog lives on visits and thus has a chance to develop.
Please do it
and ... thank you in advance!
I also post
link to Facebook profile - [click]
. Come in and press "
Follow
"then you will not miss new, inspiring posts.
Unless you prefer
Instagram
. I'm not a social media demon, but you can always count on something nice to look at on
my instagram profile - [click]
. The profile has just been created, so
for now he is starving
, due to the lack of followers. He is happy to receive any observer who feeds him with his love.
I make the content I create available free of charge with copyright, and the blog survives from advertising and affiliate cooperation. So, automatic ads will be displayed in the content of the articles, and some links are affiliate links. This has no effect on the final price of the service or product, but I may earn a commission for displaying ads or following certain links. I only recommend services and products that I find good and helpful. Since the beginning of the blog's existence, I have not published any sponsored article.
Some of the readers who found the information here very helpful, sometimes ask me how you can support the blog? I do not run fundraisers or support programs (type: patronite, zrzutka or "buy coffee"). The best way is to use links.
It costs you nothing, and support for the blog is self-generating.
Pozdrawiam