Świnoujście - attractions, interesting facts, map, accommodation, weather, camera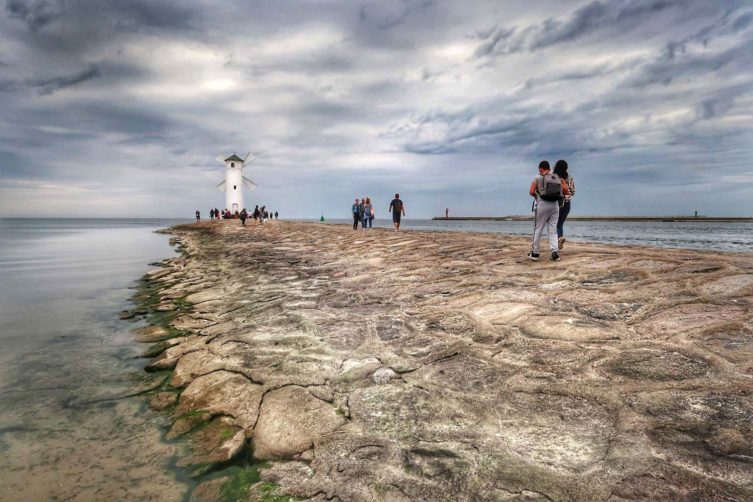 Take a break from trash
Holidays at the Polish seaside do not have to be cheesy, although most seaside towns have got us used to it. They are still stuck in the era of makeshift stalls, booths, plastic trash, tarpaulins, cardboard and chaff set for a while, for the season. Quarters, a narrow promenade lined with stalls with crap (4 zlotys each), descent to the beach (preferably also with stalls), food fried in oil-like palm oil (just cheap, a lot and quickly) ... has anyone seen it ? Does anyone know this?
Part of the town has matured to change the epoch. You can see it. They are trying. But such a change cannot be made quickly. Świnoujście began the change over 25 years ago. A plan was created and it was stubbornly implemented (I assume that it was not easy, but with such projects it is never easy and you never know if it will be possible to complete them at all). The transformation of the main tourist and recreational part of the city took a long time and, more than 25 years after the concept was created, it was completed in 2020.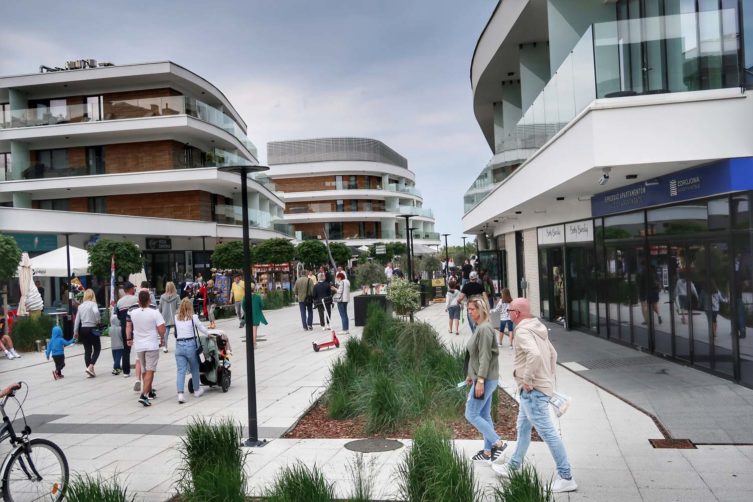 The effect is insane. A real civilization leap, matching the best seaside resorts that can be found in Europe. If someone suddenly teleported me to Świnoujście, let me open my eyes for a moment, and then told me to say where I am, I would never say that this is what a Polish tourist destination by the sea could look like. I'd shoot some cool town on Rügen (Germany) or northern France.
Świnoujście has done something spectacular. There are no unleavened stalls and stalls here. There is no crampedness here and there is no room for mediocrity. Everything is well thought out, neat, even pampered. Made with care and with the thought that I (as a tourist, coming to rest) could rest comfortably and with pleasure.
Świnoujście successfully referred to its own history, when Emperor Wilhelm II, Leo Tolstoy and Thomas Mann were looking for solace here.
Promenades
Two parallel promenades run through the main recreational and tourist part of the city.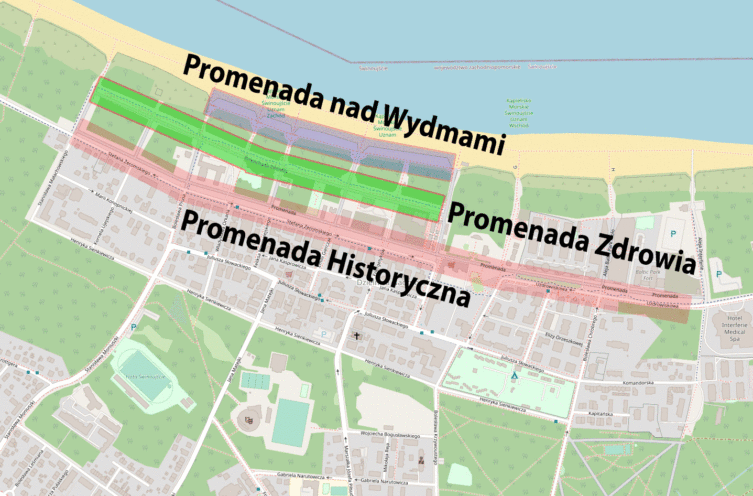 The first is old but made from scratch Historical Promenade. Extensive, wide separated from the road by a strip of well-groomed greenery. On the one hand, adjacent to a series of extremely elegant and creating an atmosphere, renovated, historic villas, and on the other, to modern buildings, the style of which closely corresponds to the surroundings. You can see the architect's hand and watchful eye here. There are no random, uninspired buildings without any style. Everything has the right character and flavor.
There are even special platforms along the entire length of the promenade. Each of the platforms is a kind of generally accessible, small stage where street artists can present their art. A pole with an electric socket is installed at each landing. If someone needs electricity (e.g. to connect a guitar amplifier), this is possible.
Most often, anonymous artists present themselves on stages, and the scenes are far enough apart that they do not compete with each other. During our short walk we stopped several times, listening mainly to the sounds of the guitars. We imagined that a typical artistic review (e.g. of small theater forms, stand-up cabarets or music) would be a fantastic event here.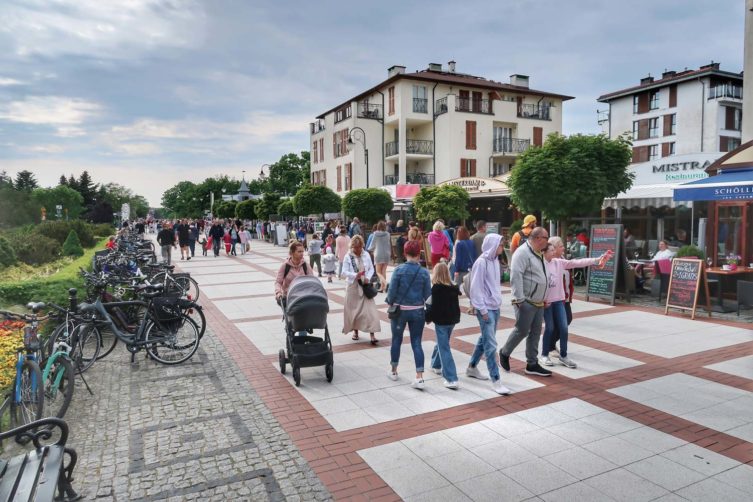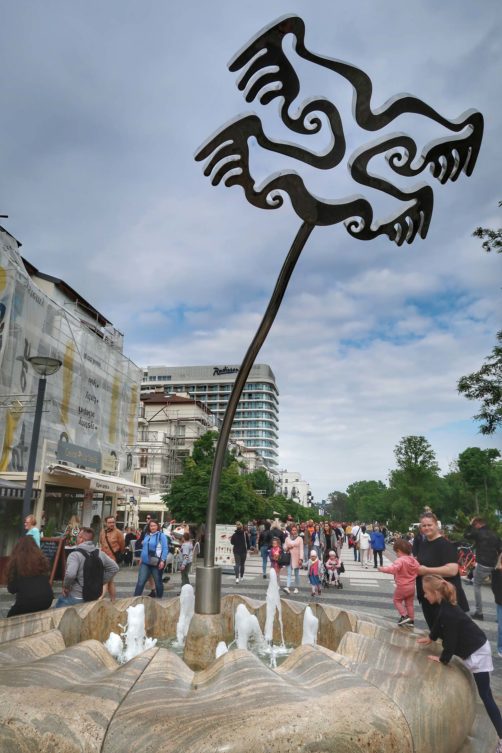 Second promenade was established quite recently and is called: Promenada Zdrowia. It consists of three parallel, separate communication routes: for pedestrians, for inline skaters and for bicycles. Along its entire length there are benches, resting places, playgrounds, squares with greenery and plantings, and special tunnels in the form of pergolas covered with greenery. Huge metal umbrellas in the form of futuristic "mushrooms" are installed next to the resting places, creating a pleasant and invaluable shade in summer. Revelation!
Curiosity:
The health promenade was built in a place where 150 years ago there was… a beach. In the last 150 years, the Baltic Sea has deposited so much sand that about 200 meters of new land has grown here. In this strip of new land, the Health Promenade and the surrounding buildings were created.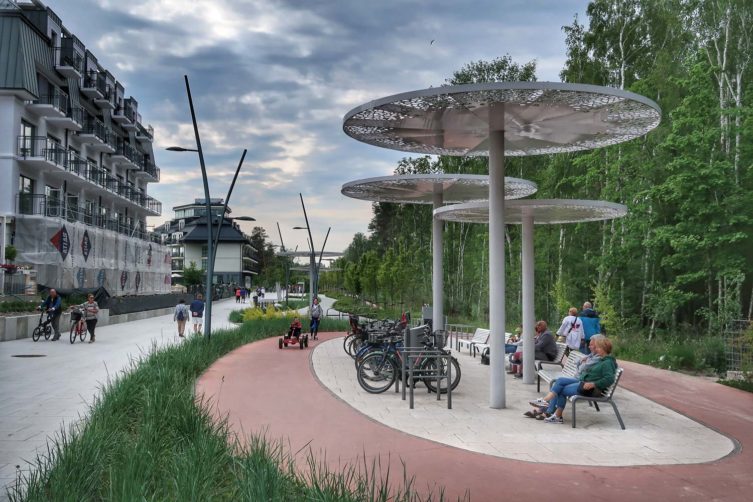 It still runs parallel to both promenades third walking path, named by us "the path over the dunes". It is a special landing placed on piles driven into the dunes and allows you to walk above the surface of the dunes. On the landing, there are special places to relax in the form of benches overlooking the sea. A wonderful, fantastic idea! Perfect seat reservation for the sunset.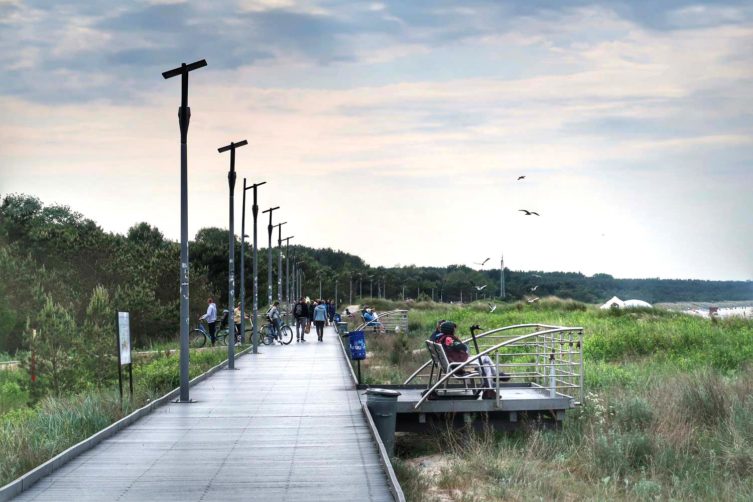 Świnoujście - tourist attractions
If in Świnoujście, apart from a perfectly organized tourist center, there was only a beach, there would be no need to dream about anything else. Świnoujście, however, has much more to offer. Ba! Here, even the beach is record-breaking! It is the widest (in some places it is almost 200 m wide) and, as many say, the most beautiful beach in Poland. It has been calculated that even during a pandemic, while maintaining the social distance (4 m safe distance) on the beach in Świnoujście, there can be 375 people. people.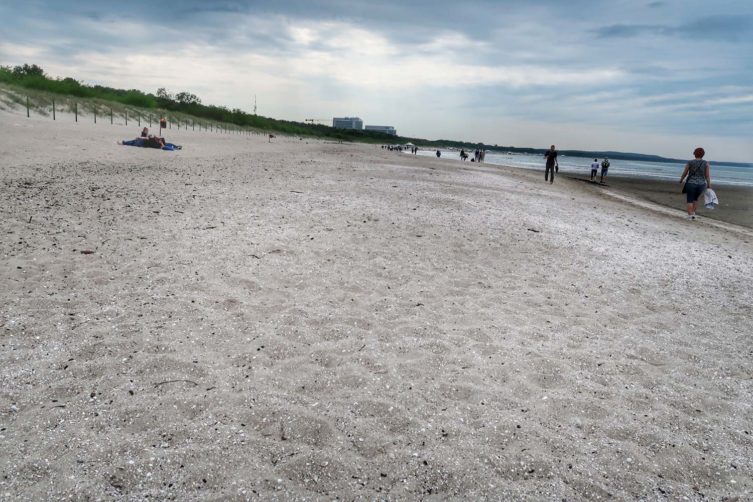 It is not without significance that Świnoujście is situated on a fairly shallow Pomeranian Bay. The shallow waters of the bay heat up quickly, and the northeastern winds prevent the warm waters of the bay from mixing with the cold waters from the depths of the Baltic Sea. The effect is that the water temperature at the beach in Świnoujście in summer is around 20 degrees Celsius, and it sometimes increases to 26 degrees Celsius. It is the warmest part of the Baltic Sea on the entire Polish coast.
However, if lying on the beach and swimming in the sea is not enough and you are looking for another activity, then take a look at the map below. I have marked on it interesting facts and attractions that are worth visiting and seeing when relaxing in Świnoujście. Below the map you will find a little more information about each of the attractions marked on the map. The numbers on the map correspond to the numbers next to the descriptions.
I have arranged the sightseeing in the form of a neat, one-day trip, mainly for people who want to come to Świnoujście for one or two days and see as much as possible. If you stay in Świnoujście a little longer, you will have time to see everything without haste.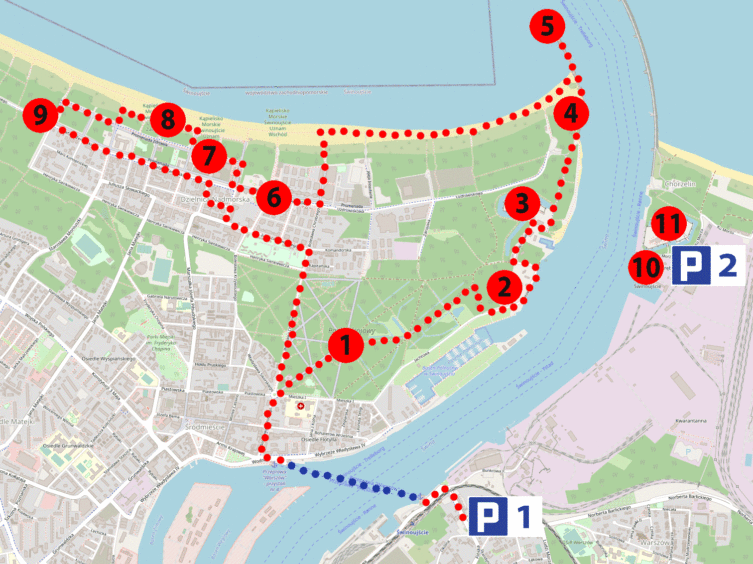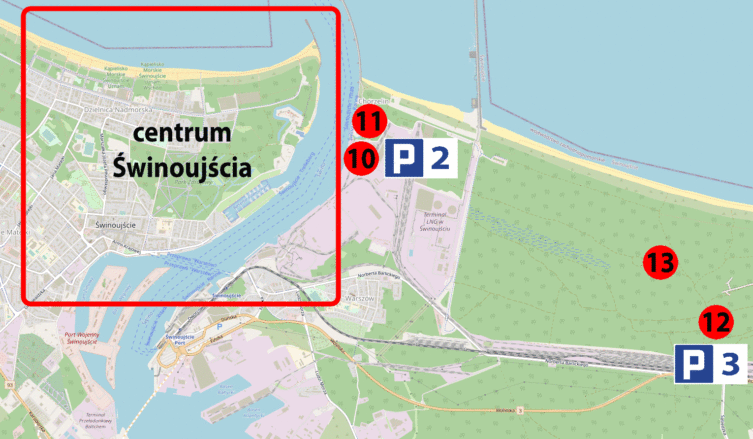 1. Spa park
The park in Świnoujście is huge. There you will find neat, manicured and planted with flowers, neat walking paths, but also large forest areas. It is a separate enclave in the middle of the city, isolated from the hustle and bustle of the surroundings. It is perfect for long walks in peace and quiet. It has a lot of climatically lit alleys, so it is mostly suitable for walks after dark. There are benches and places to rest, often in the form of fallen trunks, to sit on. In hot weather, the shade of the park trees gives a lot of respite and rest from the harsh sun.
The park was established over 200 years ago by afforestation of the then existing sea shallow. Today it is a historic building, and many of the trees growing here are over 150 years old.
Spa Park, GPS coordinates:
53°54'45.6″N 14°15'40.4″E
53.912678, 14.261214 - click and route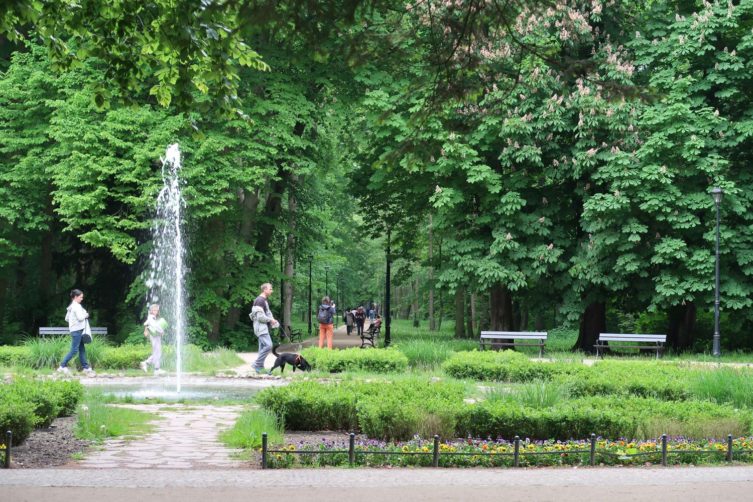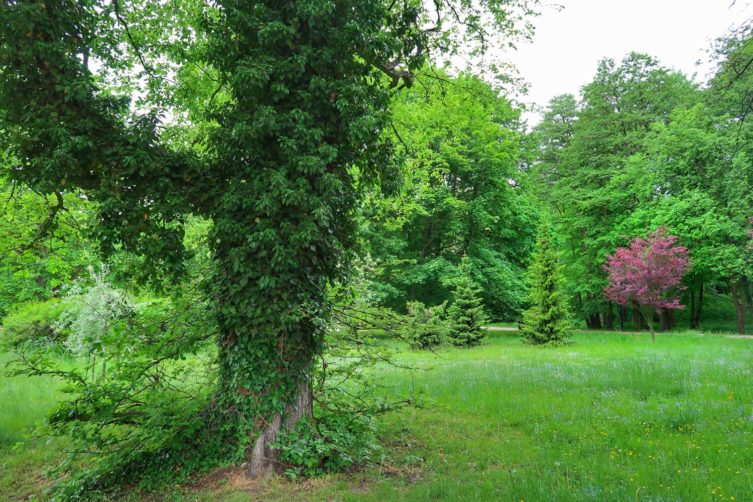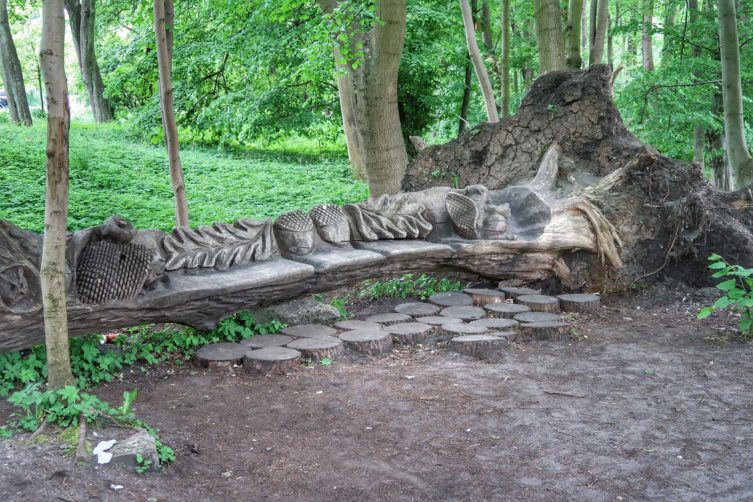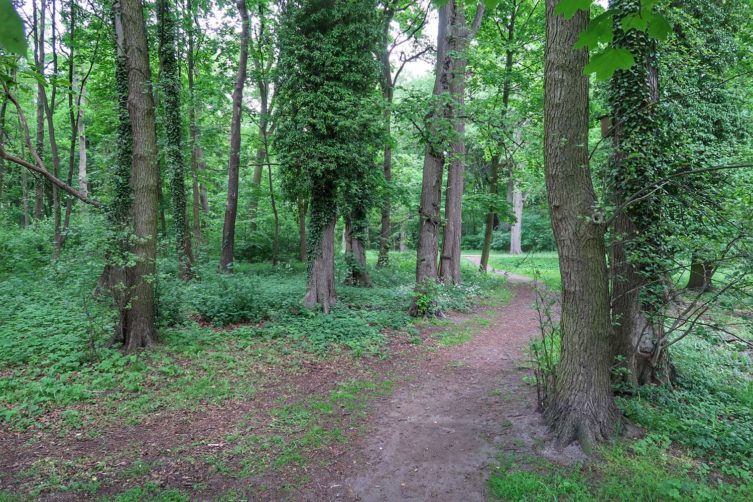 2. Angel's Fort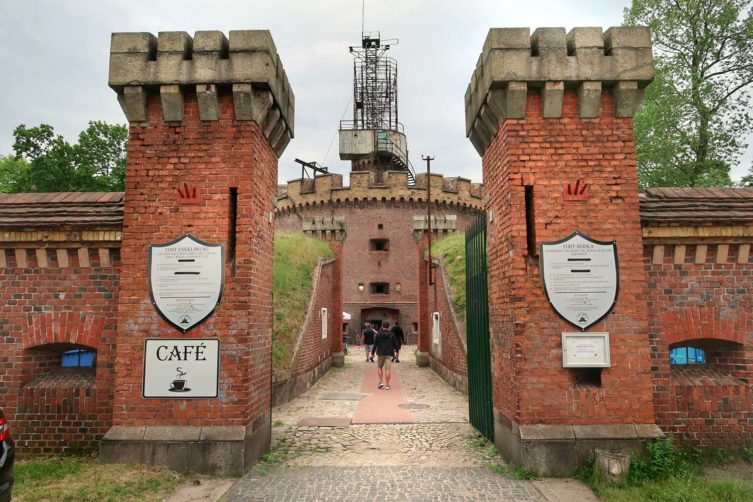 The Angel's Fort is basically located in the Spa Park. It has the form of a three-story rotunda, surrounded by an earth embankment, with a large and heavy double entrance gate. The name of the fort was created as an association with the shape of the Castel Sant'Angelo in Rome, which, like the Angel's Fort, has the form of a cylinder.
It is worth paying attention to the heavy, armored window fittings and gas-tight doors. They were installed in the interwar period as part of the preparation of a chemical war facility.
More information can be found in a separate post dedicated to Angel's Fort - [click]
Angel's Fort, GPS coordinates:
53°54'52.9″N 14°16'24.3″E
53.914689, 14.273426 - click and route
3. West Fort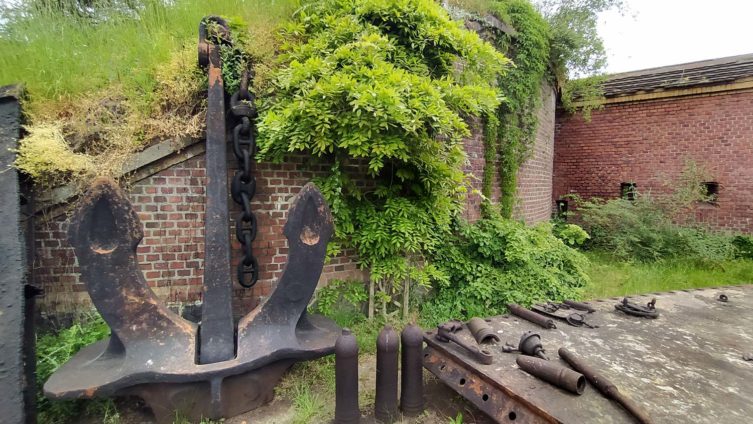 The task of the Western Fort was simple and clear: to protect the entrance to the port in Świnoujście and to fight the enemy ships approaching. It was rebuilt, extended and modified many times to meet the needs of whoever had it. The final shape of the fort, as we know it today, is the result of construction activities undertaken over 150 years by: Prussia, Sweden, Denmark, France, and then Germany, Russia and finally Poland. Do you know any military facility that more countries were involved in rebuilding?
The object is so interesting that it will attract the attention of people, even moderately interested in military. Not to mention the children who derive immeasurable amounts of joy from getting on a cannon and shooting whatever is at hand. I myself had a lot of fun watching a few-year-old girl in a pink dress get on the cannon and turn the knobs with great passion, pointing the large cannon barrel towards her parents 🙂
More information can be found in a separate post dedicated to Fort West - [click]
West Fort, GPS coordinates:
53°55'05.8″N 14°16'32.2″E
53.918265, 14.275618 - click and route
4. The Gallery Pond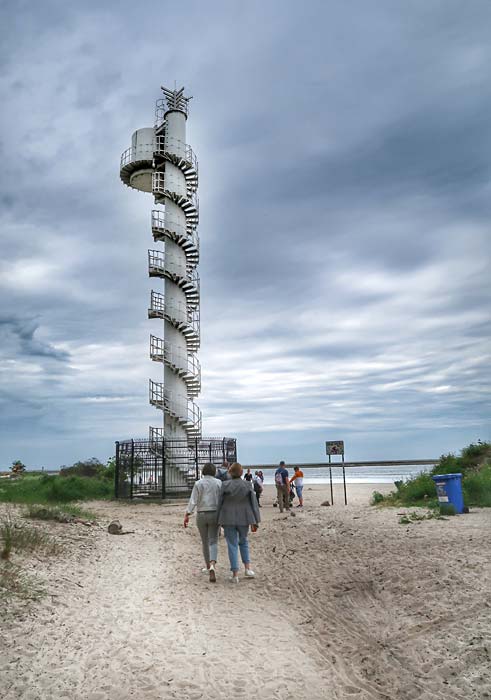 A pond is, to put it plainly, a watermark or a beacon permanently placed in a specific location. It has an easily recognizable shape and can emit various types of signals: light, sound, radio. The pond pair forms a set of guiding marks, which is called the leading marker. The most famous and recognizable Polish draper is a pair of ponds in Świnoujście, consisting of Stawa Galeriowa and Stawa Młyny.
Gallery pond, GPS coordinates:
53°55'18.4″N 14°16'43.5″E
53.921764, 14.278738 - click and route
5. Stawa Młyny (windmill in Świnoujście)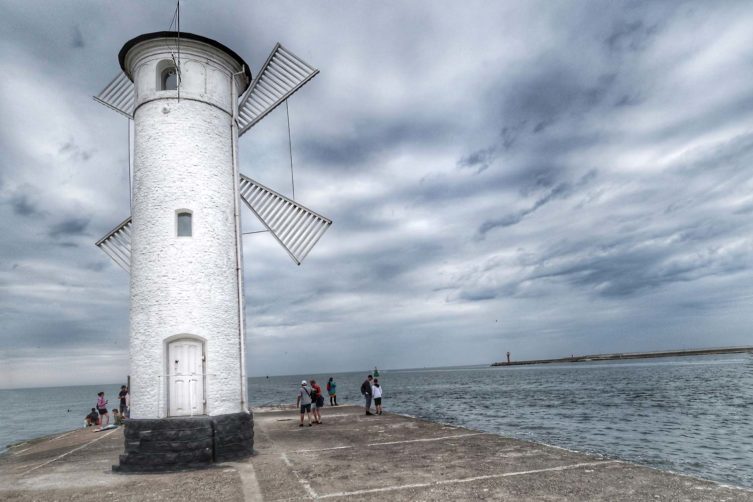 The modern media symbol of the city, the most recognizable building in Świnoujście and probably one of the most characteristic ponds in the world. The Młyny pond is often called the windmill from Świnoujście.
Being in Świnoujście and not having a photo at the Młyny Pond is unthinkable!
A walk to Pond Młyny is an absolute necessity, a duty and of course a great pleasure!
Mills pond, GPS coordinates:
53°55'34.4″N 14°16'38.5″E
53.926226, 14.277359 - click and route
6. Historical promenade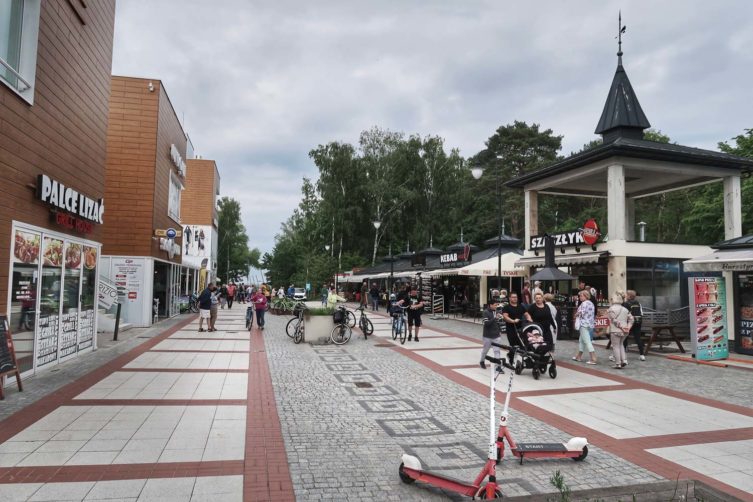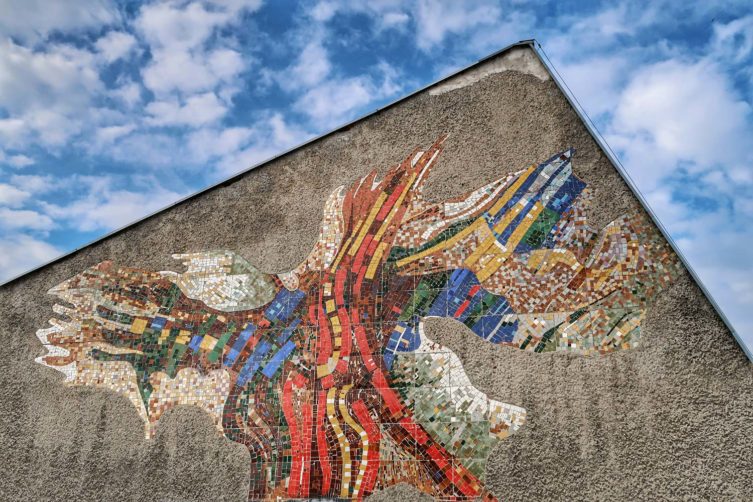 I wrote about the historical promenade in the first part of the post. Here I put it only as an orientation element on the map.
Historical promenade, GPS coordinates:
53°55'11.8″N 14°15'05.0″E
53.919944, 14.251375 - click and route
7. Health promenade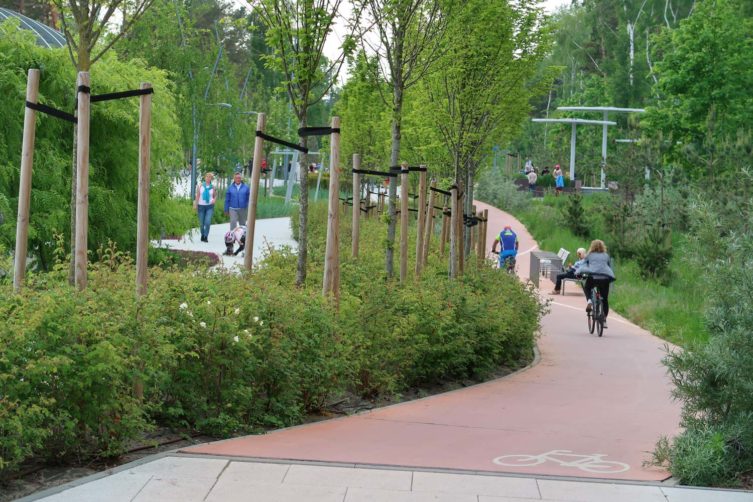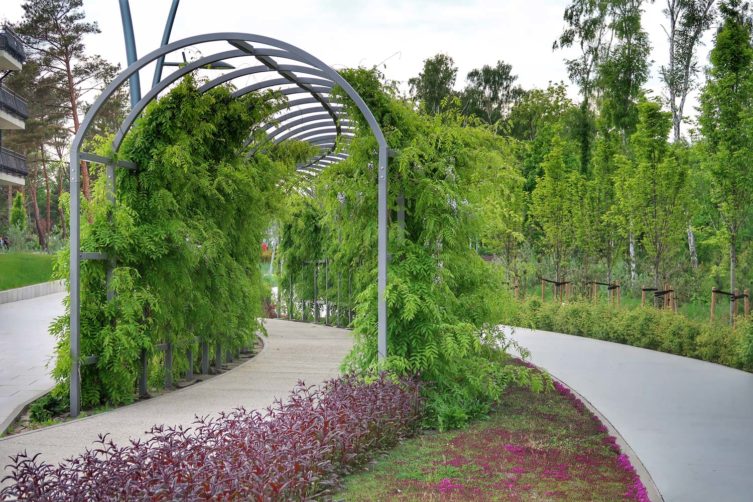 The health promenade is the newest creation of Świnoujście. Its construction was possible due to the phenomenon of land accretion, which meant that in the last 150 years the sea brought so much sand here that more than 200 meters of land was added. A century and a half ago there was a regular beach here, then the dunes and now there is a promenade.
Health promenade, GPS coordinates:
53°55'15.6″N 14°15'02.5″E
53.921005, 14.250688 - click and route
8. A landing over the dunes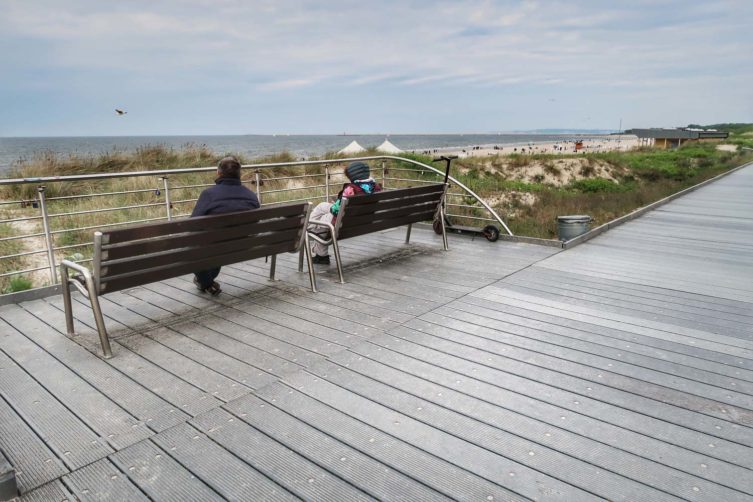 A fantastic walkway, suspended on stilts, over the dunes, overlooking the sea. At the pier, there are special stands with benches, allowing you to contemplate the view of the sea and the sunsets for many hours.
A landing over the dunes, GPS coordinates:
53°55'19.9″N 14°14'55.6″E
53.922194, 14.248779 - click and route
9. Brine graduation towers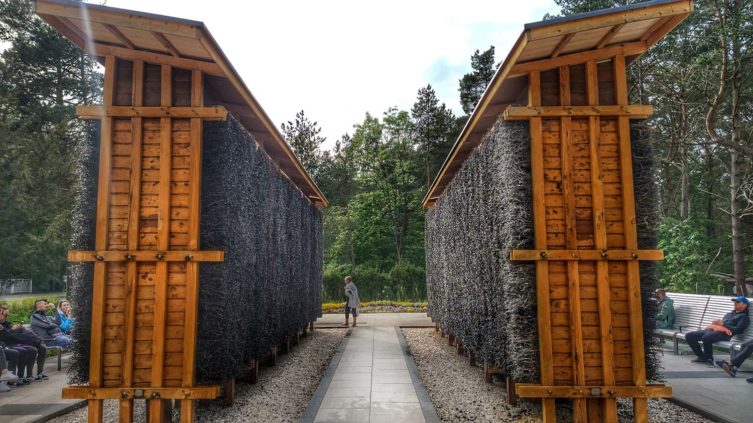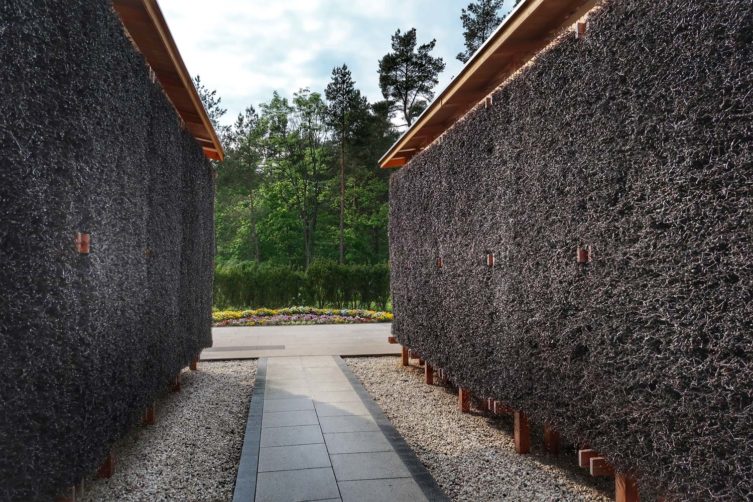 The new attraction of Świnoujście are two mini graduation towers with benches, allowing you to inhale air enriched with brine vapors. I sat down, tested it. The smell and aroma of the brine is actually very noticeable, and the installation itself is very interesting. There are plenty of people willing to inhale the respiratory tract on the nearby benches. Cool idea. Traditional yet modern.
Brine graduation towers, GPS coordinates:
53°55'21.3″N 14°14'20.1″E
53.922577, 14.238904 - click and route
10. Świnoujście lighthouse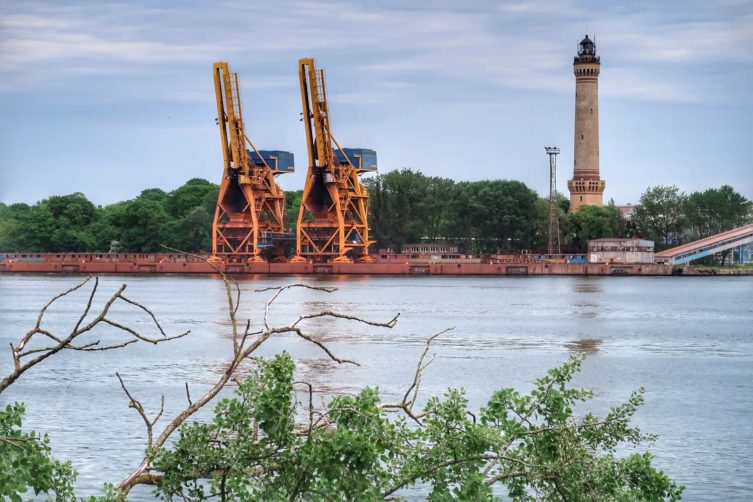 When the light of the lighthouse in Świnoujście fired for the first time on December 1, 1857, it took over the title of the highest lighthouse in the world (67,7 m high). Later, other, higher ones were built, but to this day it is the highest brick lantern in the world. Currently, it takes 12th place in the ranking of the height of all active lighthouses in the world. There is no higher place in the Baltic Sea basin.
It has been open to the public since 2000.
Curiosity:
In the XNUMXth century, there were no lighthouses in Świnoujście yet. Back then, the function of a lighthouse was a large fire lit on the top of the hill in Chorzelin.
Parking under the Świnoujście lighthouse, GPS coordinates:
53°54'59.0″N 14°17'03.5″E
53.916380, 14.284305 - click and route
11. Fort Gerhard (Fort East)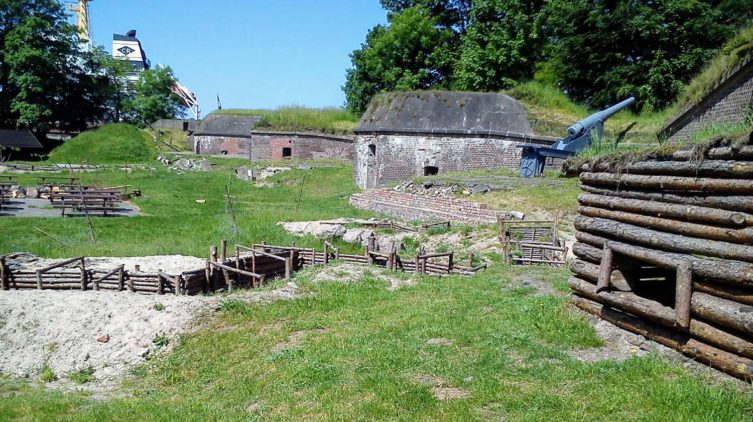 Gerhard's Fort, similarly to the West Fort described above, is one of the forts included in the Świnoujście Fortress. It was built around the same time as one of the elements of a comprehensive coastal, port and city defense system.
Visiting the fort takes the form of a fun and engaging military training conducted under the watchful eye of a slightly "mean" and "vile" Prussian soldier.
More information can be found in a separate post dedicated to Fort Gerhard - [click]
Parking at Fort Gerhard, GPS coordinates:
53°54'59.5″N 14°17'08.1″E
53.916532, 14.285573 - click and route
12. The Underground City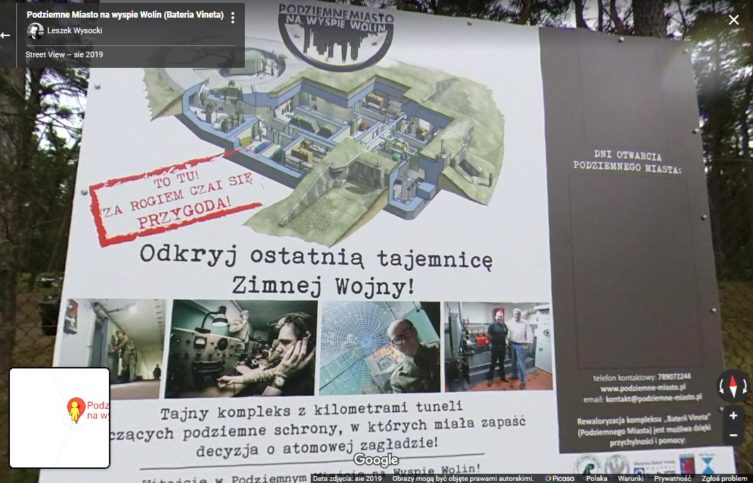 The current name of the Underground City has been functioning for a short time. Originally, the building was called the Vineta Battery, and its construction was started by the Germans just before the outbreak of World War II. After World War II, the building was taken over by the Polish army. The decision was made to set up a backup command post for the highest military authorities of the Polish army in the underground complex. It is easy to guess that for several dozen years it was one of the most secret and best-guarded places in Poland. The first visitors showed up here only in 2013.
Parking for visitors to the Underground City, GPS coordinates:
53°53'51.8″N 14°20'02.3″E
53.897716, 14.333980 - click and route
Underground city bunker, GPS coordinates:
53°54'07.1″N 14°20'00.6″E
53.901961, 14.333500 - click and route
13. Goeben Battery (and Bell Bunker)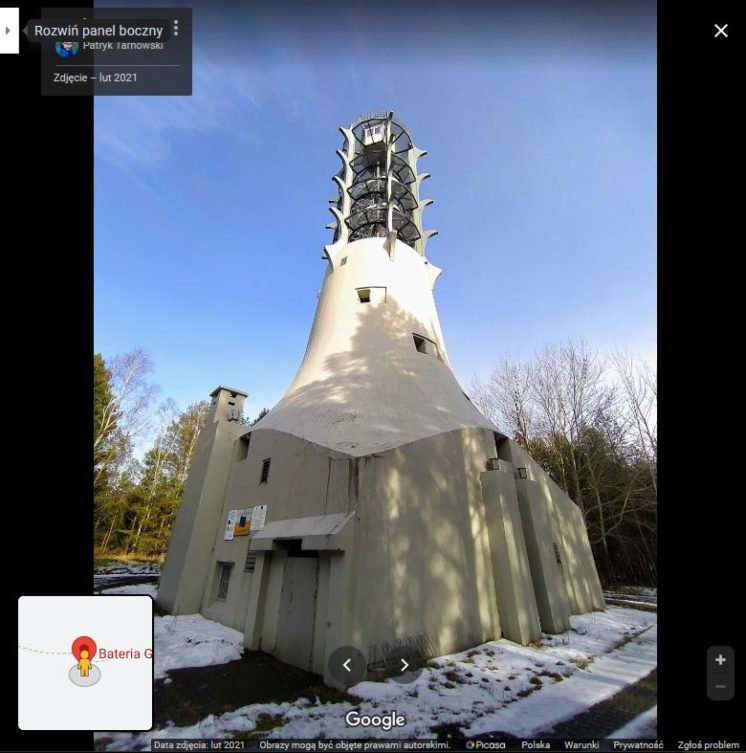 The Goeben battery was built in the years 1938-1939, i.e. just before the outbreak of World War II. It was a heavy coastal artillery designed to fight battleships in the Pomeranian Bay area. The command tower is particularly interesting, because of its characteristic shape it is commonly known as: Bell Bunker. Currently, it is used by the Fire Service and acts as an observation tower to monitor the state of the State Forests. In good weather, the guard allows you to visit the tower on your own, free of charge.
Bell bunker, GPS coordinates:'
53°54'22.7″N 14°19'25.6″E
53.906298, 14.323769 - click and route
How to get to Świnoujście
Getting to Świnoujście is not an easy matter. At least for now. However, this is to change in 2022, when the Świną tunnel is planned to be put into use, which will connect Świnoujście with the rest of Poland via a direct road connection. Until then, depending on the nature of your trip to Świnoujście, you have three options to choose from.
It all depends on how long you are going here. Will it be a longer stay or maybe just sightseeing for one day.
Arrival for a longer stay
In this case, you have to get to the other side of the Swina. Until there is a tunnel, you need to do it by ferry. There are two ferry crossings in Świnoujście.
The first is "Warszów Sailing" operated by the "Bielik" ferries, a municipal ferry crossing intended only for city residents. Cars with foreign registration are not allowed on the ferry. It's not even worth trying. However, if you are moving on foot, bike, scooter, motorbike or other two-wheeler, there is no such restriction. Regardless of registration, you will be allowed on the ferry.
The second crossing is "Ferry Centrum" served by the "Karsibór" ferries. It is intended for all motorists, but in fact it was built to support tourist traffic. There are often very long lines at this crossing. In the tourist season, expect long waiting times here, well in excess of one hour. It is worth to reserve about two hours for crossing the Świna by ferry for tourist traffic. On the days of the exchange of holiday stays, it happens that the time of crossing Świna reaches up to three hours. In crisis situations, when the queue to the ferry grows to absurd dimensions, the ferry for residents is temporarily made available also for tourists.
A detailed timetable of the ferries can be found on the website of Żegluga Świnoujska - [click]
Fortunately it's still three o'clock, a bit longer, but with large traffic jams, often the faster route. From the German side it is possible to enter Świnoujście by a normal road connection without the need to use the ferry. It is best then to cross the Polish-German border in Kołbaskowo, and then head for Pasewalk, then Anklam, Usedom and Świnoujście.
Arrival for a short stay and sightseeing
When coming for a short stay, you can use any of the above methods to get to the center of Świnoujście, but I would like to pay special attention to the use of the crossing intended only for city residents. Why? Only cars registered in Świnoujście can enter the ferry for residents, but there are no restrictions on two-wheelers and pedestrians. Therefore, all two-wheelers and pedestrians are taken without restriction. What does this give us?
Near the quay where ferries arrive, you will find several parking lots (free and paid) where you can leave your car, then immediately get on the ferry and after a dozen or so minutes you are on the other side, in the center of Świnoujście. No other method is faster and more convenient than this. Instead of wasting a few hours crossing the Świna river in both directions with the car, you do it in a few minutes. You get off in almost the same place where you would have to leave the car anyway. I do this every time I visit Świnoujście for a day trip. Until the tunnel opens, it will be the best solution for getting to the city quickly.
Accommodation in Świnoujście
I always choose accommodation in Świnoujście from the proven and extensive accommodation database on Booking.com. I have a wide selection of accommodation in various price ranges and I am sure that everything will be as in the offer. Booking makes sure that the accommodation offered has the quality declared by the owner of the facility. It throws out of its offer proposals, the description of which is inconsistent with the facts. Therefore, it is not enough to pay for the fact that the offer is in the Booking database, you also need to maintain quality. For me, as a client who comes to rest (and not get nervous), this is very important.
Below I present a link to the accommodation base in Świnoujście and a few selected accommodation proposals. The link was prepared in such a way that it immediately filters offers only for Świnoujście, rejecting offers from other cities. This makes searching for it much easier:
- check the offer accommodation, apartments and hotels in Świnoujście - [click]
Bryza Apartments Świnoujście
Bryza Apartments in Świnoujście are very popular due to the affordable price, and at the same time good quality and comfort of rest. There are several buildings and apartment buildings with rooms for rent under the name of Apartamenty Bryza. They are located in different parts of Świnoujście. Below is a list of the Bryza Apartments offer, with links to each location. The offer is wide and there is a lot to choose from.
Check available rooms in Bryza Apartments:
- Bryza Apartments - Kapitańska 7 - [click]
- Bryza Apartments - Bałtyk - [click]
- Bryza Apartments - Chełmońskiego - [click]
- Bryza Apartments - Matejki 1B
- Bryza Apartments - Monte Cassino 8 - [click]
- Imperial Apartments - Bryza - [click]
- Bryza Apartments - Chełmońskiego - [click]
- Bryza Apartments - Center - [click]
- Bryza Apartments - Wind Rose Quarter - [click]
- Bryza Apartments - Debina - [click]
- Bryza Apartments - Ułańska - [click]
- Bryza Apartments - Żeromskiego - [click]
- Platan - Bryza Apartments - [click]
Apartment for 6 people, 55m2, near the beach

4-person apartment with an area of ​​40 m2, at a very attractive price

2-bed room in a four-star hotel, near the beach, at a great price

Świnoujście weather
Below you will find the current weather forecast for Świnoujście for the next 7 days. The forecast updates in real time.
Świnoujście camera
Below I present a camera image of the beach in Świnoujście. The image refreshes every few minutes.
Important to me!
Give the article a good rating
(5 stars welcome 😀)!
It's free, a
for me it is very important!
The blog lives on visits and thus has a chance to develop.
Please do it
and ... thank you in advance!
I also post
link to Facebook profile - [click]
. Come in and press "
Follow
"then you will not miss new, inspiring posts.
Unless you prefer
Instagram
. I'm not a social media demon, but you can always count on something nice to look at on
my instagram profile - [click]
. The profile has just been created, so
for now he is starving
, due to the lack of followers. He is happy to receive any observer who feeds him with his love.
I make the content I create available free of charge with copyright, and the blog survives from advertising and affiliate cooperation. So, automatic ads will be displayed in the content of the articles, and some links are affiliate links. This has no effect on the final price of the service or product, but I may earn a commission for displaying ads or following certain links. I only recommend services and products that I find good and helpful. Since the beginning of the blog's existence, I have not published any sponsored article.
Some of the readers who found the information here very helpful, sometimes ask me how you can support the blog? I do not run fundraisers or support programs (type: patronite, zrzutka or "buy coffee"). The best way is to use links.
It costs you nothing, and support for the blog is self-generating.
Pozdrawiam