Italy - where to go on vacation? Top 40 places - the most interesting, the best, the most beautiful!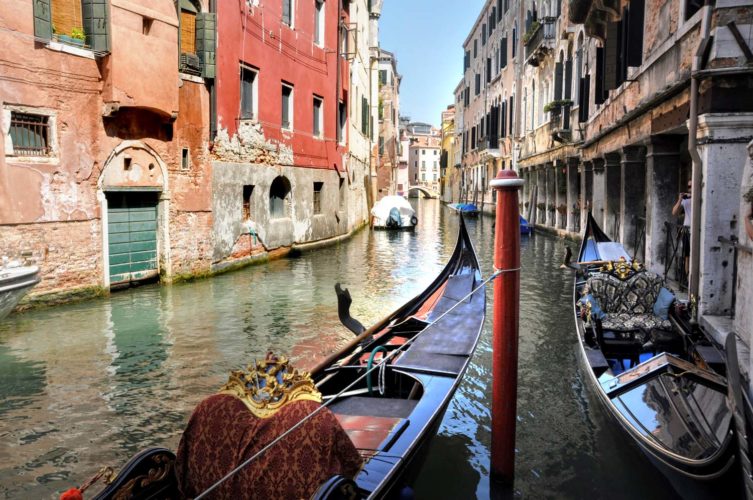 I am going to Italy
To Italy, which is where? Exactly. Before I went on vacation to Italy for the first time, everything was simple for me. I just wanted to go to Italy and that's it. Then I started reading and was just getting dumber. Every now and then the name of a new, interesting town fell into my hands, and more photos from the Internet, at the sight of which my eyes popped out of my sockets. So many beautiful, incredibly beautiful places ... The more I read, the more I felt like a donkey described by Aleksander Fredro:
The donkey in the manger was given
One oats, another hay.
She cuts her ear, shakes her head,
And it smells, and it entices;
Where will I start now,
To have a tasty snack?
Difficult choice, difficult consent:
He grabs the hay, too bad oats,
He grabs the oats, he feels sorry for the hay.
And so it stands until morning,
And from morning to evening;
Until the time has finally come
That Oslin among the food
She died of hunger.
I wanted to be everywhere, go everywhere, try everything, I couldn't give up anything. I could not decide on one place where I will spend my vacation, because as I thought about all the others that I will not see…. over and over again. Classic donkey. What was to be done?
Maximum plan
I have decided that I will not starve like a donkey, on the contrary: I will eat everything! Fortunately, it was already then Booking.comwhere I could book accommodation online. Although it was not very popular in Poland yet, the database of hotels in Italy was already huge at Booking.
I put a piece of paper in front of me with a list of places that I absolutely wanted to see, and set about building a maximum plan. I decided to cram as much as possible into a 14-day vacation.
When I ran out of time and I stopped fitting in 14 days, I added 2 more days. After all, when I leave on Saturday morning and come back on Sunday evening, I actually have 16 days at my disposal, not 14. I filled everything to the brim. I planned the time for travels, sightseeing, rest and drew a map.
It looked like this: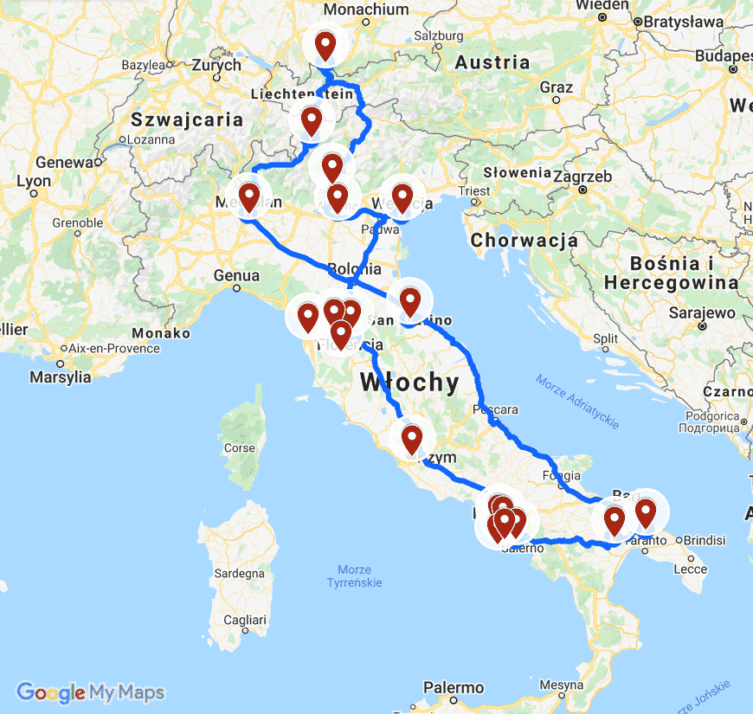 I nodded with satisfaction. Waiting for the day of departure began.
Did it make sense?
I often get this question: does such intensive sightseeing make sense? From the perspective of several years that have passed since this trip, I must say that if I had the opportunity to go to Italy again for the first time in my life, I would do the same. Exactly the same.
I remember this trip with great fondness. The long and extensive route allowed me to touch and initially get to know the nature of most of the Italian area. Of course, I did not get to know any of the places in depth then. I just touched each of them and I was deeply unsatisfied, but I knew exactly where I want to return to Italy first. Which part of Italy attracts me the most. I already had more trips, plans, dreams in my head ...
This trip shaped many subsequent trips. Over the next years, I returned to new places and got to know them better, deeper. I had a chance to taste them and come back to my memories, to that first crazy trip from several years ago.
I will say more! Until today, when we go somewhere for the first time, we do the same. Our schedule is full of attractions, and then we know what we want to come back to.
Italy - the most interesting places
Now is the time to present a list of the most interesting places in Italy that were on the route of my first trip. Next to each of the places, I will put a very short comment describing the place. It will be really basic information. Thanks to them, you will be able to find out if you also want to see the place I am suggesting. I will attach a typical photo to all places, because as you know, one photo is worth a thousand words and an accommodation proposal with a link to the accommodation database. I have already described many of these places in detail in separate entries, so I will provide links to them.
While writing this text, I also came up with the idea to include those that I visited in later years next to the locations from my first trip. Of course, not all of them, but only the most interesting ones. After all, there is no reason for anyone to repeat my departure. After all, you can make your own. So I will propose other, additional places near the route of departure, which I consider the most attractive in a given part of Italy. I believe that such a description of the most attractive places in Italy will allow you to plan a truly unforgettable vacation on your own. You can't stuff everything! Choose only what attracts you the most!
If you look again at the previously presented map of the journey, you will notice that the first point of the trip is outside Italy, in Germany. We did the whole trip with our own car, and since we are quite far from Italy, we did not try to go the entire route at once. We decided to stay for one night on the way, which was most convenient for us in the deep south of Germany, not far from the Austrian border, in the town of Schwangau. Why Schwangau? Because here is one of the most photogenic castles in the world: Neuschwanstein. If you make a stop somewhere, it's always worth doing it somewhere attractive, right?
If you were going to Italy by car and Schwangau would be a good place to rest, then look for accommodation at this link - [click]. The link filters the results so that only those located in Schwangau appear on the list.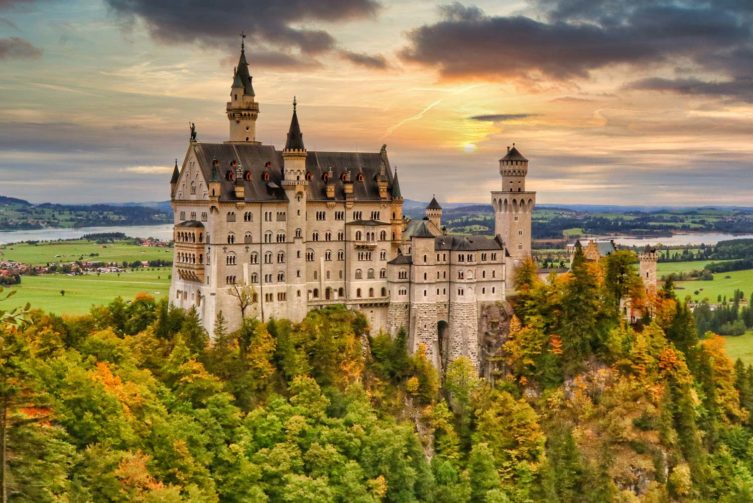 Of course, there is another solution for getting to Italy, which I use more and more often. Instead of driving two days by car one way (and also coming back two days), losing a few days of vacation for the journey itself, I am looking for cheap air connections. I fly to a city that suits me best due to its location and I rent a car on the spot. In a few hours I am there, I do not spend money on a few tanks of fuel, which will burn my car just to get to and from Italy, there is no need to pay for additional nights during the transit journey and I have more time to explore. The cost of plane tickets and car rental on site is often cheaper than fuel for transit and accommodation along the way, and I also have additional days to rest.
A comprehensive guide related to renting a car, based on the example of one of my rentals in Italy, can be found in a separate entry: Car rental without deposit and credit card - [click]. The guide is for renting a car in Bari, but the advice is applicable to car rentals throughout Italy.
Cities in Italy to which there are cheap flights from Poland are: Rome, Bari and Bergamo.
A few tips on how to find cheap flights can be found in a separate guide: How to search for cheap airline tickets - [click]
I will present my list of the most interesting places in Italy in the order in which they are on the route.
Let's get started! I invite you to travel to the most beautiful places around Italy!
Verona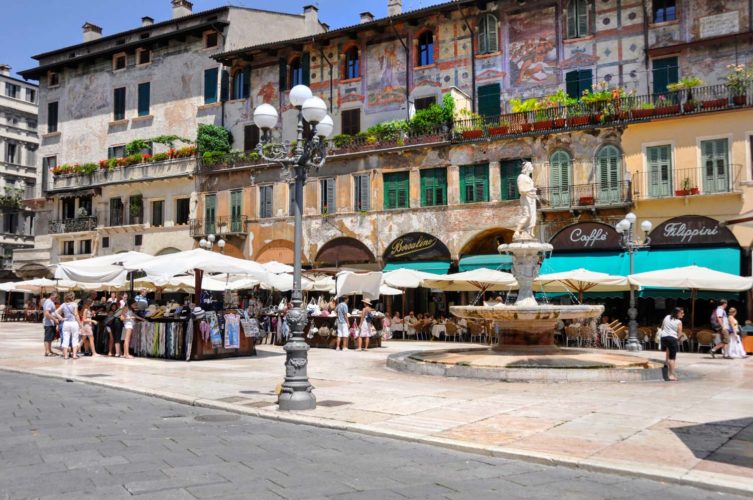 Verona does not need any special introduction. The city of Romeo and Juliet, the city of lovers. A very atmospheric historic center with an ancient, circular amphitheater (Verona Arena), beautiful streets and squares (Piazza Erbe, Piazza Erbe), countless restaurants and… ultra-expensive, sumptuous shops, the world's most prestigious brands along the main pedestrian street.
There is something for everyone in Verona. There are restaurants and attractions for all budgets, and it's not difficult to find high-quality accommodation at a good price.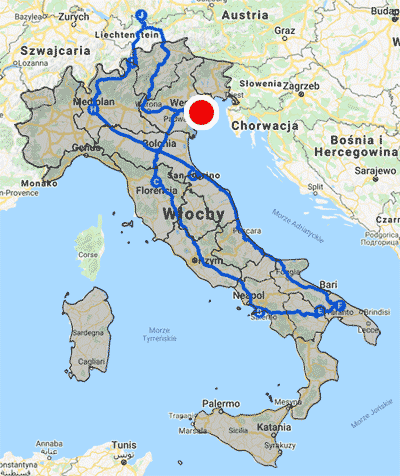 B&B Sofia - check accommodation in Verona - [click]

Residenza Roccamaggiore - check accommodation in Verona - [click]

Venice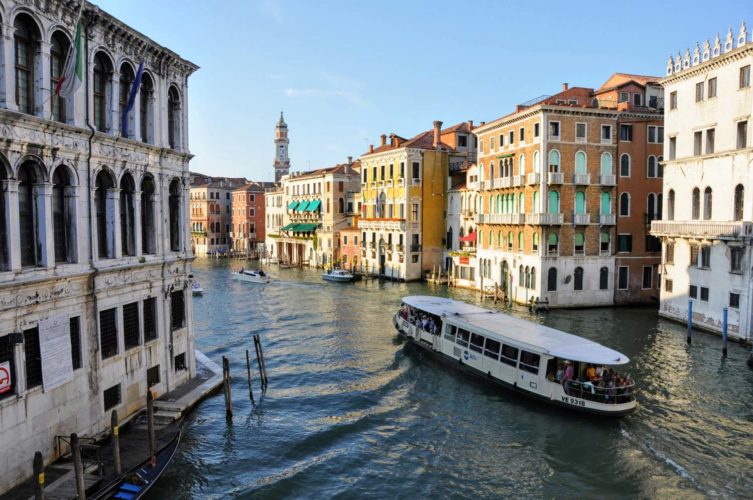 One of a kind city. A city worth spending at least one night in, because an evening in Venice is always magical. In the evening, countless crowds of tourists leave Venice, who come here only for sightseeing during the day. The streets are deserted, and only those who stay overnight wander the streets. It gets much nicer, quieter, spacious and then the city begins to present its truly romantic face. Food and wine taste even better and the air smells sweet. A walk along the Venetian canals is so fun that it is hard to decide to return to the hotel. One night in Venice may cost more than your average hotel, but it will stay with you forever. Really worth!
Get ready to explore Venice and get the most out of it with my guide: Venice - sightseeing plan - map, attractions, monuments, gondolas, accommodation, interesting facts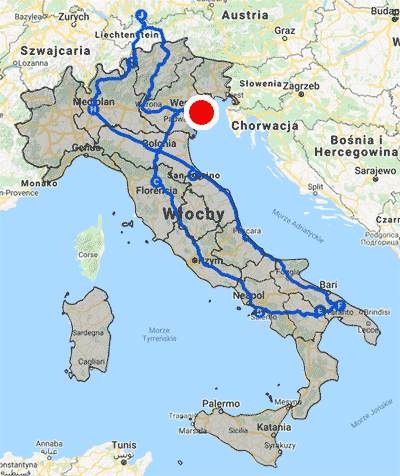 CàPatron - check accommodation in Venice - [click]

Palazzo Suite Ducale - check accommodation in Venice - [click]

Vinci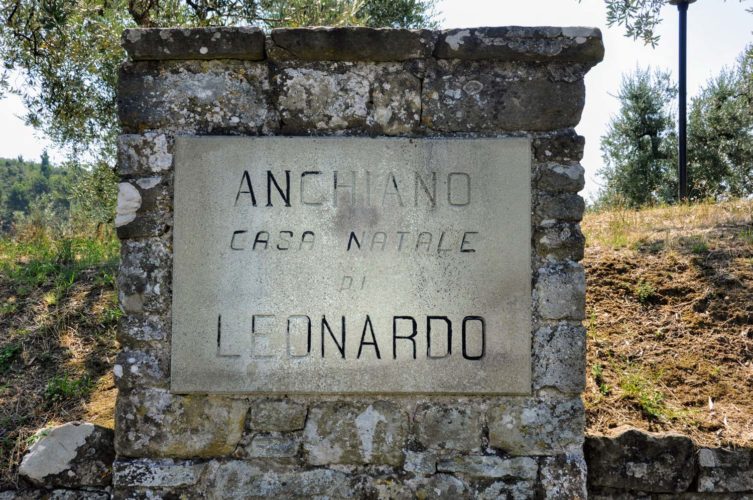 Vinci as a town itself is not a particularly distinctive place. It is a typical Italian town like many, but it is definitely distinguished by one historical fact. Here - as you can easily guess - Leonardo da Vinci was born and lived (exactly in the nearby village of Anchiano, Vinci commune). There is a great Leonardo da Vinci museum here. There you can see working machine constructions made on the basis of his sketches, as well as copies of paintings and frescoes.
Lots of fun for children and adults. A few kilometers away, on the hill, you can visit Leonardo da Vinci's family home and see how he lived and lived.
Da Nonno Franco - check accommodation in Vinci - [click]

Antica Bottega di Vinci - check accommodation in Vinci - [click]

Florence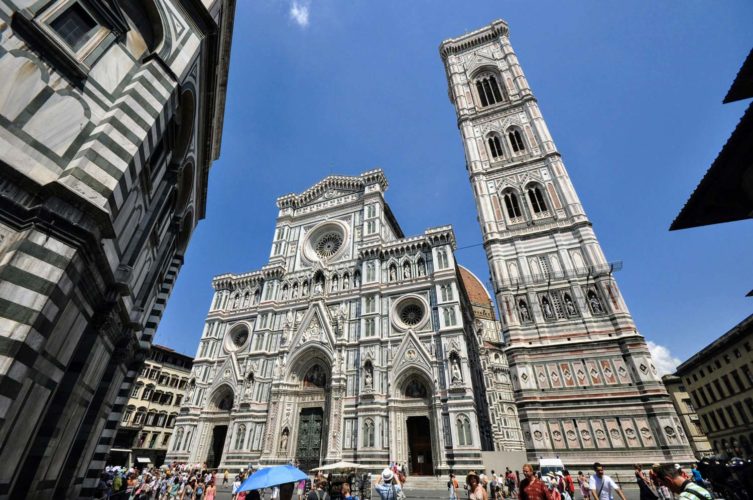 How to describe Florence in a few words? The entire city is an architectural masterpiece. With the symbolic, monumental and stunning Cathedral of Santa Maria del Fiore, the construction of which took almost 600 years. For centuries one of the largest cities in Europe. The city of the Medici family, Niccolo Machiavelli and Dante and secrets undiscovered for centuries, where history evokes goosebumps. The city of goldsmiths, where the world's largest trade routes for gold and precious stones intersect until today. It is said that most of the world's valuables still flow through Florence today.
And ice cream ... I had the most expensive regular ice cream in my life 🙂 (don't buy ice cream at the Złotników Bridge). Even when a German paid, he cried.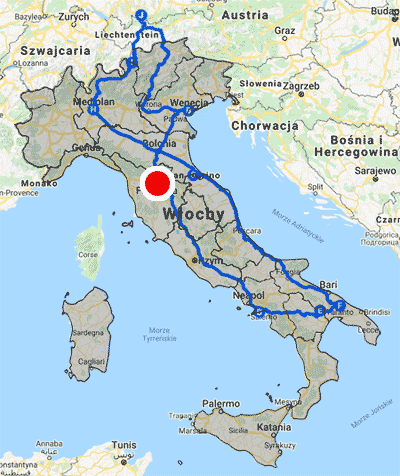 Rooms by Anna Affittacamere - check accommodation in Florence - [click]

B&B Monteverdi - check accommodation in Florence - [click]

Pisa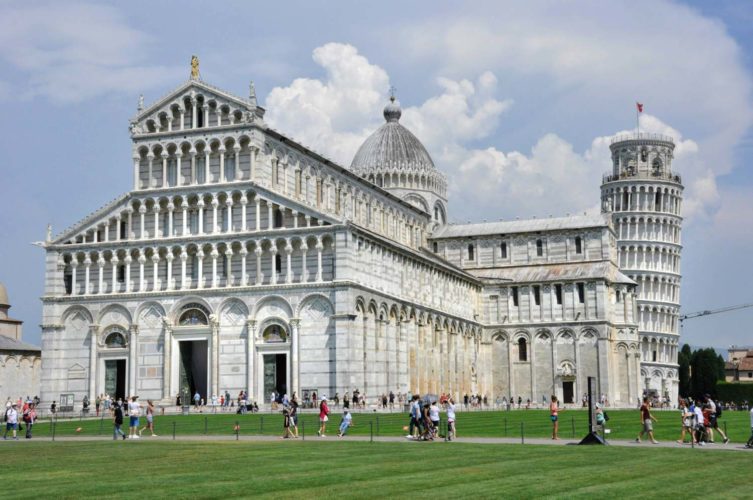 You have to see the Leaning Tower of Pisa with your own eyes! Without a doubt. It is an absolute duty. It is really beautiful and curve. I hope that the ideas of straightening it will never come into effect. I bought my favorite crooked coffee mug under the tower, in the form of an inclined tower. Unfortunately, he broke. What was to be done? On my next trip to Italy, I went to Pisa again. For a mug 🙂
It is worth remembering that apart from the leaning tower, Pisa still has a historical center, which most tourists do not reach. It's a pity. Because it's really worth paying attention to.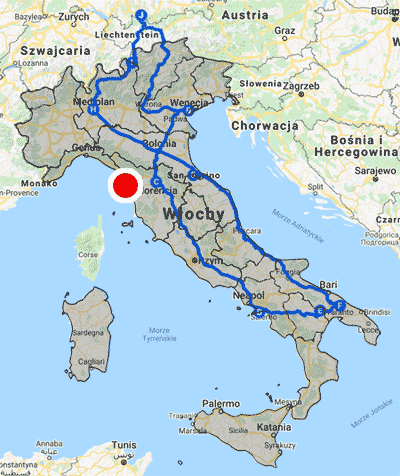 la Lu cozy rooms - check accommodation in Pisa - [click]

Elisir - check accommodation in Pisa - [click]

Siena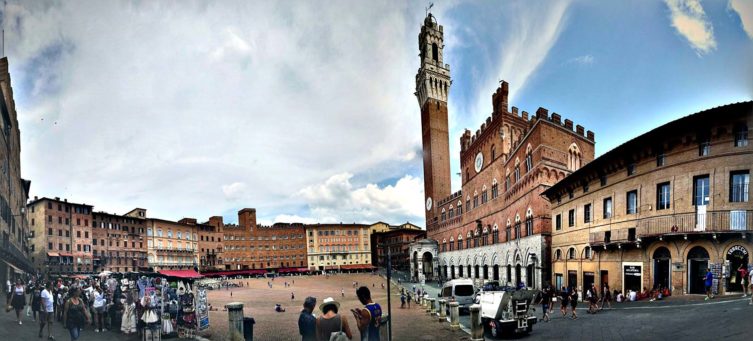 In Siena you will have a hill. Literally! The city is located on the top of a hill, steeply uphill and there is no car entry. But do not be afraid! You can reach the top of the hill with… escalators! And the city itself, if it were to say that it is delightful, it would not be enough. No admiration for him will be exaggerated. Don't miss this place. Be sure to go here. And if you want even more excitement, come to Siena on July 2 or August 16 when the Palio takes place. Crazy and completely crazy horse race around the square. People from all over the world come to Siena to be able to see this amazing spectacle live for a short time.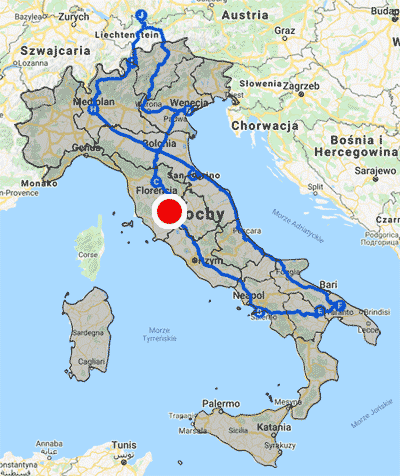 Salicotto - check accommodation in Siena - [click]

Barbarossa - check accommodation in Siena - [click]

San Gimignano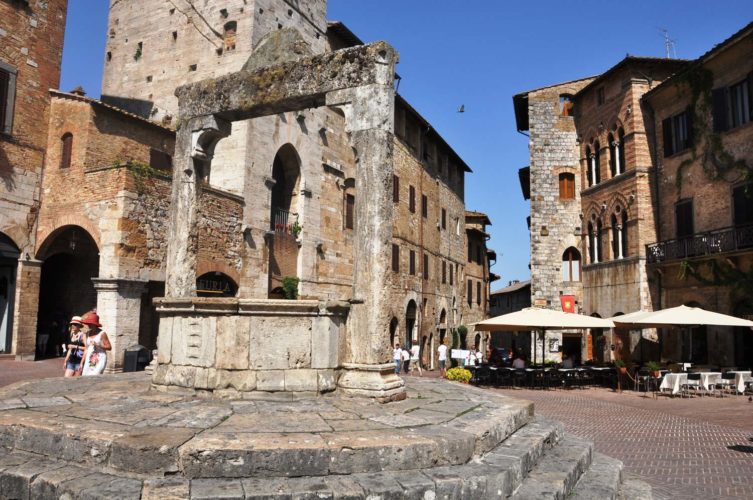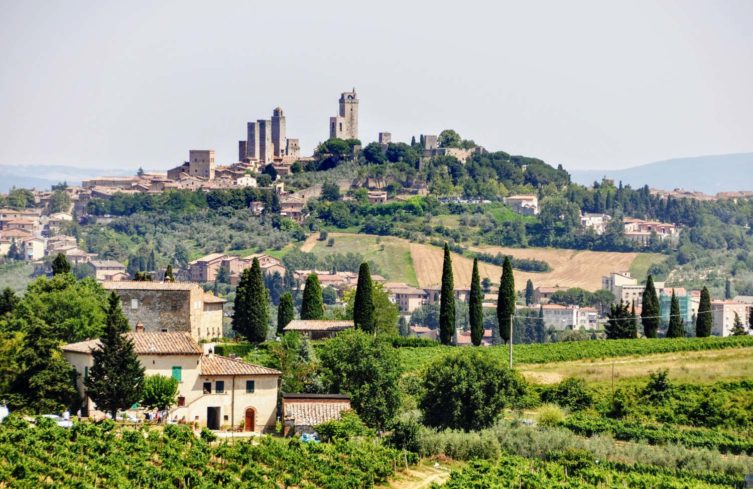 Do you remember what New York's Manhattan looks like? Dense with rectangular tall skyscrapers. One next to the other. So imagine a Manhattan in a medieval version. Stone high towers, grouped side by side, around the cramped market square of a medieval town. This is what San Gimignano looks like. Medieval Manhattan. A quaint and very interesting city. And in the market square, don't forget to visit the Gelateria Dondoli ice cream parlor, which boasts the official title of World Ice Cream Champion (2006/2007 and 2008/2009). It's easy to find an ice cream shop. It is located on the market. You will recognize her after the queue of people waiting for your ice cream 🙂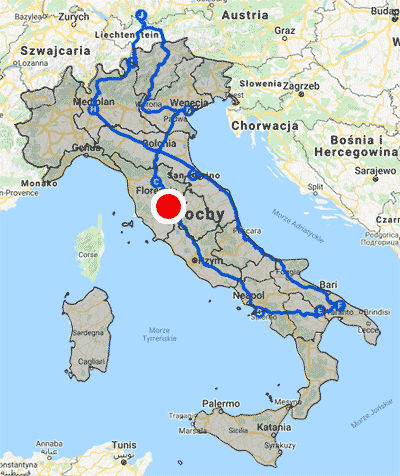 Il Feudo - check accommodation in San Gimignano - [click]

Locanda Il Pino - check accommodation in San Gimignano - [click]

Cinque Terre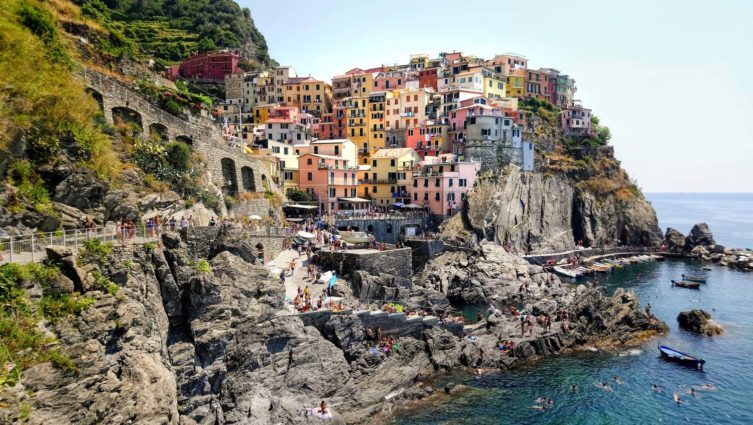 Cinque Terre is not one town, but a group of five tiny towns situated on the rocky, rugged coast of Italy: Monterosso, Vernazza, Corniglia, Manarola and Riomaggiore. The location of the towns and their buildings create a landscape that is difficult to forget, but also hard to remember. It is so unusual and has so many subtle nuances that you can stand and watch for hours on end. It is worth taking a lot of photos, because after some time it is nice to remember how unusual and how beautiful this place is.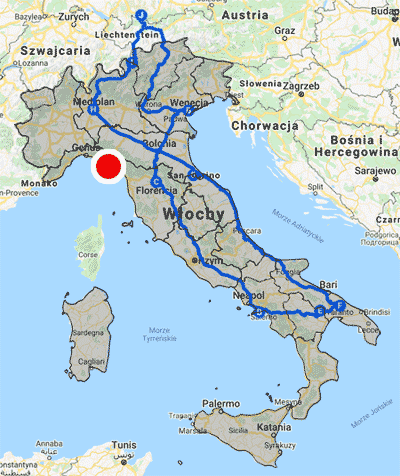 Albergo Al Carugio - accommodation in Monterosso al Mare - [click]

Zia Letizia Bed And Wine - accommodation in Monterosso al Mare - [click]

SeaBreeze - accommodation in Vernazza - [click]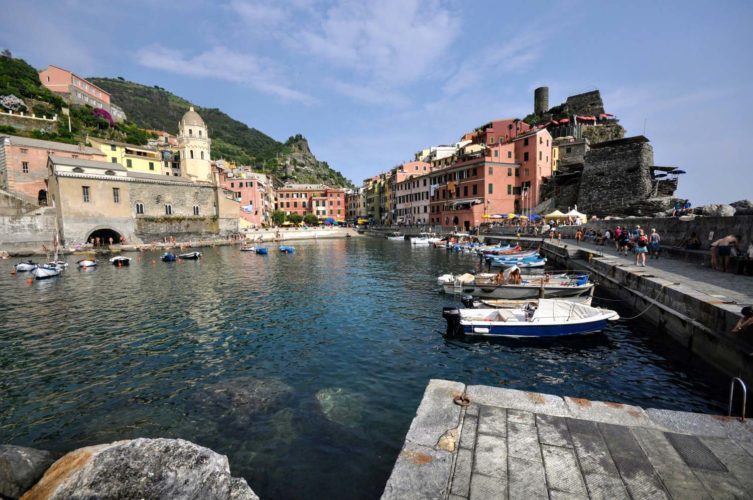 Cecio 5 Terre Rooms - accommodation in Corniglia - [click]

Cà du Nilo - accommodation in Manarola - [click]

Quiet5Terre - accommodation in Riomaggiore - [click]

Lucca

A classic, old Italian town whose charm has led to a constant dispute for centuries about which city in Tuscany is the most beautiful: Florence, Siena or Lucca? The dispute, of course, remains unresolved to this day, because each of these cities has supporters who are in love with it. Lucca is surrounded by a ring of defensive walls, and the medieval center is crossed by narrow streets that provide wonderful shade. The city's peculiarity is the unique Piazza dell Amfiteatro square. It has an elliptical shape and is completely surrounded by colorful tenement houses with restaurants, bars and cafes. Brilliant place!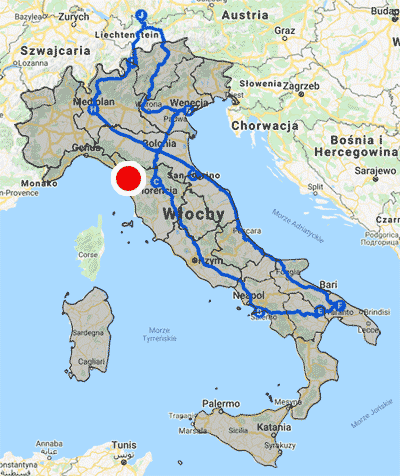 Pablo's Place - check accommodation in Lucca - [click]

Relais Puccini - check accommodation in Lucca - [click]

Rome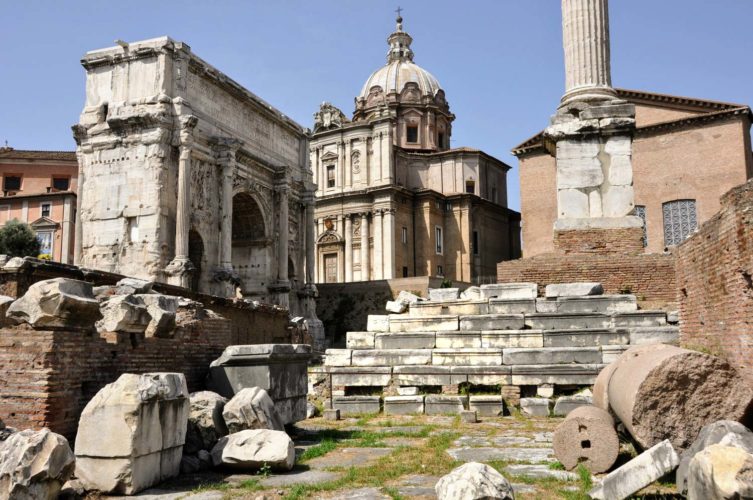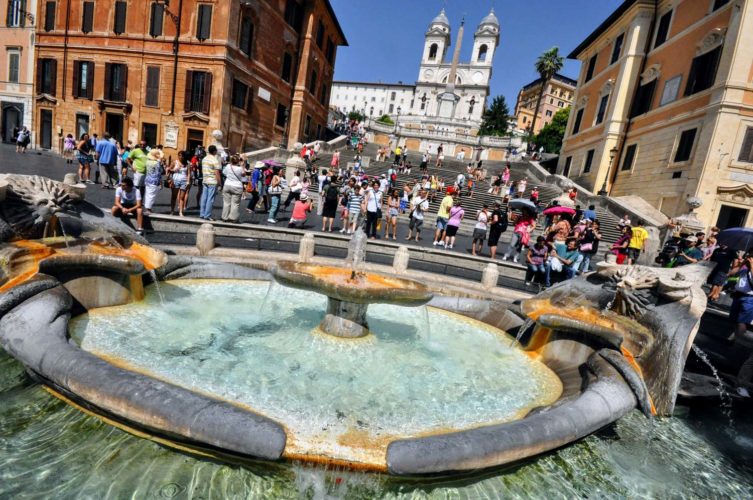 The Eternal City, as Rome has been often called since antiquity, is a place where you should spend at least a few days visiting. It's clear. Putting it on a long trip as one of the attractions is a bit of a crazy idea, but we did. We spent 2 nights in Rome. We had 2 days to get acquainted with the city initially and this is how we treated our first visit to Rome. We only saw its greatest and most famous attractions, but we couldn't resist the temptation not to do so. I remember then that when I left Rome, I was not satisfied with anything but also great satisfaction. After all, I have touched so many wonderful buildings, I have seen so many unique places (Colosseum, Roman Forum, Di Trevi Fountain, Spanish Steps, Pantheon, Campo di Fiori ... etc, many, many more). I knew I would come back here again.
I have prepared a special one especially for everyone who wants to see as much as possible in Rome guide to Rome - [click]. Come and read it before you go to Rome!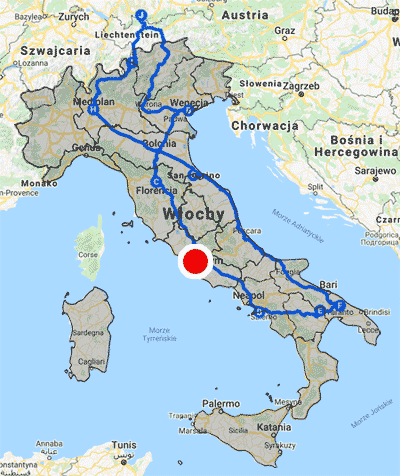 Magenta Superior San Pietro 13 - check accommodation in Rome - [click]

Terrazza Munira Trastevere - check accommodation in Rome - [click]

Vatican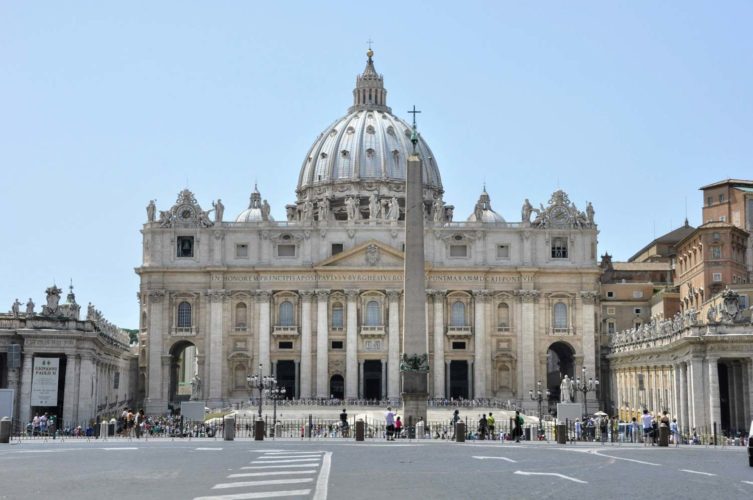 The Vatican, i.e. a tiny fragment of Rome (the smallest country in the world), as a tourist attraction is mainly the Basilica of St. Peter with the square and the Vatican museums. The collections of the Vatican museums are stunning, so it is a real paradise for any art lover. A few hours of communing with the greatest names in the history of the world is hard to compare with anything else. For this as the icing on the cake, the Sistine Chapel.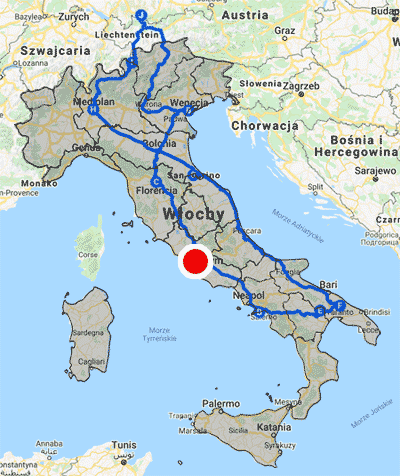 Neapol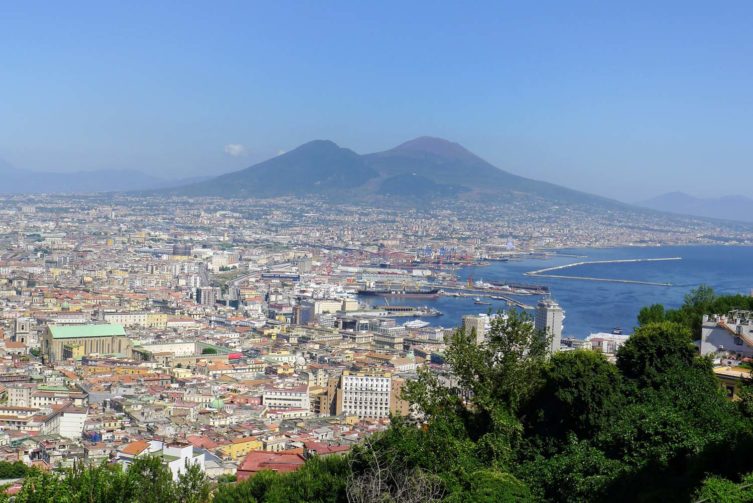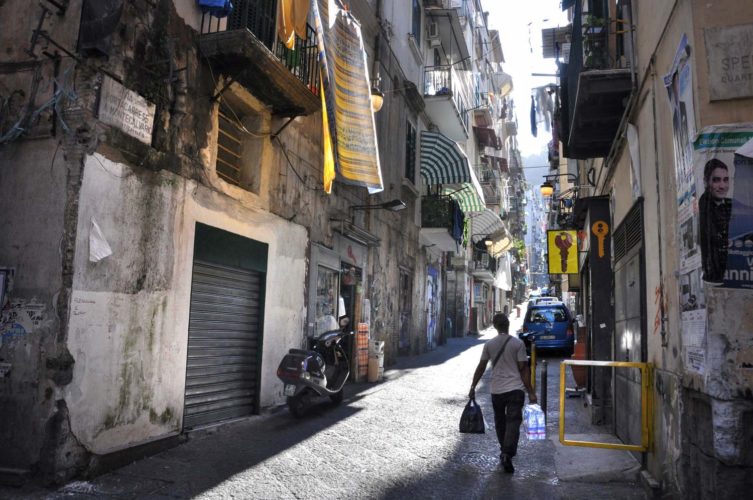 Naples is specific. It's a peculiar mix of extremes that seem like they can never meet each other. Indecent wealth and the center of the latest fashion, emanating all over the world, and right next to it on the street a gigantic garbage dump. Bags of waste lying around for months, torn apart in search of easy food, by dogs running around freely. The wind sets the dot over the "and" in completing the work of mess. It blows from the sea and constantly wanders around the city, carrying garbage freed from sacks with it.
Narrow streets lined with stalls and lined with laundry, on ropes drawn between the facades of houses. Shops squeezed into every free hole, even the smallest room imaginable, trading literally on everything. Bustling residents and tourists who came to see this specific chaos with their own eyes ... and somewhere in it all countless diesel and electric scooters, which are at hand.
A bit dark Vesuvius is looking at it all from the side. The only active volcano on the European continent. It neighbors the city and occasionally spreads terror (the last eruption took place in 1944).
You have to see it.
You can find a ready itinerary for visiting Naples in a separate entry. Practical maps, sightseeing routes, descriptions of attractions and lots of practical tips. Everything in one place: Naples sightseeing plan - map, attractions, monuments, tickets, accommodation, interesting facts
La Casa Napoletana - check accommodation in Naples - [click]

B&B Napoli's Rooftop - check accommodation in Naples - [click]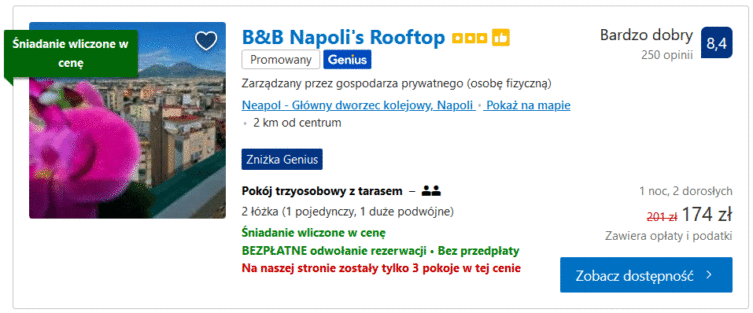 Herculaneum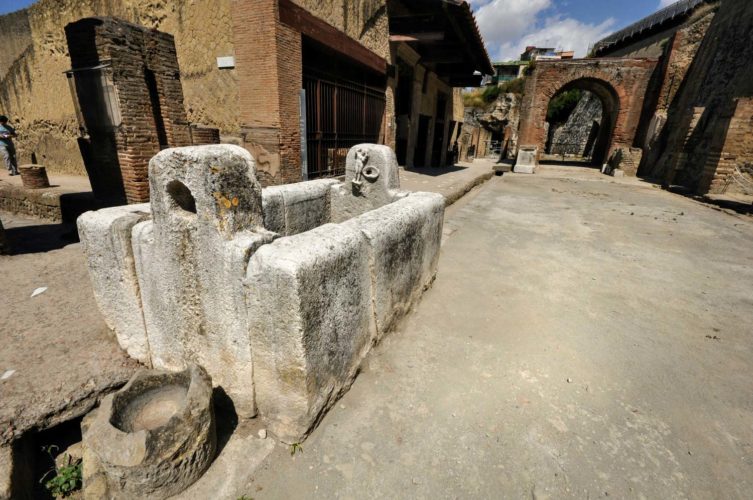 Ruins of an ancient city discovered by chance (while digging a well). During the eruption of Mount Vesuvius, which took place on August 24, 79, the city was flooded with a layer of volcanic mud in a few moments. A 12-meter thick layer of volcanic slime engulfed the city for centuries. Everything happened so quickly that during the excavation work, the teams often found the bodies of the dead who remained frozen in their poses during their daily activities. Some did not even wake up and died suddenly while sleeping.
The city is in a very good condition (much better than the more popular Pompeii) and its extensive fragments are available for sightseeing. Until today, it has not been fully excavated. There is still more underground than has been discovered so far.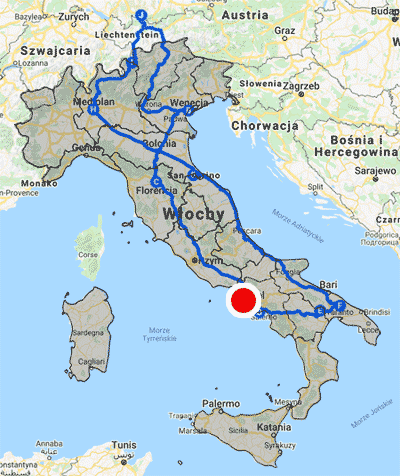 Ruins B&B - check accommodation in Herculaneum - [click]

Hotel Herculaneum - check accommodation in Herculaneum - [click]

Pompeii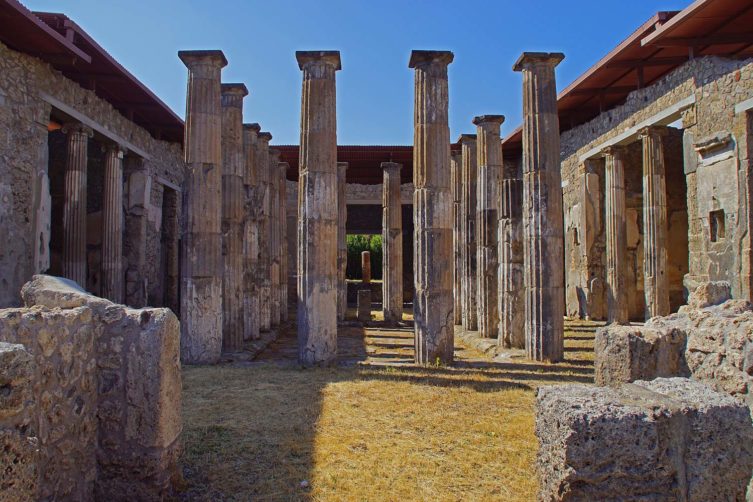 Pompeii, like Herculaneum, disappeared under a layer of volcanic mud at the same time, during the same eruption of Vesuvius. In this respect, they share a common history. They are more popular and better known today, although they are in worse condition than Herculaneum.
Pompeii was first found at the end of the 1748th century. Ancient inscriptions were discovered during the construction of the canal. Archaeological work has been carried out here since XNUMX.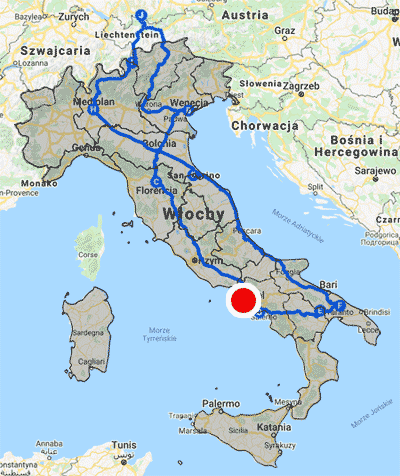 Pompei BnB Maison de Charme - check accommodation in Pompeii - [click]

B&B Verzus - check accommodation in Pompeii - [click]

Amalfi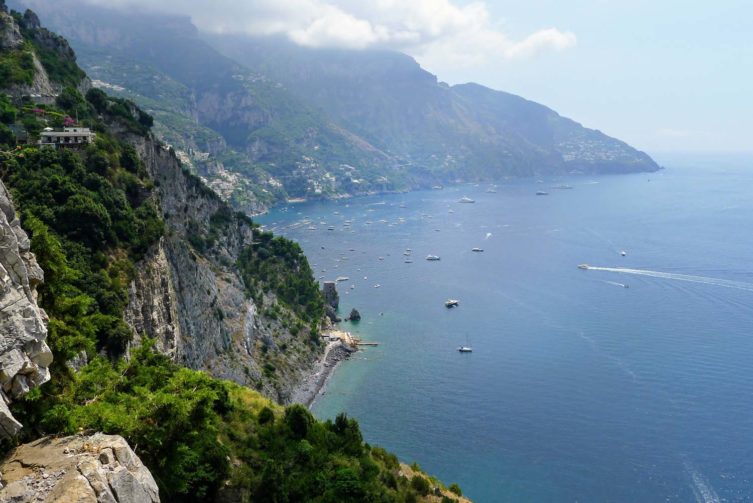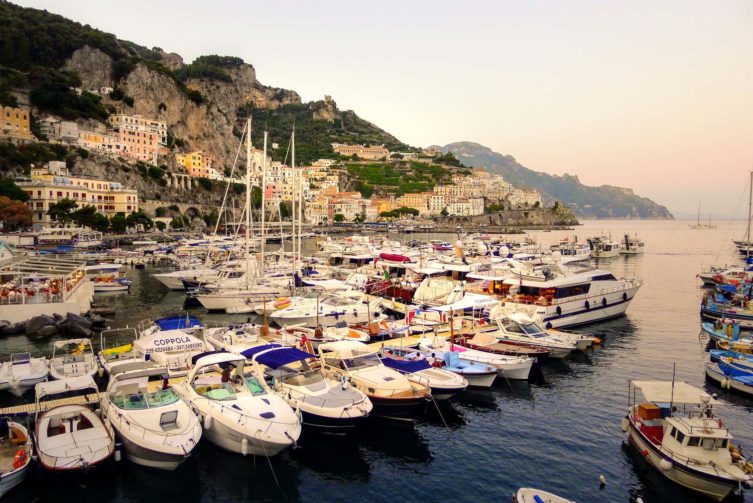 The Amalfi Coast is a part of the exceptionally picturesque, rocky coast of Italy, where the views can be confusing. It might seem that such a thing is simply impossible, and here it turns out that it really exists. You stand, you look and you can't believe your eyes. A miracle of nature with a little touch of human hand. The coast takes its name from a small town called Amalfi. Discreetly squeezed between the rocky and rugged shores of the land, it creates a cozy bay where several restaurants will gladly welcome you during sunset and much longer ...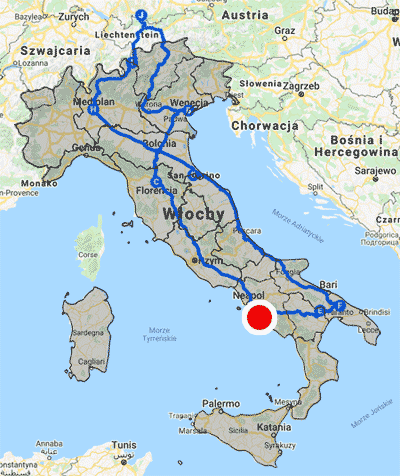 Residenza Gennaro - check accommodation in Amalfi - [click]
La Valle Delle Ferriere - check accommodation in Amalfi - [click]

Sorrento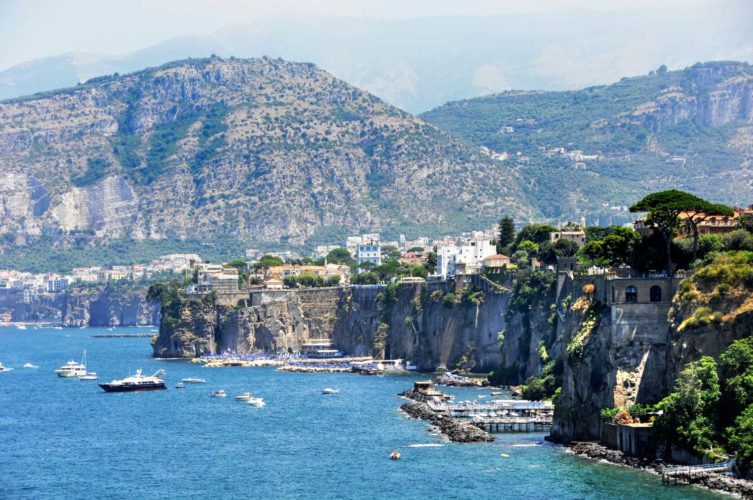 The most exclusive town on the Amalfi Coast. Top-quality hotels, restaurants and marinas at not necessarily moderate prices await guests with thick wallets, ready to fulfill their every wish. Fortunately, you can walk around the city for free. So let's go and see. By the way, you can take a fast ferry or hydrofoil to the nearby island of Capri. Call prices are adjusted to the financial capabilities of the average bread eater.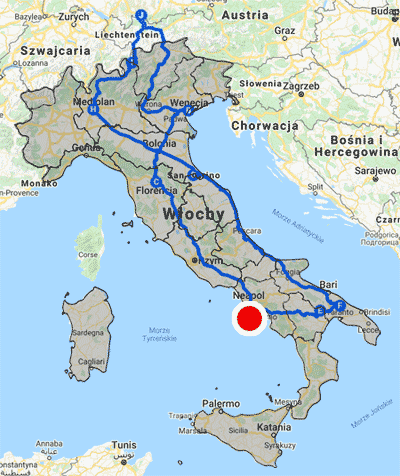 Villa Prestige - check accommodation in Amalfi - [click]

Les Chic Sorrento - check accommodation in Amalfi - [click]

And this is one of the more expensive offers that I could find in Sorrento. If you are looking for a really unique place to stay, it probably will be a good proposition.
Sorrento Dream Resort - check accommodation in Amalfi - [click]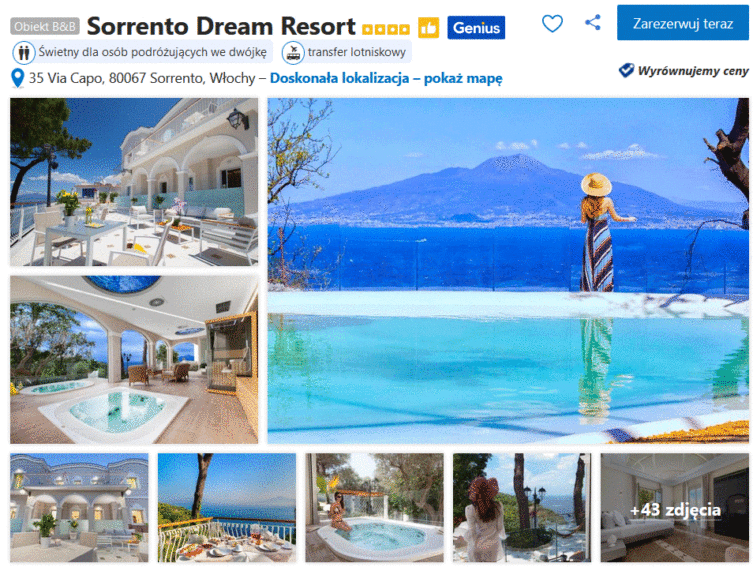 Capri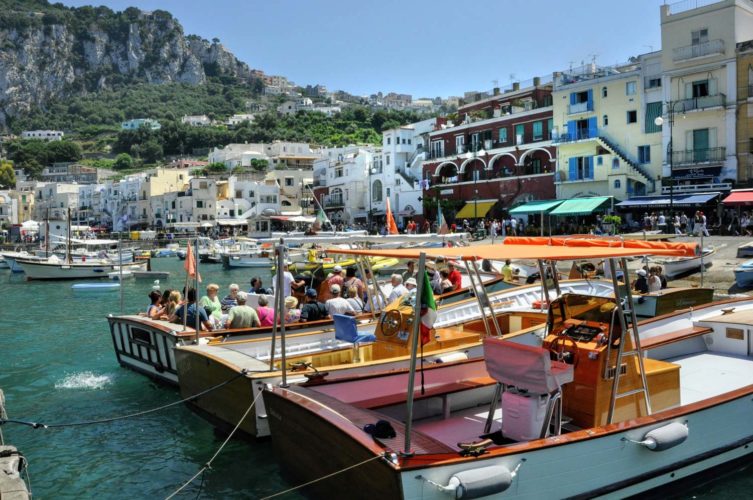 The island is small and its biggest attraction is the cruises around the island. Cruises are purchased at the same small port where ferries from Sorrento arrive. During the cruise, you will see the whole island around, you will enter several caves (depending on the mood of the captain of the ship), you will swim under spectacular rock formations and if you do not take a place under the roof, but sit on the bow just like us, you will get a sunstroke for free .
Watch out for beer in the restaurants by the port! After the cruise, finished with the sun and dried as a chip, I ordered one cold beer without looking at the card. I got a 250ml thimble. I gulped it down in one gulp and the bill brought me back to consciousness in a second: EUR 18. To this day, it is the most expensive beer in my life.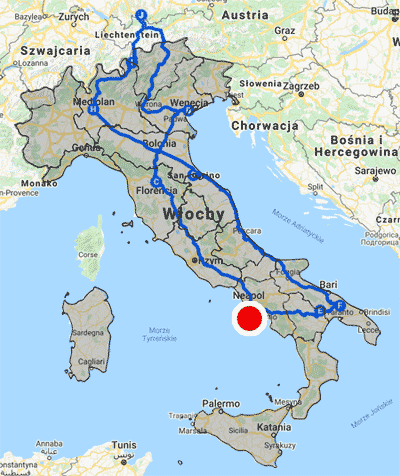 Casa Colette Anacapri - check accommodation on Capri - [click]

Villa Striano Capri - Guest House - Rooms Garden & Art - check accommodation on Capri - [click]

Matera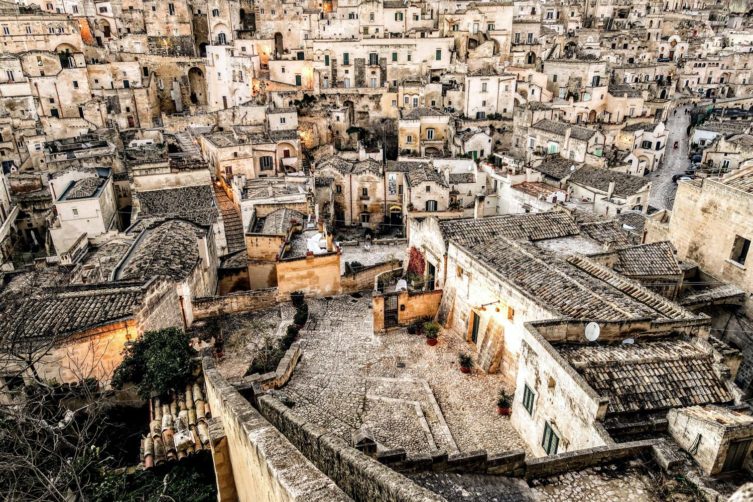 Matera is unique in the world. One of the two oldest continuously inhabited places in the world. A city entirely carved out of rock, where some people lived in caves until the middle of the XNUMXth century! Unbelievable? Learn about the city's moving history, described in a separate section entry about Mate - [click]and you will certainly add them to your must-see list.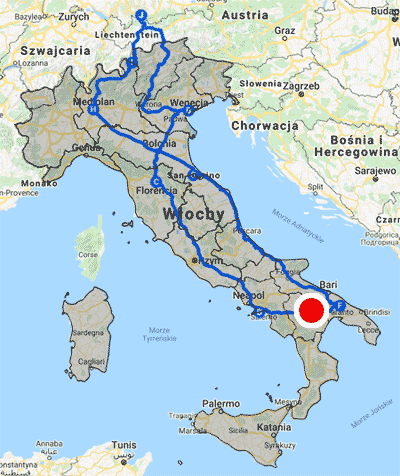 XX Settembre - check accommodation in Materze - [click]

Limen Matera - check accommodations in Materze - [click]

Alberobello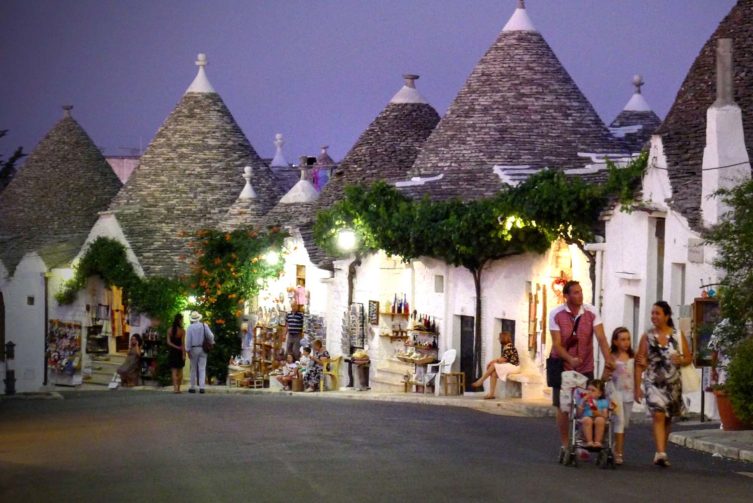 One of the strangest and most characteristic towns you will ever see. This is due to the fun, round trulli houses, built of flat stones without the use of mortar. They were built only in this area. Alberobello is the largest concentration of trulli and looks like a village of dwarfs.
You can read more in a separate one the entry dedicated to Alberobello - [click]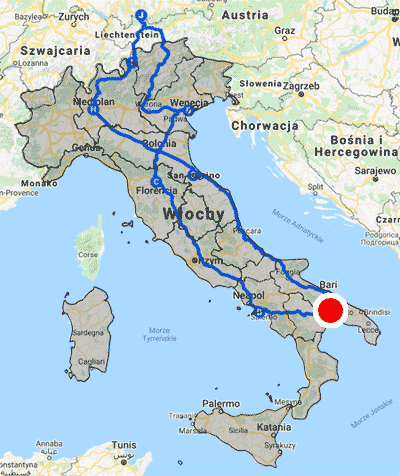 Dimora Sumerano - check accommodations in Alberobello - [click]

Hotel Sant 'Antonio - check accommodation in Alberobello - [click]

locorotondo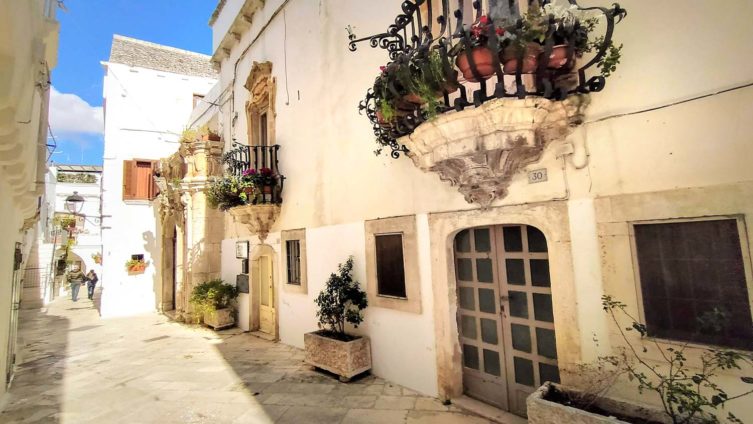 A round town, or rather a round place. This is exactly what the name Locorotondo means (a conglomerate of two words: loco + rotondo).
Locorotondo is really round and fabulously gorgeous. It is most beautiful in summer, when all the plants with which the inhabitants abundantly plant every corner of the city bloom, but Locorotondo delights at any time of the year. Just see more photos in a separate an entry dedicated to Locorotondo - [click]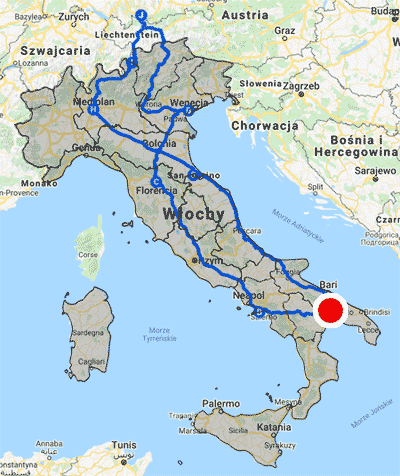 Trullo Sereno Angelo - check accommodation in Locorotondo - [click]

Il Trullo di Nonno Angelo San Marco - check accommodation in Locorotondo - [click]

Ostuni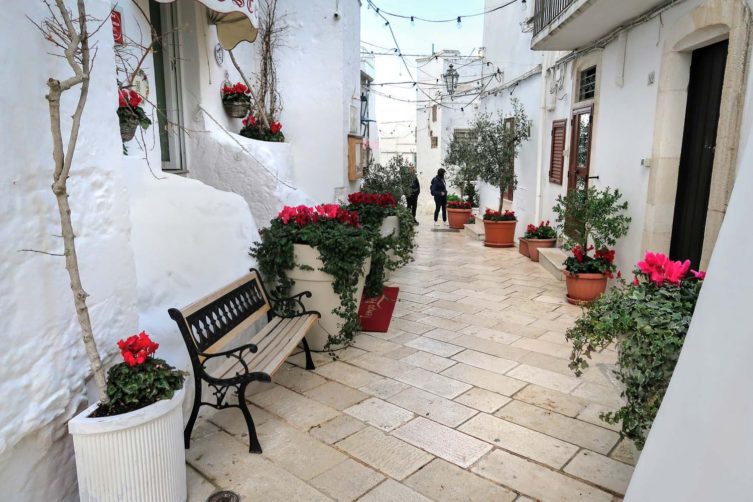 The most famous "white Italian town". Ostuni is probably responsible for the global craze for visiting white Italian towns. It was the photos published on the Internet from here that began to attract thousands of people to the forgotten south of Italy. And it must be honestly admitted that the photos did not lie. Ostuni is worth its fame and probably has rightly become an icon of a white Italian town.
For more photos and information, see the special post dedicated to Ostuni - [click]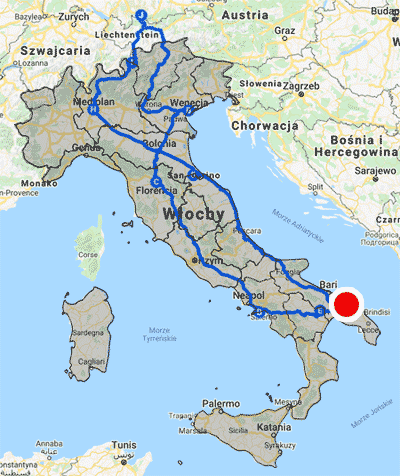 Attico Ostuni - check accommodation in Ostuni - [click]

Radici Ostuni - check accommodation in Ostuni - [click]

Lecce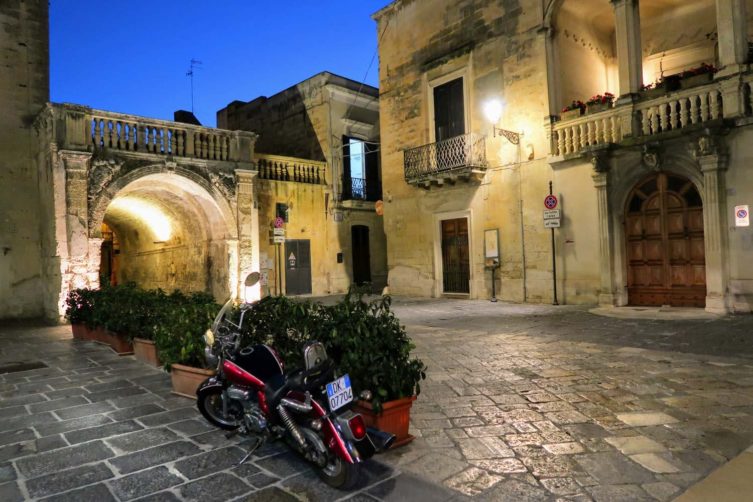 Lecce surprises with its panache and splendor. The vast old town with numerous and beautiful buildings delighted me. Lecce should be a tourist hit, but luckily it's not. Why lucky? Because it rarely happens that such a beautiful city can be explored freely, without wading in the crowd and without having to endure the noisy noise generated by tourist traffic. Affordable hotel and catering prices are also a nice side effect of lower popularity.
Learn more by reading people an entry dedicated to Lecce - [click]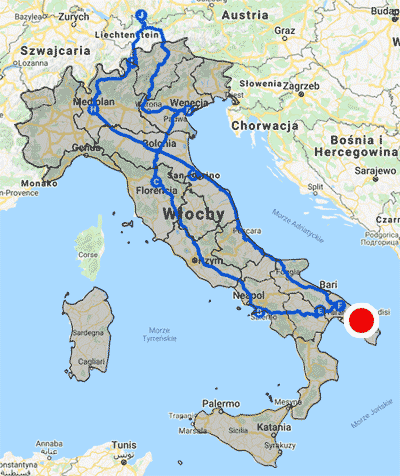 Apartment Don Giuliano Centro - check accommodation in Lecce - [click]

B&B Il Segreto - check accommodation in Lecce - [click]

Sant'Andrea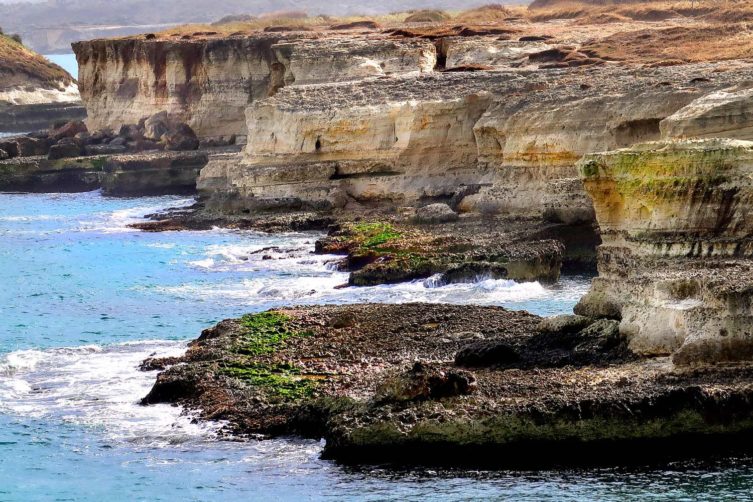 Sant'Andrea is a small town and a viewpoint on a unique fragment of the Italian coast. Picturesque cliffs, fancy shapes, rock formations and turquoise water create unique views. It's worth dropping by for a while.
See more photos in a separate entry about Sant'Andrea - [click]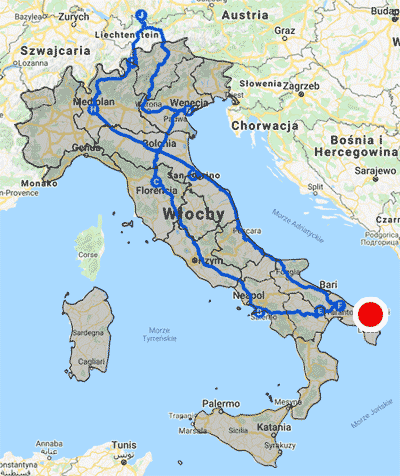 Faraglioni Apartment - check accommodation in Sant'Andrea - [click]

Otranto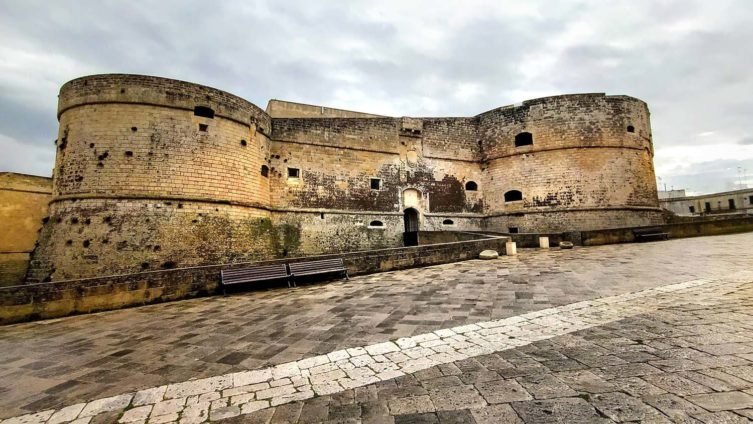 Have you ever wondered where Italians come on vacation? Well then you have the answer: to Otranto. A town with a long and colorful history and a beautiful location is very often chosen by Italians as a place of rest. Isn't that a recommendation enough to see Otranto with your own eyes?
Learn more separately post about Otranto - [click]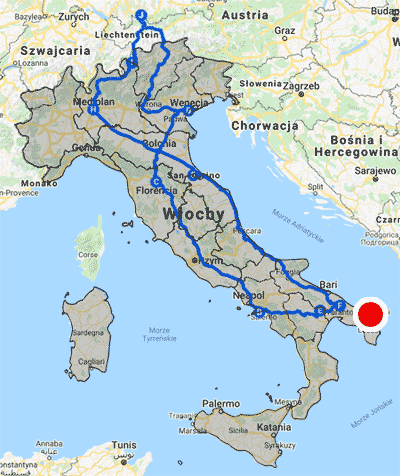 Hotel Pietra Verde - check accommodation in Otranto - [click]

B&B Gelsimori - check accommodation in Otranto - [click]

Leuca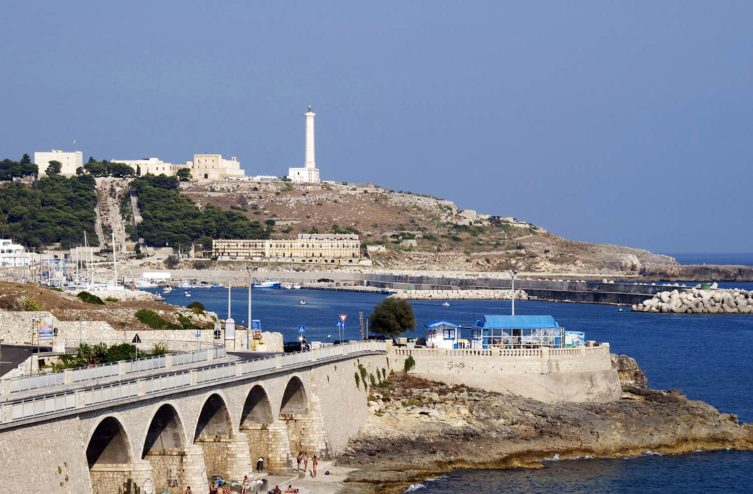 Leuca is almost the end of the world, because it lies at the very tip of the heel of an Italian shoe. But in Leuca something started that changed the fate of the whole world and continues to this day. What is this? You will learn from the special entry about Leuca - [click]. As an encouragement, I would like to add that in Leuca you can see with your own eyes what the border of two seas looks like and what happens when their waters mix with each other.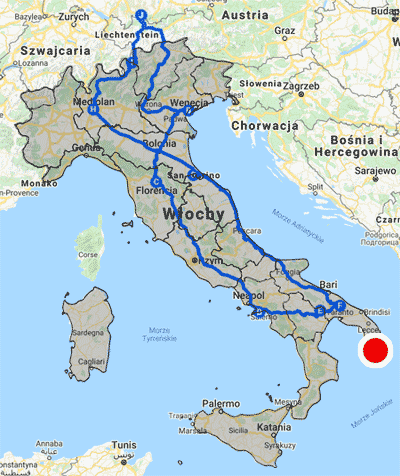 Il Pappagallo - check accommodation in Leuca - [click]

Leuca Residence - check accommodation in Leuca - [click]

Gallipoli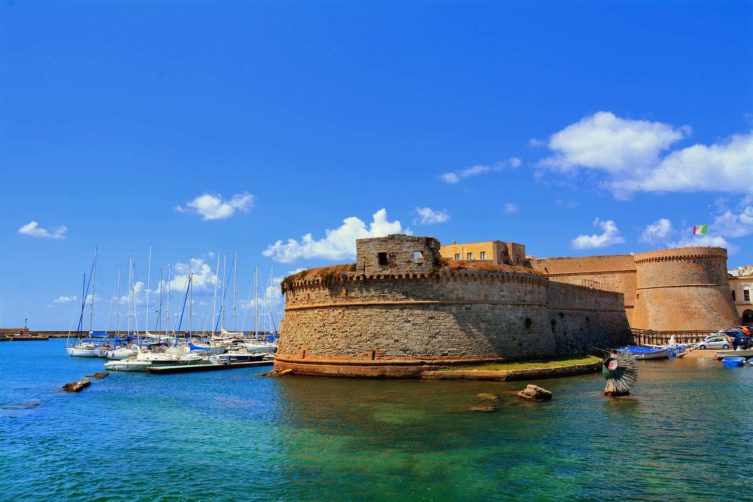 Gallipoli is a small town situated on a peninsula which was artificially cut off from the mainland by human efforts and connected by a bridge. This was to guarantee the city greater security. Throughout this small town, at one point in history, the river of "Apulia's golden", or olive oil, flowed. Gallipoli dominated the global oil trade so much that for some time it was here that the oil price was set on the London Stock Exchange. At that time, many wealthy families built their palaces here, which served as commercial representative offices. Today we can admire them while walking slowly around the city.
For more information, see separate Gallipoli entry - [click]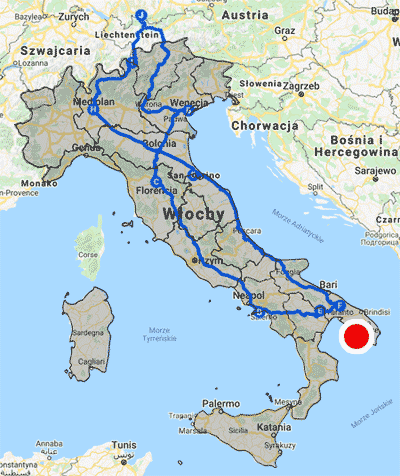 Attico D'Agnio '- check accommodation in Gallipoli - [click]

Al Pescatore Hotel & Restaurant - check accommodation in Gallipoli - [click]

Monopoli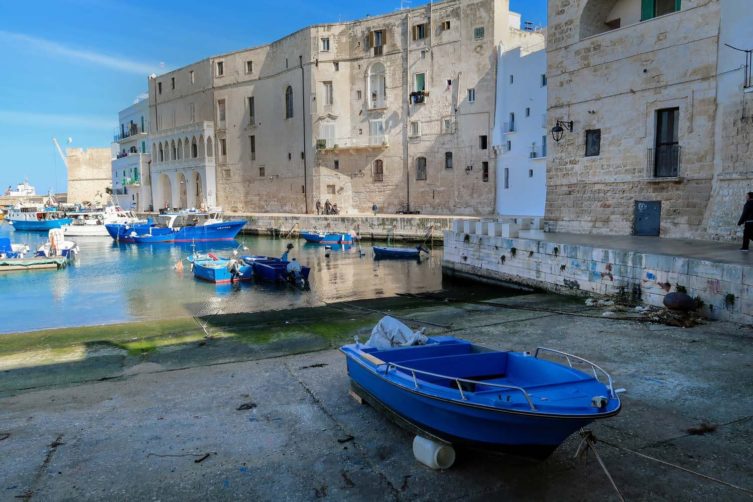 A well-known town, mainly due to port photos that are gaining popularity on the Internet. In my opinion, the fame of this city is a bit exaggerated, you can read more about it in the entry dedicated to Monopoli - [click]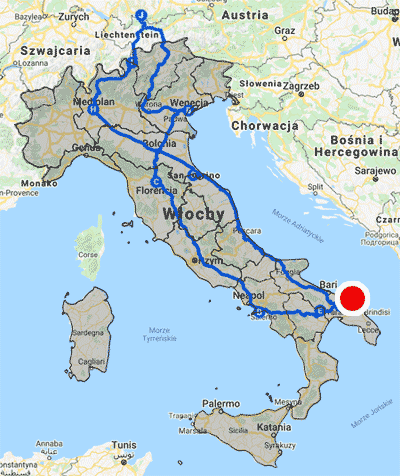 Holiday Monopoli - check accommodation in Monopoli - [click]

Mamma Maria 2010 - check accommodation in Monopoli - [click]

Polignano a Mare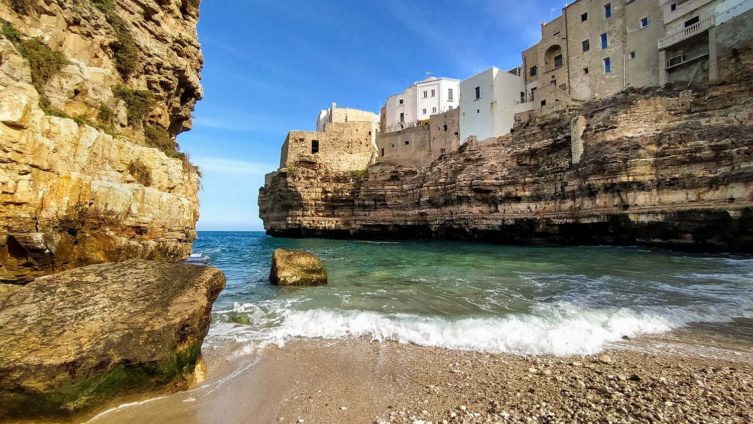 Polignano a Mare is one of my personal favorites and a place I will always be happy to come back to. A small, rocky bay with a tiny beach is surrounded by steep rocks, at the top of which several hundred years old buildings hang over the edge of the abyss. Wow !!!
The scenery is amazing and always gives me the creeps. In addition, there are several fantastic viewpoints from which you can soak up the unique landscape ... A fantastic place!
In a separate entry you will find more information and photos from Polignano a Mare - [click]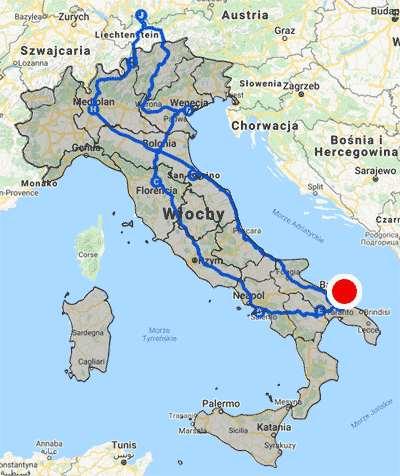 La Casetta di Ninella - check accommodation in Polignano a Mare - [click]

Al Giardino Del Nespolo - check accommodation in Polignano a Mare - [click]

Bari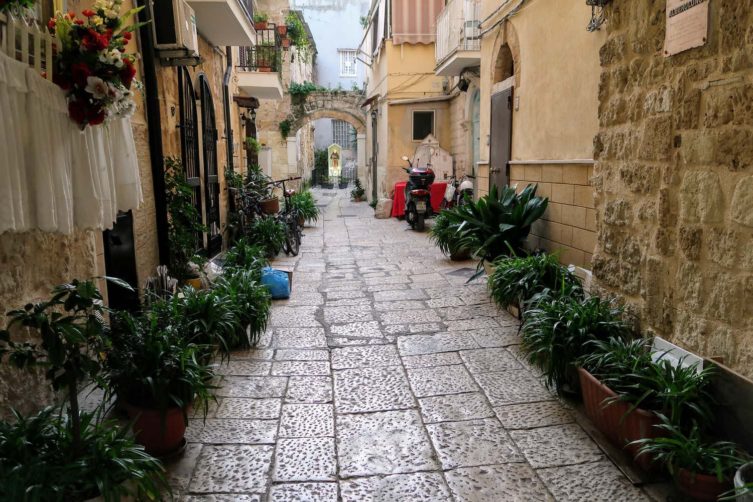 Bari doesn't have one face. He even has several of them. It is worth spending more time here and getting to know the city a little better. The oldest part of the city is an atmospheric, stone old town, with narrow streets, smelling of home-made food during the day and fresh washing in the evening. The representative part of the city is displayed and sparkling like a gallery in Milan. The new part of the city is gray and concrete-industrial, but the city has a few other flavors.
Find out more by reading separate entry about Bari - [click]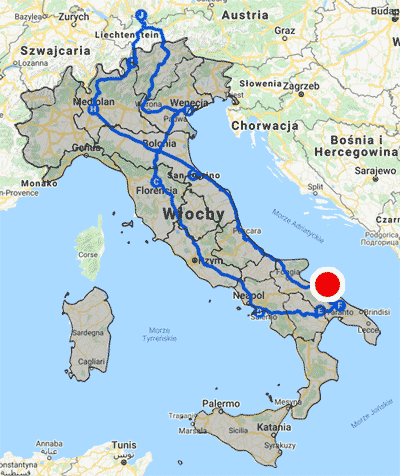 Capruzzi Guest House - check accommodation in Bari - [click]

Casa Almika Sparano - check accommodation in Bari - [click]

Castel del Monte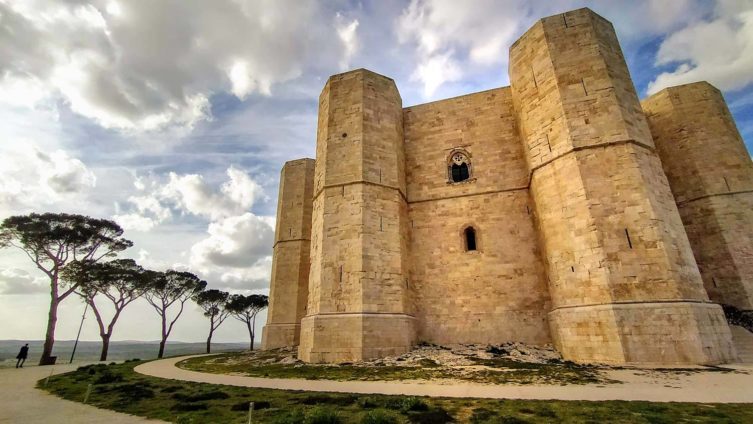 Castel del Monte is one place: the castle. But which? Unusual! Shrouded in many mysteries, it is able to arouse admiration even in a random passer-by. After all, it is included in the UNESCO World Heritage List for a reason. Unfortunately, located in the south of Italy, a bit far from the tourist routes, it takes some effort to get there. However, for those who like such objects it will be a real treat.
You will learn more about the castle separately of the entry about Castel del Monte - [click]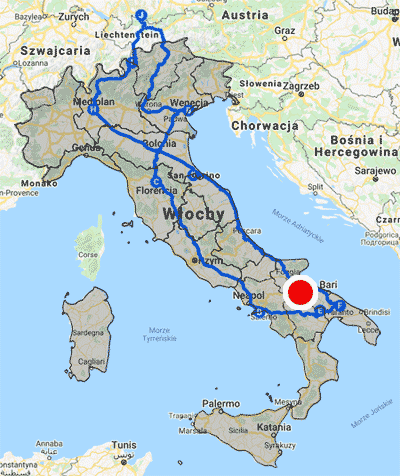 Dependance Castel del Monte - check accommodation in Bari - [click]
Barletta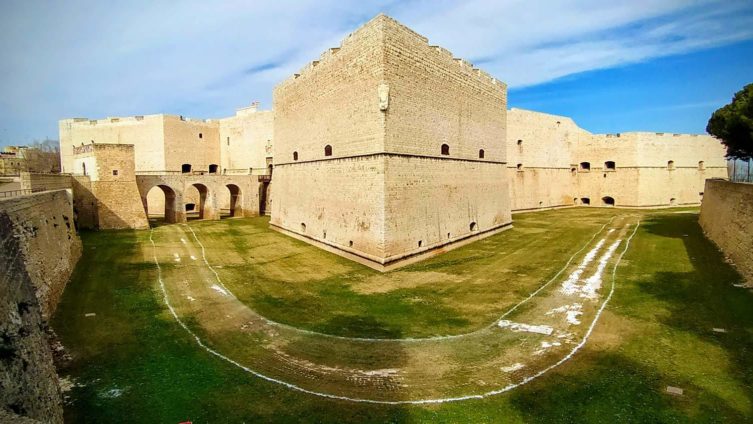 Barletta is a nice city for a short stopover. It has a lot of nice nooks, a nice old town and an interesting castle. We stayed at the Barletta for a while and stayed a little longer and, if not for further plans, we sat for a while.
Read before you go sightseeing entry about Barletta - [click]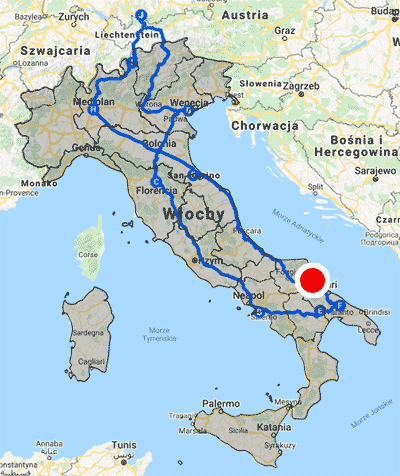 Kofler GuestHouse - check accommodation in Barletta - [click]

Monte Sant'Angelo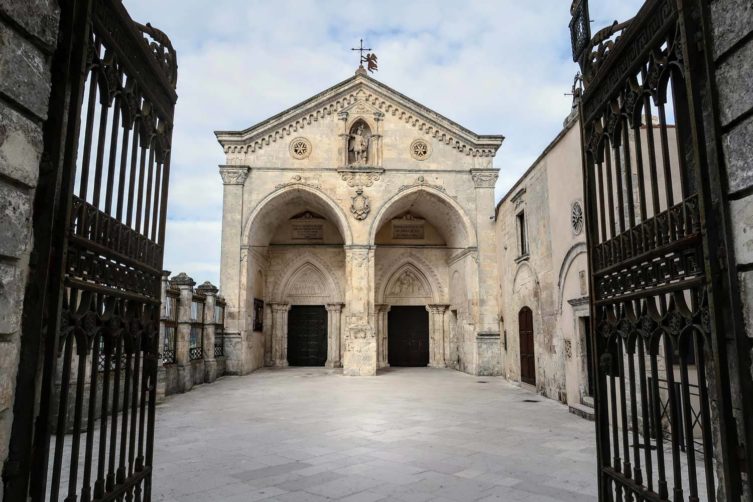 Thousands of people come to Monte Sant'Angelo every year. Many of them come here for religious reasons, as it is a very important place of worship for Catholics. However, there are also those who are attracted mainly by the undoubted beauty of the town itself. The cascading buildings are visible from a distance, from the access road to the town leading through the serpentines from the Manfedonian Bay.
find out more about Monte Sant'Angelo - [click]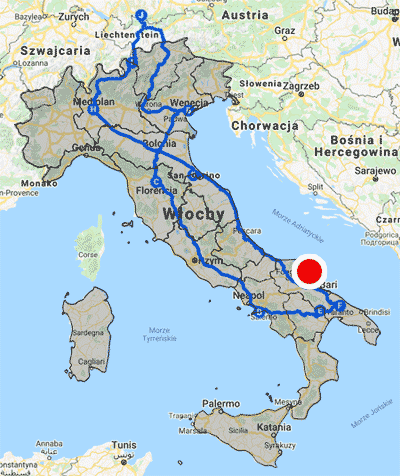 Camere al Santuario-Gli Arcangeli - check accommodation in Monte Sant'Angelo - [click]

Palace Hotel San Michele - check accommodation in Monte Sant'Angelo - [click]

Vieste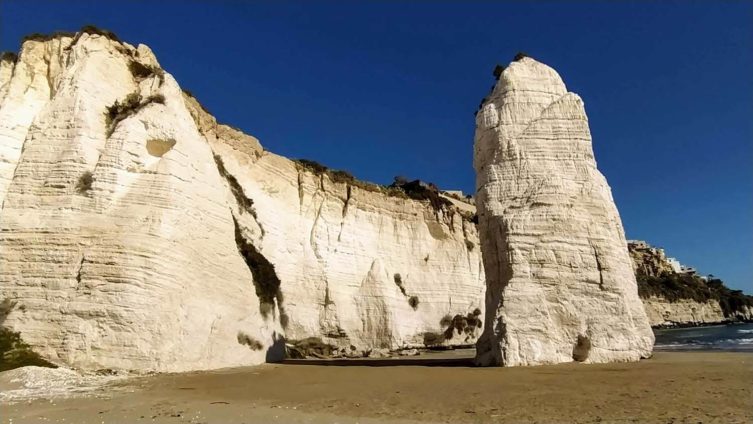 A touristic paradise. Vieste has everything you need to make people happy on vacation. Sandy, large and clean beaches (some fabulously situated between white rock formations), an old town suspended above a rocky cliff, countless restaurants and small hotels, a promenade, a park, squares with restaurant gardens ... just everything. Even Italians love Vieste and choose it as their summer vacation destination.
A separate entry will provide you more information about Vieste - [click]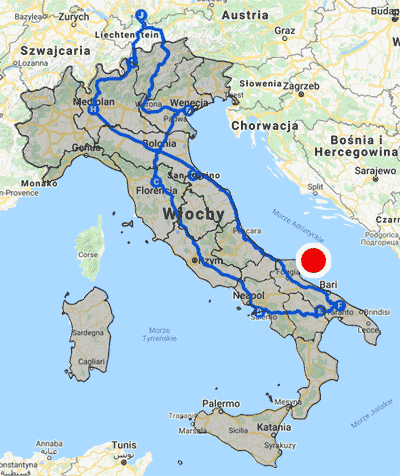 L'Altare Bianco - check accommodation in Vieste - [click]

B&B In Centro - check accommodation in Vieste - [click]

Peschici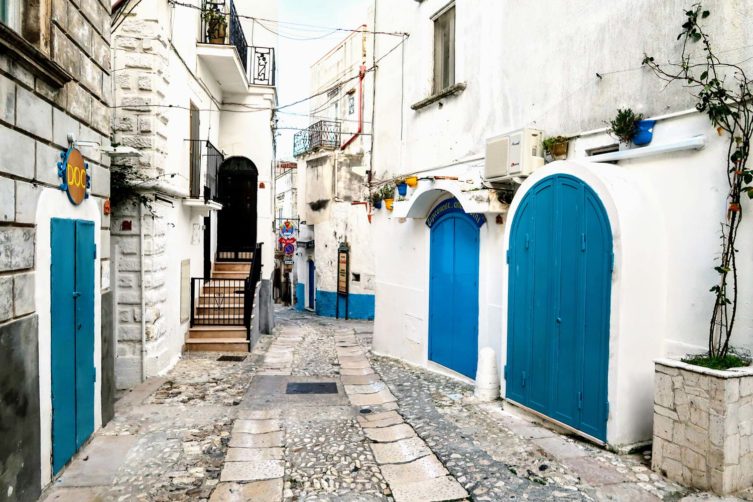 Peschici is the perfect place for a lazy holiday at the Italian seaside. Everything is at hand, and the typical Italian atmosphere spills out onto the street. The town is small and visiting it can be done in two hours, so you either stop by for a while or stay for the whole vacation!
Read more about Peschici - [click]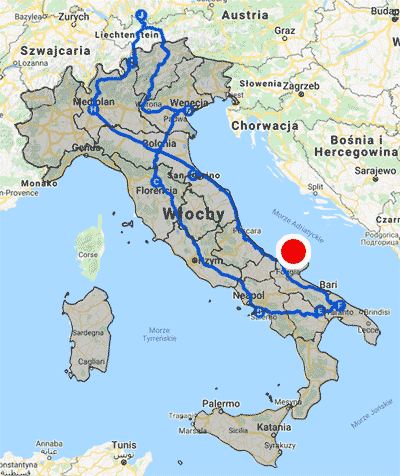 B&B Peschici 4 Stagioni - check accommodation in Peschici - [click]

B&B Dolce Idea - check accommodation in Peschici - [click]

San Marino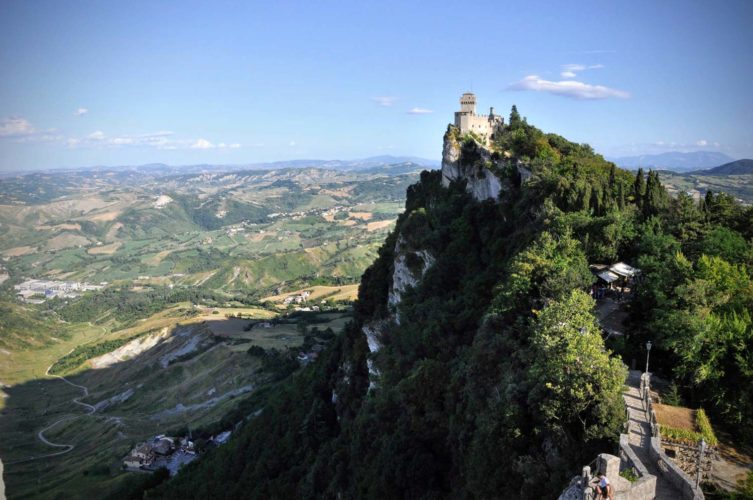 A small state the size of a small town (about 29 inhabitants), completely surrounded by Italy (the border line is 39 km long). Situated on the hills, and in fact on one large hill, the highest peak of Monte Titano is crowned with a beautiful castle with defensive towers. There are wonderful panoramic views from the castle on all sides.
We chose this place to stay for one reason: to see the sunset from the viewpoints in the castle. The weather was good and the impressions were amazing!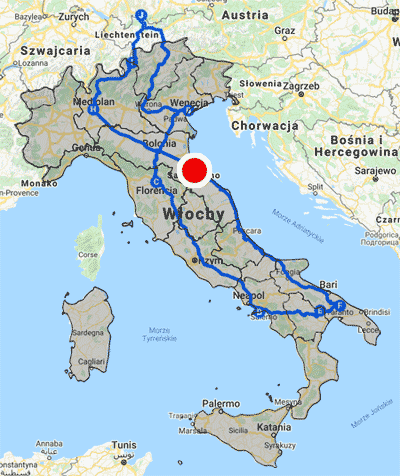 Hotel La Rocca - check accommodation in San Marino - [click]

Hotel Joli - check accommodation in San Marino - [click]

Milan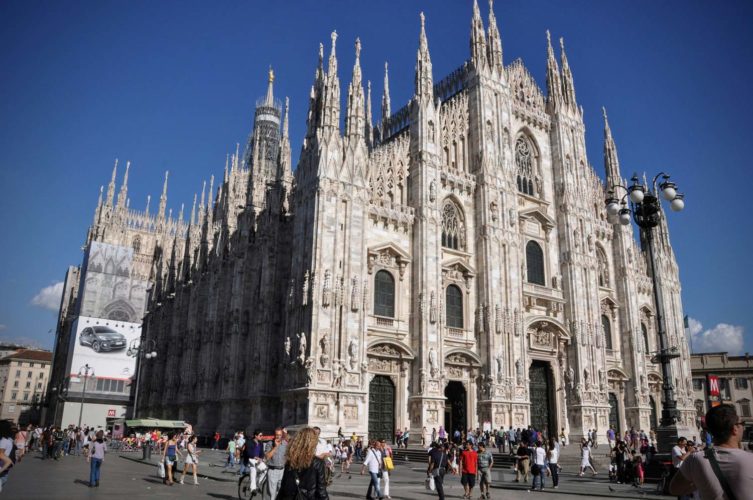 One of the world's fashion capitals offers a lot of opportunities to spend money. A shopping mall in Milan (perhaps the most famous in the world) is always full of those who just want to look, and those who like to walk around with large paper bags displaying the logos of the world's most expensive brands. You can spend a fortune here in just a few minutes.
It is worth remembering that in Milan on the wall of an unremarkable church
Santa Maria delle Grazie is home to the most famous painting in the world: The Last Supper by Leonardo da Vinci. To see the painting, you need to purchase a ticket well in advance (online sale only) and arrive at the place at the specified time. If you are even a few minutes late, you will not be able to enter.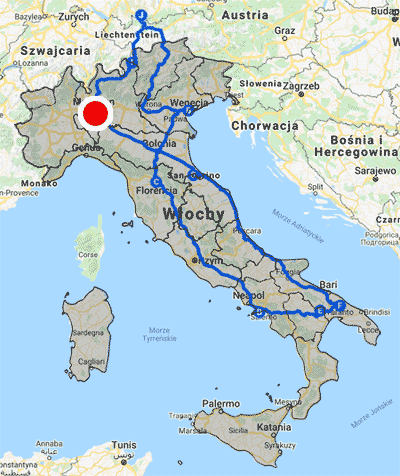 #ItalianAttitude - check accommodation in Milan - [click]

Casa Lù - check accommodation in Milan - [click]

Bergamo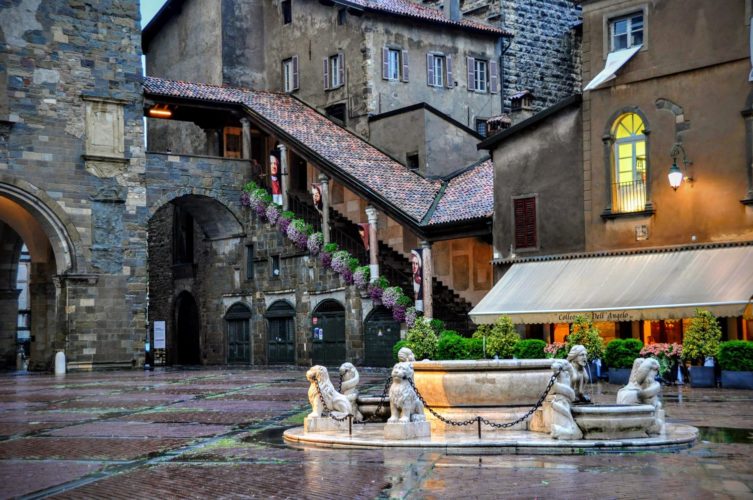 Bergamo is a great idea for a quick weekend jump to Italy. Cheap airlines fly to Bergamo from Polish airports. It is also an excellent starting point from which you can start your trip into the heart of Italy in a rental car.
The town is beautifully situated, has a beautiful old town and everything you'd expect from an Italian town to say: wow!
See extensive description attractions and sightseeing in Bergamo - [click]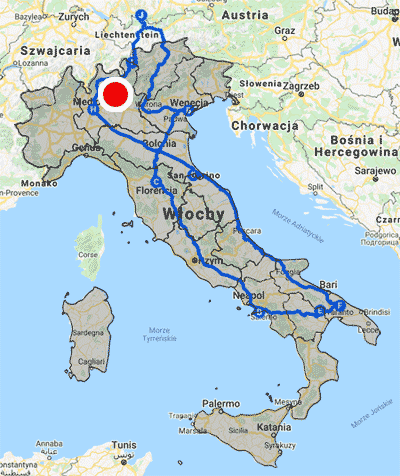 CasaBotta - check accommodation in Bergamo - [click]

Il Tulipano - check accommodation in Bergamo - [click]

Torbole and Lake Garda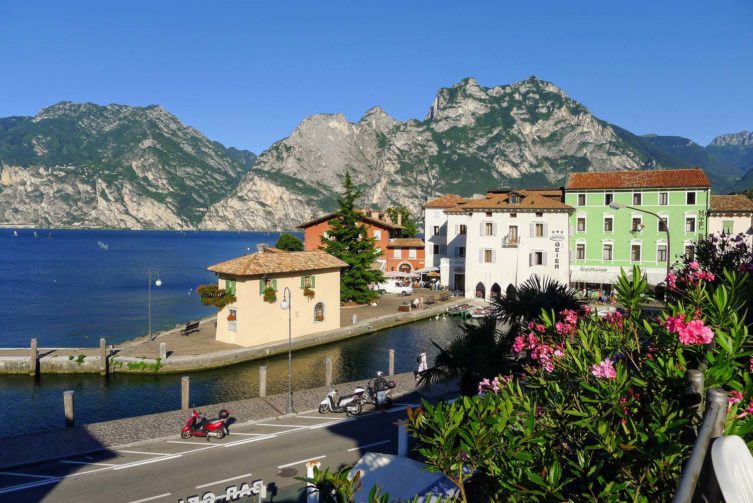 The Torbole I chose is basically just an example of one of the towns on Lake Garda. The beautiful, picturesquely situated lake is covered with climatic towns, of which there are a lot of them. It is worth walking along the shoreline and seeing several villages. Each of them has something interesting and delightful. I know people who, when moving from town to town, are able to spend their entire holiday on Lake Garda.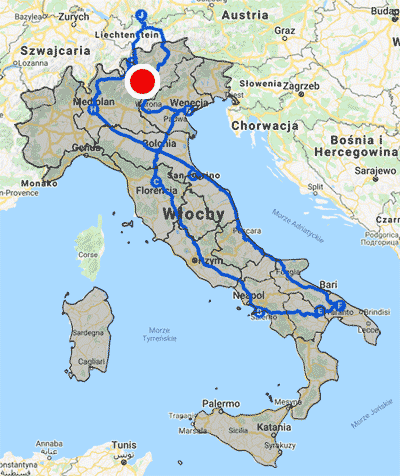 Al Bellavista.Baldo - check accommodation on Lake Garda - [click]

Hotel Isola Verde - check accommodation on Lake Garda - [click]

Stelvio Pass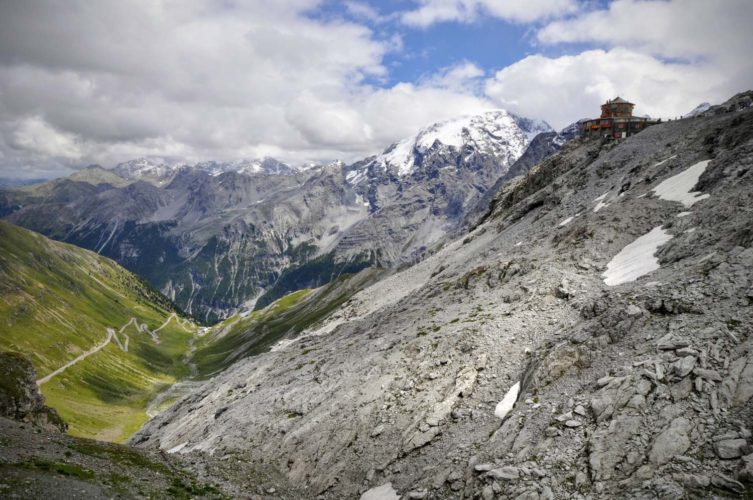 A ride through the Stelvio Pass is a constant emotion associated with endless steep serpentine (over 24 km of driveway, 48 numbered turns) and views that delight more and more with each metro. The driver is the worst. He must have his eyes fixed on the road in front of him, and he must not be distracted even for a second. The narrow, steep and winding road does not give you even a second of respite, and the extraordinary popularity of the road among cycling enthusiasts means that on both sides of the car you have to watch out for cyclists. Many of them use the snakes for lack of strength, so I do not recommend looking from side to side. But passengers have a paradise! They can feast their eyes on insane Alpine panoramas without limitations.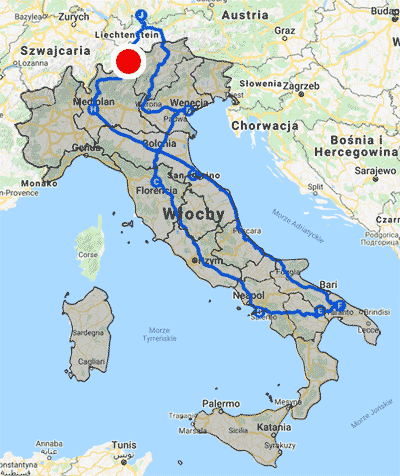 Hotel Genziana - check accommodation in the vicinity of the Stelvio Pass - [click]

What about Sicily?
Well, I missed Sicily on the map. Consciously. Including Sicily in this trip seems to me to be ineffective. So I treated Sicily separately and I have developed a separate sightseeing plan for Sicily - [click].
Other itineraries and programs for visiting Italy
Of course, from time to time there are other suggestions for sightseeing plans for different parts of Italy. I will successively (as they arise) connect them to this entry (unless I forget 🙂).
Currently available sightseeing plans:
- Apulia (Puglia) - sightseeing plan - [click]
- Sicily - sightseeing plan - [click]
- Rome - sightseeing plan - [click]
- Venice – sightseeing plan – [click]
- Naples – sightseeing plan – [click]
Important to me!
Give the article a good rating
(5 stars welcome 😀)!
It's free, a
for me it is very important!
The blog lives on visits and thus has a chance to develop.
Please do it
and ... thank you in advance!
I also post
link to Facebook profile - [click]
. Come in and press "
Follow
"then you will not miss new, inspiring posts.
Unless you prefer
Instagram
. I'm not a social media demon, but you can always count on something nice to look at on
my instagram profile - [click]
. The profile has just been created, so
for now he is starving
, due to the lack of followers. He is happy to receive any observer who feeds him with his love.
I make the content I create available free of charge with copyright, and the blog survives from advertising and affiliate cooperation. So, automatic ads will be displayed in the content of the articles, and some links are affiliate links. This has no effect on the final price of the service or product, but I may earn a commission for displaying ads or following certain links. I only recommend services and products that I find good and helpful. Since the beginning of the blog's existence, I have not published any sponsored article.
Some of the readers who found the information here very helpful, sometimes ask me how you can support the blog? I do not run fundraisers or support programs (type: patronite, zrzutka or "buy coffee"). The best way is to use links.
It costs you nothing, and support for the blog is self-generating.
Pozdrawiam