Iceland - map and sightseeing plan, tourist attractions, excursions, the most beautiful places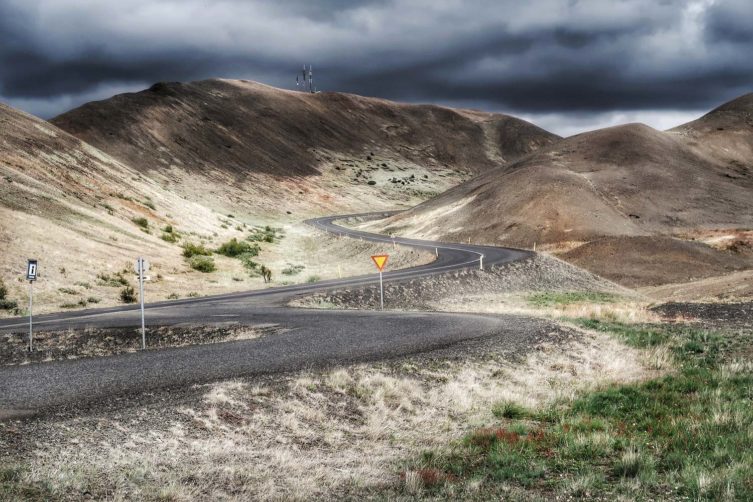 A trip around Iceland
When I started working on this post, I thought for a long time how to suggest visiting Iceland. The island offers a huge amount of different attractions, and at the same time allows, and even encourages, a great deal of freedom in shaping your own plan and the set of places you want to see.
I decided that I would not use a strict division for the following days. Such a pre-imposed deal will not work for Iceland. Instead, I will propose a well-described set of the most interesting places, which I will arrange on the map in such a way that you can quickly create your own plan based on it. Thanks to this, everyone, on the basis of the information I have prepared, will be able to easily compose their own unforgettable trip around Iceland. Thanks to this approach, planning can be carried out even overnight, without much advance.
The main axis of the trip, around which most of the attractions are located, is the most famous Icelandic one road No. 1. It runs around the island and forms a closed loop. It runs through the island in such a way that it almost always leads near the most popular tourist spots. This is great news as getting around Iceland by other roads is not easy at all. Many roads do not have an asphalt surface and are not suitable for driving by an ordinary car. You can drive through them only with an off-road car, and in winter, in addition, many of these roads are closed. Then even an off-road car may not be able to cope. Fortunately, I mentioned road number 1. Recently, it has been covered with asphalt along its entire length, thanks to which the attractions located next to it can be reached by ordinary car, basically all year round.
Small fragments of road no. 1 are closed only when conditions prevail on a section that prevent safe passage. If possible, the police then arrange detours using other roads. Such a situation may only take place in the winter months or in those adjacent to the winter months. Nothing can be done about short-term, strong breaks in the weather. In summer, such situations do not occur and the sightseeing route based on road number 1 can be easily planned.
The course of the road on the map of Iceland and the location of all attractions have been marked on a map specially prepared by me. You will find it later in the text.
Prices in Iceland?
Unfortunately, Iceland is one of the most expensive countries in the world. It has been at the forefront of this ranking for many years. So you have to be prepared for much higher prices than in Poland.
As an indication, it can be assumed that the prices in Iceland are:
- about 2 times higher than in the USA
- roughly 2,5 times higher than in Germany
- more than 3 times higher than in Poland.
More information on this subject and examples of specific prices in Iceland can be found in a separate entry: Iceland - prices: restaurants, supermarkets, hotels and accommodation, tourist attractions
Iceland weather - when to go?
In Iceland, the official division into four seasons is used. However, in my opinion, this is a fairly conventional division, because in practice, we are actually dealing with two seasons:
- short summer (as long as it can be called summer). Then it gets warmer, the temperature definitely exceeds 10 degrees Celsius and stays between 13 and 15 degrees during the day. This period lasts for about 2,5 months, from mid-June to the end of August. The days are then very long, and in June and July it is light practically around the clock. During this time, there is much less rainfall, less intense rainfall, and weaker winds. Statistically, days without rain are rare. Short and not very bothersome rain can fall several times in one day.
I have noticed that Icelanders do not pay attention to this kind of showers at all. They just know that in five minutes there will be no trace of him. Life goes on as normal and the gardens at the restaurants are in full swing. They are properly roofed, sheltered and full of people.
Interestingly, after a few days, we also stopped paying attention to showers. After a whole day, I didn't even remember that it was raining for a while anywhere. The showers of rain became completely imperceptible to us. Of course, having the right clothes is crucial. Dressing up works best.
On the other hand, when we were in Reykjavik, the sun was shining almost all day long and the temperature jumped to 20 degrees Celsius. Apparently, this year's summer (as Icelanders told us) was full of such warm and sunny days.
- long fall-winter season - lasts for the remaining 9,5 months of the year and resembles Polish November or March. The temperature during the day is a few degrees, frosts at night. It blows, it pours alternately snow and rain…. Stable frost around -5 degrees and plain snow without the constant thaws turning everything to mud is like a godsend. Unfortunately, it is rare. Most often it looks like what has frozen during the night melts during the day. It is slightly negative at night, and 2-3 degrees positive during the day.
A trip to Iceland in the winter requires very good preparation, mainly in terms of clothing and the right attitude. You will have to suffer yours 🙂
How to get to Iceland?
There is not much choice. The only sensible way is, of course, by plane. There are quite a lot of connections in the summer season.
You can search for flights at good prices according to the guide available on my website: Cheap flights. How to search for cheap flights and cheap flights? [GUIDE]
An interesting proposition for visiting Iceland "by the way" is the idea that can be called a "long stopover" in Iceland. It allows you to get to Iceland basically for free. What is it about?
The airlines, in partnership with people involved in the promotion of holidays in Iceland, came up with the idea of ​​organizing the so-called long stopover. This mainly applies to people flying from Europe to the United States or vice versa.
Due to its convenient location (roughly halfway between Europe and North America), many airlines use Reykjavik Airport to make a stopover, necessary for refueling on the way.
When buying a ticket, you can choose the option that your stopover will be 1 day, 3 days, and sometimes even 7-day variants are available.
When refueling, you get off the plane and spend as much time in Iceland as you decided when buying a ticket. After the set time has elapsed, you return to the airport, board the plane and continue your flight to America.
Tickets with such a long refueling stop cost as much as the "long stopover" version. The flight to Iceland is included in the price of the flight to America, which is practically free.
A one-day stopover will let you see The Golden Circleand longer breaks correspondingly more. Many travel agencies offer ready-made tours around Iceland that are tailored to the length of your stopover. So it is enough to buy only the appropriate trip or rent a car and explore what you want on your own.
How to visit Iceland?
It is definitely impossible to visit Iceland by train. There are no railroads on the island. This method is out of the question. There are a few other ways, however.
Car rental
The best part is definitely car rental and exploring the island by rental car. It gives you a lot of freedom to choose attractions, and the endless day when Iceland is full of light around the clock in summer allows you to visit basically without restrictions.
Most of the attractions in Iceland are nature attractions, available XNUMX/XNUMX without restrictions. Some people arrange their time especially so that most of them visit late in the evening or even at night. It is then as bright as during the day, and the light from the sun located low above the horizon only adds charm to many places. By the way, it is empty everywhere, there is no crowd anywhere and you can take really unique photos. Interesting, isn't it?
It costs a bit to rent a car in Iceland, but the local rental companies have come up with some nice ideas, offering their customers cars that are partially converted and adapted so that… they can sleep comfortably in them. These are usually small transport and passenger cars, where the luggage part has been converted into a double bed and a lot of additional equipment (e.g. a tourist stove that allows you to prepare a meal, etc.). Renting such a car significantly reduces the expenses related to hotel accommodation. All you need to do is find a camping site with sanitary facilities and for a little money you can stay in your mobile hotel.
While visiting Iceland, I have faced countless such cars. They are extremely popular and can be found everywhere.
More details about the cost of renting a car, the rental offer and a map of campsites can be found in a separate entry: Iceland - car rental without credit card and deposit
Gas station map in Iceland
The distances between gas stations in Iceland can be considerable. Before leaving, it is worth checking the schedule of gas stations that we will pass on the way and NEVER plan refueling "on the spot". Always plan your journeys so that you have enough fuel, e.g. when you need to make a detour and the road suddenly extends by several dozen kilometers.
Regardless of how much fuel you have left, ALWAYS fill the car to a full tank. Fuel in the tank never hurt anyone.
Below is an interactive map of gas stations, and below the map, a direct link to this map, and links to maps of the three largest gas station chains in Iceland.
– map gas stations in Iceland – [click]
– map of petrol stations N1 network - [click]
– map of petrol stations Olis network - [click]
– map of petrol stations Orkan network - [click]
Local guides and tourist offices in Iceland
If you do not want to rent a car, you can take advantage of the offer of local guides and tourist offices. Their offer is really wide and they often propose fully organized trips to specific attractions, e.g. Golden Circle, Diamond Circle, island interior, glacier and ice cave tours, whale watching cruises ... the range of proposals is really wide.
Fortunately, you do not have to search for the offer of each of these offices on the Internet yourself. Besides, there are so many of them that you wouldn't be able to reach them all anyway.
A huge number of interesting offers can be found on a special page that groups offers from many local guides and travel agencies in one place. At the time of writing, this database contains over 400 (!!!) different propositions.
To make it easier, I have prepared a few links that pre-filter the results. By clicking on the appropriate one, you will limit the list of results to those that interest you.
- Iceland - full-day trips - [click]
- Iceland - multi-day trips - [click]
- Iceland - water attractions - [click]
- Iceland - guided tours only - [click]
For those who like to bury themselves a little harder, I have also prepared a link with all the offers currently available in Iceland and with the possibility of buying admission tickets online.
- Iceland - database of all tours of local travel agencies and private guides - [click]
- Iceland - entrance tickets to attractions - [click]
Travel agencies in Poland
The last offer is travel agencies in Poland. When it comes to Iceland, the offer is moderately wide, but you can find interesting offers that allow you to see practically everything you need.
After reading this post, it should be much easier for you to find the best proposition for you.
If you are not a fan of organizing trips on your own, this may be the best option for you. In addition, sometimes you can find very attractive promotions in this direction, where a short-term discount can even reach 50%.
The easiest way to check the current offers is on the website of the Polish travel agency offers comparison website. The offers of all the largest offices are located in one place and you do not have to visit the website of each of them.
I have prepared the link that filters only sightseeing tours around Iceland below:
View Iceland road trips: travel agency tours offer - [click]
Car Rentals in Iceland
As I mentioned before car rental offer in Iceland it is built a bit differently than in a typical car rental in Europe. By far the most interesting on this market is the offer of local car rental companies and the search for a car must start from the local market.
And that's fine, but searching local markets is always the most difficult because it requires a lot of work. Fortunately, I have already done this job for my own needs, and by the way I described and arranged everything in a legible way.
However, the topic is so important and extensive that it cannot be summarized in a few words and will not fit into one short point of this post. For details, see a separate entry: Iceland - car rental without credit card and deposit?
Accommodation in Iceland
Accommodation in Iceland is a separate category ... It won't be easy! Let me just say that, apart from Reykjavik, the choice of accommodation is not very wide. The number of hotels is small and often the lonely farms that provide accommodation for tourists are a real godsend.
The standard of accommodation in Iceland is of secondary importance. The very fact of having a roof over your head for the night is more important.
Narrow accommodation is quickly depleted and in this case it is worth starting your search well in advance. Iceland is becoming an increasingly popular destination and in the summer, when tourist arrivals accumulate, many hotels are blocked by travel agencies.
For most of the attractions I describe, I have also included hotel suggestions and links to the database with accommodation offers.
It's worth remembering that Iceland's popularity is growing much faster than the number of hotels, so it will get harder and harder as time goes on.
In this situation, it is worth considering renting a car that allows you to stay overnight in it and park overnight in the campsites with sanitary facilities (you can find a map of campsites in the entry about rent a car in Iceland).
Iceland sightseeing itinerary
We finally got to the sightseeing plan. As is customary - as it happens most often in my posts - I created a special map on which I placed all the attractions described in the further part of the post.
In the plan, I gave up the division into specific days. However, I have included information about the length of journeys and the duration of the journey on longer transit sections, between adjacent points of the route. This can help you plan your trip on your own.
I have limited the descriptions of attractions in this post to the necessary minimum. However, I have provided links to broader descriptions. Each attraction has its own separate entry, in which you will find a lot of interesting information and everything necessary to reach the attraction, park it (precise GPS coordinates of the parking lots) and visit it efficiently (clear sightseeing maps).
Map of attractions in Iceland
You can find the map below. Clicking on it will open the image in the original, in higher resolution, allowing you to enlarge the selected fragments.
The numbering on the map corresponds to the numbers I gave to the attractions later in the entry.
Apart from attractions, I have marked the route of the most important road number 1 for us, which runs around Iceland. As you can see, most of the attractions are in its immediate vicinity.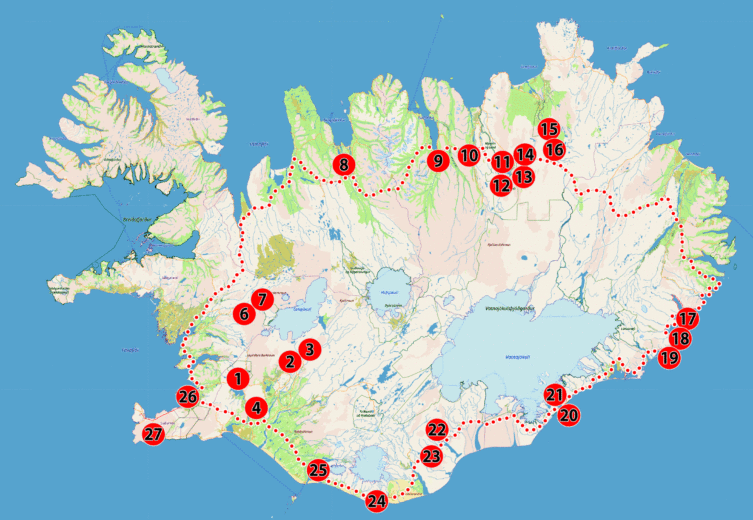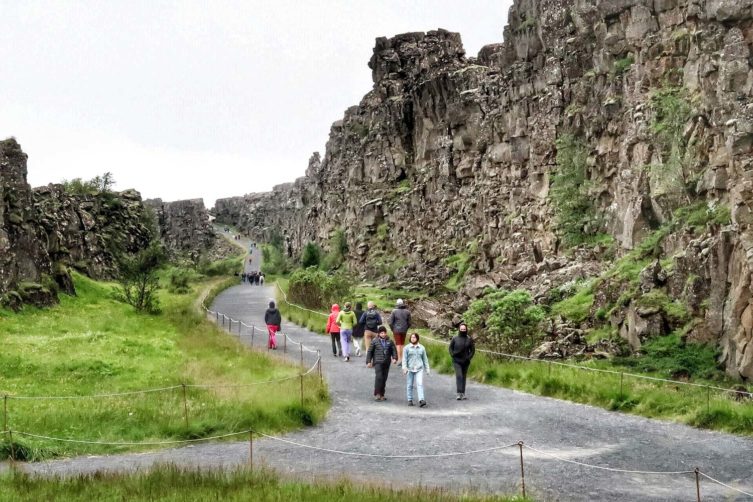 A national park at the junction of two tectonic plates and one of the most important places in the history of Iceland. In the park there is a flooded rift separating the North American and Eurasian tectonic plates, where you can dive.
For more details, please see the post: Thingvellir - parking, access, visiting the park, interesting facts
Distance from Reykjavik: 47 km
Travel time from Reykjavik: 45 minutes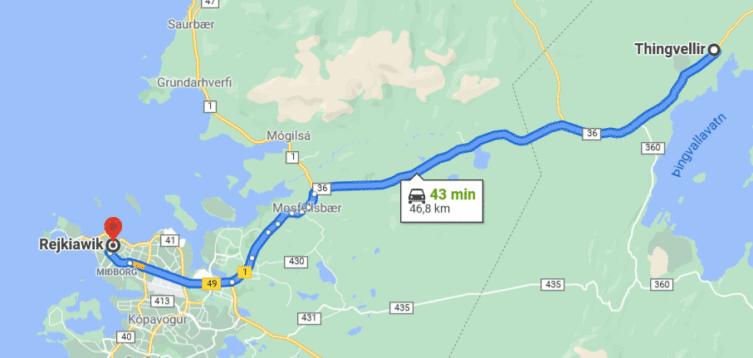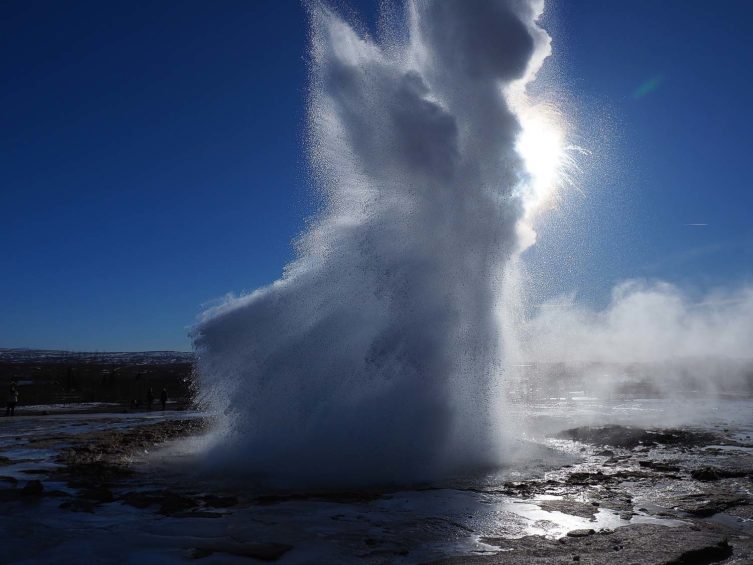 Two powerful geysers. One is sleeping (Geysir), the other is active (Strokkur).
Strokkur shoots boiling water at the sky, showing his strength every few minutes. Both geysers are located within the Haukadalur geothermal area.
Read more in the post: Geysers in Iceland: Geysir, Strokkur and the Haukadalur Geothermal Valley
Distance from Thingvellir: 60 km
Journey time from Thingvellir: 45 minutes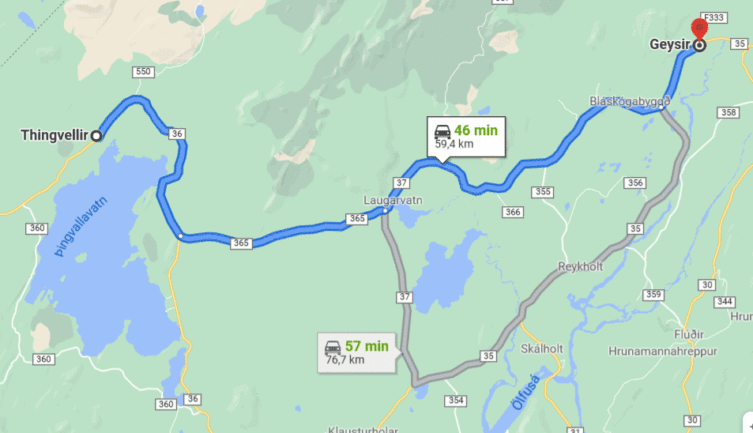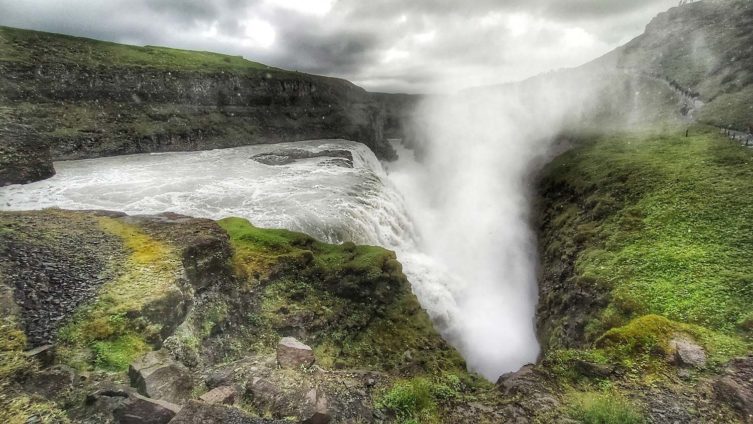 One of the most powerful waterfalls on the island. There are some great viewpoints around the waterfall. You can also go to the immediate vicinity of the first cascade of the waterfall.
More information can be found in the post: Gullfoss waterfall - points of interest, access, parking, sightseeing
Distance from geysers: 10 km
Travel time from geysers: 10 minutes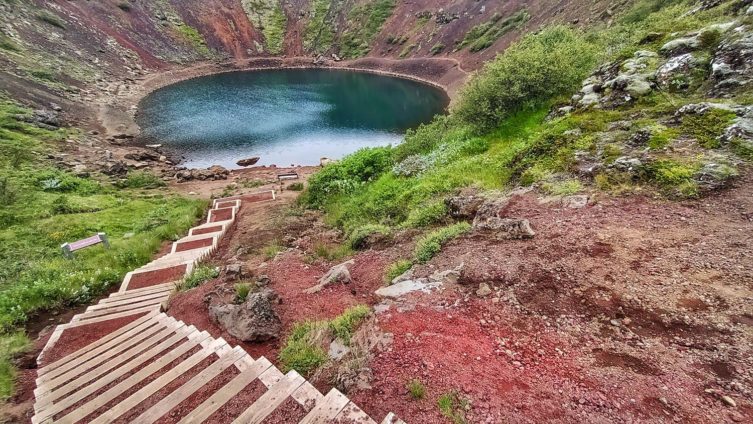 An extinct red volcano with a picturesque lake that fills its bottom. The volcano is easily accessible and does not require any physical condition to visit it, so it is often visited by tourists. It is often added as an additional attraction when visiting the Golden Circle.
Find out more from the volcano in a separate post: Kerid - crater and lake. Access, parking, sightseeing, points of interest
Distance from Gullfoss: 56 km
Travel time from Gullfoss: 50 minutes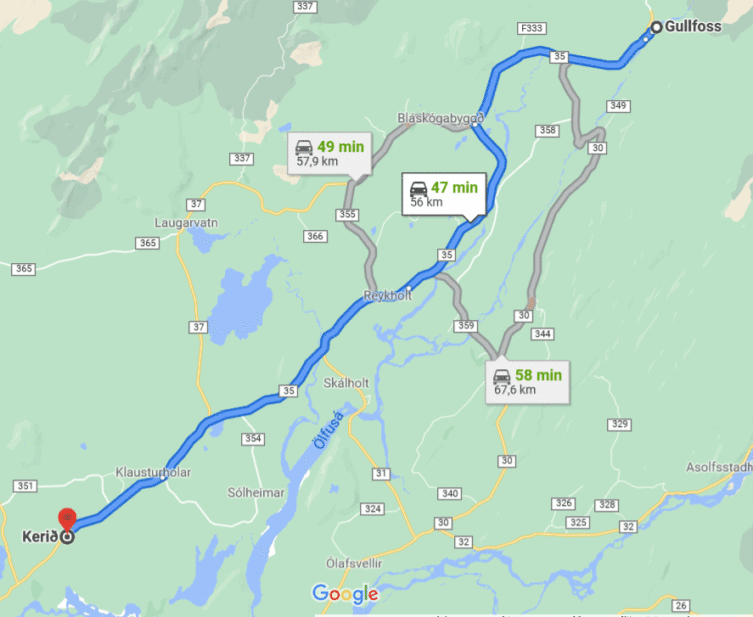 As you probably noticed, there is no number 5 on the map. This number is underneath it The Golden Circlewhich is not one specific attraction. It is a collection of three attractions gathered under one common name. The Golden Circle consists of objects described by me under the numbers 1, 2 and 3.
More information can be found in the post: Golden Circle (Iceland) - sightseeing, attractions, tours, tickets, parking lots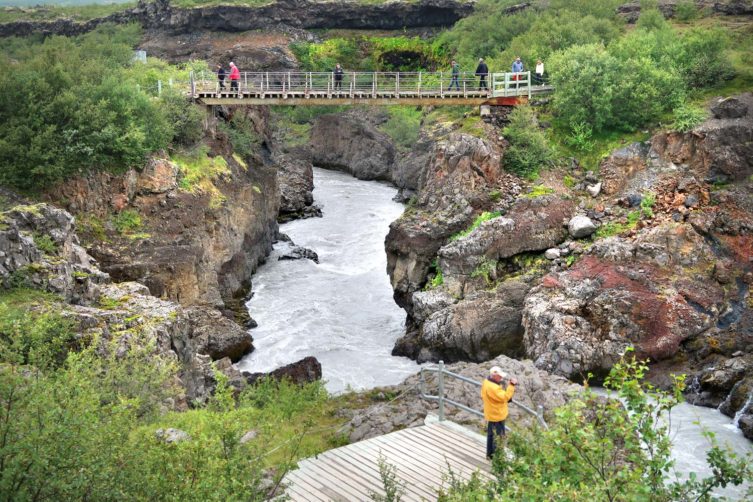 A cascading waterfall composed of several successive falls of water. If you sum up the height of all the cascades, the total height of the waterfall would be 9 meters.
Right next to the Barnafoss waterfall is the rather peculiar waterfall Hraunfossar.
More information in the post: Barnafoss - a waterfall with a sad legend in the background. Map, parking, sightseeing
Distance from Reykjavik: 126 km
Travel time from Reykjavik: 1 hour 40 minutes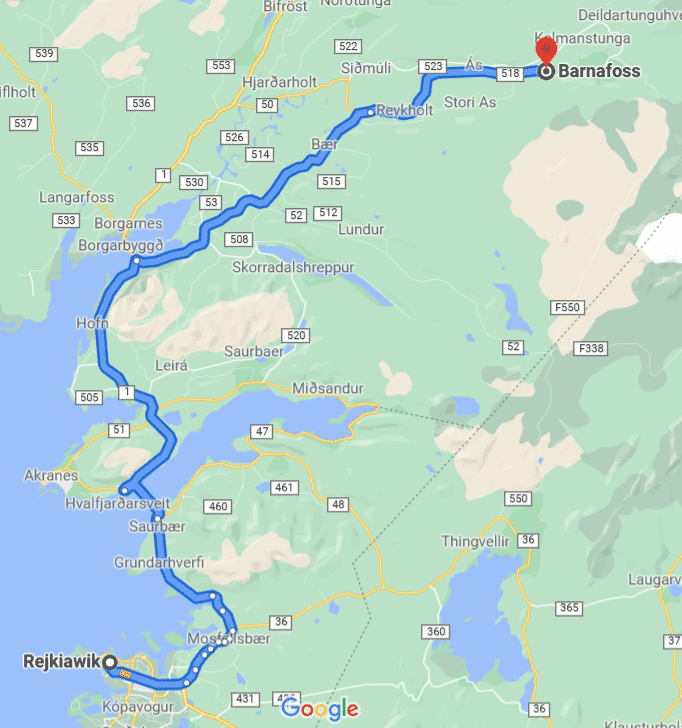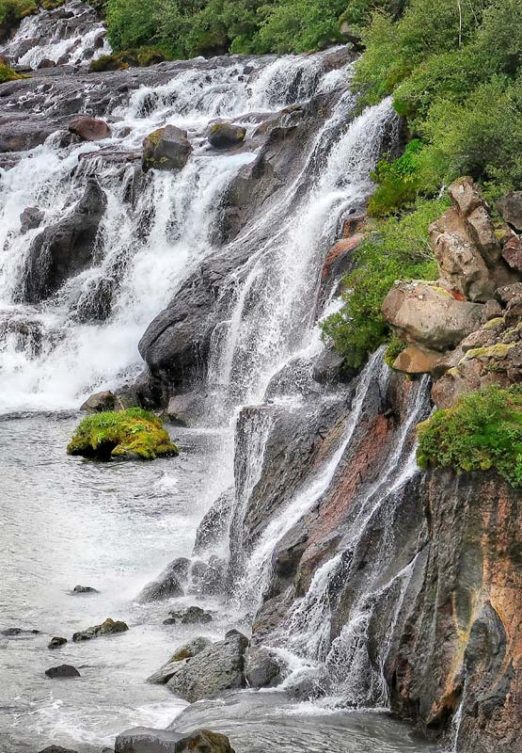 One of the most unusual and thus interesting waterfalls that can be seen. There is no visible water supply. The water flows straight out of the ground.
You have to see it!
Located right next to the Barnafoss waterfall.
Find out more about the waterfall: Hraunfossar - the strangest waterfall in the world. Map, parking, sightseeing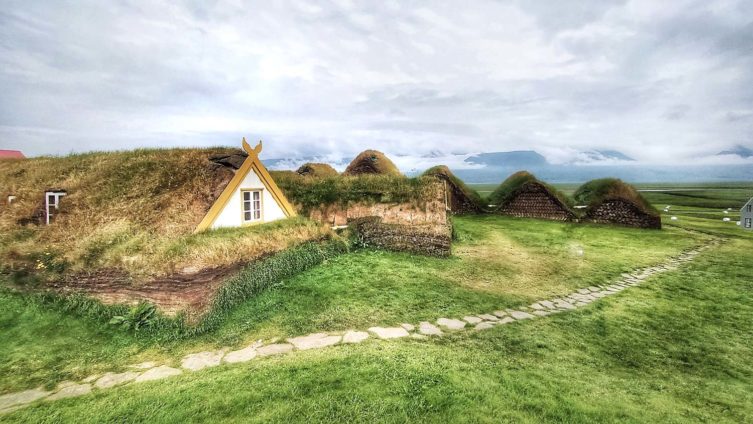 Due to its impermanence, there are not many peat houses left. Glaumbaer is a unique and obligatory point of the program. A fun, very interesting attraction that tells a lot about how it used to be on the island in the past.
You can read more about peat houses here: Glaumbaer - peat houses in Iceland
Distance from Barnafoss and Hraunfossar Waterfalls: 248 km
Journey time from Barnafoss and Hraunfossar Falls: 2 hours 55 minutes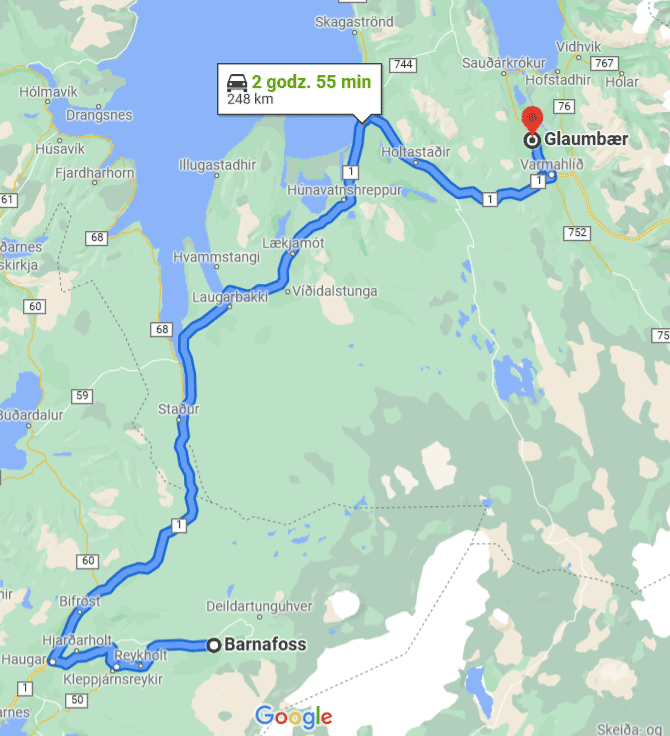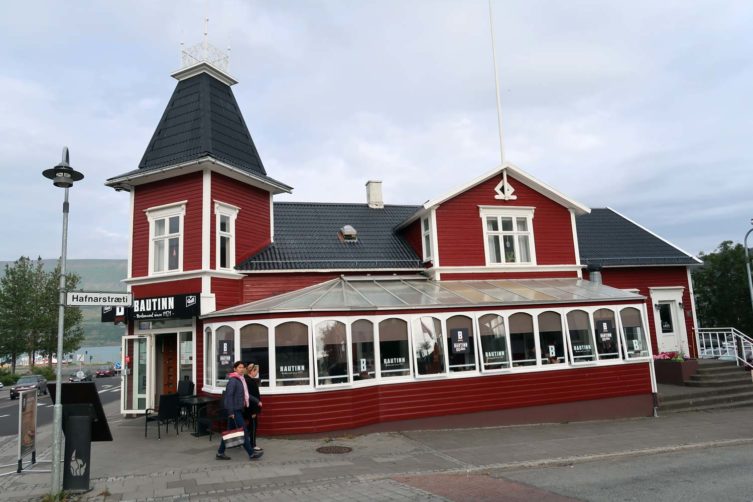 Although it is a really small town, it ranks second (after Reykjavik) on the island in terms of size. They are inhabited by just over 19 thousand. people.
Anyway, in this part of the island it is the best base to replenish your provisions and everything necessary for the further journey. Besides, there are some nice pubs here and they are pouring quite good beer.
Read more in the post: Akureyri - the capital of northern Iceland
Distance from Glaumbaer: 102 km
Journey time from Glaumbaer: 1 hour 15 minutes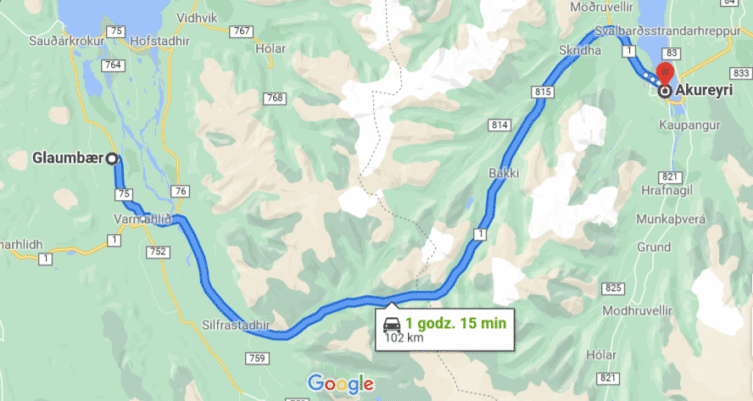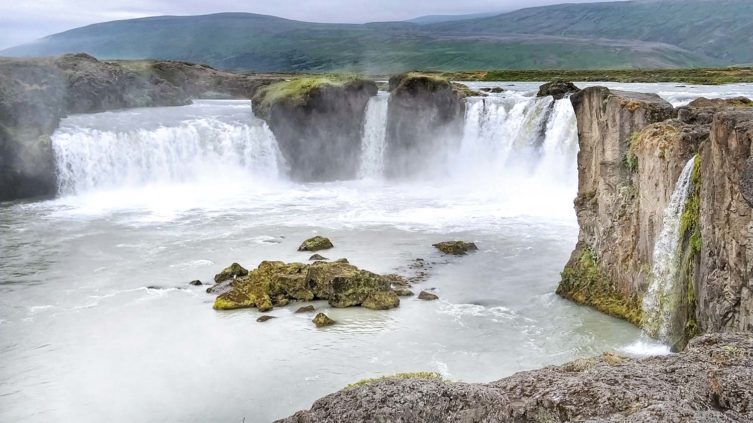 A beautiful, vast and high waterfall that looks really great. An interesting story is associated with the waterfall, important for the fate of the whole of Iceland.
I invite you to a separate post: Godafoss waterfall and its uglier brother Getafoss - map, parking, sightseeing
Distance from Akureyri: 35 km
Journey time from Akureyri: 30 minutes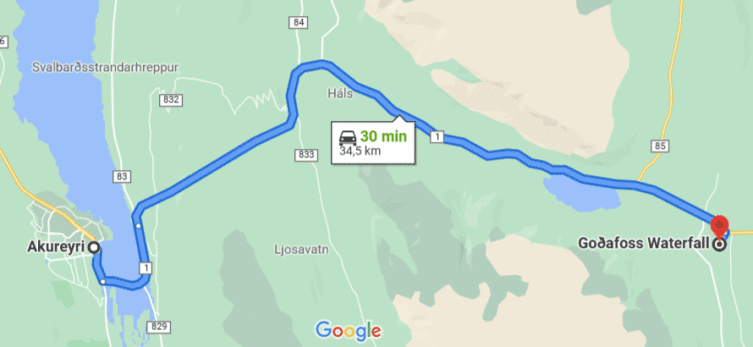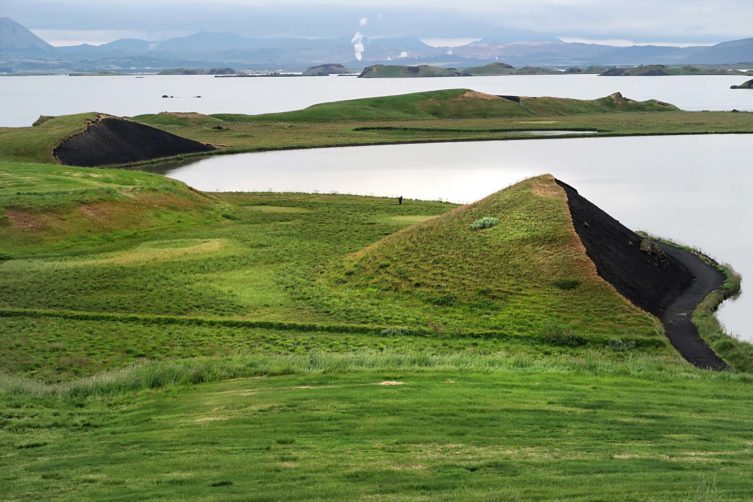 I will remember Lake Myvatn especially strongly. Apart from the fact that the lake itself is extremely interesting and there are some really amazing attractions in its vicinity, it also left a lot of unexpected impressions in me.
The accumulation of interesting places that you must see makes Myvatn and its surroundings a must-see.
I recommend reading the entry: Myvatn - lake of volunteer flies
Distance from Godafoss: 37 km
Journey time from Godafoss: 30 minutes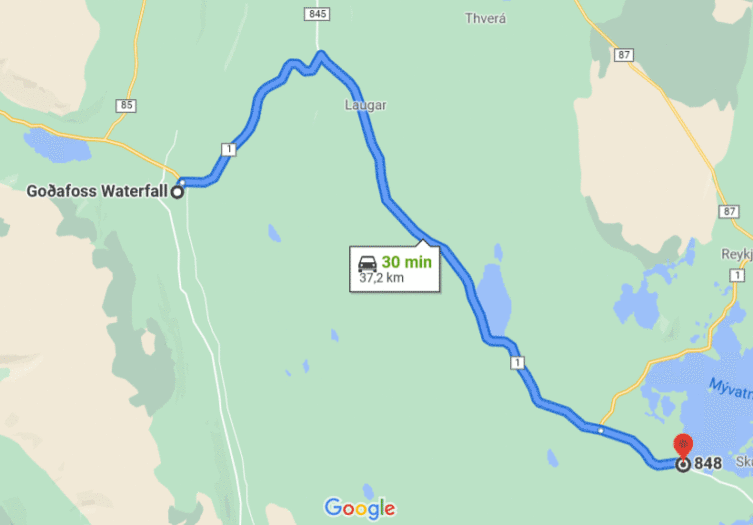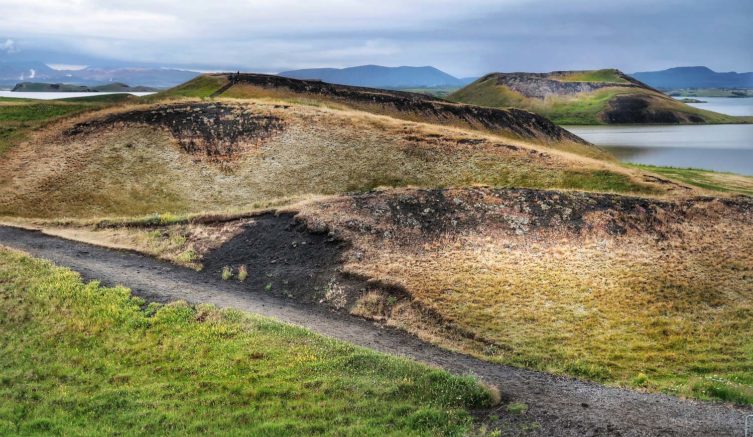 Craters that are not really craters… As is often the case in Iceland - a strange story. There is a walking path between the pseudo-craters and partly also the pseudo-craters themselves, thanks to which we can really look at everything closely.
For more information: Pseudokraters Skutustadagigar - map, parking, access, sightseeing, interesting facts
The pseudo craters are located on the shores of Lake Myvatn, so I will not mention the travel time as it is irrelevant.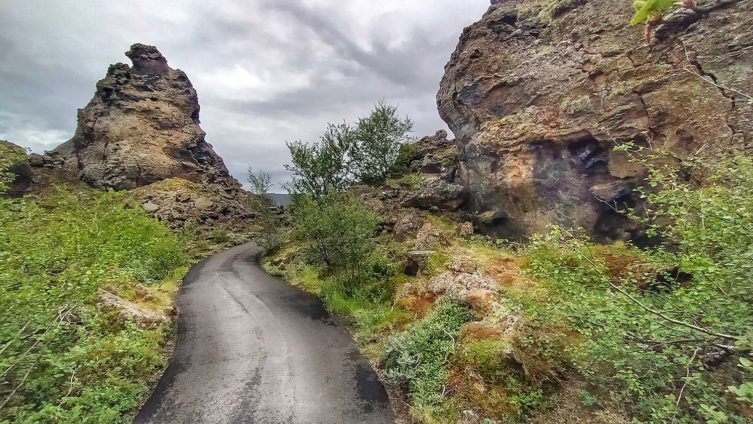 Volcanic rock formations also known as: Iceland's Dark Castles. Volcanic rocks in a large area took the form and shapes resembling fancy buildings straight from fantasy movies. It's great to watch it while taking a short and very pleasant walk.
Read more: Dimmuborgir - Iceland's dark castles: map, parking, access, sightseeing, interesting facts
Dimmuborgir is situated in the immediate vicinity of Lake Myvatn and the journey time is only a few minutes. There is no point in adding a separate route map. You can find all the coordinates for navigation in the one I provided link to Dimmuborgir.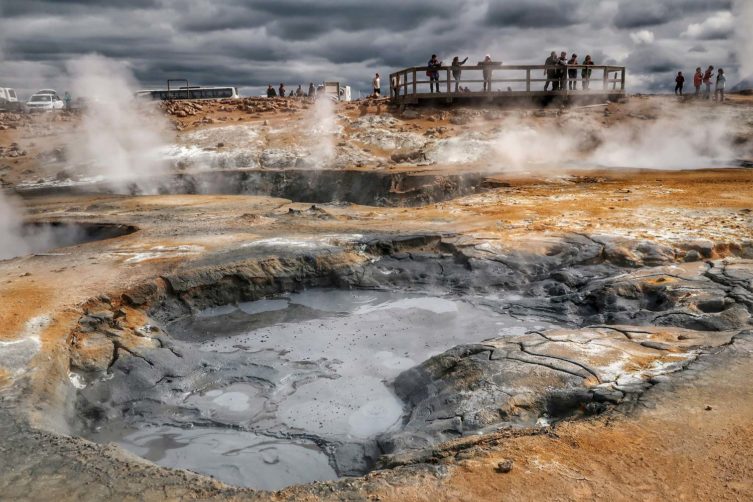 This point is one of my favorites. Completely crazy geothermal area, reminiscent of either hell or another planet at the same time. Here you can really feel as if you suddenly left the solar system and found itself on some distant moon in another galaxy.
Beautiful, simply beautiful and amazing!
Find out more: Hverir - a geothermal area like from another planet: sightseeing, parking, access, interesting facts
Distance from Myvatn: 20 km
Journey time from Myvatn: 20 minutes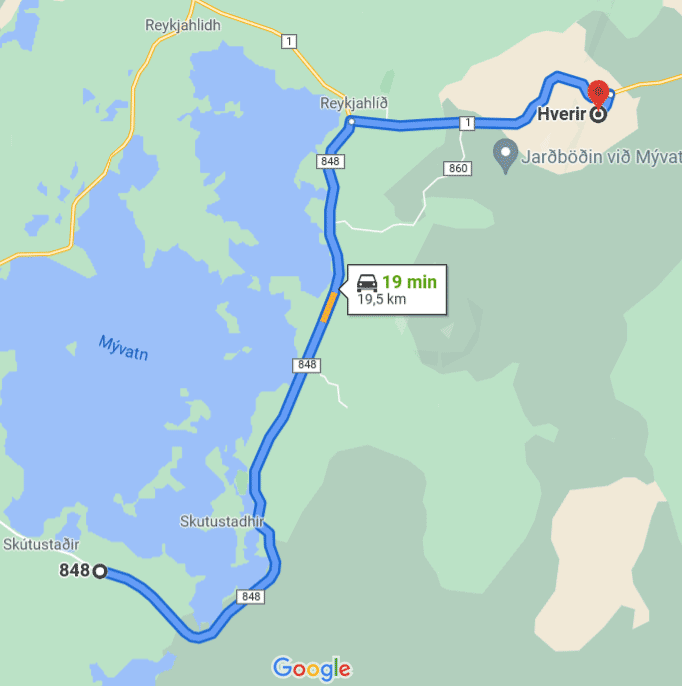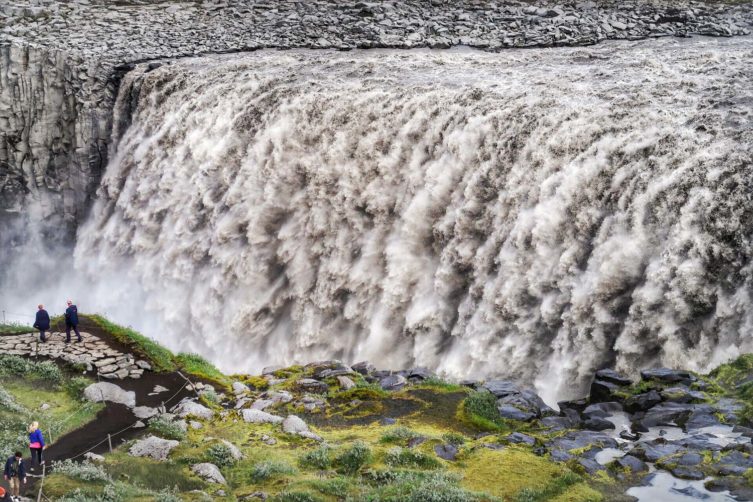 A waterfall that knocks you off your feet with its power. Standing in front of him, I was speechless for several long moments. It is difficult to describe the wildness and uniqueness of Dettifoss. You just have to see it!
More photos and information: Dettifoss - the largest waterfall in Europe: access, parking, sightseeing, interesting facts
Distance from Hverir: 20 km
Journey time from Hverir: 20 minutes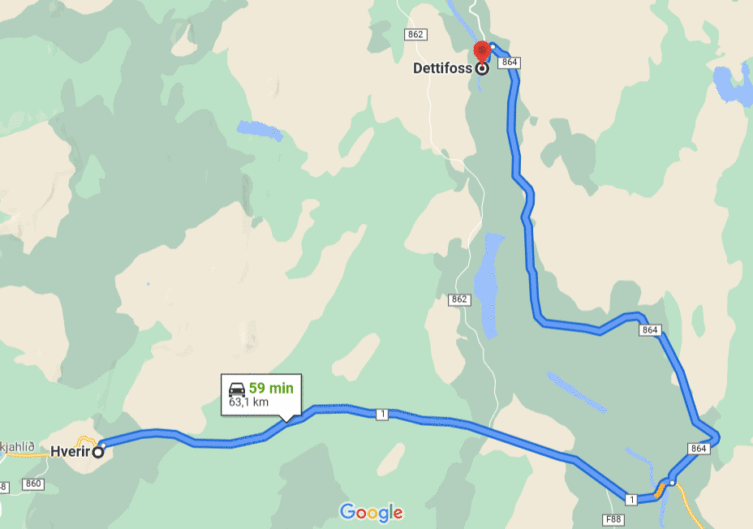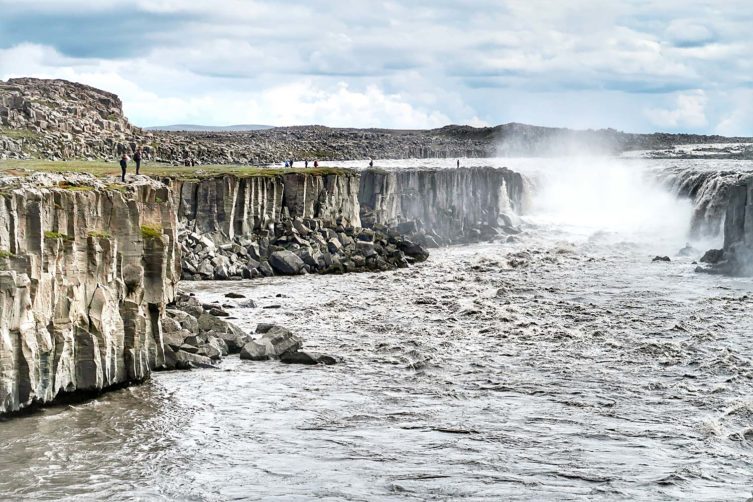 The waterfall is in the immediate vicinity of Dettifoss. Both waterfalls are visited at the same time. Definitely calmer, but situated in beautiful natural surroundings.
Find out more: Selfoss waterfall - access, parking, sightseeing, interesting facts
17. The town of Djupivogur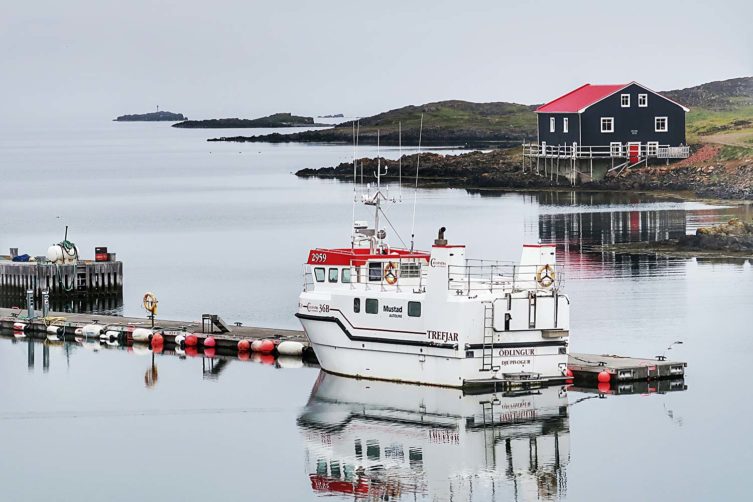 A tiny, even very tiny port town. It is a good place for some basic shopping and a short stop before onward travel. From Djupivogur you can perfectly see a very famous and characteristic mountain in the shape of an Egyptian pyramid.
On the way from the Dettifoss and Selfoss waterfalls to Djupivogur, you will come across countless beautiful vantage points and viewpoints. I don't even mention them. Let everyone stop wherever they like.
Distance from Dettifoss and Selfoss: 311 km
Journey time from Hverir: 4 hours 5 minutes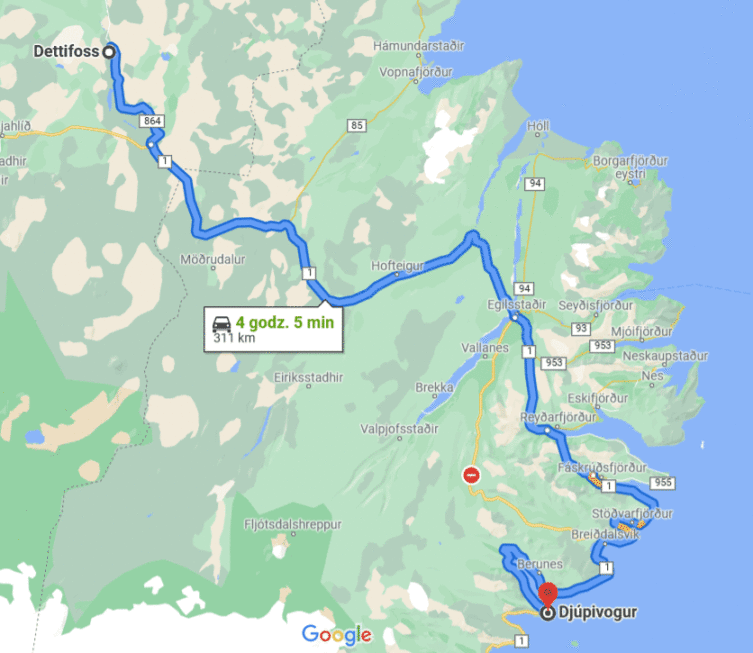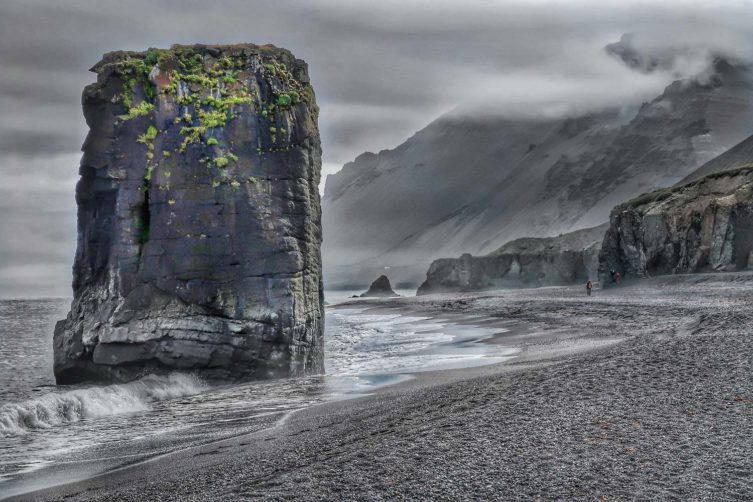 During the journey, which runs for many kilometers along a fabulously diverse coast, I would especially recommend this place. A rock formation was formed here, combined with the black beach and everything around it create a fantastic atmosphere. And if you're lucky, maybe it will rain, the clouds will be low and there will be some fog ... then everything becomes even more mysterious. Lovely place.
See more: Black beach Fauskasandur - access, parking, sightseeing, interesting facts
Distance from Djupivogur: 44 km
Journey time from Djupivogur: 37 minutes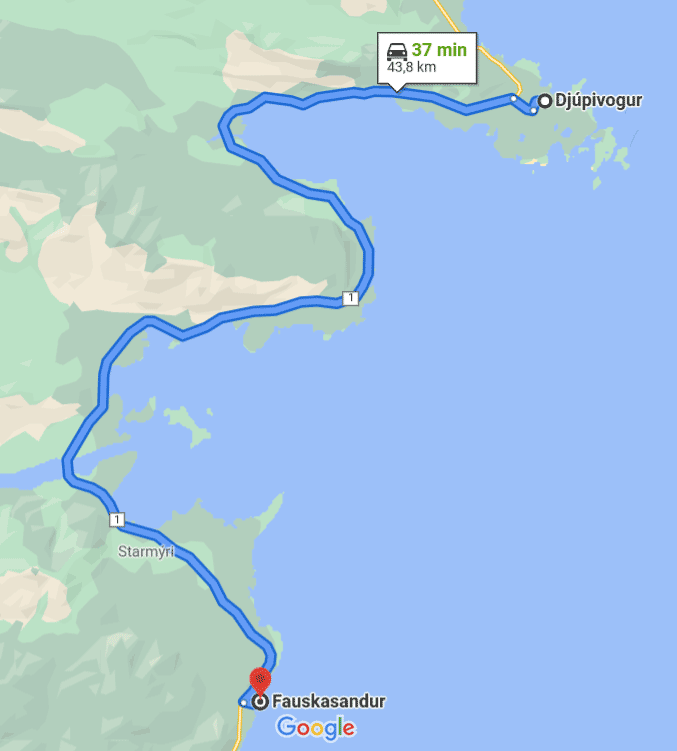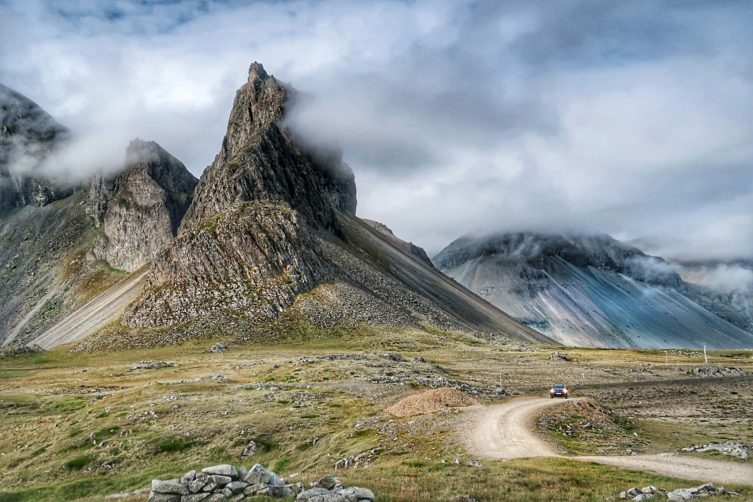 A short distance from the black beach of Fauskasandur there is another interesting viewpoint. It's worth taking off the main road, driving closer to the lighthouse and looking around… Iceland is amazing!
Read more in the post: Hvalnes - a vantage point on a rocky promontory
Distance from Fauskasandur: 10 km
Journey time from Fauskasandur: 11 minutes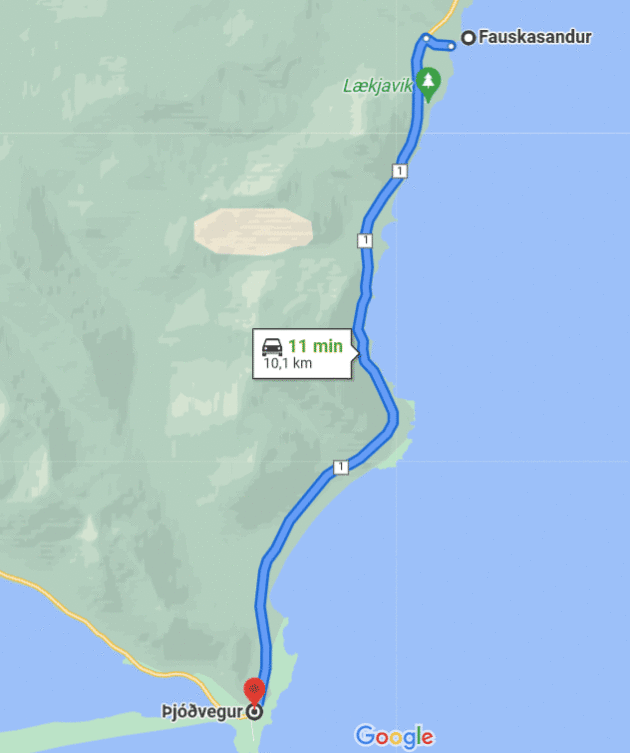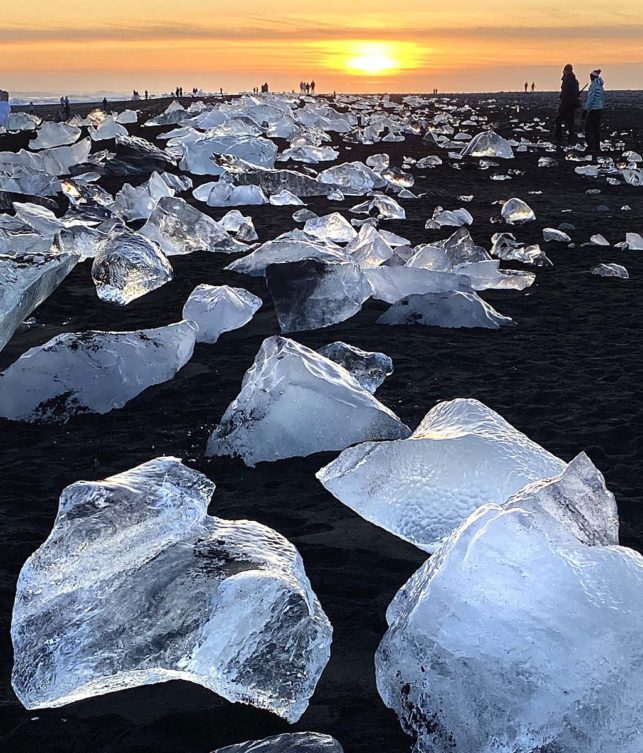 Another peculiarity of Iceland! So many things have to come together for this to happen. The huge chunks of ice thrown onto the black beach from the glacier really look like giant diamonds. The impression is amazing. The beach looks most beautiful at sunset in winter, but it can also make a great impression in summer.
The Diamond Beaches are visited together with the glacier lagoon, about which I write in the next section.
You can learn more about Diamond Beach from the post: A diamond beach in Iceland, i.e. an iceberg graveyard: access, parking, sightseeing, interesting facts
Distance from Hvalnes: 120 km
Journey time from Hvalnes: 1 hour 30 minutes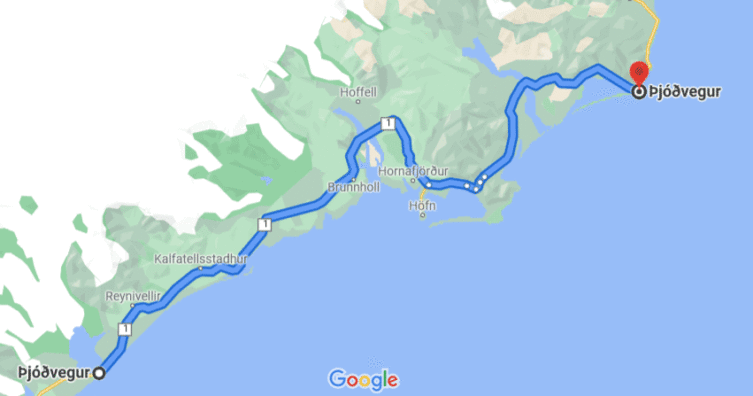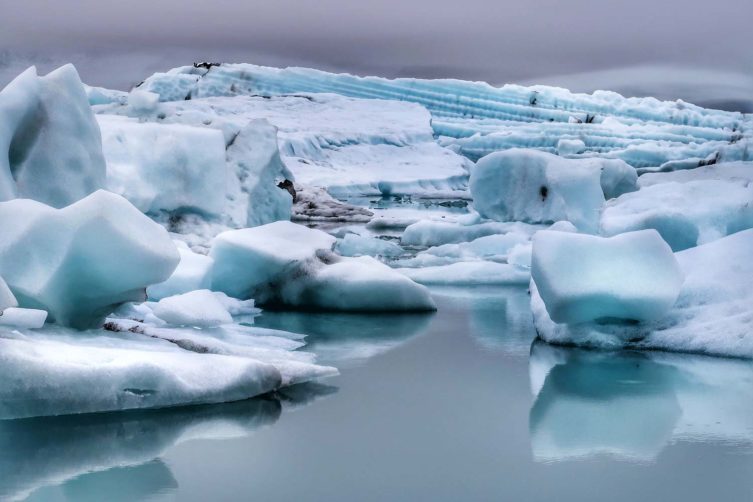 One of the most exciting places on the route of the entire trip. Swimming between freely drifting icebergs is hard to compare to anything. Unforgettable impressions, a delightful place and… tangible evidence of the melting and rapid retreat of the glacier. After this visit, you have a lot to think about.
Read more: Jökulsárlón glacier lagoon - map, access, sightseeing, interesting facts
The Jökulsárlón glacier lagoon is located on the same site as the Diamond Beach. The map, the departure time from the previous attraction is the same as in the case of Diamond Beach.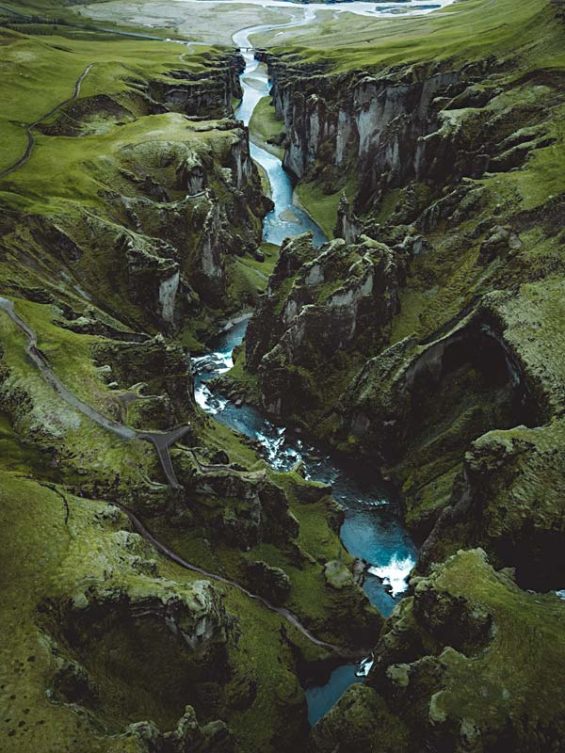 A canyon of exceptional beauty, along which a scenic path leads. It is about 2 km long, and in some places its walls reach a height of up to 100 m.
Getting to it requires a bit of attention, because it leads along a narrow, partly dirt road, but it should not be too difficult.
More about information: Justin Bieber Canyon, also known as Fjadrargljufur
Distance from the Jökulsárlón glacier lagoon: 130 km
Journey time from Jökulsárlón glacier lagoon: 1 hour 40 minutes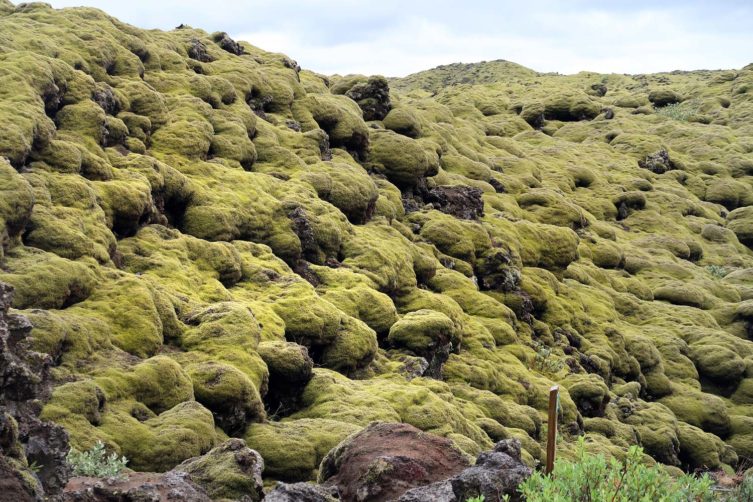 A huge sander plain where you can see the effects of a strong volcanic eruption under the glacier. But it was so powerful that it pierced the ice crust and escaped. Along with the typical volcanic material, giant chunks of ice flowed downwards, which swept a huge steel bridge from the surface of the earth. Only the remains of the steel structure remained.
Part of the area is now covered with a spectacular spongy layer of moss known as "Green Lawa Walk", or "walk on green lava".
The map below shows how to get to the "walk on green lava", and additional information can be found in a separate entry: Skeidararsandur - sandwich plain and green lava fields
Distance from the Fjadrargljufur canyon: 6 km
Journey time from Fjadrargljufur Canyon: 9 minutes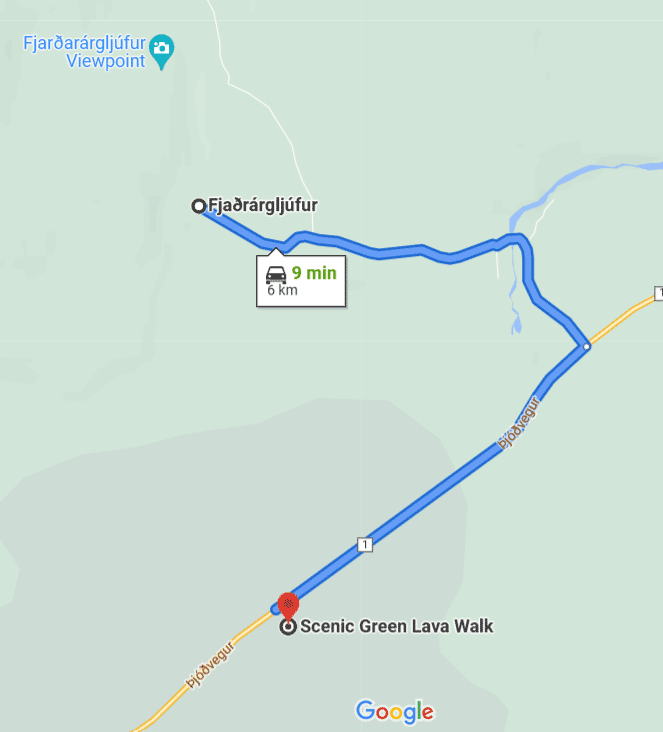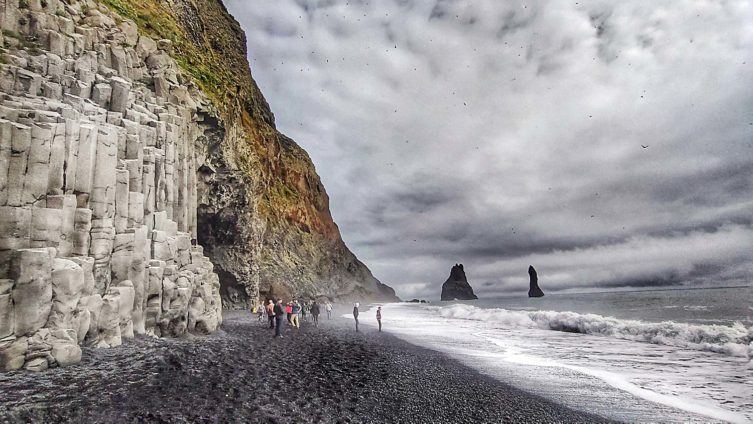 Reynisfjara is a true accumulation of natural wonders. There are several of them in one place ... just all at once. I do not know if it is possible that there is a more beautiful beach somewhere, surrounded by even greater natural wonders. Black sand, coastal rock formations, extremely rare basalt columns and fancy caves, whose vaulting looks like the result of the work of a top-flight artist-visionary, with basalt columns rising ... down. It's just smoking!
You can find more about the beach and its attractions in the entry: Reynisfjara black beach - access, parking, sightseeing, interesting facts
Distance from Green Lawa Walk: 73 km
Journey time from Green Lawa Walk: 55 minutes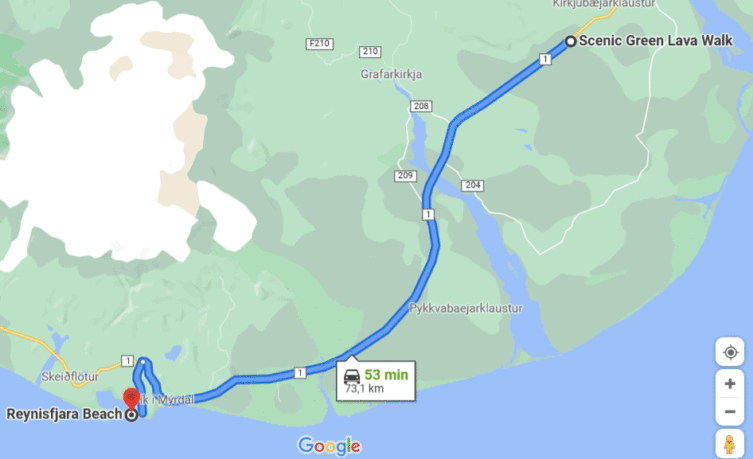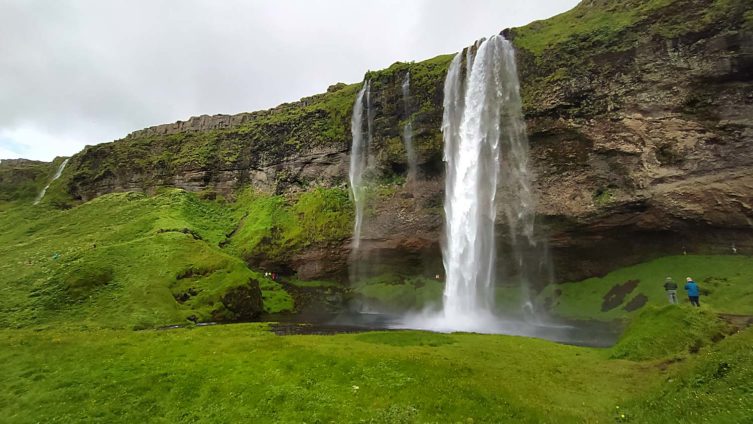 Another, but so different waterfall. Narrow and soaring. Water from a great height falls down, crashing spectacularly against the rocks. A favorite attraction of the waterfall visitors is the walk along the rocks behind the wall of falling water.
You can read more about the waterfall in the post: Seljalandsfoss waterfall - access, parking, sightseeing, interesting facts, accommodation
Distance from Reynisfjara Beach: 62 km
Journey time from Reynisfjara Beach: 50 minutes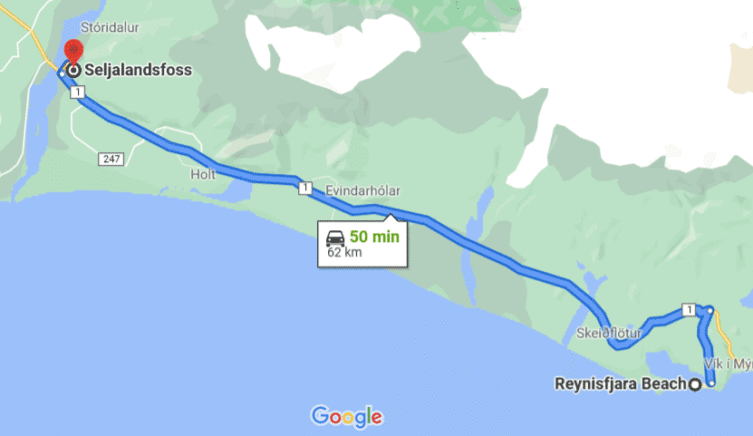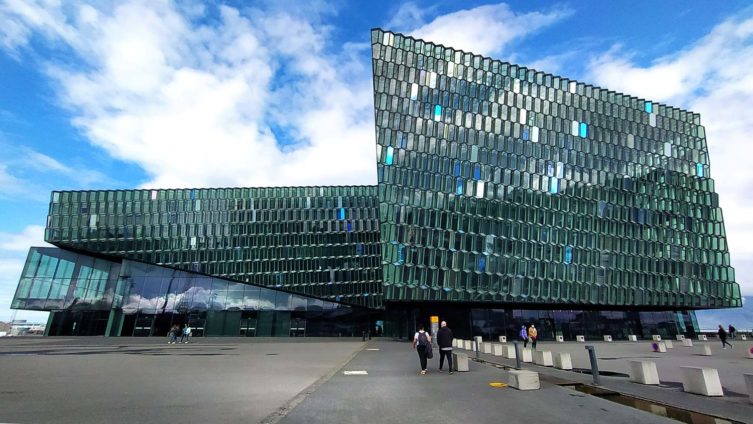 The largest city on the island, inhabited by 2/3 of the entire population of the island. There will be plenty to do in Reykjavik for at least two days. There are some interesting places to see and the walk around the city is very pleasant. It is worth going to a pub or one of the many restaurants. There are several places to eat delicious seafood near the harbor. It's definitely worth taking some time to visit some really interesting museums.
Description of attractions in Reykjavik and details of the city sightseeing plan can be found in the entry: Reykjavik - sightseeing plan, map, attractions, accommodation, interesting facts - guide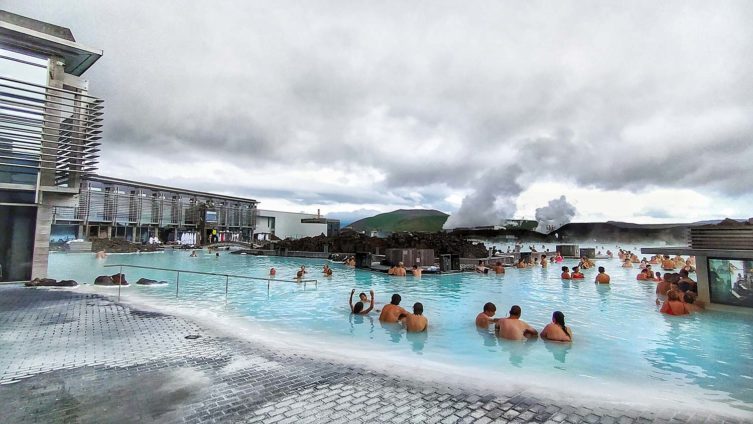 One of the most famous attractions in Iceland. Is it right? I do not know. I am simply not a lover of swimming pools by nature, so my assessment is not objective enough. I can only say that other visitors to the Blue Lagoon left it very pleased, and my wife praised the cosmetics purchased there very much. Apparently, they really are of the highest quality and bring visible results.
And I? What can I say? Just try relaxing in the thermal waters of the Blue Lagoon and judge for yourself! A complete set of information necessary before visiting the Lagoon can be found in the entry: Blue Lagoon (Iceland) - access, ticket prices, opening hours, practical information
Distance from Reykjavik: 50 km
Travel time from Reykjavik: 44 minutes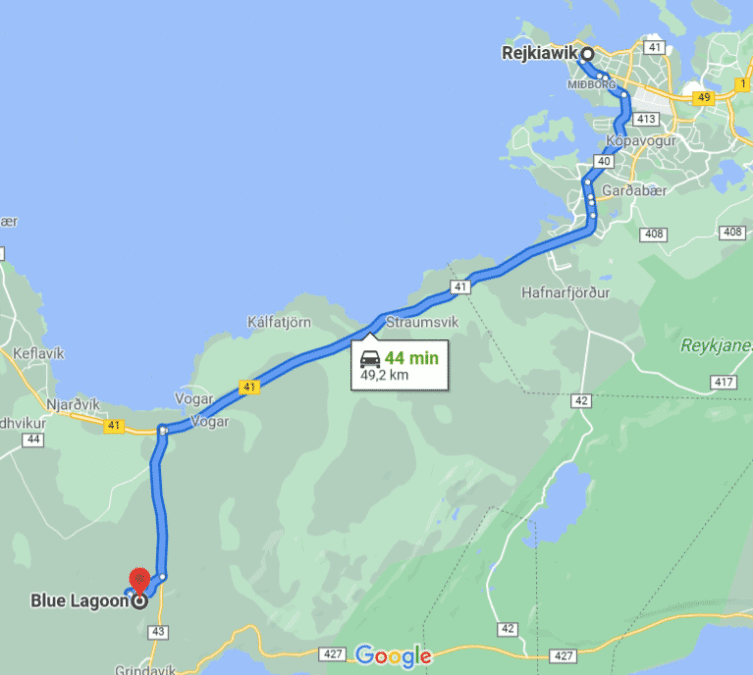 End of the tour?
Nooo! We want more !!!
Expect such a shout at the end of the trip. It is impossible to come back from Iceland fully saturated. This island simply keeps your appetite constantly awake and makes you want more… and needless to say, Iceland still has something new to offer.
By touring the entire island according to my plan, you will quickly find that you will pass many roads every day, which you would like to follow. Unfortunately, time is not made of rubber and you can't do everything at once.
When you return home after your departure, a new plan will be ready in your head. Another trip to Iceland is planned. A trip plan to places you missed the first time.
… And after returning from the second trip, the third plan will be ready. This is Iceland!
Important to me!
Give the article a good rating
(5 stars welcome 😀)!
It's free, a
for me it is very important!
The blog lives on visits and thus has a chance to develop.
Please do it
and ... thank you in advance!
I also post
link to Facebook profile - [click]
. Come in and press "
Follow
"then you will not miss new, inspiring posts.
Unless you prefer
Instagram
. I'm not a social media demon, but you can always count on something nice to look at on
my instagram profile - [click]
. The profile has just been created, so
for now he is starving
, due to the lack of followers. He is happy to receive any observer who feeds him with his love.
I make the content I create available free of charge with copyright, and the blog survives from advertising and affiliate cooperation. So, automatic ads will be displayed in the content of the articles, and some links are affiliate links. This has no effect on the final price of the service or product, but I may earn a commission for displaying ads or following certain links. I only recommend services and products that I find good and helpful. Since the beginning of the blog's existence, I have not published any sponsored article.
Some of the readers who found the information here very helpful, sometimes ask me how you can support the blog? I do not run fundraisers or support programs (type: patronite, zrzutka or "buy coffee"). The best way is to use links.
It costs you nothing, and support for the blog is self-generating.
Pozdrawiam